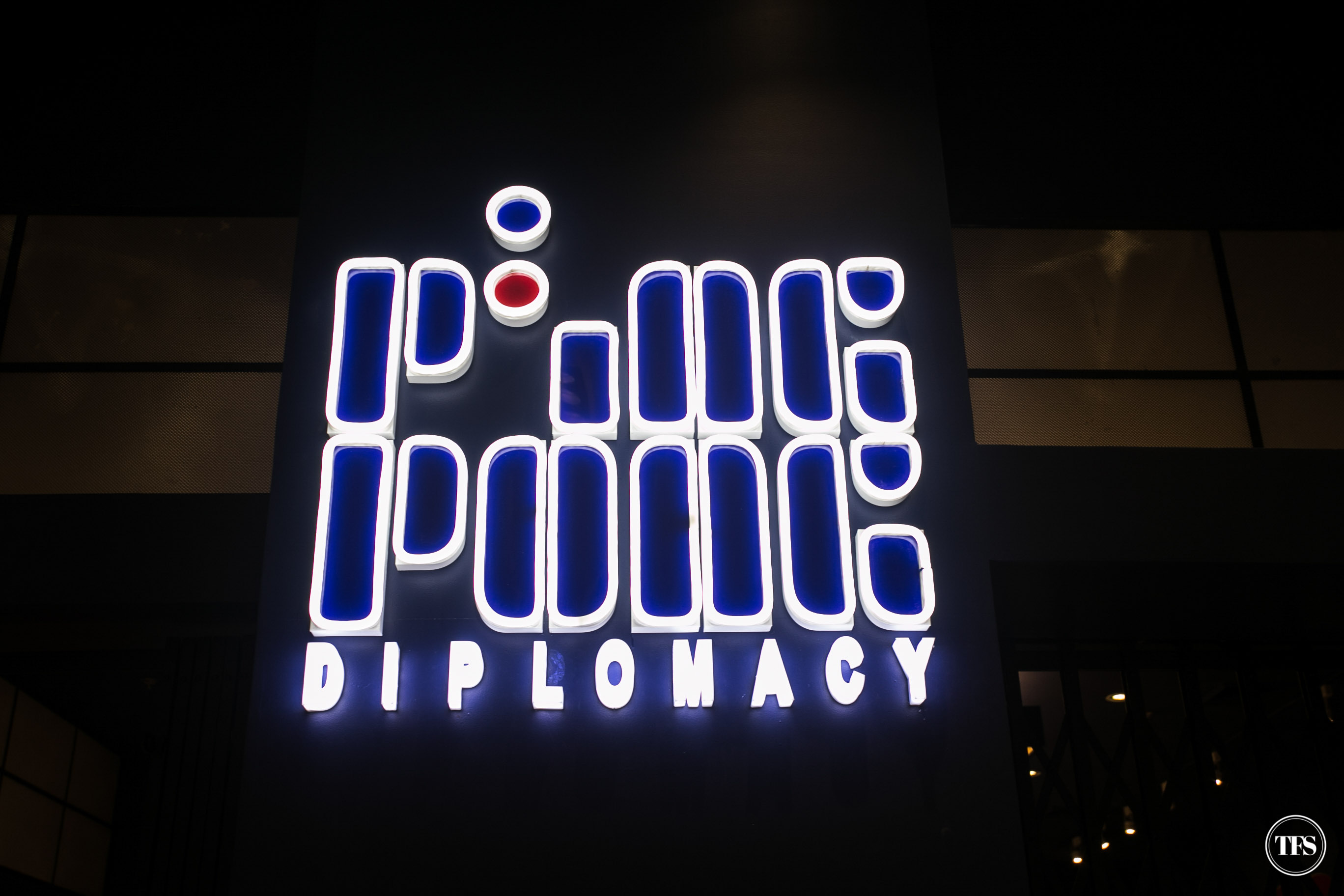 Ping Pong Diplomacy adds to the many restaurants of the brilliant Charles Paw, the master entrepreneur of our country's sought-after unique restaurants. Coming from the success of Tasteless Group of Restaurant's Hey Handsome, Chef Nicco Santos and Chef Quenee Vilar's most talked about restaurant of 2016, I now couldn't take out my high expectations from Charles' group. When it is from Tasteless Group of Restaurants, I automatically presume it must be excellently 'different'.
The new concept called Ping Pong Diplomacy chose to open at SM Aura Premier in Bonifacio Global City. Read your history, the name has something to do with both the US and China. The exchange of table tennis players between the United States and People's Republic of China (PRC) in the early 1970s. Going beyond what people know as fusion,  Chinese and American flavors are maximized to its full potential by using stronger flavors. Chef Him Uy De Baron and Chef Noel Mauricio took the challenge to give us more than just Asian-American cuisine. Also, Chef Miko Aspiras shared his talent by doing what he is good at, creating amazing desserts.
What we perfectly needed. O and I, fresh from our long day working side by side (literally beside each other), were hungry for a satisfying but unique meal to end our night.
The Food:
It's a pool of sliced tofu, century egg, sun dried cranberries and plum powder. Cranberries and Tofu is a delicious starter that you'll wish every Chinese restaurant serves.
Presenting the best appetizer on my watch, Simple Fried Eggs. Contrary to its name, it is an explosion of flavors in one egg plate. You've got scallions, pork floss, and oriental sauce. This is the king of eggs! How I wish they invented this egg dish earlier than this generation. Or maybe not? I would probably pull my mother to dine in this restaurant or ask her to make one for me everyday.
Prawn Scotch Egg is basically your 5-minute egg sitting on a crusted shell of micned prawn and pork with wasabi mayo. After tasting the Simple Fried Eggs, I didn't enjoy this version of eggs anymore.
Wonton Cheeseburger, literally a combination of both American and Chinese influences. Crisp wontons with wagyu beef and sharp cheddar doesn't appeal to me that much. But what goes wrong with dimsum style burgers right? I say it's still filling.
I found myself enjoying this Crunchy Eggplant while waiting for our Dan Dan Chicken Skin Rice. Eggplant that veers away from the expected taste and texture of slimy eggplant, mainly because of its crunchy batter and fragrant sauce. The sauce was tricky making me chew on each piece non-stop.
Truffled Mushroom Edamame Dumplings was a burst of truffle taste in my mouth. Too much truffle oil was a lousy way of emphasizing the flavors. I only had one and I couldn't take the next bite anymore. On to the next dish please!
My ultimate comfort food, chicken wings! Now this Ping Pong Wings adds to my list of chicken wings to love. 12-spice blend, crispy leeks, and sweet pickled cucumbers all make a great team to come up with these sweet-spiced wings I'm dying to munch on my seat.
Because you'll assume it is, they thought ahead of you by naming it Not Mapo Tofu. It only tastes like tofu but it is steamed fresh soya custard you are tasting.
To fully experience what Ping Pong Diplomacy is all about, this Dan Dan Chicken Skin Rice is the highlight! Crispy chicken skin, fermented chili bean and toasted peanuts are all those colorful ingredients you are seeing now, perfectly topped with fried egg. Some people I know cannot take the heat, while O and I turned out freaks for this fried rice. I  wanted to take home another order  and keep it for breakfast. 5 out of 5, a perfect score for this eccentric fried rice!
I was first attracted to the 'Chinese take-out box' plate of Surf and Turf Noodles. And then  I slowly moved to the charsiew noodles with blue mussels and a 62 degree egg on top. I was hooked in an instant! I enjoyed the seafood blend brought by the mussels mixed with the spices of charsiew noodles.
O remembered his student life in Beijing when he tasted this Cumin Lamb Pouches. For him, the rub used tastes like his favorite Beijing lamb skewers he used to purchase from street vendors. I haven't tasted what he was referring to, except for the lamb skewers we had in Taiwan that he also thought as Beijing-inspired. But I understand why he's obsessed with the flavors. I also devoured into this lamb shank with cumin seeds even if my taste buds was already exploding from all the flavors I've been trying before this dish.
And here's another star for me, Caveman Beef Rib. Braised beef rib, fork-tender and juicy, with crispy shallots flavorized by zhenjang vinaigrette,  a rice-based black vinegar widely used in Chinese cuisine.
As usual Chef Miko Aspiras doesn't settle with a mediocre work. Fortune Balls, his contribution to Ping Pong Diplomacy, are sweet and sticky rice in different flavors: taro, ginger and black sesame mochi and sesame crumble on pistachio cream. This might be your favorite!
The Ambiance: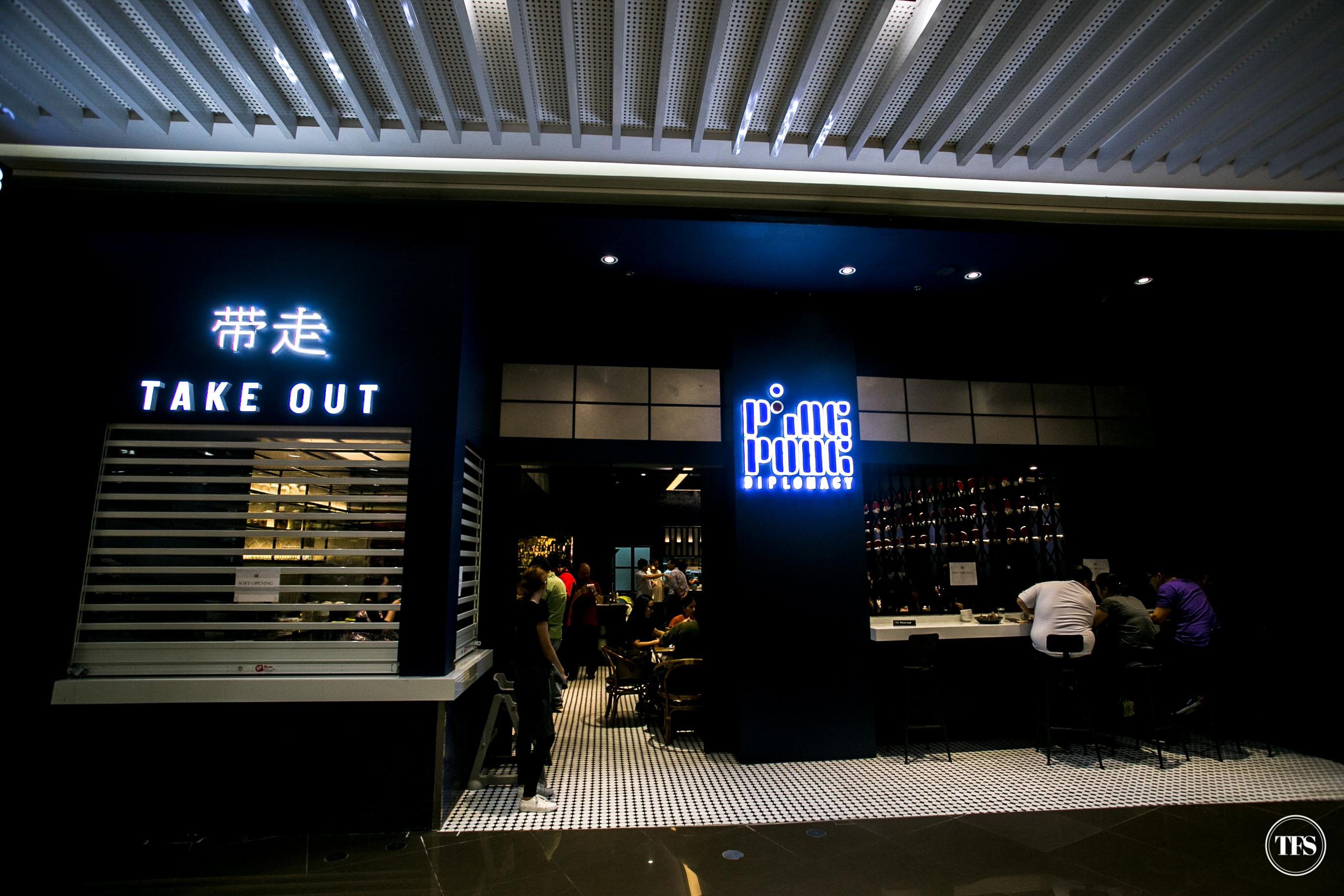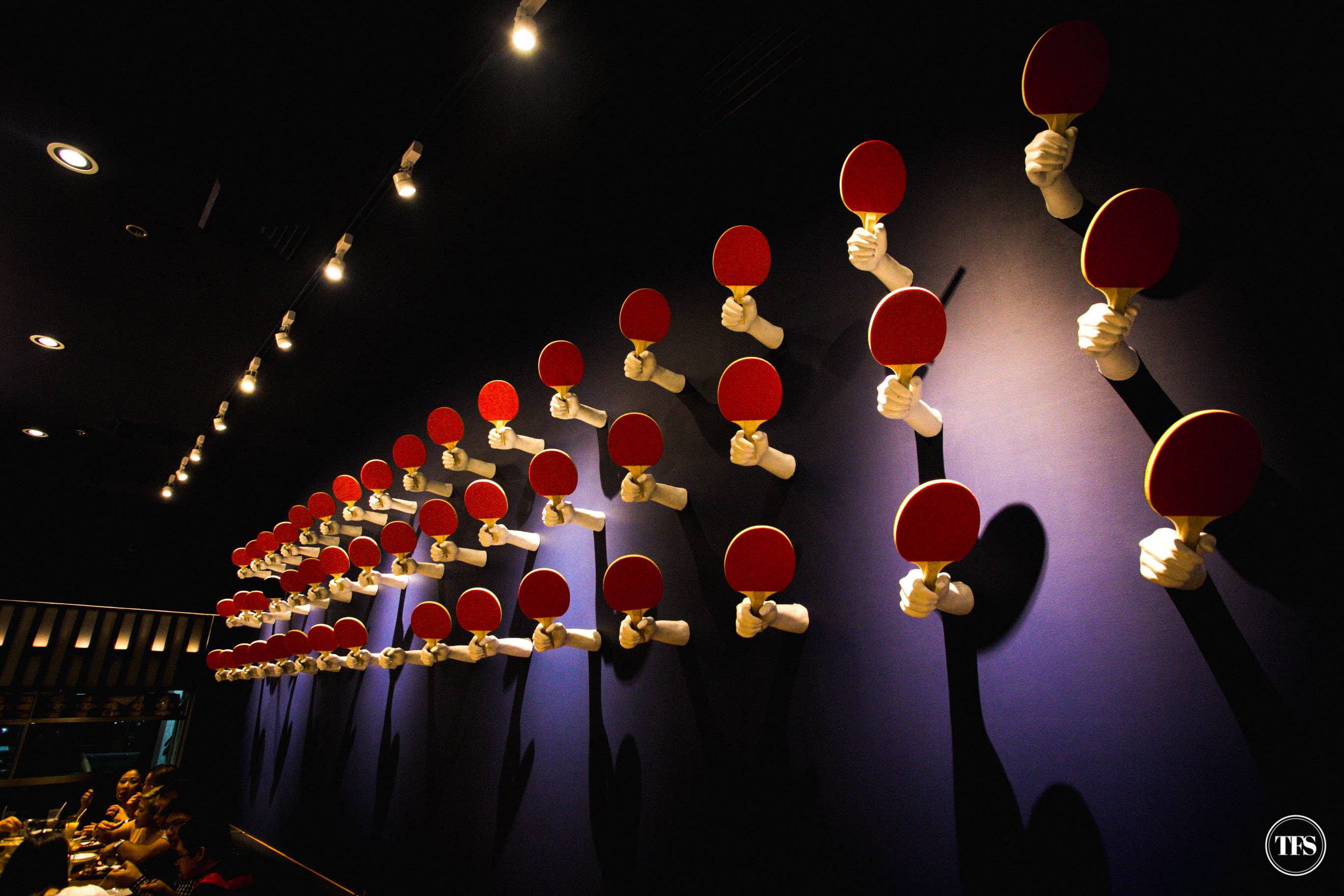 The main decor looks like a revolution of ping pong players fight for a cause. Fighting for good food probably? I also searched for the ping pong table. What I found were dining tables only.
Like how Chinese restaurants are set to have a fast-paced busy mood, I found the similar ambiance at Ping Pong Diplomacy. Notice the floors, one side is wooden planks, one side is flattened with white and black accent tiles.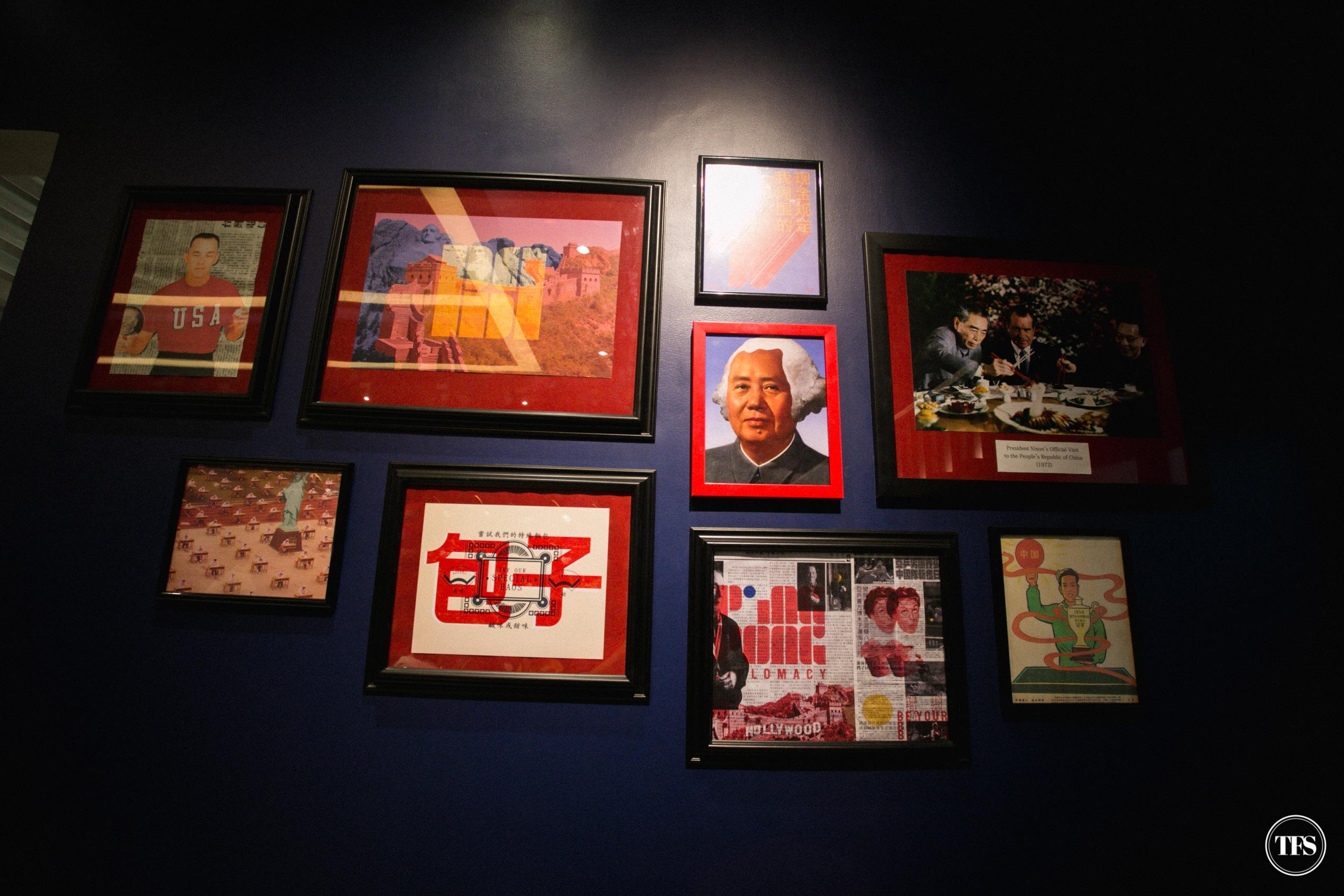 Am I going back to Ping Pong Diplomacy? I have a few favorites to go back for. Plus, it would be extra fun to take adventurous friends and family to a restaurant  like this and hear their judgment on these uniquely created Chinese-American dishes.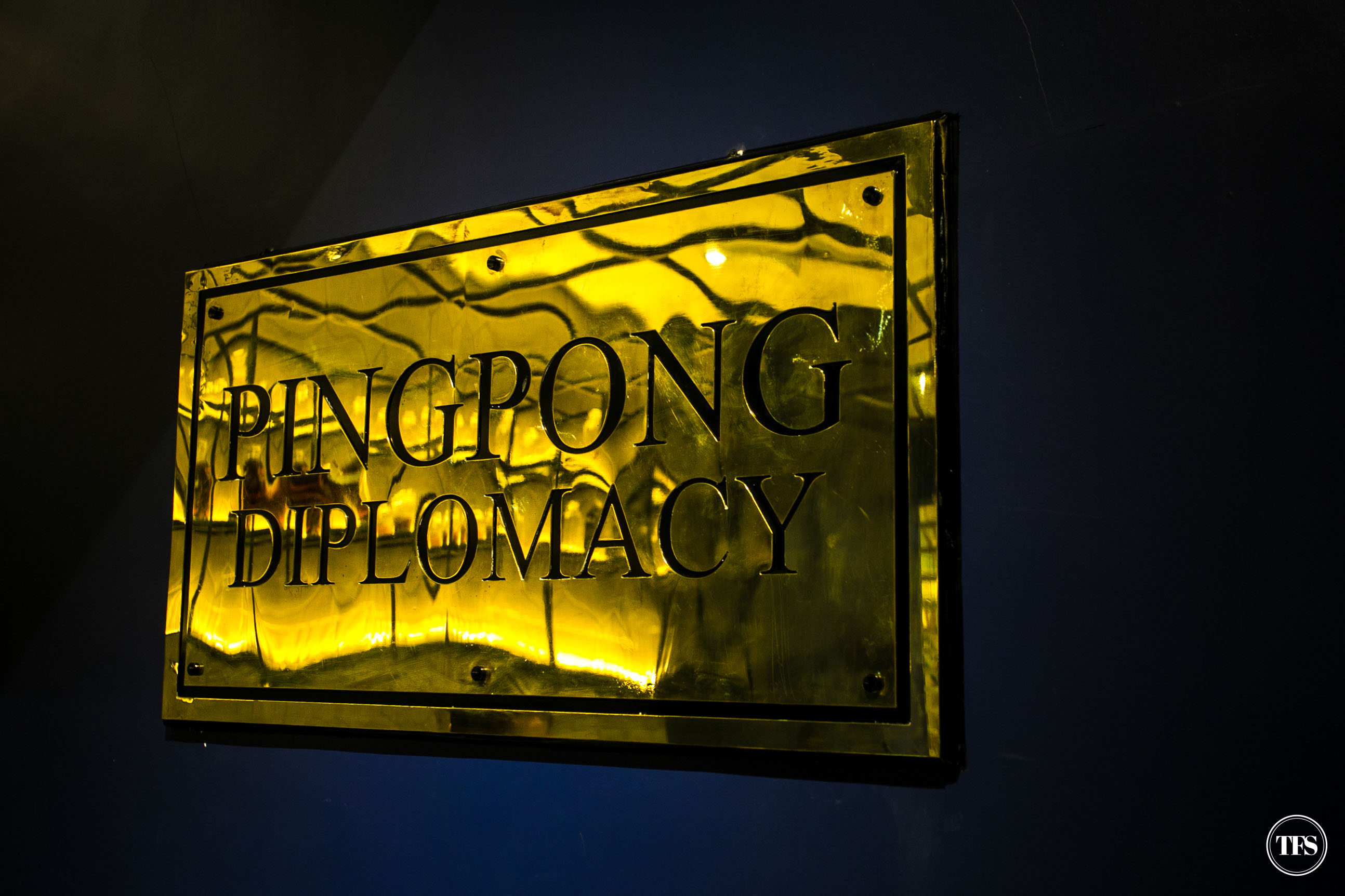 What do you think of Ping Pong Diplomacy?
Share with me your thoughts!
Stay updated and Subscribe to The Food Scout for Free!
Pray, Eat and Love.
Cheers,
The Food Scout
---
Location: SM Aura Premier, C5 Road cor 26th St, Bonifacio Global City, Taguig City, Metro Manila, Philippines
Operating Hours: 10:00AM-10:00PM
Contact: (+632) 960-4271
Facebook: https://www.facebook.com/pingpongdiplomacyph
Budget: PHP600++
Rate
Food            8/10
Ambiance  8/10
Service        8/10
Cost             8/10
Overall       8/10