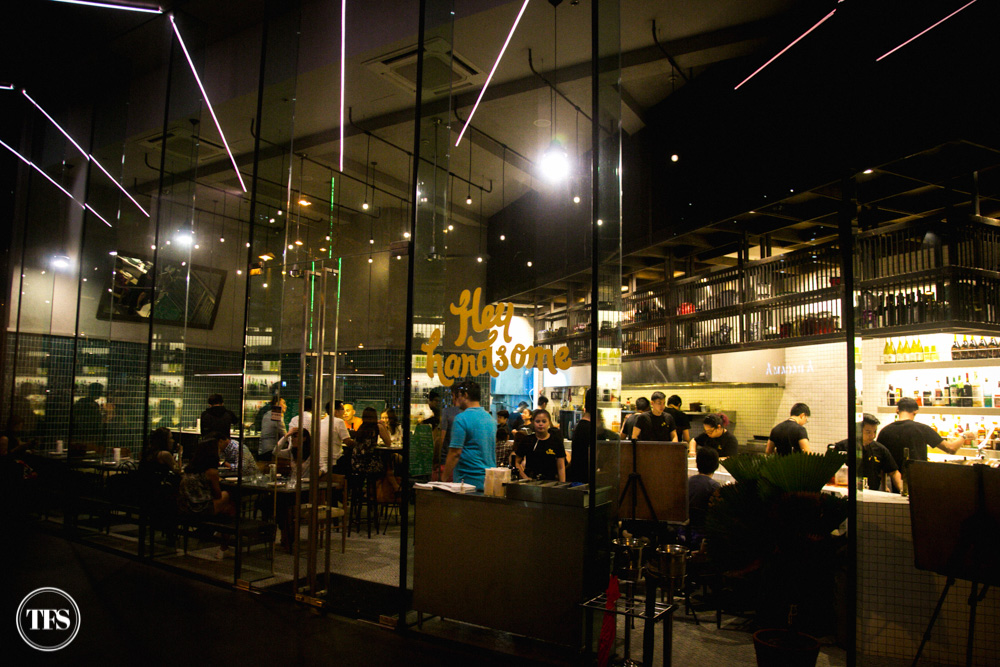 Hey! It's the talk of the town. And I can't be passive about it, sitting in front of my laptop, looking at different articles and posts of influential people lusting over the new restaurant in BGC named Hey Handsome. So, I took the opportunity to visit Hey Handsome with the most handsome man in my life (cheesy. stop. stop! Haha!), Mr. O.
I may have seen the posts, but I didn't delve into the articles reading about Hey Handsome. I'm not a snob or anything. I just prefer my experience to be authentic, straight from my experiences and not being influenced by what a friend or what a celebrity said about a restaurant.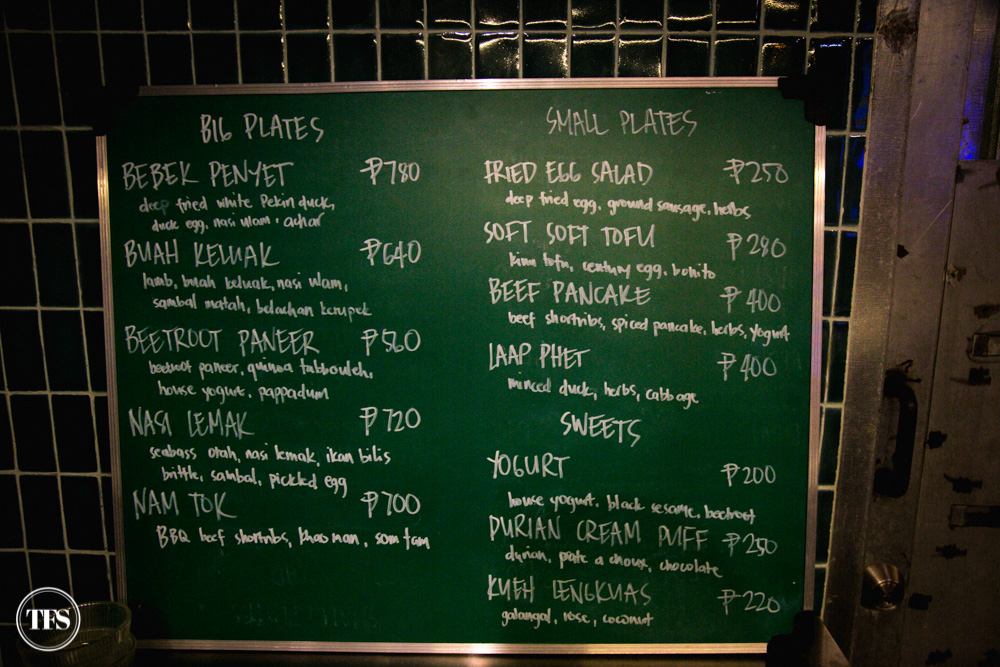 In the middle of the week, O and I didn't mind braving EDSA just because we want to experience something new. After all the wedding must-dos, don't we deserve a treat? Haha! Leaving our expectations behind, we went for the other handsome. The name of the establishment was enough for both of us to be curious what will be laid on our plate.
We arrived almost the same time when people are out from work, ready to unwind for the night. A few tables had "reserved" labels on. And in a few minutes, Hey Handsome was instantly packed.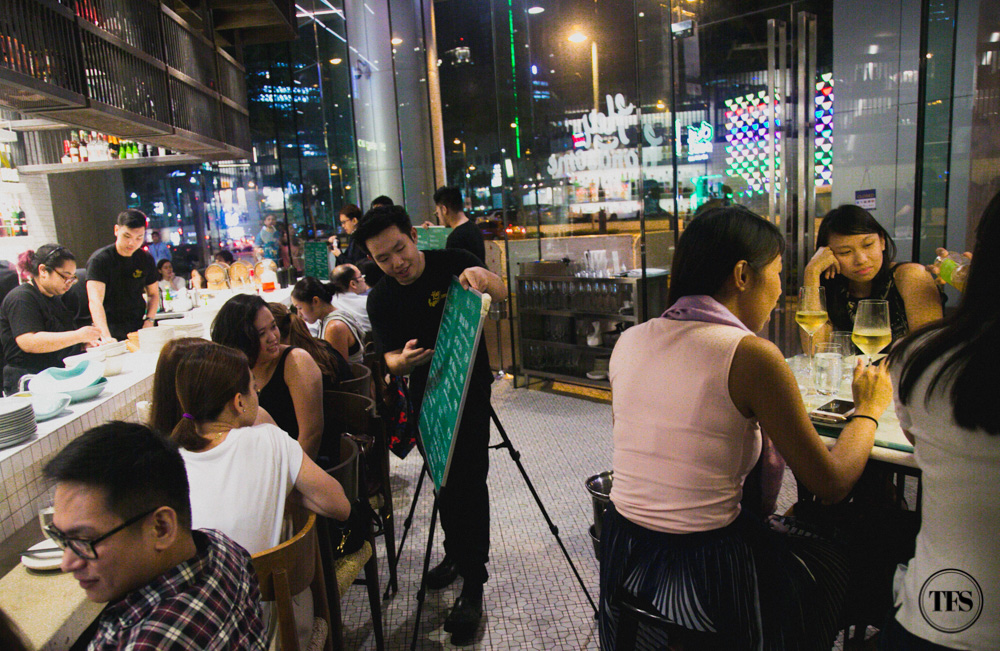 "Hey handsome!", what Hawker vendors in Singapore shout to people passing by, to draw them near their stall and buy food from them. Interestingly, it's what called Chef Nicco Santos' attention, one of the owners of Hey Handsome. To sum up the menu, the dishes are mostly Peranakan, influenced by Chef Nicco's passion for Southeast Asian cuisine. A fusion, yes. More of a collaboration of Peranakan and Northern Thai, with Singaporean, Indonesian, Chinese, Indian and Malaysian.
The Food: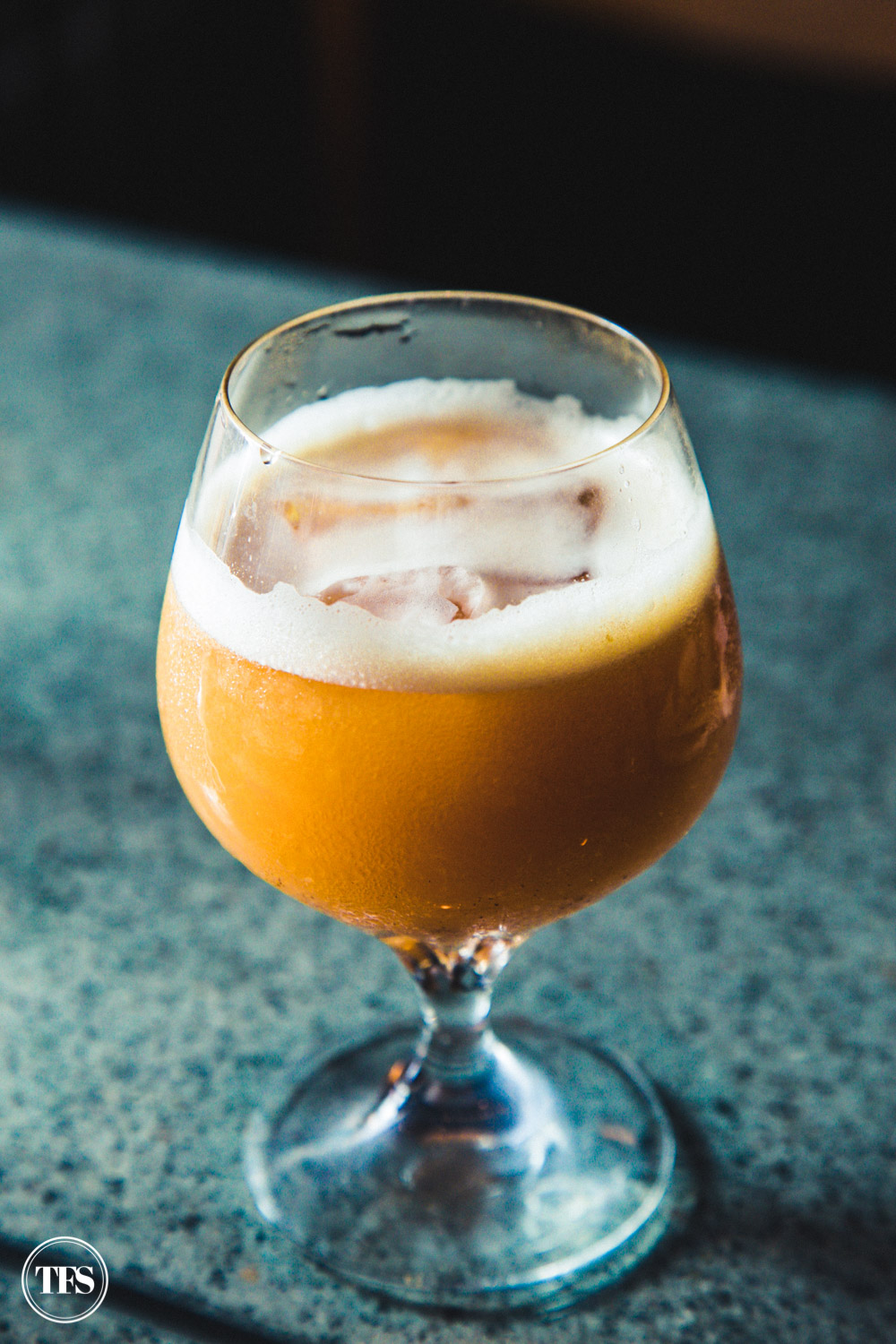 Every table around us must have known about Hey Handsome's cocktails. Nobody dared to miss a glass/es of their own. We gave in and ordered our own.
O intentionally ordered this Gin & Green Tea to tease me because I missed out on ordering that glass for me. It's a mixture of Hojicha infused gin, elderflower liqueur and lemon. A reliable drink if you ask me. Then I had Kiwi Vodka, more like a ladies drink that's on the edge of the sweet and sour side, with kiwi infused vodka, lemon and rhubarb bitters. Our friend Pepe, a whisky lover his glass of Old Fashioned, using strong Bourbon whisky.
With no idea what the dishes will be like, we let the owners Chef Nicco and Charles decide for us. I like this feeling by the way. No expectation what was going to happen on our table.
Then, the feast began with a first plate of this delicate Soft Soft Tofu. Thin and carefully sliced tofu, laying down beautifully, then cleverly topped with saline bonito flakes that intrigued us to know what else was in between. A surprise to us, Hey Handsome inserted this creamy and mashed century egg. Wow!! I cannot understand my joy after finishing this plate. It's one of the best! The dinner became more interesting right after the first dish.
The character of Chef Nicco was revealed more to us after he served this Fried Egg Salad. One word: brilliant! Who would have thought the so-called scrap, the crispy edges of fried egg that you don't normally serve, would be transformed into one of the best salads or let's say the best salad I've tried in my life. Deep fried egg, ground sausage and herbs, lots of it. The genius chef and his team stepped out of the box to let these ingredients shine altogether, in one bowl. To taste is to believe!
Holding on to my seat for the next one, because I now understand the surprise factor every time a server comes close to our table with a plate. For sure, it's an amazing dish. And I was right, Bebek Penyet stole my heart just like how the Fried Egg Salad did it. Deep fried white Peking duck, duck egg, nasi ulam, and achar (spicy pickled carrot strings). The Peking duck itself is an unexplainable perfection with powerful flavors surrounding it. Hints of sweetness, for a moment, hints of saltiness, and then some spices playing along. The meat is soft, falls off its bones, that makes cutting through easier. Nasi ulam, a Nyonya/Peranakan staple rice dish, mixed with various herbs. Spectacular dish!!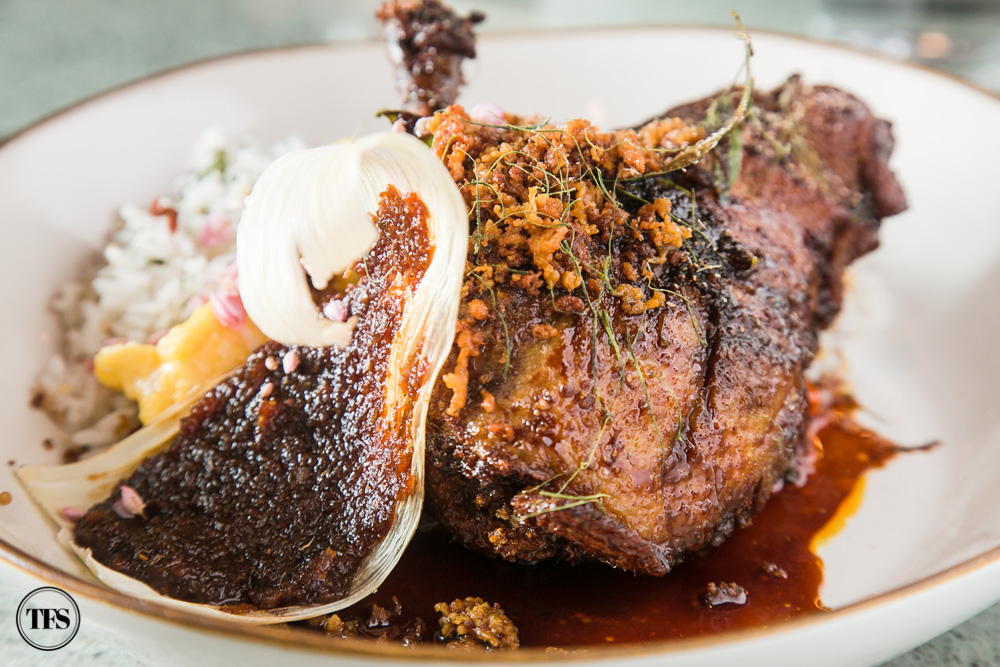 Slowly, as I move on to the next plate, I've been making statements to O that Hey Handsome is one of the best restaurants I've been to. Looking at each other, we both agreed the dishes so far mesmerize us. Then, Beetroot Paneer was brought in. Another colorful plate, vegetarian as they say but it doesn't feel like one, is a combination of quinoa tabouleh, grilled onions, housemade yogurt and papagum. Turn me into a vegetarian if this Beetroot Paneer what you'll serve to me everyday!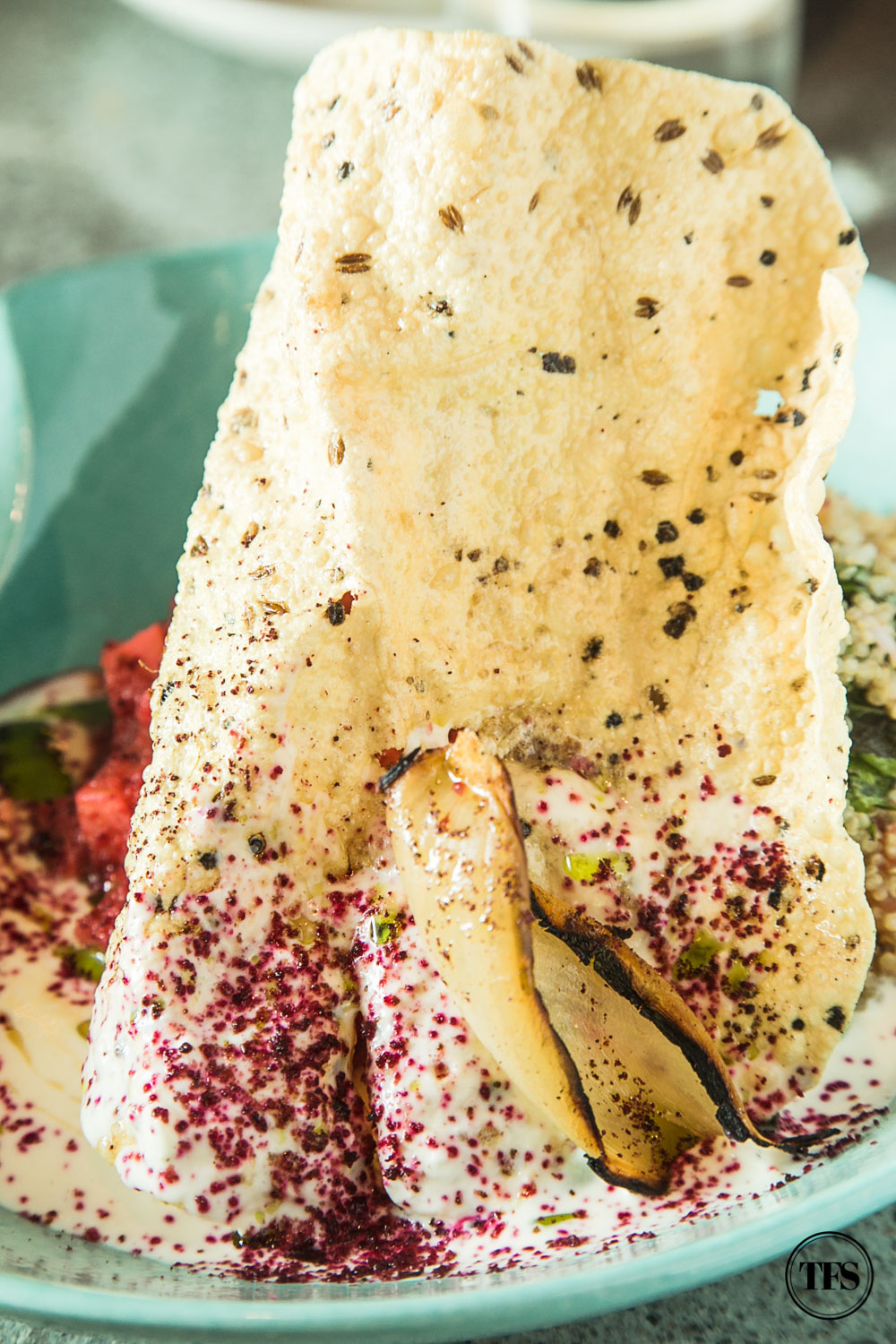 The fancy Nasi Lemak, a plate for sharing, holds these ingredients together, seabass otah (grilled fish cake cooked in banana leaf), ikan bilis brittle (peanut brittled w/ dried anchovies), sambal and pickled soft boiled egg. Also a stand out, it's what you hope every Nasi Lemak is. A party of flavors exploding all in one!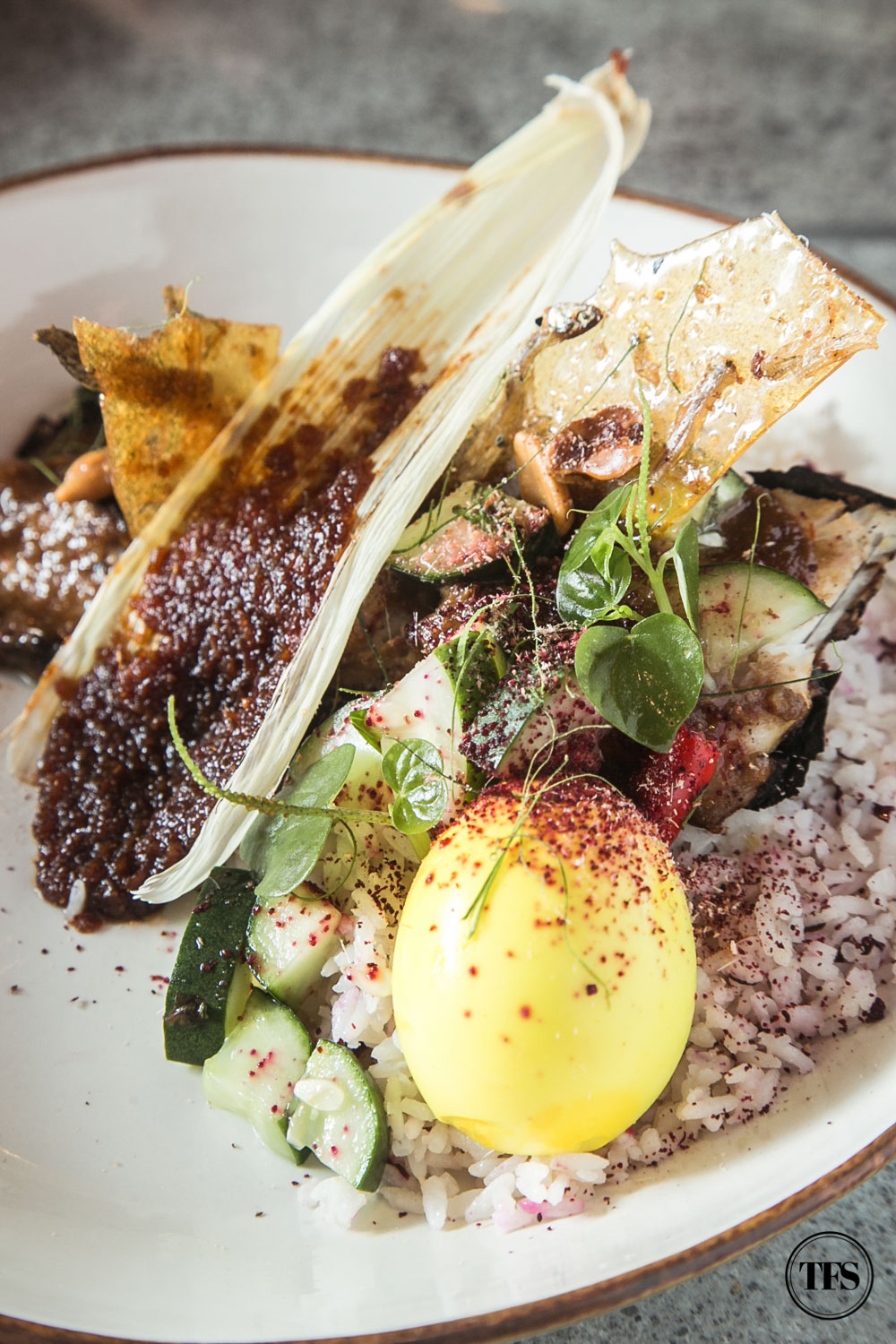 The sugary dishes supplemented our savory meals right after we told the server to clear our empty plates. Kueh Lengkuas is quite a complicated recipe with galangal (a rhizome of plants in the ginger family Zingiberaceae with culinary and medicinal uses from Indonesia), rose meringue and coconut. Textures continued to be playful as it used meringue, coconut bits and salted caramel. I find it over my sweetness tolerance unfortunately. But if you're looking for a dessert that will balance off the spices from your main dishes, then it's the Kuel Lengkuas you have to take note of.
The use of beetroot doesn't stop and now creatively used for desserts. I fancied this panna cotta-like House Yogurt on a cup with black sesame crisps or tuile (French baked wafer) and beetroot powder. How brave of Hey Handsome's team to step out of their comfort zones in innovating desserts.
Speaking of innovation, Chef Nicco dared to use the not-so-favorite durian as his main ingredient for his dessert, Durian Cream Puff. Inside the pâte à choux (choux pastry), is a creamy durian paste, painted with chocolate outside. The dessert may be for select audience yet it will excited anyone to encounter this type of durian dessert. Because, you can't just find this kind of dessert somewhere else.
The Ambiance: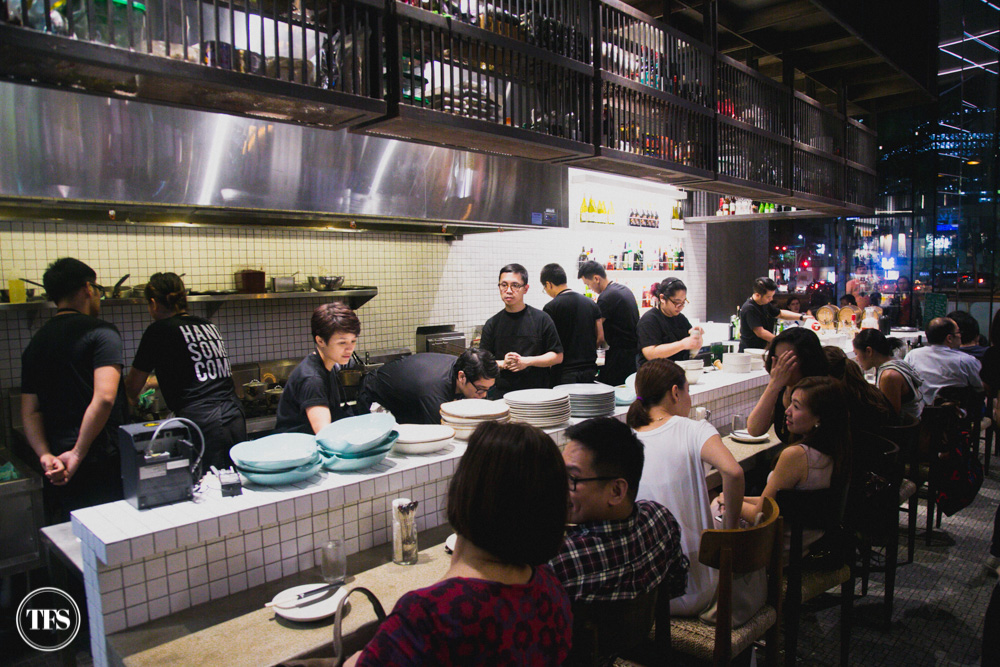 Tiles, grey walls, an open kitchen and unconventional type. This is how Chef Nicco envisions his creative space where interaction with customers is expected most especially if you sit by the counter.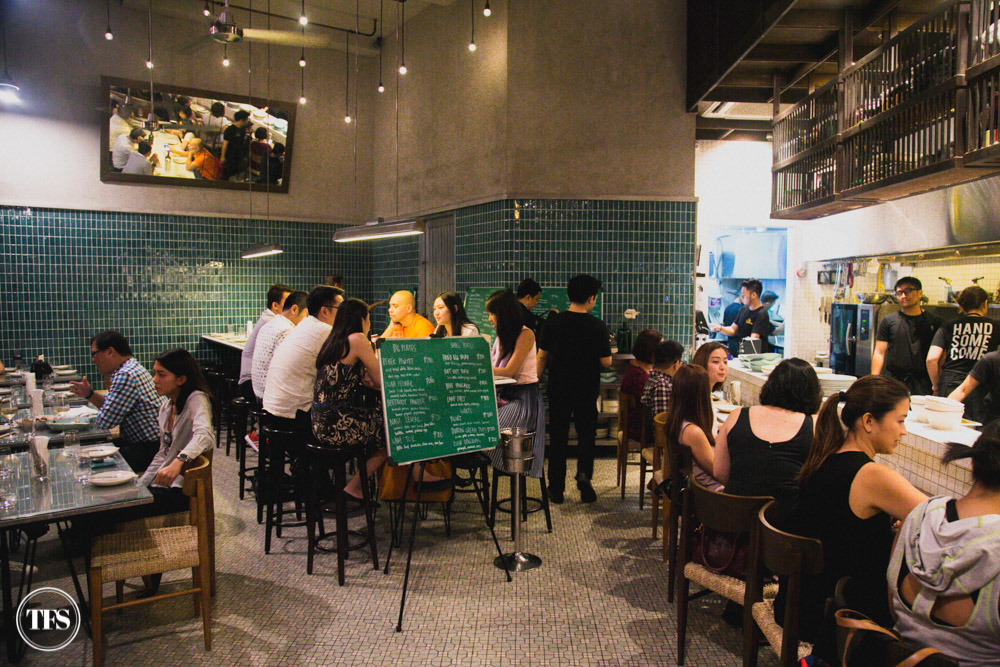 The large-sized menu board is being carried all around the place, whoever wants to see the menu and order.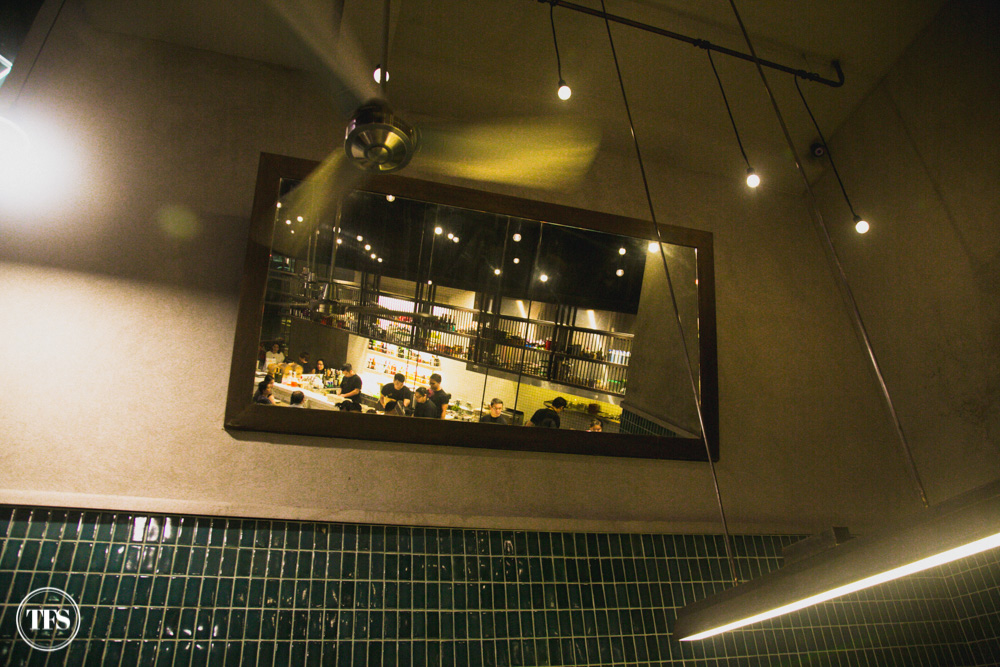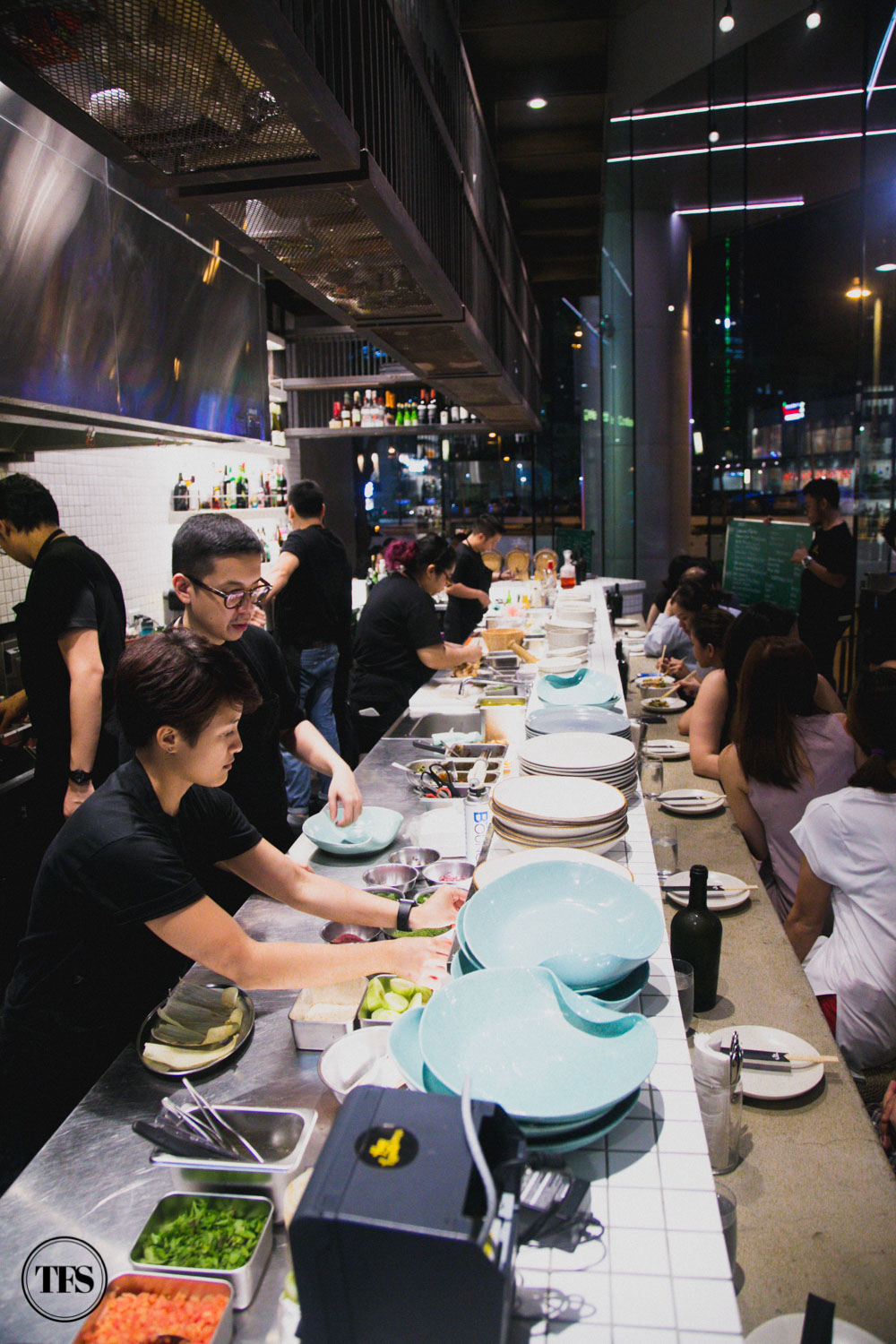 There I saw my friend Quenee, busily working as Chef Nicco's sous chef. So proud of this woman!!!
I also learned from Quenee how meticulous and somehow tedious every process is. When I came to try Hey Handsome, they were only serving during dinner time because preparation starts in the morning and that runs for hours until dinner. The hard work and effort they put in are evident in every dish they serve. Truly, world-class dishes worth raving about!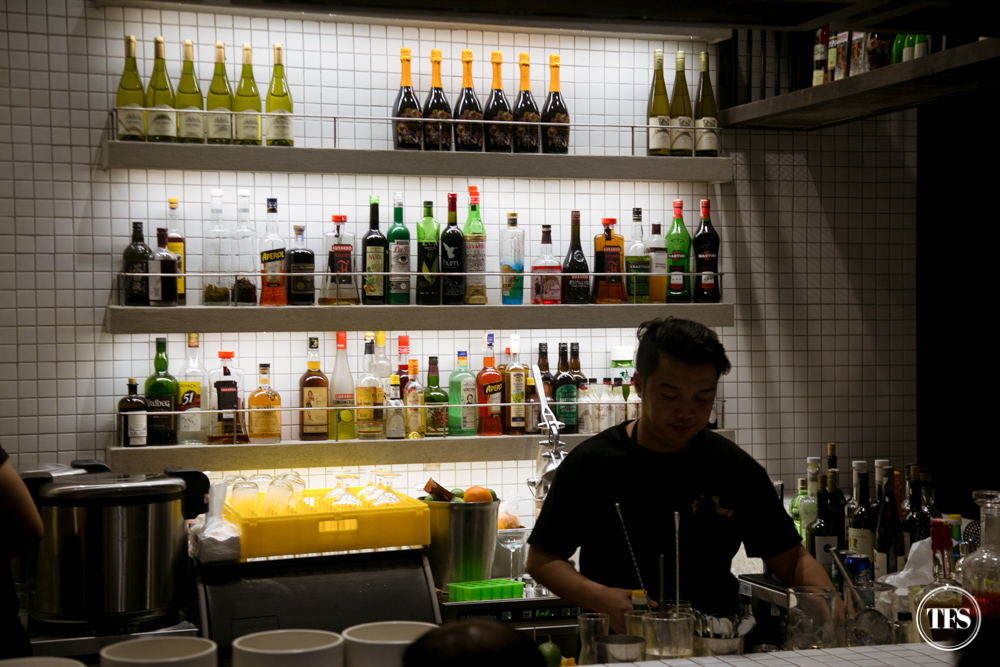 Again, do not ever forget to order your cocktails. It's magical!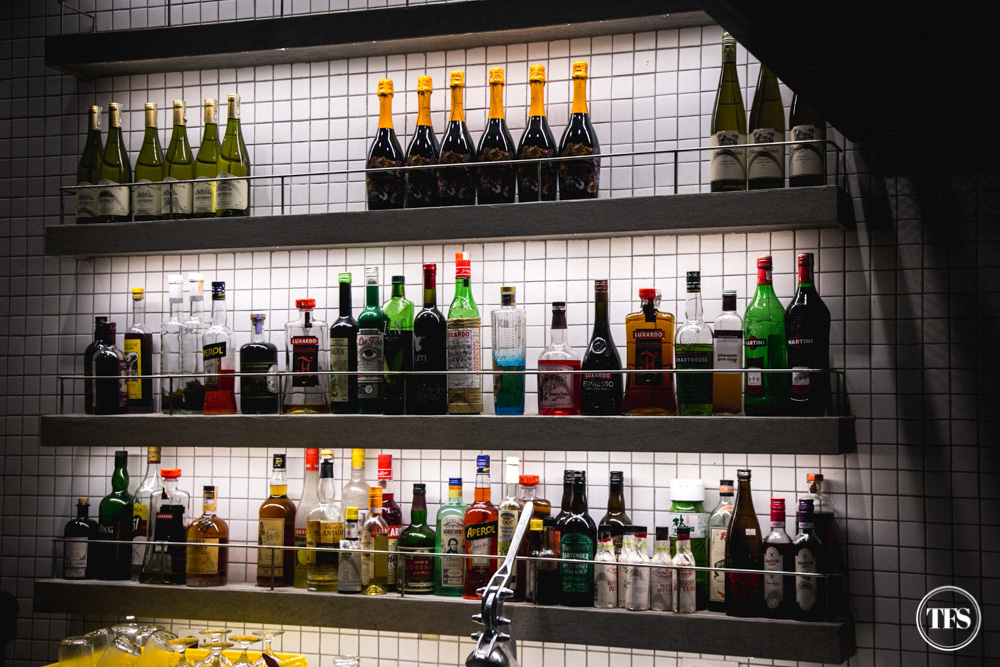 I'm convinced. Yes I am! Hey Handsome deserves a crown for treating our tastebuds like royalty. I feel like a spoiled child, getting everything I want in one sitting!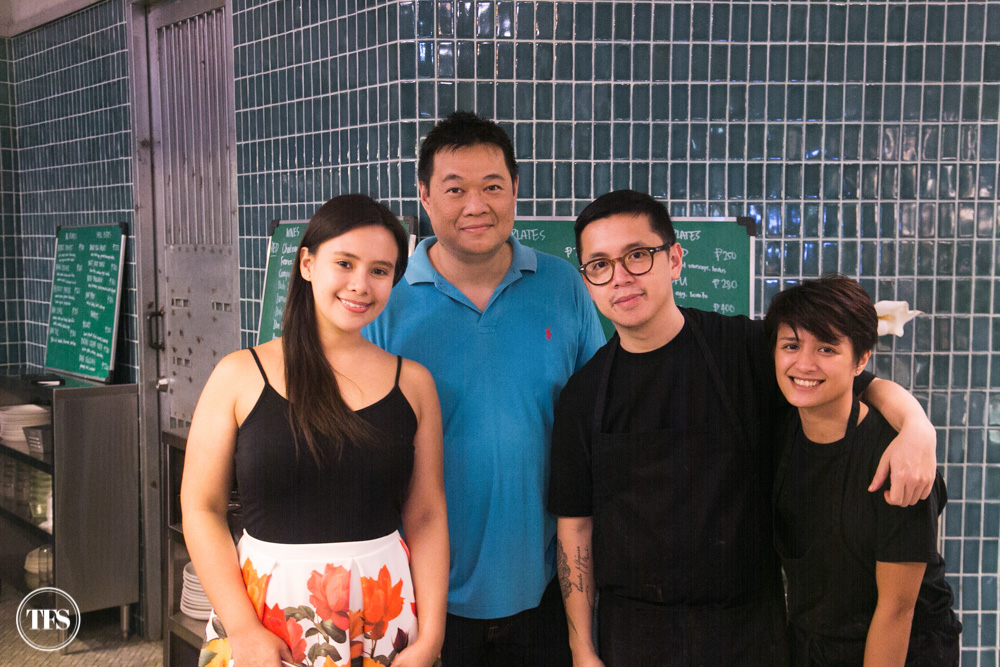 What do you think of Hey Handsome?
Share with me your thoughts!
Stay updated and Subscribe to The Food Scout for Free!
Pray, Eat and Love.
Cheers,
The Food Scout 
---
Location: G/F Net Park Bldg., 5th Ave., BGC, Taguig City, Metro Manila, Philippines
Operating Hours: 6:00PM-10:00PM
Contact: (+63 926) 051-1471
Facebook: https://www.facebook.com/handsomecome
Budget: PHP600++
Rate
Food            10/10
Ambiance  8/10
Service        9/10
Cost             8/10
Overall       8.75/10