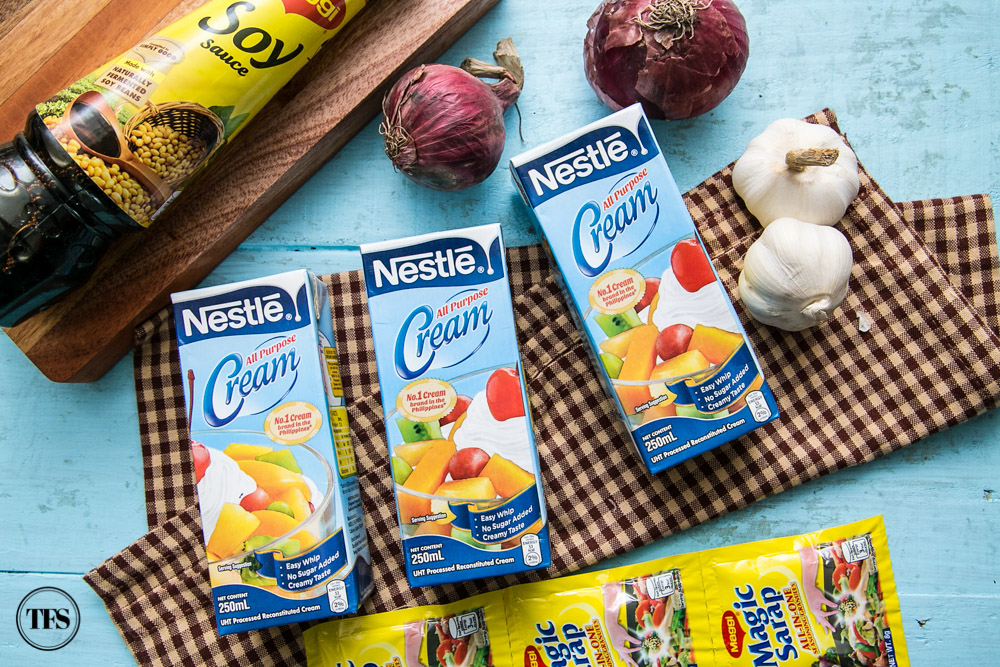 Did I tell you about my cooking experience at NESTLÉ Cream event a few weeks ago? Well, if you haven't read about it, that cooking event with Chef Rob Pengson encouraged me that even if I'm just an amateur cook, it is possible for me to create interesting recipes using NESTLÉ Cream. Plus, cooking is also one gesture of showing love.
After learning how to make Creamy Chicken Adobo, I wanted to test what other recipes I could do at home and share with my loved ones. Luckily, NESTLÉ gave us participants a goodie box with NESTLÉ All Purpose Cream, Maggi Magic Sarap and Maggi Soy Sauce. I thought that was a clear sign for me to hang out in the kitchen and see what I can do with the ingredients.
With the help of my fiancé O, we brainstormed what we can cook for the weekend. This is actually one of our love languages, doing things for each other. In this case, we cook! While thinking about it, we both realized NESTLÉ All Purpose Cream is that versatile, we can actually cook almost everything with it. May it be appetizers, seafood, red and white meat dishes or desserts, NESTLÉ Cream is the special ingredient to make our creations better and creamier!
Since our weekends are made for comfort food, we listened to what our stomachs crave for, Burgers! Ooooh, the sound of burgers is magic to our ears. Yum! By just thinking about it, I know it will be a mouthwatering one. But of course, we need to make it more special than just plain grilled burgers right? Thus, we thought of creating Creamy Mushroom Burger!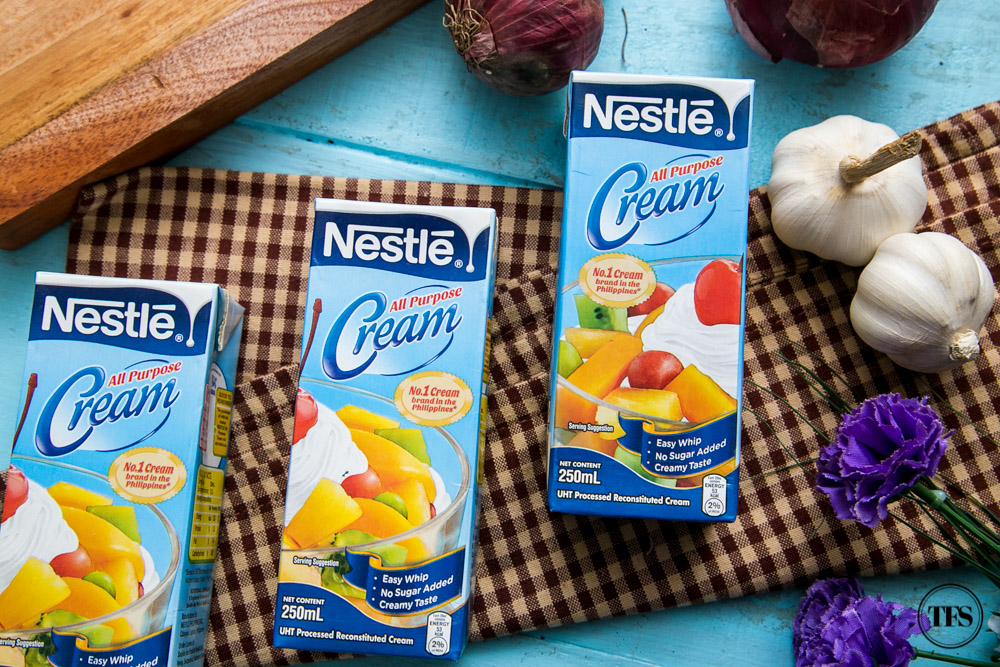 Creamy Mushroom Burger
Ingredients
For the Burger:
1kg ground beef
1 egg
salt and ground black pepper
1 burger bun
1 sachet 8g Maggi Magic Sarap
butter or olive oil, for the pan
For the Toppings: 
4 strips bacon
2 eggs, sunny side up or scrambled
2 large onions, sliced and caramelized
1 lettuce
melted mozzarella cheese
melted sharp cheddar cheese
potato chips
For the Creamy Mushroom sauce:
1 pack NESTLÉ All Purpose Cream 250ml
7oz. mushroom slices
1 clove, minced garlic
2 tsp. salt and ground black pepper
butter or olive oil, for the pan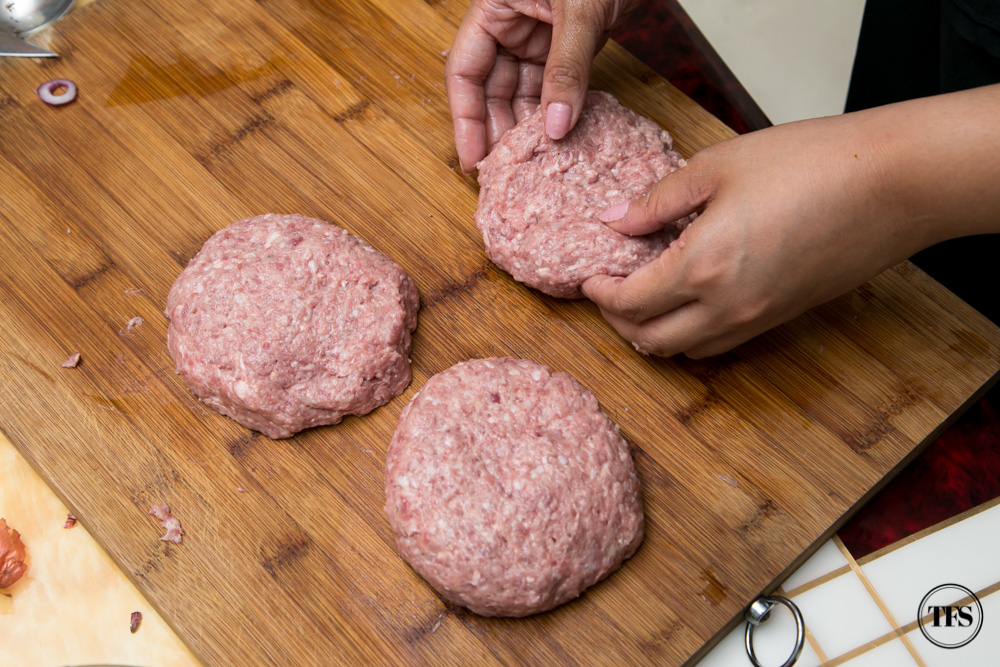 Procedure for the Burger

Preheat grill or pan to medium heat. Add olive oil or butter.
In a bowl, combine the ground beef, egg, Maggi Magic Sarap, salt and ground black pepper. Mix thoroughly with your hands.
Form the mixture into 3-6 burger patties, depends on the size you prefer.
Transfer the burger patties to the hot grill or pan. Flip the burgers to make sure both sides are cooked evenly. Cook the burgers for 6-10 minutes. Cooking time for medium-rare is 6 minutes while 10 minutes for well-done.
Toast the buns in the oven or on the pan. Spread butter inside the buns, as necessary.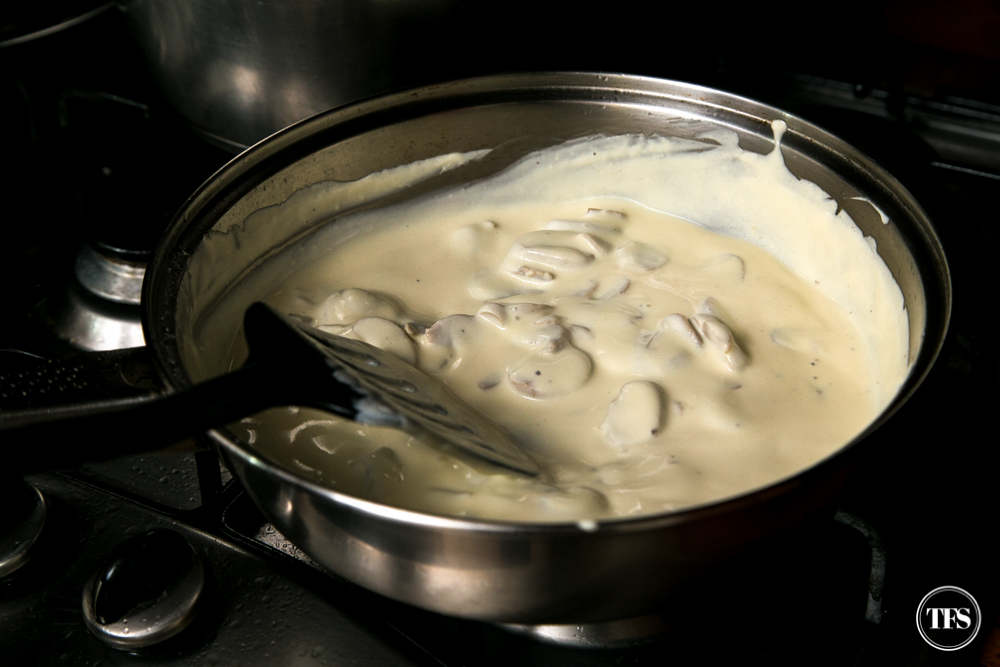 Procedure for the Sauce
Preheat pan with butter or oil to medium-high heat.
Add mushroom slices and stir-fry until lightly browned.
Reduce medium-high heat to medium and add NESTLÉ All Purpose Cream. Stir and mix all ingredients until sauce is reduced by half. Then, add salt and pepper.
Add minced garlic while stirring the creamy sauce.
Turn off heat and add the Creamy Mushroom Sauce as you assemble the burger.

Assembling the Burger
It's time to build the burger! Stacking the burger might be a little tricky if you plan to create a tower burger like what we did. If your burgers can't be still, use barbecue sticks to let them stand straight. Also, you may add the Creamy Mushroom Sauce on top of each burger patty and on top of the bun.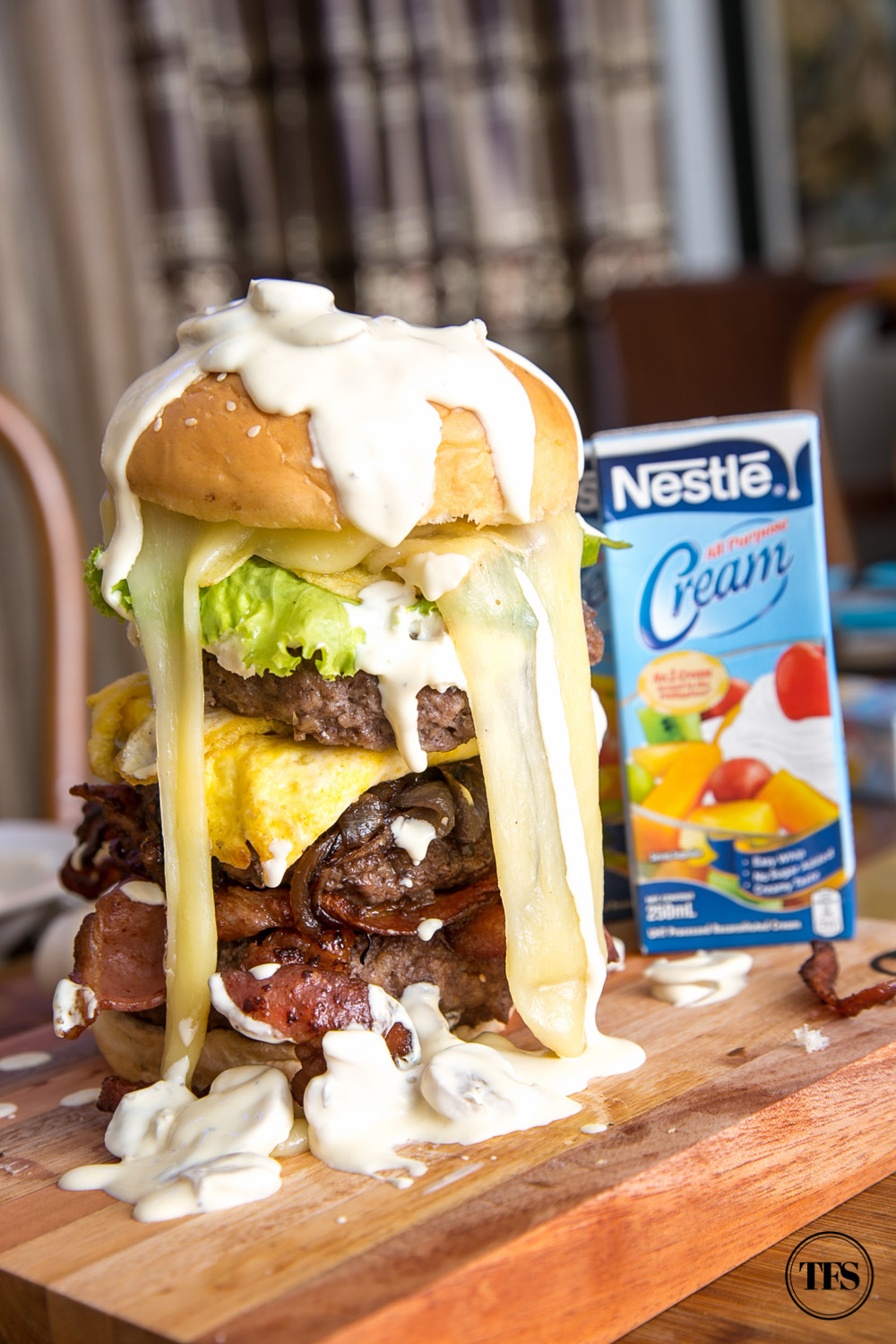 Here's our oooh-la-la instagram-worthy Creamy Mushroom Burger, made extra special with NESTLÉ All Purpose Cream.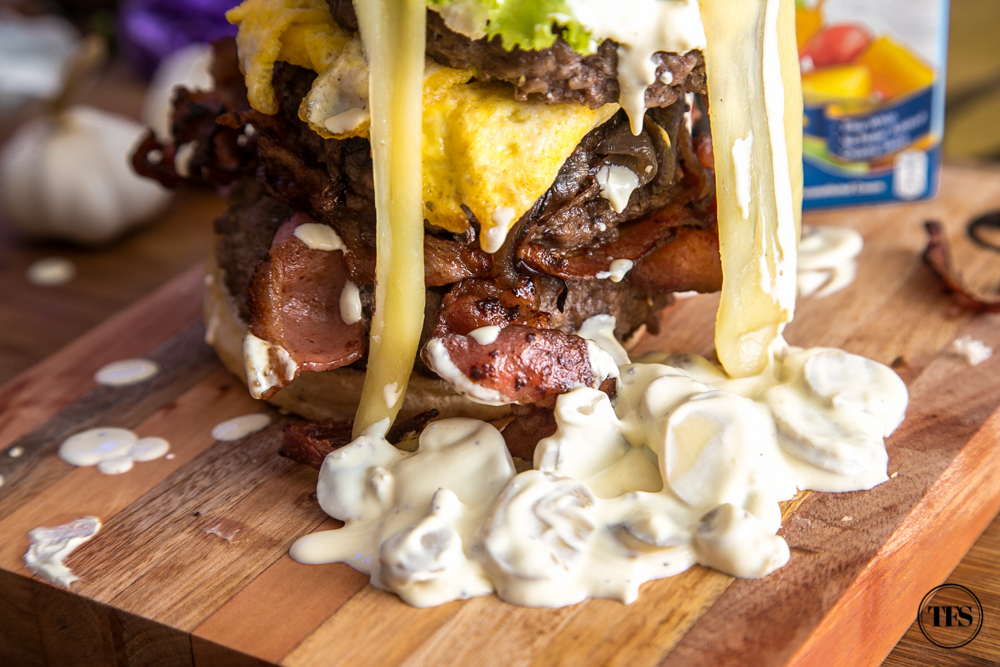 The taste of the Creamy Mushroom Sauce balances the savory and meaty taste of the burger patties. All ingredients stacked together, it results to a Sunday cheat day kind of burger you'd want to eat with your family or friends. Without saying a single word, just hand this burger to your loved ones, it's another gesture of saying you love them and you want to make them smile.
If you think it's too deadly, well, it's not for one person to consume. Ideally, it's for a group of 3 or more!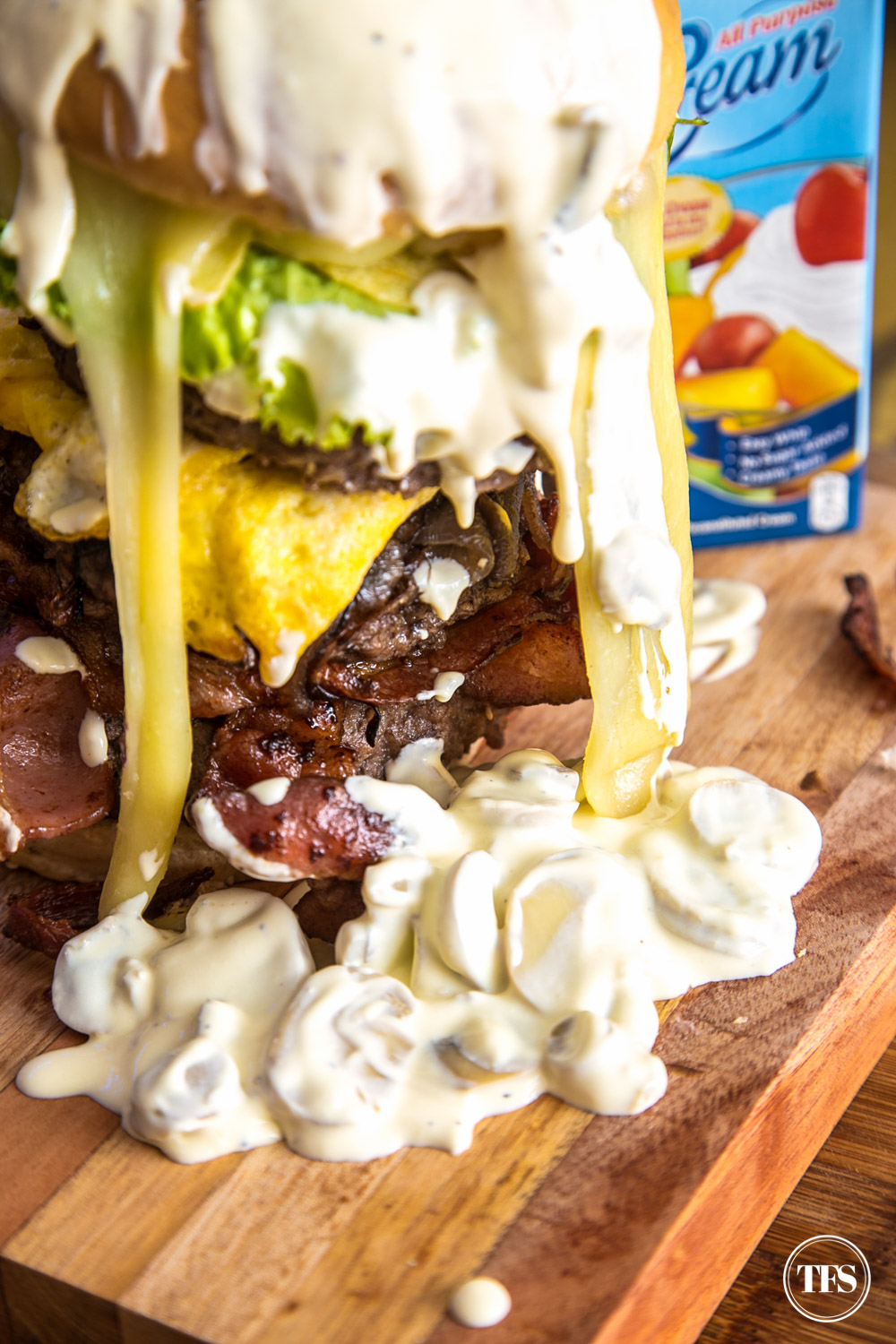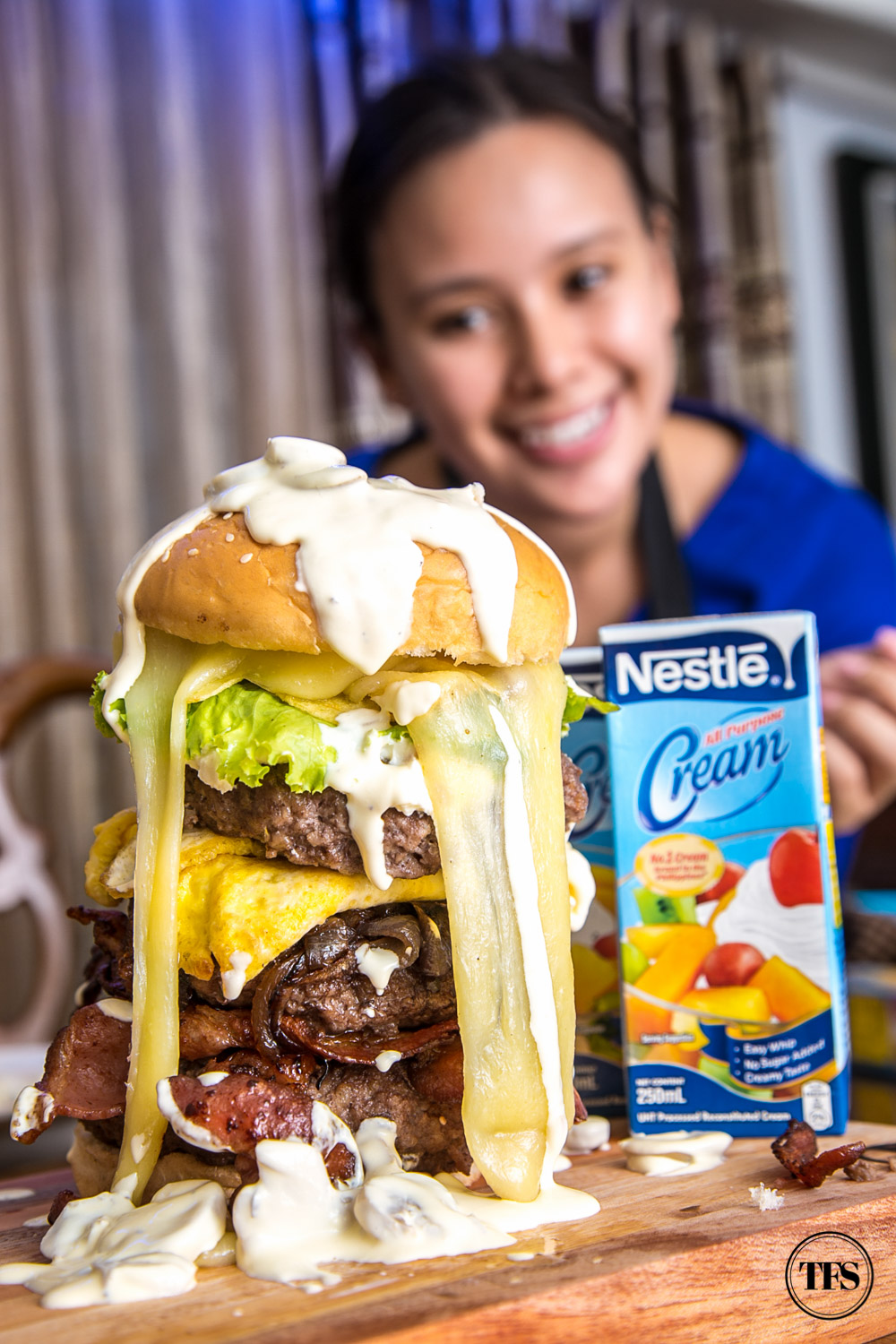 The bottomline here is that, NESTLÉ All Purpose Cream helps us elevate our all-time favorite home-cooked dishes into a new language of love. Any recipe you have in mind, you could make it creamier. Creating this Creamy Mushroom Burger is just one of the thousands of recipes to enhance. I've seen it from my dad and mom, they always use NESTLÉ All Purpose Cream when they create their pasta and the typical, the desserts. Now, I understand why!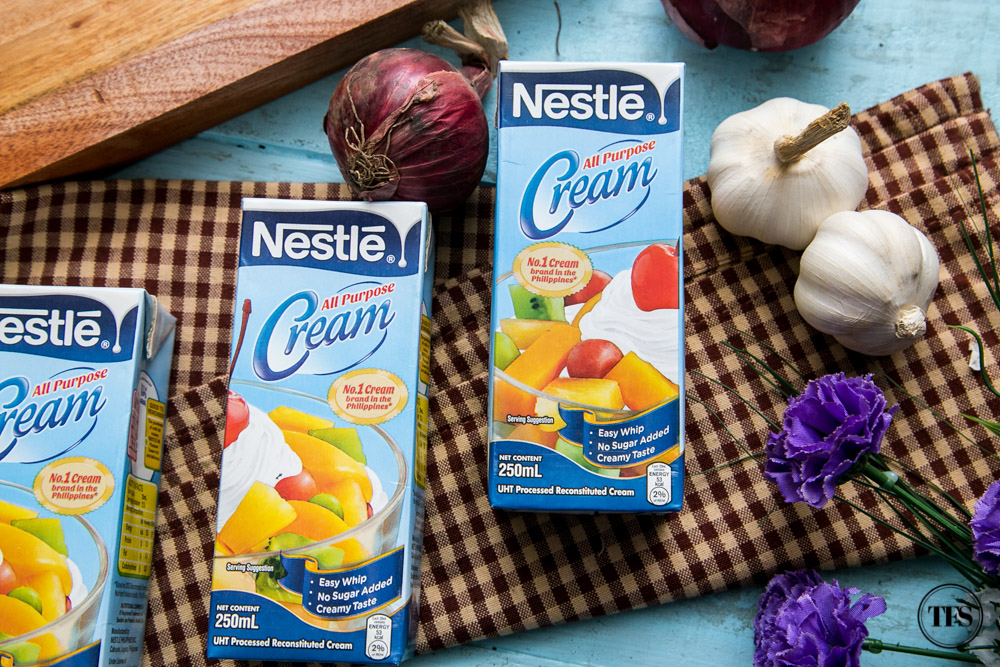 What do you think of our Creamy Mushroom Burger with NESTLÉ All Purpose Cream?
Share with me your thoughts!
Stay updated and Subscribe to The Food Scout for Free!
Pray, Eat and Love.
Cheers,
The Food Scout 
---
Facebook: https://www.facebook.com/nestlecream.ph