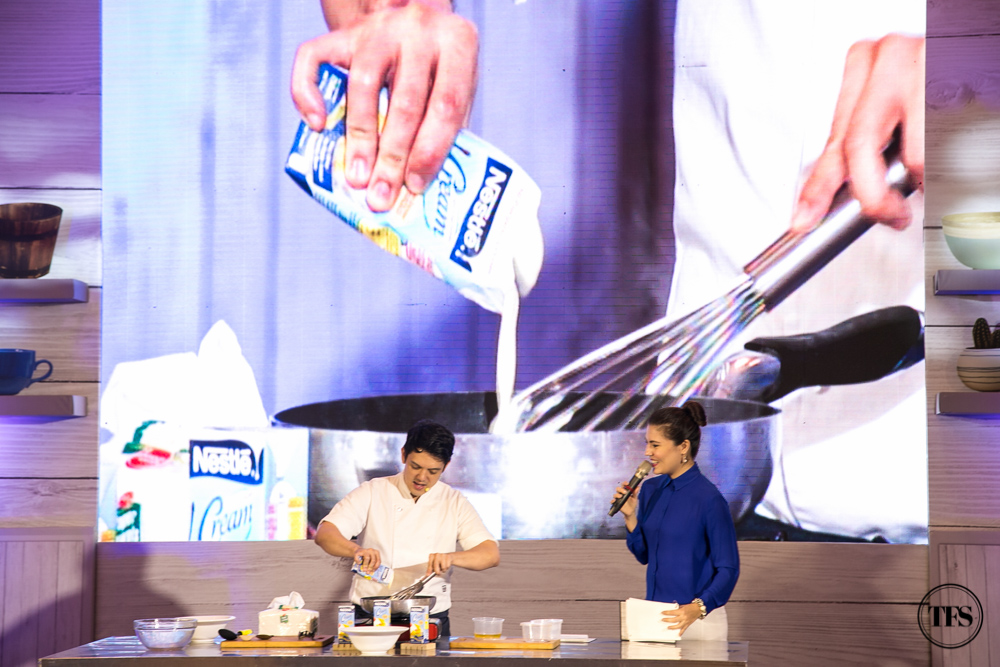 Recently, I pay full attention to cooking shows more than before. Is this a sign of maturing? Haha! Or, is it just because I'll be stepping out of my 'singlehood' for a brand new chapter? Maybe.
Few Saturdays ago, I was invited to NESTLÉ All Purpose Cream cooking event to learn how to level up my knowledge of cooking our national dish, Adobo! I couldn't say no to this. I really wanted to learn how to cook and make food more interesting. If you take me to events like this 3 years ago, I'd probably be a plain attendee who will just want to absorb knowledge and not be giddy to take down notes. Learning how to cook Adobo became more thrilling after finding out it was Chef Rob Pengson who will be teaching us how to do it!
Before Chef Rob stepped on stage, an icebreaker game was prepared for us. It was like 'PANTS' category game, but instead of using PANTS, we use CREAM to represent the categories. Tables with 6-10 participants compete against other tables. On a Saturday morning, this was our mind exercise game. We had to be sharp and made sure our answers weren't similar to our opponents. That was a fun mental game everyone enjoyed! But the next part was what I've been waiting for, the cooking segment!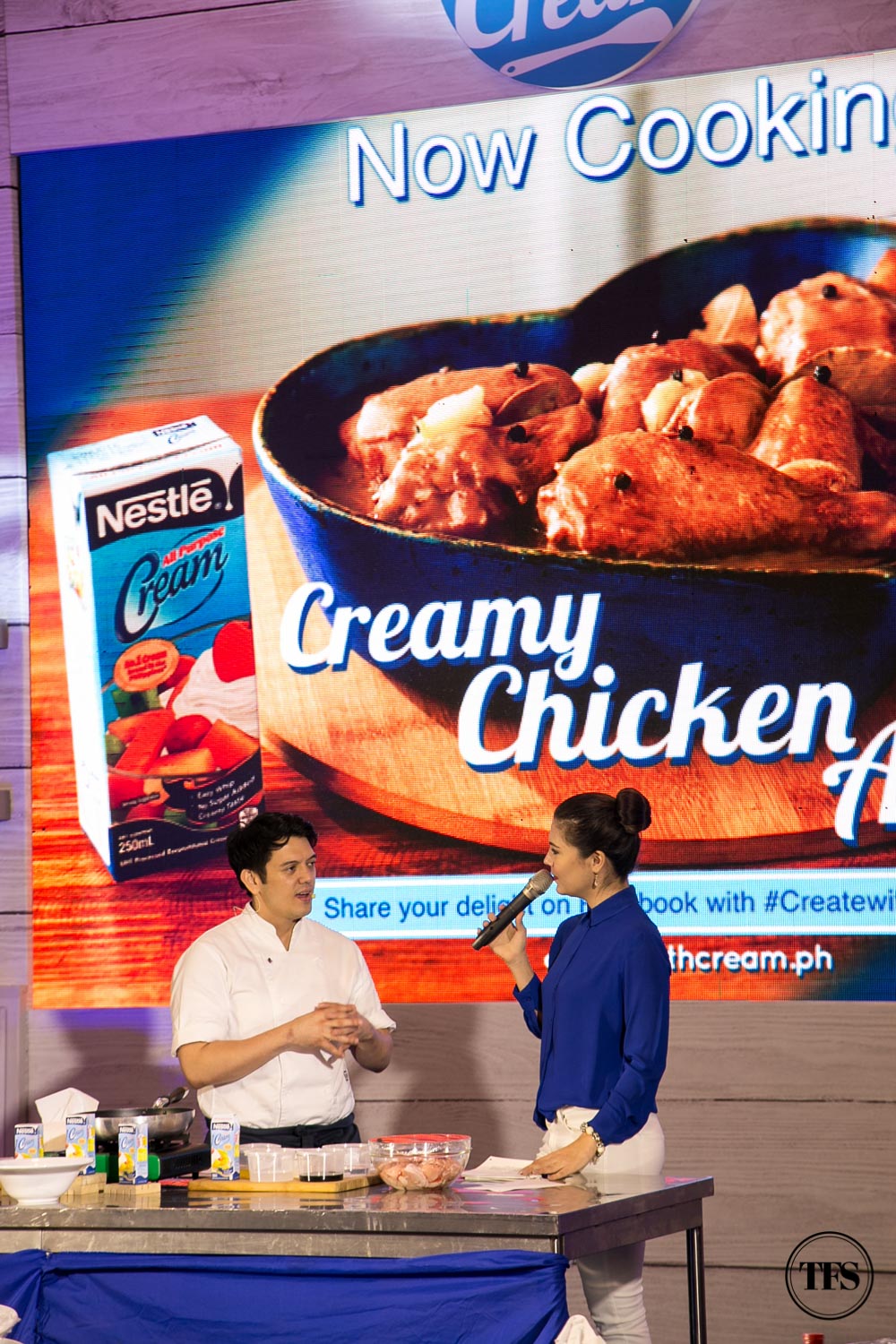 In every Filipino home, there are different versions of Adobo. But this one is a must-try! Creamy Chicken Adobo is made especially creamy by using NESTLÉ All Purpose Cream. This recipe has been tried and tested in the NESTLÉ kitchen, which means you don't need to estimate how much vinegar or soy sauce you should add like how typical households do it.
Chef Rob showed us how easy it is to create Creamy Chicken Adobo. Amateurs or wanna-be cooks won't have a hard time sourcing ingredients. Everything can be found in the supermarket and probably some, in your kitchen. In our kitchen, we usually have NESTLÉ All Purpose Cream, because we use it in making creamy desserts and sometimes, savory dishes. But it's the first time I've learned how to use NESTLÉ All Purpose Cream for Adobo.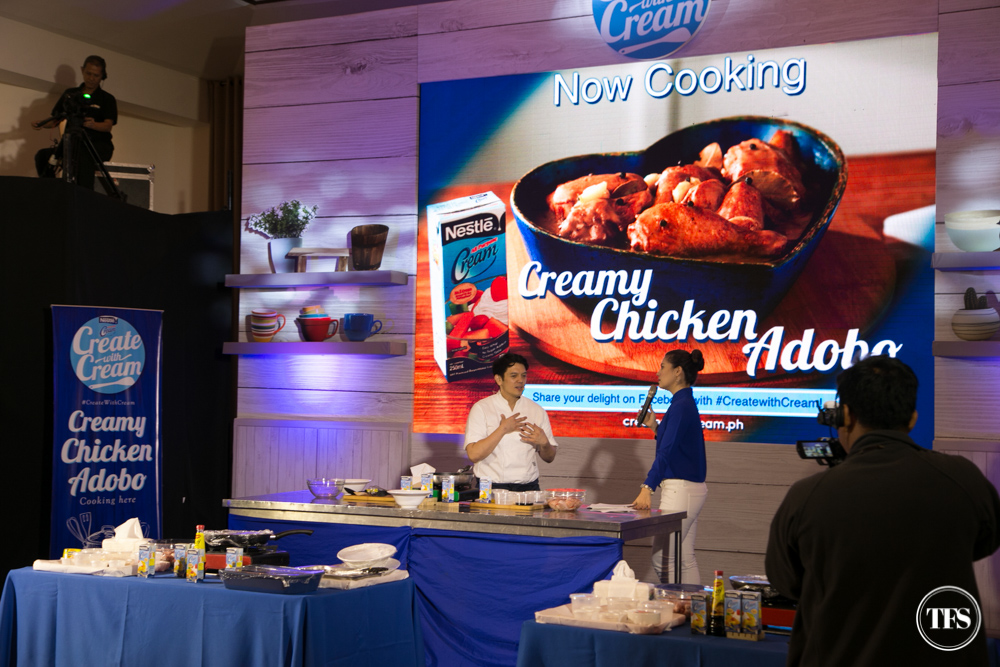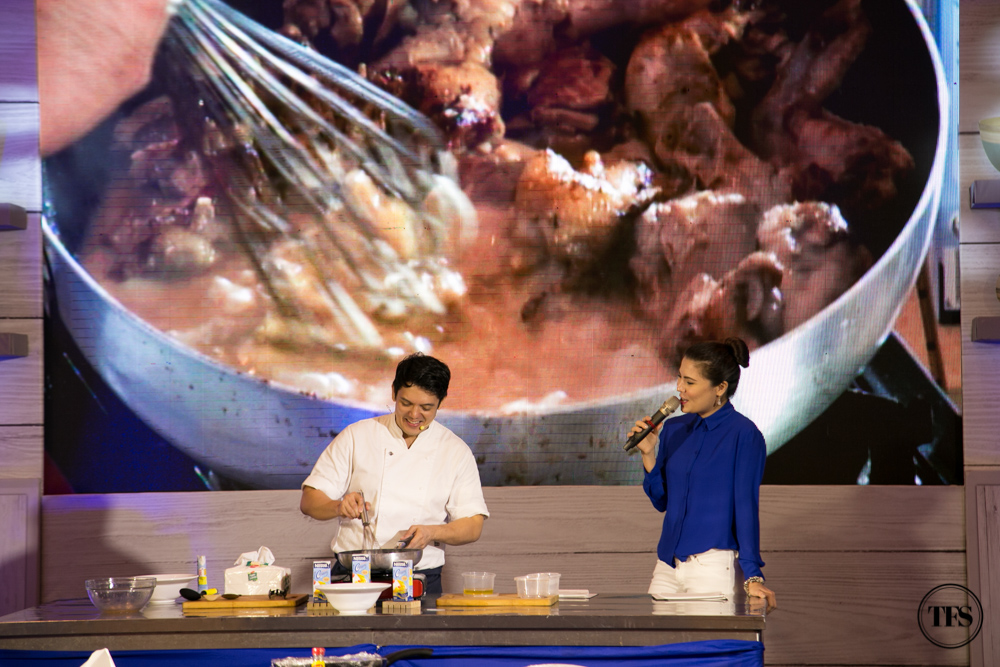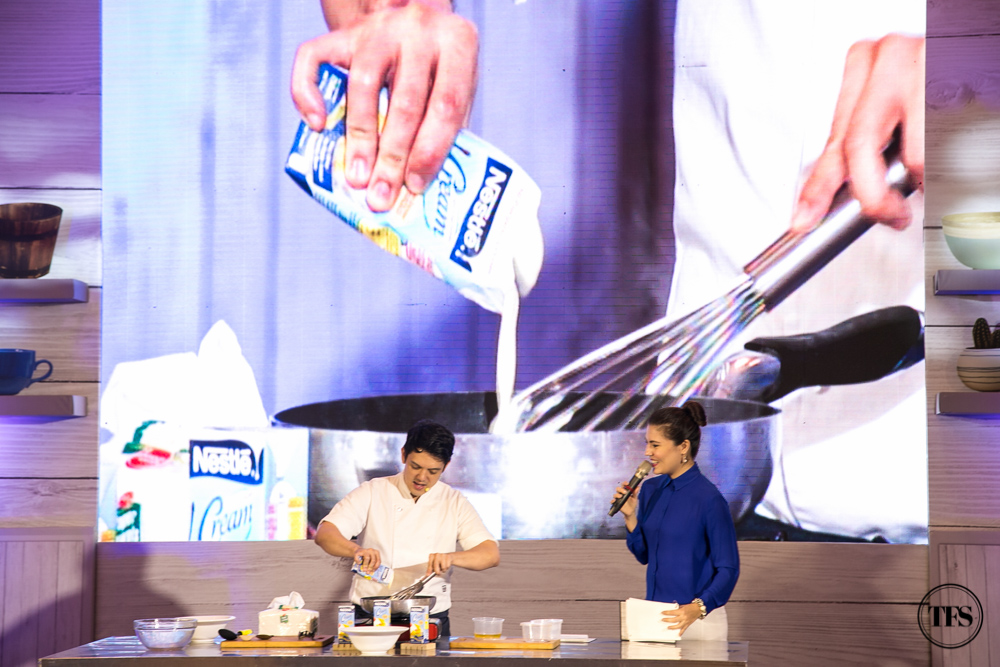 Creamy Chicken Adobo
Ingredients: 
1 whole chicken, cut into pieces, approximately 1kg
1/3 cup vinegar
1/4 cup Maggi soy sauce
1 sachet 8g Maggi Magic Sarap
1/4 cup crushed garlic
1/2 cup oil
1 pack NESTLÉ All Purpose Cream 250ml
Procedure: 
1. In a pot, boil chicken in vinegar, Maggi soy sauce, water, Maggic Magic Sarap and garlic. Cook uncovered until boiling. Lower the heat and simmer while covered until chicken is tender but not disintegrated. Simmer for 10 minutes. Strain sauce and reserve.
2. In a large pan, heat the oil. Pan-fry the chicken until golden brown. Remove excess oil.
3. Pour in the reserved sauce and simmer with the browned chicken until sauce is almost dry.
4. Pour in NESTLÉ All Purpose Cream and remove from heat. Serve hot.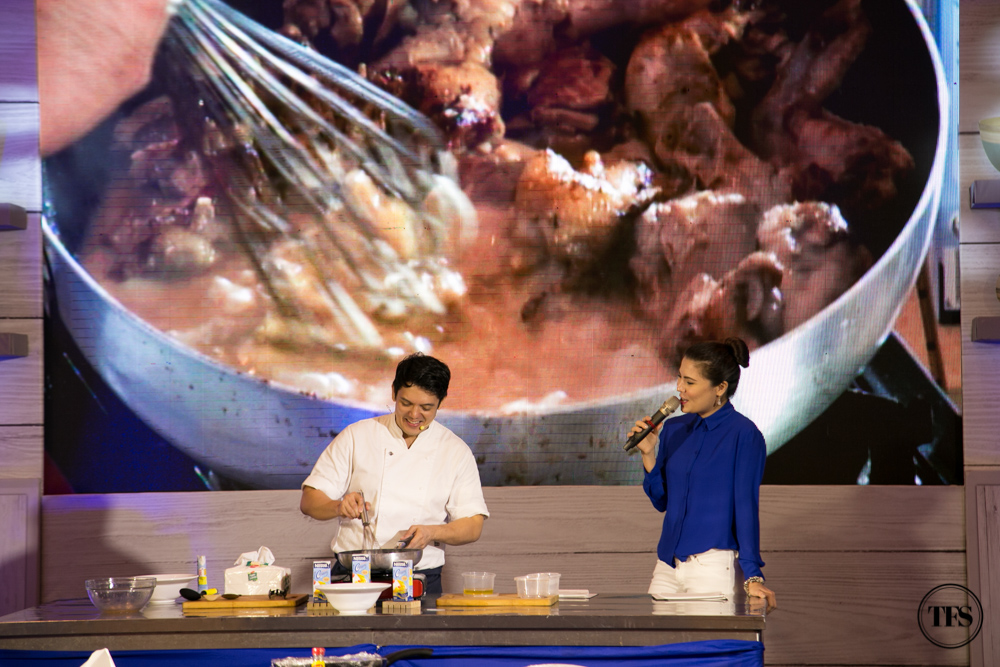 Cooking Tip from Chef Rob: Perfect one recipe before you move on to the next.
This Adobo recipe is similar to how my mom wants her adobo. Cooked twice where she browns the cooked chicken for the flavors to stick more to the chicken meat. The only difference, we haven't tried using NESTLÉ All Purpose Cream. Now, I know how to level up the recipe I grew up with.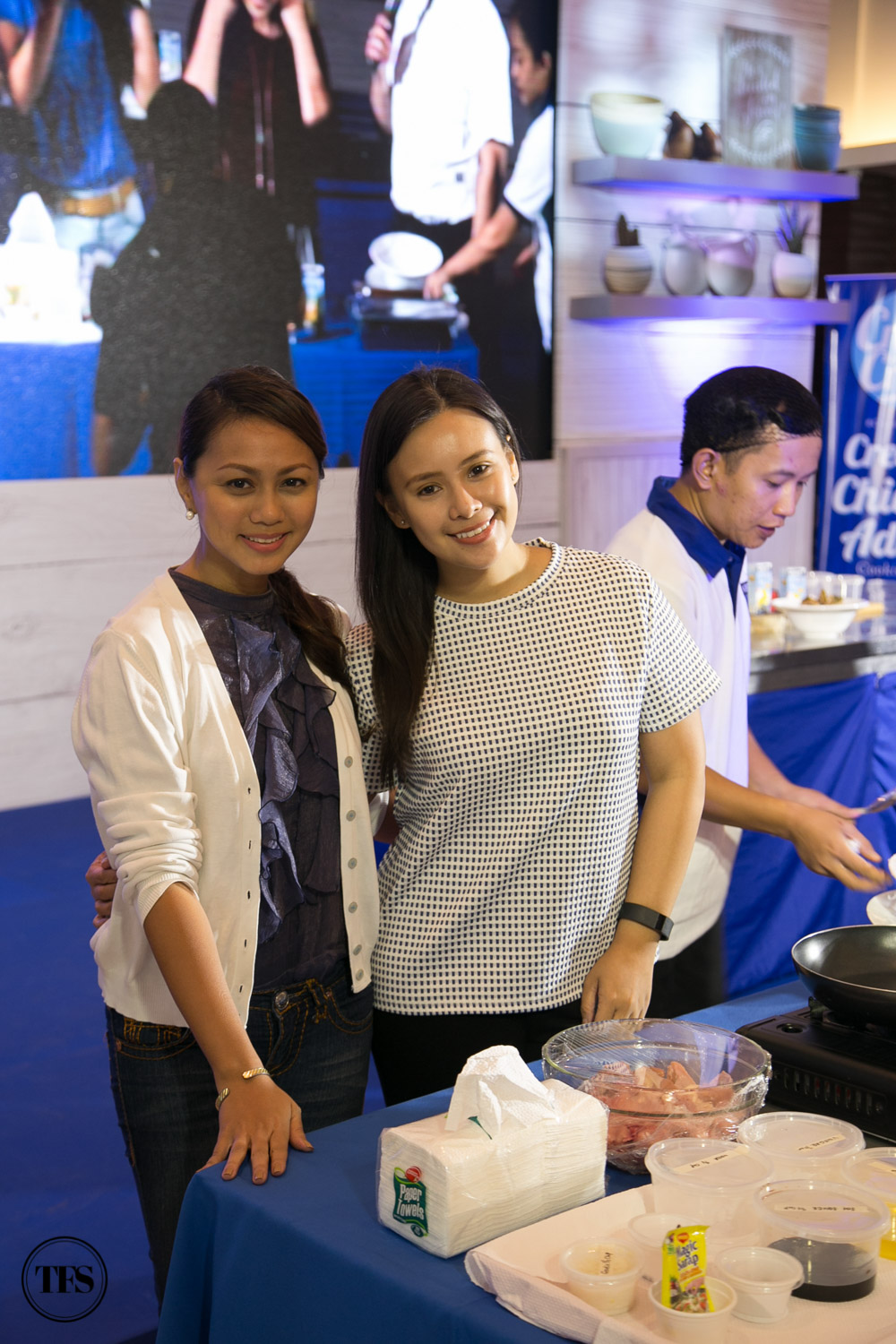 After Chef Rob's cooking demo, he asked for 3 pairs to try cooking the recipe right away. The gorgeous Yen Dreyfus and I volunteered to cook in front of everyone else. I'm not relying on my cooking skills, which I don't think I have yet. Haha! Basing on how Chef Rob cooked this Creamy Chicken Adobo, I'm optimistic I can do it as well by just following the recipe!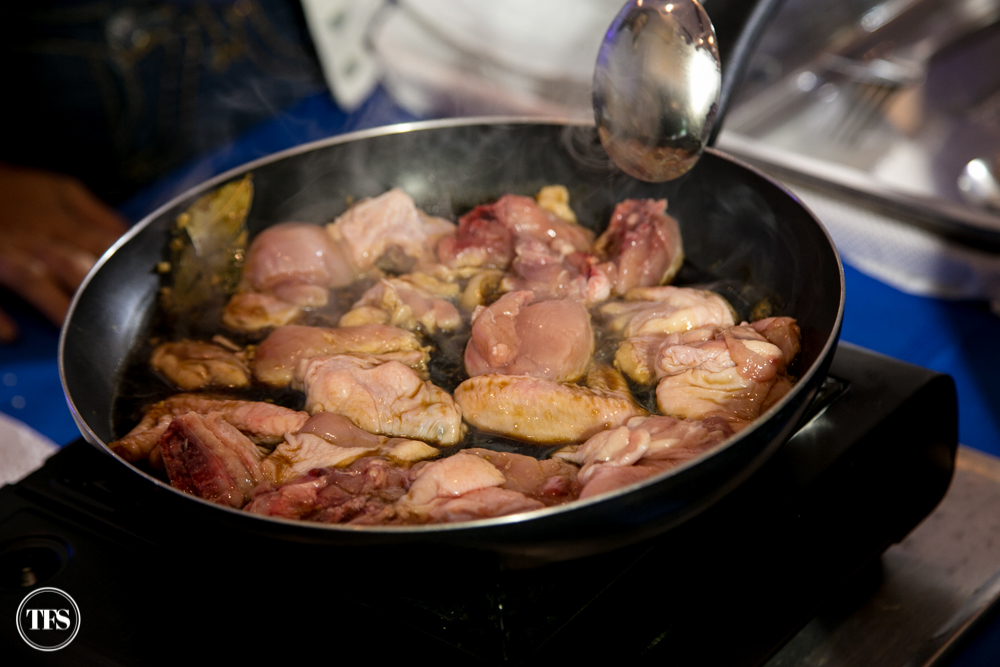 Step by step, we followed Chef Rob's Creamy Chicken Adobo recipe.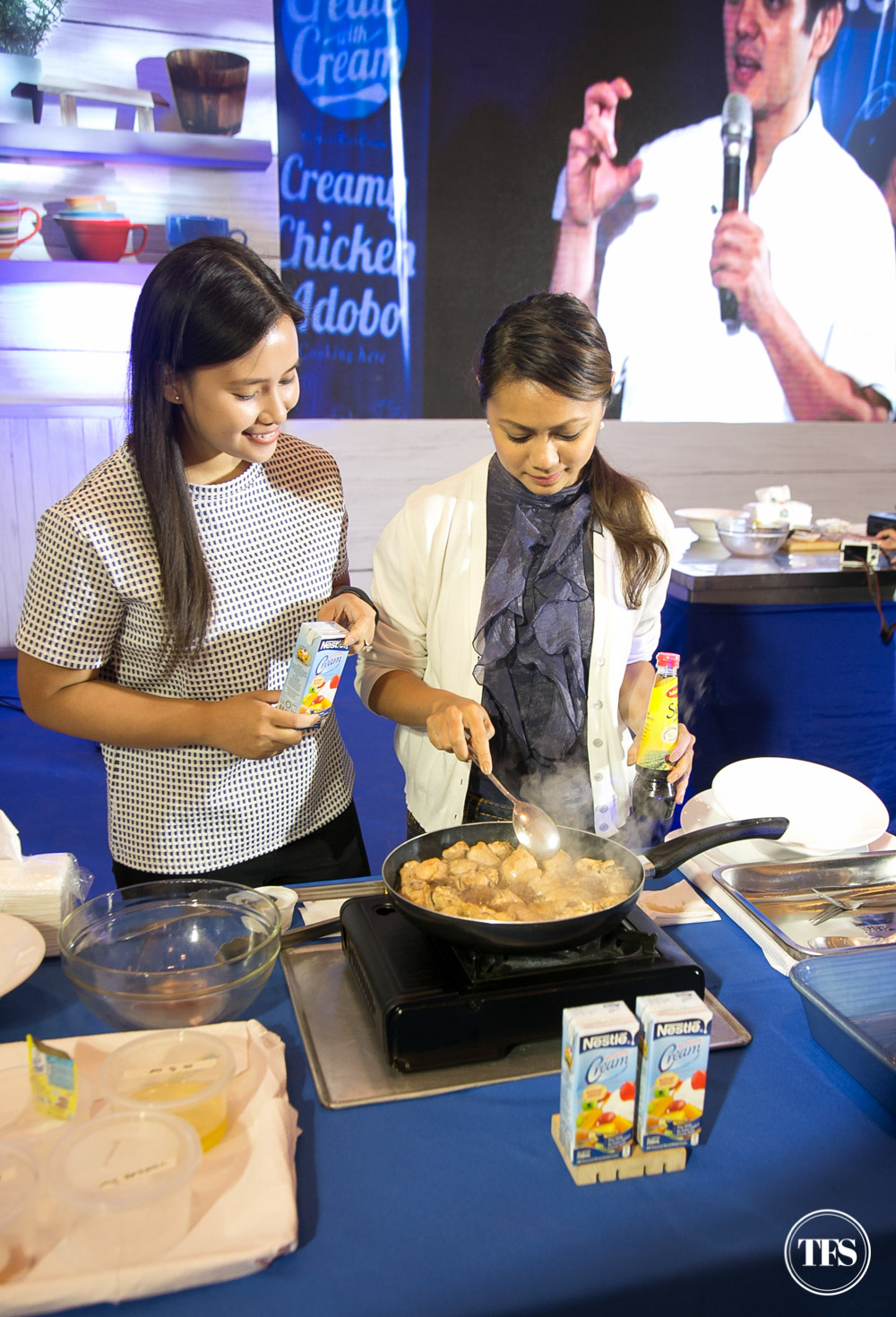 Adding NESTLÉ All Purpose Cream, the #1 cream, makes us feel confident the food will taste excellent!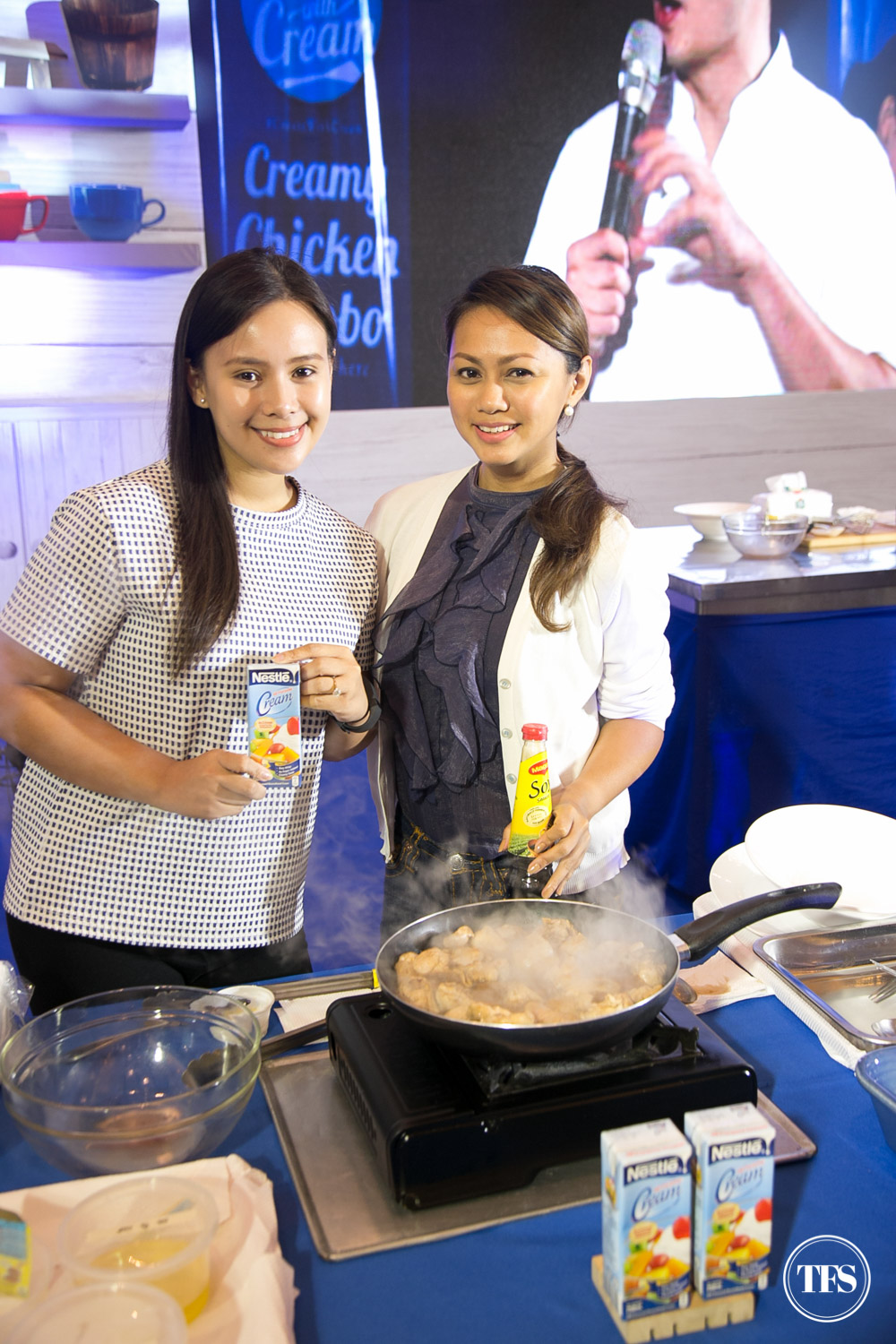 I'm still scared of boiling oil jumping out of the frying pan. Thankfully, my cooking partner Yen is an expert!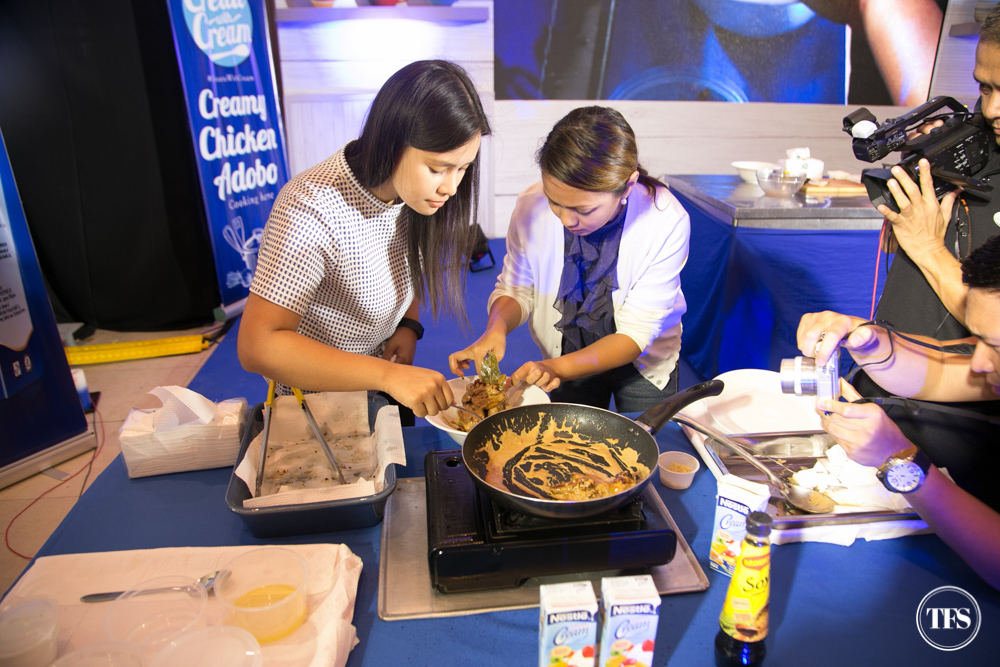 What I noticed about the recipe, the creamy adobo sauce is enough to fill my tastebuds – rich, flavorful and aromatic! As soon as we tasted the sauce alone, Yen and I looked at each other and said, "Rice please!"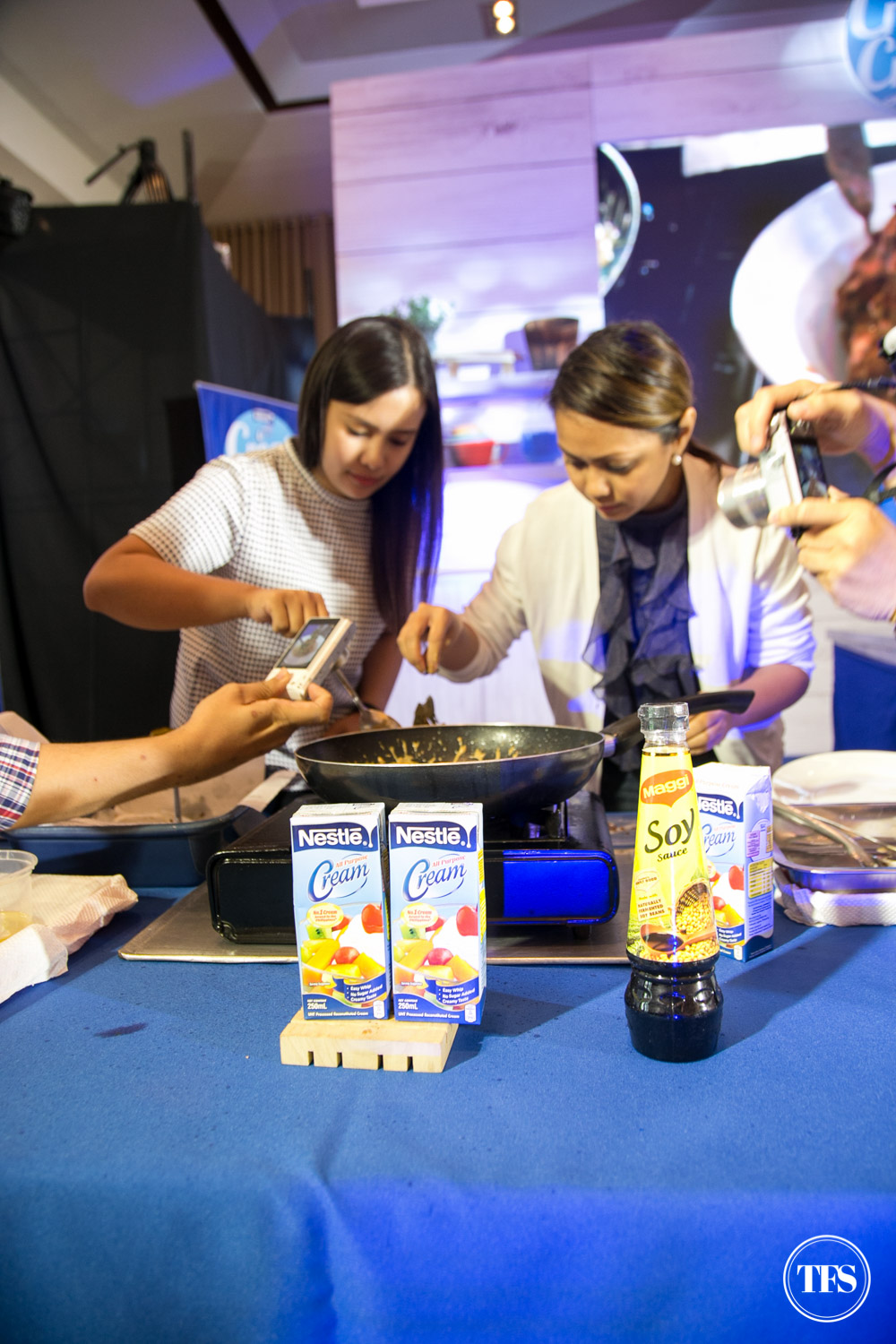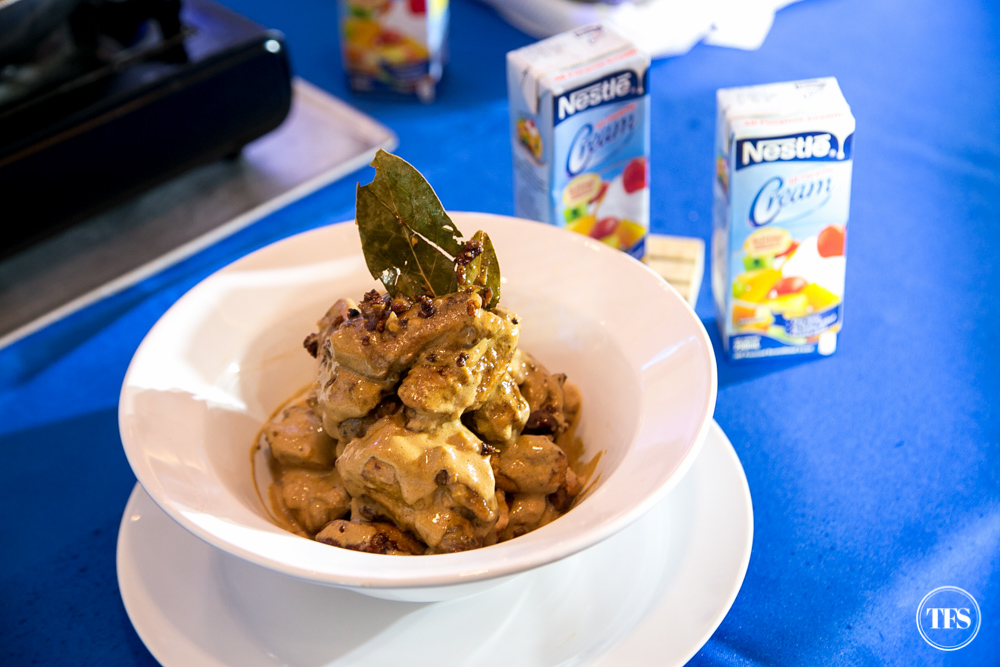 Success!!! We finished our Creamy Chicken Adobo using NESTLÉ All Purpose Cream! 
Like what Chef Rob said, creating this Creamy Chicken Adobo for your loved ones is a way of expressing love without saying any words. Hence, I got so excited for O to taste our creation right away!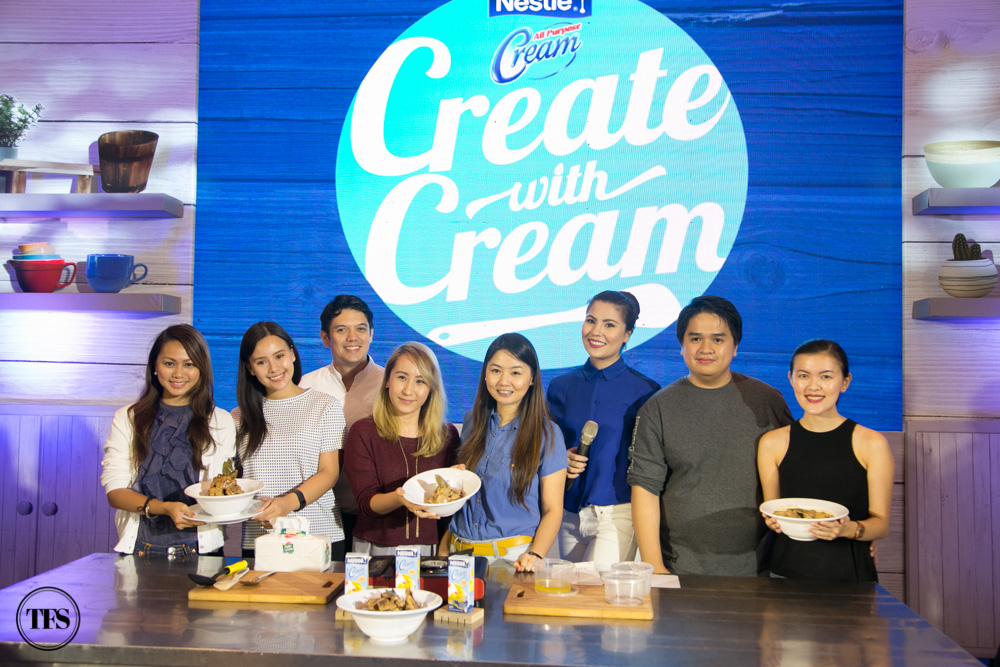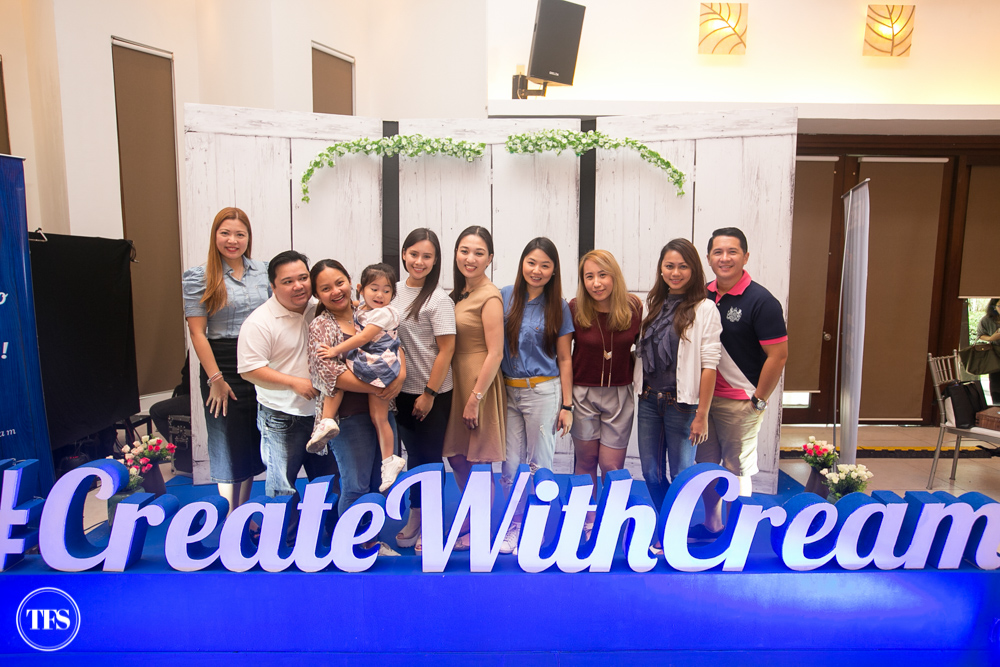 Grateful for NESTLÉ All Purpose Cream and Chef Rob Pengson for teaching us to be better cooks in our own homes.
What do you think of this Creamy Chicken Adobo recipe with NESTLÉ All Purpose Cream?
Share with me your thoughts!
Stay updated and Subscribe to The Food Scout for Free!
Pray, Eat and Love.
Cheers,
The Food Scout 
---
Facebook: https://www.facebook.com/nestlecream.ph