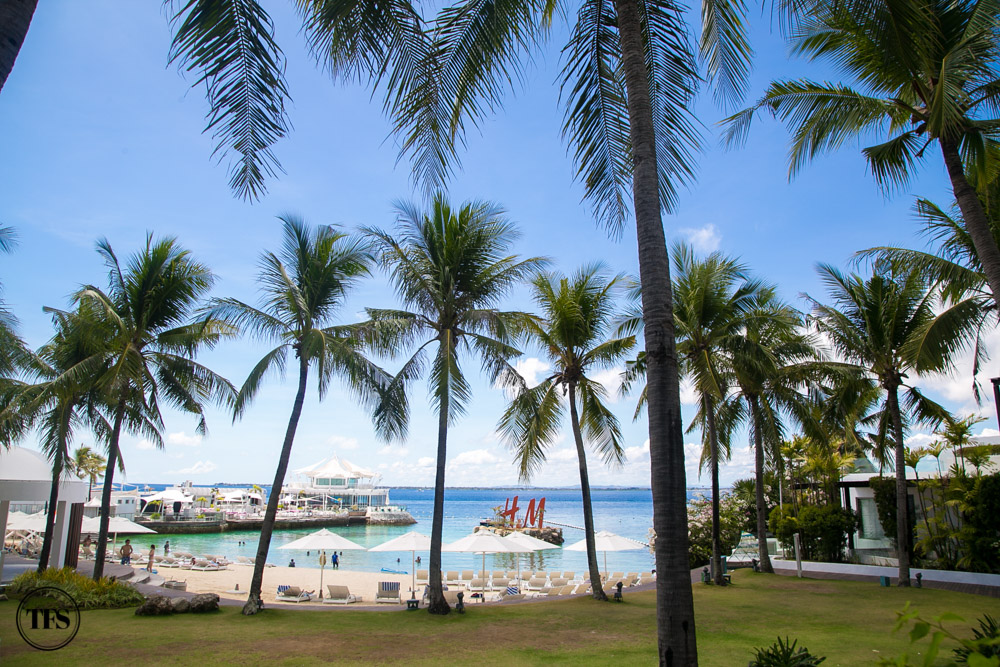 I only see Movenpick Hotel from my friends' photos who visited the resort. From photos, it's undeniable how to majestic the sceneries look like. I told myself, "Someday. Someday with O." That day came too early, unfortunately not with O. But it's ok. The trip is a blessing I shouldn't complain about! I was with good company anyway – some friends, some new faces that became friends. As part of our AirAsia and Vikings Cebu adventure, the gang luckily stayed in Movenpick Hotel.
I didn't pay anything for my stay. But I'm willing to share with you my experiences and things I loved about our 3D 2N stay here in this top luxury resort in Mactan Island.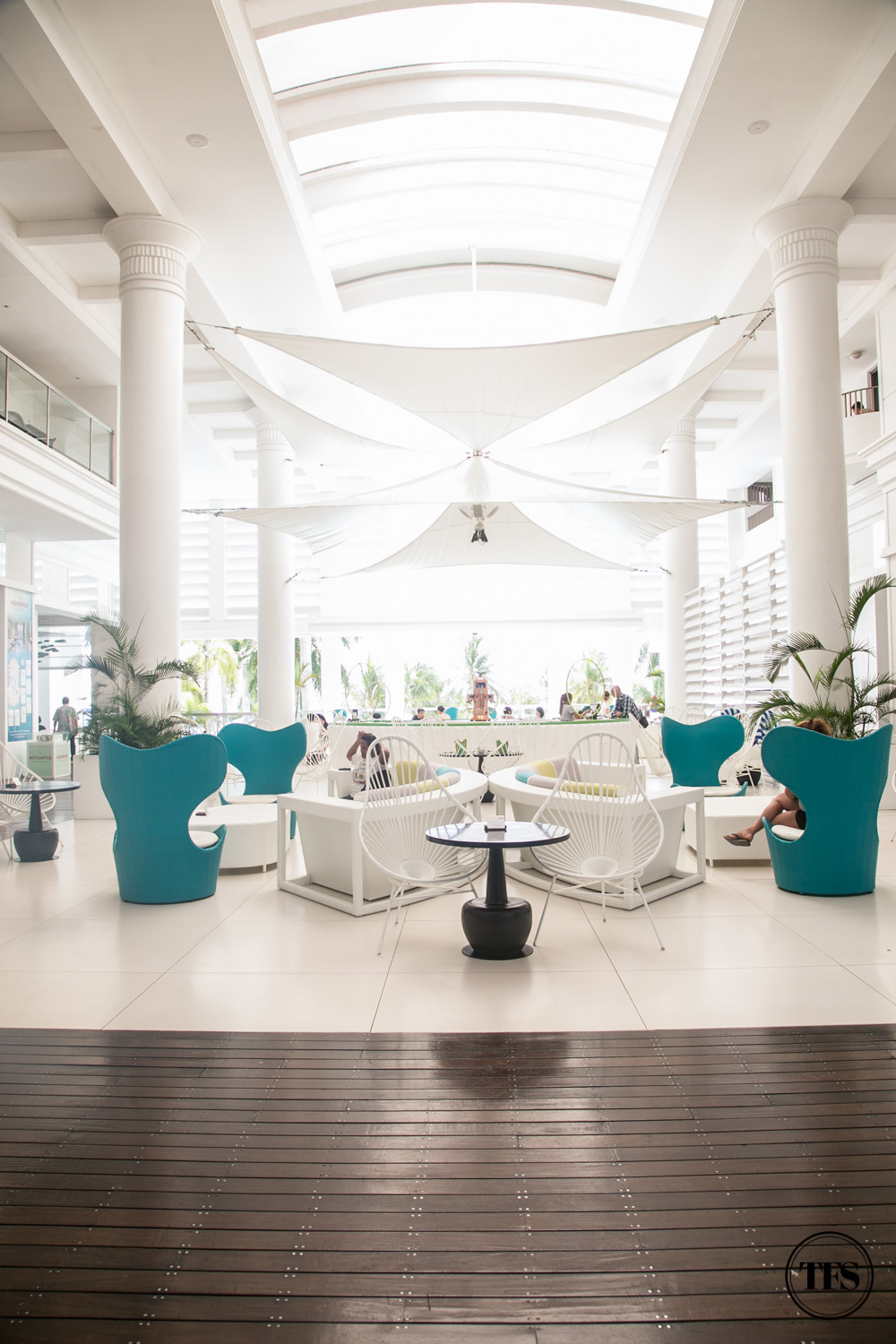 We arrived an hour before lunch time, a time when most people are lined up for checking-in and checking-out. Some time in the middle of May, most of the guests were Asians, Koreans and Japanese, and some Caucasians. I think the hotel was fully booked on that Monday we arrived. After checking-in, it took us a while for our luggages to arrive.
For the room rates, Movenpick attracts those who want to splurge on their vacation and expect first-class services. So just in case you're hoping it's a budget resort, nope, this is not it!
Now, let me show you around Movenpick Hotel Mactan Cebu and share you why I love this place.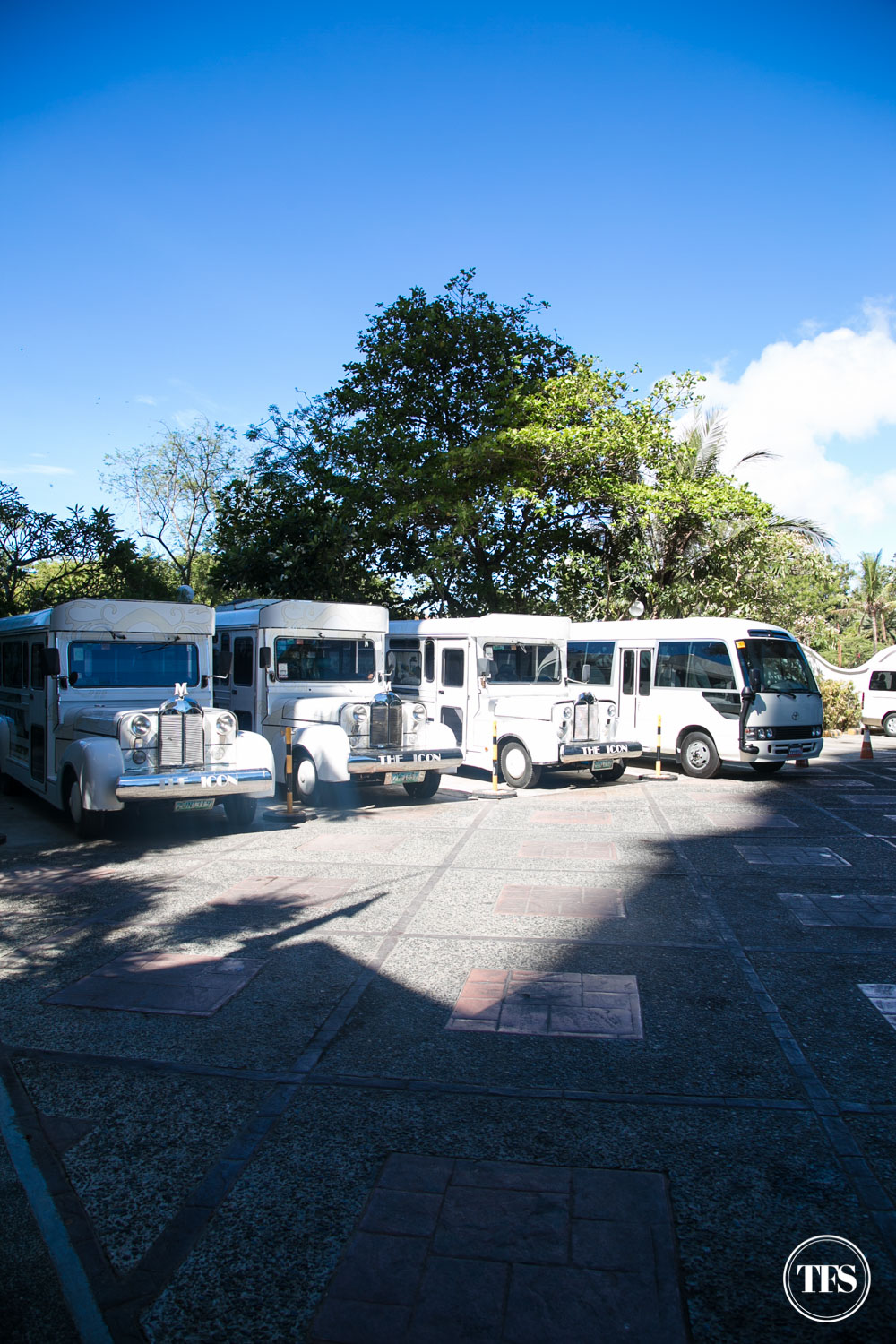 The Rooms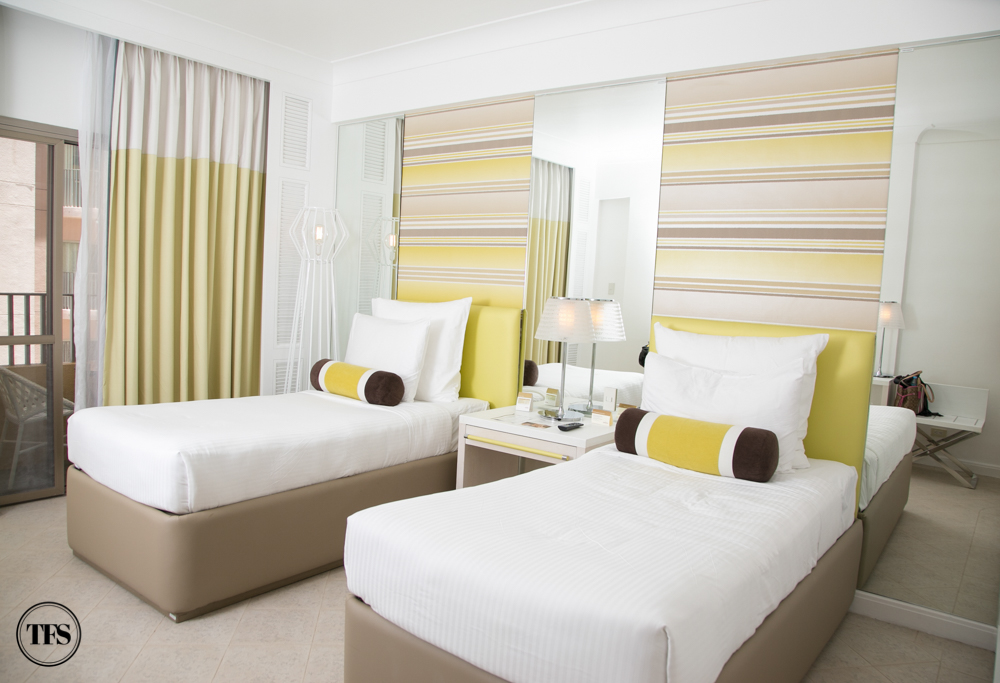 The room we stayed in has a cozy feel with bright summer colors. Ladies would love this neat striped color combination and mirrors all over, 3 full body mirror beside the closet, bed and glass window. Yes guys, mirrors matter to us!
Sleeping on Movenpick's inviting bed was made better by their pillow menu. Guests get to customize what type of pillow they prefer to assure a comfortable sleep.
Aside from slippers, towels, safety deposit box hairdryer, and usual inclusions in a room, a box of Chopard toiletries is given. How luxurious!
I didn't want to leave the room anymore. I feel this each time I find a hotel room that invites me to take off my sandals, lie flat on the bed and you know what's next… Zzzzzzz.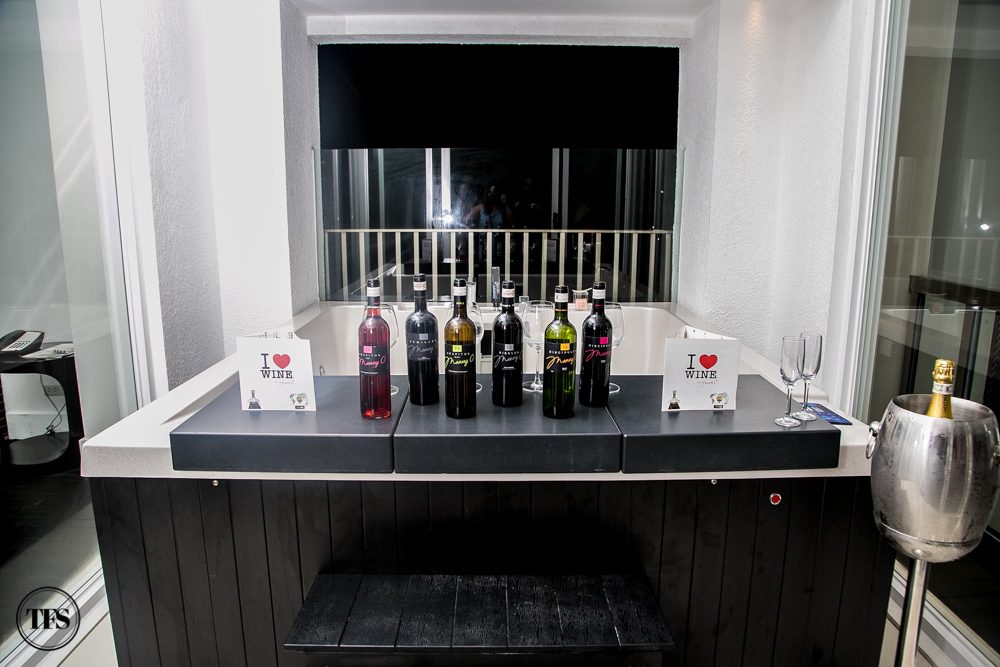 For those who can splurge more than usual, the Ibiza Loft Suite might be what you're looking for. On the 21st and 22nd floor, this 224 sqm spacious two-storey loft has its own private Jacuzzi overlooking the beach and 3 rooms with king and queen-sized beds. The large lounge and dining area could fit your next party. Bridal shower possibly? VIP treatment like your own butler, that's for sure! For the price you'll pay, you even get free bottles of Manny O. wines and your own Porsche Cayenne service. I don't know how much exactly. But from what I remember, it costs more than P100k to stay here. Celebrities like Ruffa Gutierrez and Divine Lee have stayed in this suite.
FYI, we didn't stay at the Ibiza Loft Suite. We just had the chance to hang around for some wine and cocktails with Mr. Manny Osmeña, the man behind Movenpick and Manny O. wines.
Facilities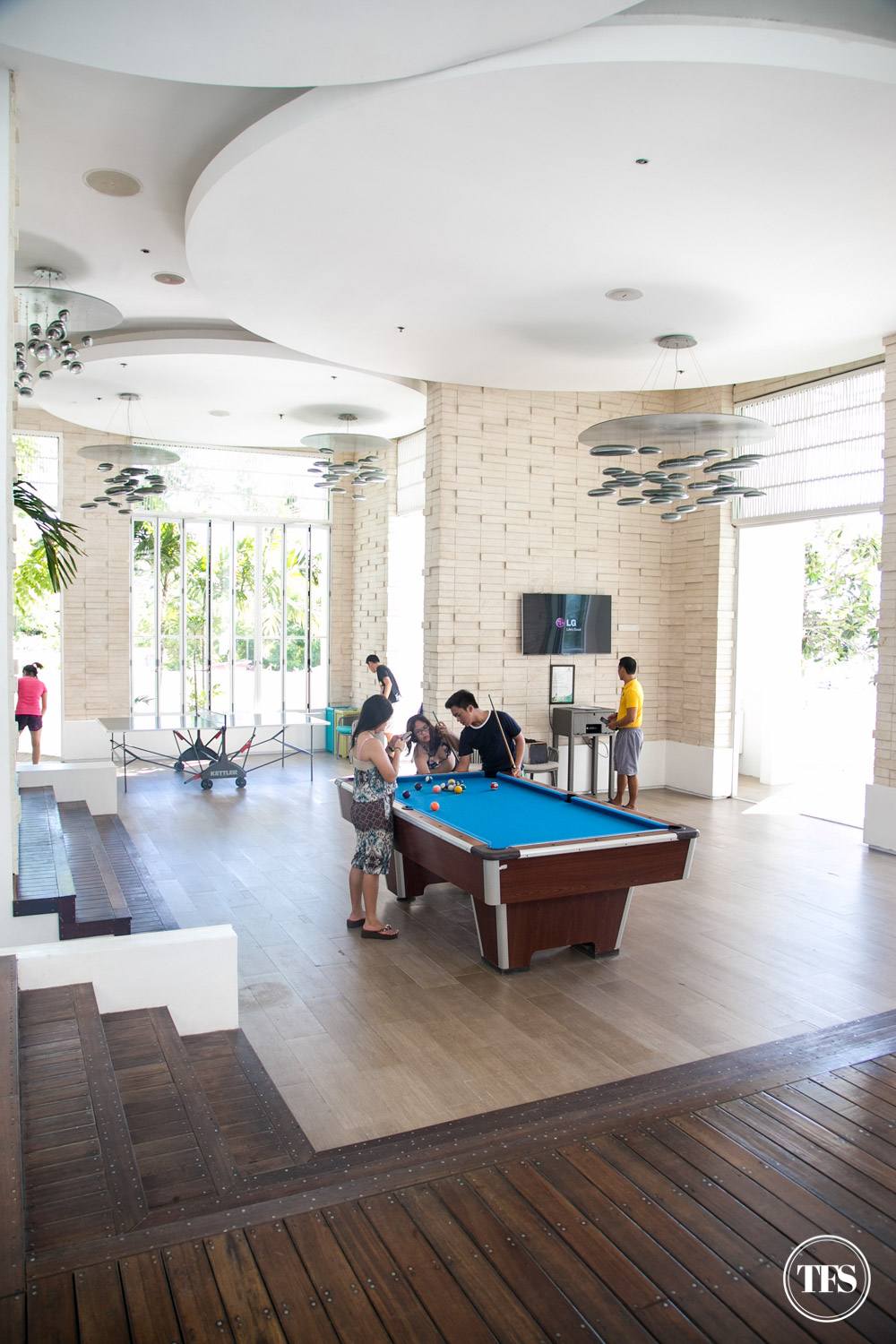 I wanted to play billiards but I catch the game room full all the time. Skipped that place and walked to the pool and beach instead.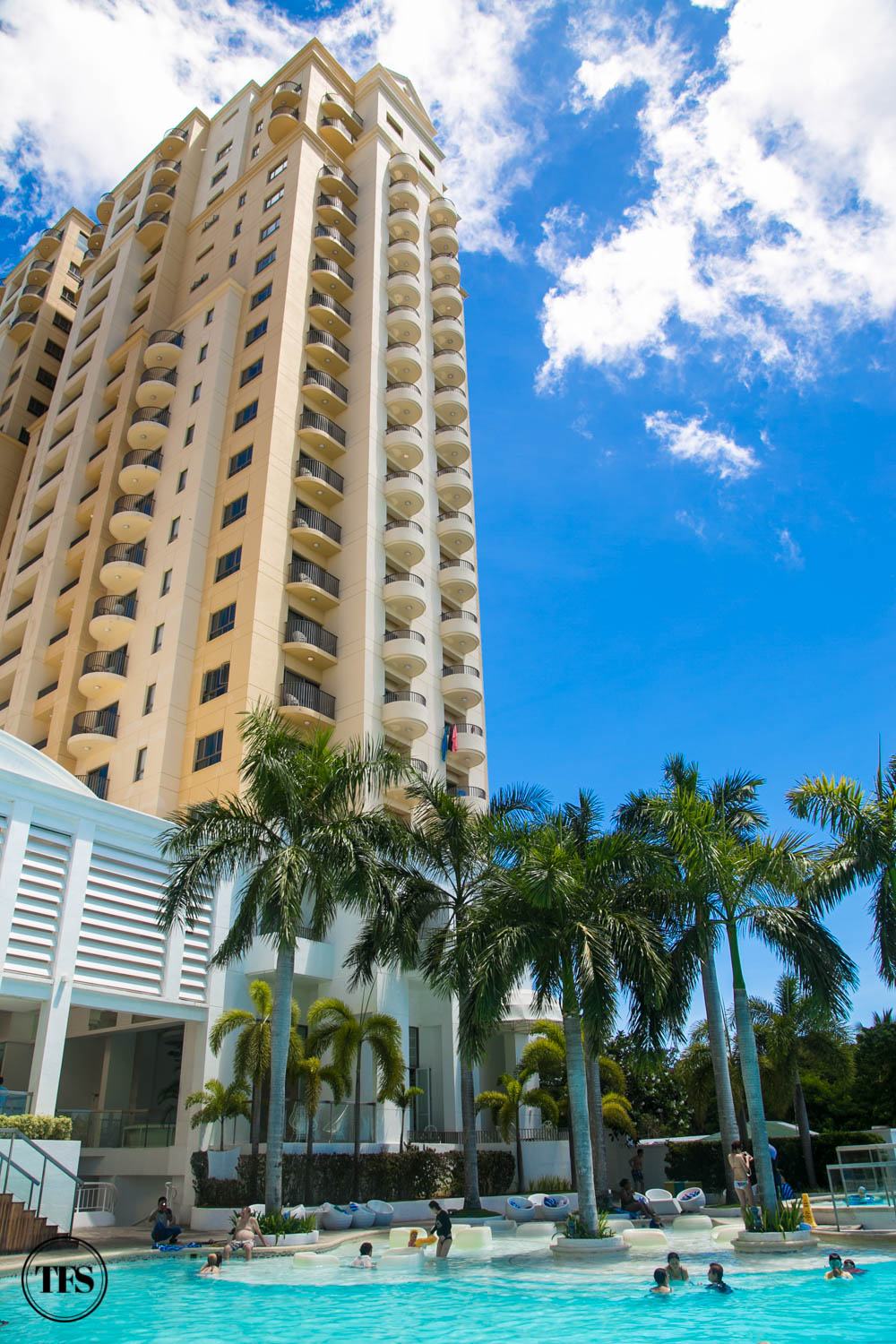 Movenpick is quite famous for their giant pool with curvy edges, pool chairs where you can lounge, coconut trees planted around where some stay under its shade if it's too hot, and ambiance that's overlooking the beach. The landscape of the swimming pool, if not the beach, adds personality to the sought-after pleasant vibe of Movenpick.
Lifeguards are on duty when the pool is open for use. Plus, you can borrow a towel, rather than bringing down the room towel.
The Beach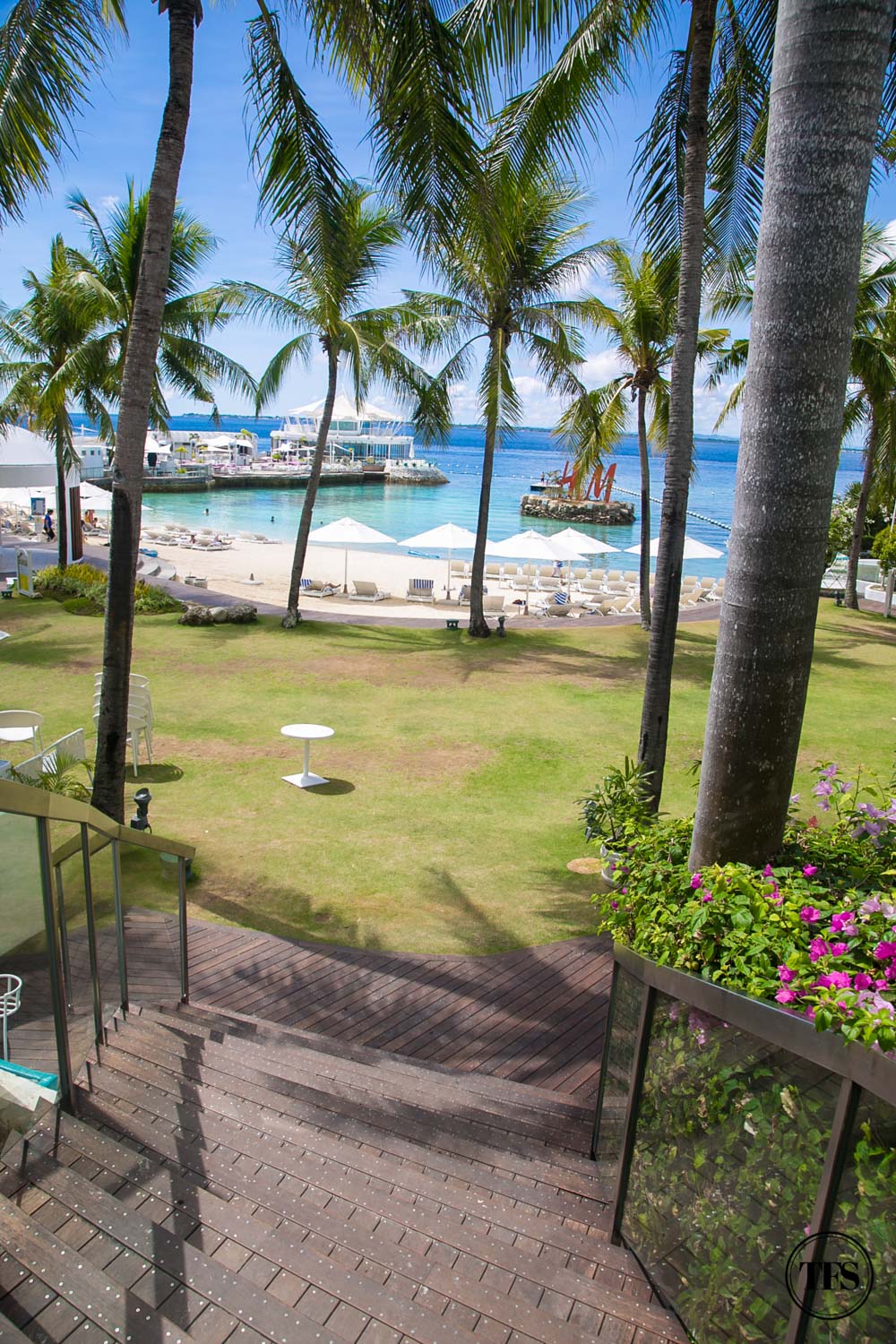 A few steps from the pool side, you'll find the beach.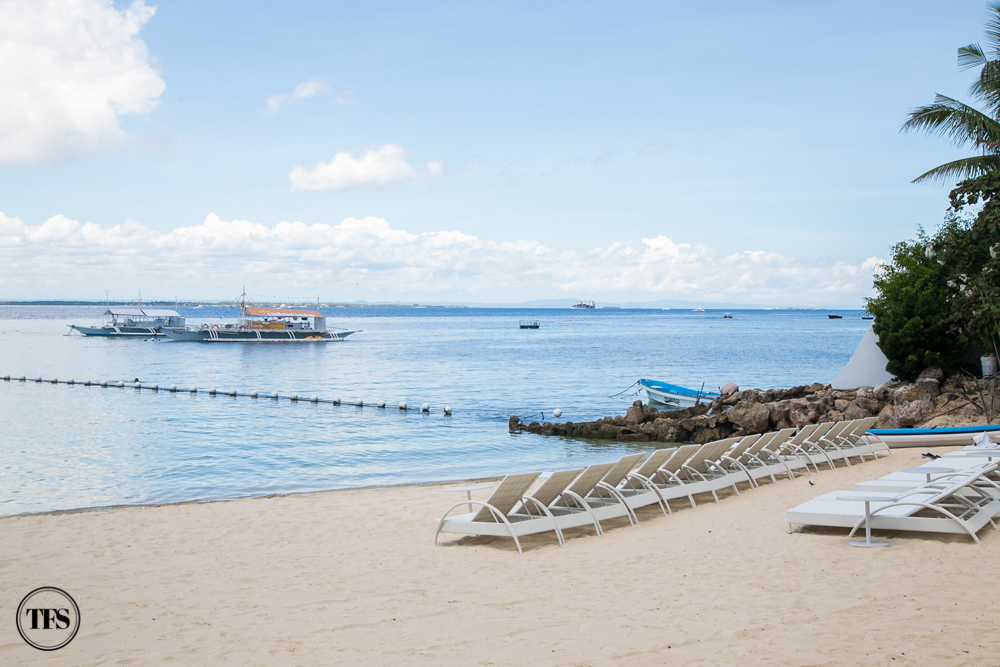 Speechless. It's wonderful to just sit on one of the benches and be romanced by the blues.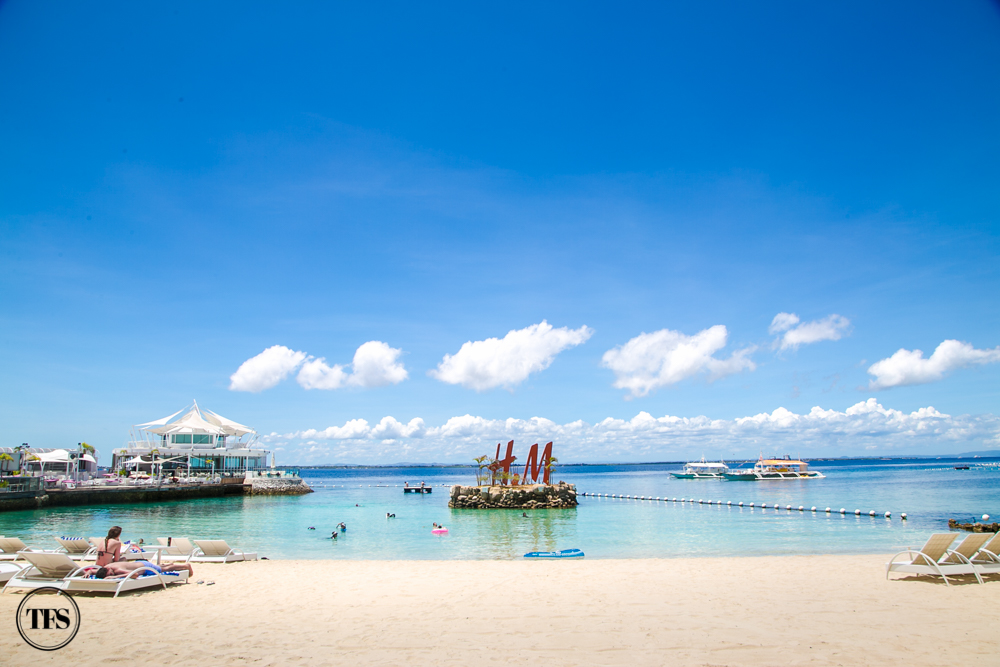 A week before we went, there was an H&M event, which explains the giant sign photobombing all my beach photos. Hahaha!
The beachfront is not expansive though, where you can see other resorts nearby. I'm not sure if that's a problem for some. But for those who prefer exclusivity, this won't matter.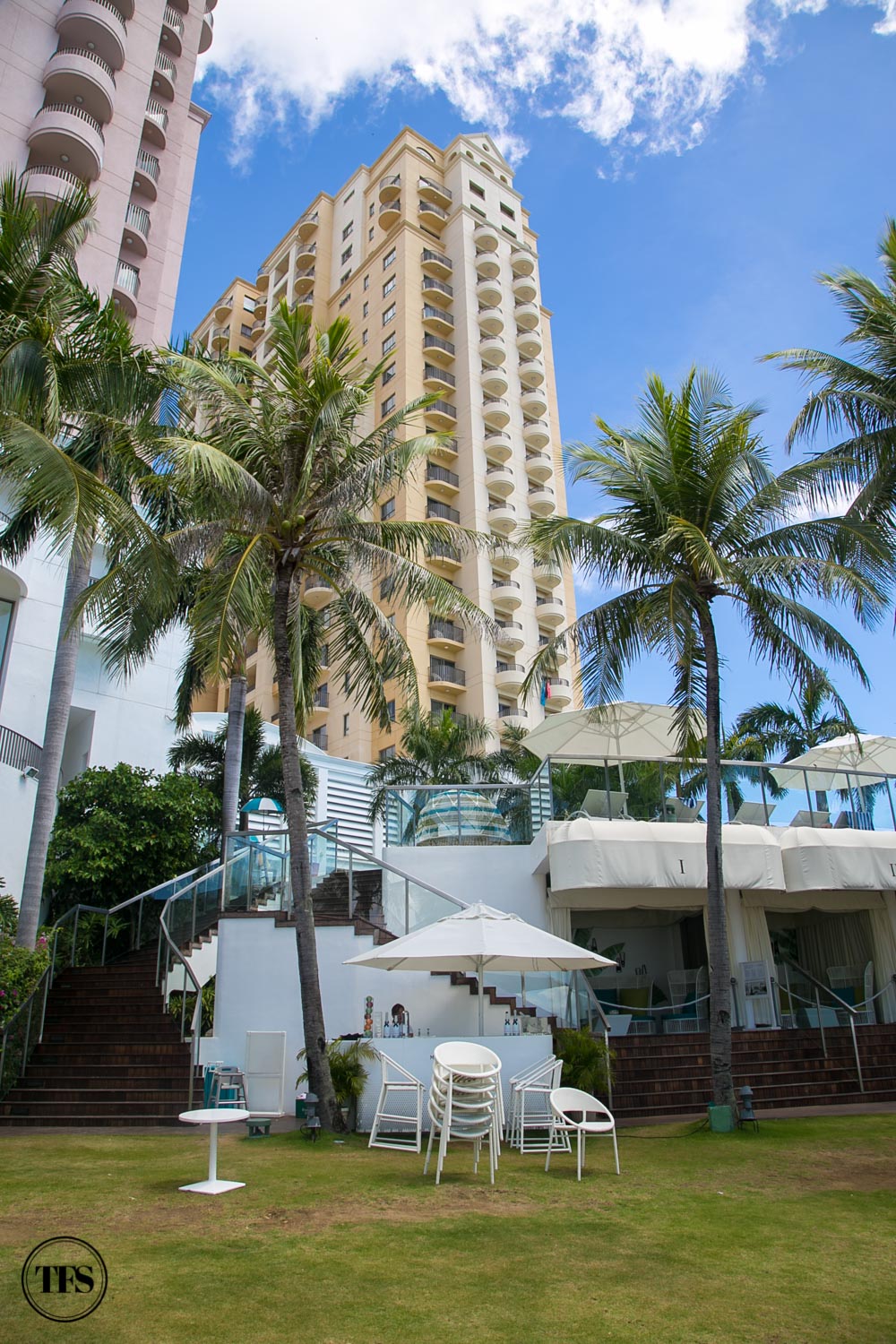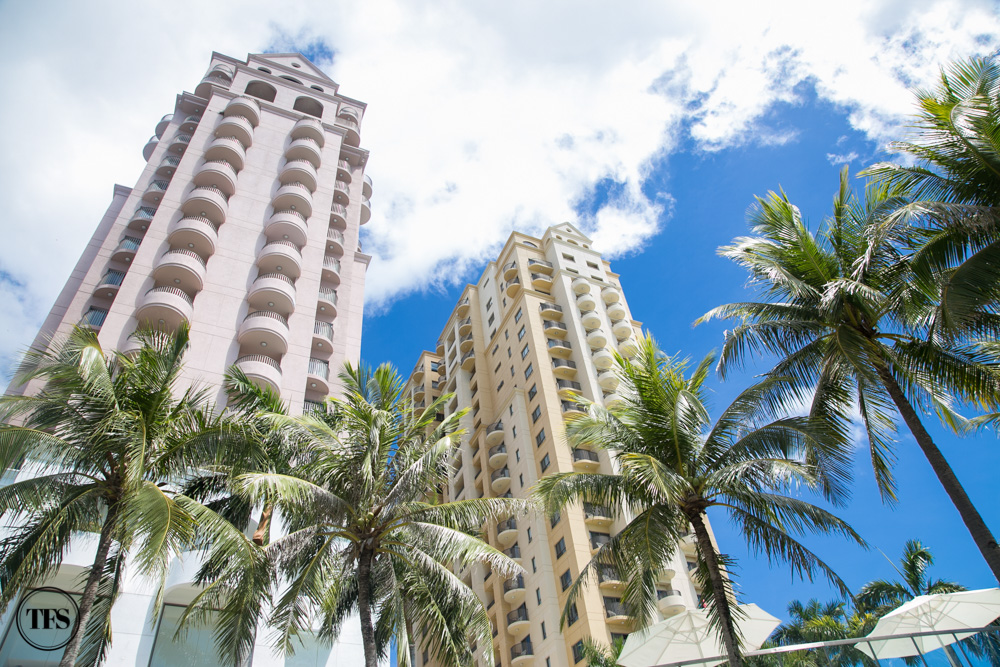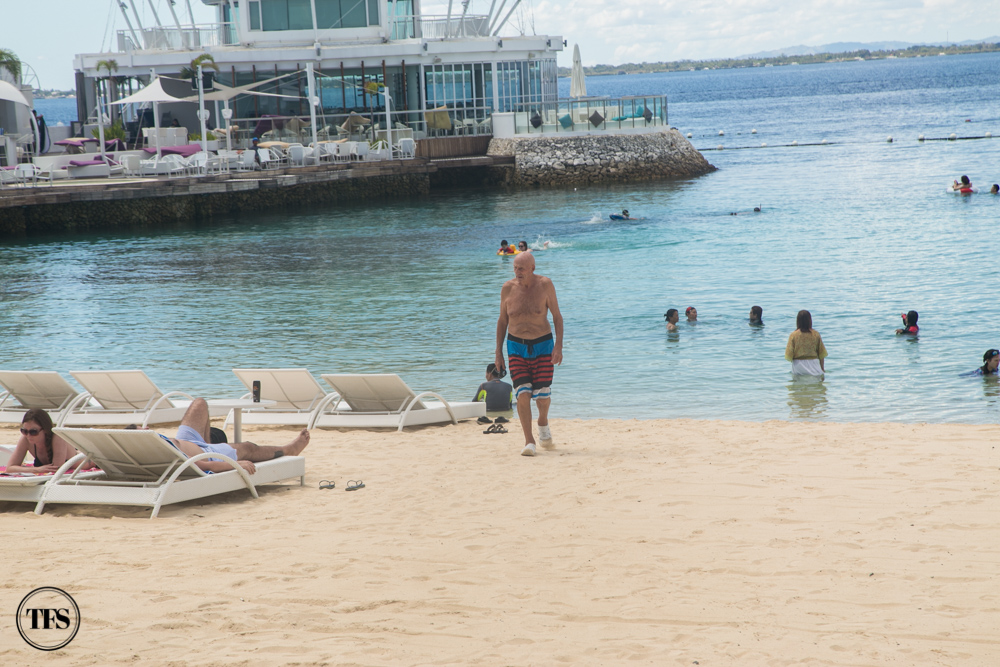 The Privacy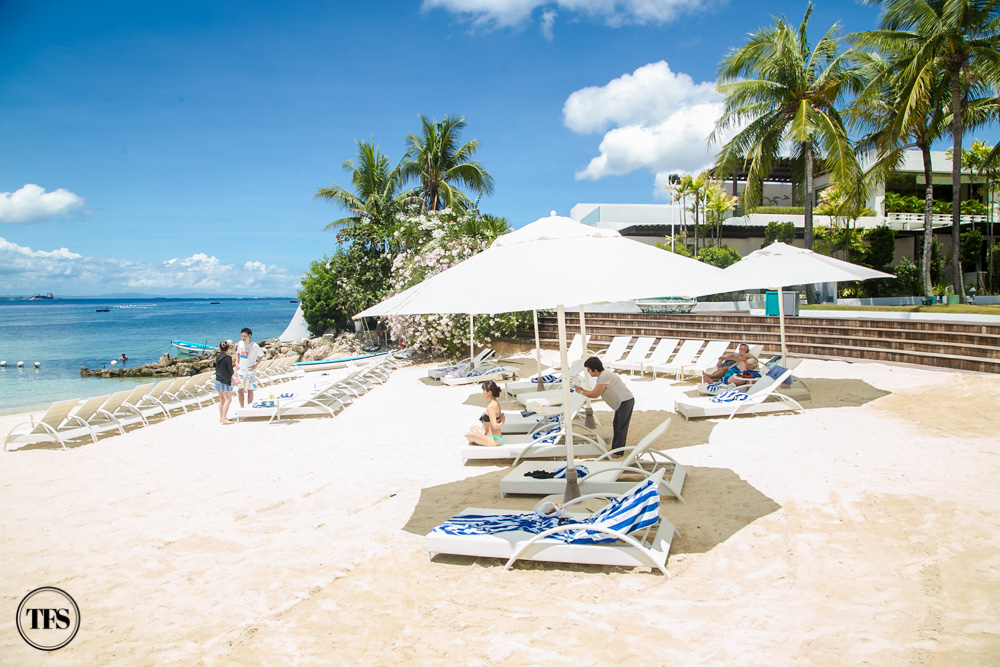 Privacy, one main reason why celebrities love Movenpick! If you're not checked-in at Movenpick, you won't have access to its beachfront.
I caught one couple having their mini photoshoot by the shore. Cute! 🙂 I missed O while watching them though. 🙁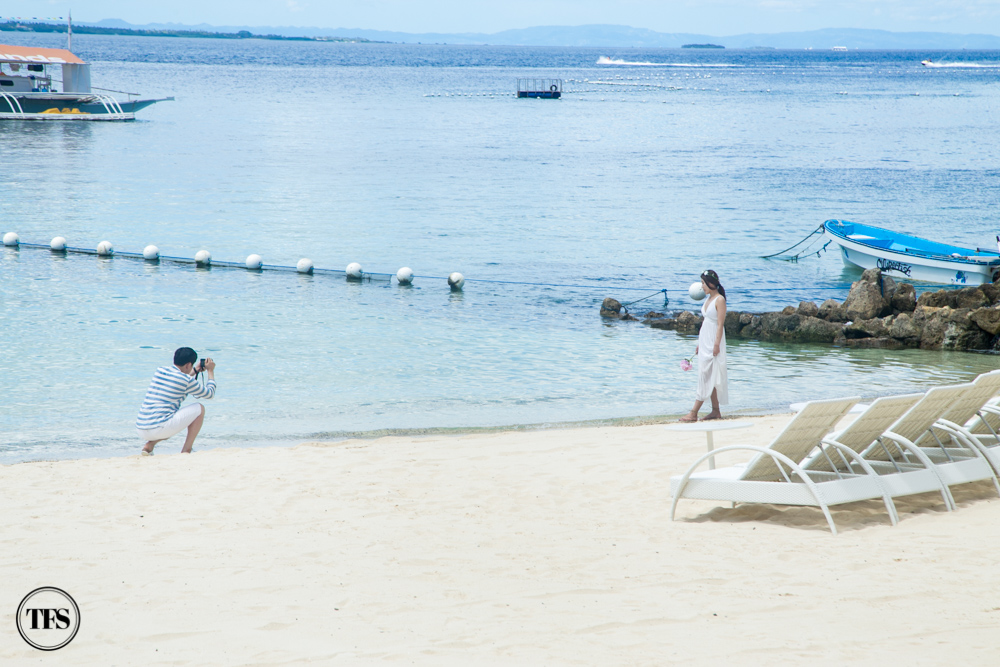 Breakfast Food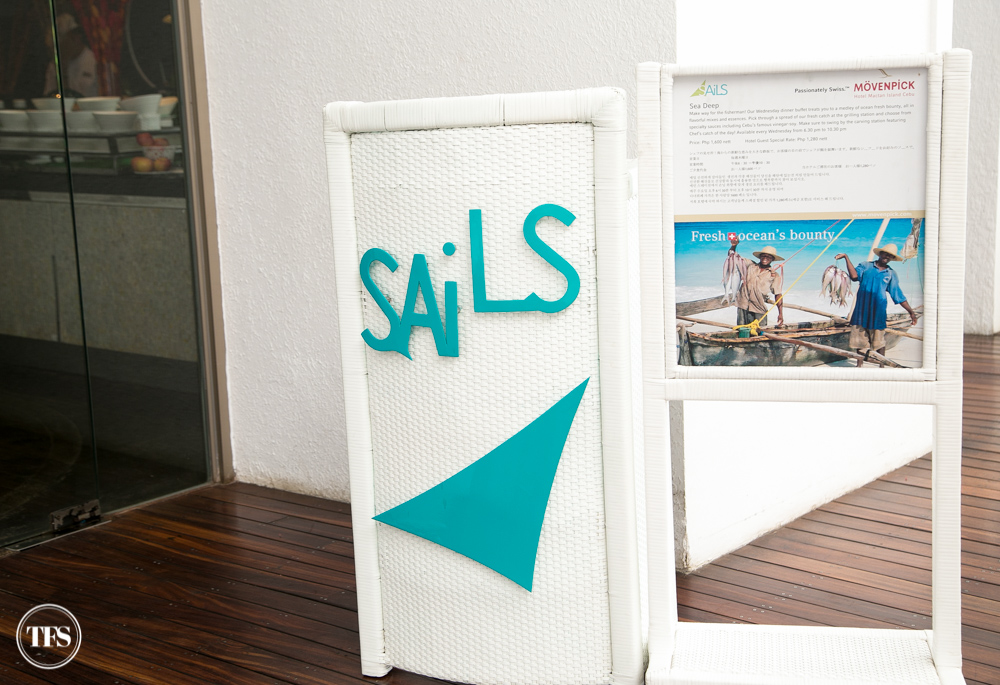 I love the breakfast buffet at Sails! An all-day dining that's open from 6:30am to 10:30pm, Sails is where we first head to in the morning for our complimentary buffet.  Movenpick considers the nationalities of their guests, which is why they offer multiple options favorable to us Filipinos, Koreans, Japanese, Americans, Europeans, etc. There's even a gluten-free station where all things healthy fall in. My plate was a balance of both healthy and a little health-risky ones. Haha!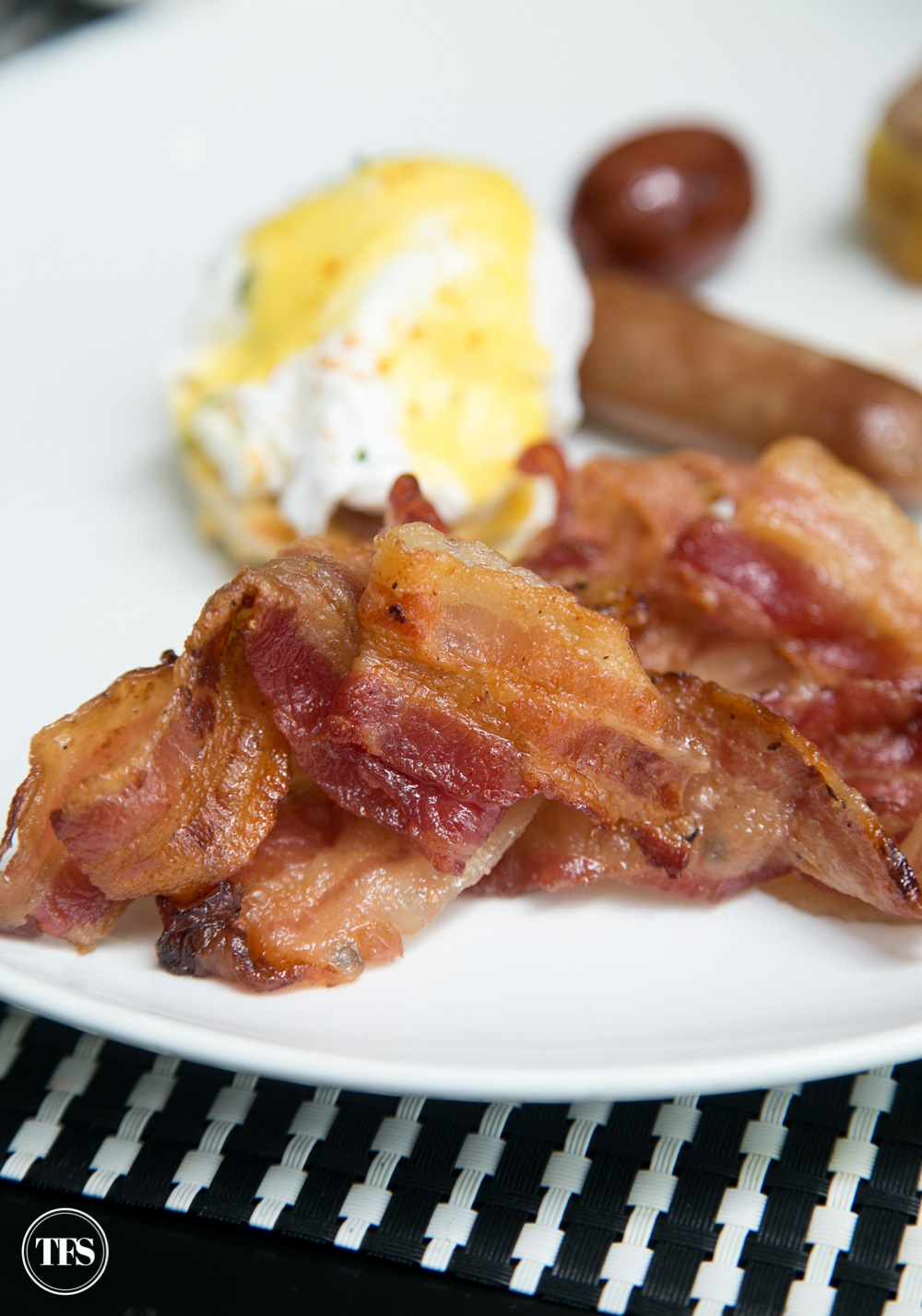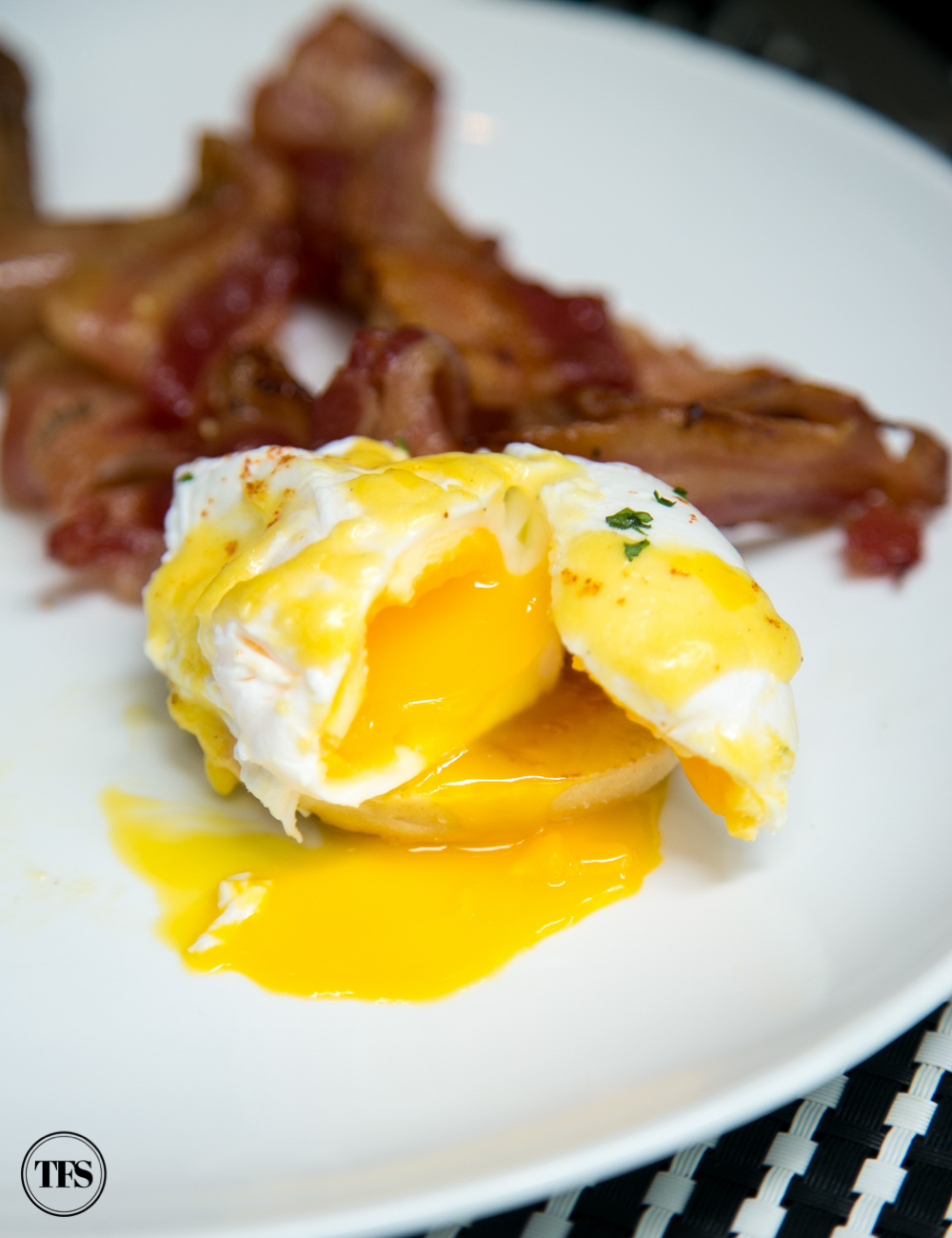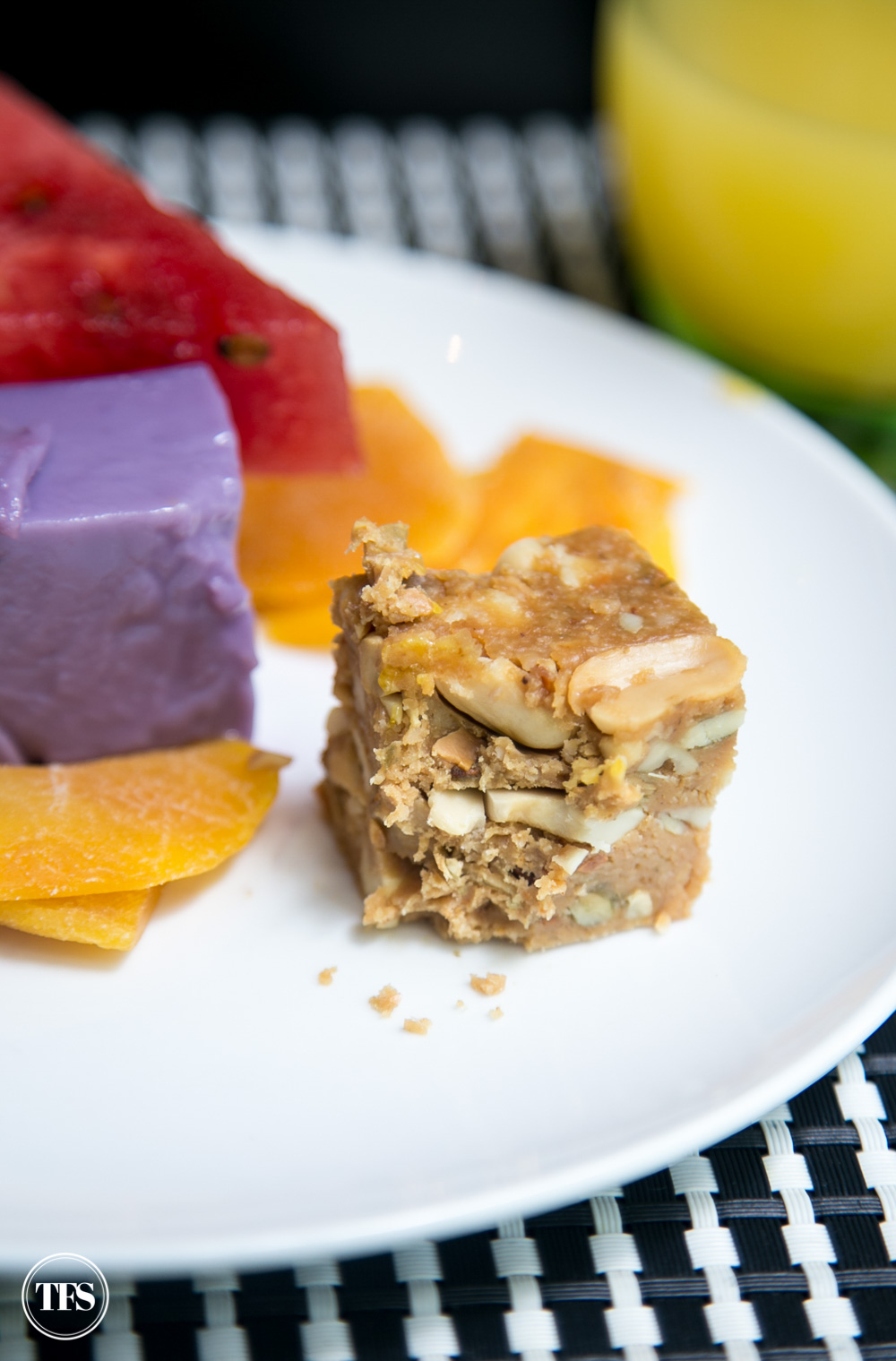 Ibiza Beach Club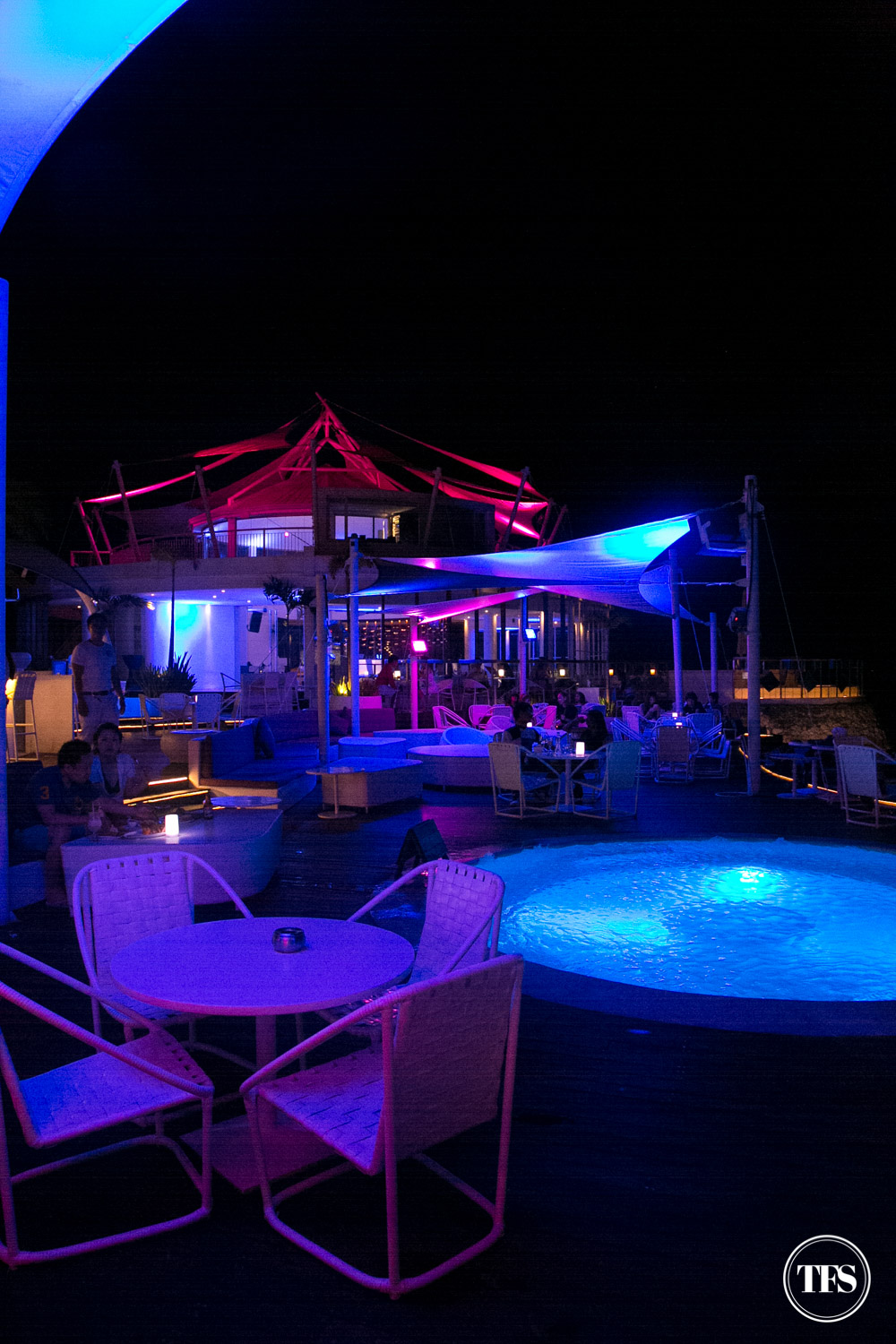 At Ibiza Beach Club, you can either feast over the Balearic-inspired dishes or party all night while watching performances of Las Vegas style entertainers. To add cherry on top, you can even stay in the Jacuzzi and party in style. From the looks of it, I know it could be a little intimidating. But the menu of Ibiza Beach Club, especially the 15-course Balearic-inspired dishes, is actually a steal!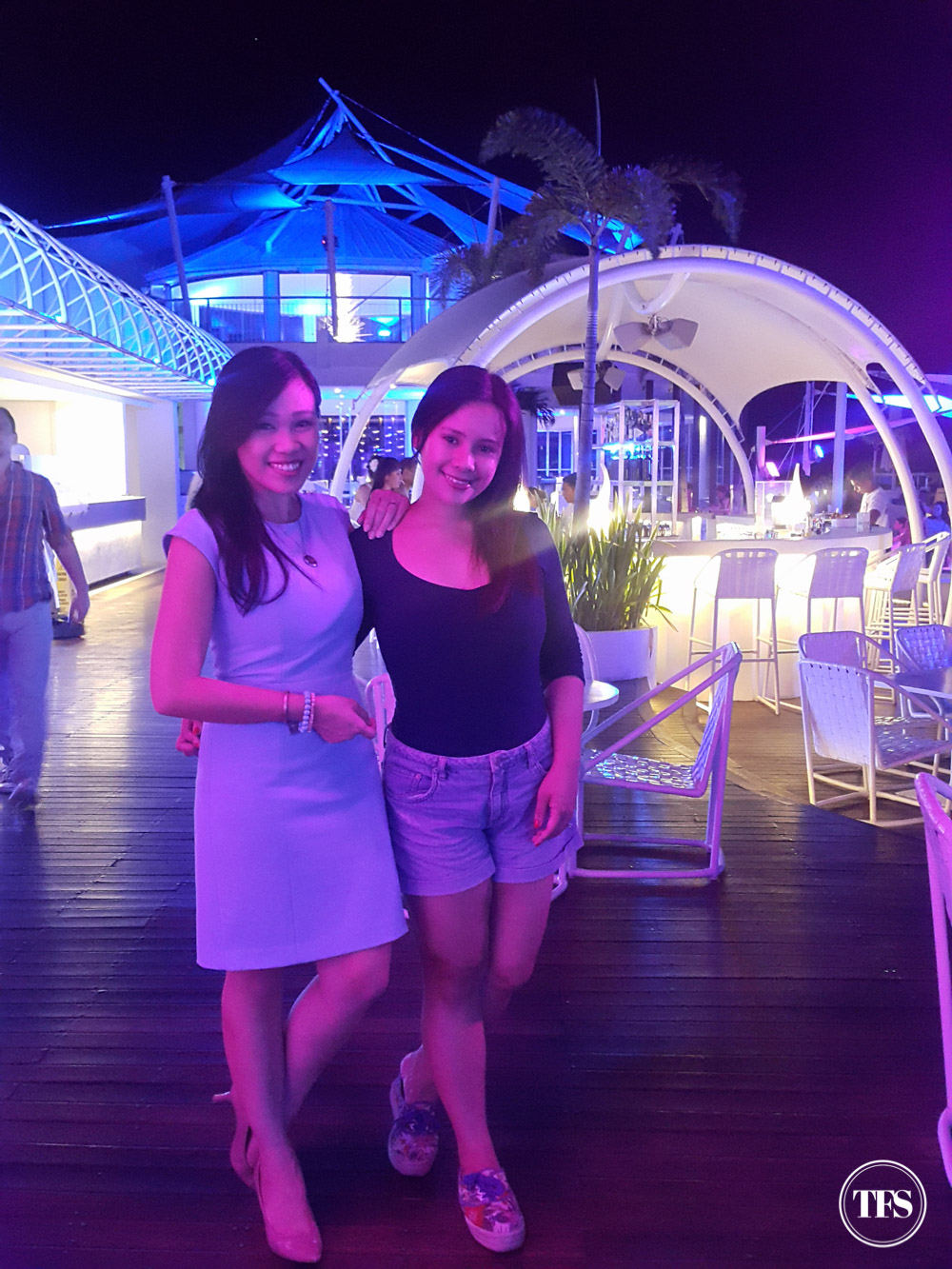 Sometimes during your stay, you'll forget about crossing the island of Mactan to Mandaue city, where the busy life is, because you've got almost everything you need in Movenpick. Entertainment, relaxation, great food, polite Cebuanos, rooms that feel like home and so much more.
To Movenpick Hotel team, especially Meg Hernandez, thank you from the bottom of my grateful heart!! Thank you for allowing us to experience this paradise and making us understand why it's worth staying at this hotel.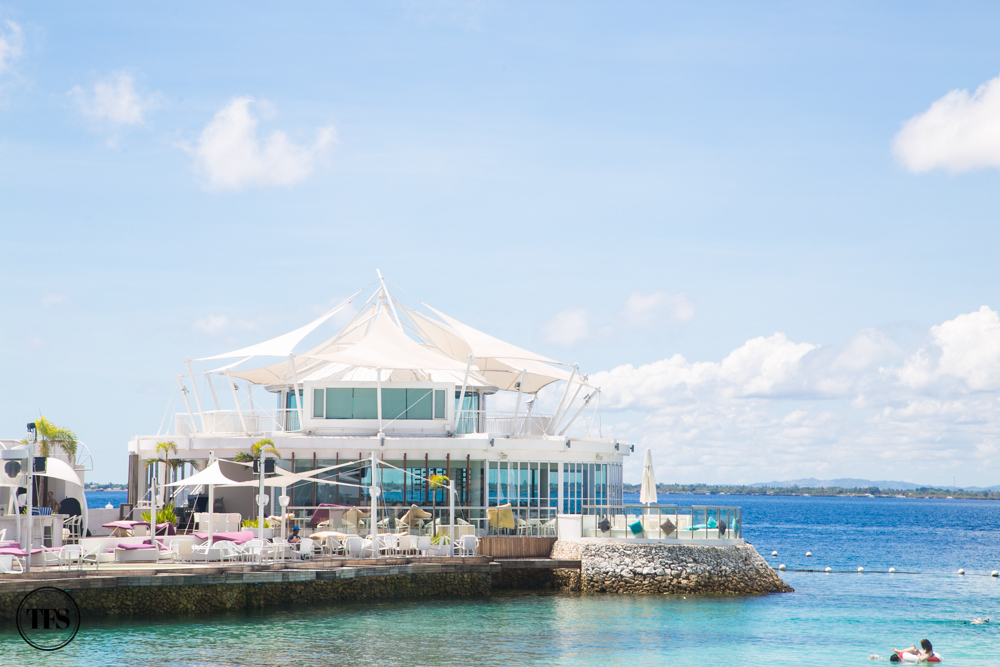 What do you think of Movenpick Hotel in Mactan Island Cebu?
Share with me your thoughts!
Stay updated and Subscribe to The Food Scout for Free!
Pray, Eat and Love.
Cheers,
The Food Scout 
---
Location: Punta Engano, Lapu Lapu City, Cebu, Philippines
Website: http://www.movenpick.com/en/asia/philippines/cebu/hotel-mactan-island-cebu/overview/
Facebook: https://www.facebook.com/moevenpickhotelmactanislandcebu