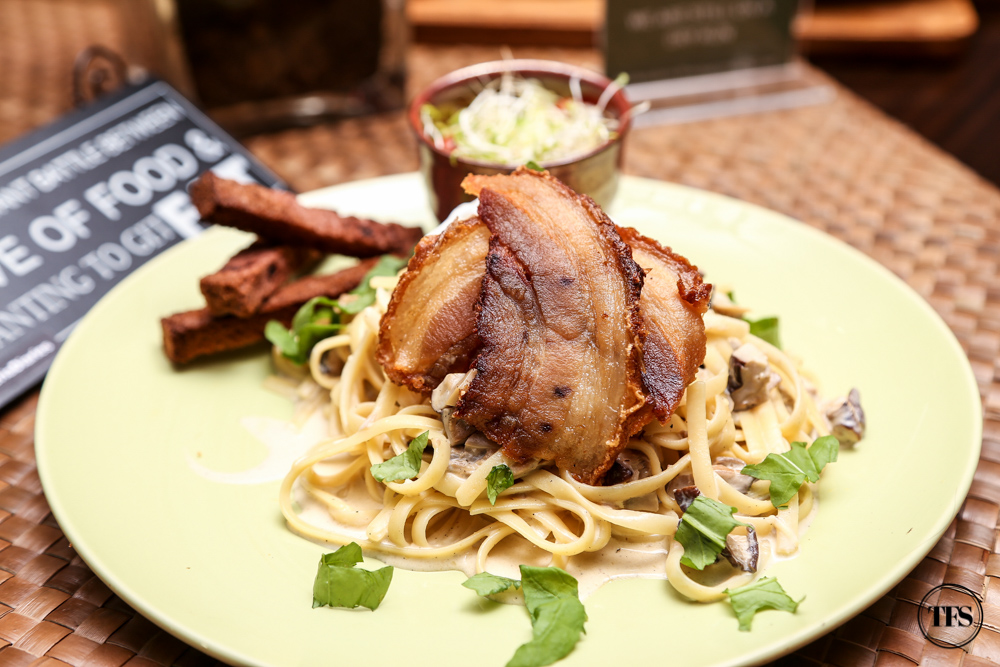 We stereotype chocolates for dessert lovers only. Not at Tsokolateria. It's universal in this Tagaytay chocolate haven created by Happy Concept Group.
If you remember my post about The Original Hawaiian BBQ in Tagaytay, Tsokolateria is also located in the same building, inside The Boutique Bed & Breakfast. A fairly new restaurant in Tagaytay, it already gained its popularity from its branch in Baguio. I didn't intend to eavesdrop from the other tables, but 2 of them ordered their "usuals" in Baguio.
No exaggeration. I think every single person who dines at Tsokolateria, Tagaytay would highly be converted into a chocolate lover. Every single dish served is infused with tsokolate (chocolate), that's not overwhelming but blended brilliantly.
The Food:
Decisions, decisions, decisions. That's a real problem when you take a seat, and read through the menu of Tsokolateria. I suggest, order this Pandesal Bruchetta Sampler Platter for the group to be able to try them all, served with kamote fries, local soup and tsoko syrup. On one wooden tray, you've got Homemade Spicy Sardines, Adobo Flakes, Pinoy Caprese, Bacon Belly, Calamares, Oh My Gulay and Croque Pande Madame. I dig the Adobo Flakes by the way.
Open air, no air-conditioner, just the cold breeze of Tagaytay blowing my hair to my side. In my hand, I had this Tablea Champorado, cooked the old fashioned way. Mountain rice cooked in rich native tablea, served with adobo flakes, chicharon and crispy fish chips. This Tablea Champorado brought necessary comfort in my taste-buds.
Spot the chocolate? This Native Chilli Tsoko con Carne has tsokolate infused in it, with sili sigang agli olio, medley of fresh kamote and Baguio potato fries.
In this Longganisa Fundido, you'll taste the Baguio longganisa hubad, caramelized onions, cacao bits, local cheese and tomatoes. It doesn't taste strange don't worry.
I especially enjoyed this Spicy Tuyo Pasta with Bitter Cacao. Native chillies, spicy tuyo and a pinch of bitter tablea all worked as a team to create a satisfying plate of pasta, worthy of praise.
Tsokolateria is the only place you'll find a Carbonara served with white chocolate shavings. On top, the lechon belly strips, native mushrooms and poached eggs harmonizes as a whole.
A chocolate-infused savory dish, this Smoked Bangus, Danggit Chicharon & Garlic Cacao places this all-time favorite in a whole new level. Smoked bangus sautéed in garlic and olive oil topped with crispy local dried fish. It's the type of dish dad would order.
We made the right move to order this Black Risotto. A native risotto, using mountain rice, composed of squid, black ink, dash of Davao's tablea powder and fresh gata. Unbelievable how all these flavors complemented each other.
The kind of plate that makes every bacon lover's heart joyful, Bacon Lechon Kawali Cebu Style with Cacao Nibs.
Food didn't stop coming in. I thought it was over but series of Churros Waffles came in to delight our table. Am I in heaven or what?! Haha! Churros Waffle, churros shaped like a waffle is another inventive masterpiece Happy Concept Group made.  This House Bacon Belly, Arugula & Egg Churros Waffle is the type I'll order in the morning or for lunch, but not for dinner. It's almost deadly but the arugula balances the need for greens. Haha!
The dessert churros waffle, Banana, Peanut Butter, Casuy & Chocnut Churros Waffle is happiness on a plate! My undying love for peanut butter cannot resist even if I was about to reach my maximum capacity that evening.
A glimpse of Baguio in this Strawberries Overload Churros Waffle. From the way it looks, indeed it's an overloaded strawberries, like a field of strawberries on a plate. Aaaaaahhh! It's too pretty to eat!
Don't you ever miss out on their Tablea House Blend, extremely rich hot chocolate handmade the old fashioned way and served in a batirol. A trip to Tsokolateria is not complete without an order of any of their Tablea House Blend.
The lover of cute things, Happy Ongpauco-Tiu, thought of presenting their Tablea Sampler in a rectangular wooden box. It includes all the best-selling variants of Tablea House Blend, which allows you to try all flavors in one box, one shot each.
The Ambiance: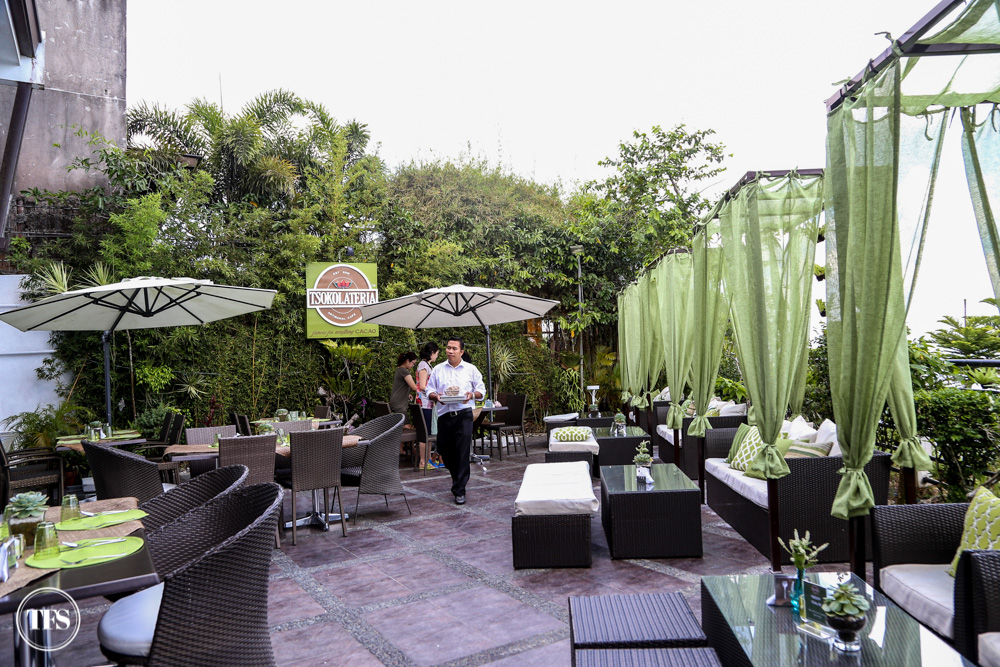 Comforting during the day, romantic at night. The view of Taal from this sight makes you want to spend the rest of your day sit on one of the cozy outdoor chairs with your loved one. Those were my thoughts that time, and I missed O. 🙁 Also, the green hues adds relaxation to the eyes, plants and decors with a touch of green.
The only problem in this type of set-up is the chance of rain-pours. If that's the case, you have to move under the roof, the space of The Original Hawaiian BBQ.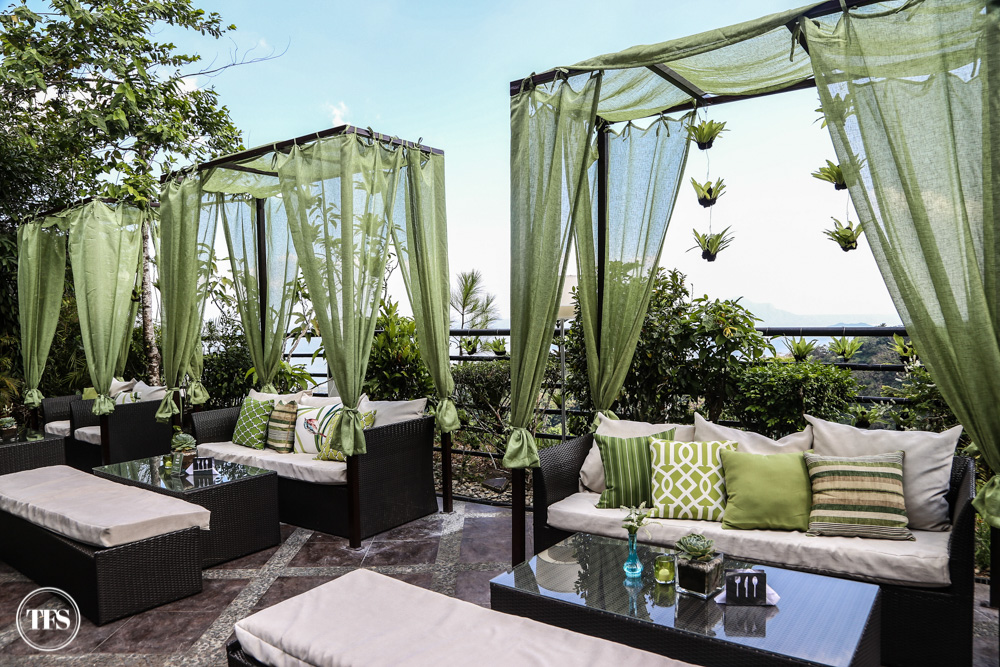 What do you think of Tsokolateria in Tagaytay?
Share with me your thoughts!
Stay updated and Subscribe to The Food Scout for Free!
Pray, Eat and Love. 
Cheers,
The Food Scout 
---
Location: The Boutique Bed & Breakfast, 45 Aguinaldo Highway, Tagaytay City, Cavite, Philippines
Facebook:  https://www.facebook.com/Tsokolateria-1087249574639697
Budget:  PHP350++
Rate
Food            9/10
Ambiance  9/10
Service        8/10
Cost             8/10
Overall        8.5/10