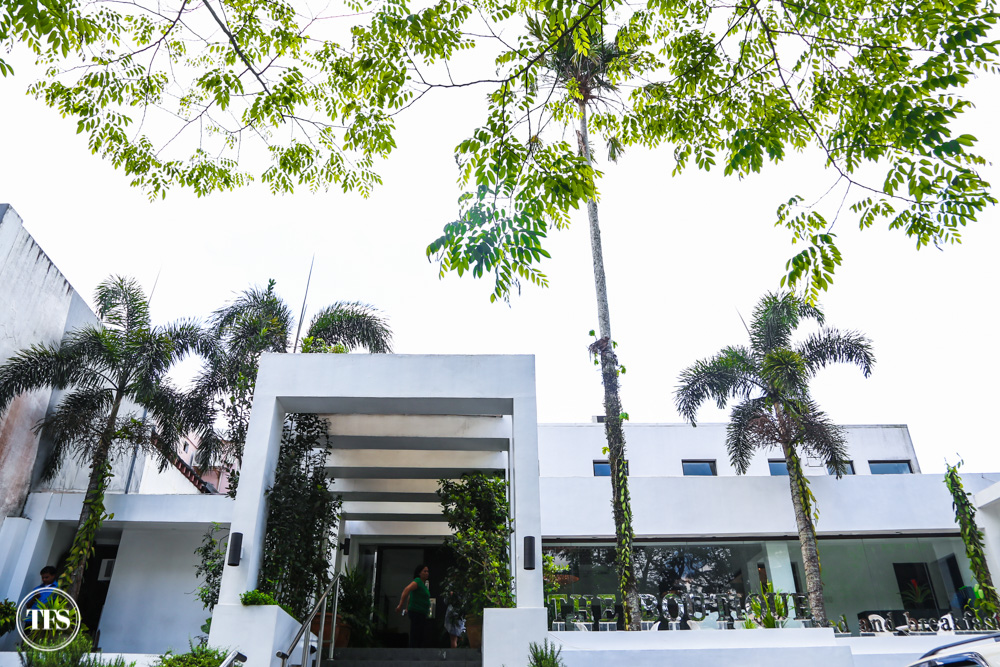 More than 2 years ago, O and I planned an unforgettable surprise birthday getaway for dad. From a church group out of town trip, we "kidnapped" clueless my dad to take him to an "adventure" with the entire family. It started from transferring to a different car at an SLEX  gas station, where he thought it was just a stopover on the way home at around 6pm. But the plan was to move to O's car then we drove to Tagaytay and took him for dinner at The Original Hawaiian BBQ.  Here's the link for the whole story.  It just shows The Original Hawaiian BBQ is special to our family, especially to dad.
Last March, I was pleased to be back at The Original Hawaiian BBQ, located inside The Boutique Bed & Breakfast, with my KTG family. I first noticed there was a change in its interiors. It had more space with a clearer view of the beauty of Taal. The rays of sun hit the edges of our table for the perfect lighting set up as we photograph a long lineup of food prepared by our gracious host Happy Ongpauco-Tiu.
The Food:
Presented in a creative way, the Onion Rings Tower pulled me from afar where I was busy taking photos of the Taal view. Barbecue, garlic mayo and gravy in cups served as its sauces. New to our tastebuds, the gravy appealed more with the crunch and flavor of onion rings.
Quesadillas were available as a starter but didn't leave a memorable mark to my tastebuds. Other appertizers may have grabbed my attention more.
Crispy Spam Masubi is spam out of your comfort zone. Being used to spam with rice or bread,  it's a jump to a recipe of our favorite spam enveloped in sushi rice and nori dipped in Hawaiian batter then deep fried to perfection. I love how this rare combination found romance together.
Don't rush to the ribs and take time to enjoy the Oriental Chicken Salad. Uhm, that's what I told myself. Haha! I don't ignore salad bowls but when faced with meat like ribs and steak, my hands start to crawl to where the meat is. Haha! This Oriental Chicken Salad, grilled bbq chicken on a bed of mixed greens topped with wontons and fries, isn't your conservative salad.
Must-try Seafood Taco made waves that afternoon. I was blown away by the soft taco wrapping the crunchy squid, mussels and oysters altogether.
This restaurant  The Original Hawaiian BBQ continues arouse our hungry bellies with its theatrical presentation of the Hawaiian Famous Spicy Mussel Scampi. Cooked in a bamboo seasoned with chili peppers and garlic then transferred carefully to a hot sizzling plate.
The sight of real feast is when you lay down the BBQ Platter. With sauce oh so incredible, there is no fail in this restaurant if BBQ is your business. For the family, a platter includes shrimps, pork, chicken, fish, pork belly, and mussels served with grilled corn, pineapple, mango and oranges.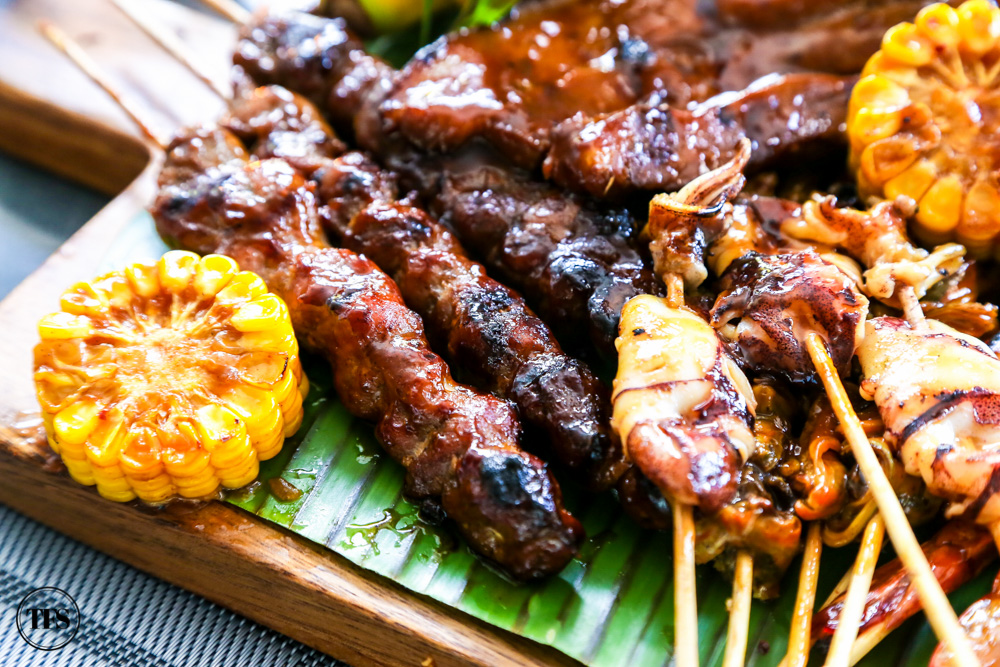 Ribs Price – S (Php 380)/ M (Php 765) / L (990)
The main attraction of every dining at The Original Hawaiian BBQ is this… the Ribs!! First in line, The Original Hawaiian Baby Back Ribs. I hope I can flush all the food I ate easily and make more space for these BBQ ribs roasted in their homemade sweet yet tangy sauce. Meat so tender, you don't actually need a knife to slice your share. What's missing now is the view of the beach and it will feel like Hawaii already.
My mouth was on fire after tasting Sam Choy's Hot & Spicy Ribs. Literally. They weren't kidding when they warned me to ready my tongue for some spicy action. I love the screaming hot flavors with a hint of Hickory sweetness.
My eyes were glittering with my tastebuds glorified by the excellent taste of Waikiki's Rootbeer Sesame Ribs. Rootbeer and sesame infused this perfectly grilled ribs. My type of ribs, it's what I'll go back for.
Butter Corn with Bone Marrow is specially made for people who are not on a strict diet. Haha! Look at it, you know it's tempting but deadly. You'll end up praising this dish once you taste it.
Baked Seafood Pockets in Lime & Honey is simply prepared to balance off sweetness, saltiness and sourness. A dish for seafood lovers, it's a break from the glazing sauce of Hawaiian ribs.
Rice brings a smile to every Filipino. Pineapple Chicken Rice is a complete package if you're on a budget. Enough rice for 1-2, with chicken barbecue as your main dish. For me, it's a happy comforting rice bowl.
Chunky Monkey is vanilla ice cream layered with choco banana and peanut butter. Yes, peanut butter! Anything with peanut butter, I easily notice.
Oreo Overload simply means one thing, you'll drown yourself in oreos with this one. Chocolate ice cream with oreos, fried oreos and bits and pieces of oreos used as garnish. So, Oreo (Are you) convinced? Get it? Hahaha!
Not exactly how I imagined the Molten Lava Lava Cake to be served. Inside, it wasn't overflowing and oozing with melted chocolate. I still enjoyed the moist chocolatey cake tho with cold vanilla ice cream gently melting down.
Thankfully, this Hawaiian Choco Macadamia Smores Dip saved me. A perfect dessert with hot chocolate, bananas, smores and grahams.
The Ambiance:
When the sun is still out, the natural light comes in from one side, easy for photographers to maneuver. Monotone interiors, of black and white, makes it appear intimidating at first. Only until you browse through the menu, you'll see how reasonable the prices are, considering the high quality of dishes you get.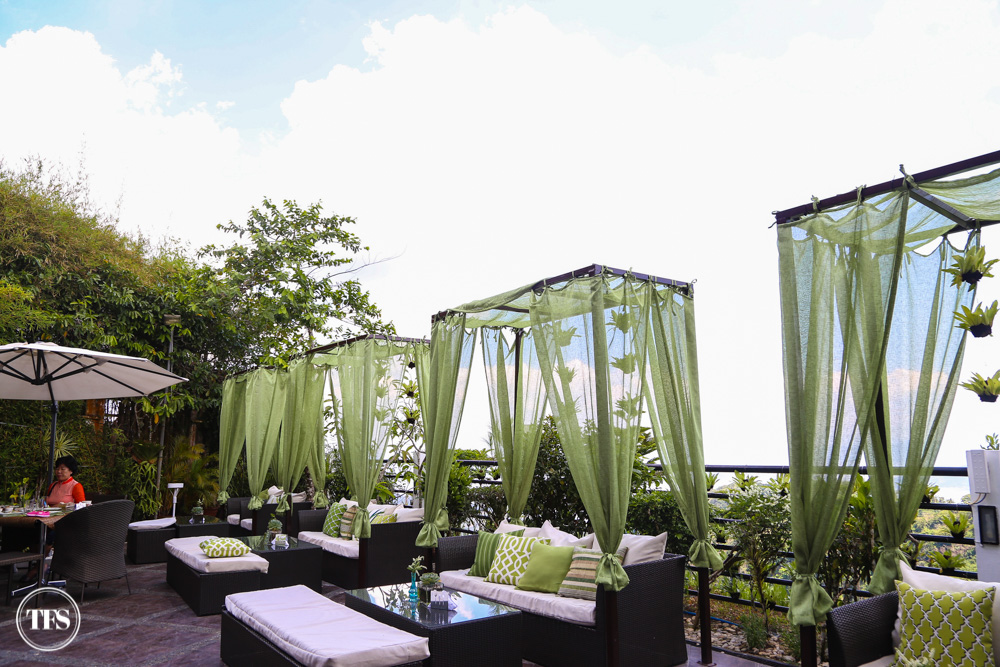 By the veranda, another restaurant called Tsokolateria stands. I'm dedicating one full blog post to show you my review about this restaurant. You share the same view with the customers of Tsokolateria, where you get to cross-order from their chocolate-infused dishes.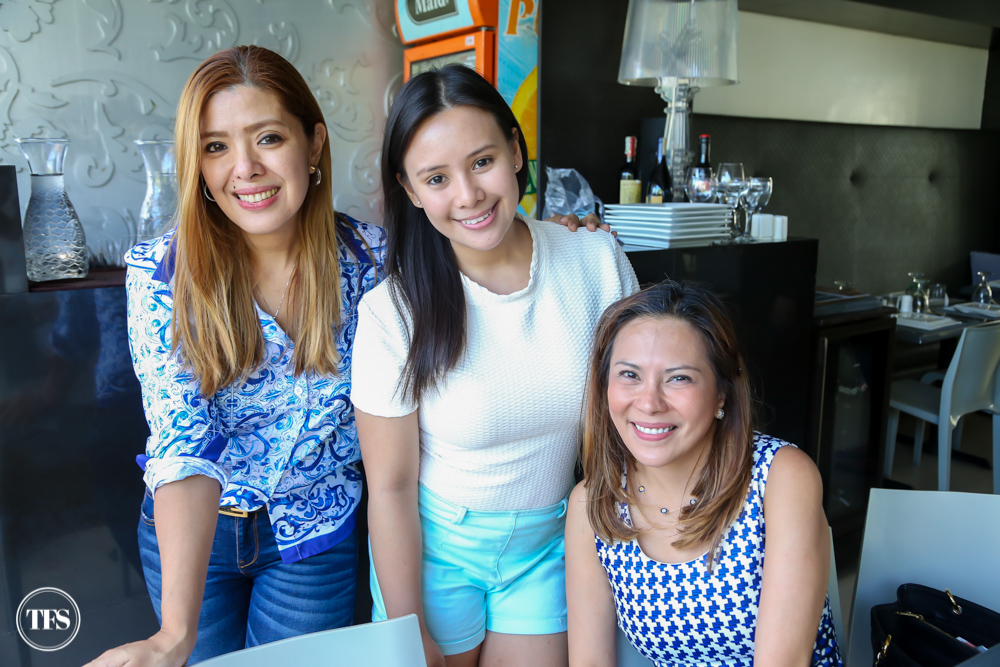 What do you think of The Original Hawaiian BBQ in Tagaytay?
Share with me your thoughts!
Stay updated and Subscribe to The Food Scout for Free!
Pray, Eat and Love.
Cheers,
The Food Scout
---
Location: The Boutique Bed & Breakfast, Aguinaldo Highway, Tagaytay City, Cavite, Philippines
Operating Hours: 7:00AM-10:00PM
Contact: (+63 46) 413-1798
Facebook: https://www.facebook.com/The-Original-Hawaiian-BBQ-267854446751020 
Budget: PHP600++
Rate
Food            9/10
Ambiance  9/10
Service        8/10
Cost             8/10
Overall        8.5/10