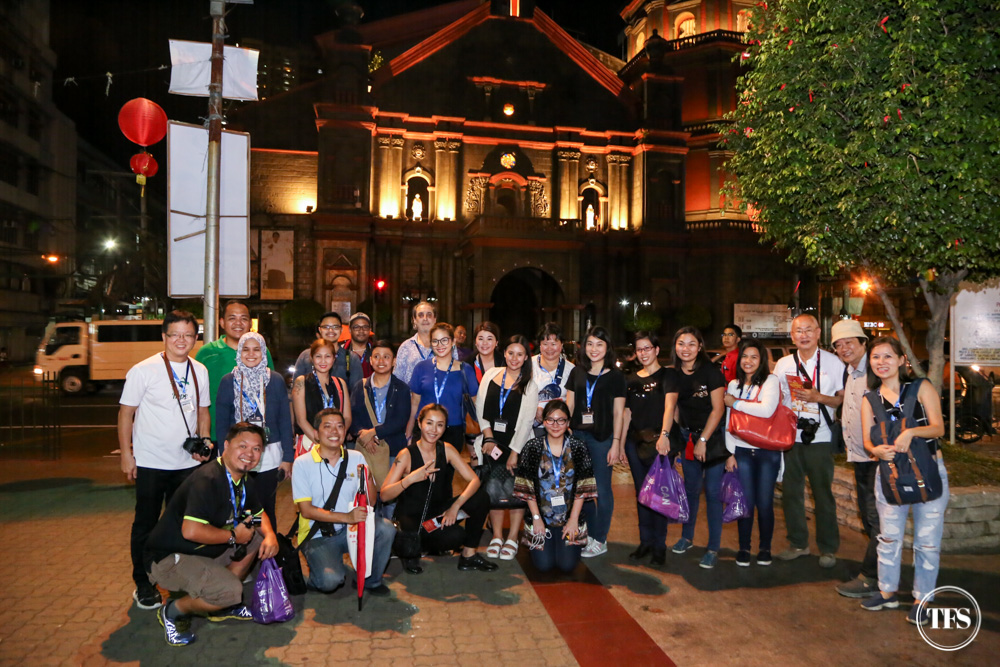 Two more restaurants left to finish our Big Binondo Food Wok. Time check, it was already 7 in the evening and we weren't still done eating. I was wondering, what if I do this every week, what will happen to me? Hahaha!
8th Stop: Dong Bei Dumplings
642 Yuchengco St. Binondo, Manila, Metro Manila, Philippines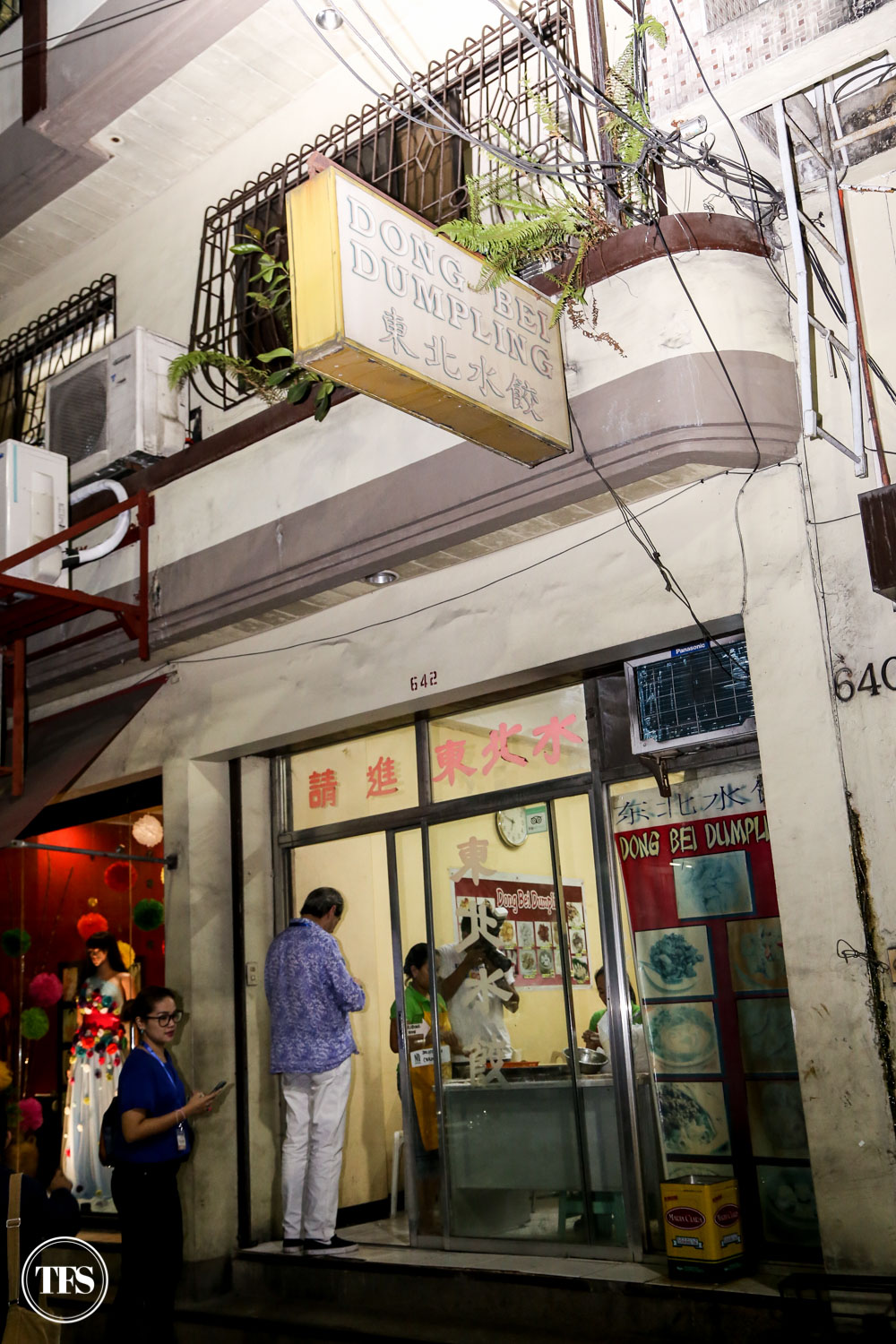 From Sincerity Restaurant, we walked to Dong Bei Dumplings, squeezed in an old building. If I pass by this restaurant without a guide, I might have missed it. Dong Bei is one of those restaurants you shouldn't judge based on its ambiance.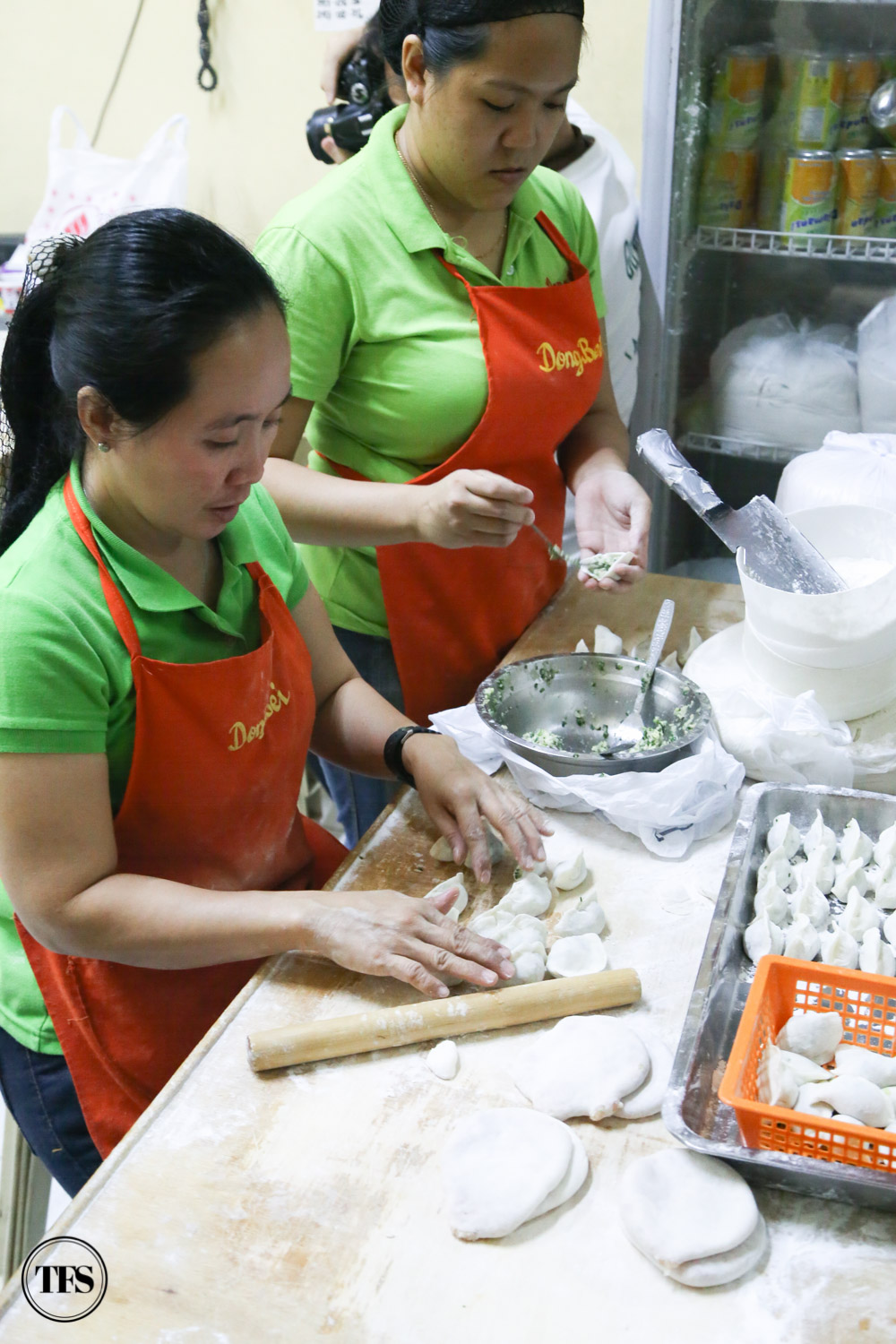 We were welcomed by these ladies hand-rolling fresh dumplings, the specialty of Dong Bei. The space is extra narrow, difficult to find a seat if you're a big group. Our food group didn't mind crowding at the 2nd floor just to get to try Dong Bei Dumplings.
Pork Dumplings are similar to those I've tried in other Taiwanese restaurants. It is boiled for a smooth and soft texture.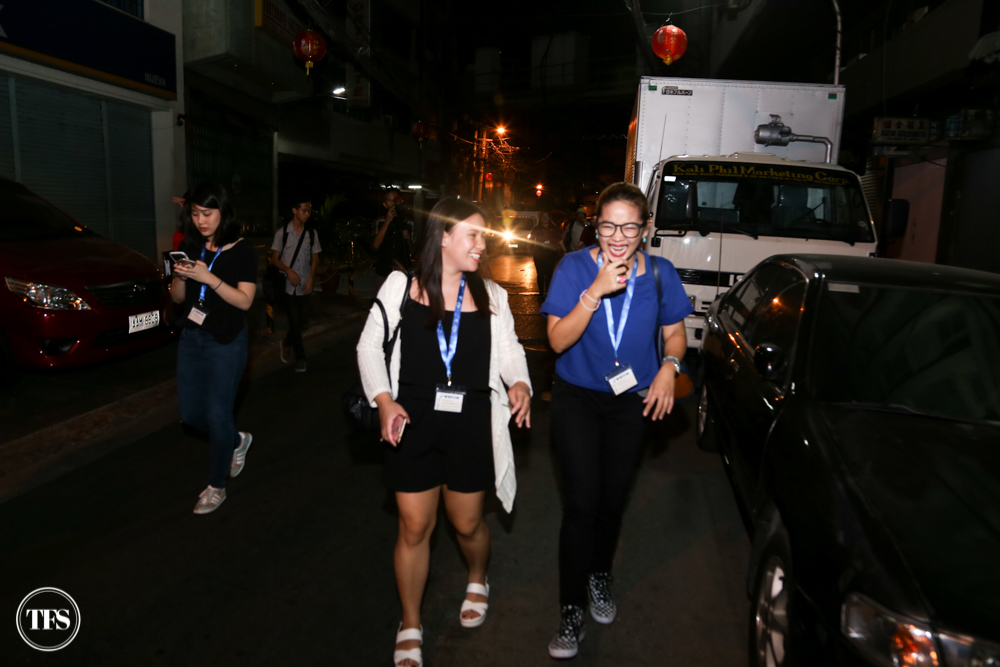 I lost my memory on why Bea and I were laughing out loud while walking the streets of Binondo. Hahaha!
9th Stop: Eng Bee Tin
Ongpin St. Binondo, Manila, Metro Manila, Philippines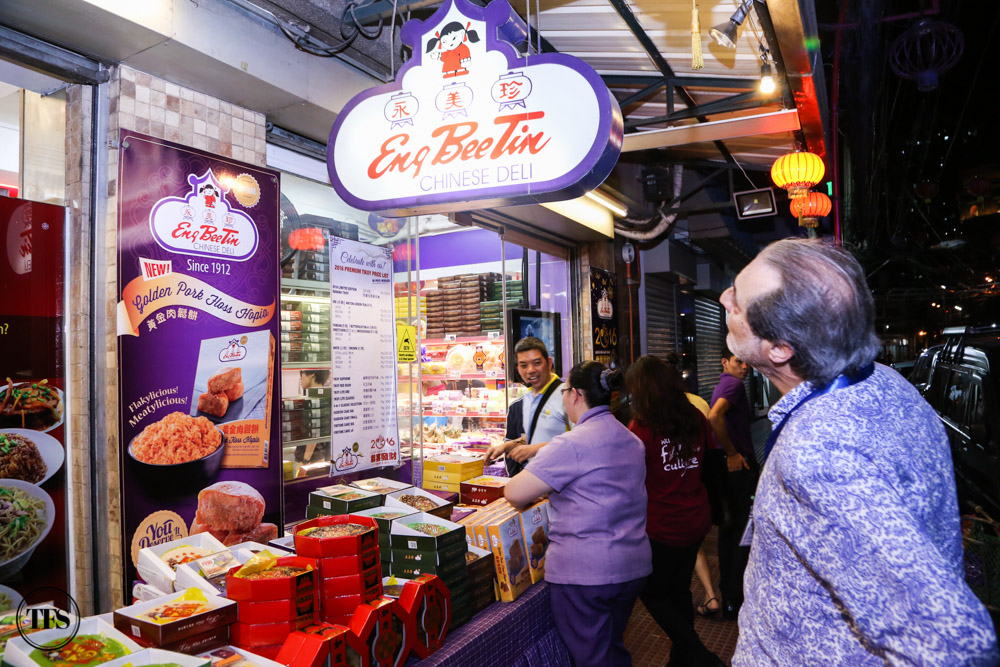 Acted as our 'pasalubong shop', Eng Bee Tin gave us samples of their flavored hopia so we could taste and know which flavors to buy or for some, hoard.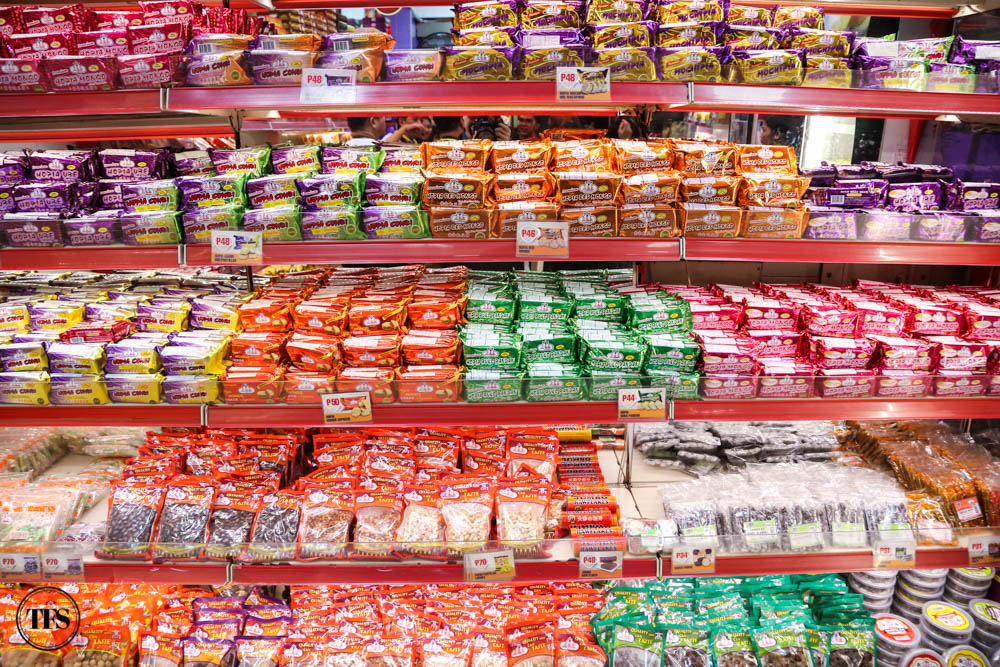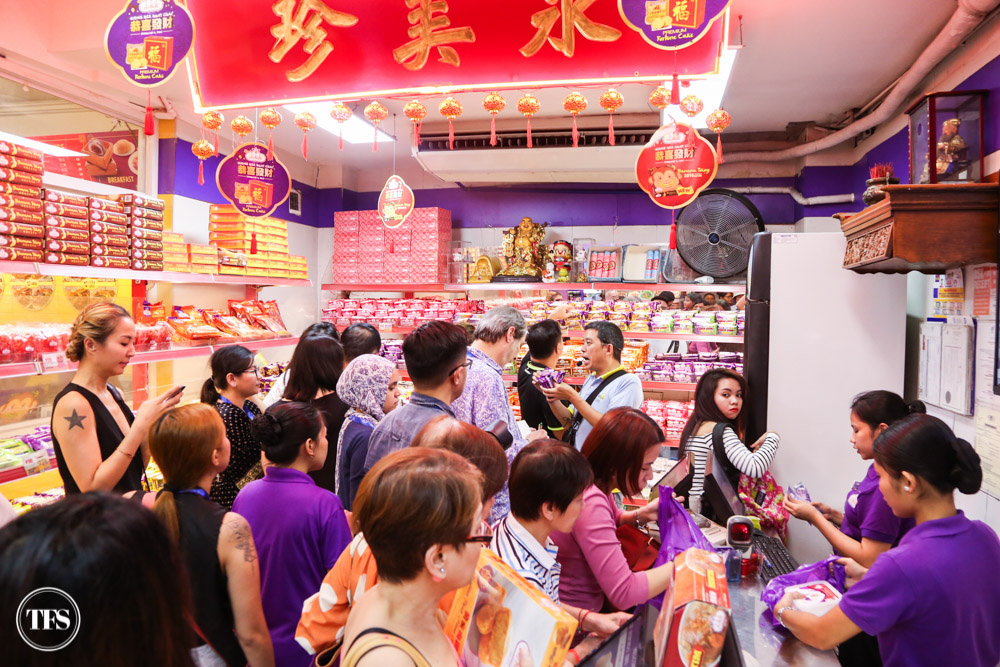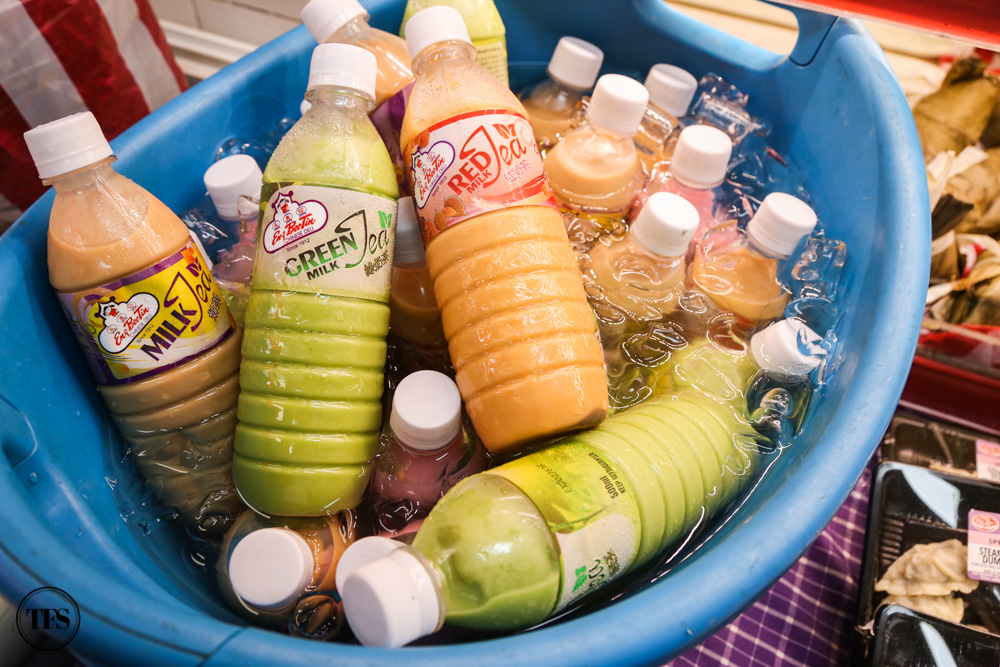 Eng Bee Tin has a restaurant inside but we only dropped by at the deli for some take home Chinese goodies.
Before leaving Binondo, I needed to have a photo with the man who made Binondo food more interesting and famous, Ivan of Big Binondo Food Wok.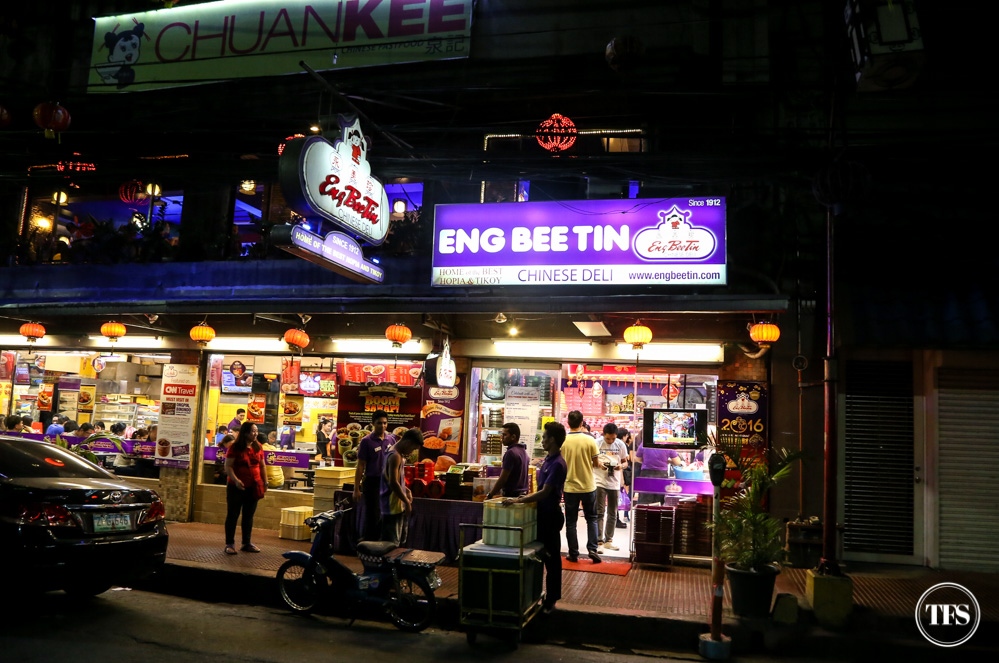 If you think our 15-Hr food frenzy ends here, na-ah! We have a few more stops before we call it a night.
10th Stop: Sarsa
G/F The Forum, Bonifacio Global City, Taguig City, Metro Manila, Philippines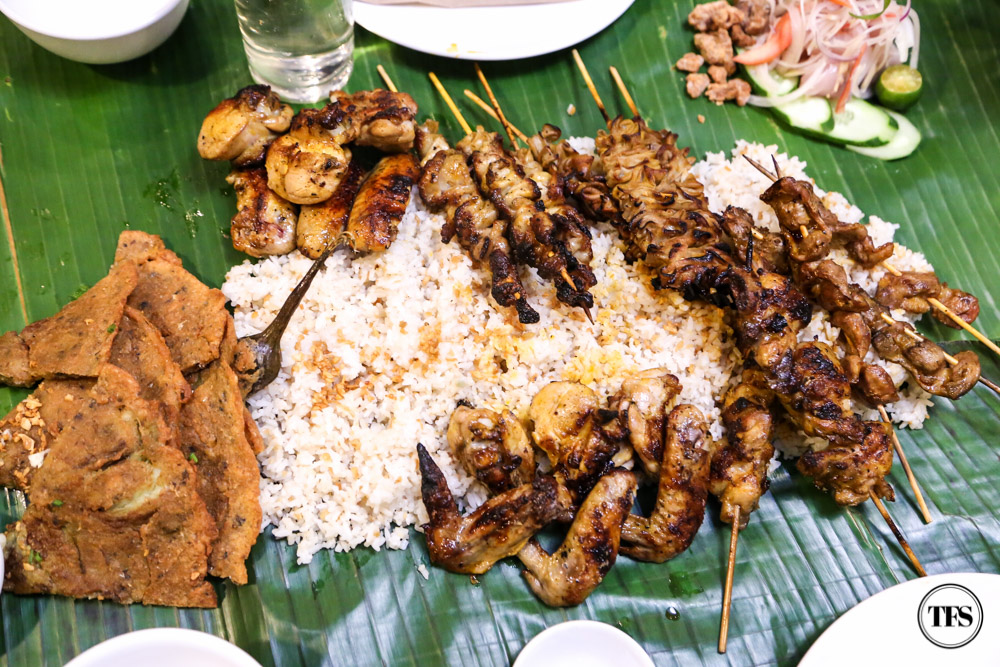 As what I expected, Chef JP Anglo of Sarsa prepared a feast of Bacolod or Negrense cuisine for us. Like a fiesta inside Sarsa BGC, long tables with boodle-style food wanted us to grab a chair and start digging in. There on the table, we've got the famous Chicken Inasal, Kinilaw, Isaw, Isol, Chicken Skin, and Tortang Talong on top of mountanous rice.
We also loved Sarsa's Batchoy, rich in flavors of pork and beef, noodles, egg, liver and crunchy chicharon on top.
11th Stop: Mercato Centrale
Bonifacio Global City, Taguig City, Metro Manila, Philippines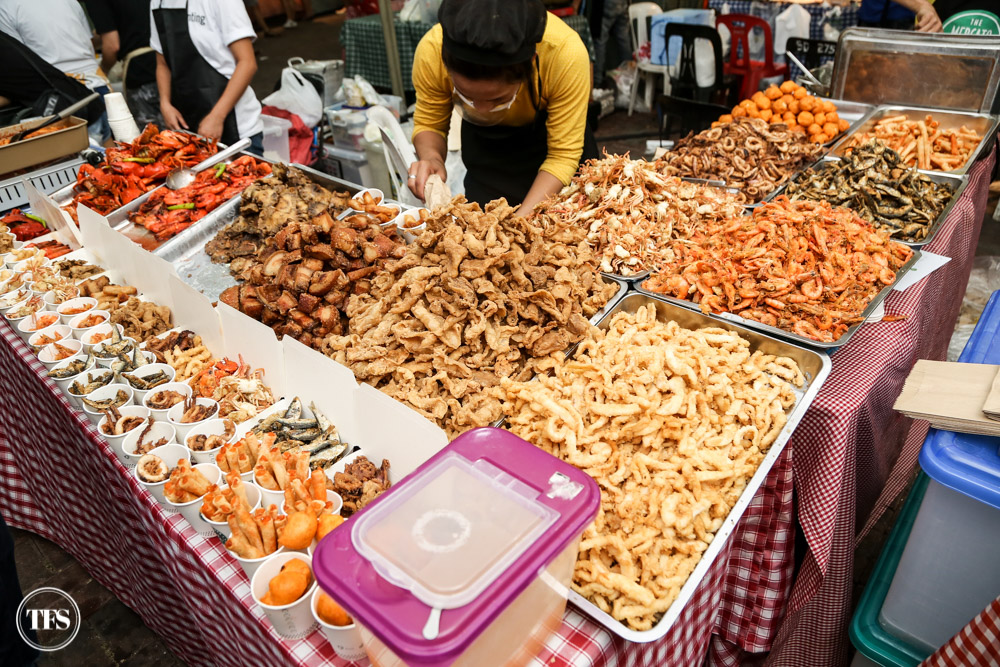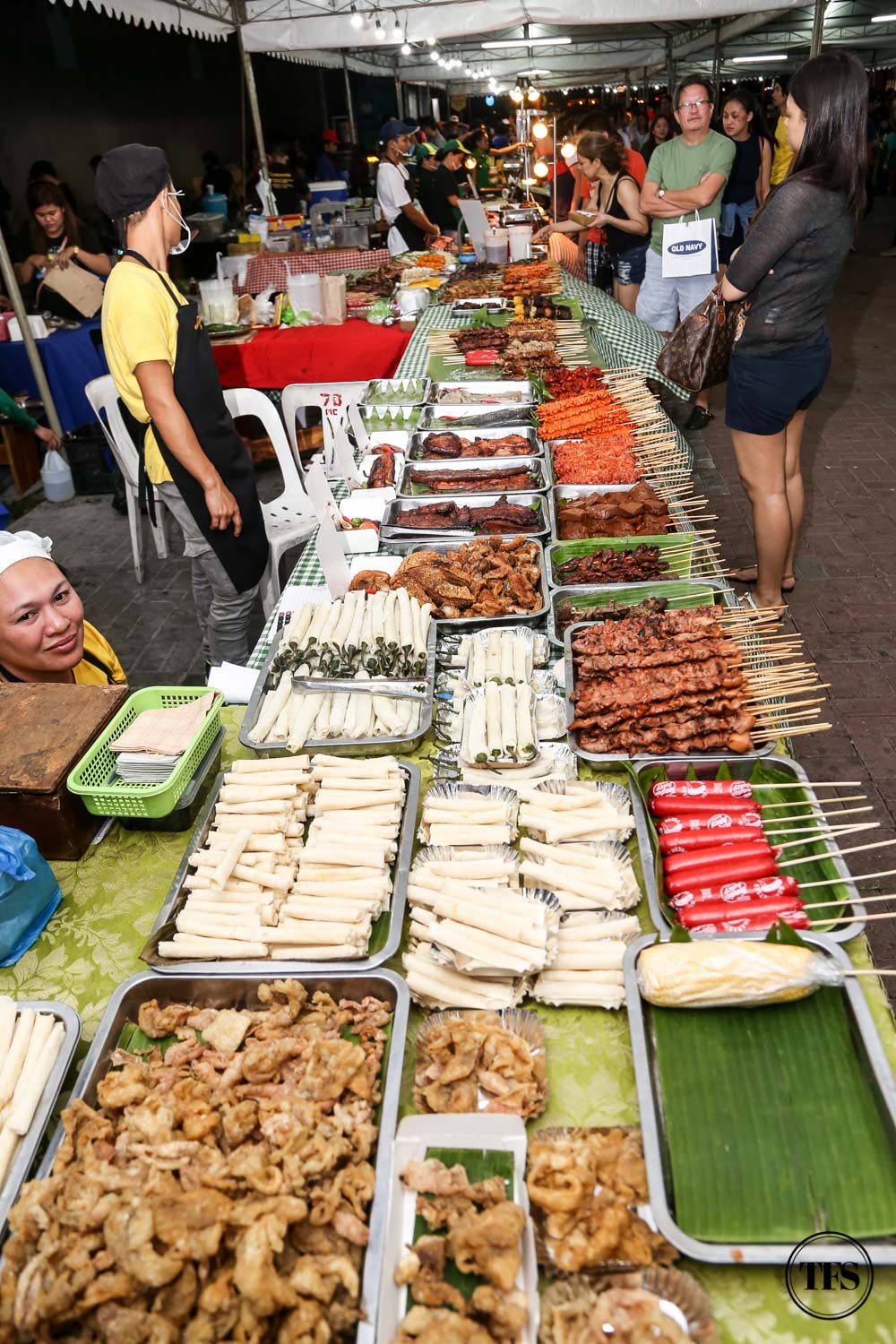 Only a few steps away from Sarsa, we didn't need the coaster anymore to go to our last stop, Mercato Centrale. Yes guys, it's the very last for the last few ours of the 15-hr food frenzy safari. For my foreign readers, Mercato Centrale is the popular food night market in the metro. It only opens on Saturdays, which became a hangout place for food trips for some Filipinos. During my first year of blogging, I love visiting Mercato because I'd always find something new interesting every week. Most food entrepreneurs start in Mercato if they want to test the market first before going big.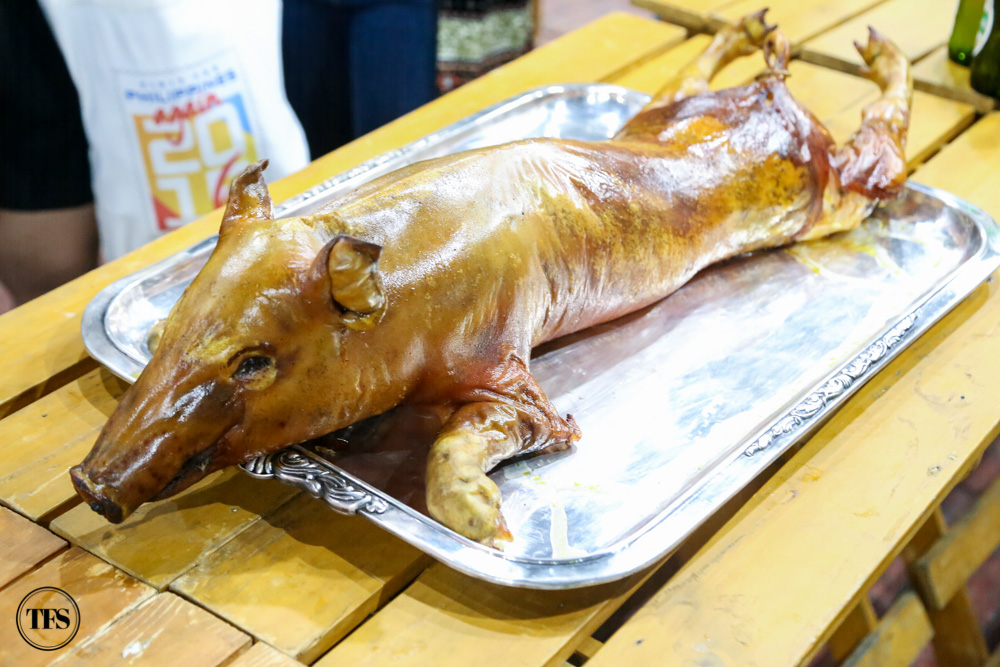 The surprise for everyone was the arrival of not any other lechon, but Pepita's Lechon. Oh my oh my! Favorite lechon in the world!
Again, I thought I could control my last bites. But. But. It was Truffle Lechon ladies and gentlemen! How can you ever refuse to indulge to that?!?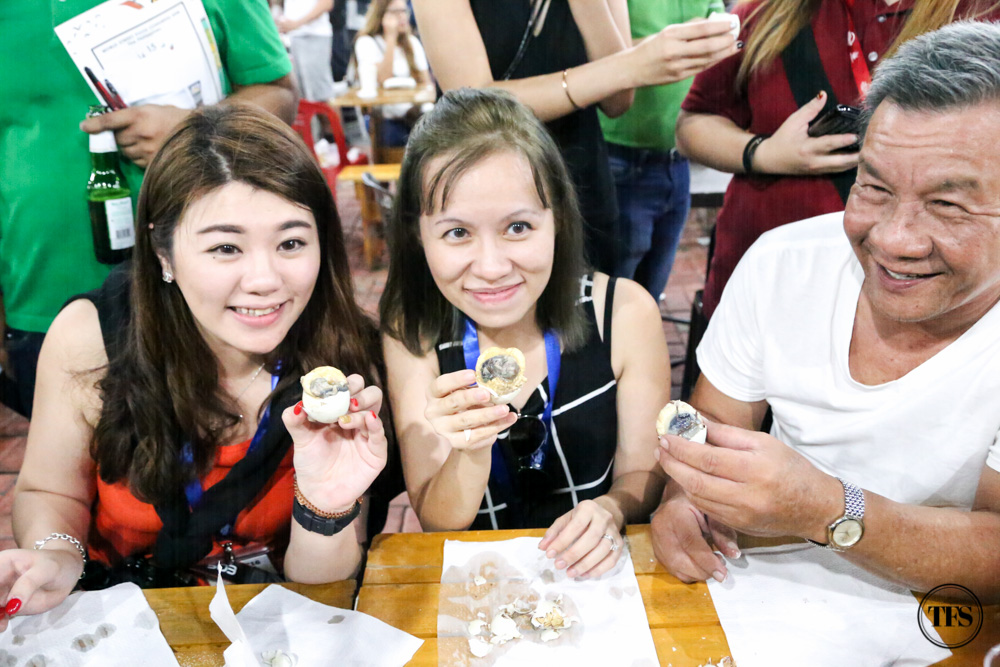 We had a little challenge for our brave foreign friends before we bid goodbye. The Balut Challenge!!!
Now you tell me. Do you think they enjoyed? Hahaha!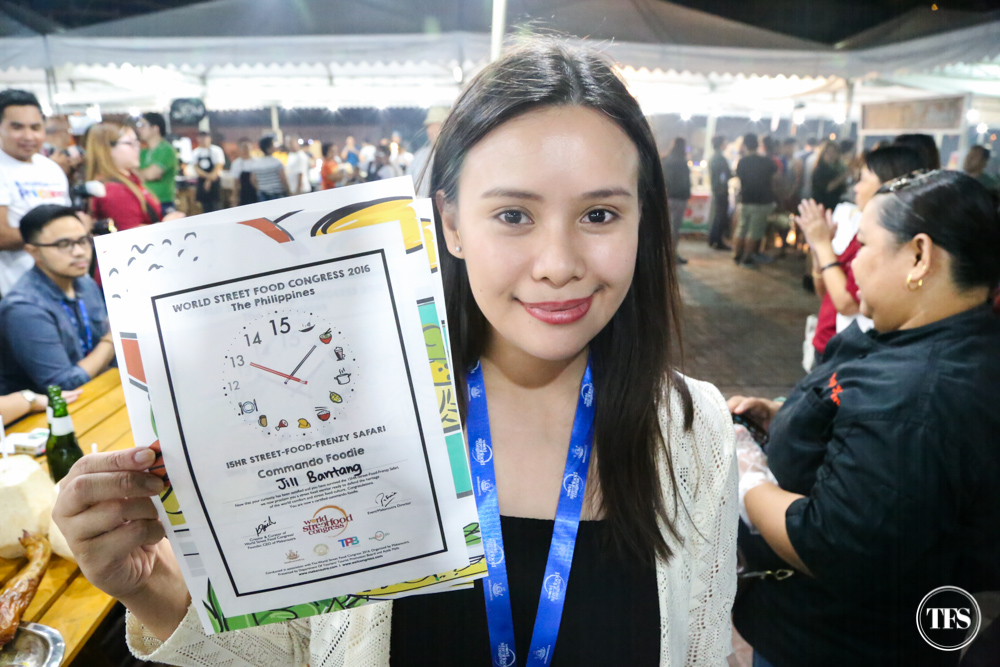 The certificate that proves I SURVIVED the 15-Hour Street Food Frenzy Safari by the World Street Food Congress. I'm now a Commando Foodie!!! Oh yeah! (fist bump!)
What a spectacular experience. Until today, I've been raving about this accomplishment. Whenever people from restaurants ask me if I could still eat, I simply tell them this 15-hr story. Hahaha!
For more details about the World Street Food Congress happening on April 20-14, 2016, check out their website.