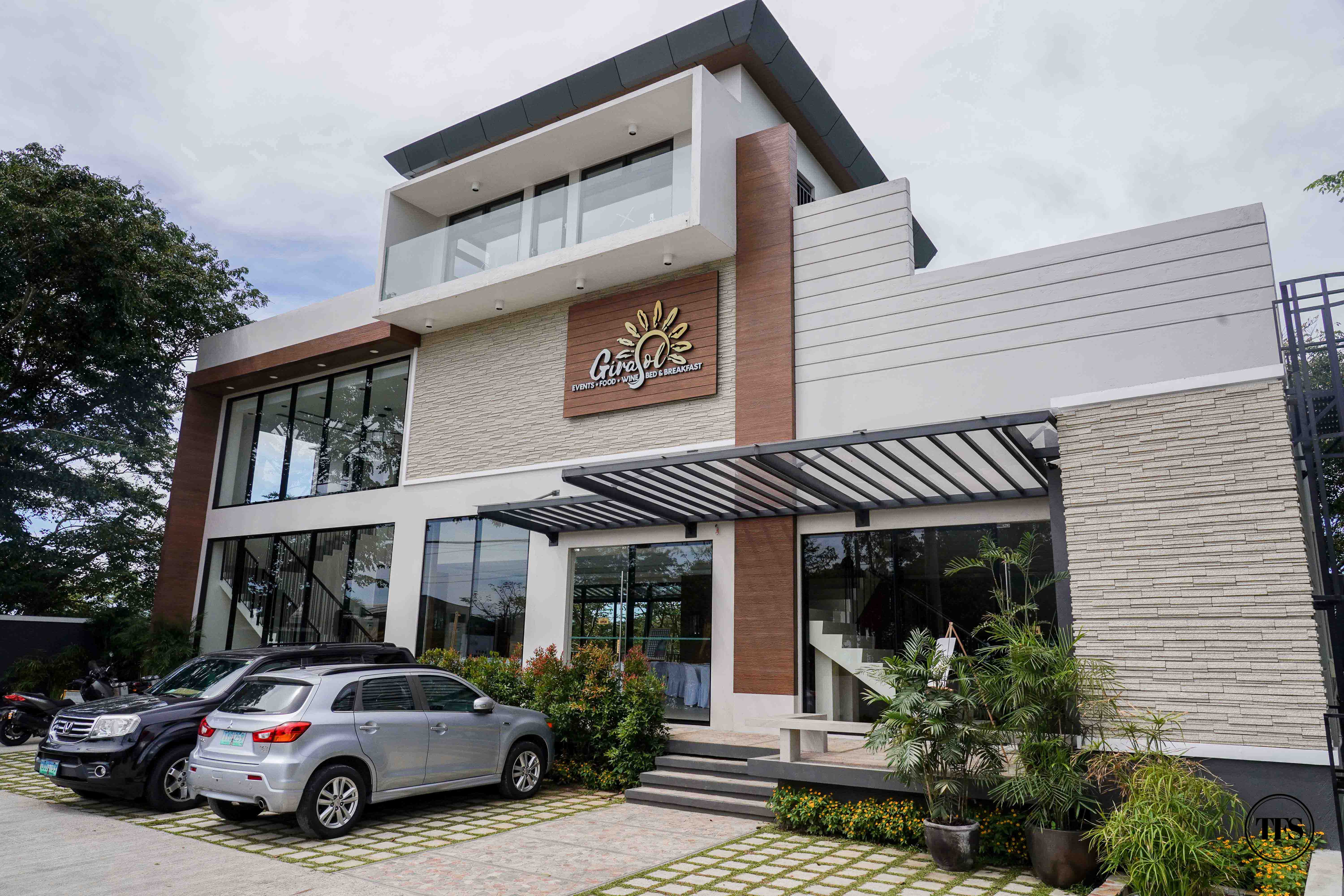 A quick escape from Manila to Tagaytay for us means to try a new restaurant. And you know what, I missed this!! I missed going on a road trip with a simple agenda, to eat out. Haha! Back when O and I were still dating, we were always updated with the dining scene in Tagaytay. We know when there's a new establishment that opened. Younger life was basically "easier" with less responsibilities. Haha! Few Sundays ago, I'm glad O & I found time to take our little family to Tagaytay. Our simple agenda was to try the newly opened restaurant named, Girasol Tagaytay.
Girasol, which also means "sunflower", serves Filipino-Continental cuisine.  They offer a selection of savory meals crafted using the finest and freshest produce– organic and grown in Girasol's gardens. There are so many things going on under the roof of Girasol. It is a restaurant, an events place, a bed & breakfast and a wine cellar all in one. Indeed, the vision is to create a place for all types of celebration.
When we visited Girasol, they were still on soft opening. It was a good opportunity to test their food before they finally announce their grand opening, which occurred last November 7.
The Food:
Immediately when we found out it's a Filipino restaurant, we wanted to order what typical Filipino families order. For us, that is Crispy Pata. Girasol's style is Boneless Crispy Pata, succulent pork knuckle marinated in garlic and peppercorn. It's supposed to be extra crispy because it is deep fried. However, it lacked that crispy goodness which I'm expecting. It's all good because the meat itself is tender and flavorful.
My favorite among the dishes on our table is this – Stewed Mushrooms. Seasonal local mushrooms with asparagus and winged beans delicately stewed in creamy, spiced coconut milk. The texture of mushrooms with the smoothness of spicy coconut milk has an overall pleasant satisfaction. I love it! I want more of it!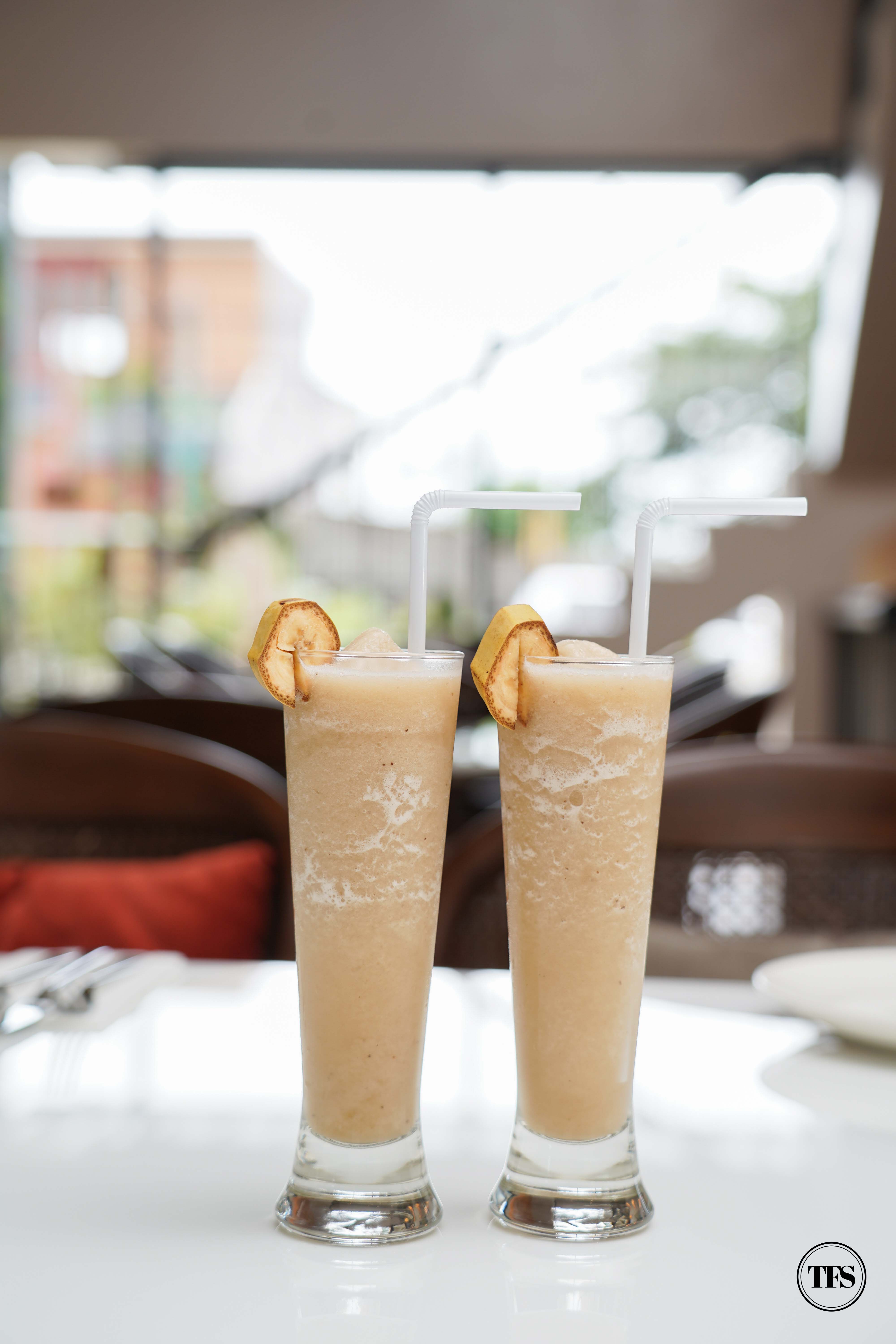 Refreshing banana shake in between meals.
The name Quattro Formaggi means a blend of 4-cheeses – Mozzarella, Brie, Gorgonzola and Parmesan on a crisp pizza crust. It's interesting they used Brie, one of my favorite cheeses.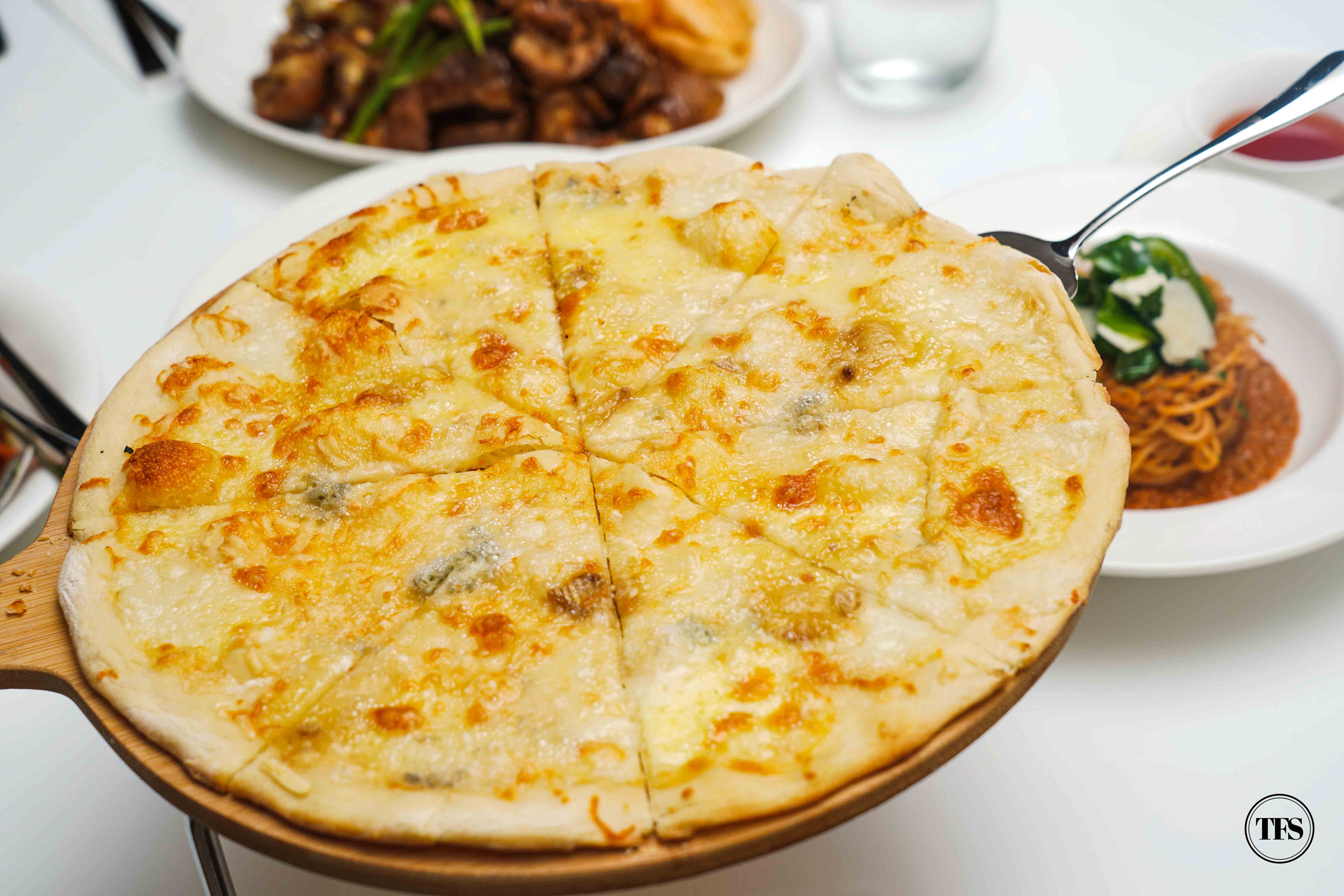 For Seb, who loves anything with tomato sauce, I know he'll be the first one to appreciate Tomato Bolognese pasta.
I love the combination of Pancetta & Mushroom Pasta. The richness of its cream sauce complemented the flavors of pancetta.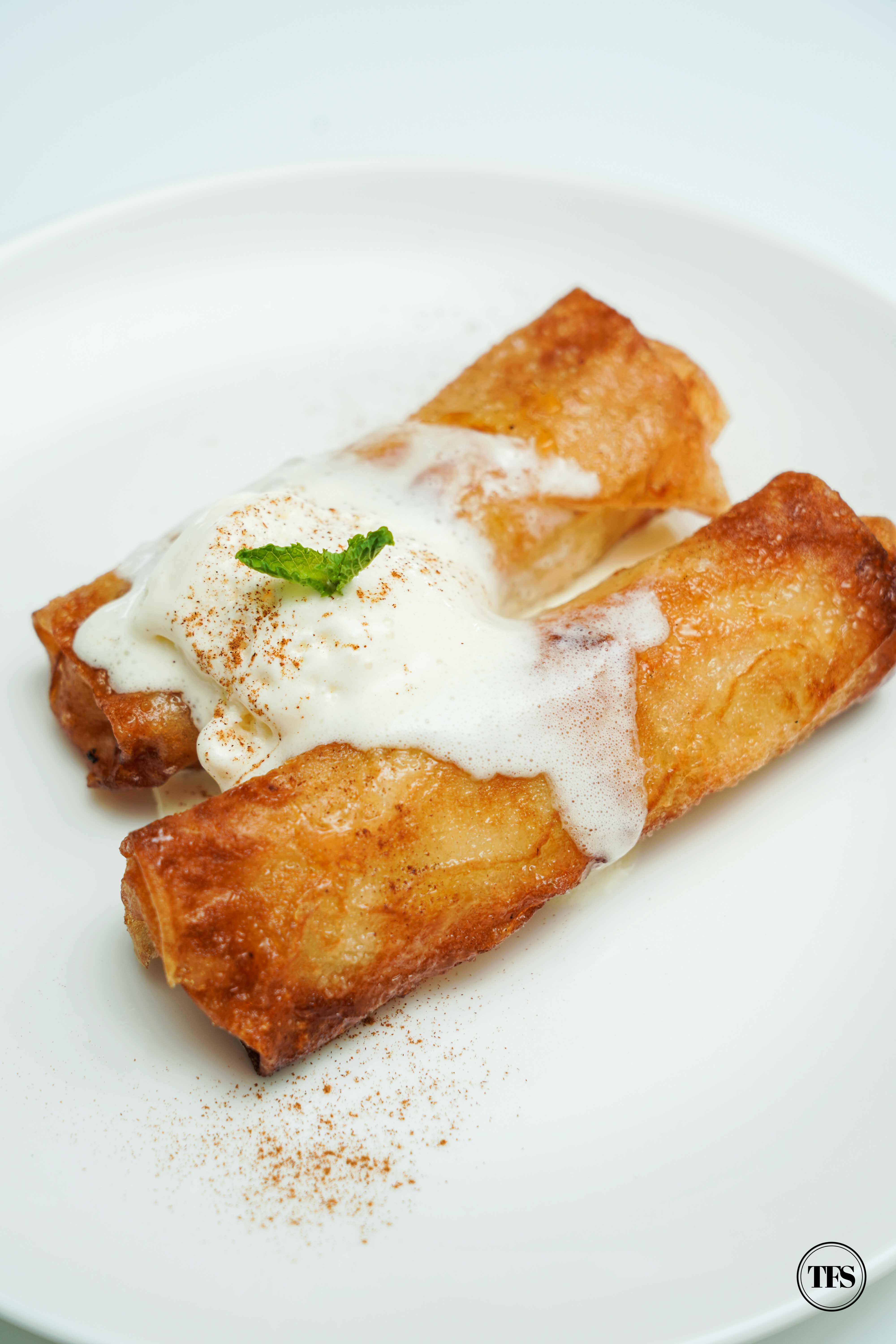 Dessert choices were limited during their soft opening. We had no other choice but this Turon A la Mode. I'm looking forward to more dessert options on the menu like cakes and other pastries.
The Ambiance:

True to its name, dining at Girasol is like a ray of sunshine. The interiors speak of its modern Filipino style with high ceilings, tall and big glass windows brightening the whole place for that warm and relaxing ambiance. They also seem to like positioning the stairs with black bar grills as part of its overall aesthetics.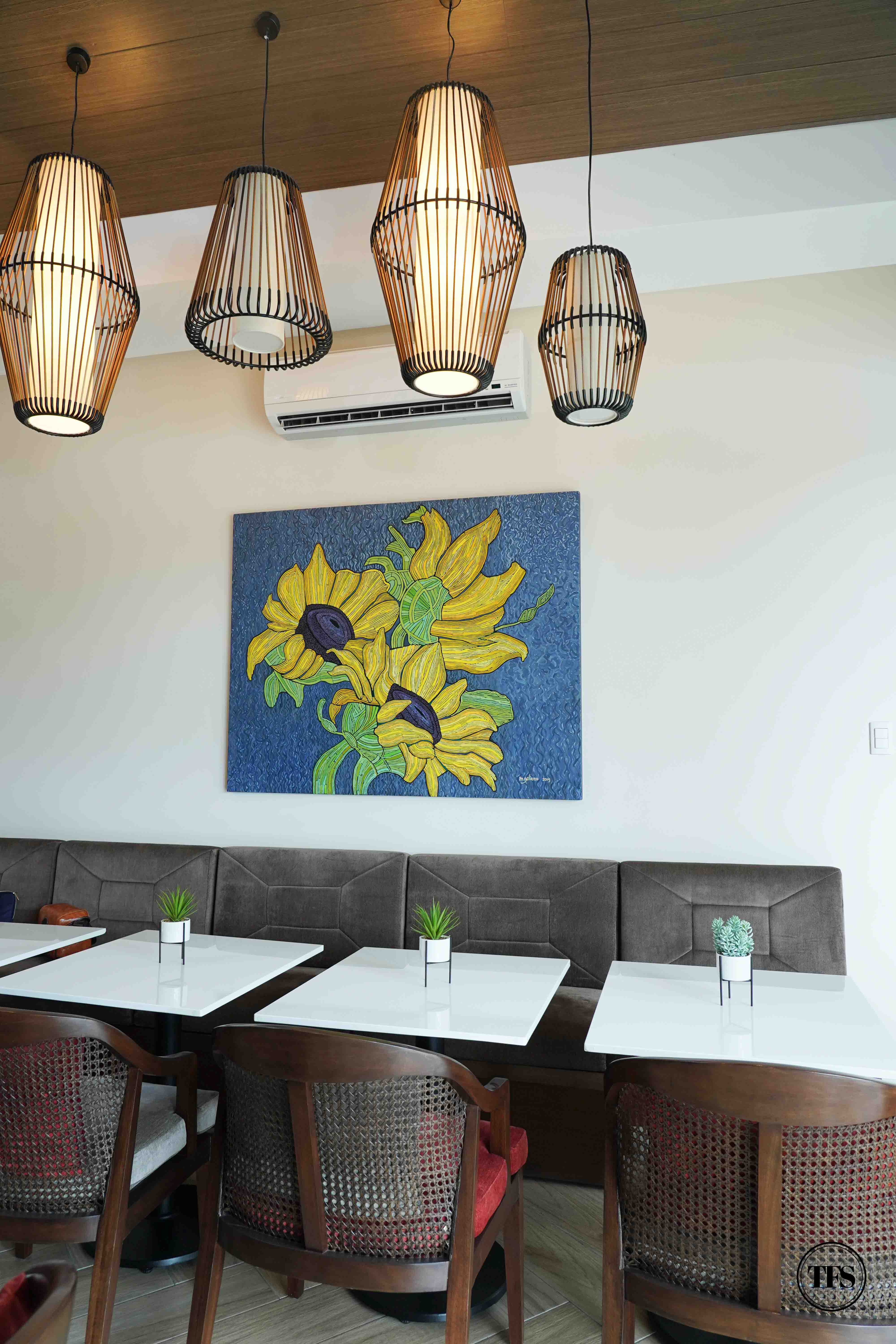 The lamps in different sizes and dining area show that they are embracing modern design yet with the touch of Filipino textures.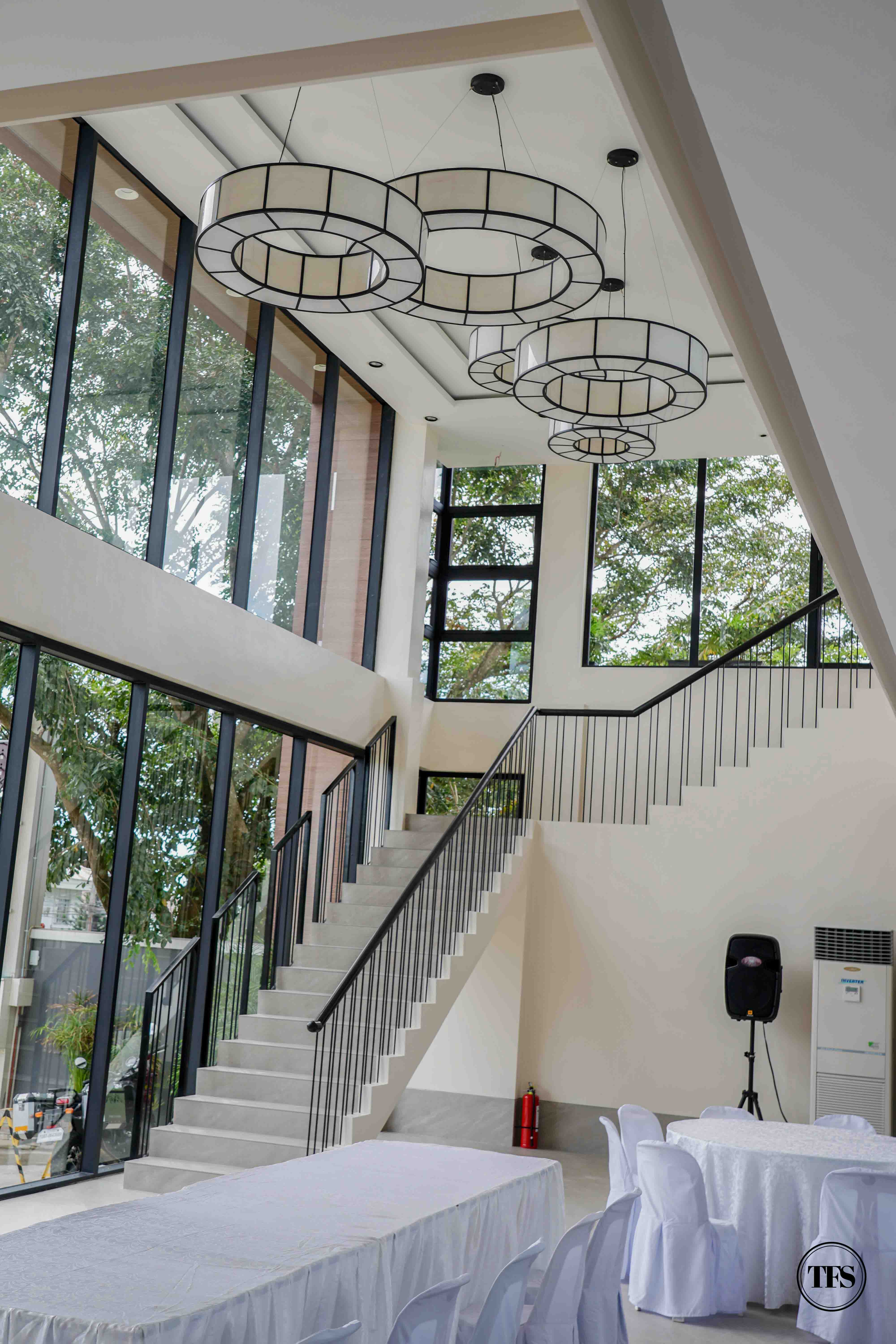 This area of the restaurant, which I'm assuming is for events as well, is still being developed and fixed.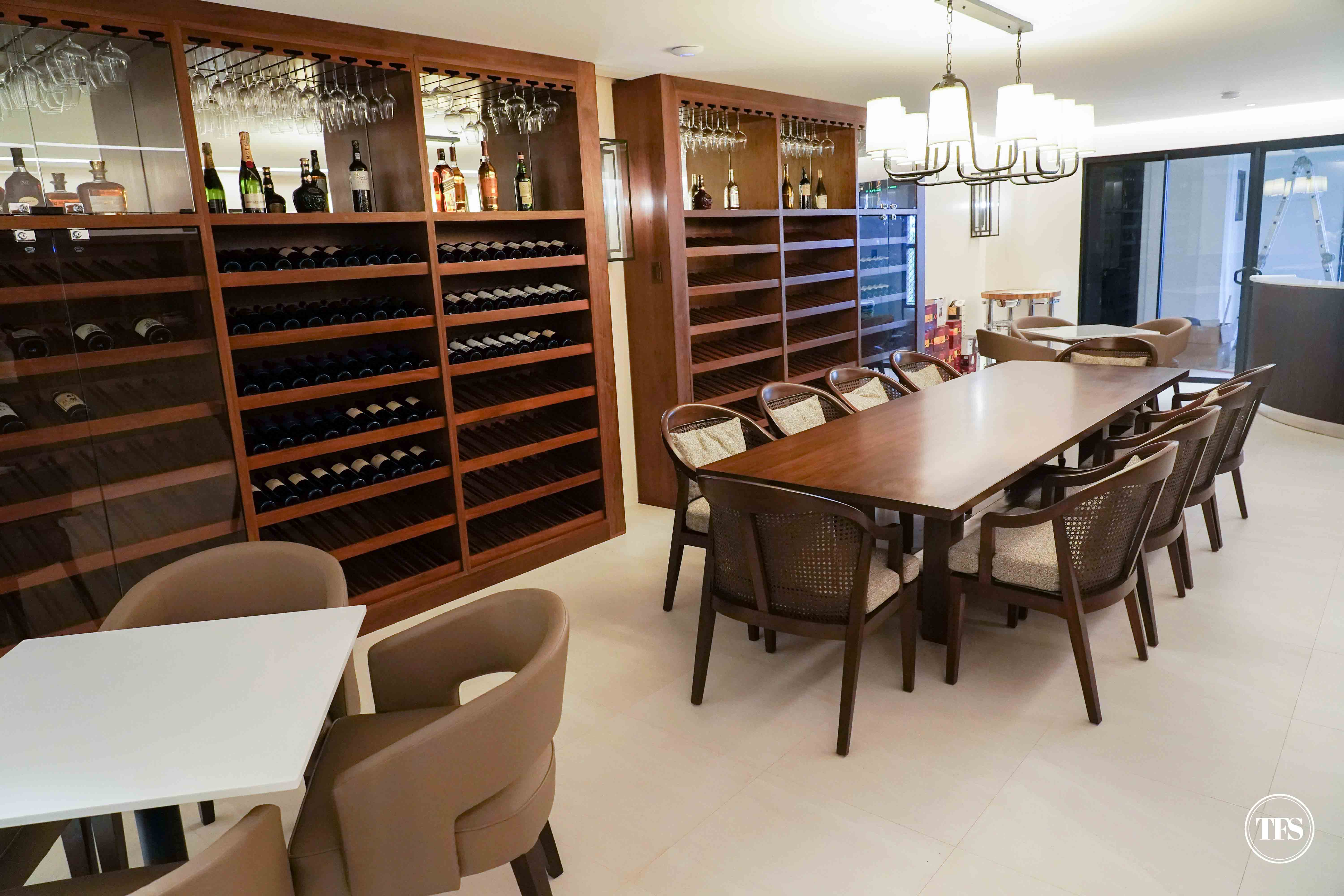 One floor below the main dining hall is like a "secret" or private dining area with a wine cellar. Business meetings or big families who want to dine in private will find this space classy, formal yet homey at the same time. Though for curious toddlers like Seb, it is not advisable to leave them running around. There are too many fragile items exposed like bottles of wine.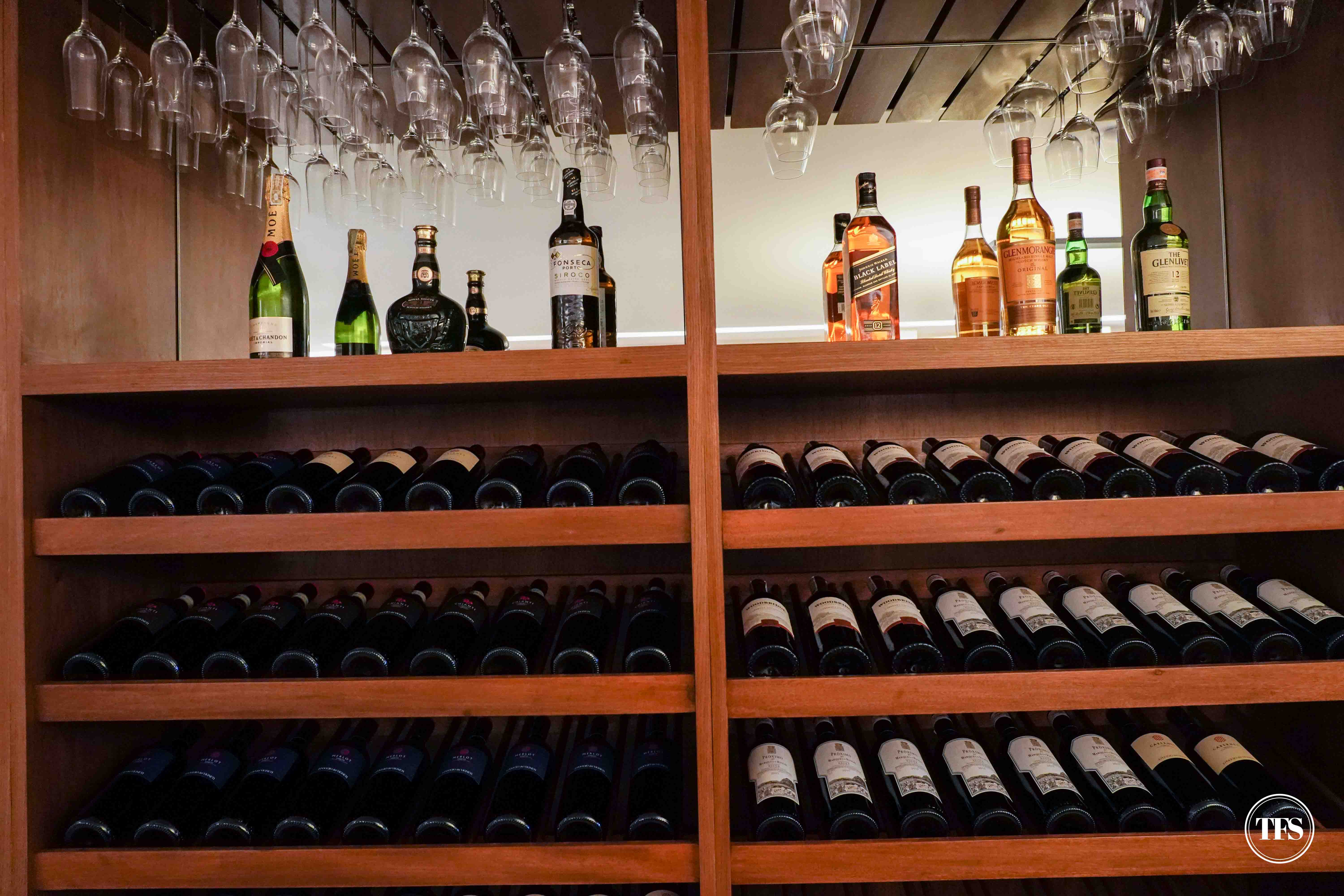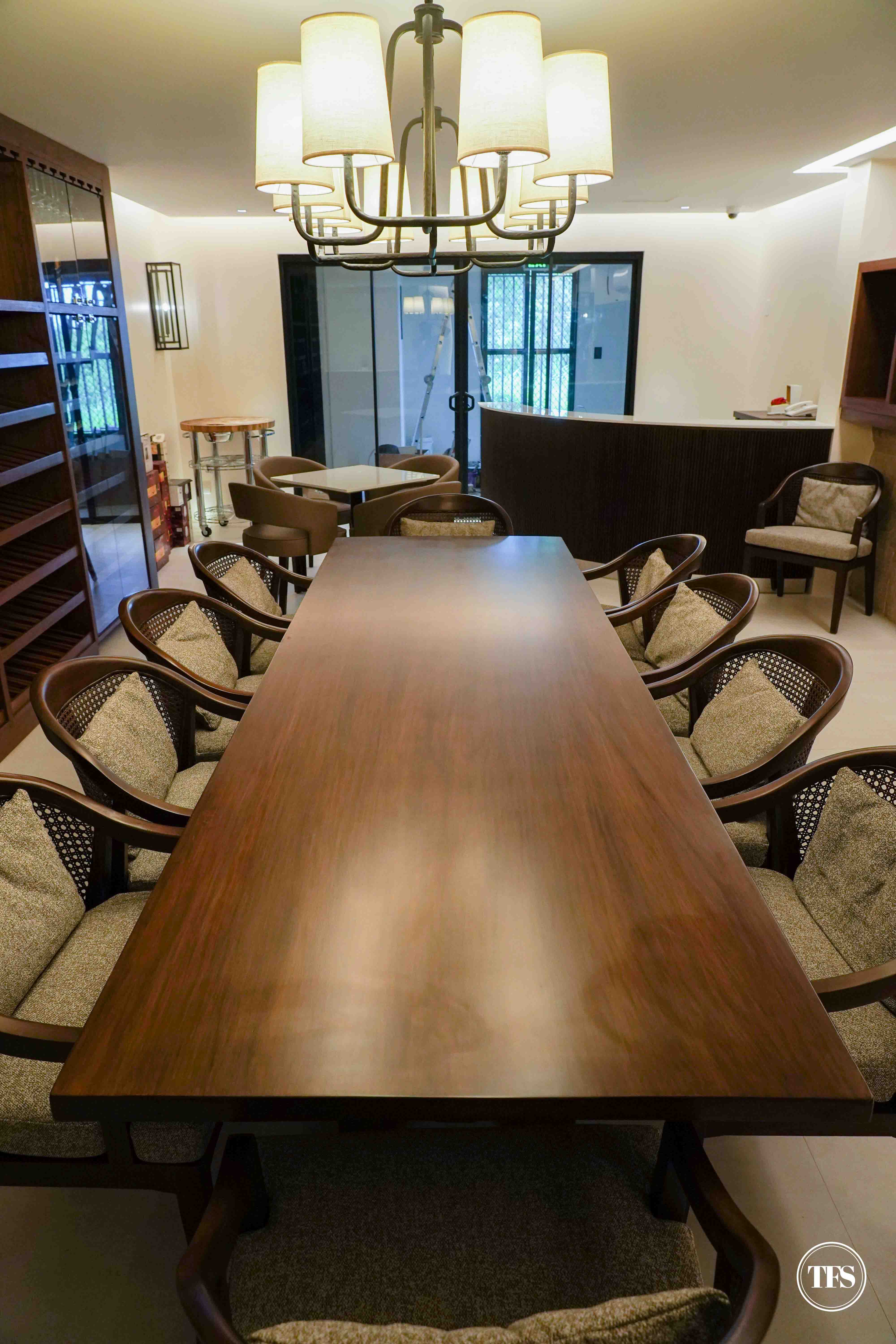 Another floor below the private room and wine cellar is another part of Girasol, which is their rooms for their bed & breakfast. It was still being constructed that time so we only had a quick peek. Again, this is something to look forward to the next time we visit Girasol.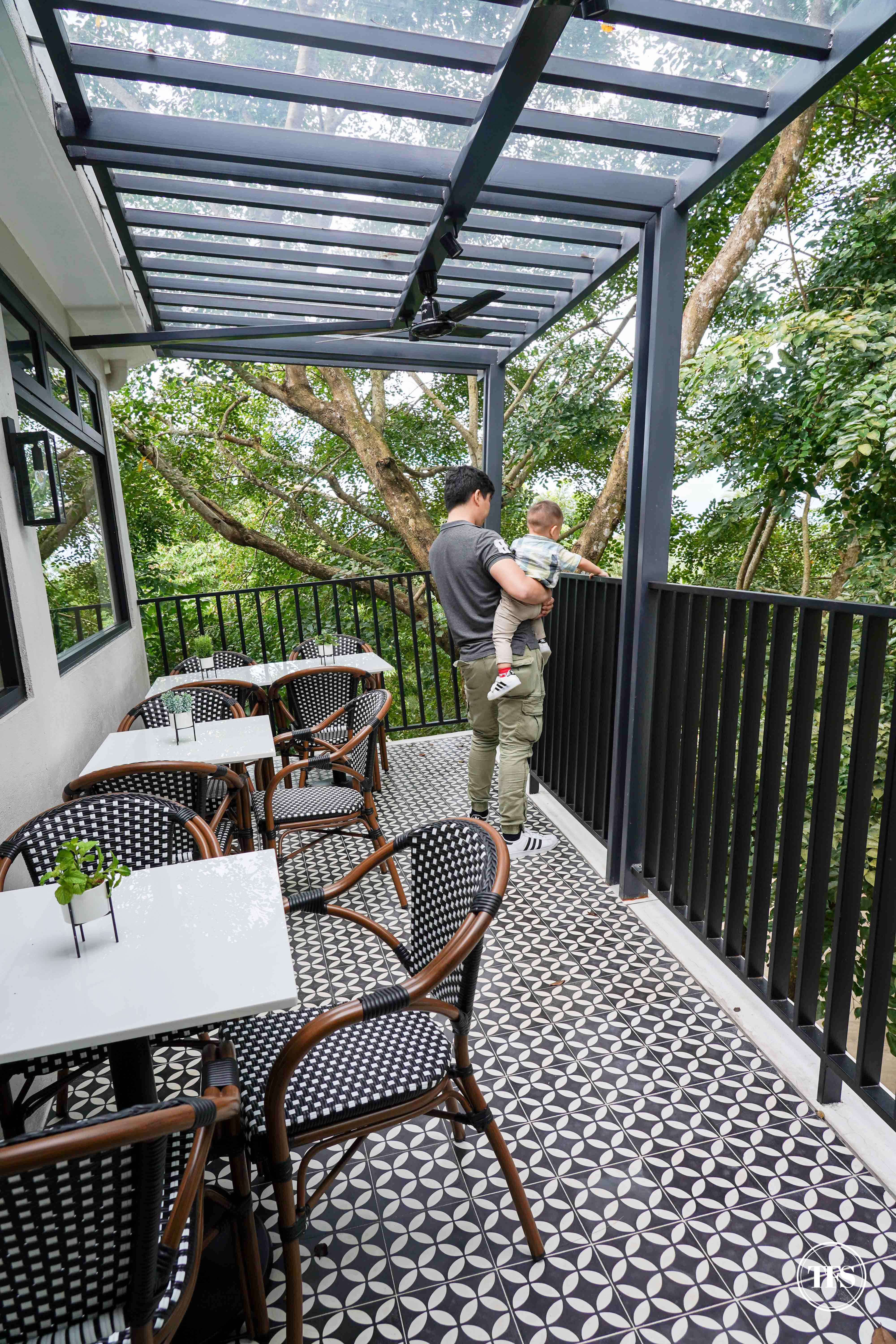 The outdoor space or balcony fills your sight with the lush greenery of their trees. I love that Seb enjoyed exploring the balcony side.  Seems like it was his favorite part of the place because he kept pulling me and his dad to stay with him outside than stay inside the restaurant. Haha!
That area at the back is still being developed, which I also think is still part of Girasol's property. By the way they divided the floors and sections of the property, I can sense their big plans for Girasol.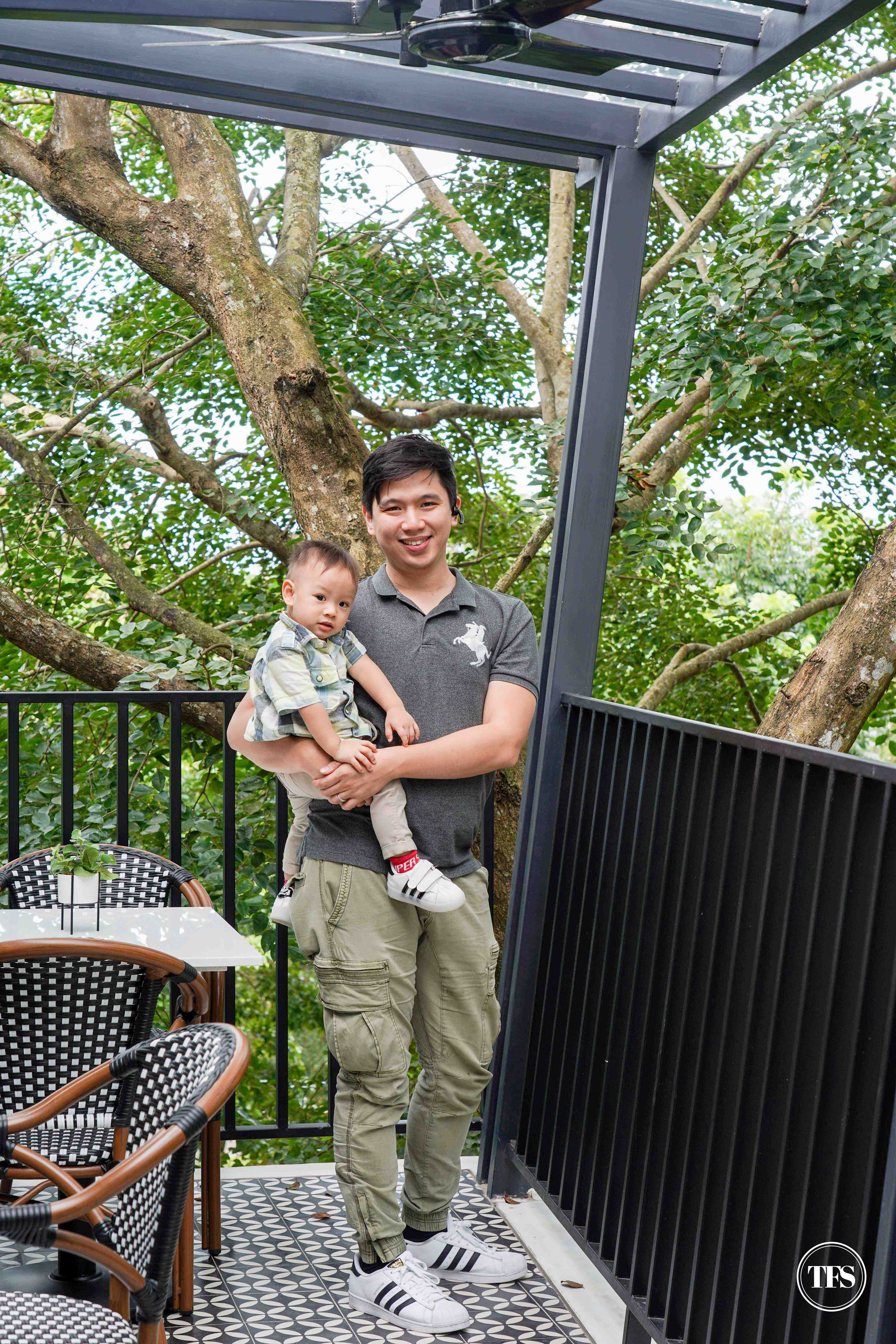 Overall, our family was delighted to taste their take on Filipino-Continental cuisine. The food didn't stand out but it didn't disappoint either. It simply meets your expectations of what good quality food is. The atmosphere is relaxing; perfect for that ideal quick trip to the South.
What do you think of Girasol Tagaytay?
Share with me your thoughts! 🙂
Stay updated and Subscribe to The Food Scout for Free!
Pray, Eat and Love.
Cheers,
The Food Scout
---
Location: Garden Hills, Tagaytay-Nasugbu Highway, Tagaytay City, Philippines
Facebook: https://www.facebook.com/pg/girasoltagaytay
Contact: (+63) 921 924 -7920
Budget: PHP600++
Rate
Food            8/10
Ambiance  9/10
Service        8/10
Cost             8/10
Overall       8.25/10