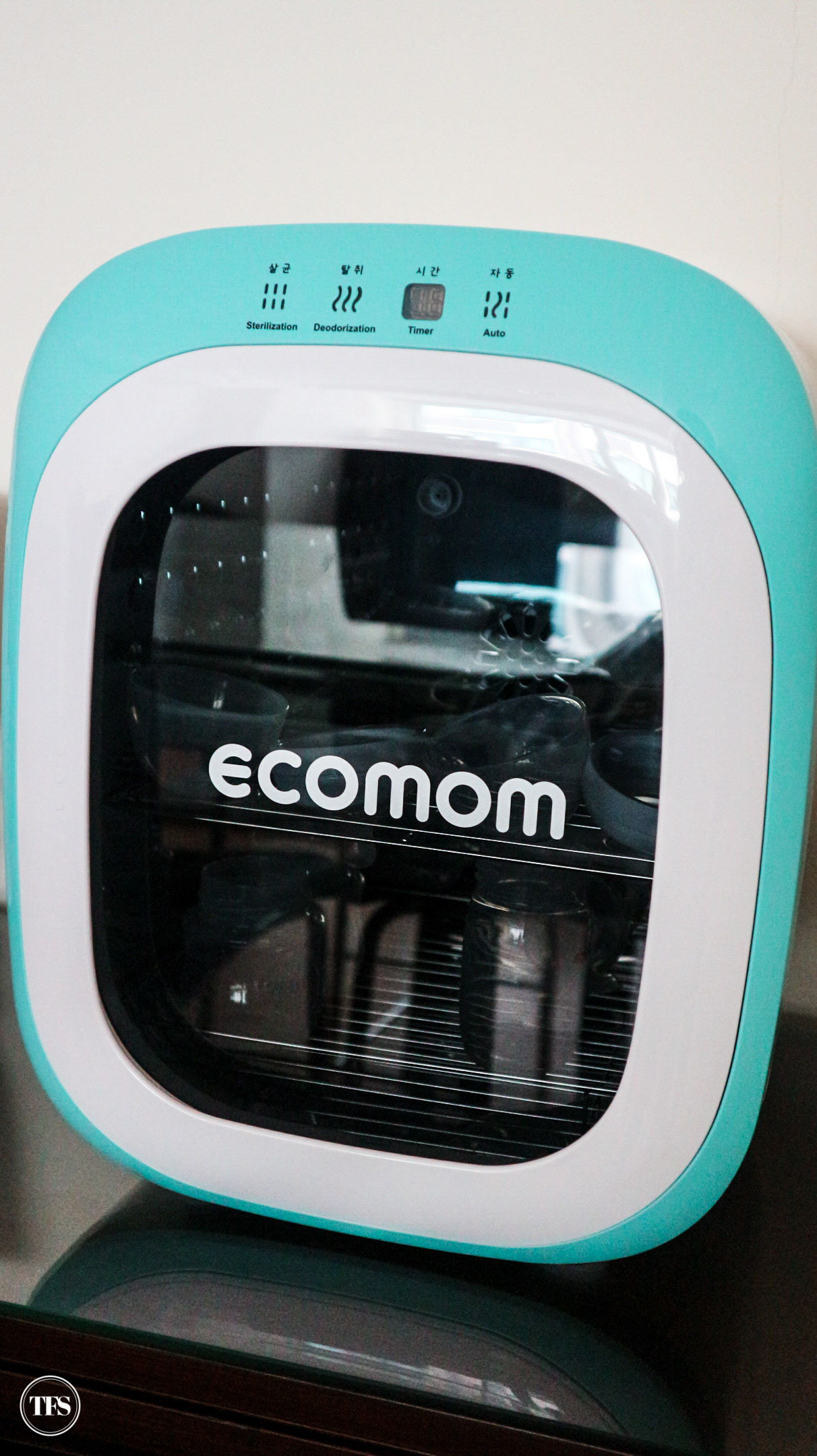 O and I didn't want to be hoarders before Seb arrives. As we shopped for our baby gear, gadgets and goods, we only bought what was necessary. Other than being OC with our home, we choose to be practical in spending. When it comes to choosing our sterilizer, I was contemplating if we should get a UV sterilizer or the old school regular steam sterilizer. If you're on a strict budget, you wouldn't even  consider a UV sterilizer. O didn't see the need to spend thousands just for a sterilizer. But if you ask me, I don't mind as long as it would be convenient for me while I take care of Seb.
During the first few weeks of being parents, we used a Philips Avent regular steam sterilizer. As expected, it performs as a sterilizer, but not as a dryer. It's a challenge to dry the bottles after sterilizing. Until recently, we had the chance to try a UV sterilizer, specifically Ecomom Eco 22 UV Sterilizer.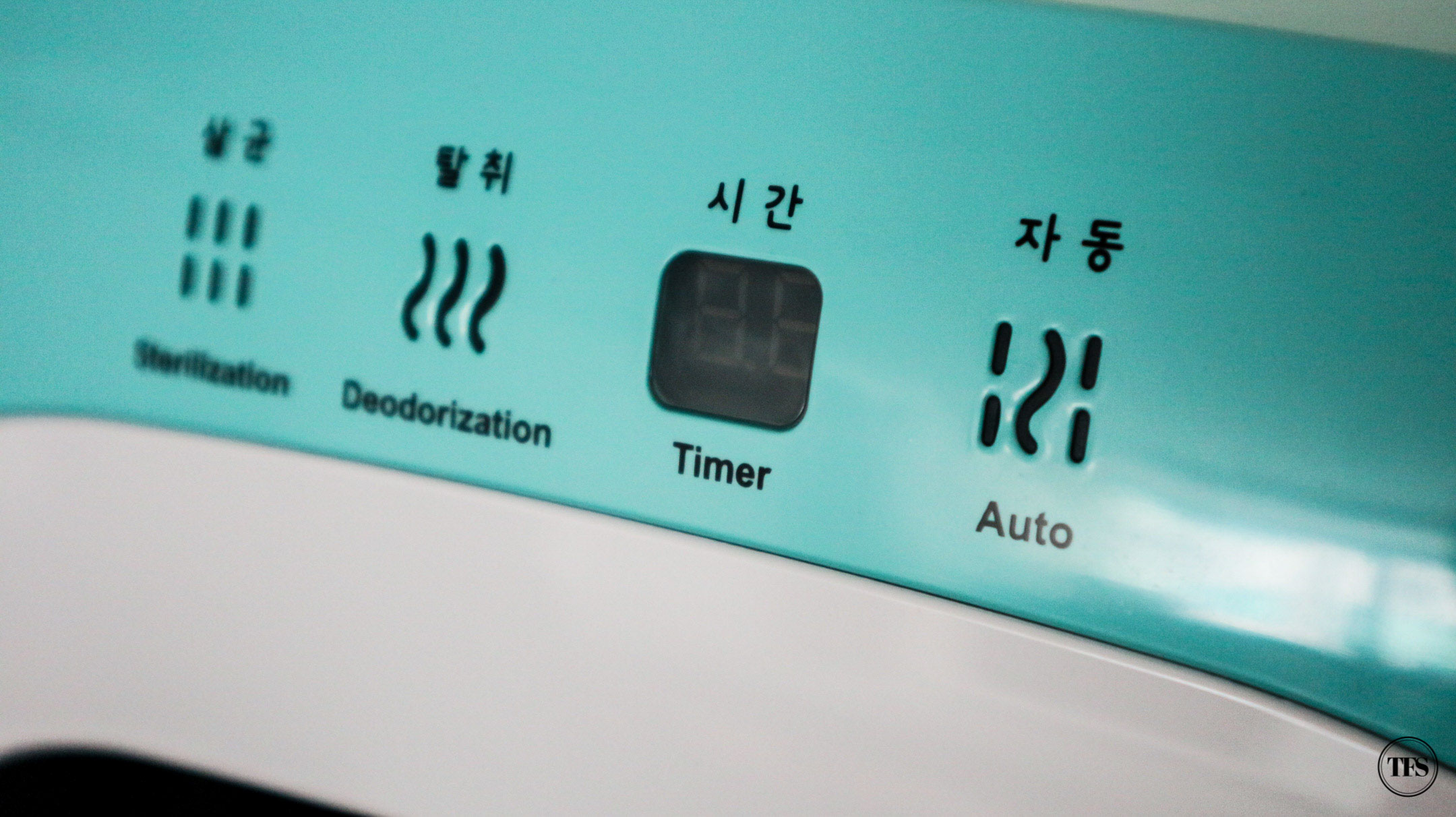 Ecomom is the first of its kind to sterilize and eliminate 99.9% of bacteria using UV-C light. 
Aside from the UV Sterilizing power, it has PTC heater fan to dry the items inside ECOMOM. It can sterilize, dry, and store items such as baby bottles, bottle nipples, pacifiers, breast pump parts, utensils, plates, and teething toys. It can even sterilize mobile phones, remote controls, stuffed toys, accessories, etc.
Its ability to eliminate harmful bacteria such as Escherichia Coli, Staphylococcus Aureus, Salmonella Typhimurium, Pseudomonas Aeruginosa, has been validated by KCL Korea Conformity Laboratories.
So far, Ecomom is making my life easier. And I love it!
What I Love About Ecomom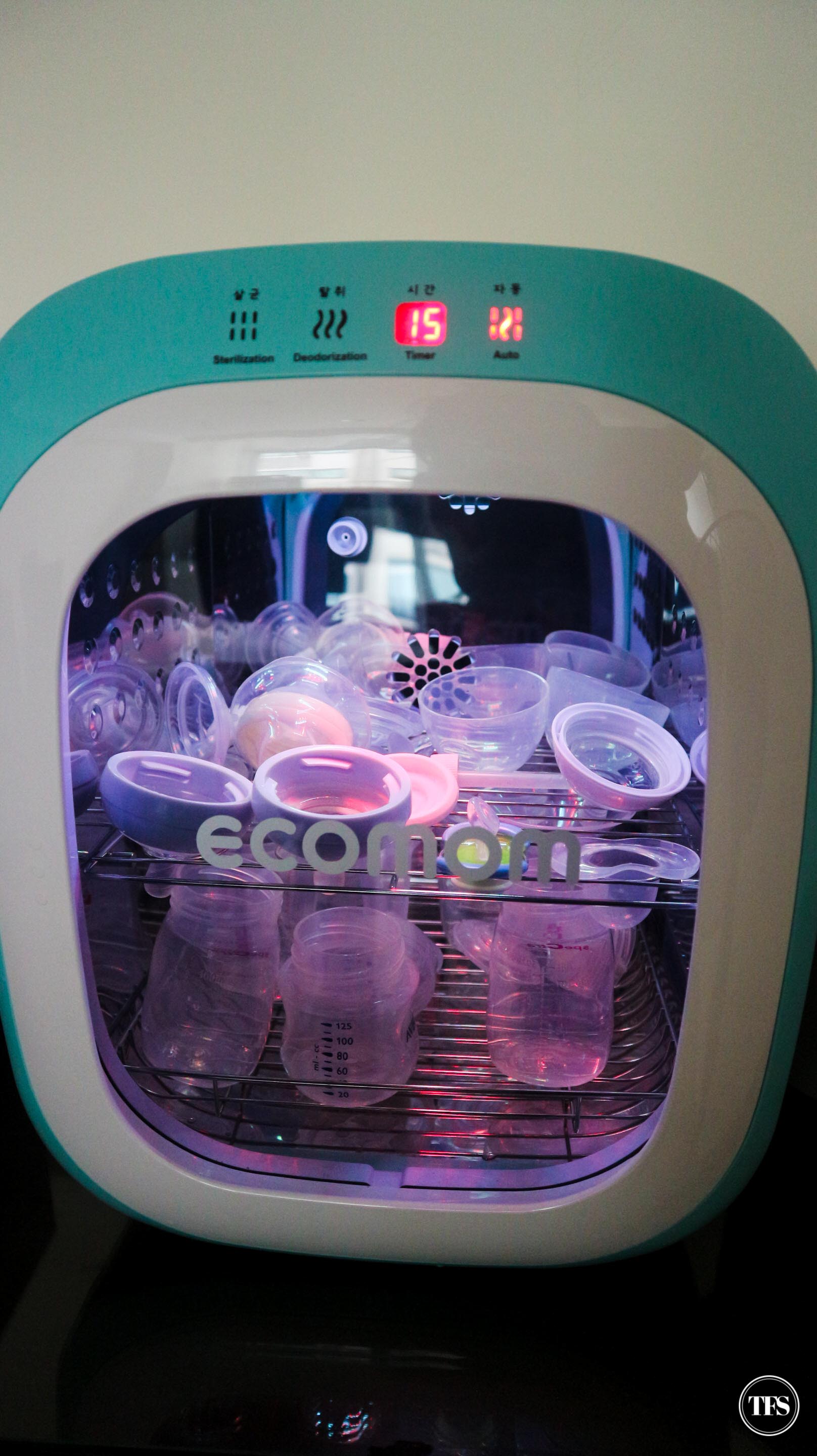 It's a multipurpose device.
This Ecomom Eco 22 UV Sterilizer acts as a sterilizer, dryer and storage in one. By using the auto function, it automatically sterilizes and dries the items inside the UV cabinet in just one function. We don't need to air dry or wipe the bottles from a steam, which avoids contamination and mildew. After 35 minutes, the bottles are ready to use.  Boom! You just eliminated the extra steps of drying after sterilizing. Another thing is, the versatility of this sterilizer refrains us to transfer the items elsewhere because it already serves as a storage cabinet. Now that's practical for us!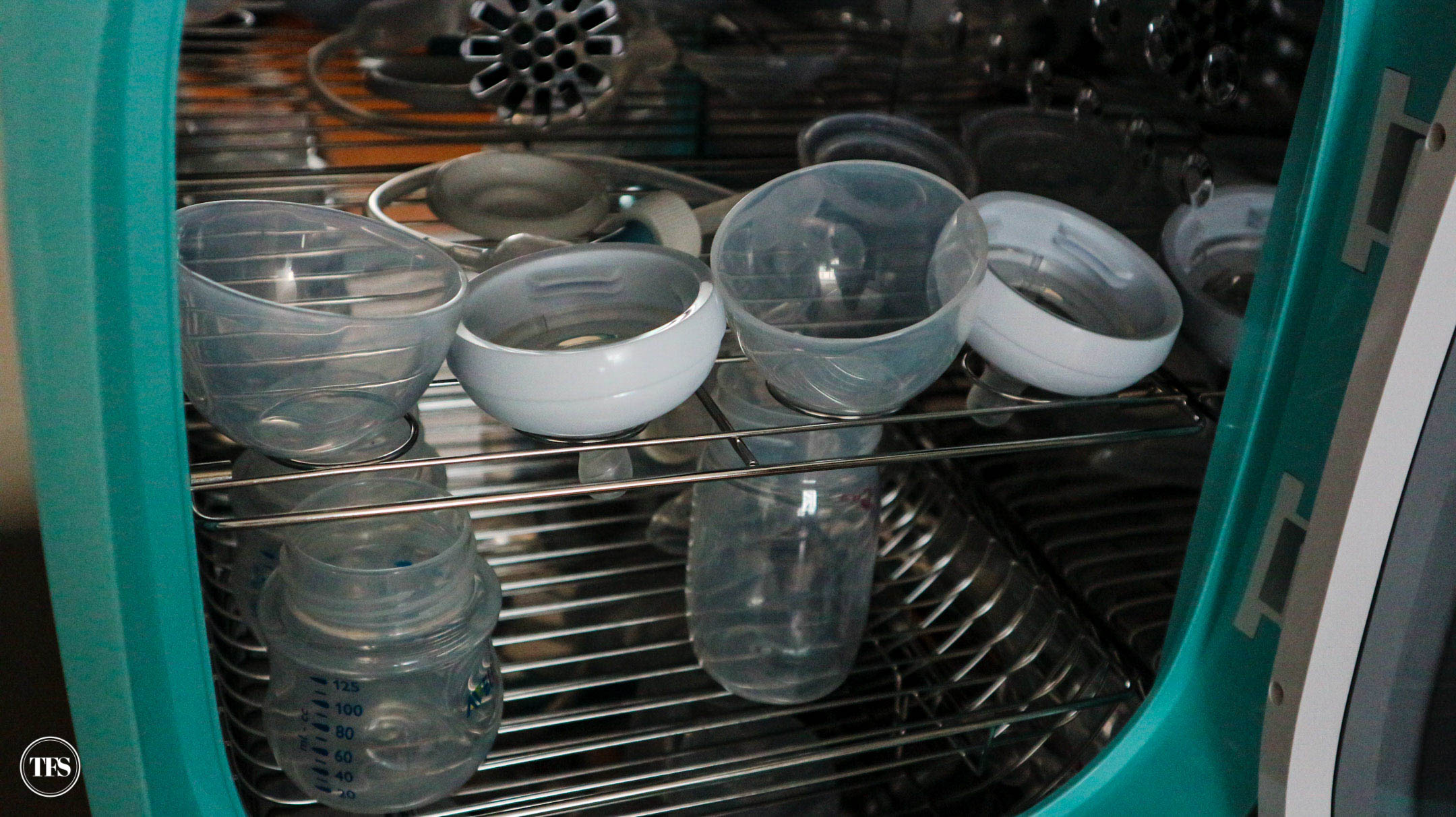 Rack for sterilizing nipple and pacifiers.
Ecomom has a rack designed specifically for bottle nipples and pacifiers. It is spacious that allows to store up to 12 bottles and accessories inside.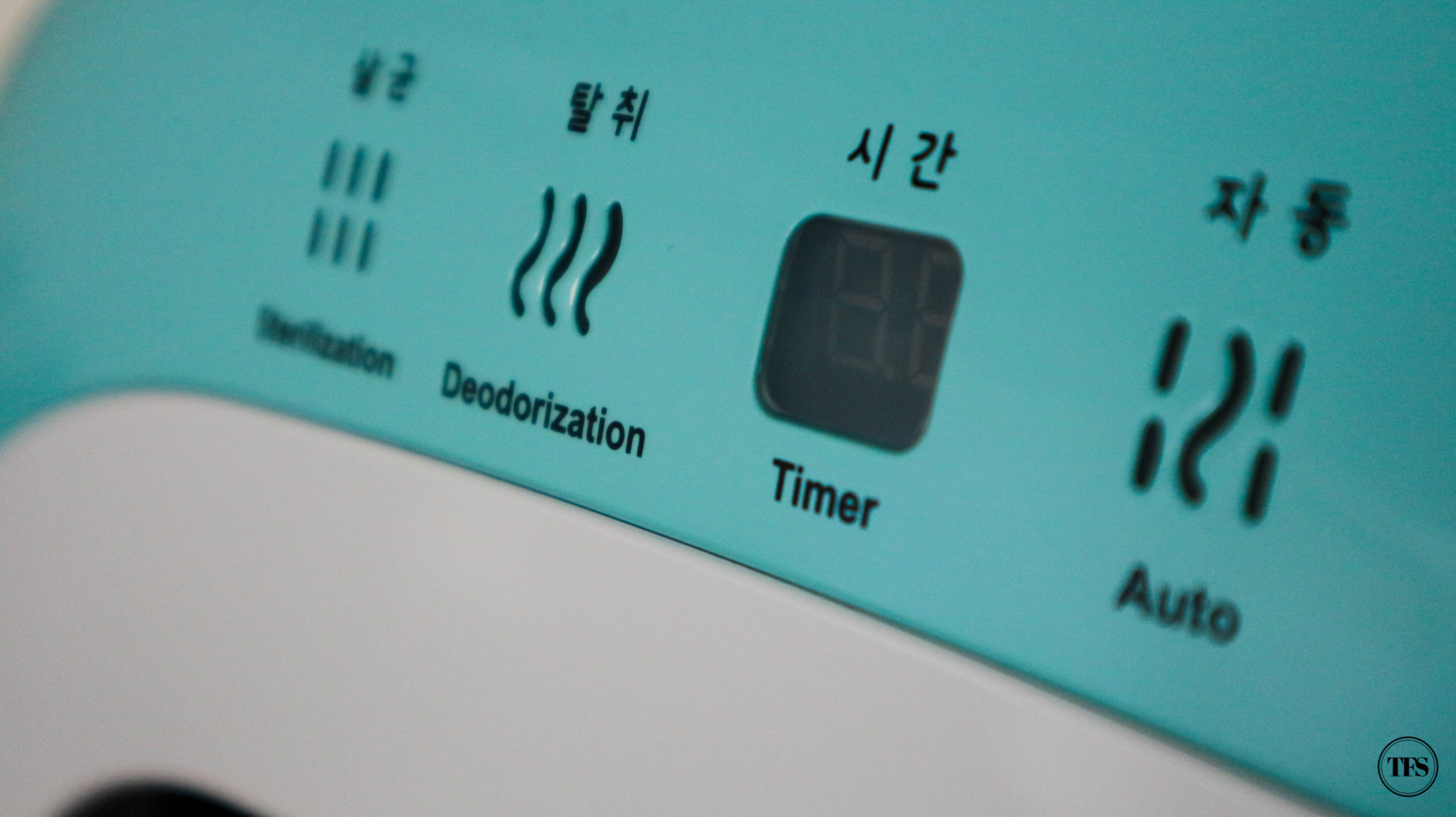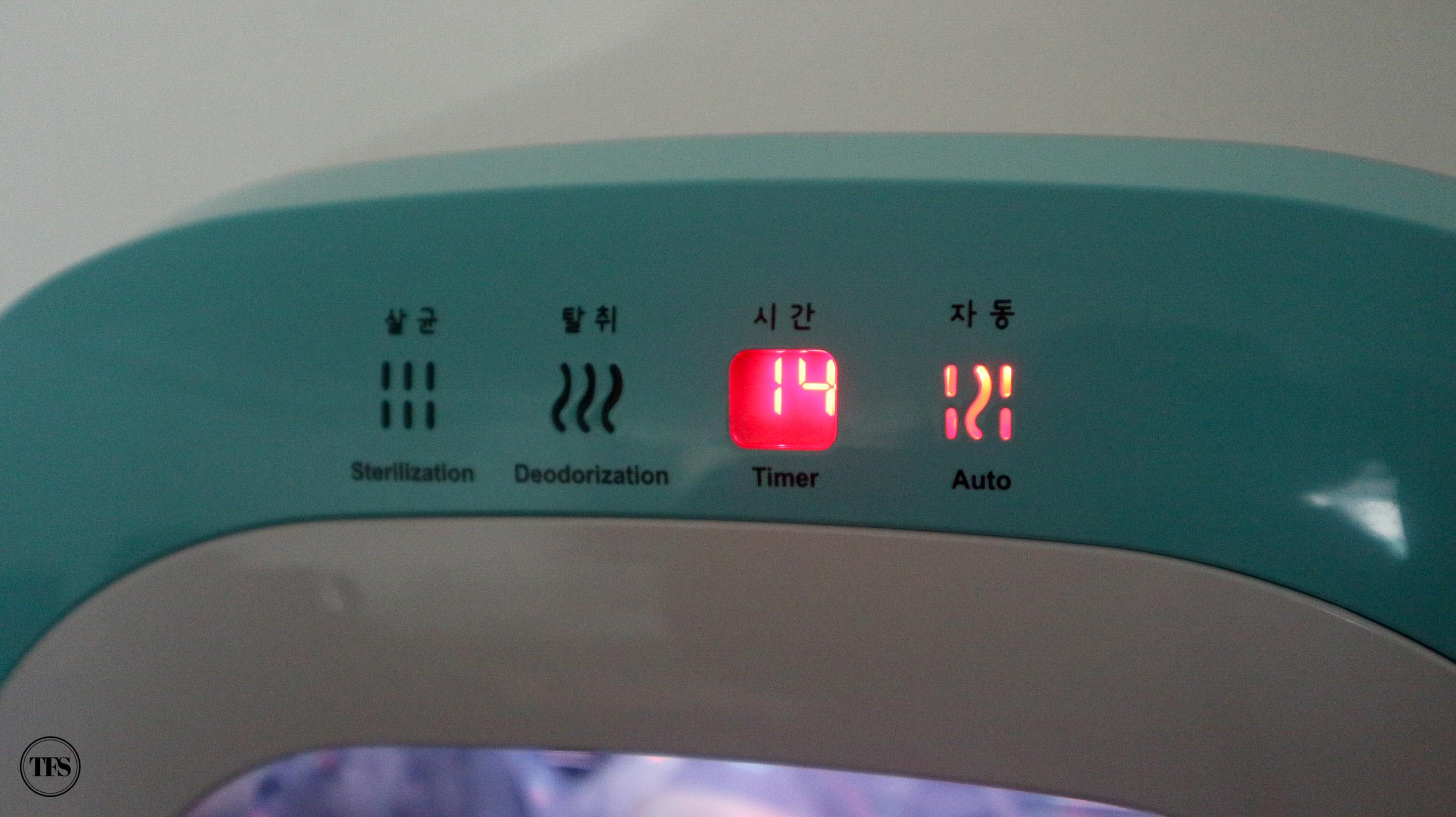 Easy and safe to use.
Since serilizing is  part of our everyday routine, it's important to know that the sterilizer we use is easy yet safe to use. Ecomom has no risk of burns since it doesn't use hot water or steam. No complications in using the UV device, even our helper understands how it works right away. The touch screen technology lets us choose the icon which mode we prefer. What we always use is the Auto Function, a combination of everything we want to do with our bottles – sterilization and drying.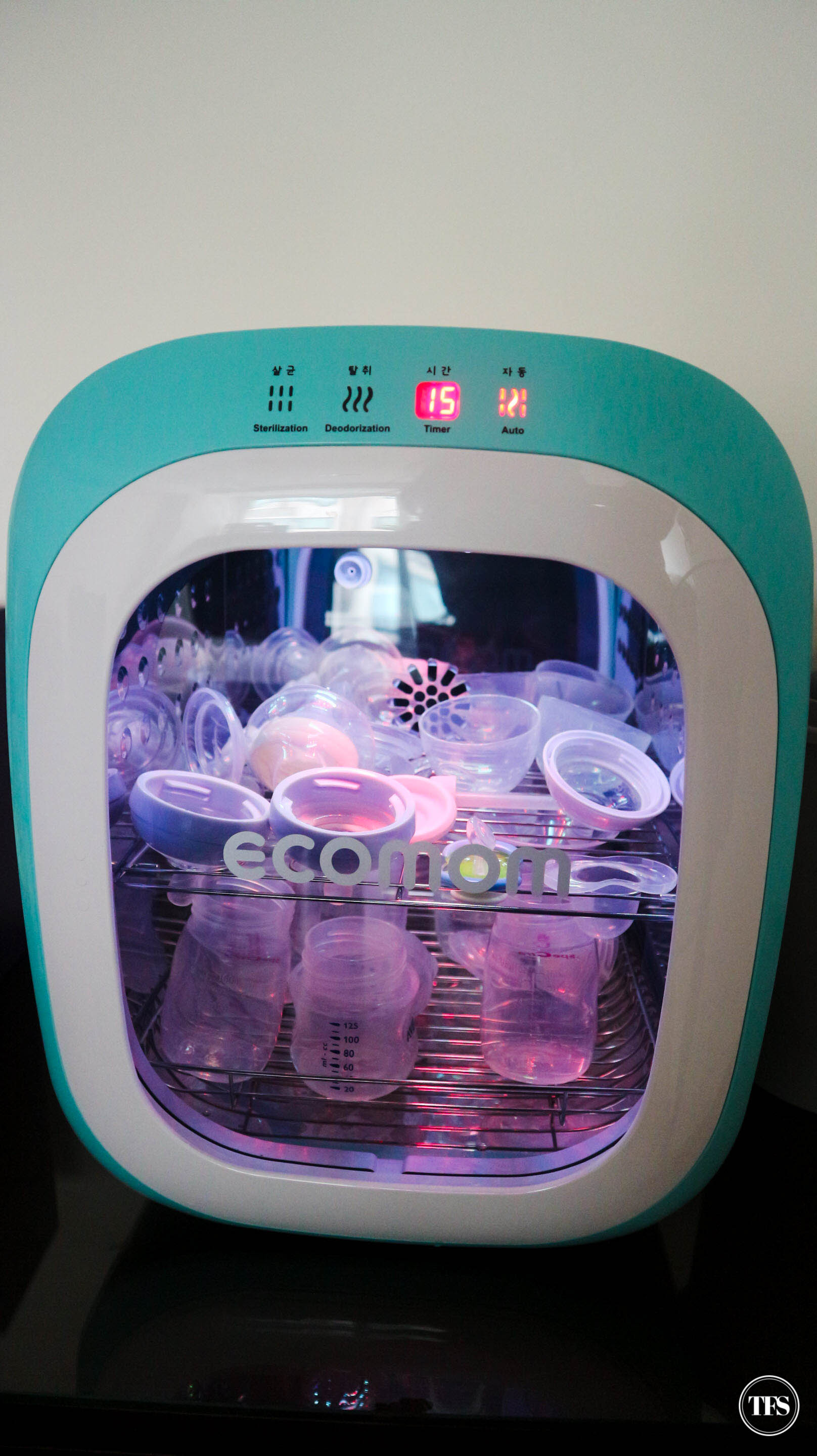 It's not just for bottles.
Other than Seb's bottles, Ecomom is a sterilizer for almost anything that can fit in – toothbrush, toys, remote control, utensils, gadgets, and all other accessories you can think of. Whatever you want to sterilize, just throw it in!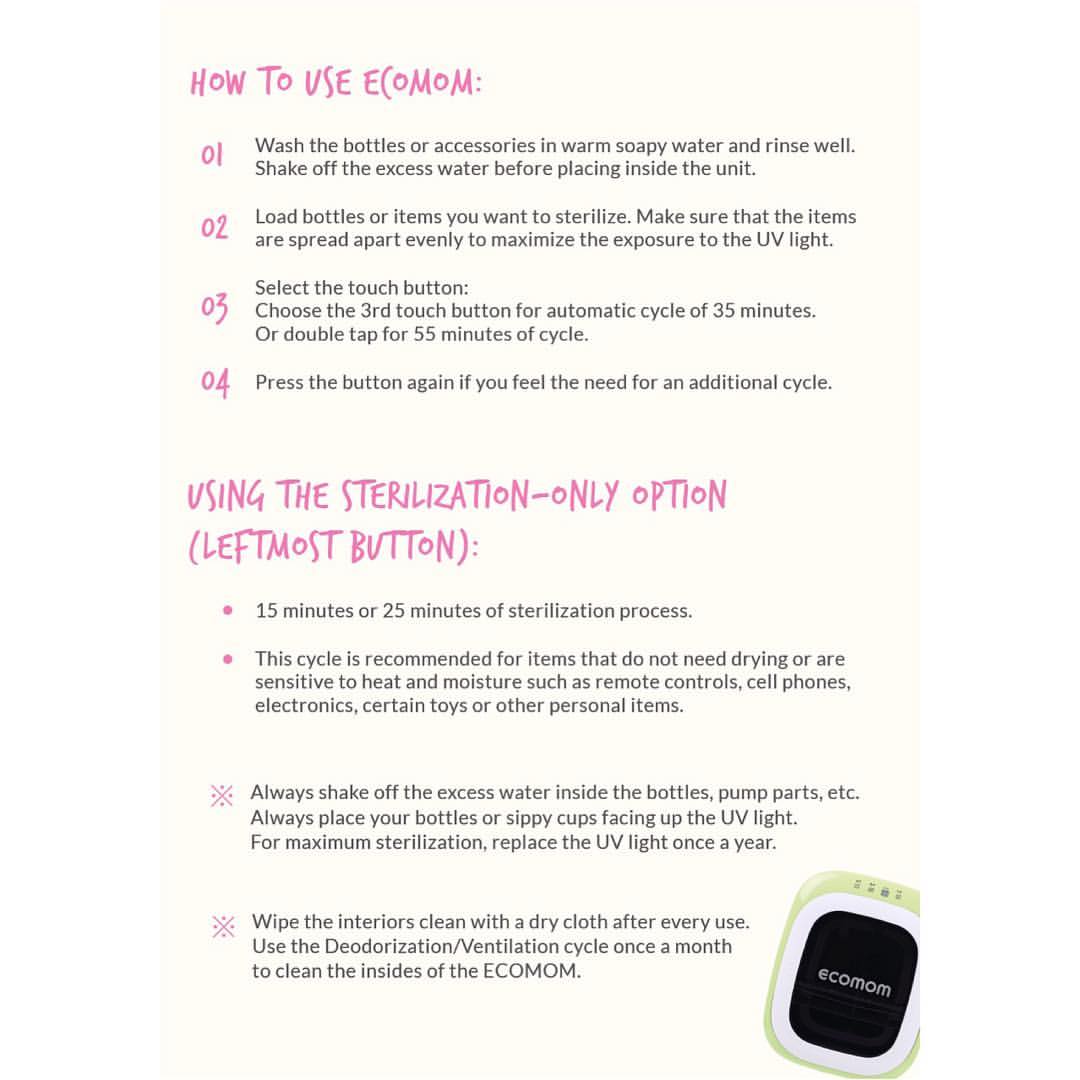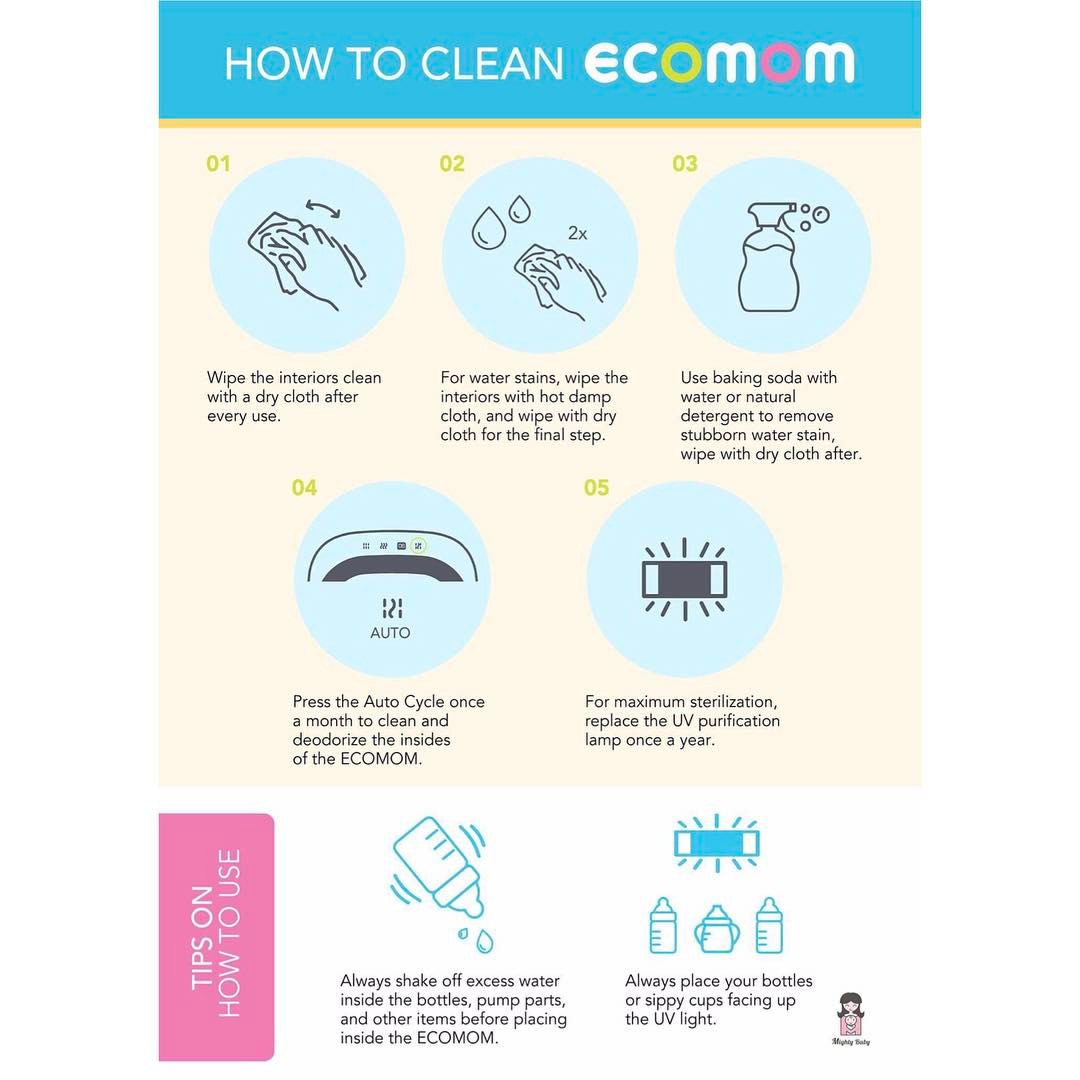 For those of you planning to get your Ecomom, take note of these tips.
Always shake off excess water inside the bottles, pump parts, and other items before placing inside the Ecomom.
Always place your bottles or sippy cups facing up the UV light.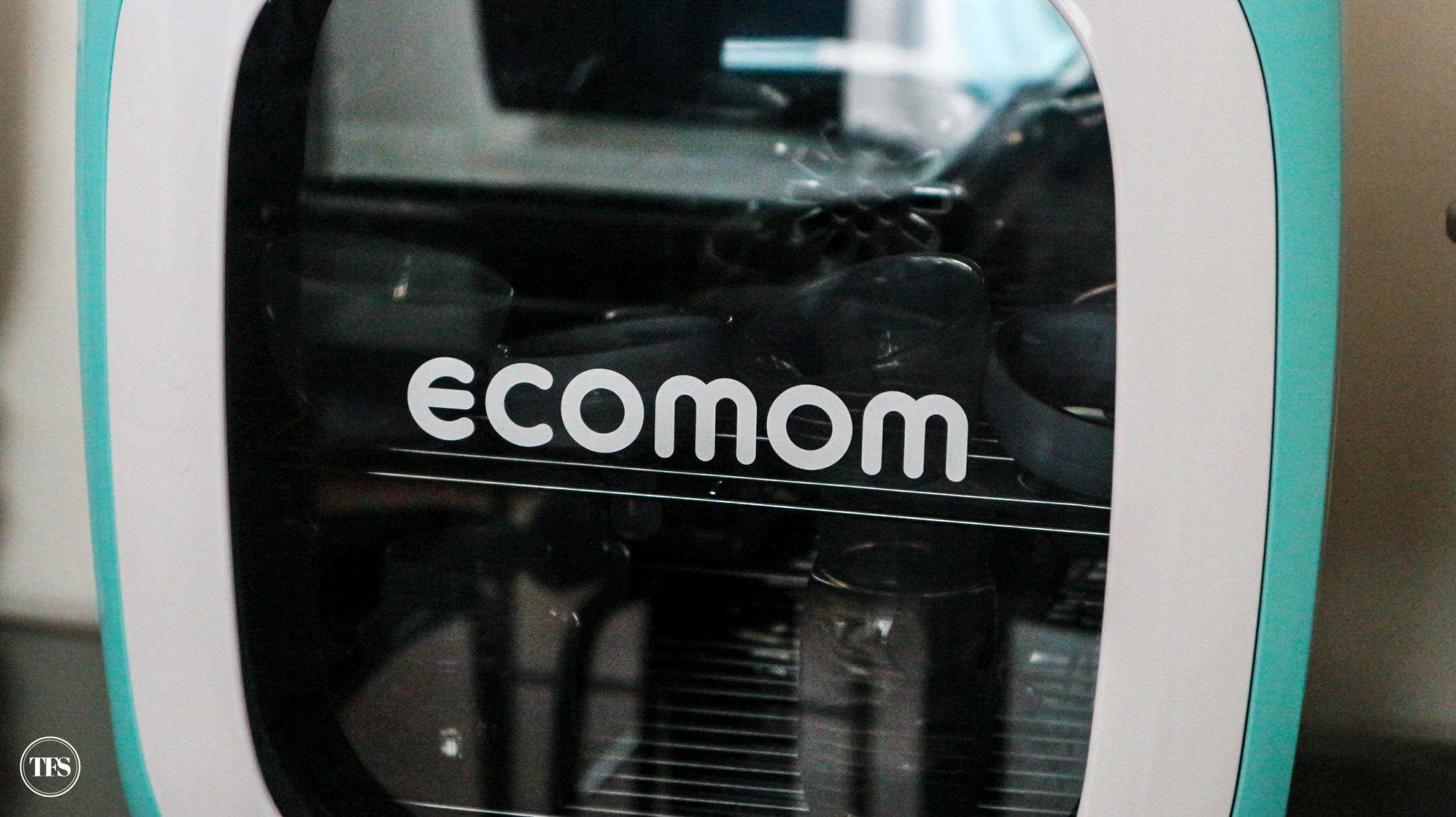 You can get your own Ecomom Eco 22 UV Sterilizer for Php 13,500. It is pricey but it is an investment if you're thinking long-term. Trust me, after switching from steam sterilizer to UV sterilizer, I'd rather not go back to the old school way anymore.
What do you think of Ecomom UV Sterilizer?
Share with me your thoughts!
Stay updated and Subscribe to The Food Scout for Free!
Pray, Eat and Love.
Cheers,
The Food Scout
---
Website: https://www.mightybaby.ph/
Facebook: https://www.facebook.com/ecomomph/