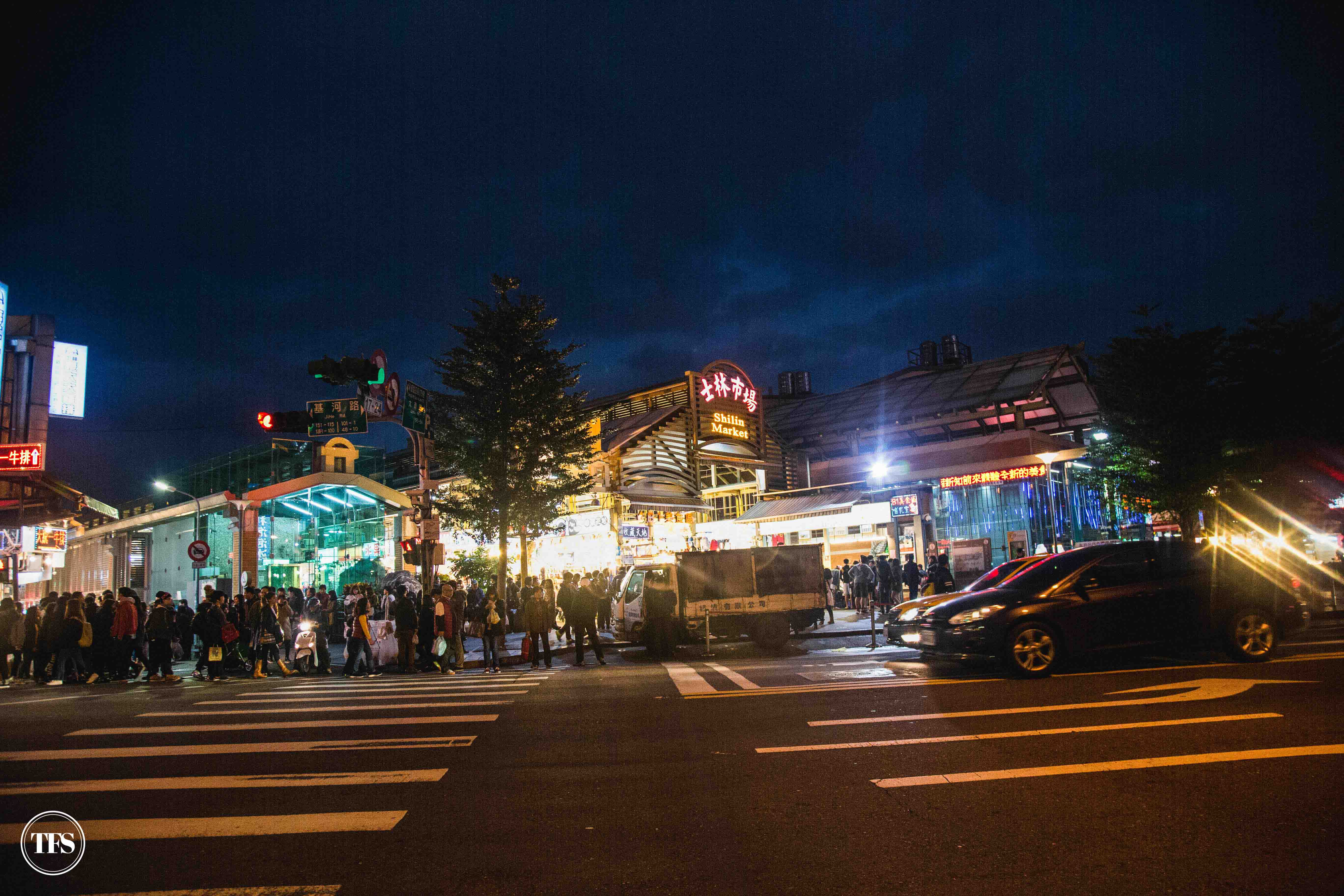 You can forget about other night markets in Taipei but can never miss out on Shilin Night Market.
Priorities. O and I prioritize our food trips when we travel. From food tripping and roaming around Ximending, we hopped to Shilin where the biggest night market is located. We rode an Uber to Shilin, which took us 30 minutes or less. We were told that Shilin is the biggest and so far the best night market in Taipei. Having that in mind, we wanted to maximize our experience by exploring as early as possible. Since the night life at Shilin begins at 6:00pm, we left before 5:00pm to be just on time before the massive crowd comes to enter the market.
The uber driver asked us where to be dropped off. We had no idea where until we saw the sign. That was it! No more questions asked. We hurriedly went inside to explore the biggest night market like kids.
I divided my Shilin blogpost into two parts. First part will be about the food I enjoyed as we strolled and second part will just be a continuation of more food plus some sights to see.
Anyway. I know you're excited! Let the "food scouting" begin!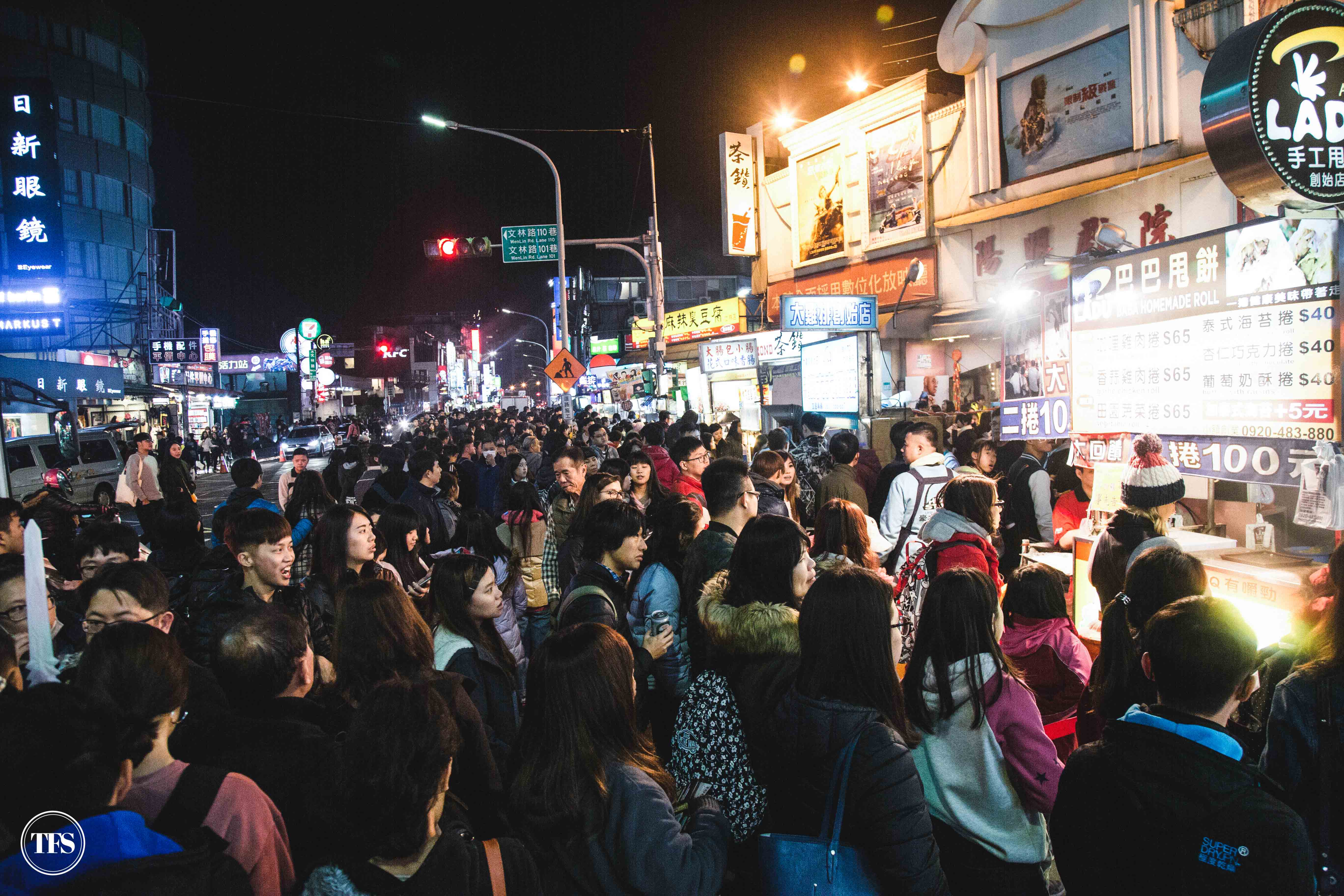 15 Snacks to Try at Shilin Night Market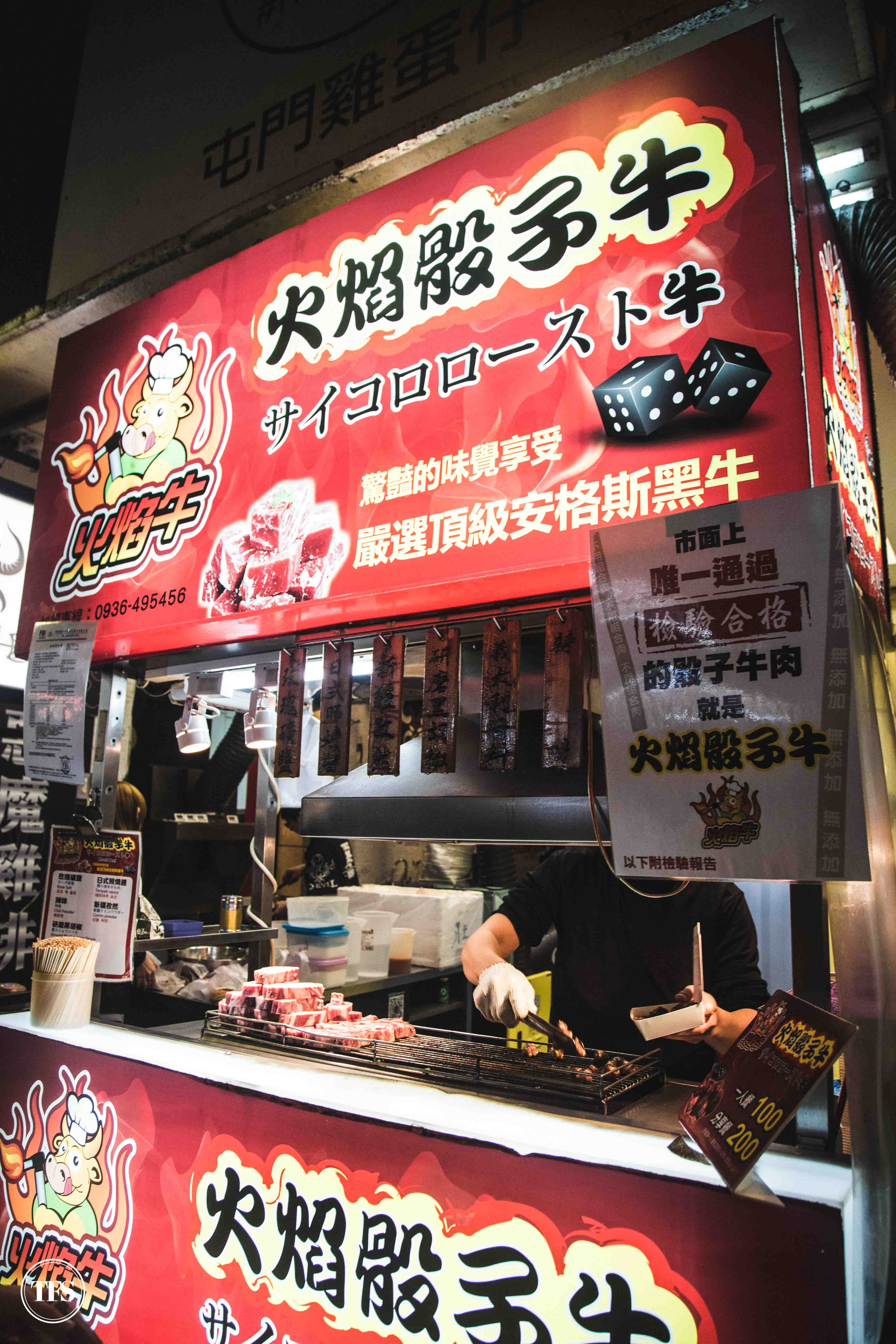 1. Grilled Beef Cubes
The first stall that caught our eye was this, Grilled Beef Cubes. O & I are both carnivores, so we couldn't resist a plate of these sizzling freshly grilled beef cubes. Right in front of us, the vendor sliced and diced the raw meat and grilled for a few minutes. You can choose to add flavor on top – salt, chili powder, cumin powder or teriyaki sauce. My mind is saying I should go on a plant-based diet but one look at such meat, I instantly give in. Lol!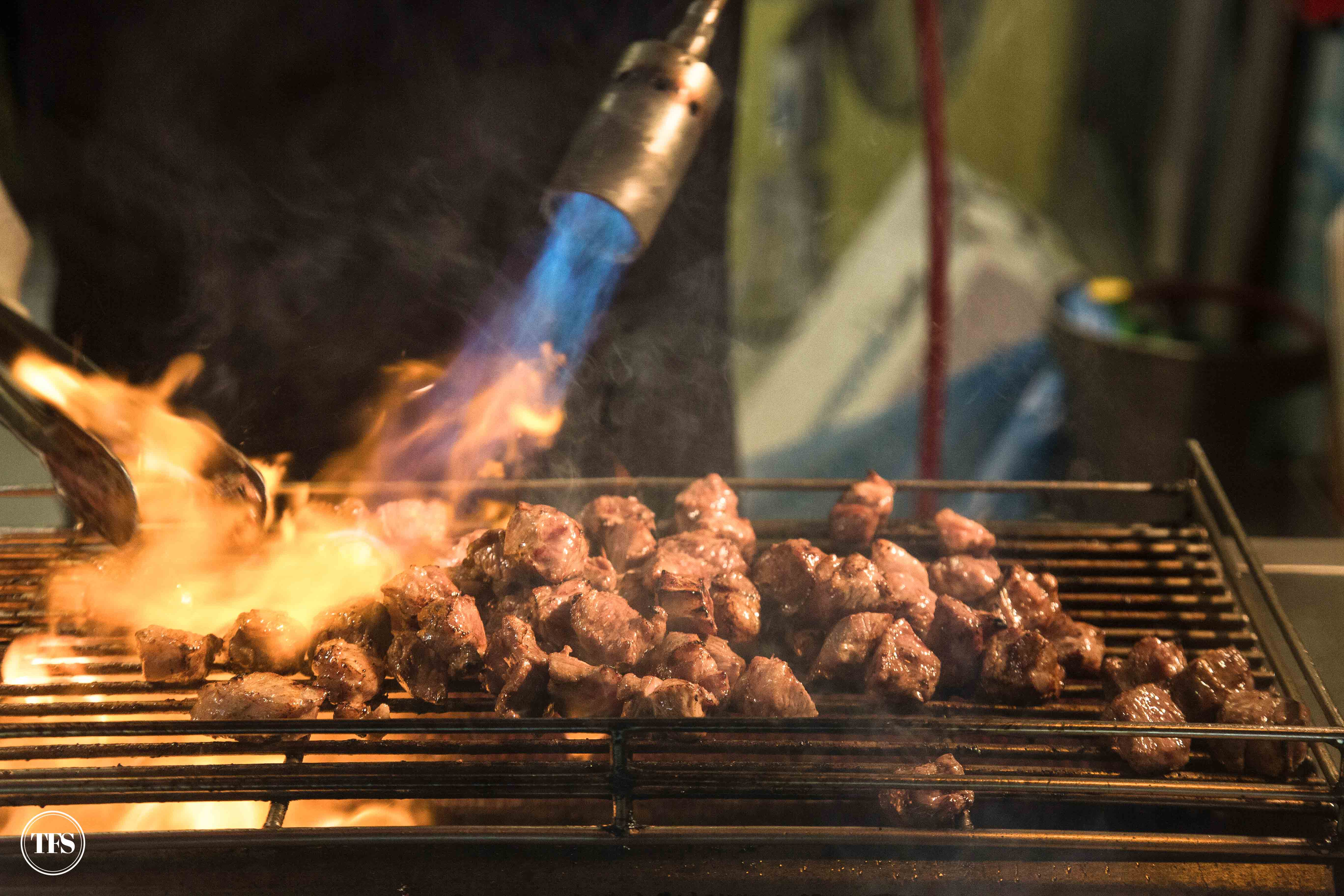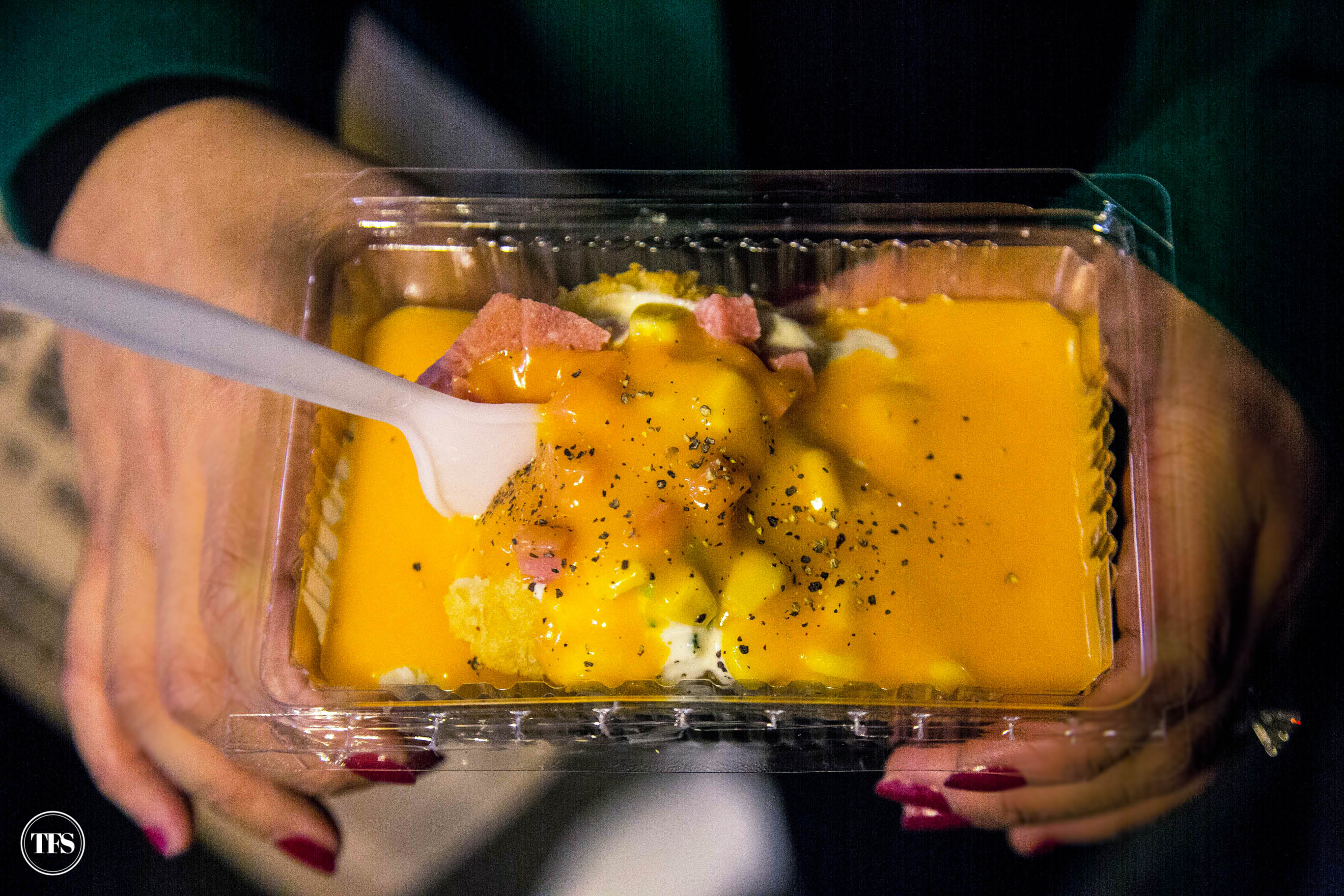 2. Cheesy Mashed Potato
Do not underestimate this plate of cheesy mashed potato. At first, I thought the taste would be predictable – plain mashed potatoes with melted cheese all over. I was proven wrong upon getting a big scoop of this deep fried battered mashed potatoes with ham, melted cheese, egg, corn and cream. The play of textures is spectacular, especially the crunch of breadcrumbs and its mashed potato, as every ingredient harmonized with each other. Its semi-sweet cheese may look overwhelming but it actually just complemented the potatoes. Now I understand why it's one of the popular Taiwanese street food.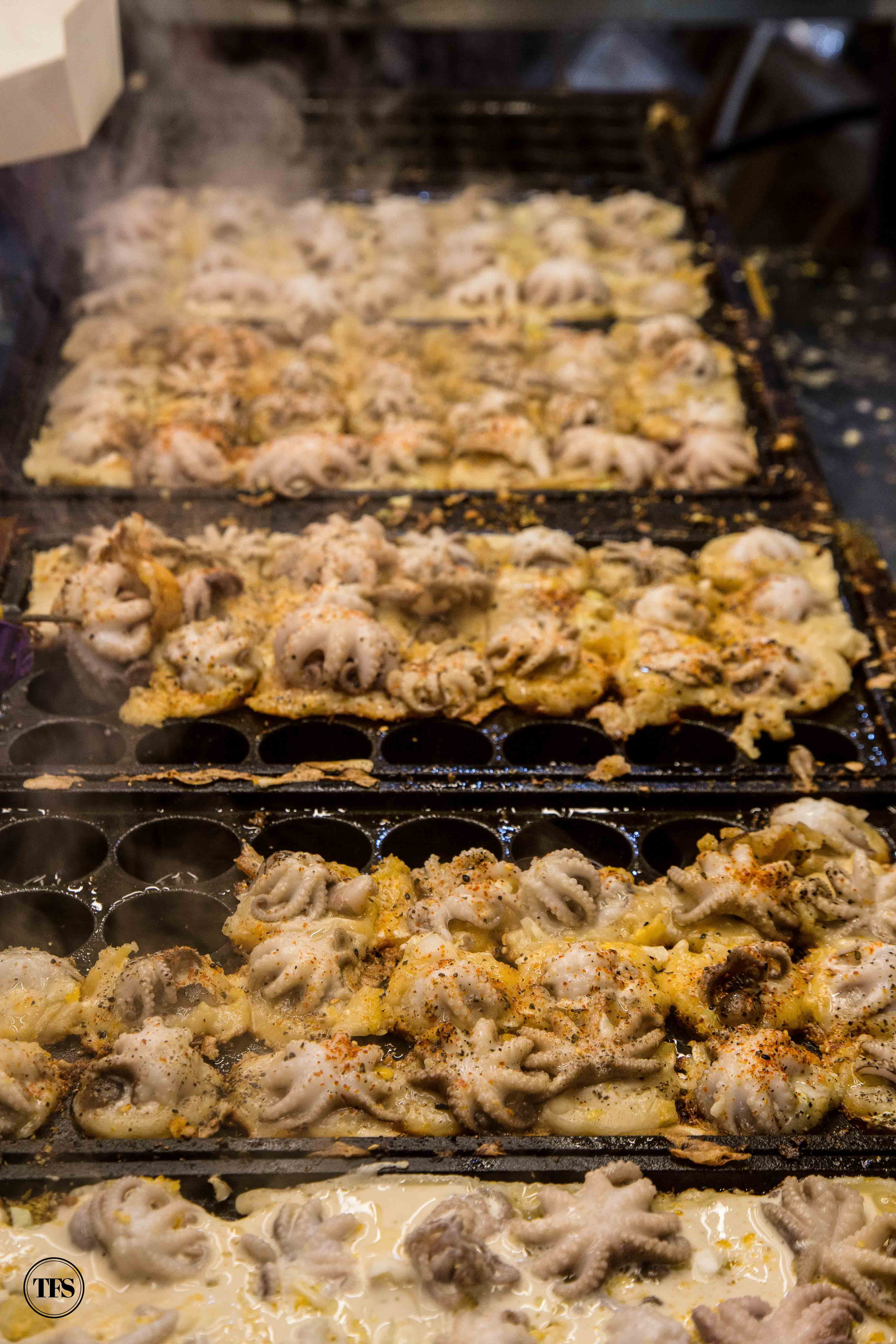 3. Takoyaki
Real giant octopus is what I'm looking for in my Takoyaki. Taiwan added a slight sweetness to their own version of the Japanese street food.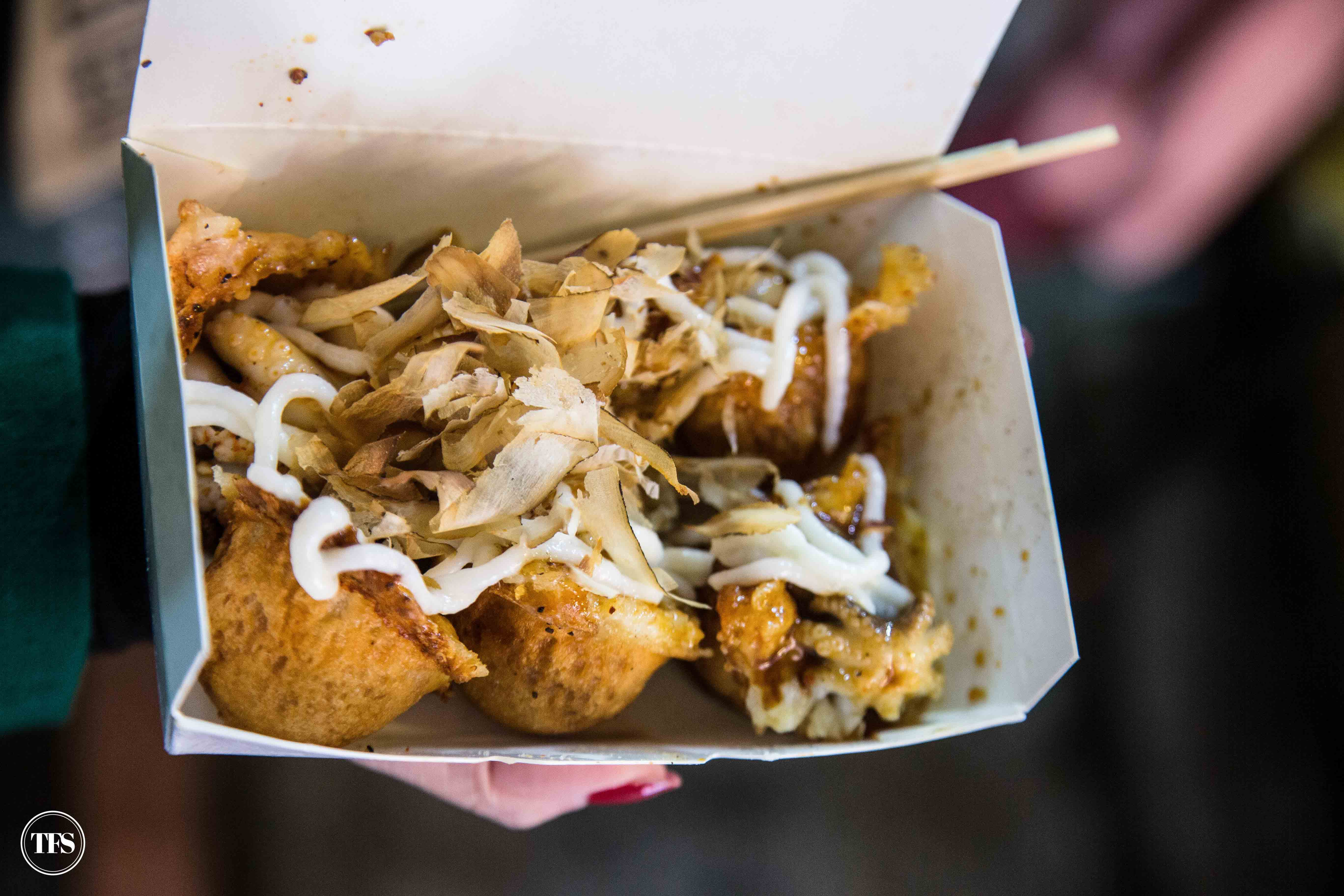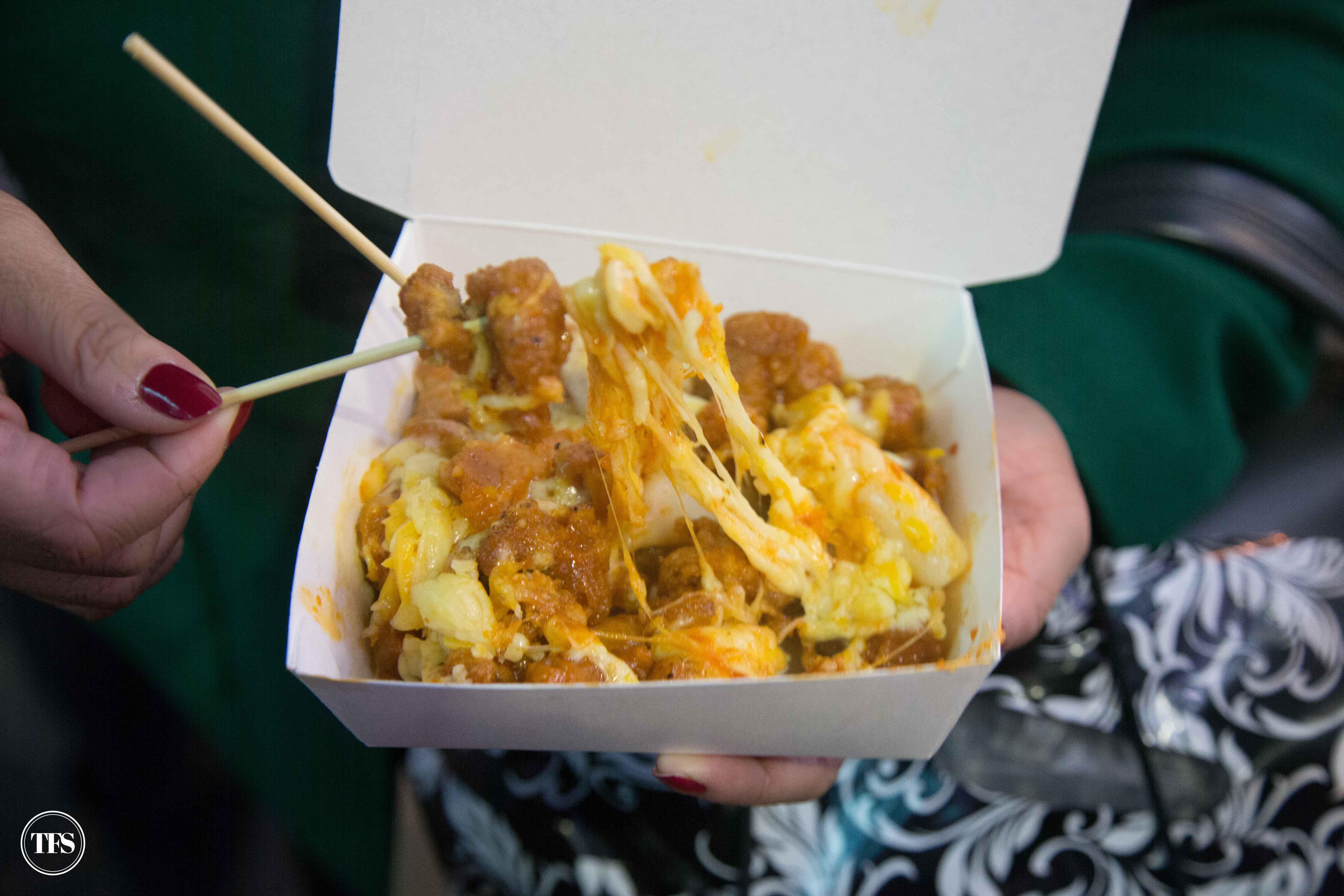 4. Chicken with Cheese
Because I love both chicken and cheese, I lined up for this snack. The chicken has that buffalo flavor which works perfectly with the oozing melted cheese on top.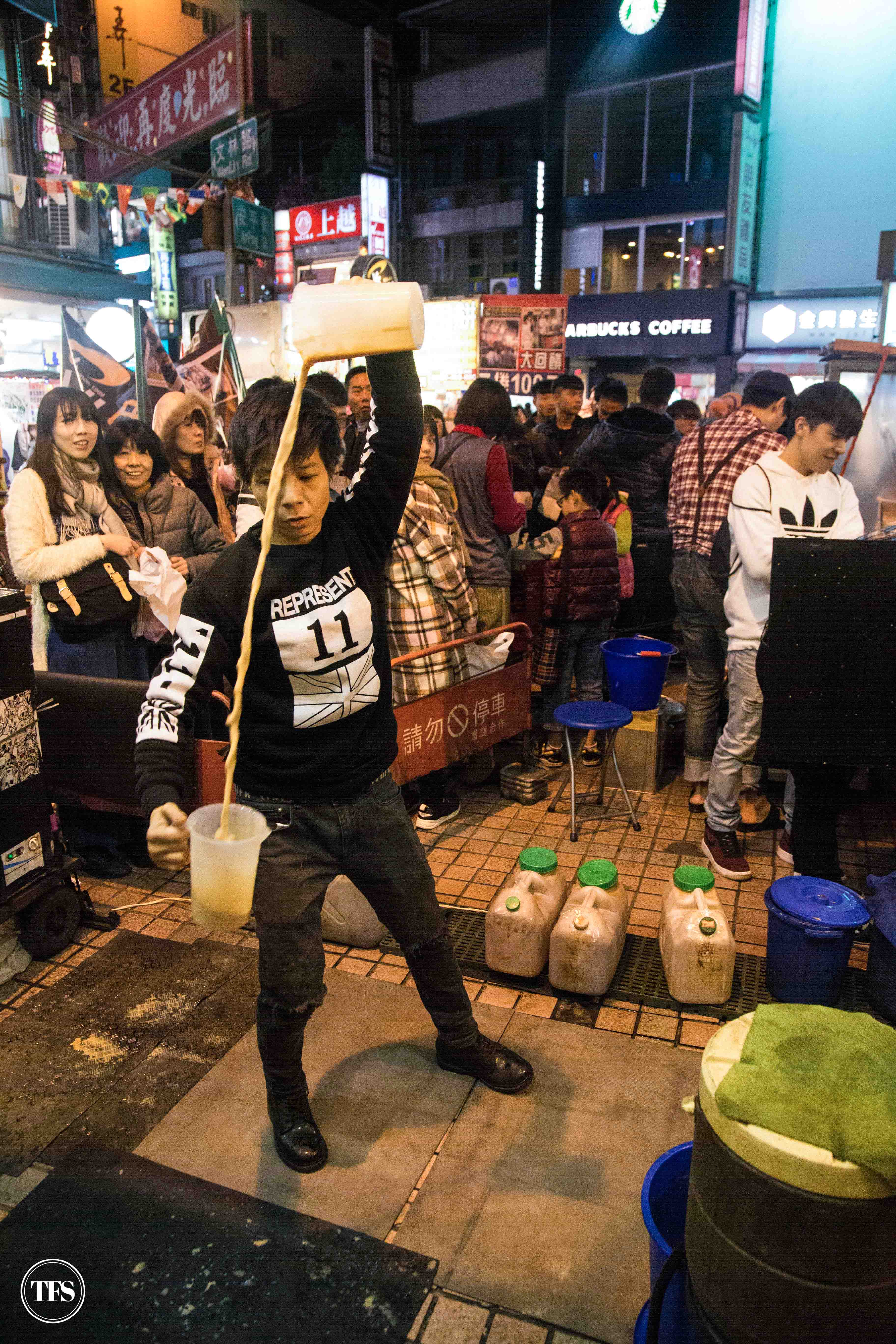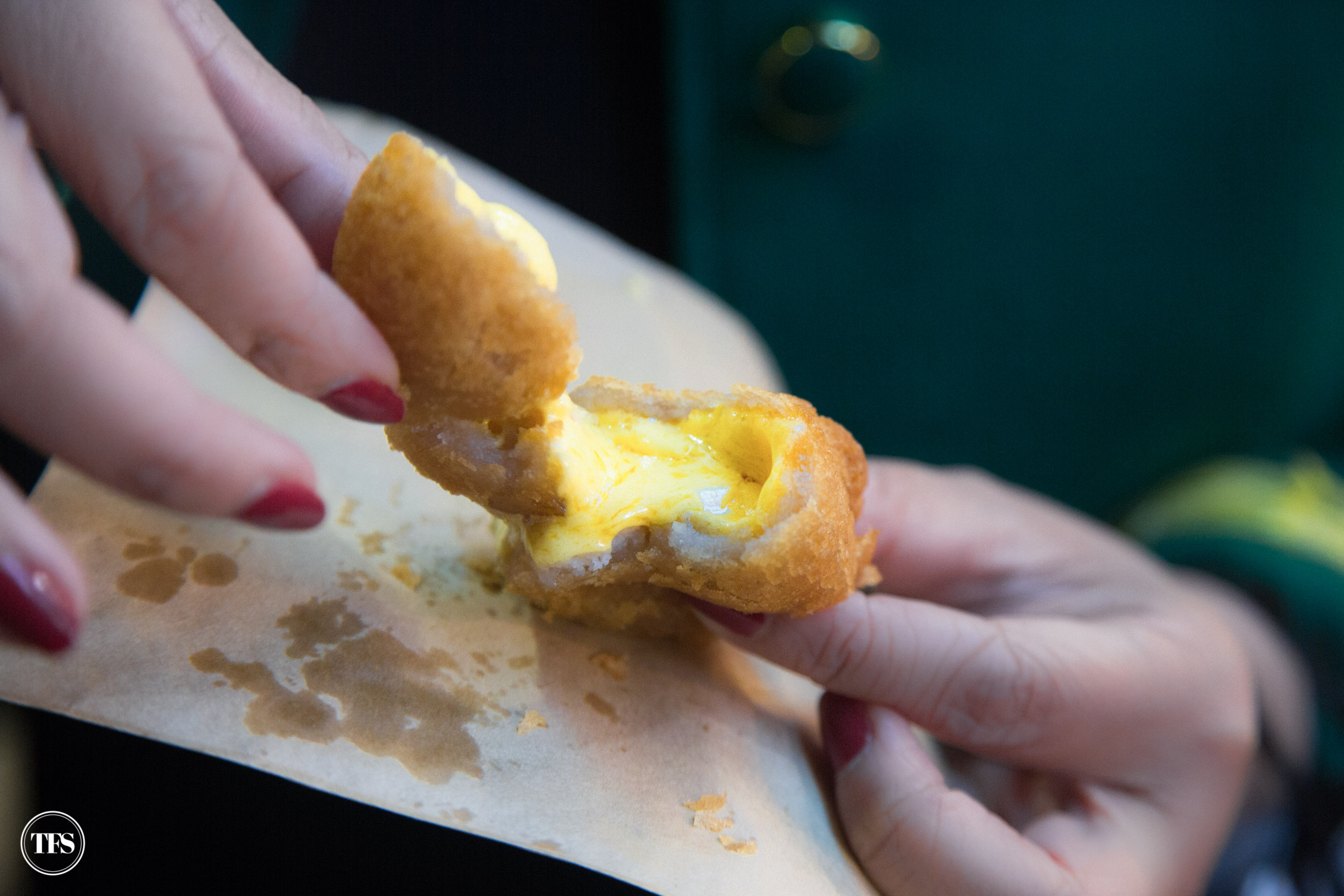 5. Deep Fried Taro Balls with Salted Egg
A memorable snack I tried at Shilin Night market is this Deep Fried Taro Balls with Salted Egg. One bite and I didn't want to stop my mouth from swimming in salted egg goodness. Whoever invented this snack is genius for combining both taro balls and salted egg in one, turning it into a winning delicacy.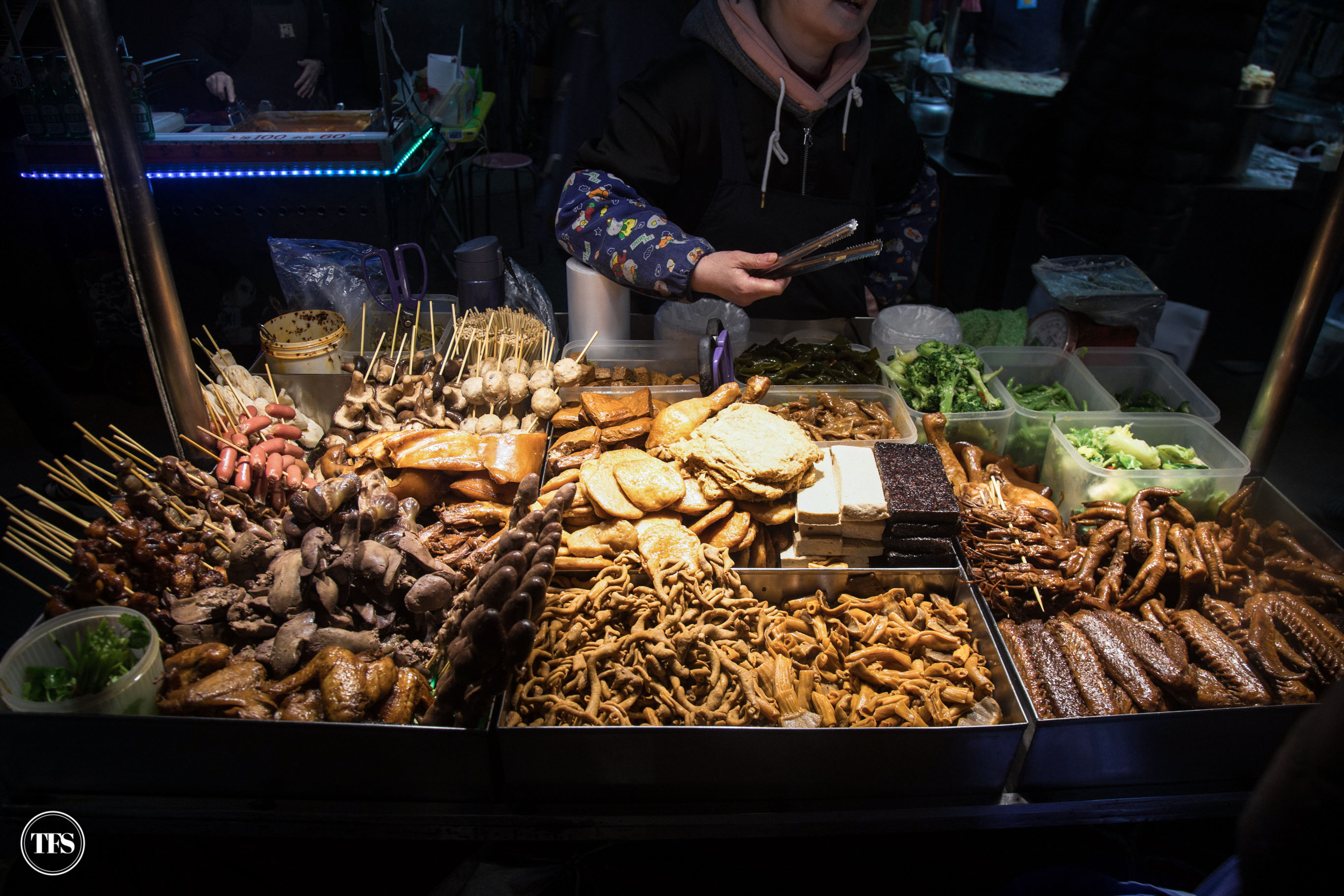 6. Stinky Tofu
It's hard to miss the Stinky Tofu. Just a few meters away, you know it exists by just the lingering smell of the literally stinky tofu. I'm not a fan of this literally stinky food but if you're bold and fearless, might as well give it a try.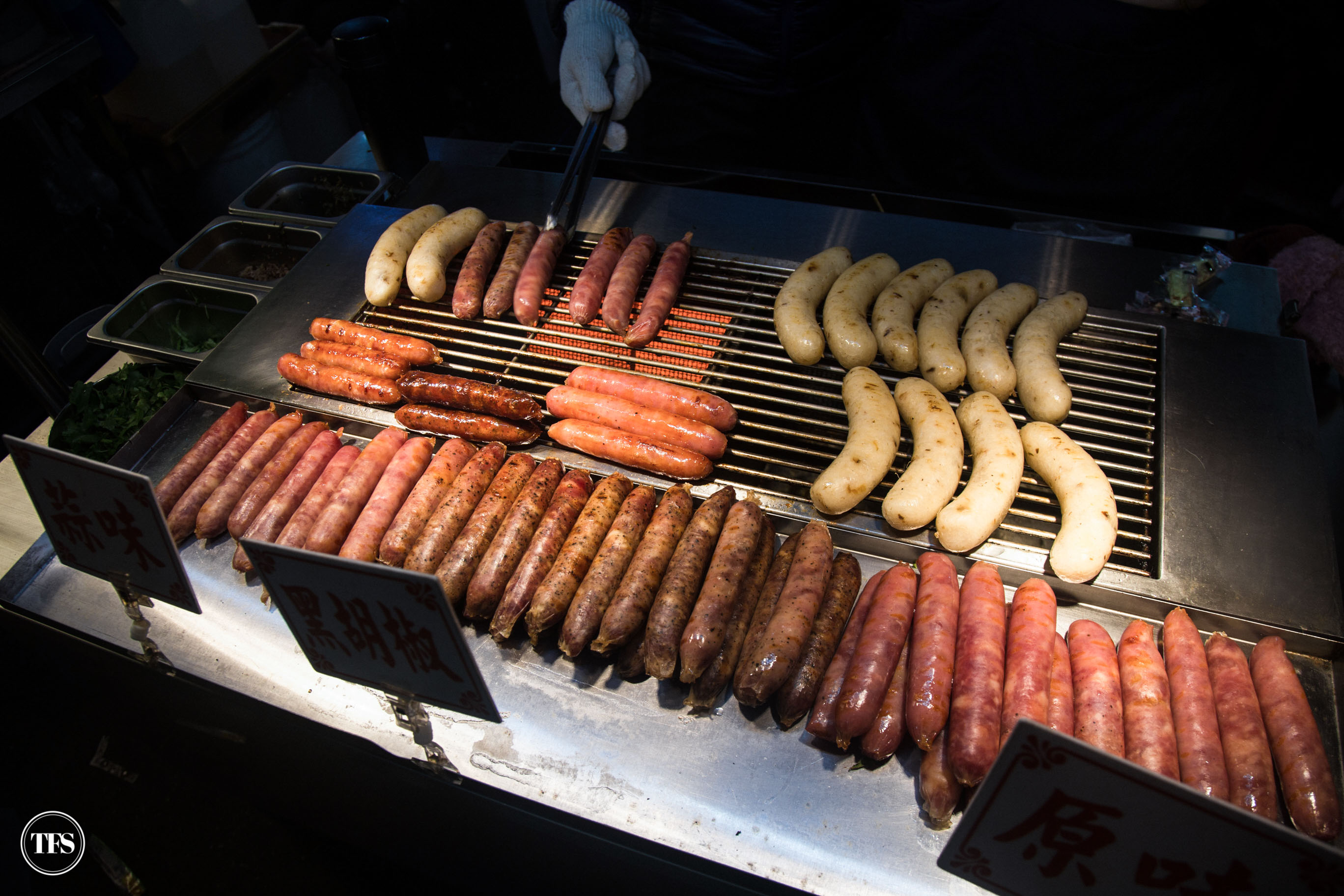 7. Giant Taiwanese Sausages
You'll see them giant Taiwanese Sausages everywhere! Like everywhere I tell you! You won't run out of Taiwanese Sausage options in night markets, especially in Shilin. If you like the real Taiwanese experience, go for the 'small sausages wrapped in big sausages'. We are talking about small grilled juicy sausages enveloped in sausage buns made from glutinous rice.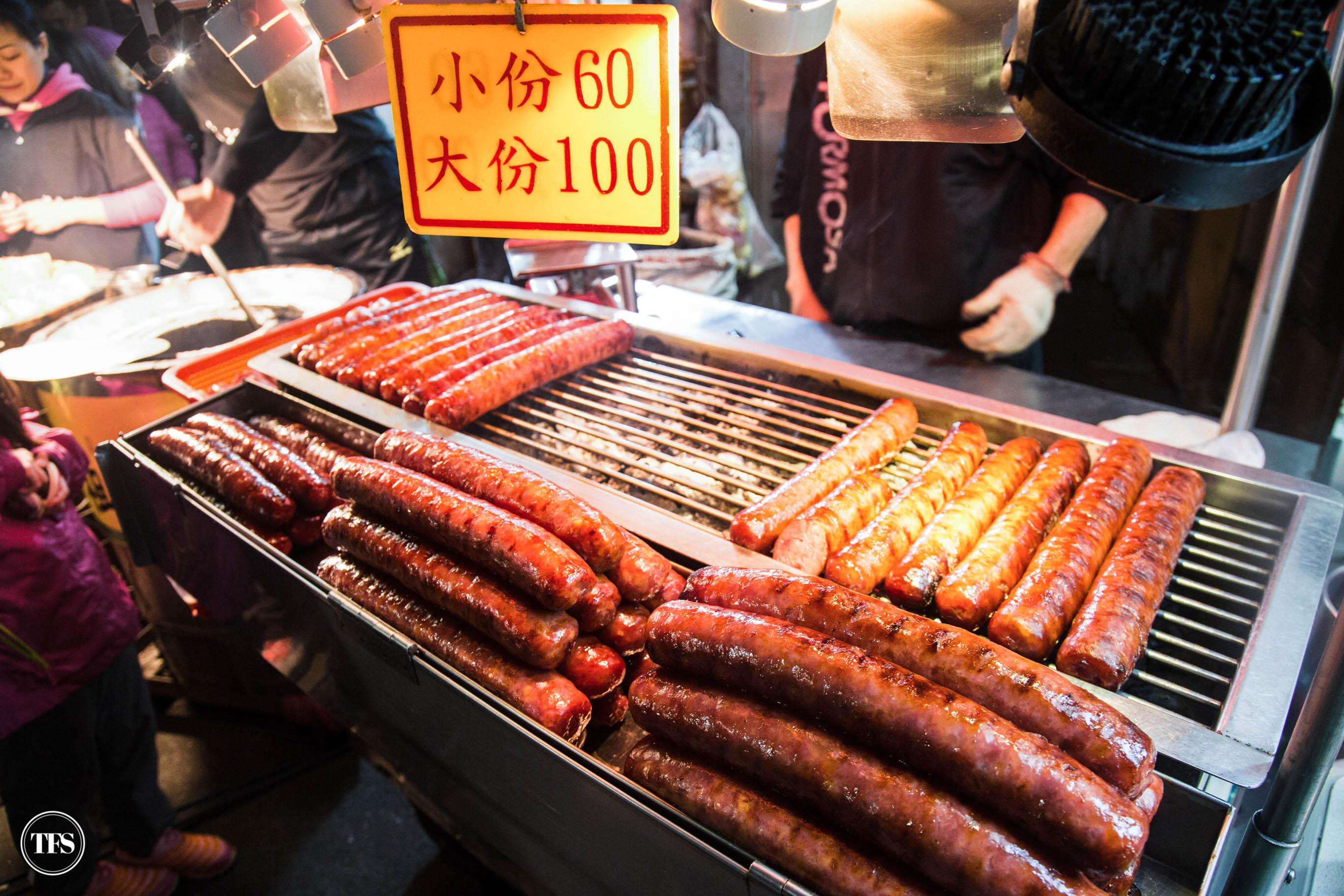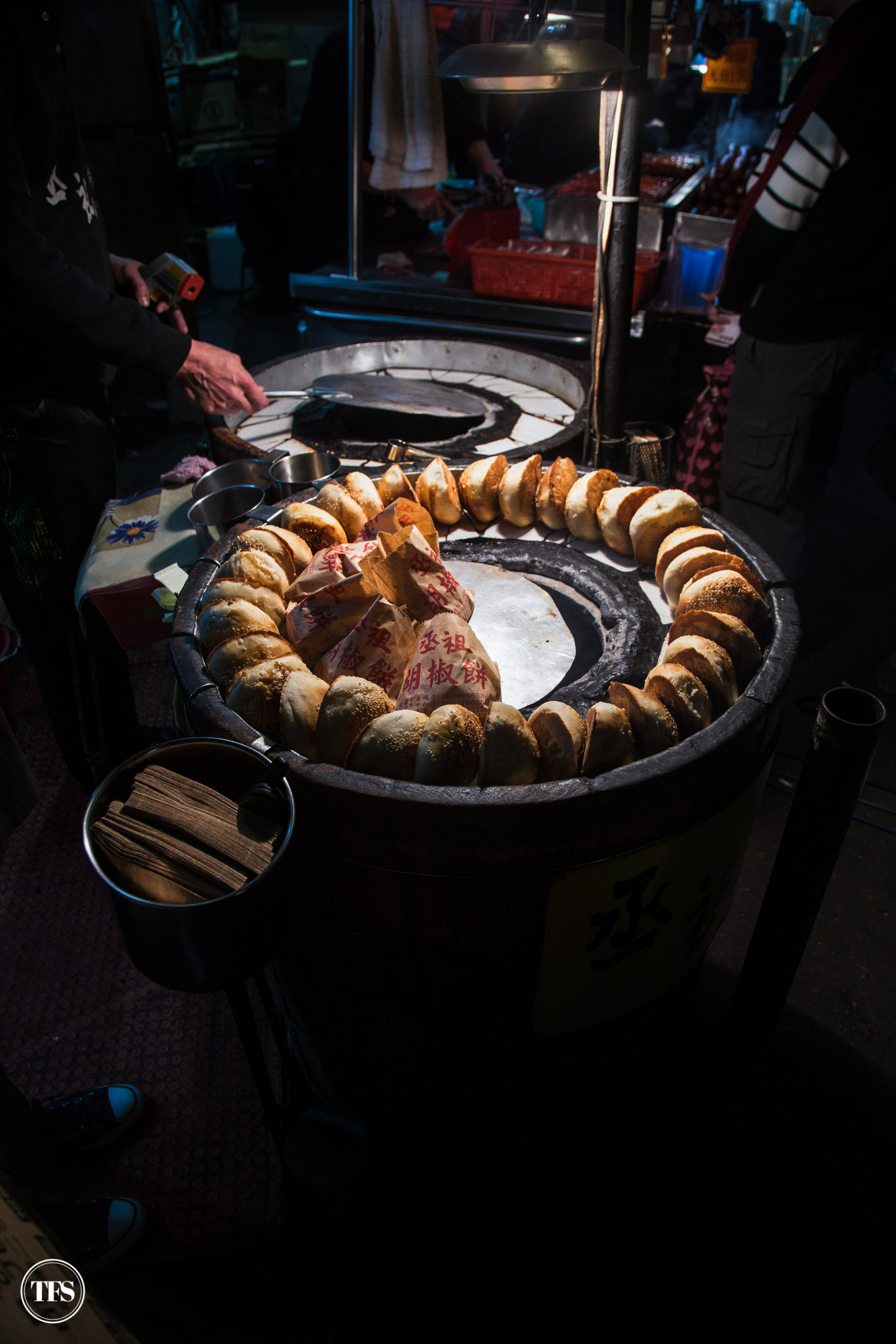 8. Pepper Pork Bun
Pepper Pork Buns are crispy buns on the outside and juicy, peppery and flavorful pork meat inside.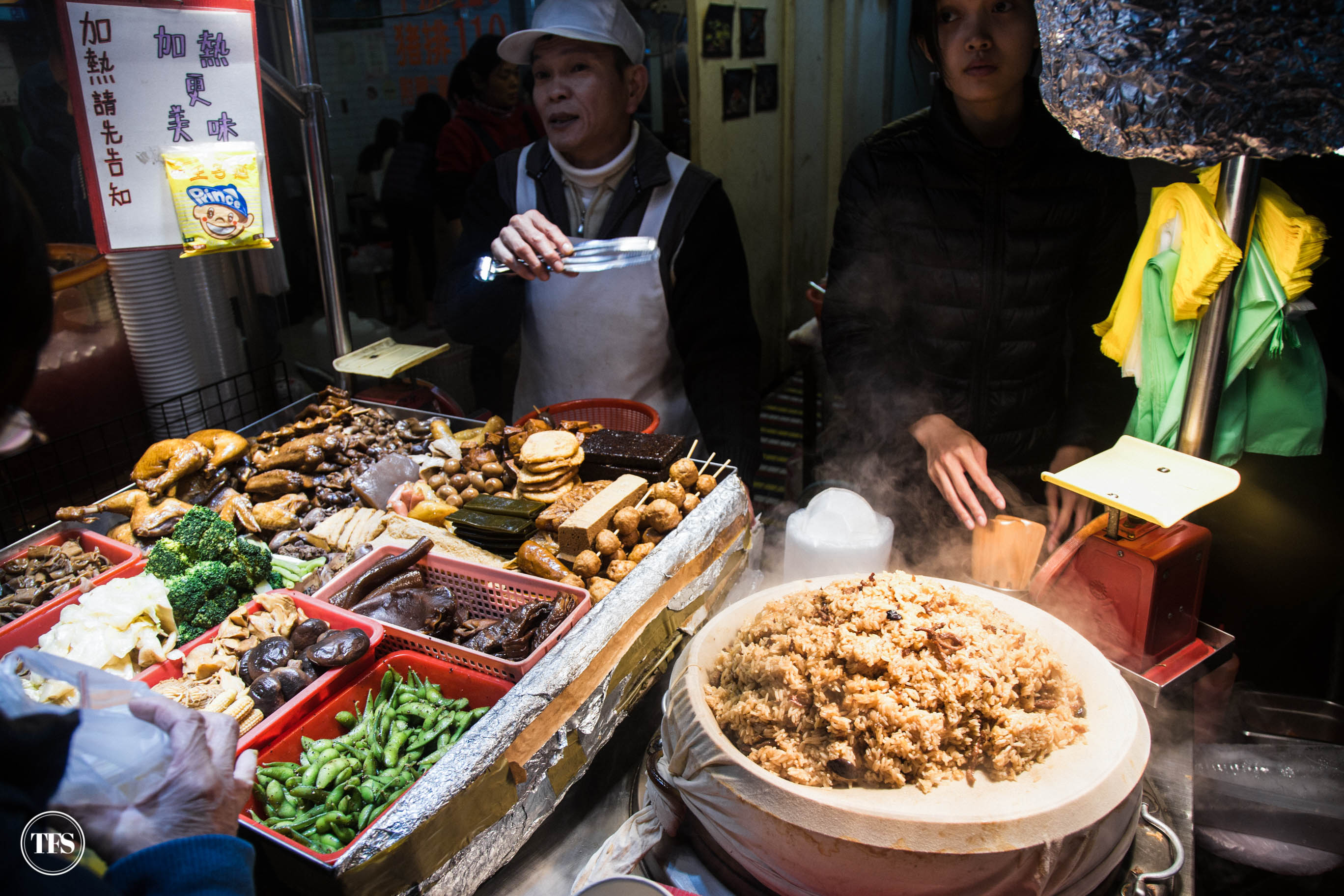 9. Machang
Chinese favorite Machang can be found along the streets of Shilin Night Market. If you want to load up with rice, which I don't advise, then you know what type of rice to avail.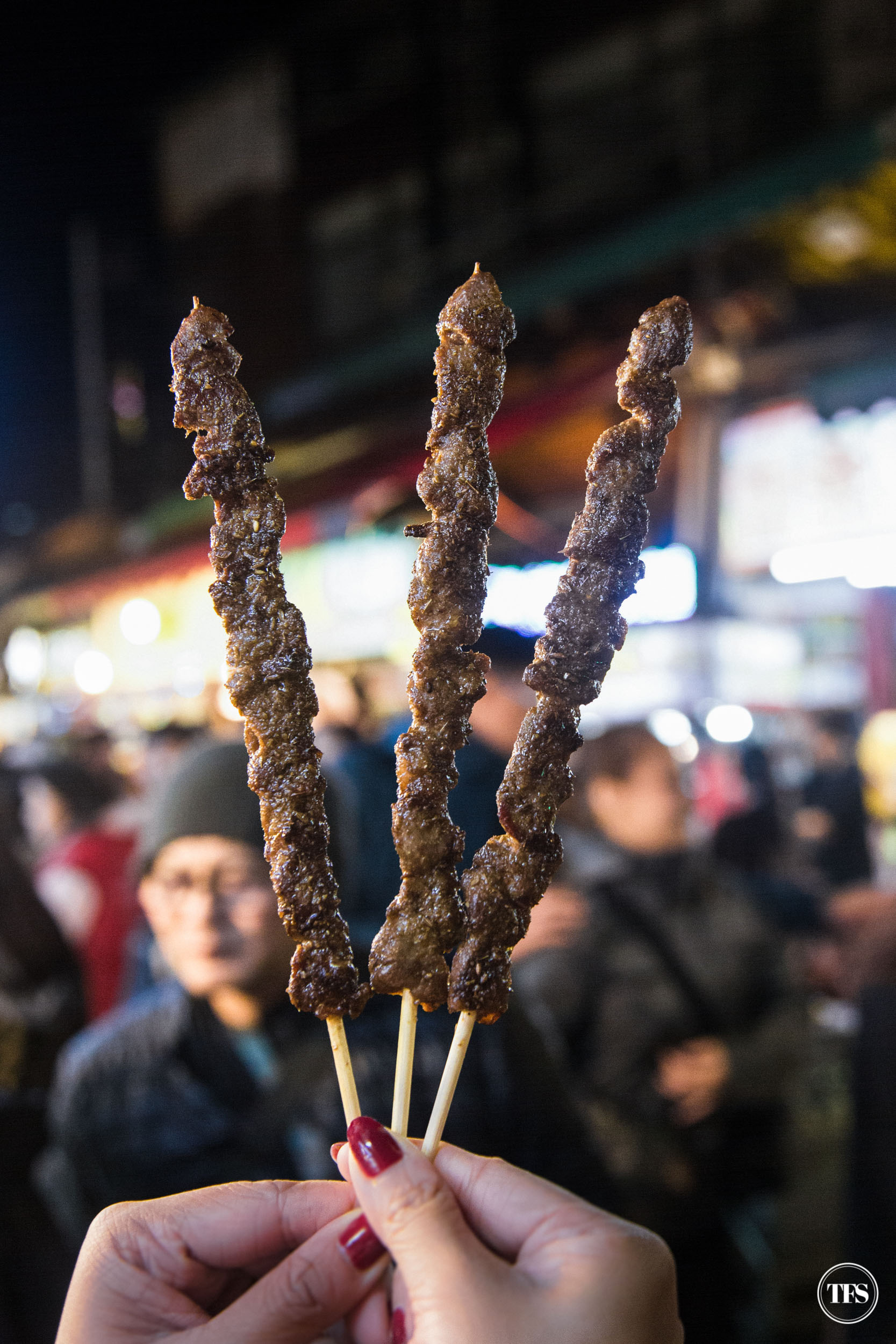 10. Cumin Lamb Skewer
O became too excited when he saw an underrated stall selling Cumin Lamb Skewers, which he also calls Beijing Lamb. The dominant taste of cumin magically transforms to make these sticks charismatic to the palate. If I were to have this in Manila, it goes perfectly with a cup of steaming hot rice.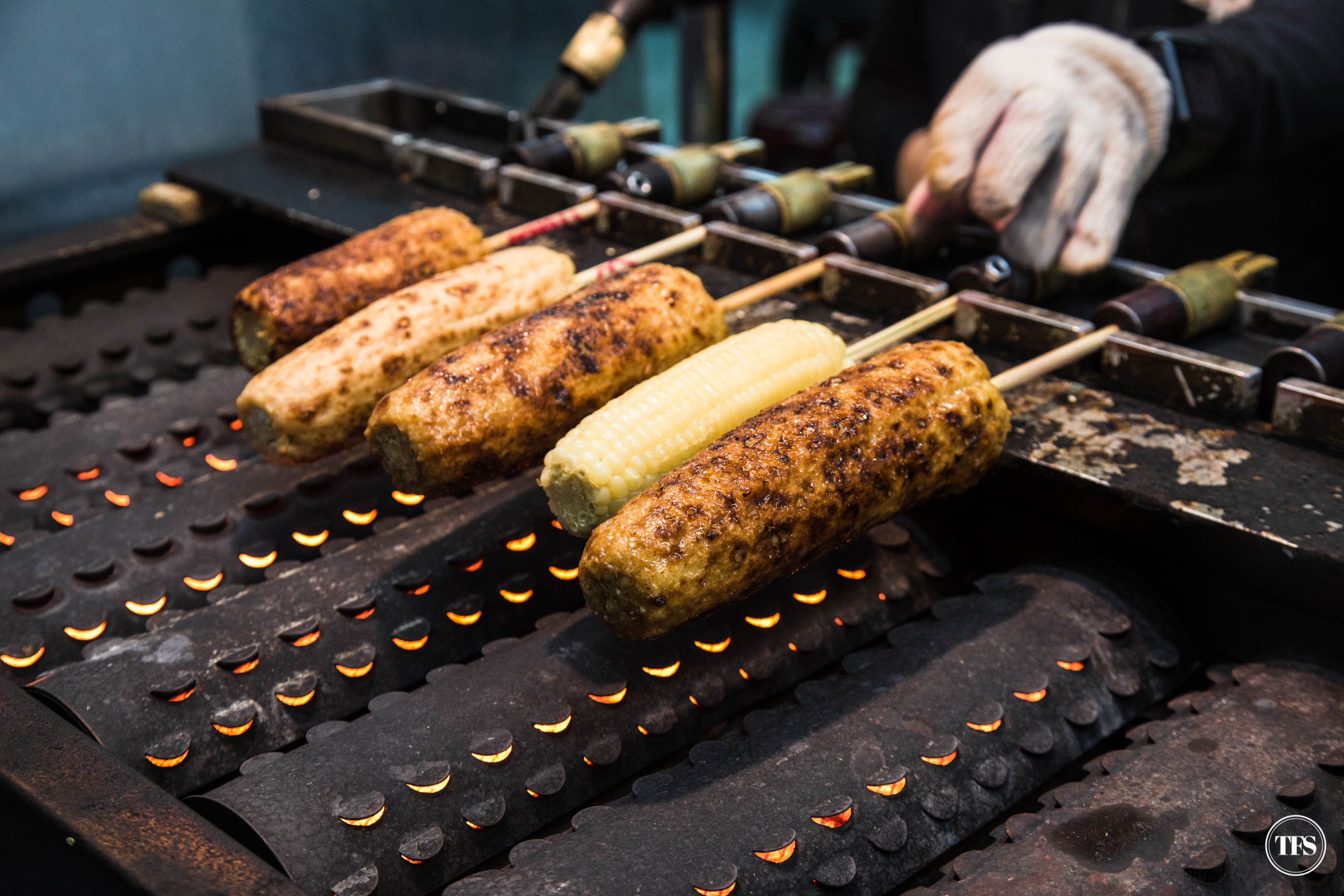 11. Grilled Corn
The sweet rubbery coating on Taiwanese Grilled Corn on a Cob makes the difference. It's a tad sweet on the outside but plain taste of corn kernels on the inside. If you want something to munch while walking around, this could be it.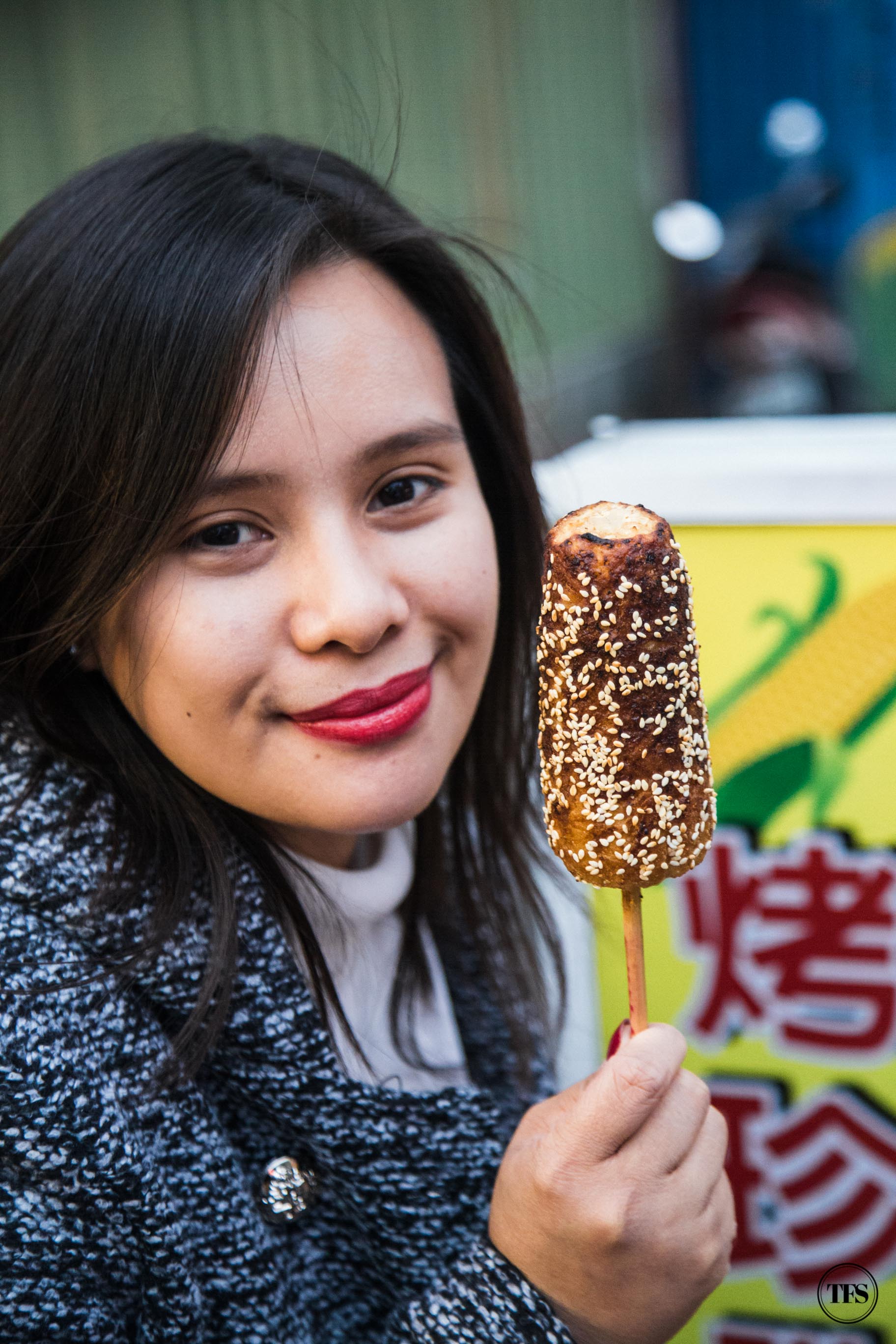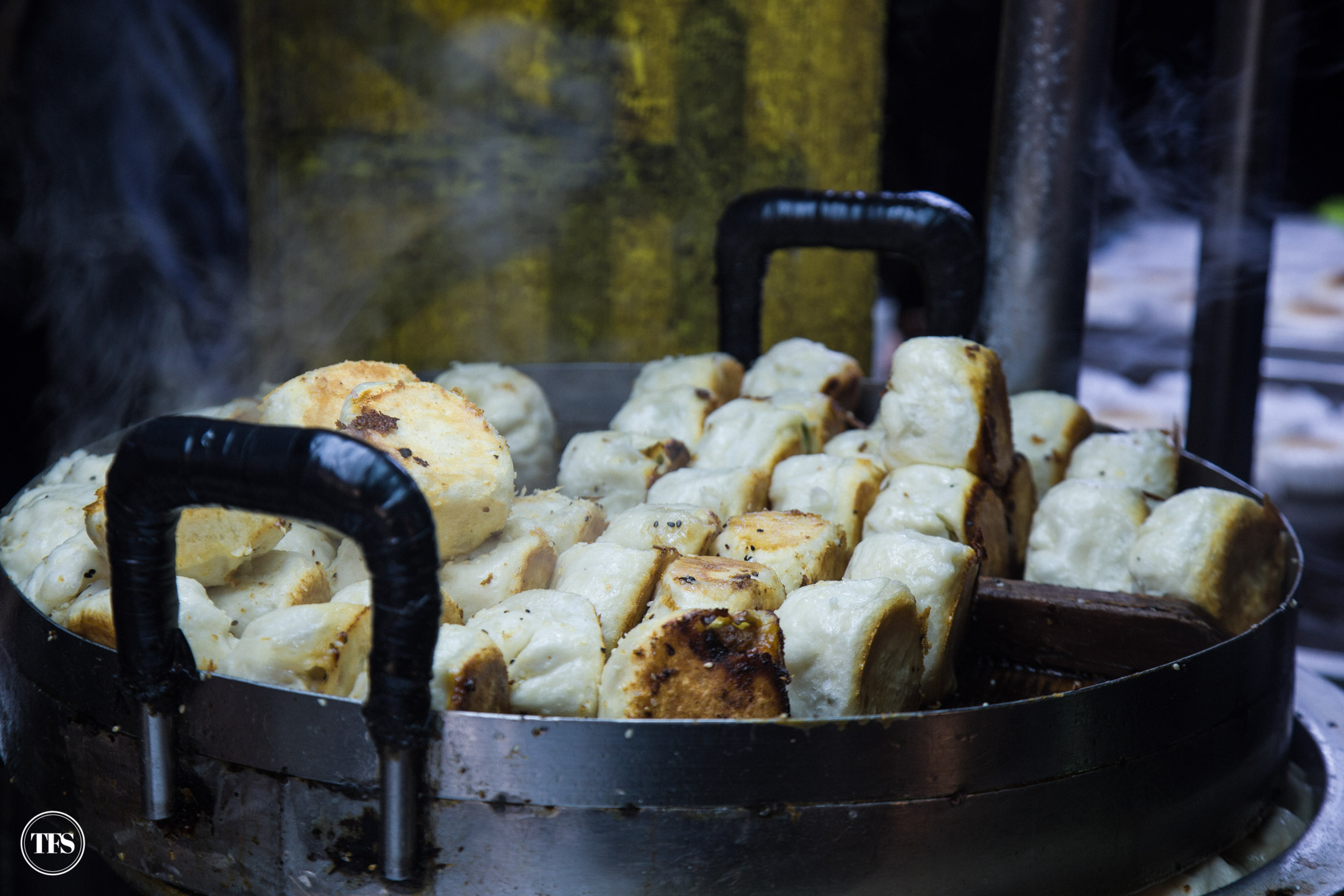 12. Sheng Jian Bao
Sheng Jian Bao has that siopao texture but it's actually like a giant version of xiao long bao. The buns, which is quite toasted on its bottom, are filled with juicy and soupy pork.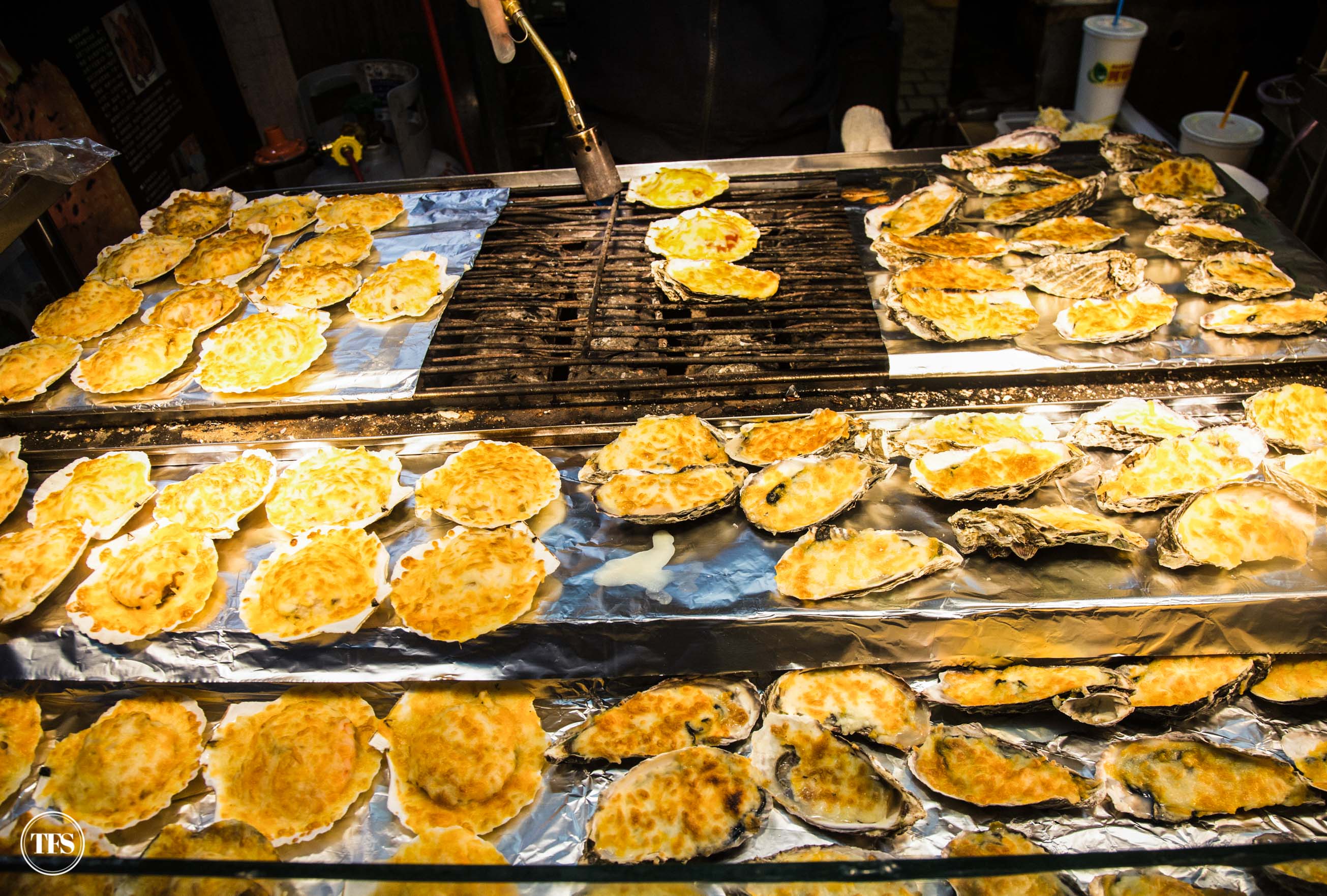 13. Grilled Cheesy Oysters
No need to explain how irresistible Grilled Cheesy Oysters can be. We all know we have to try at least one piece to satisfy our curiosity how the street vendor makes their version of it.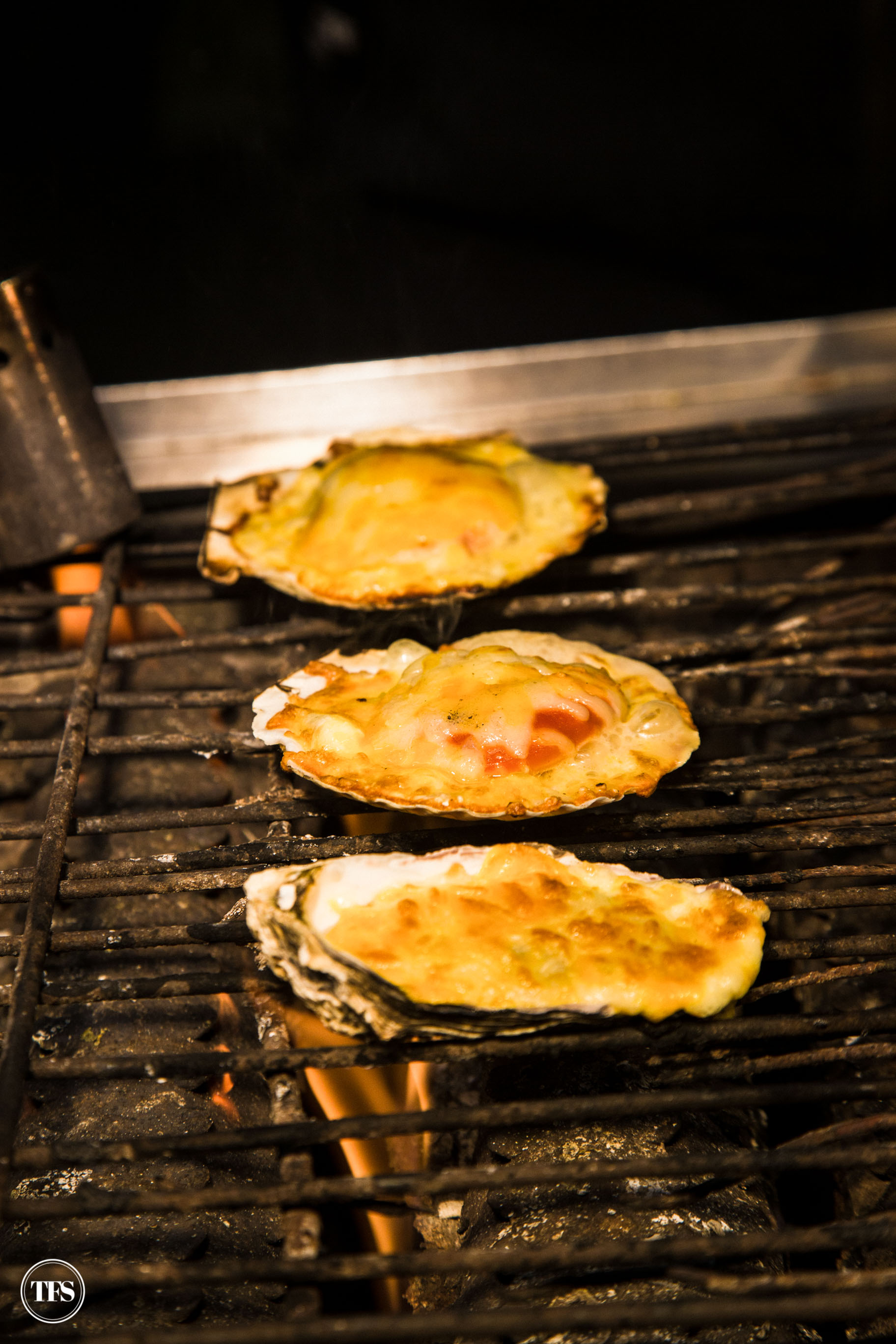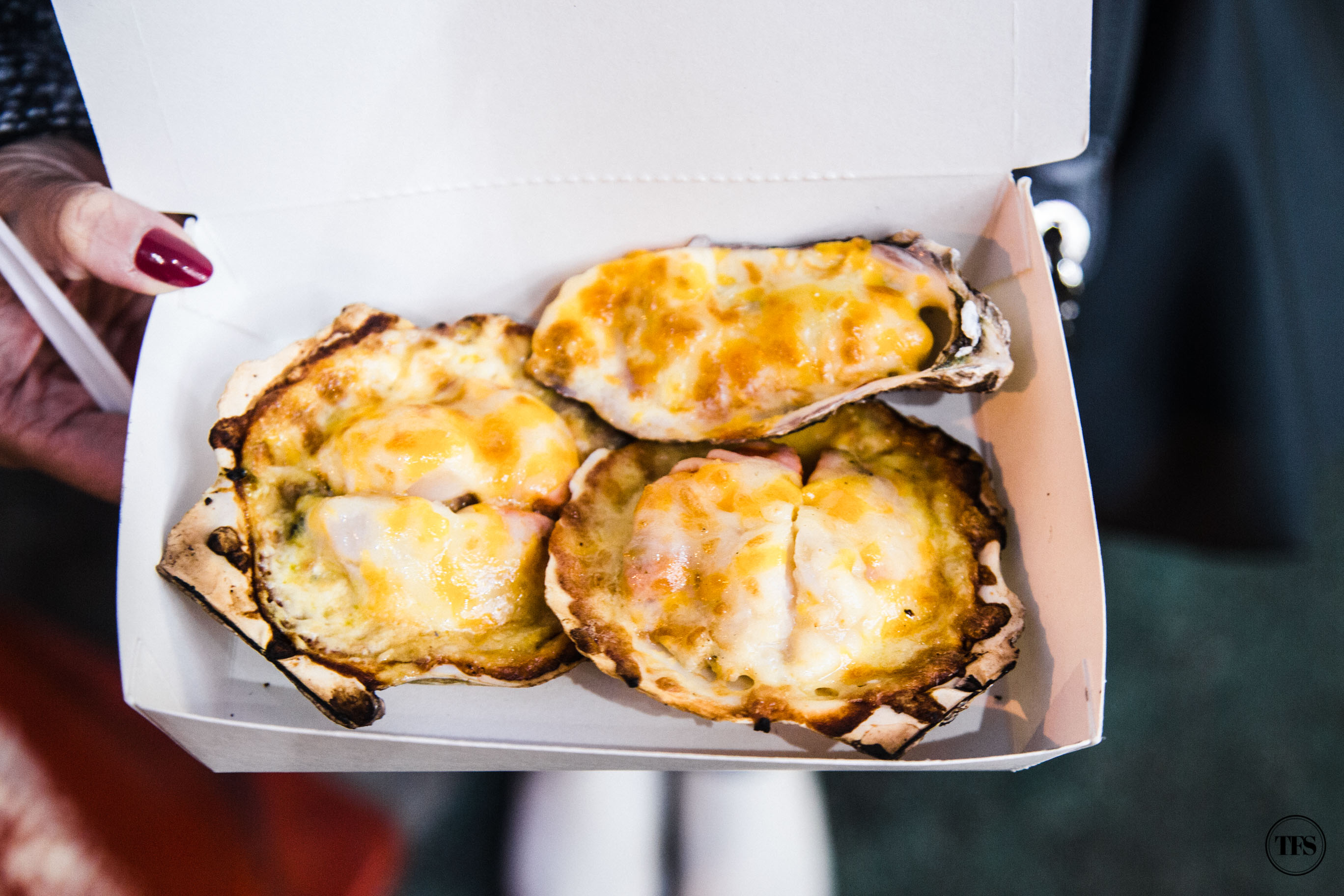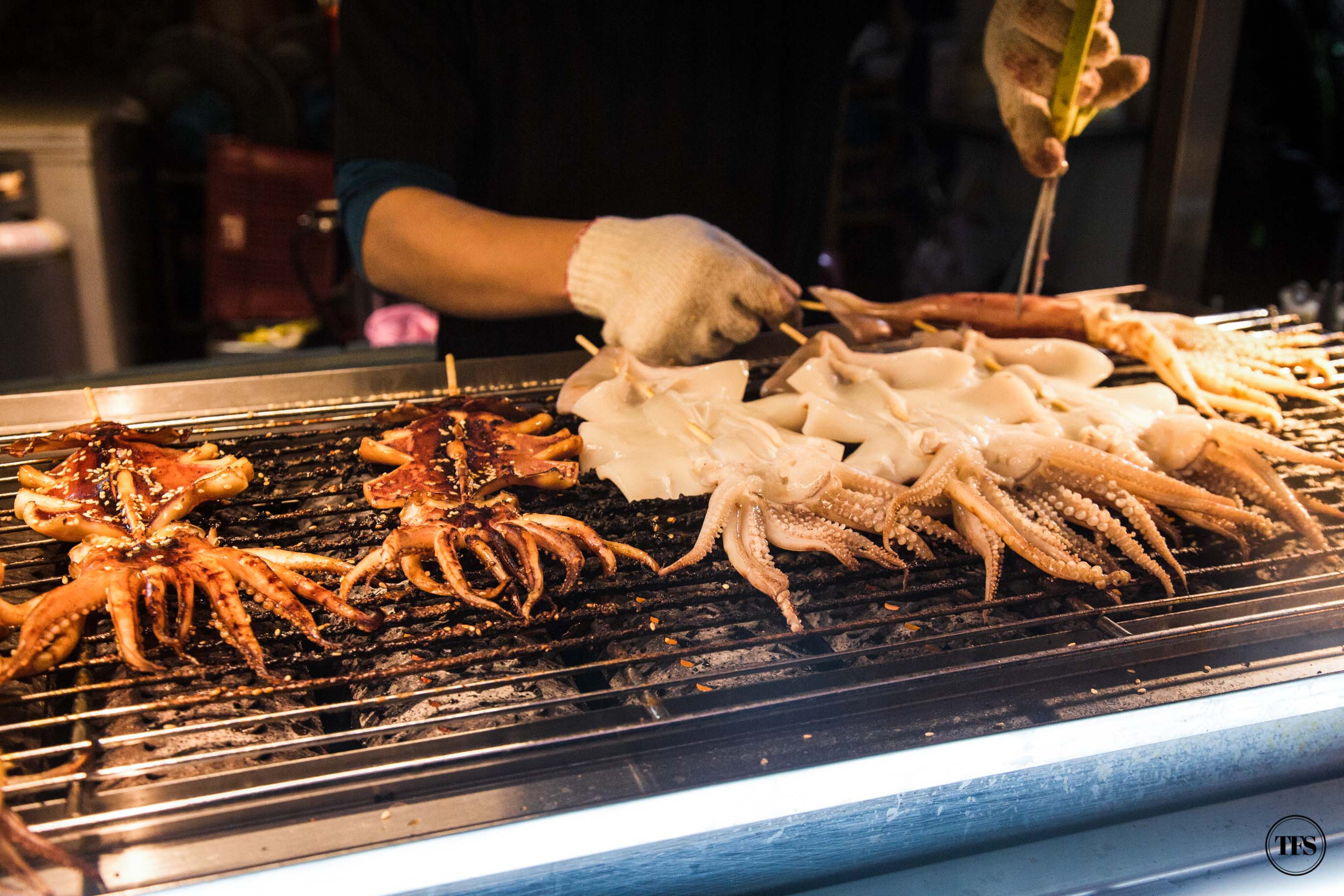 14. Giant Grilled Squid
You may have your giant grilled squid plainly grilled or sliced up seasoned with sauce or spices on top for a more complex flavor.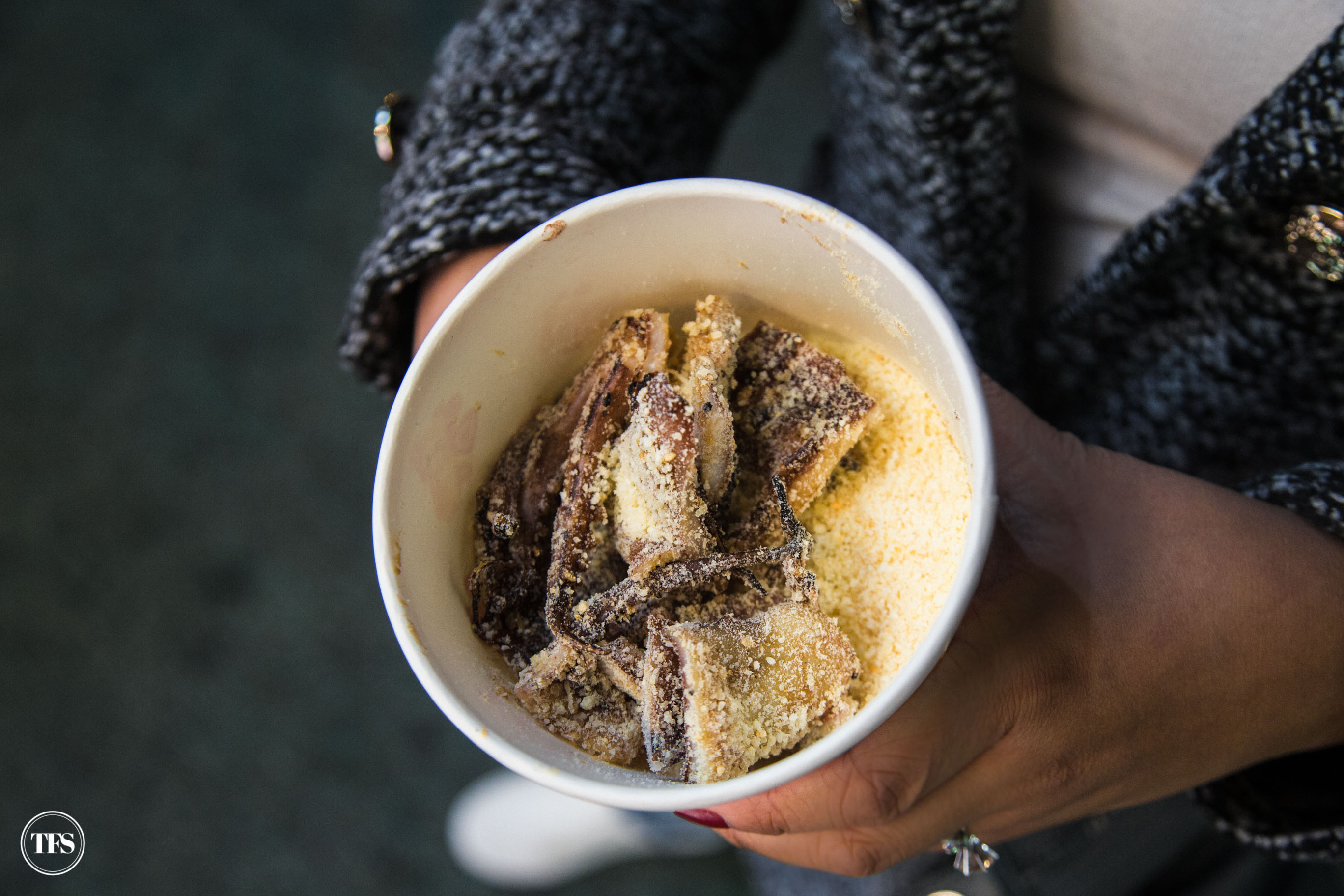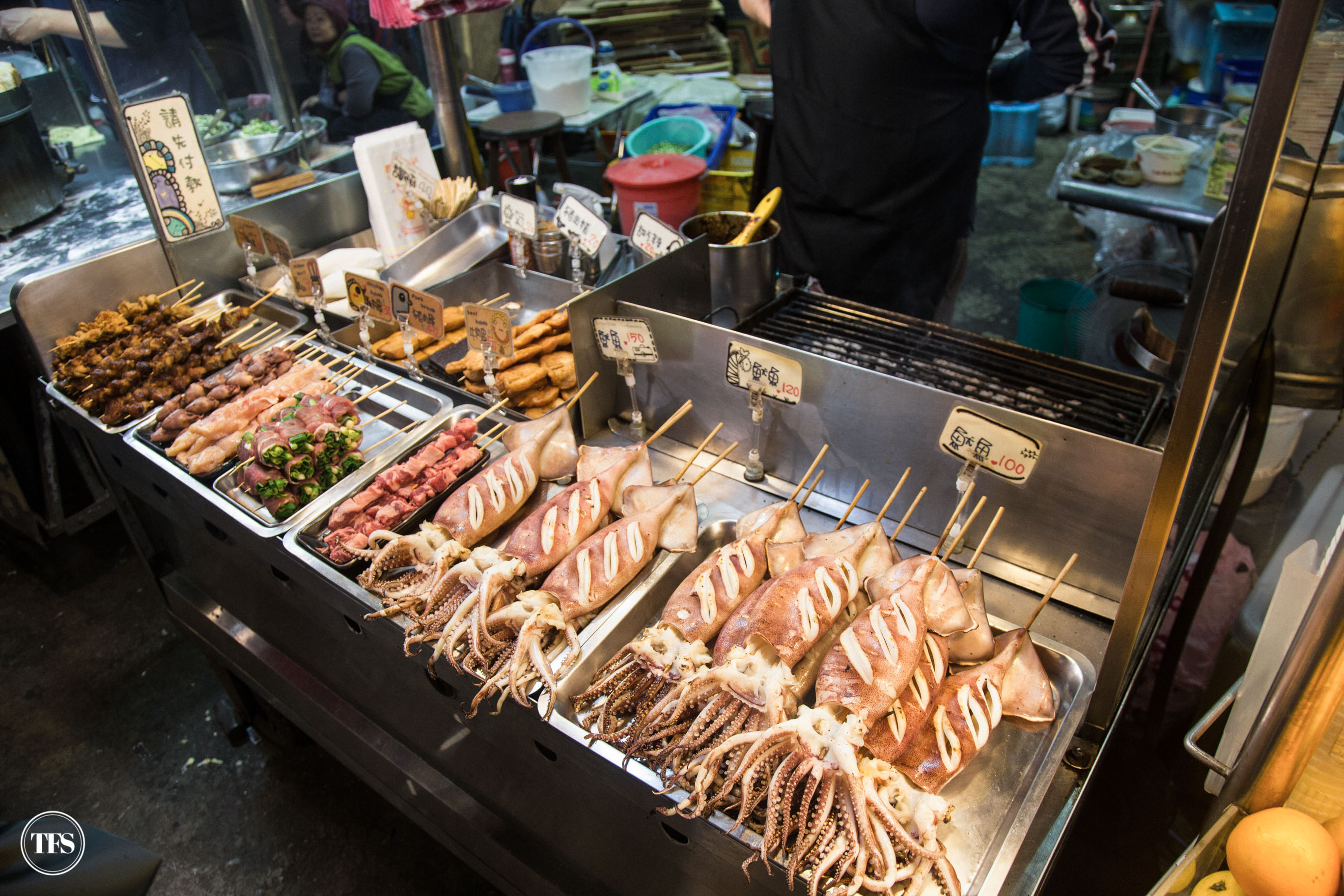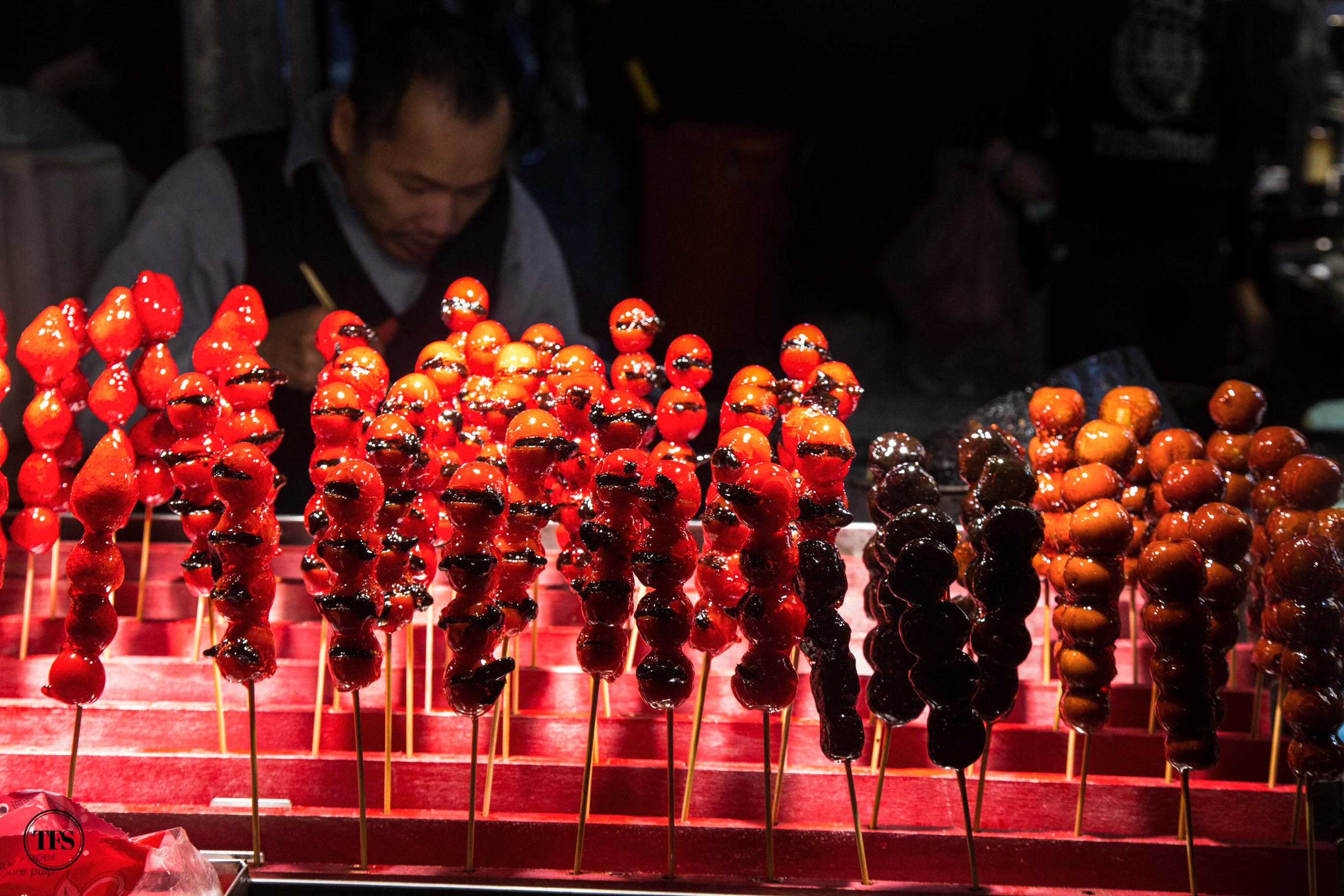 15. Tanghulu (Sugar-coated fruits)
Because sweet treats creates the balance after a long night of eating savory snacks, Tanghulu is one of the unique finds you may try at Shilin Night Market. Made with sour fruits dipped and coated with hard candy syrup, Tanghulu appeals for its sweet and sour combo.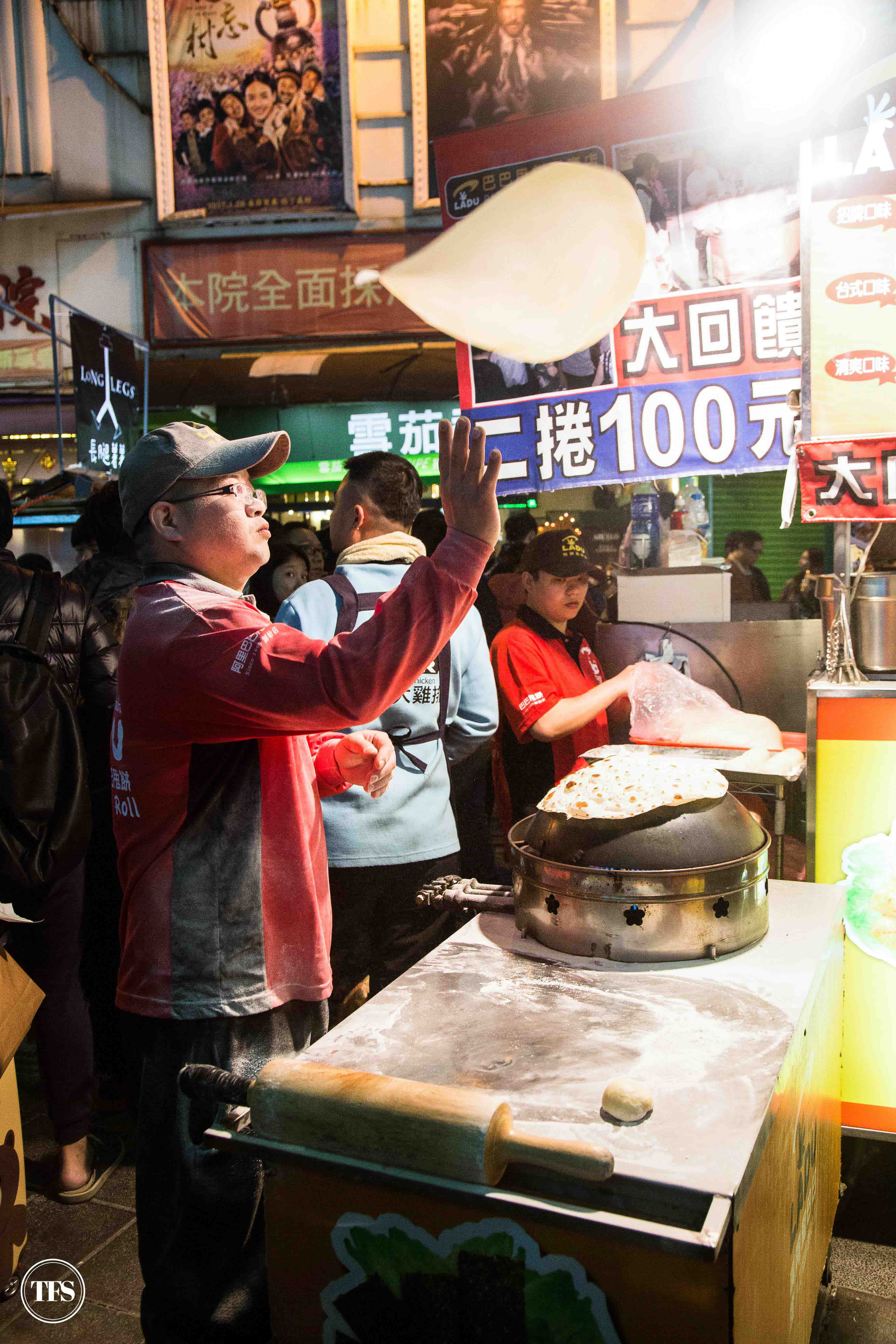 Believe me, O and I ate all these in one night only! (This is why we're fat! Lol!)
What do you think of this list of food to try at Shilin Night Market?
Share with me your thoughts!
Stay updated and Subscribe to The Food Scout  for Free!
Pray, Eat and Love.
Cheers,
The Food Scout