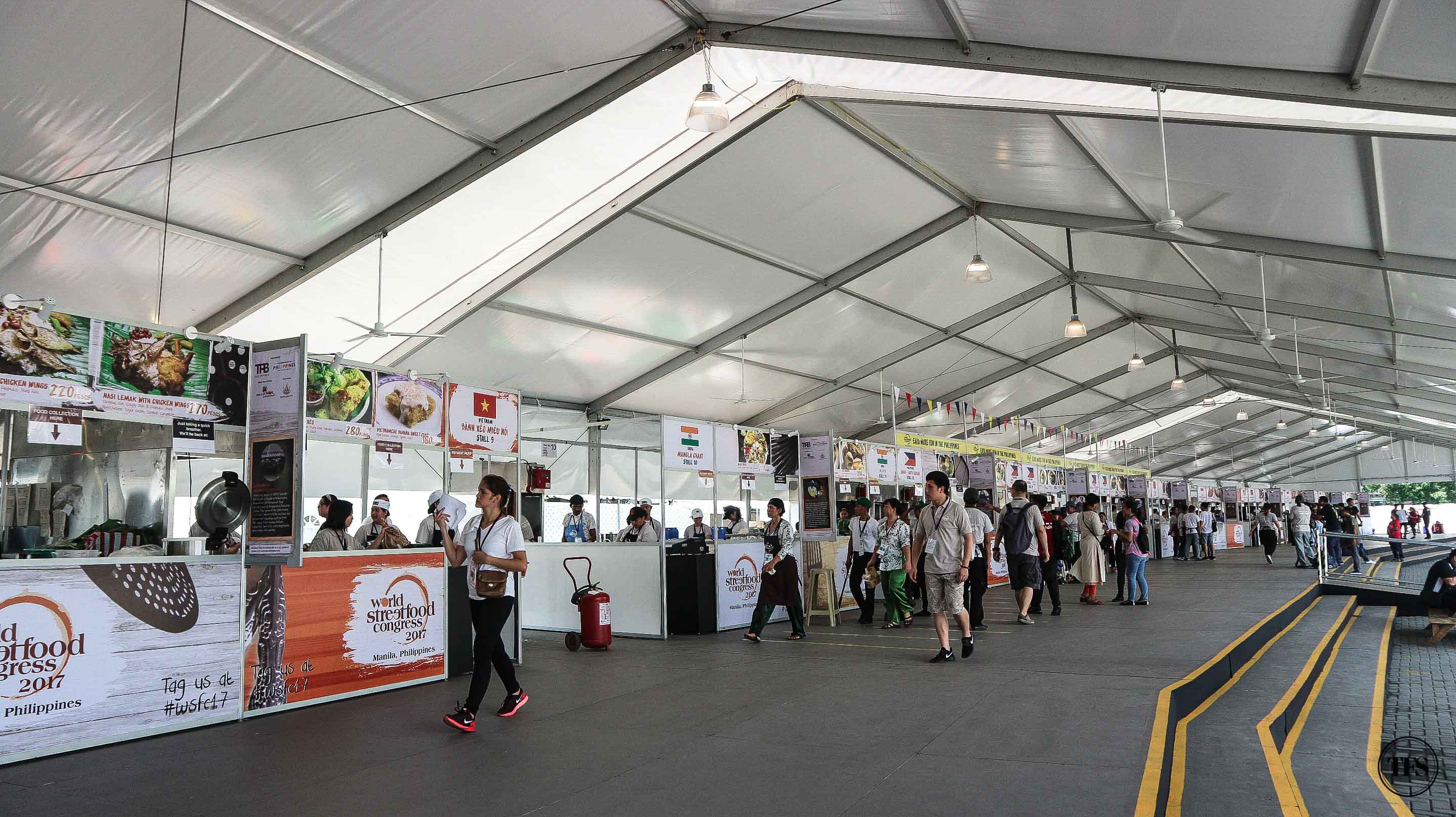 When the news that World Street Food Congress 2017 will be held here in the Philippines spread out, I told myself, "I couldn't miss it for the world!"
Last year's World Street Food Congress hosted by our country at Bonifacio Global City was one for the books. From that experience alone, I enjoyed every minute scouting for food from the different international vendors at the Jamboree. And that is why I just had to clear up my schedule for the next one, which occurred last May 31 until June 4, 2017. For the second time, Asia's biggest food celebration is back in Manila. As expected, the five-day gastronomic adventure was surely bigger, bolder and better, with a theme "Re-Imagine Possibilities".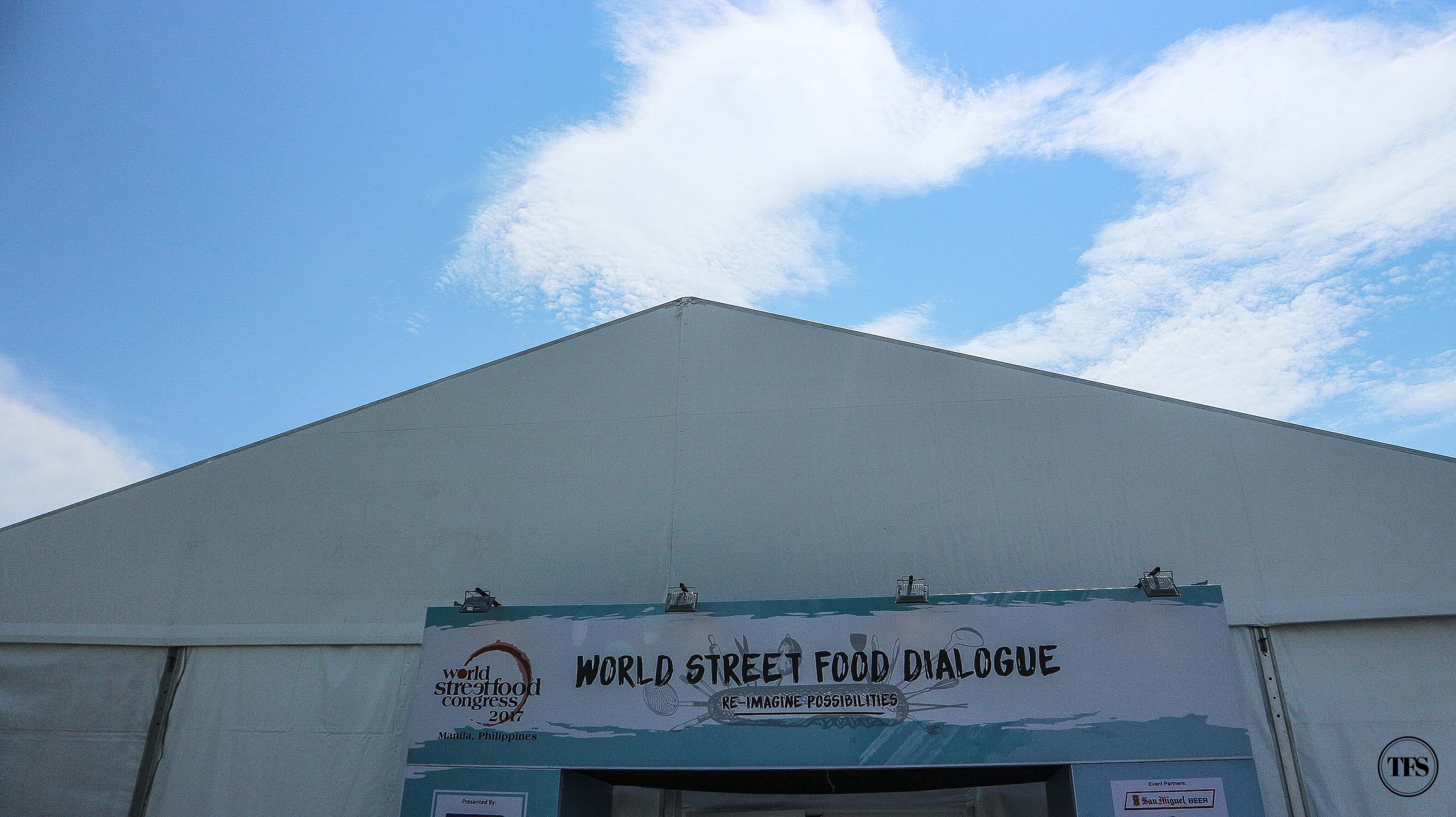 On the first day, everyone was excited, including me for The World Street Food Dialogue. It is the world's only conference and network event that serves as a venue for industry players, individuals and companies to converge, share, ideate and collaborate on heritage and food culture.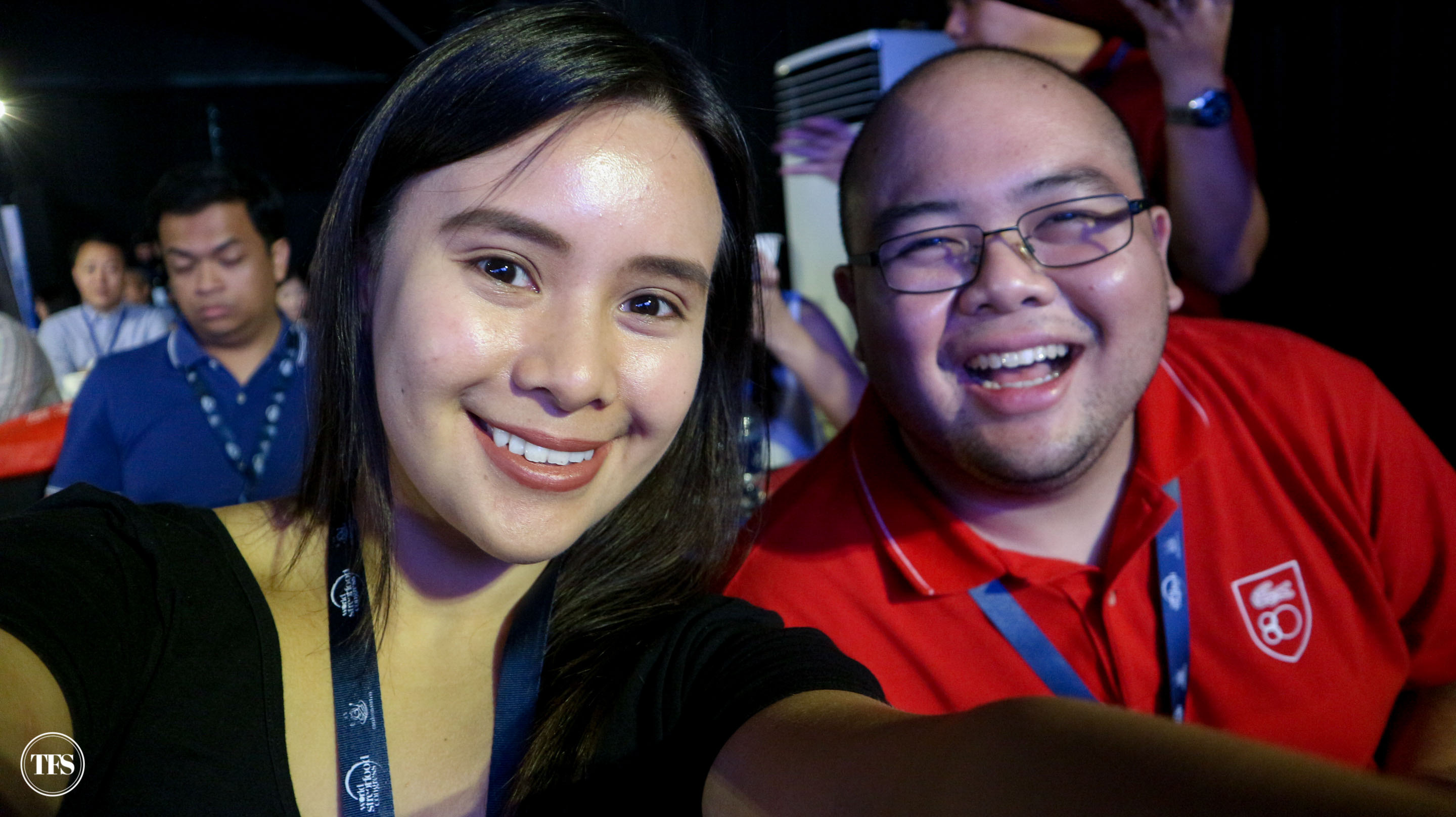 I couldn't bring O with me because he needs to be in our office the whole day. For WSFC, I had to take a  full-day "leave" from work. Thank God my business partner a.k.a. my husband allowed me. Haha!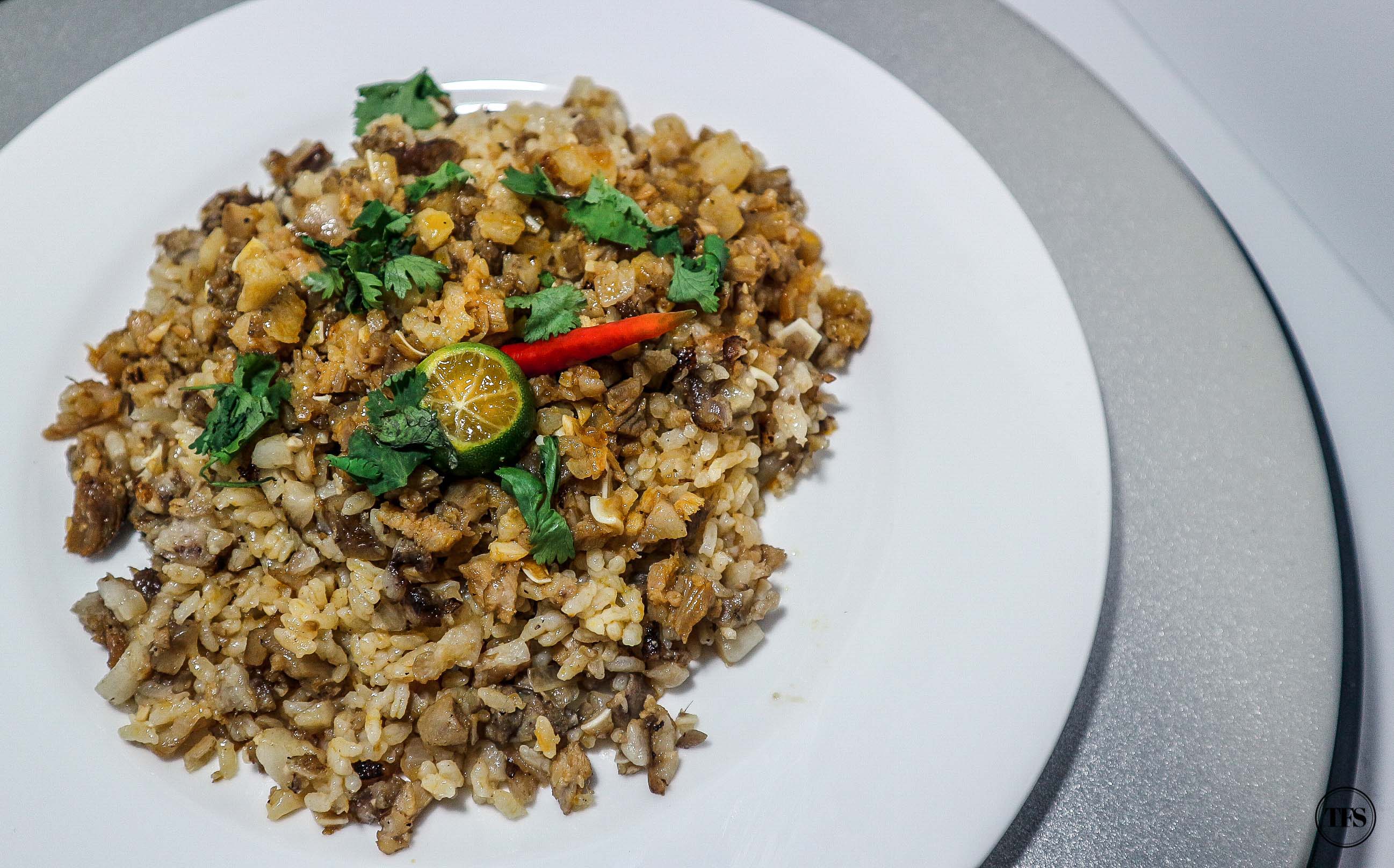 Meet one of the two favorite Filipino dishes of Anthony Bourdain, our SISIG!
Speaking of Anthony Bourdain, he was one of the most-awaited dialogue speakers at the conference. He provided the latest update on the highly anticipated Bourdain Market in New York.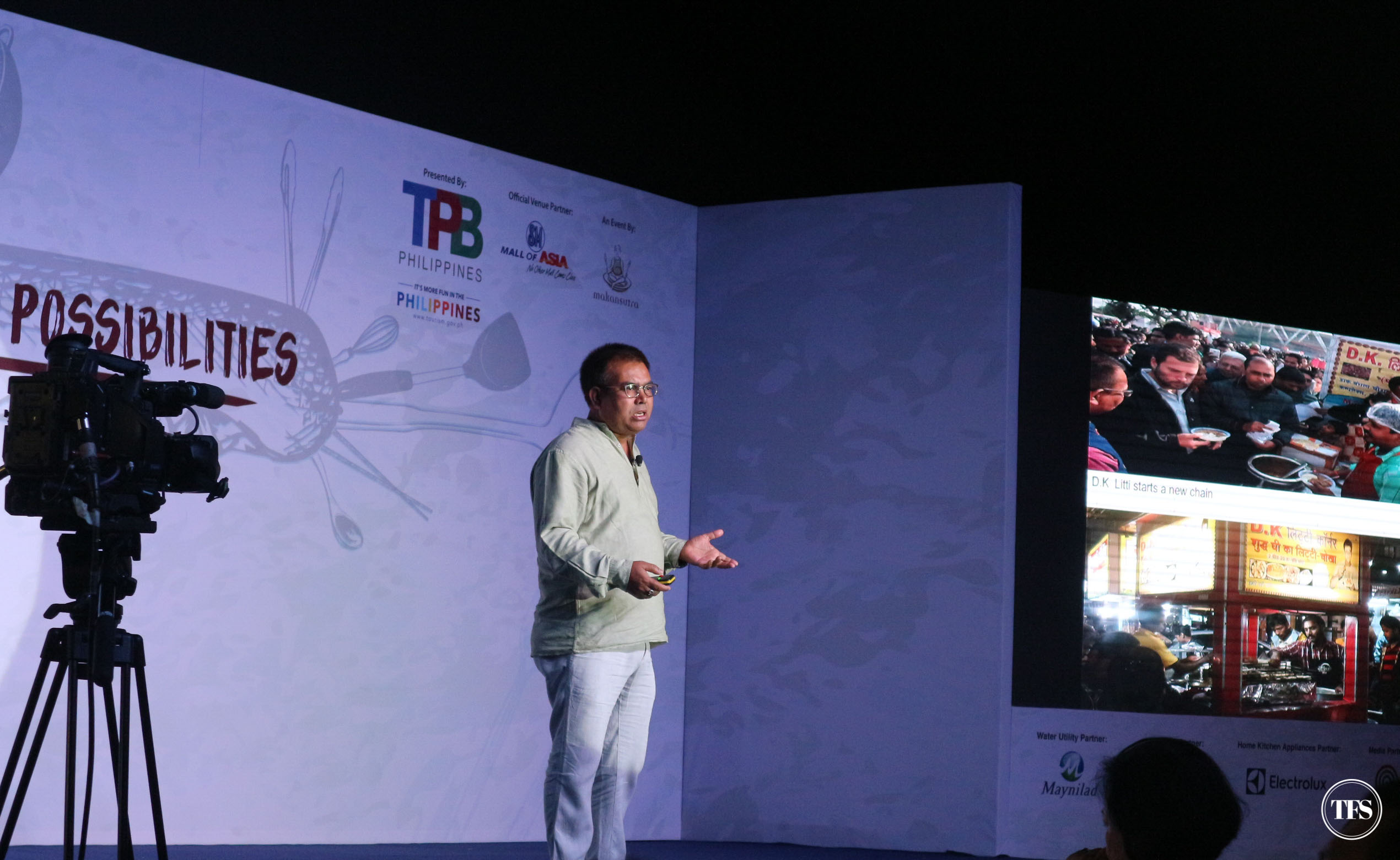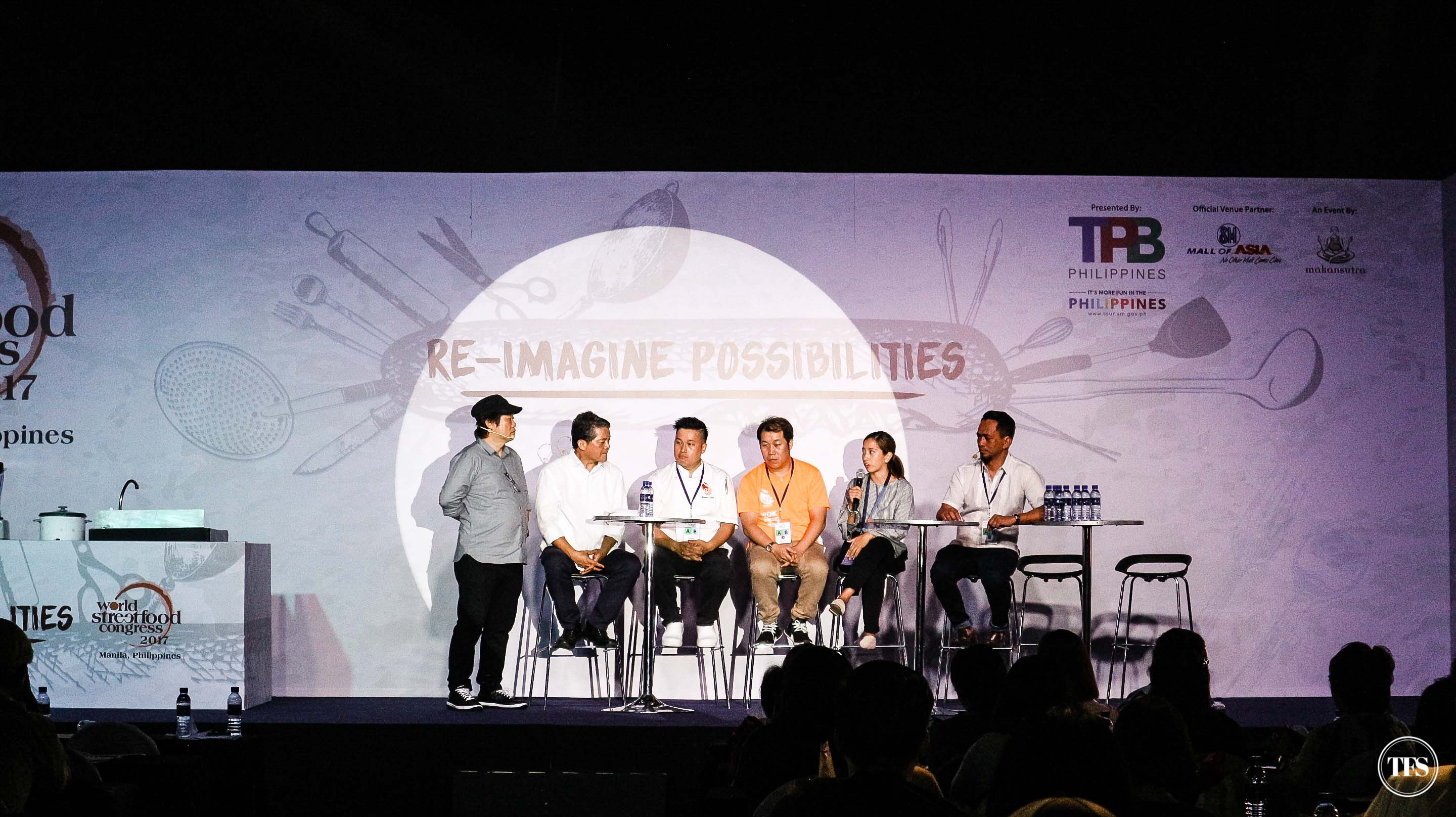 The line-up of industry speakers from USA, Indonesia, Singapore, UK and the Philippines made every talk worthy of our attention as it was thought-provoking topics revolving around the theme "Re-Imagine Possibilities."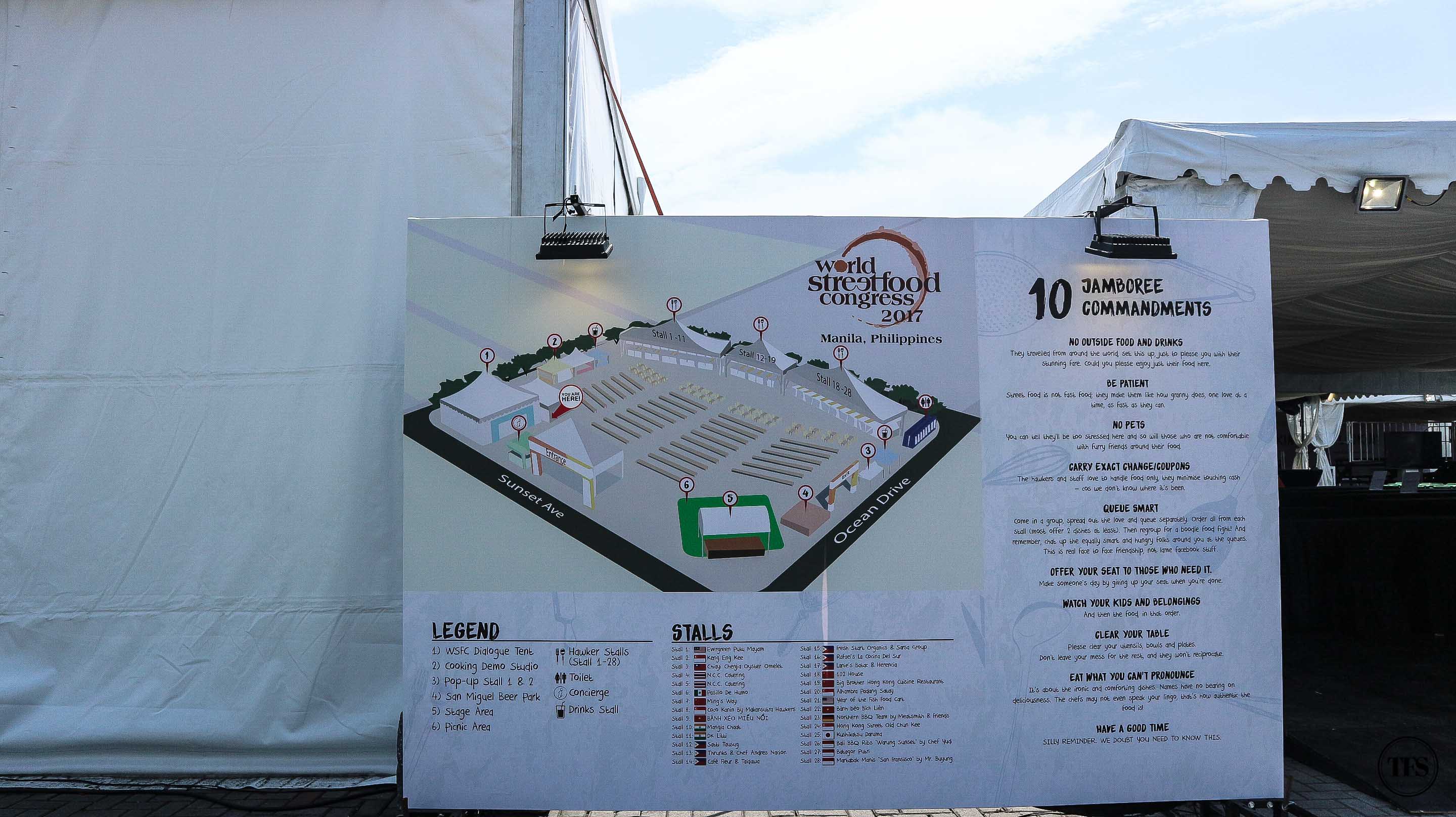 Immediately after the conference, we walked across to The Jamboree.
The Jamboree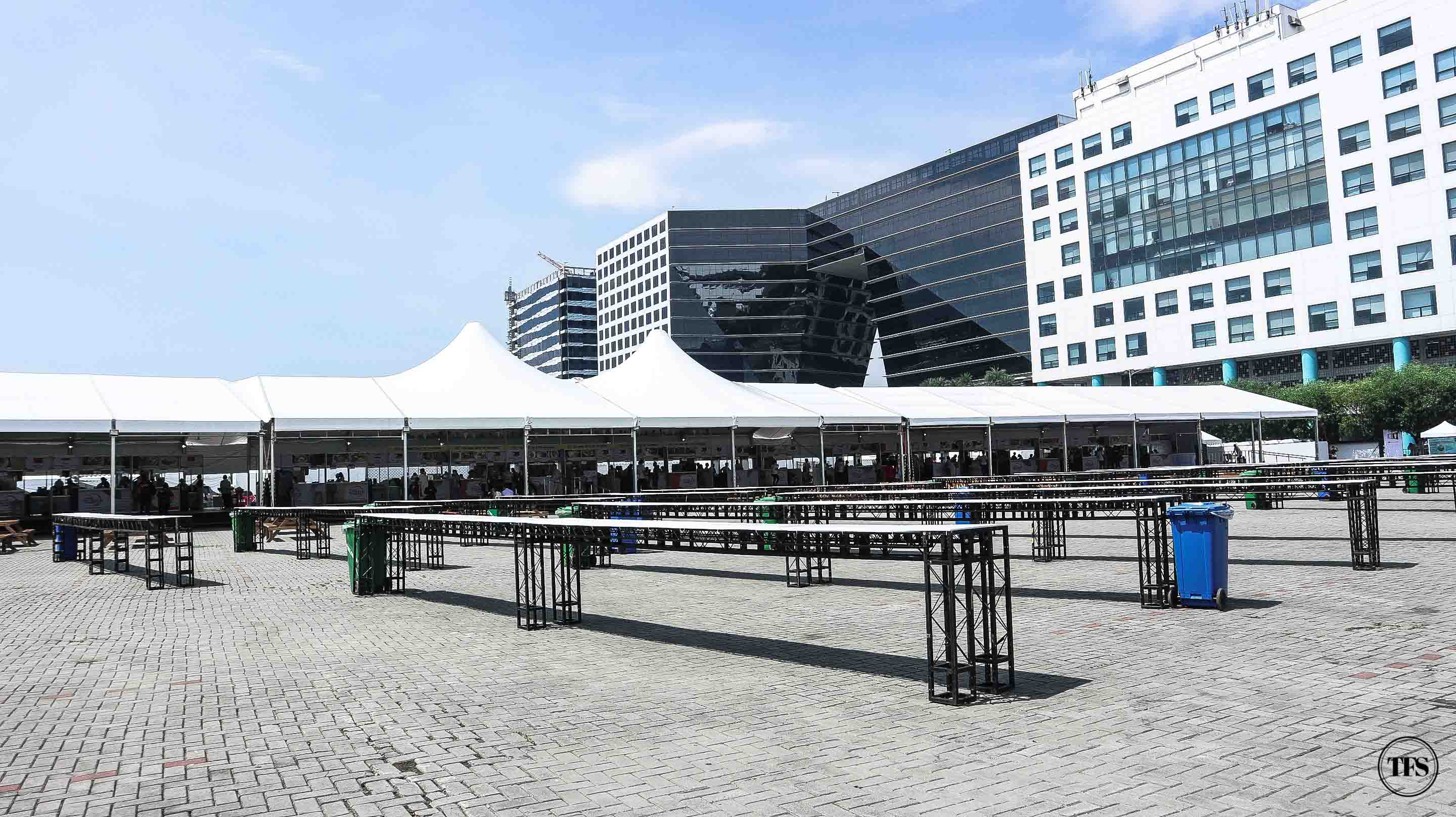 In this year's Jamboree, over 30 master hawkers and pop ups from 13 countries participated. Imagine 5 days of feasting on more than 40 different street food gems. Countries that joined are Germany, Mexico, USA, Thailand, Japan, India, China, Taiwan, Malaysia, Vietnam, Indonesia, Singapore, and our very own Philippines. Our country featured six cities and regions from Davao City, Bicol, Pampanga, Iloilo, Ilocos and Bacolod.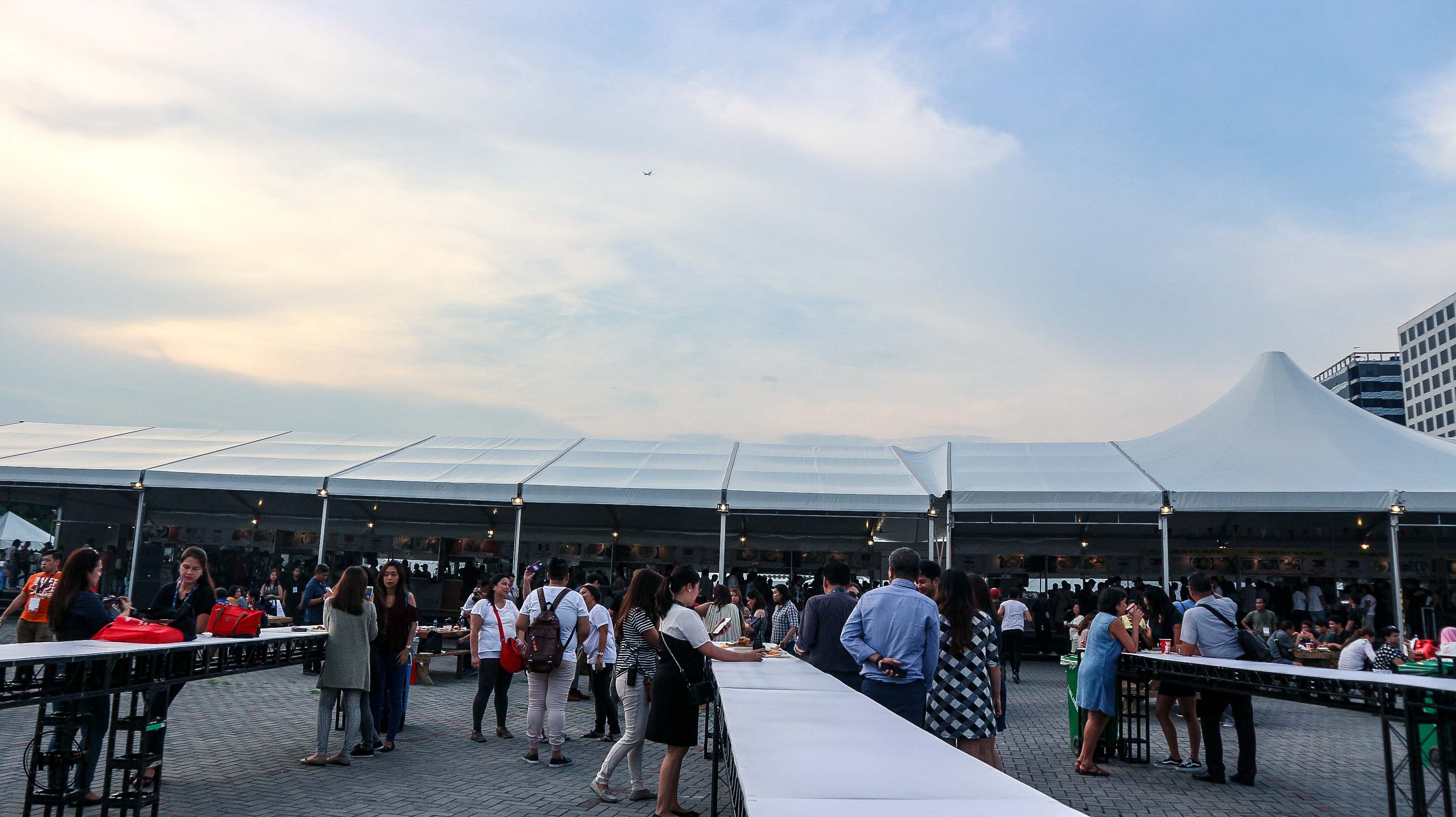 A Bicolano dish, Pinangat Burger is pork stuffed dried taro leaves parcel stewed in coconut milk, served in a pandesal.
Re-invented Bicol Express Risotto is a spicy, creamy pork dish served with chicharon and greens.
President Duterte's favorite 'karinderia' from Davao was also there to serve Pork Mongo. Mung bean stew slowly stewed over wood fire and infused with a porky touch.
Bacolod's signature BBQ Chicken Inasal is served in a Pita pouch bread. Hoping it's a regular dish served at Sarsa, I love the marinade with lime, pepper and vinegar, grilled over hot coals.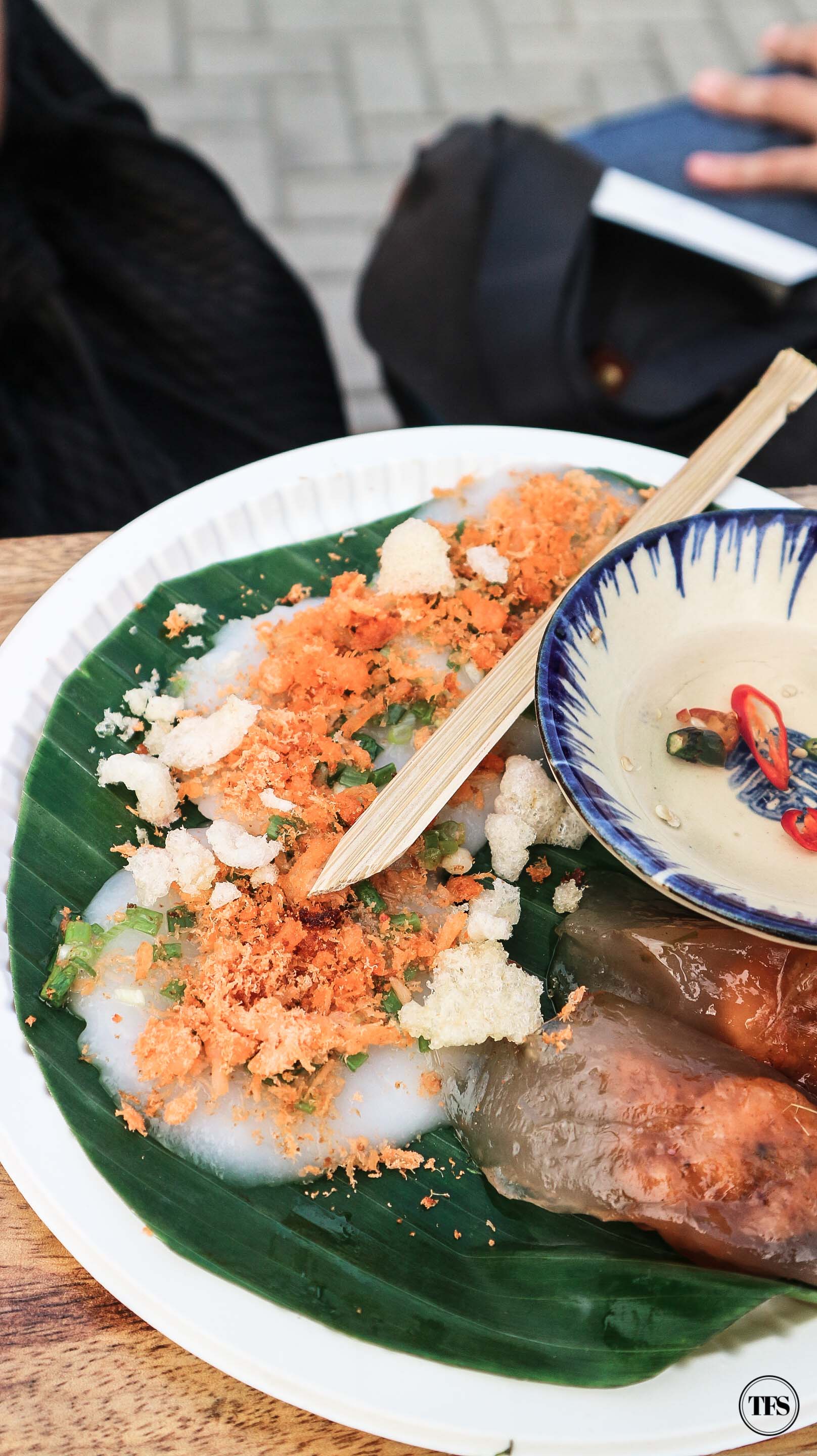 I had to order anything with salted egg. I just had to! Singapore's Salted Egg Pork with chipped pandan and chili was unusually paired with fries.
Another stall from Singapore served Mee Goreng with Lamb. It was composed of yellow egg noodles, sambal, egg, mutton, greens and peas.
I love this unique Curry Chicken Burger!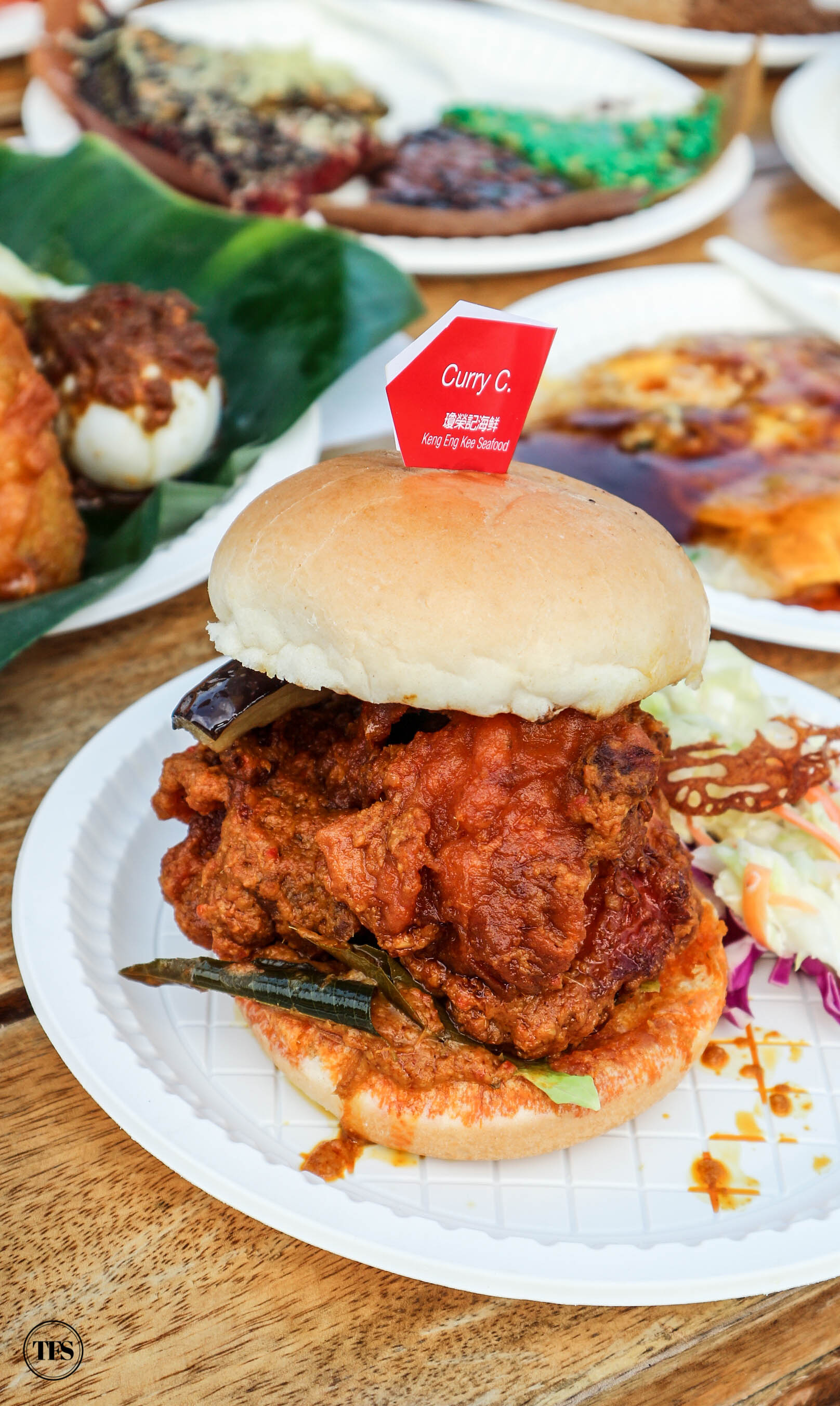 Singapore's Nasi Lemak with Chicken Wings stood out for its complete and jam-packed flavors in one plate.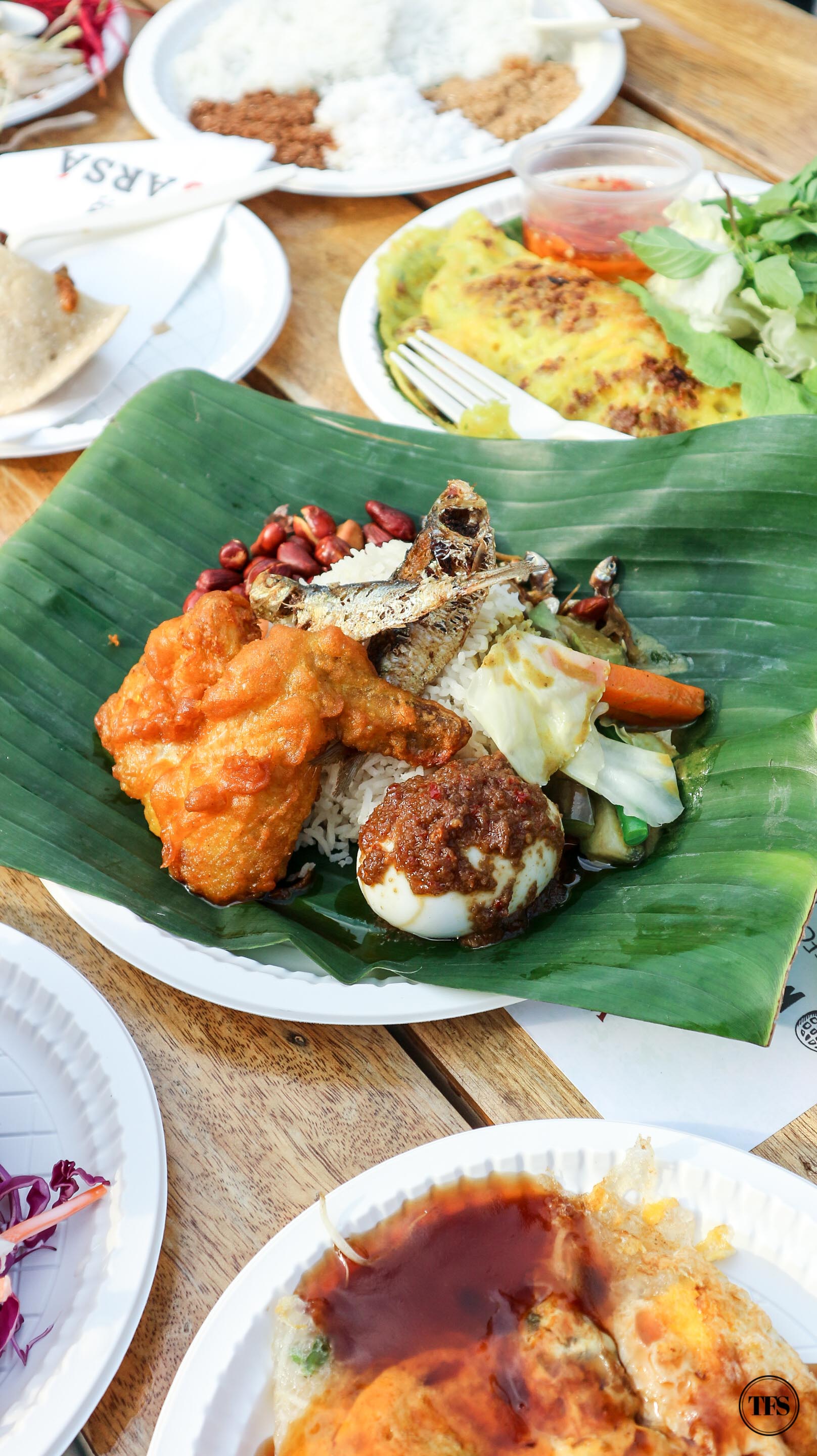 Thailand brought their Som Tum, 2 Sticks of Mooping & Sticky Rice. On this plate, you can see BBQ pork, green papaya salad and sticky rice that's all sour, sweet and spicy. It's exactly how Thais enjoy their street food.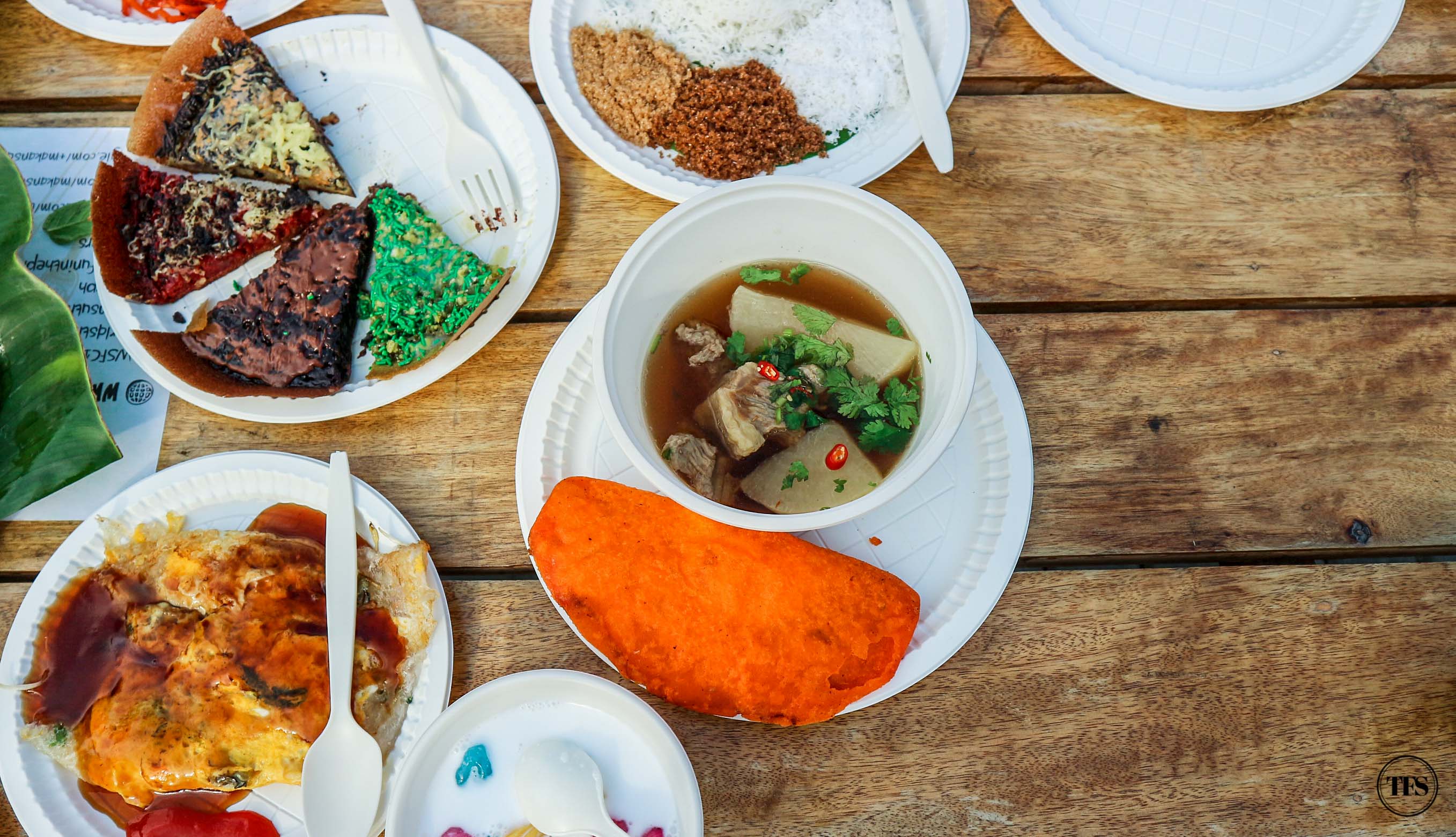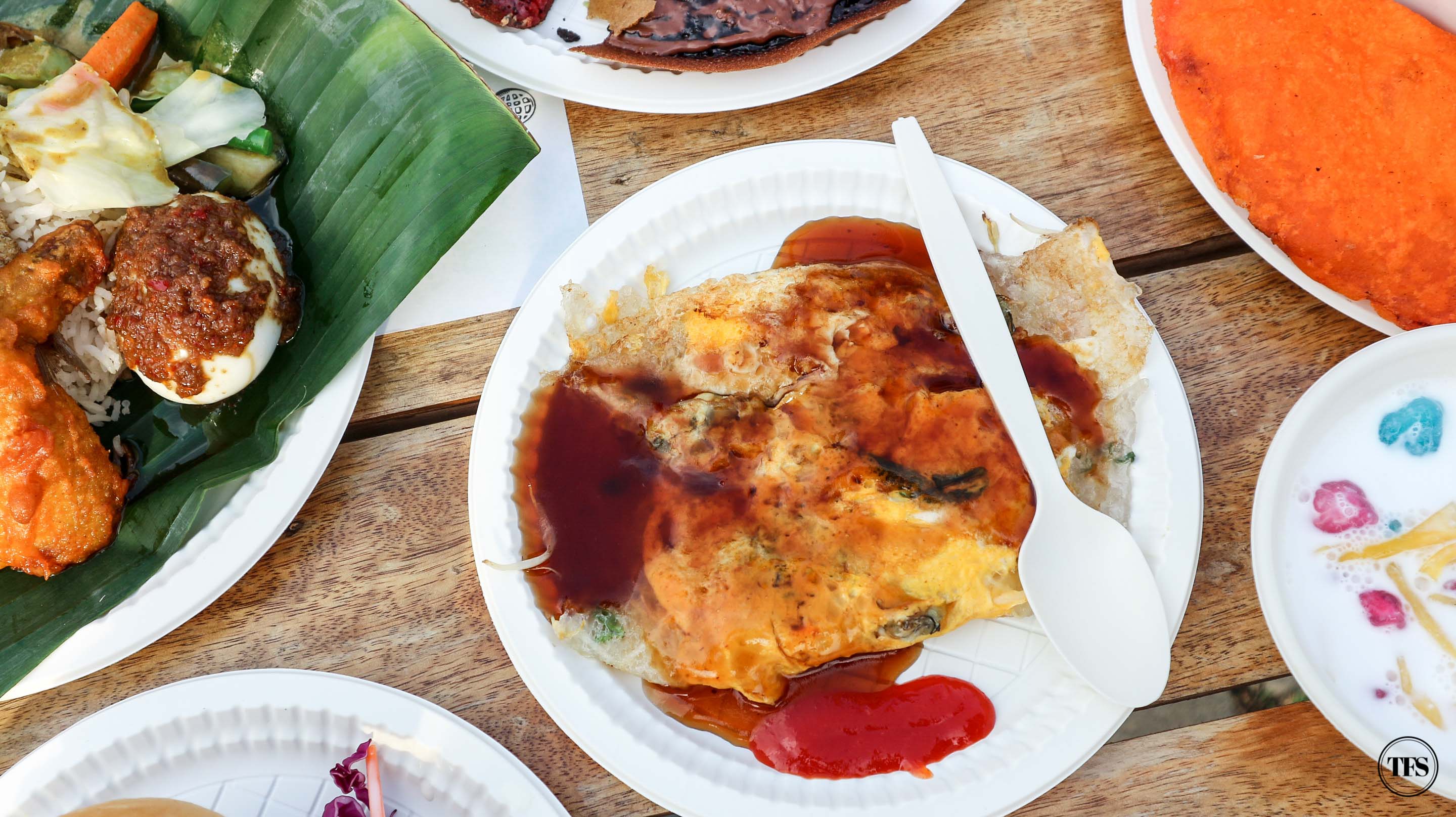 Called as Banh Xeo in Vietnam, it is crispy rice mung bean pancake with seafood, greens dipped in fish sauce.
One delectable and unique dish from Mexico, this Pork Trotters Black Bean Tostadas is ideal for 'merienda'. Pairing chopped up trotters with black beans and crunchy cabbage.
If you ask me my favorite, it's this Aloo Tikki from India. It's a messy and colorful snack made out of boiled potatoes, onions and various curry spices.
The Germans brought their national street food, the Currywurst Sausage. Blended with masala, a touch of Indian influences, and served sliced and doused with the Original Curry Tomato Ketchup Sauce. On top, it is finished off with ambrosial curry powder.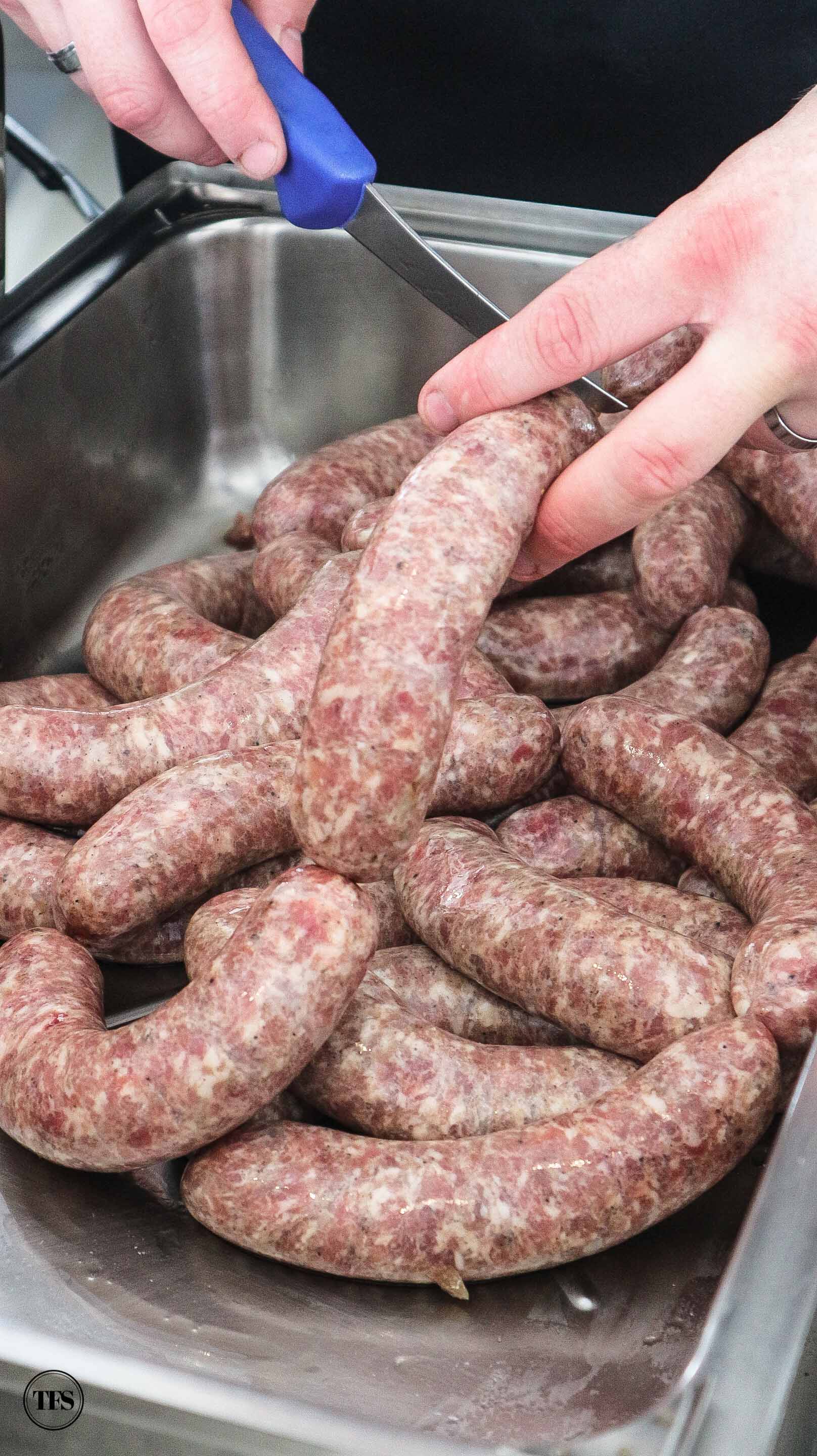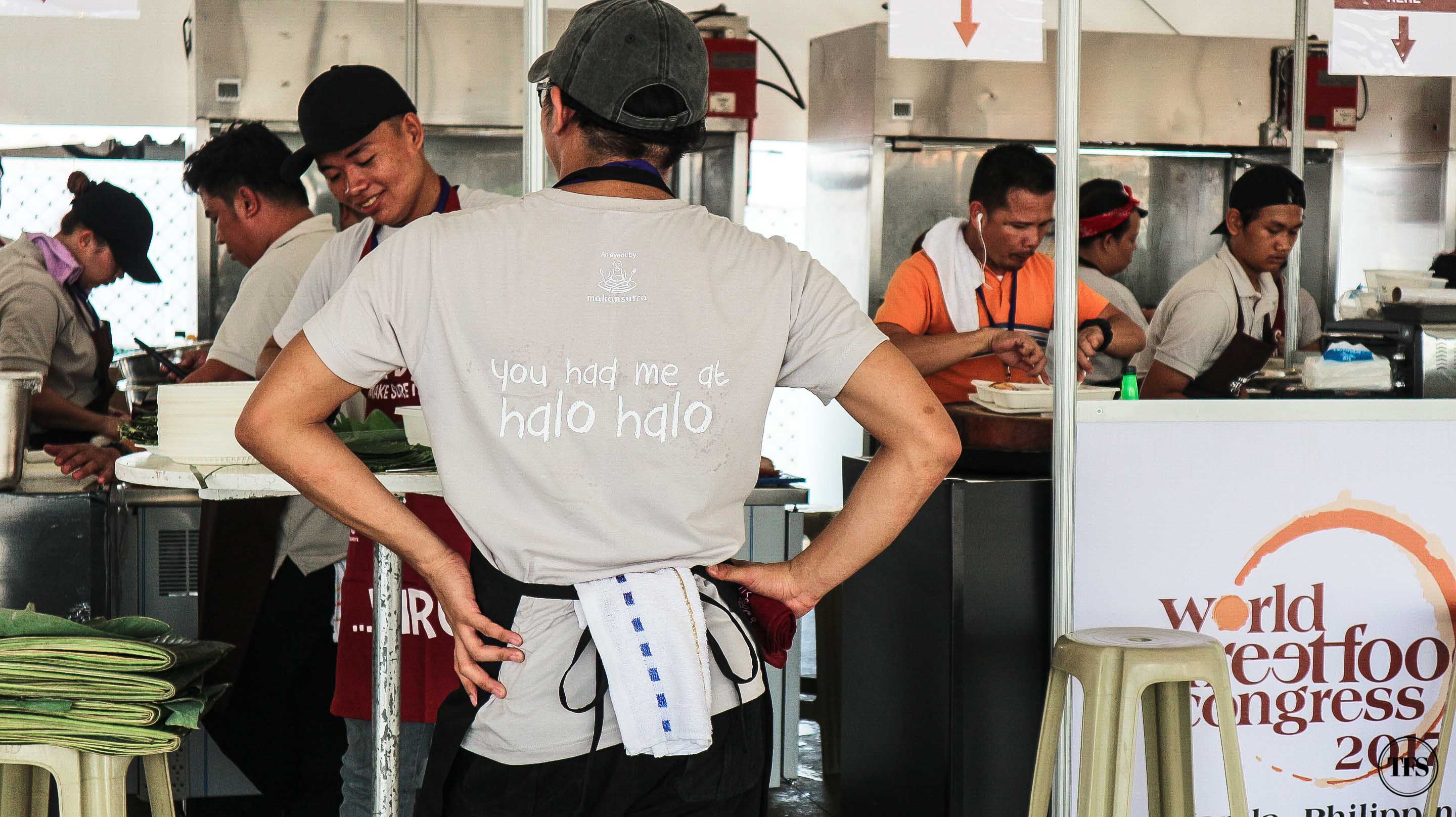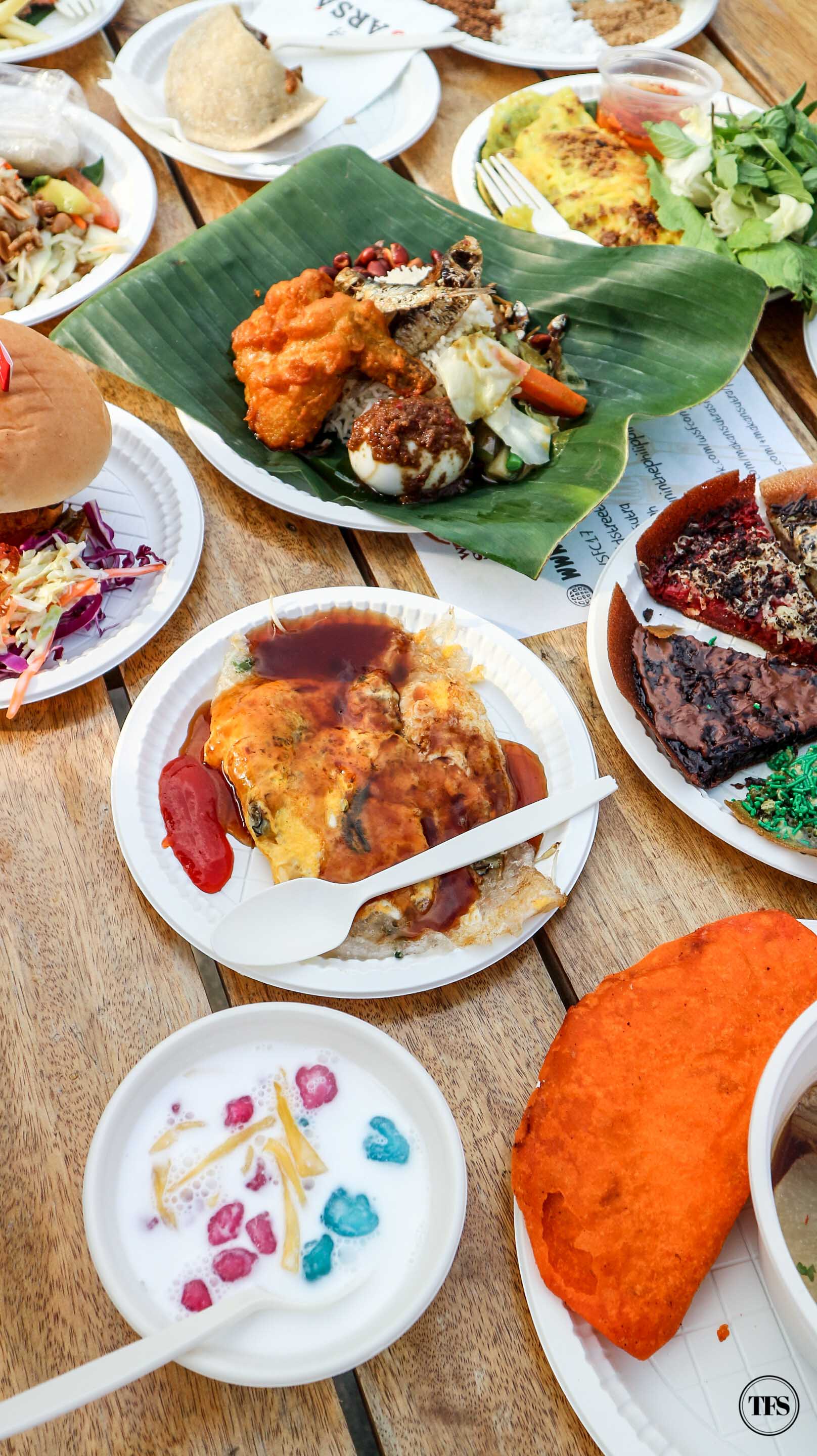 A sweet dessert from Malaysia, Putu Mayam is known as string hoppers. Thin mount of rice noodles with grated coconut and palm sugar.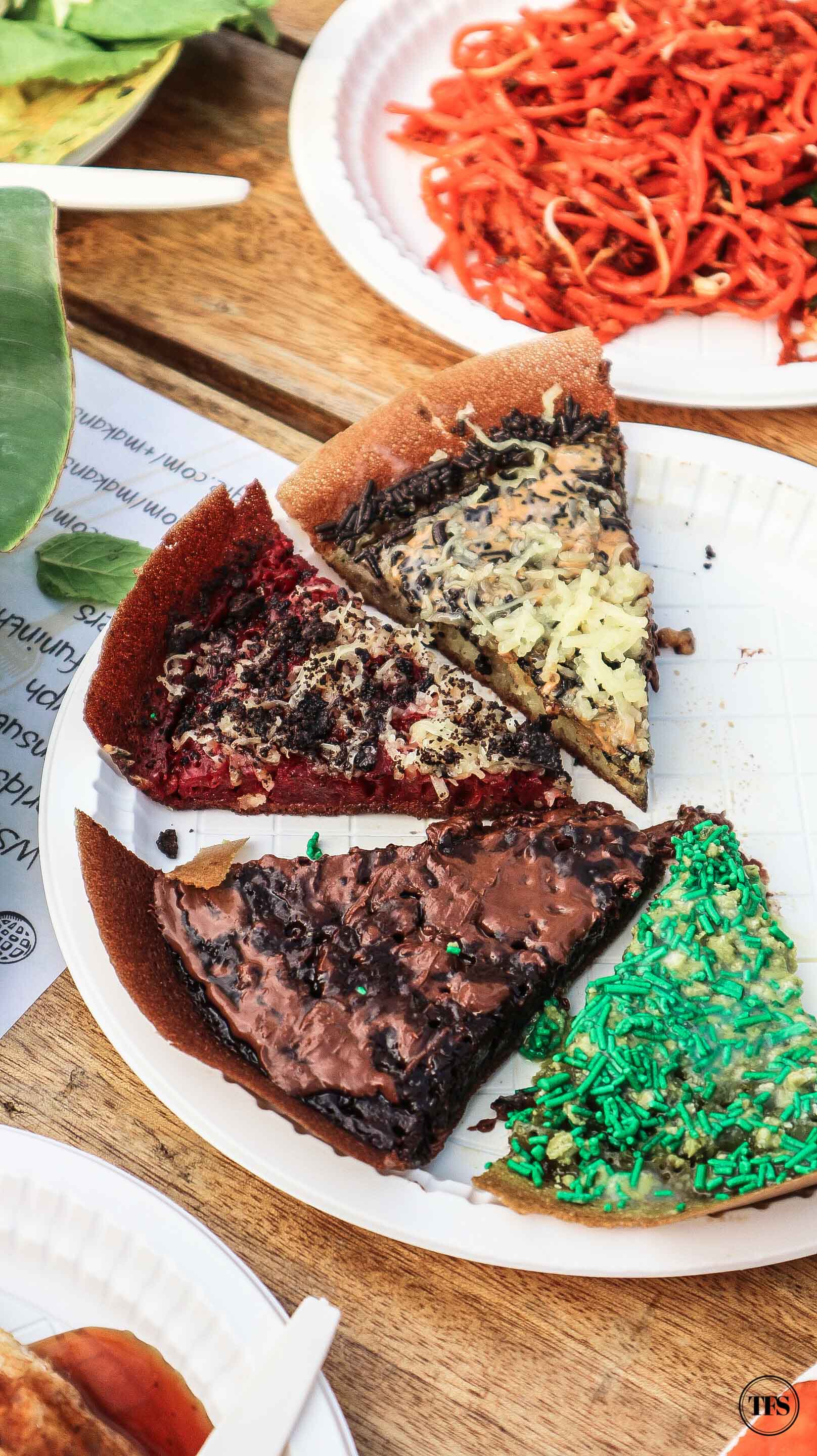 What we all miss from last year's World Street Food Congress, the comeback Martabak! The healthy martabak has no yeast and no artificial sweeteners. The crispy edges and soft gummy body texture won our hearts and sweet tooth.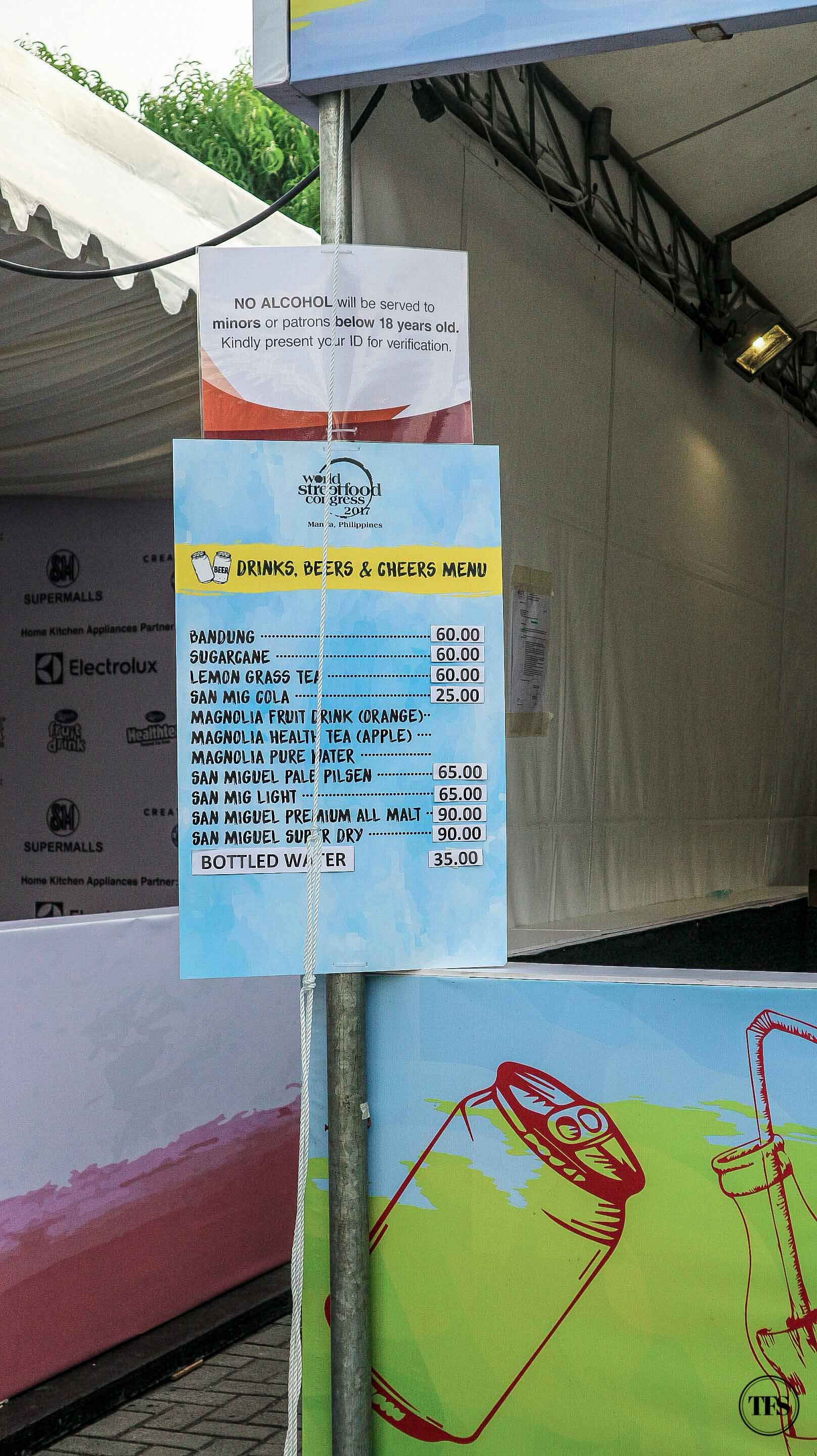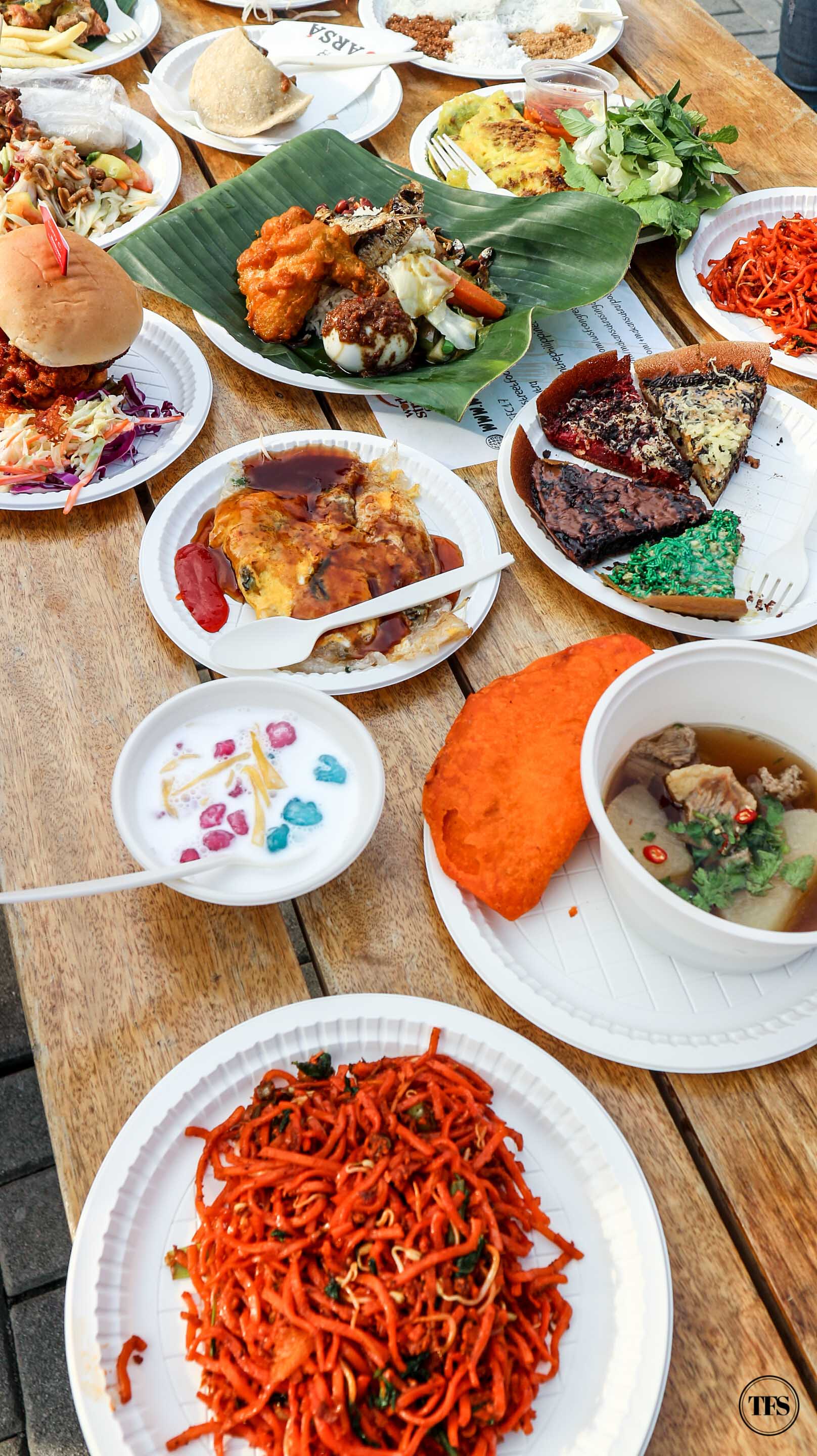 In one sitting, I tasted the best of our world's street food!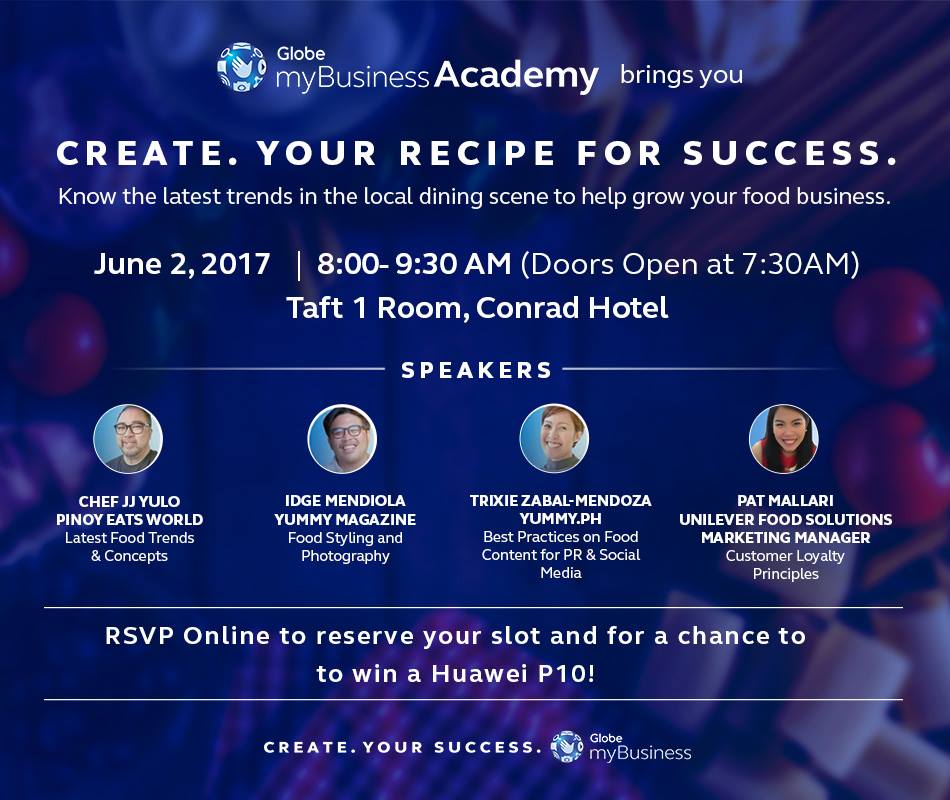 Before I forget, Globe my Business proudly supported this event through Globe myBusiness Academy.
"Globe myBusiness is all about spotlighting technological innovations especially when it is geared to contribute to the success of Filipino entrepreneurs. This edition of the Globe myBusiness Academy will give them an experience that we hope will help them improve their business materials through food styling and food photography on social media," says Derrick Heng, Senior Advisor for Globe myBusiness. For our local food entrepreneurs, this will enhance their business skills and overcome pain points of an entrepreneur.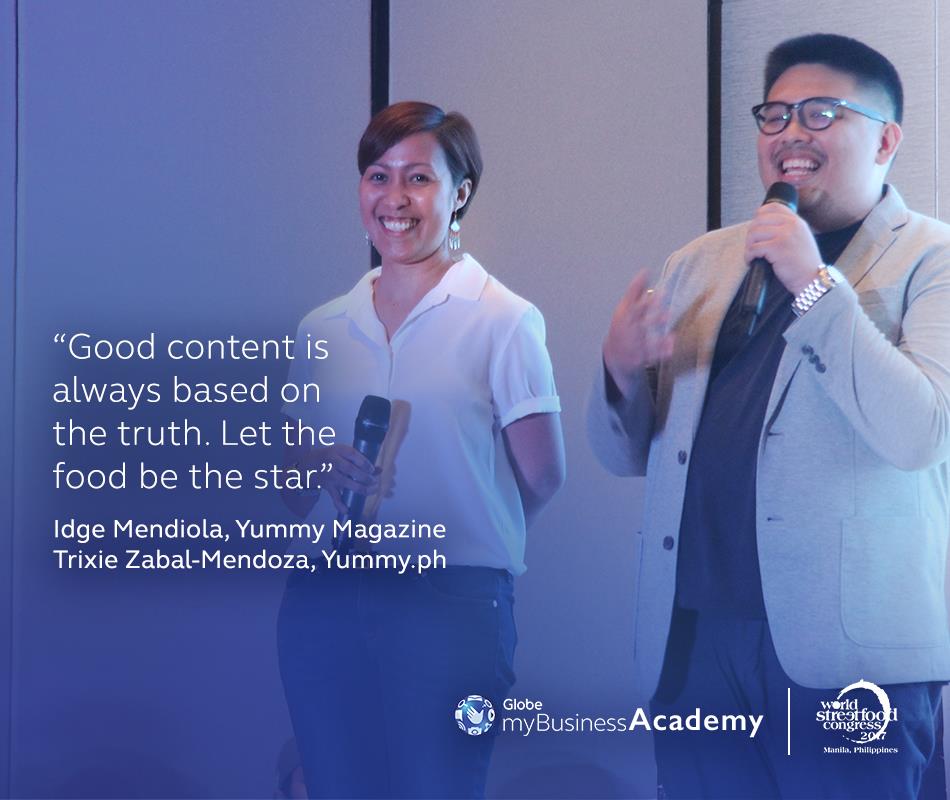 The newest digital rewards app called Rush was also launched. Through Rush, business owners can build a custom-branded loyalty app to keep customers coming back. For only P1,299 a month, customers can create their success by providing a digital punch card that rewards customers for every visit or purchase. Don't worry, you don't have to be tech savvy because the app is quick, easy to set up, and highly customizable. It provides real-time analytics and deep and actionable customer insights. Unilever Food Solutions, one of the first Globe partners to use Rush, will be sharing their experience and learning using the app and talk about customer loyalty during the dialogue.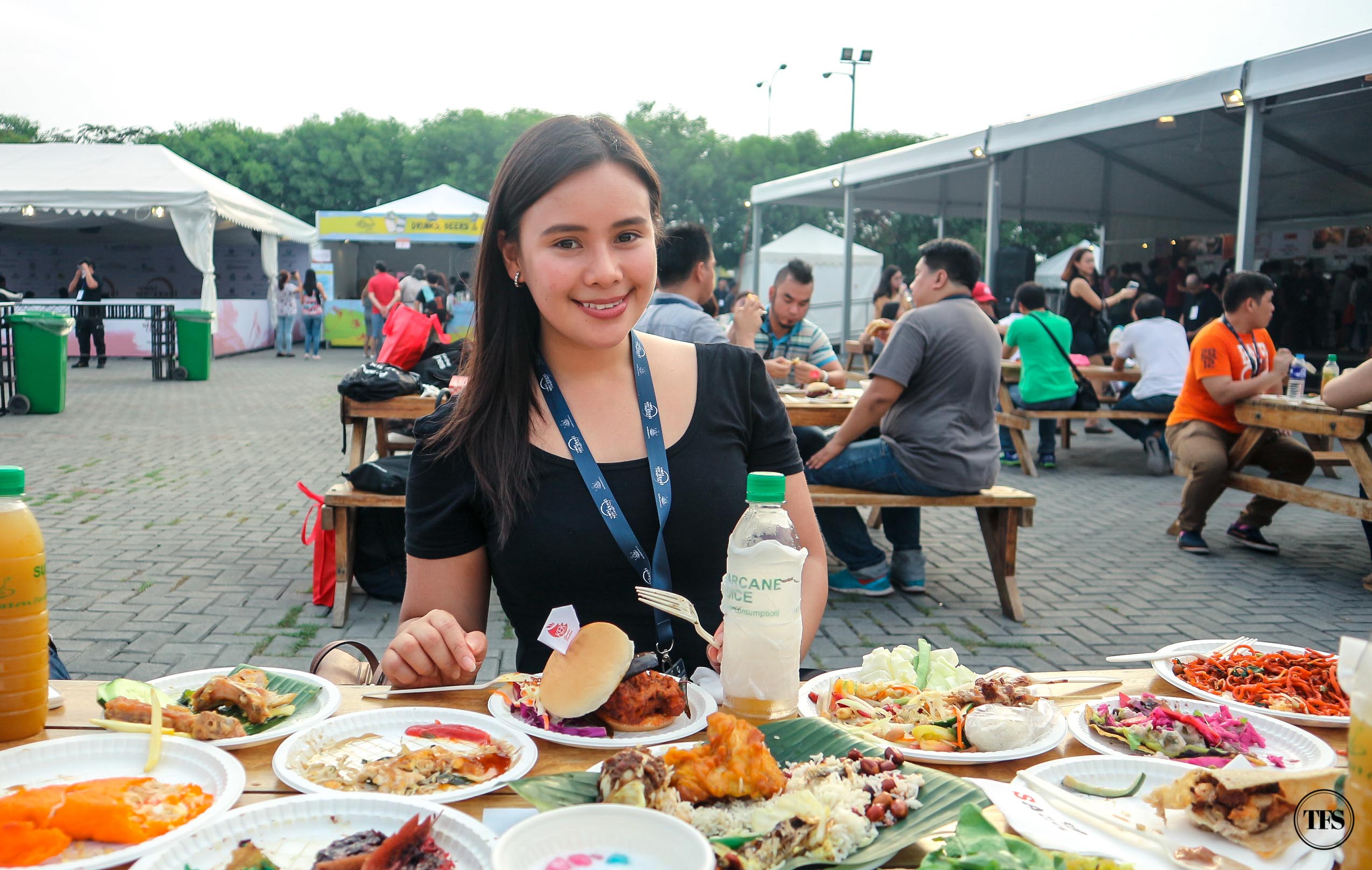 World Street Food Congress gave me nothing else but good food and imprinted unforgettable memories. Both my mind and tummy was well fed by the brilliant people of the F&B industry from all over the world. What's to love about the event is the convenience of not having to travel out of the Philippines to fill my table with authentic street food from all over the world. To tell you my take away from this event, my idea of street food is taken to greater heights. There's more to learn about street food. Being 'The Food Scout' it is my job to scout for more and be an instrument to share the beauty of food and culture to all my readers and followers. For now, I'll take it step by step. One restaurant at a time. One place at a time.
How's your World Street Food Congress 2017 experience?
Share with me your thoughts!
Stay updated and Subscribe to The Food Scout for Free!
Pray, Eat and Love.
Cheers,
The Food Scout