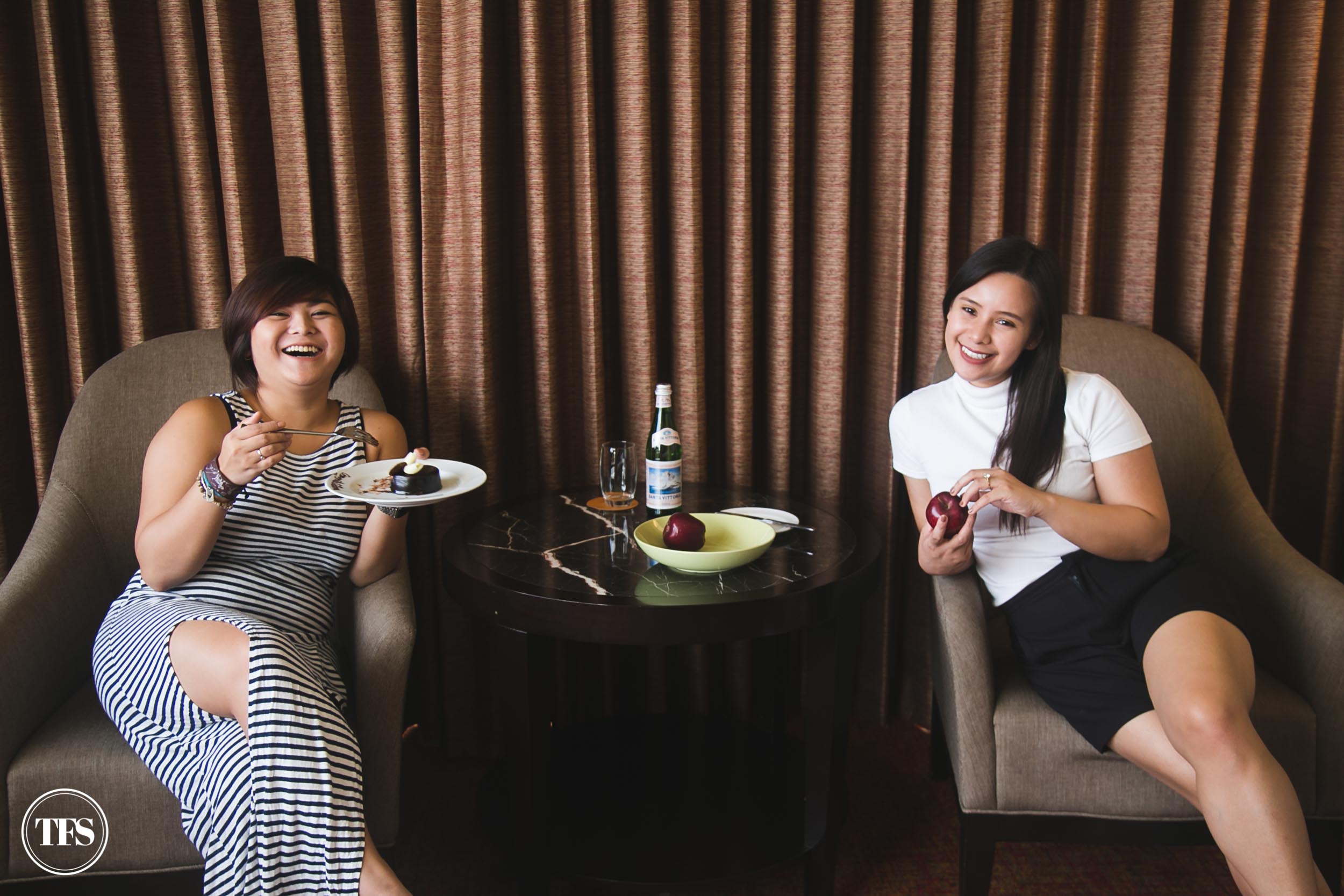 Before I became pre-occupied with wedding tasks, I assured I was able to bond with my girlfriend Sam. This woman is really close to my heart. She's the first person I thought of becoming part of my entourage. Several times, we spent time chitchatting in restaurants, my place and other interesting spots in Manila. But one of my memorable bonding moments with her happened last month at Hyatt City of Dreams. With my partnership with Hyatt City of Dreams, Sam and I had the privilege to stay overnight at this grand hotel.
My Hyatt City of Dreams experience cannot be kept in my own memory bank. The relaxing 2 days and 1 night I had is meant to be shared to those who are looking for a new hotel to stay in here in Manila. Ok let's get down straight to the point. I know you want to read my 7 Reasons to Stay at Hyatt City of Dreams!
The Room…with a view!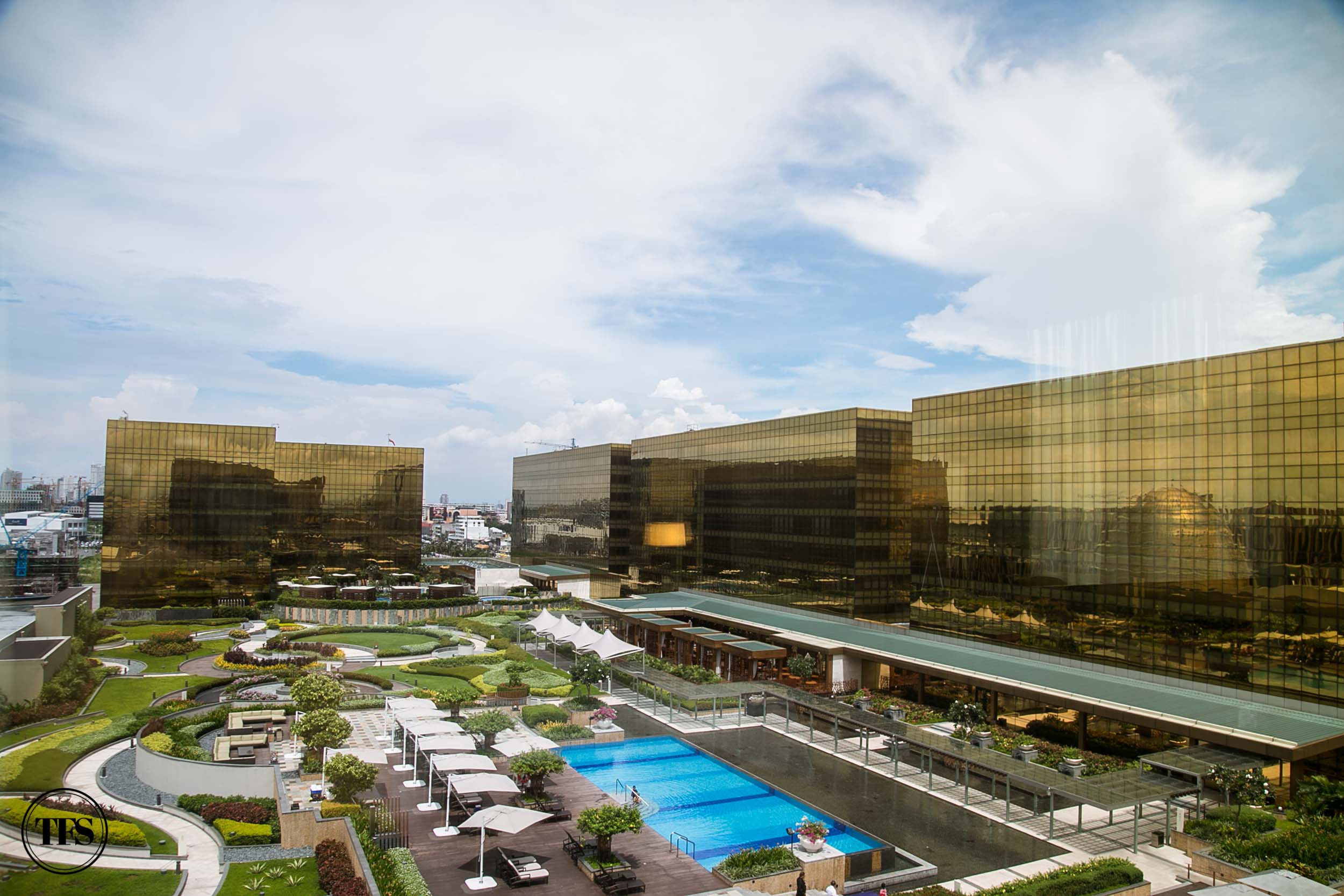 Jaw-dropping view of my room in Hyatt City of Dreams! I was literally in awe of the view after checking in and entering my Deluxe King Corner Room.  That's the very first thing I noticed. Not the bathroom, the view. Haha! Although most of the time, it's the bathroom. I was distracted by the room's giant, almost floor to ceiling windows, that I ran straight to push the white curtains to the side and stare at the beautiful golden architecture and garden of City of Dreams. Since we stayed in a corner room, we have two sides of the window. One is facing Hyatt's exclusive swimming pool, which I will show later on. And the other one is this, showing the garden and pools of City of Dreams' two other hotels, Nobu and Crown.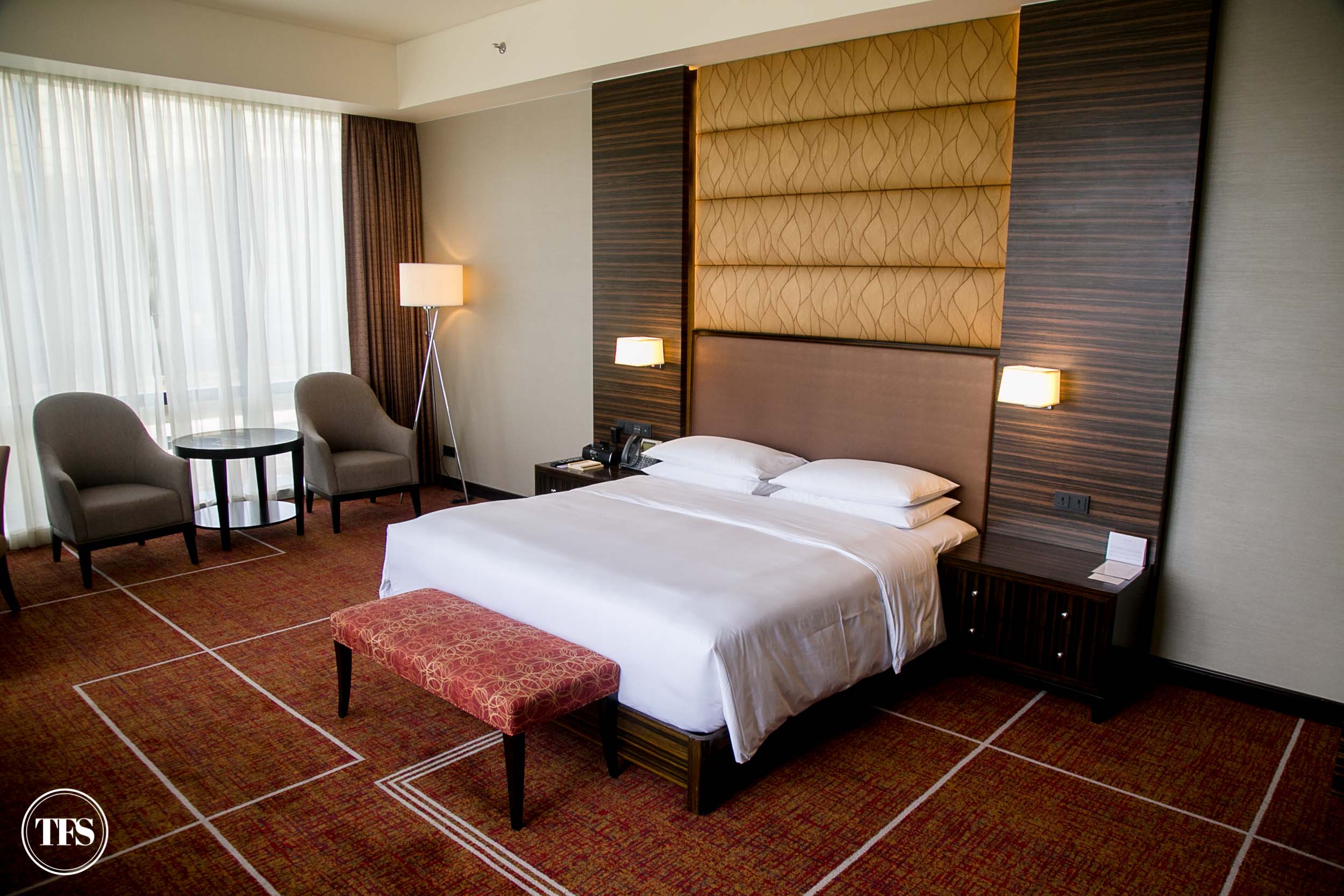 A king-sized bed was provided for me and Sam, with spacious floor where we can actually run around. Haha!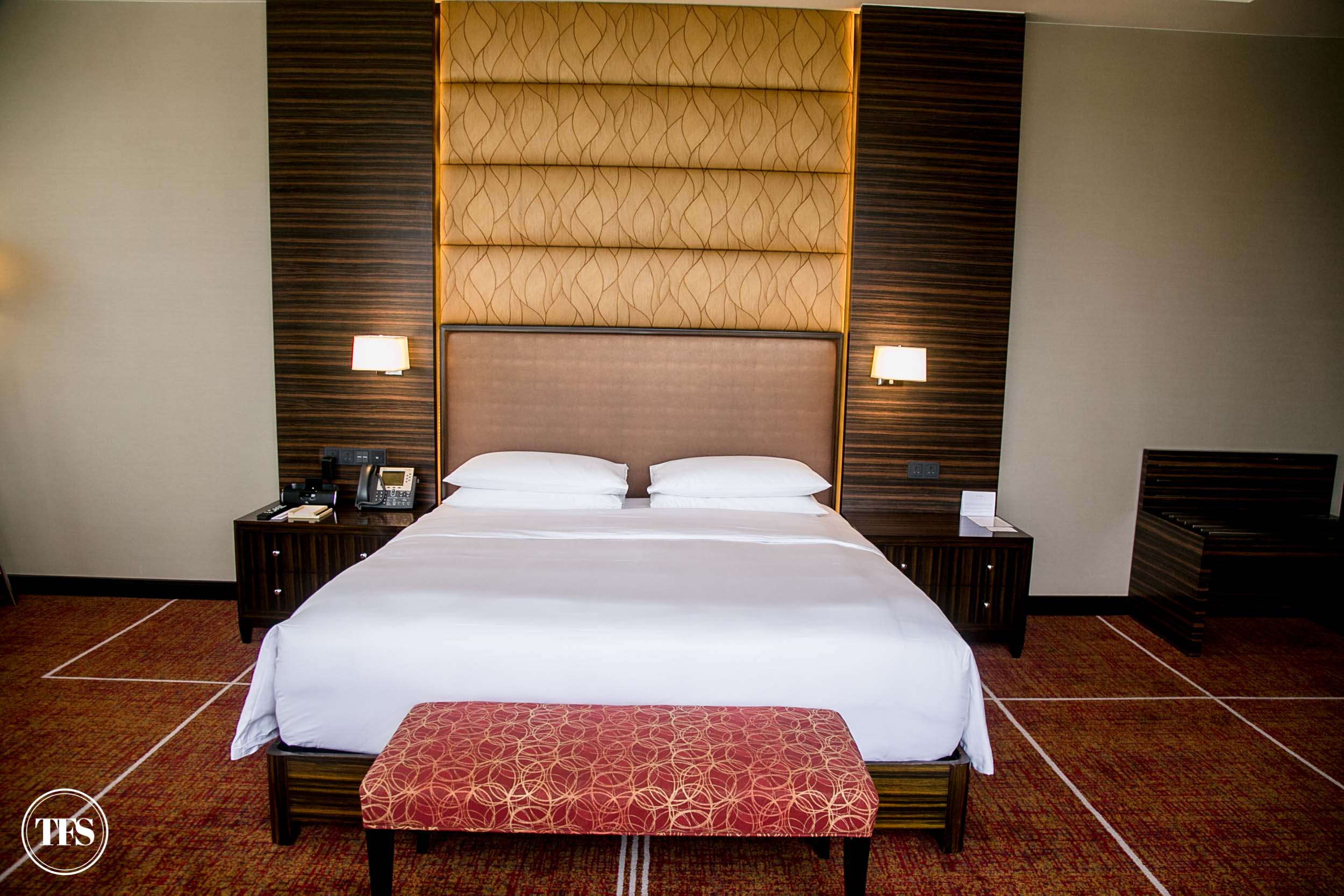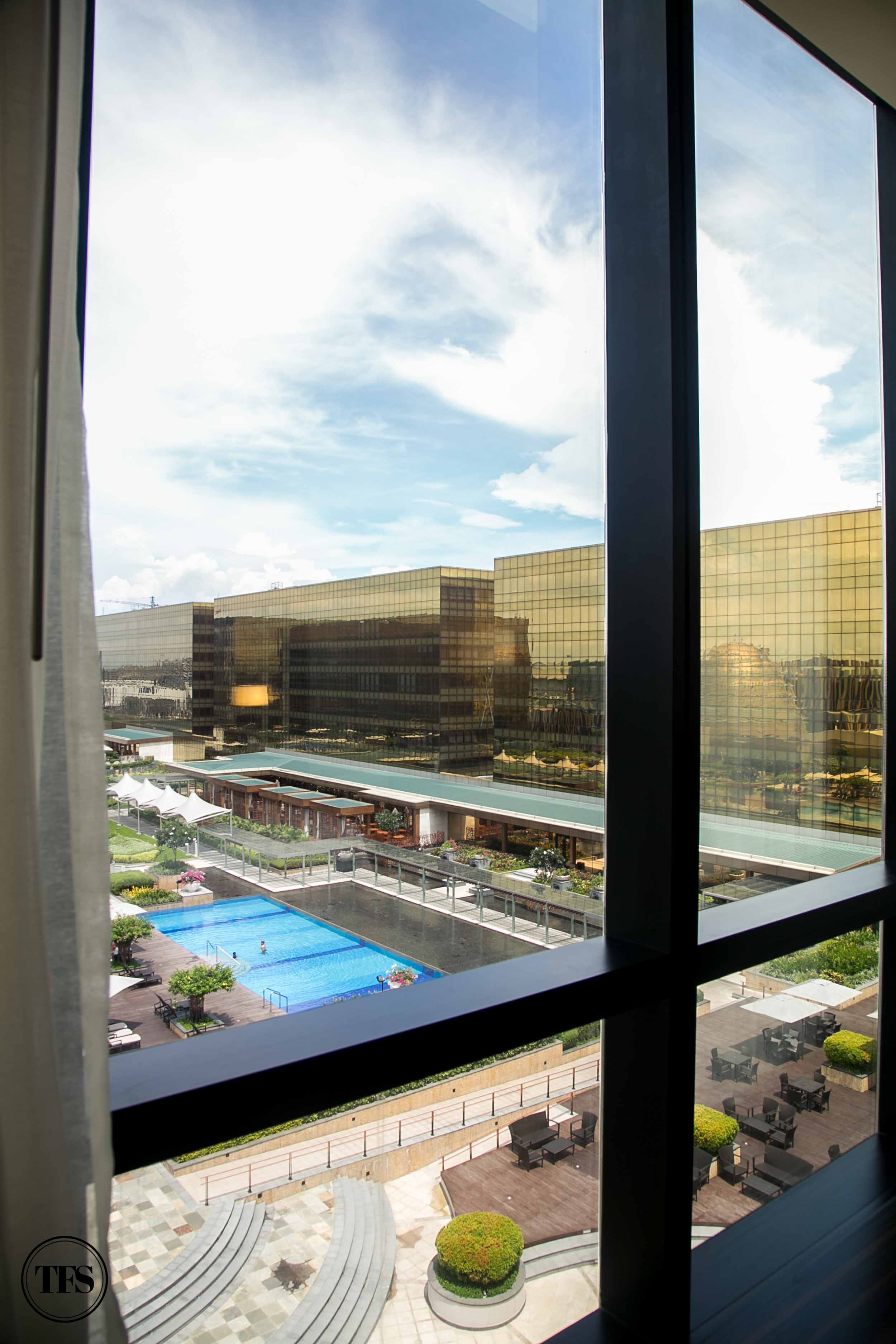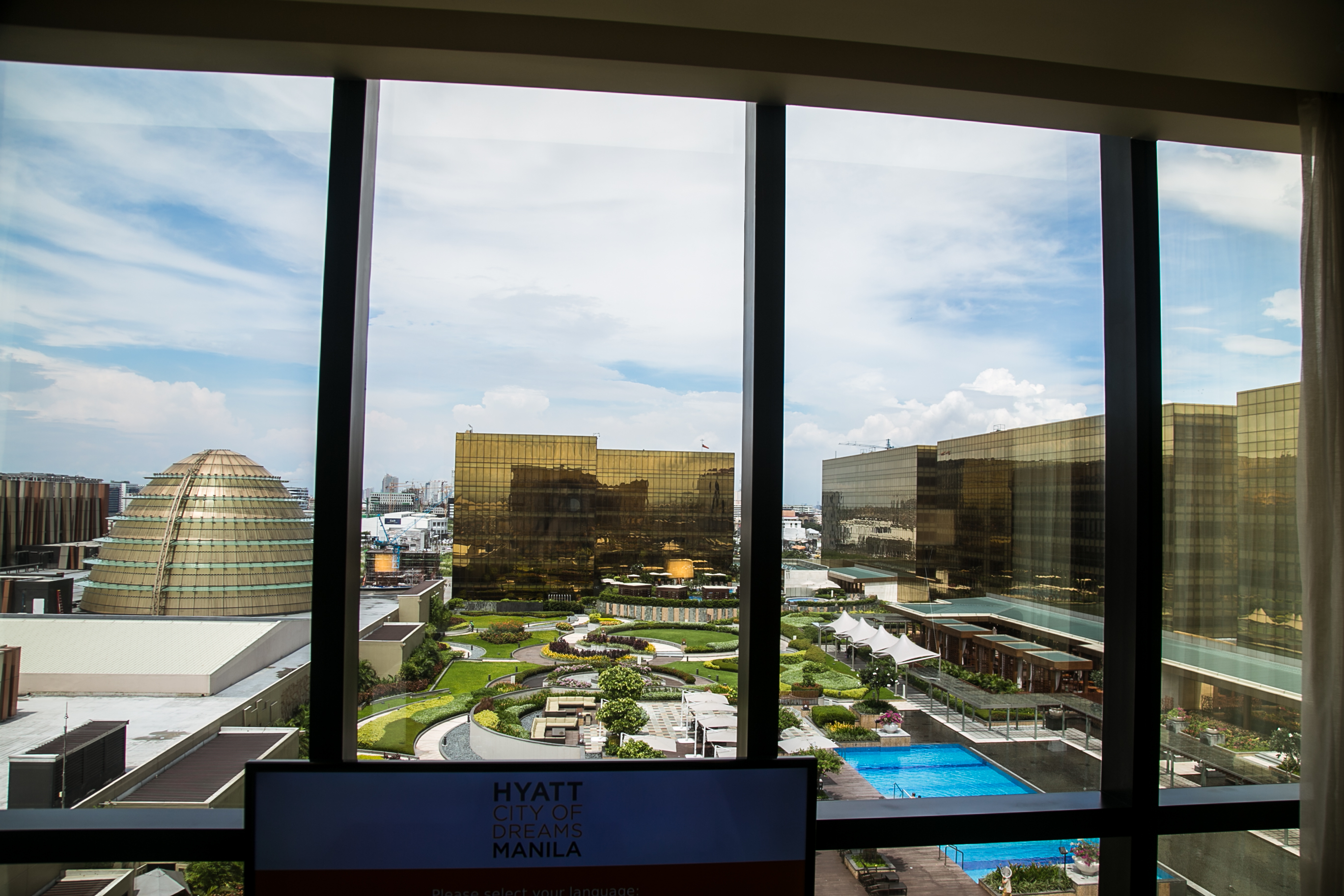 The bed faces this side of the building. Imagine, we both woke up with shades of gold and green. A wonderful and unique sight indeed.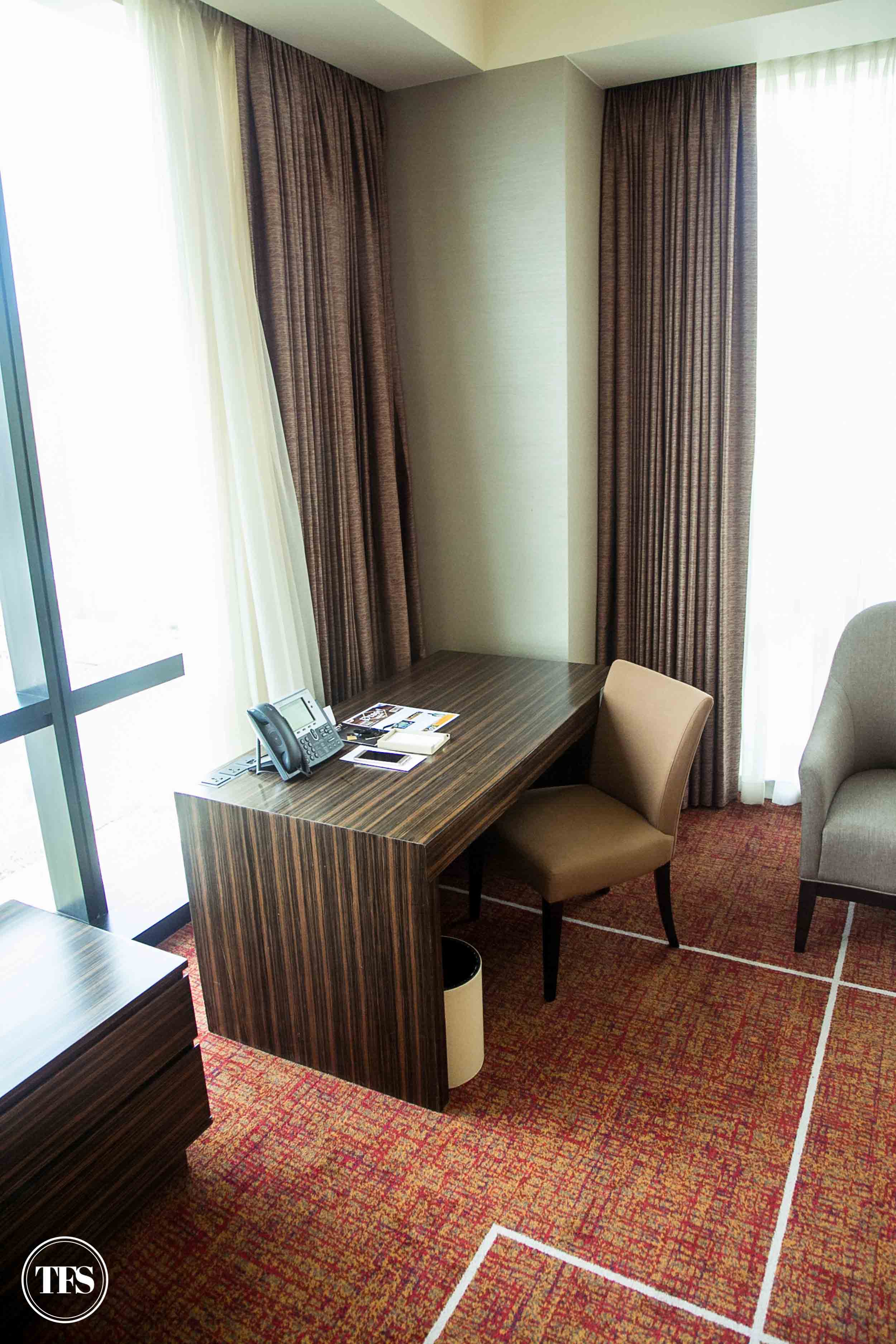 I occupied that little corner where I could work for a moment. There were 2 sockets on the table, good enough for my phone charger and MacBook charger as I work. The chair, although not office chair like with wheels, was comfy for me.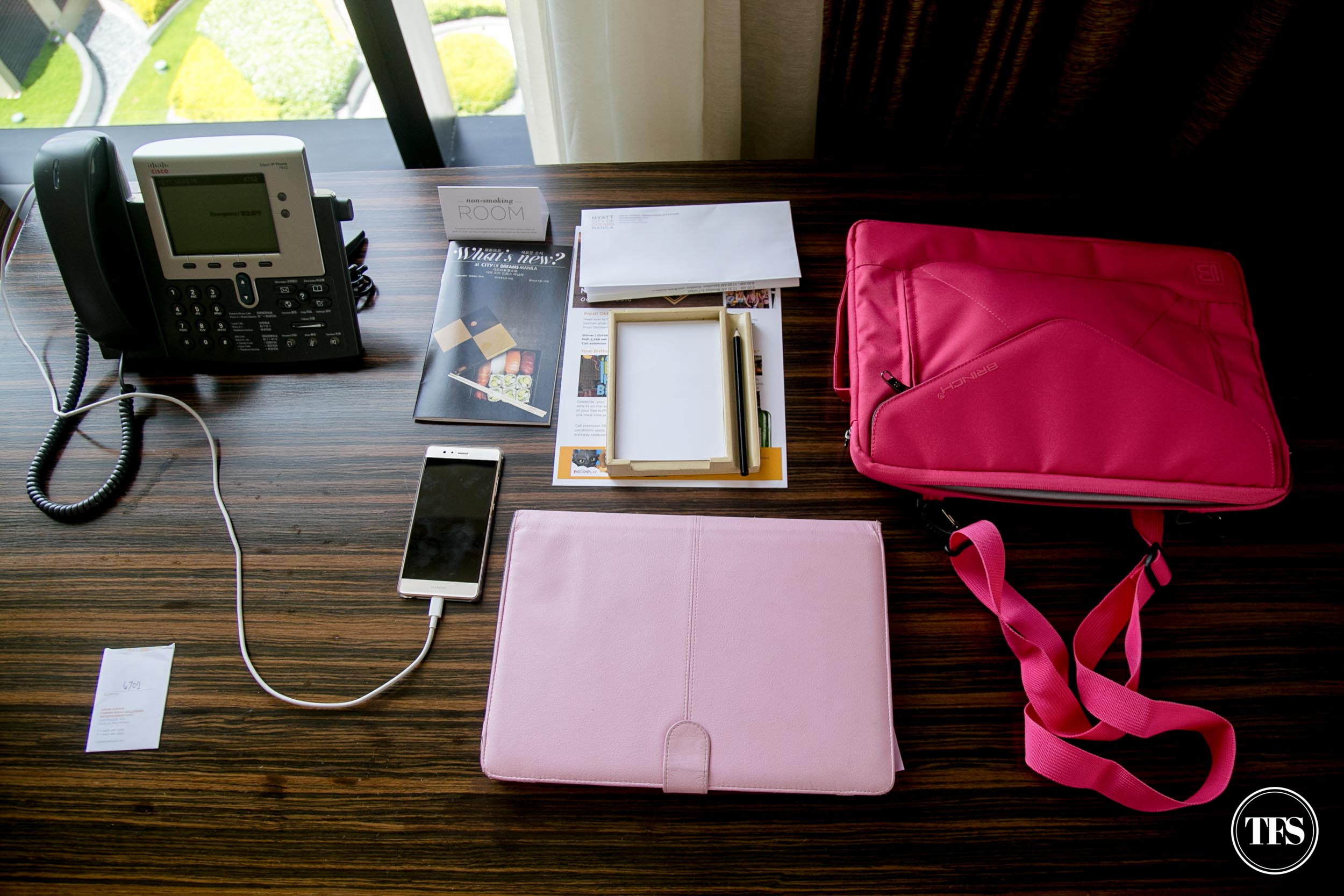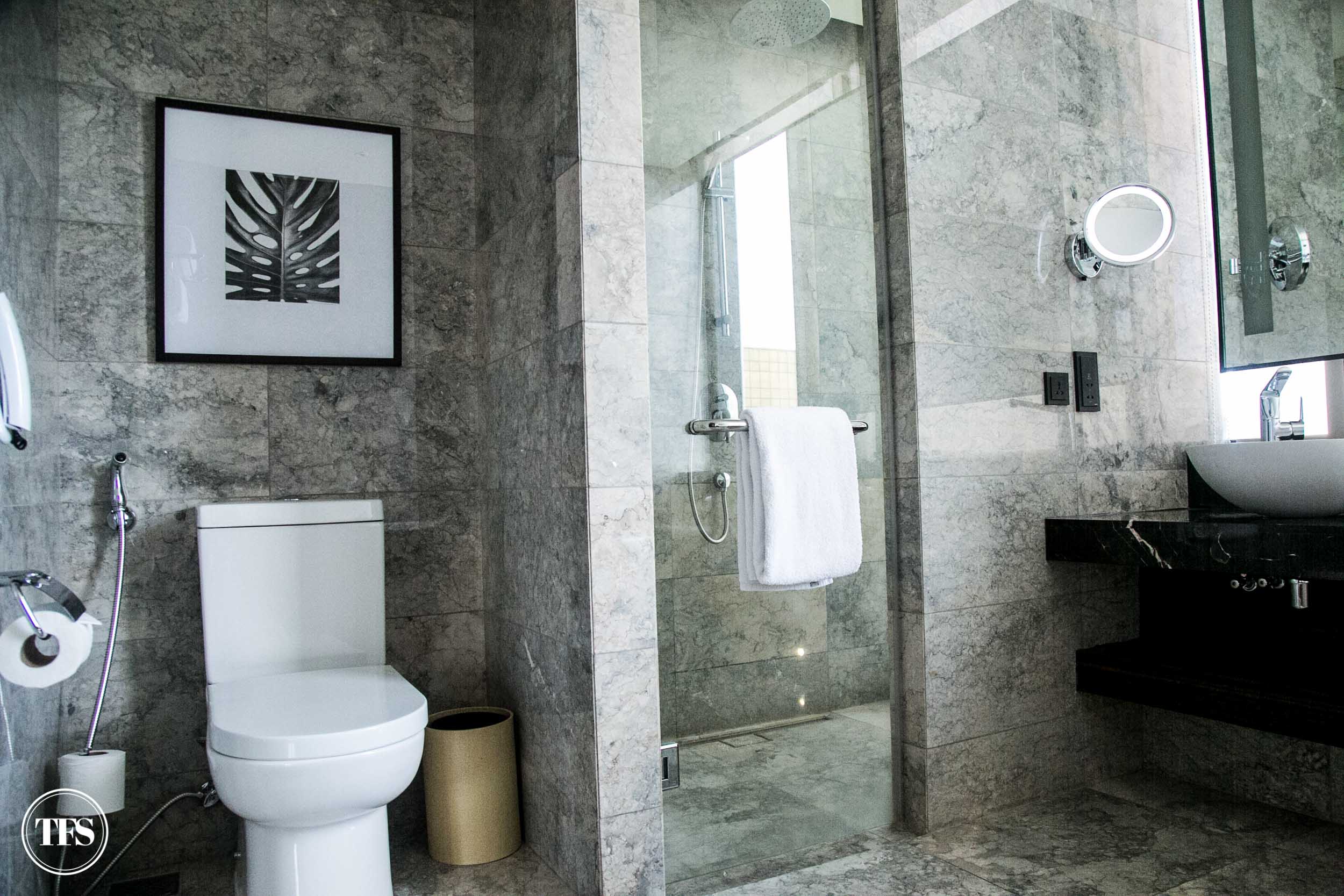 On the other hand, the gray marbled bathroom gave the room a different feel. It somehow feels like you're in a spa with its bathtub detached from the wall.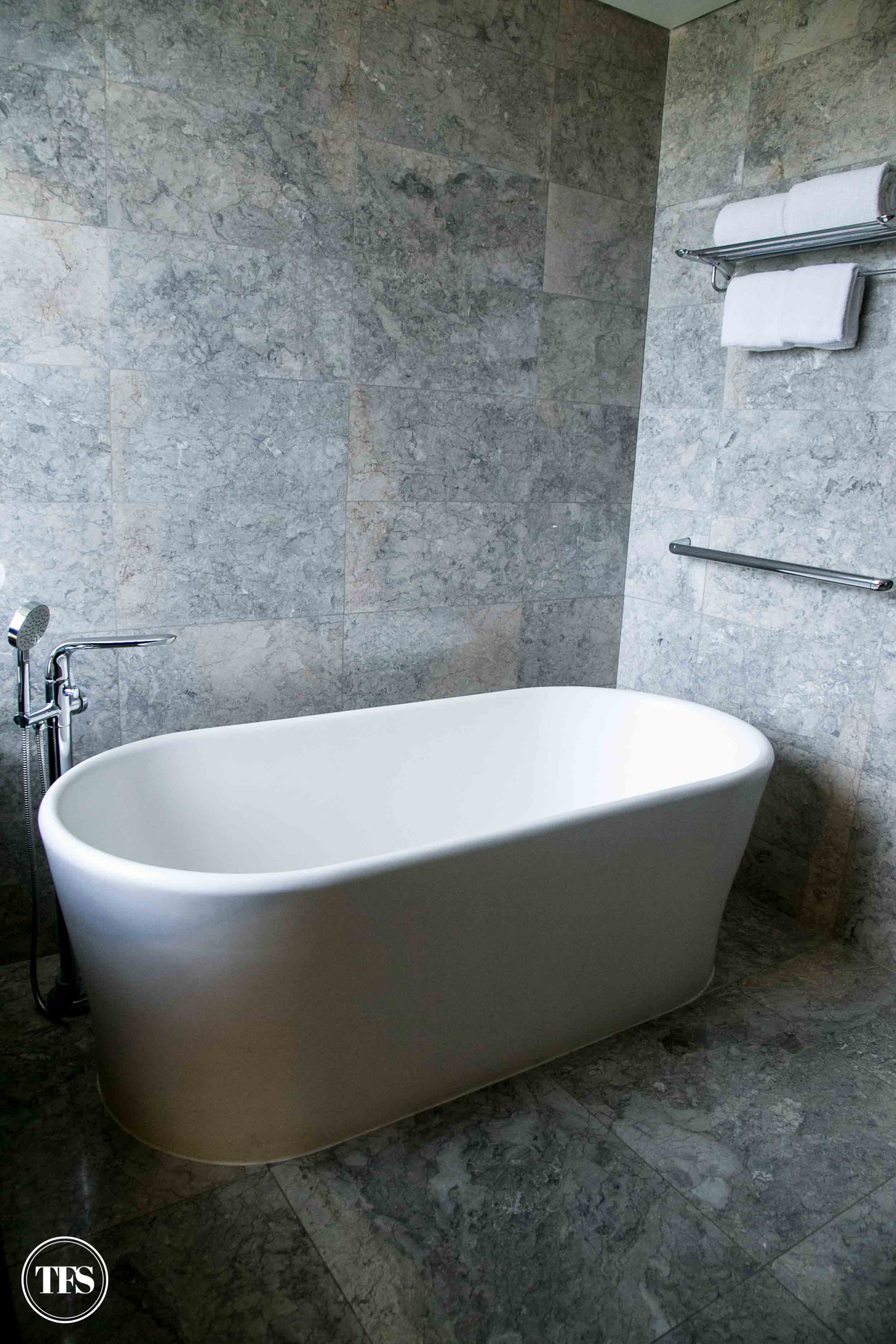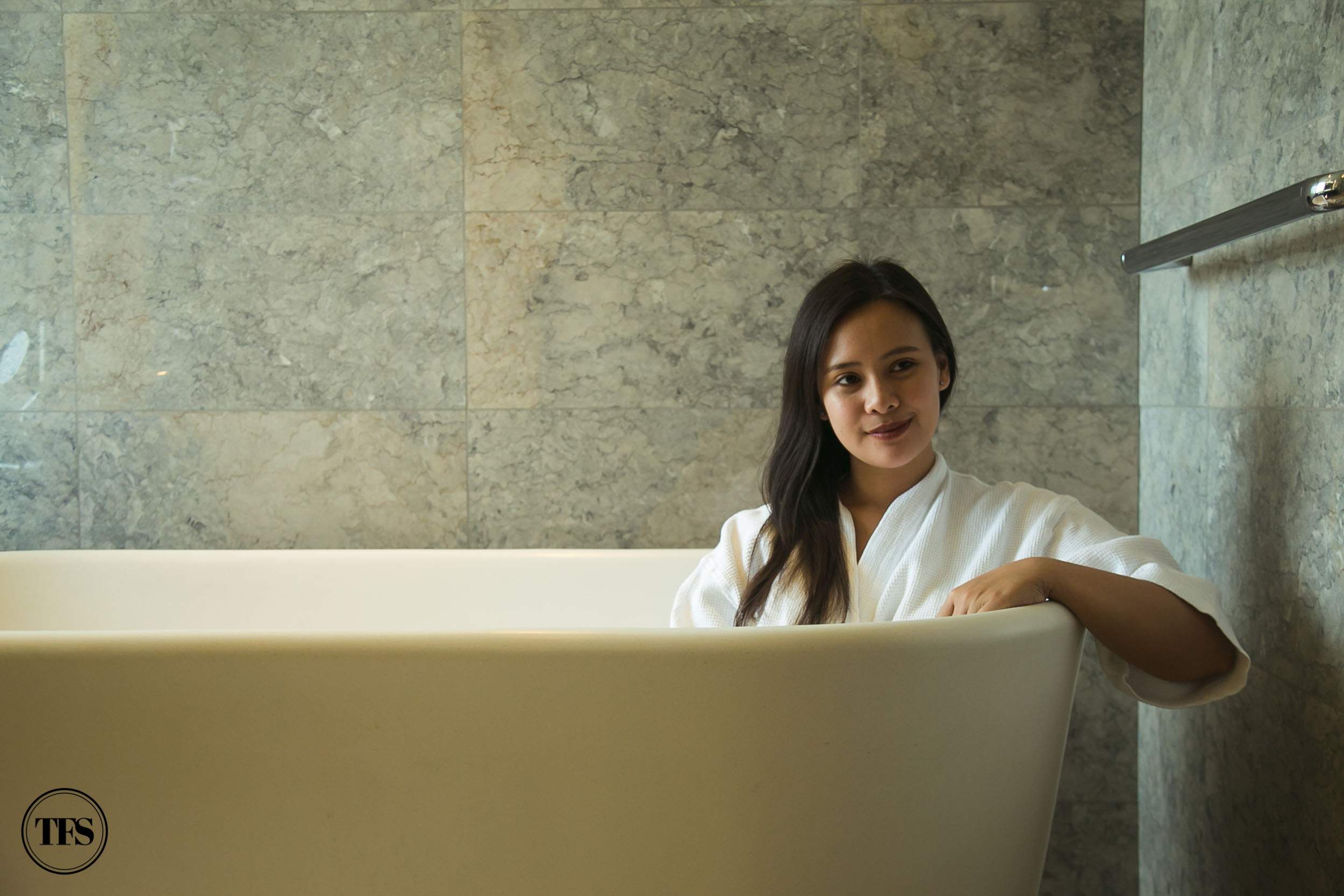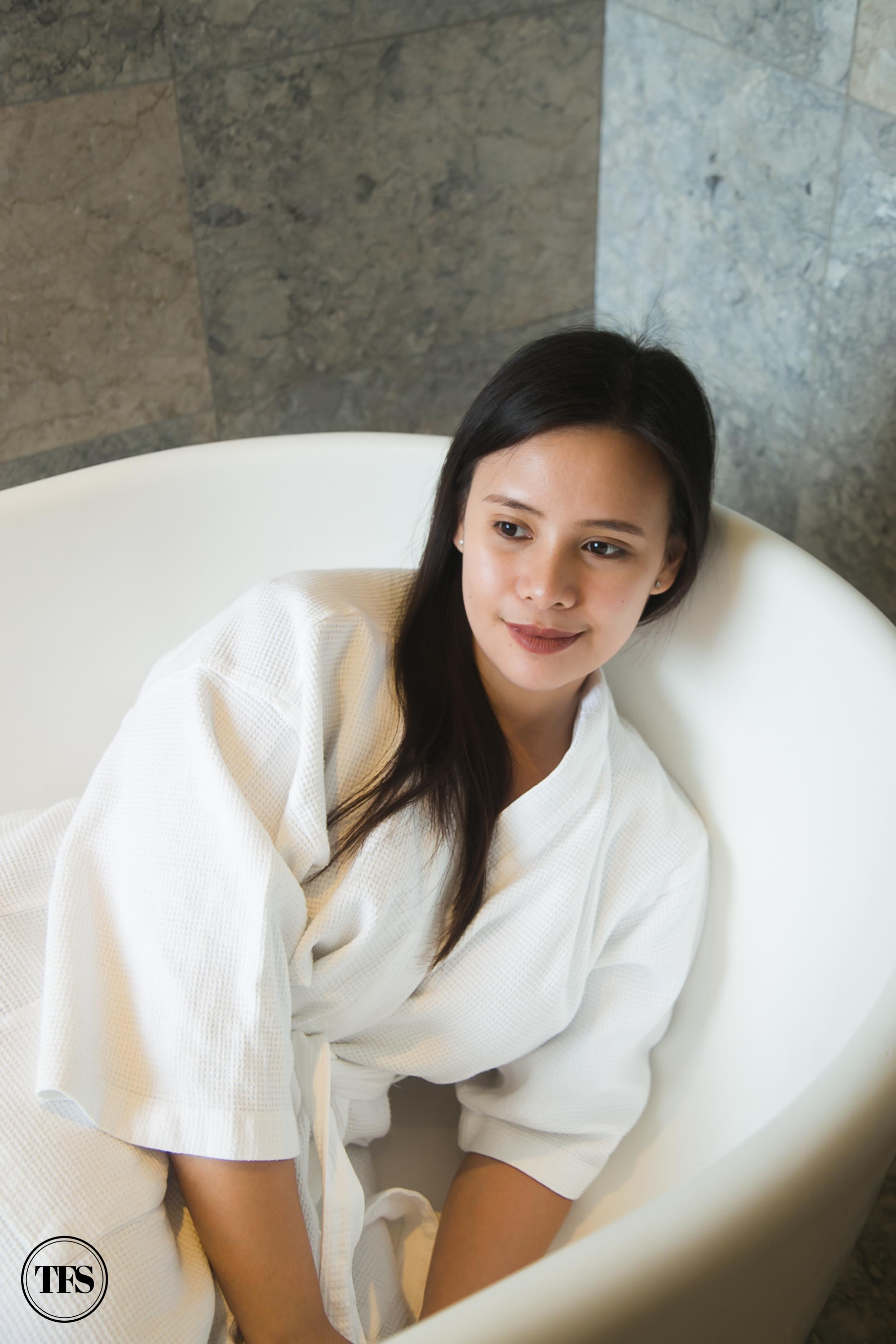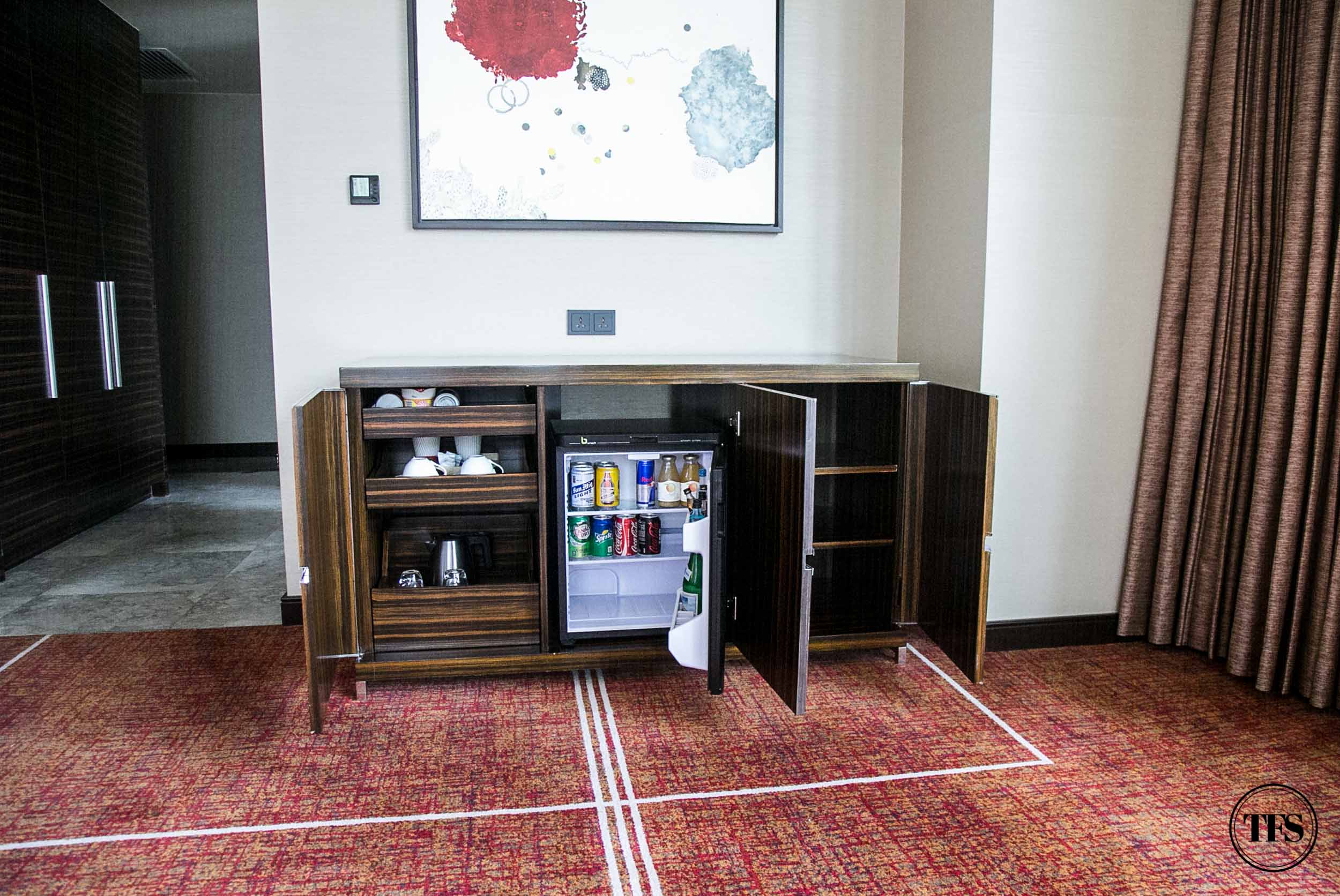 On one side of the room, the fridge and storage cabinets for glassware and food are placed. The room is full of sockets too! Good for gadget-loving people like me and O. There's one more socket on top of the cabinet where the fridge is.
Relaxation at the Club Lounge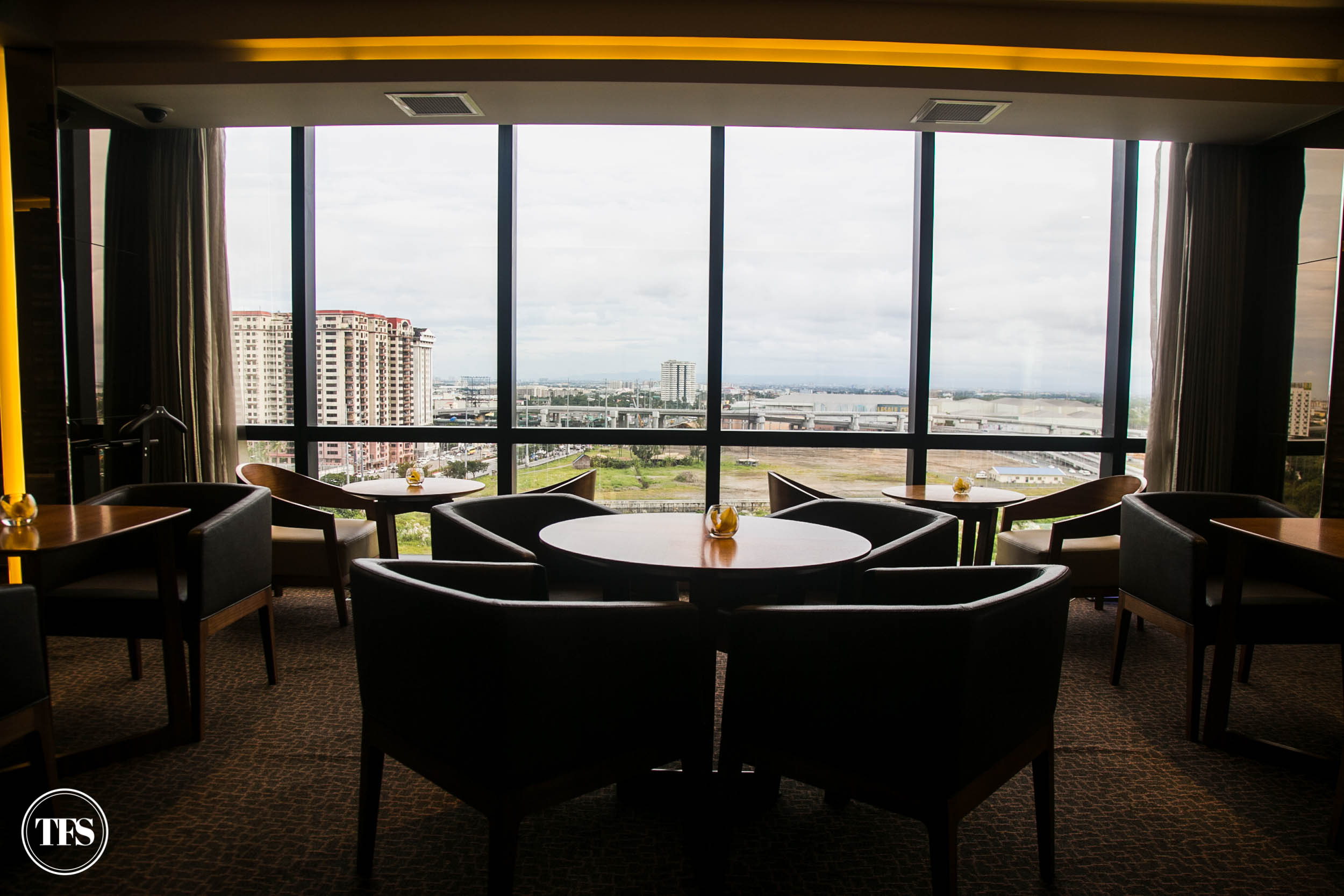 Guests staying in any of the 45 Club rooms within Hyatt City of Dreams Manila are welcome to visit Club Lounge on 7th floor of Tower II.
Reserve your afternoons for a quiant and comfortable stay at the Club Lounge. When Sam arrived the hotel room, where I was working while waiting, we didn't waste time anymore and walked straight to the Club Lounge. At around 2 in the afternoon, they served pastries, sandwiches, cookies, coffee and tea. I had my teapot while Sam had her cup of joe. Like 'titas of Manila', we preferred sitting on a couch and hanging out at the lounge than hurrying to take a dip in the pool. Haha!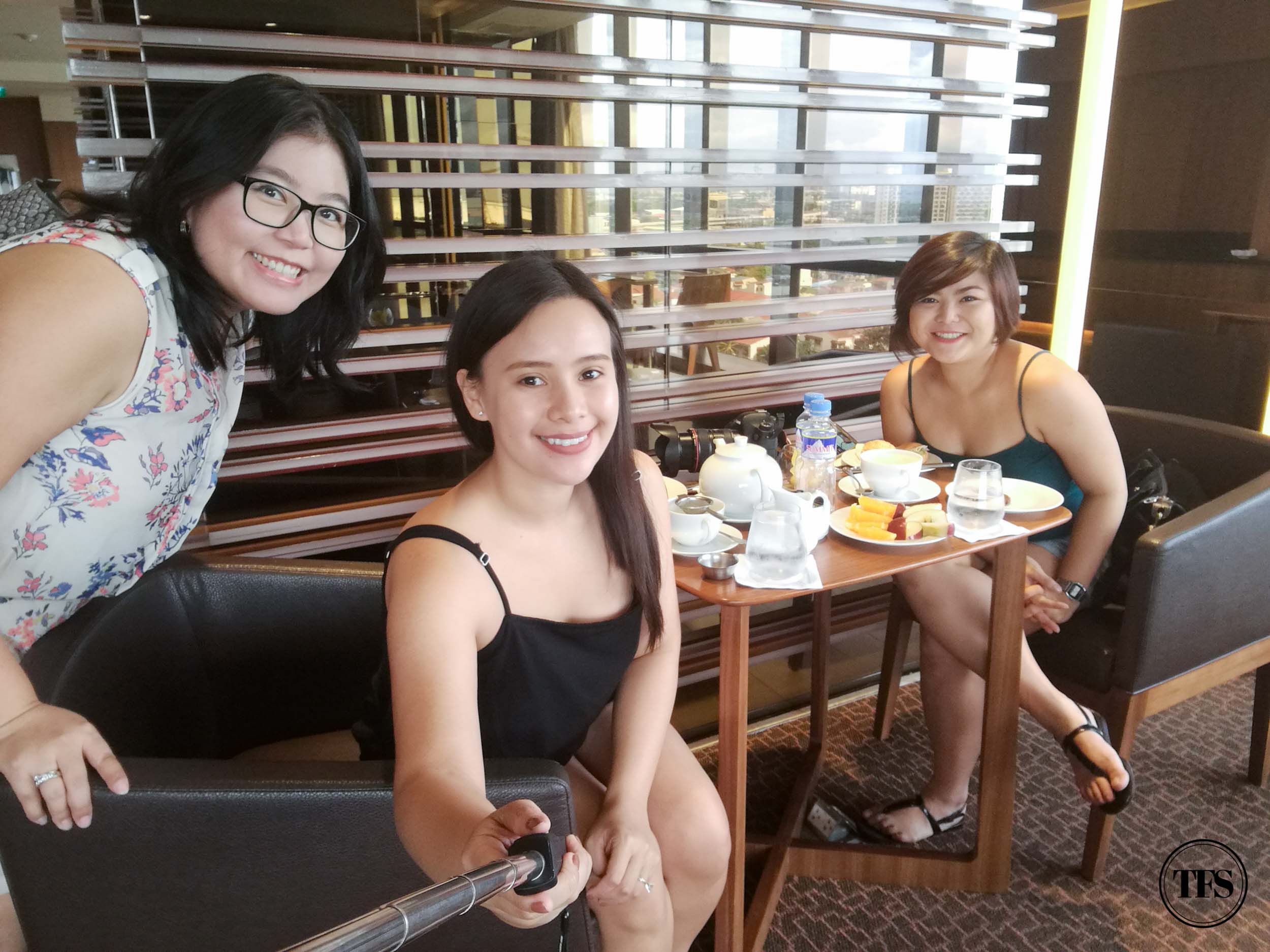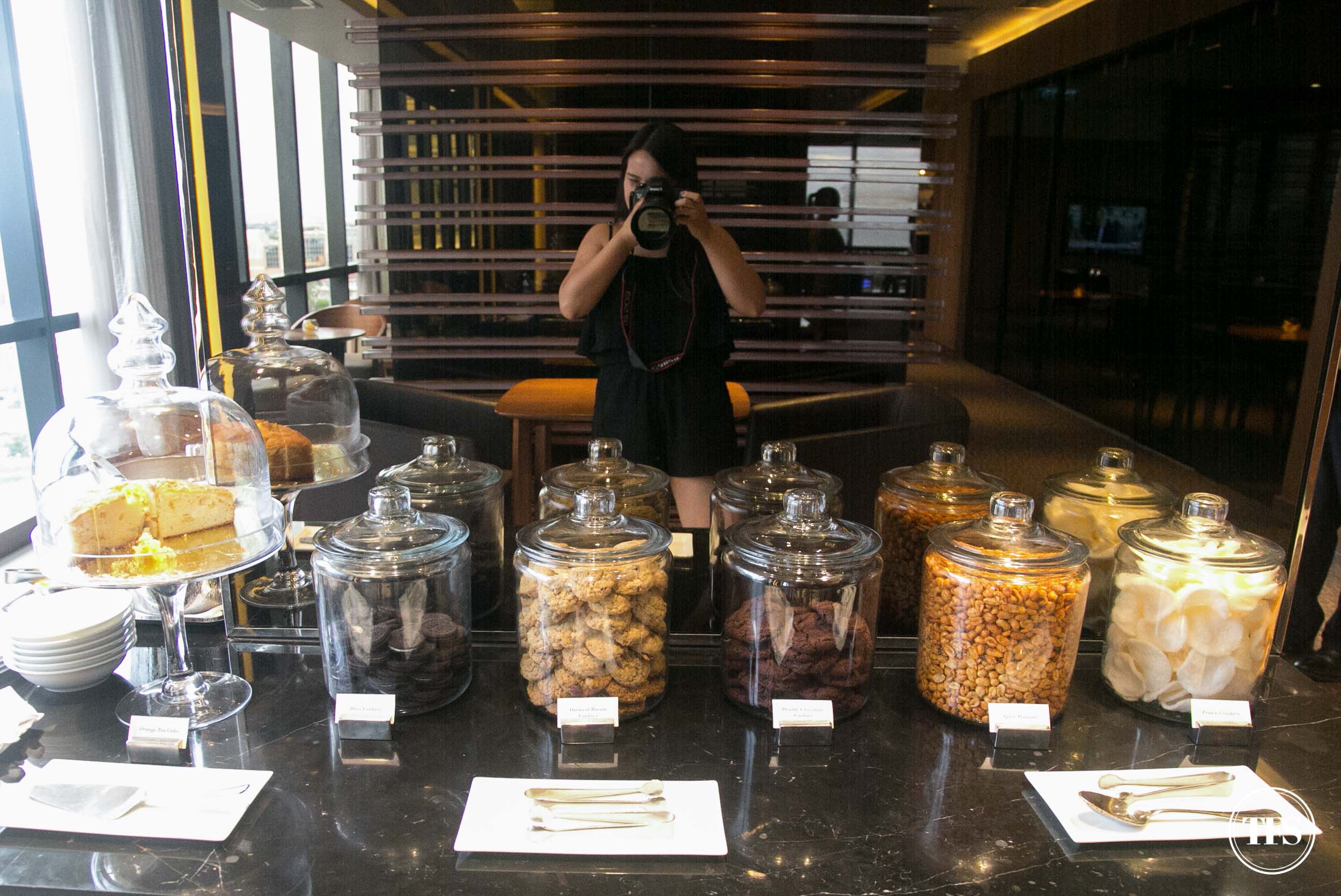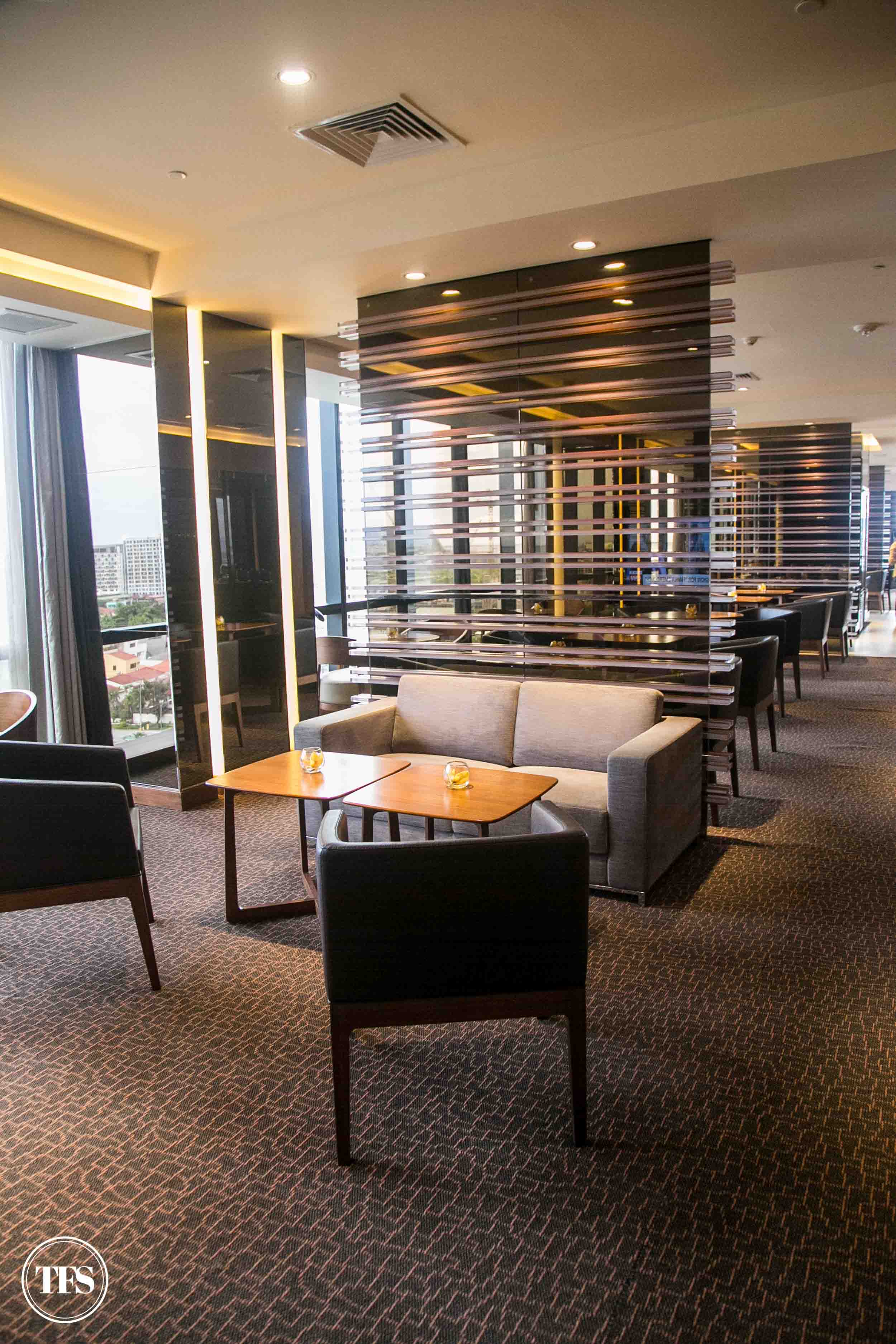 Guests can enjoy a host of exclusive, complimentary services including personalised, seated check-in and check-out; breakfast; drinks and light snacks all day; and canapés and pre-dinner drinks from 6:00 – 8:00 PM. 
Internet Speed to the Max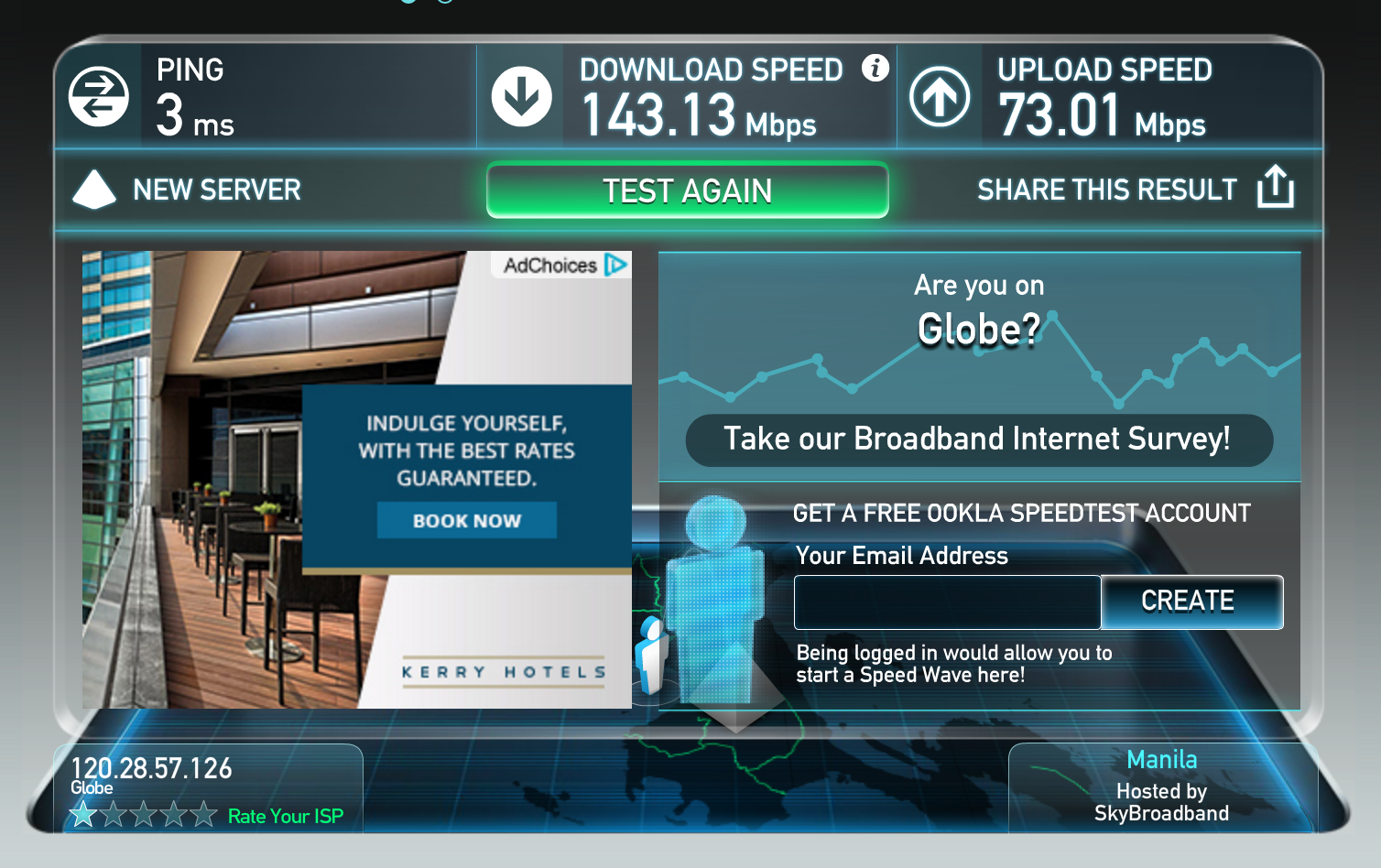 Internet matters. We all know that. Millennials and kids of the millenials might not stop using the internet when they experience the speedy internet connection of Hyatt City of Dreams. I had to test the speed over and over again just to make sure. Because damn! Damn! This is freaking fast for a hotel in Manila. I suddenly remembered my trips to Korea and US, praising how speedy the wifi connection was. Foreign friends and friends who are on a business trip, this information about Hyatt's internet may be helpful for you. I take note of public places with generous wifi connections and this is one of the best ones in Manila I know of.
Easy Access to the Airport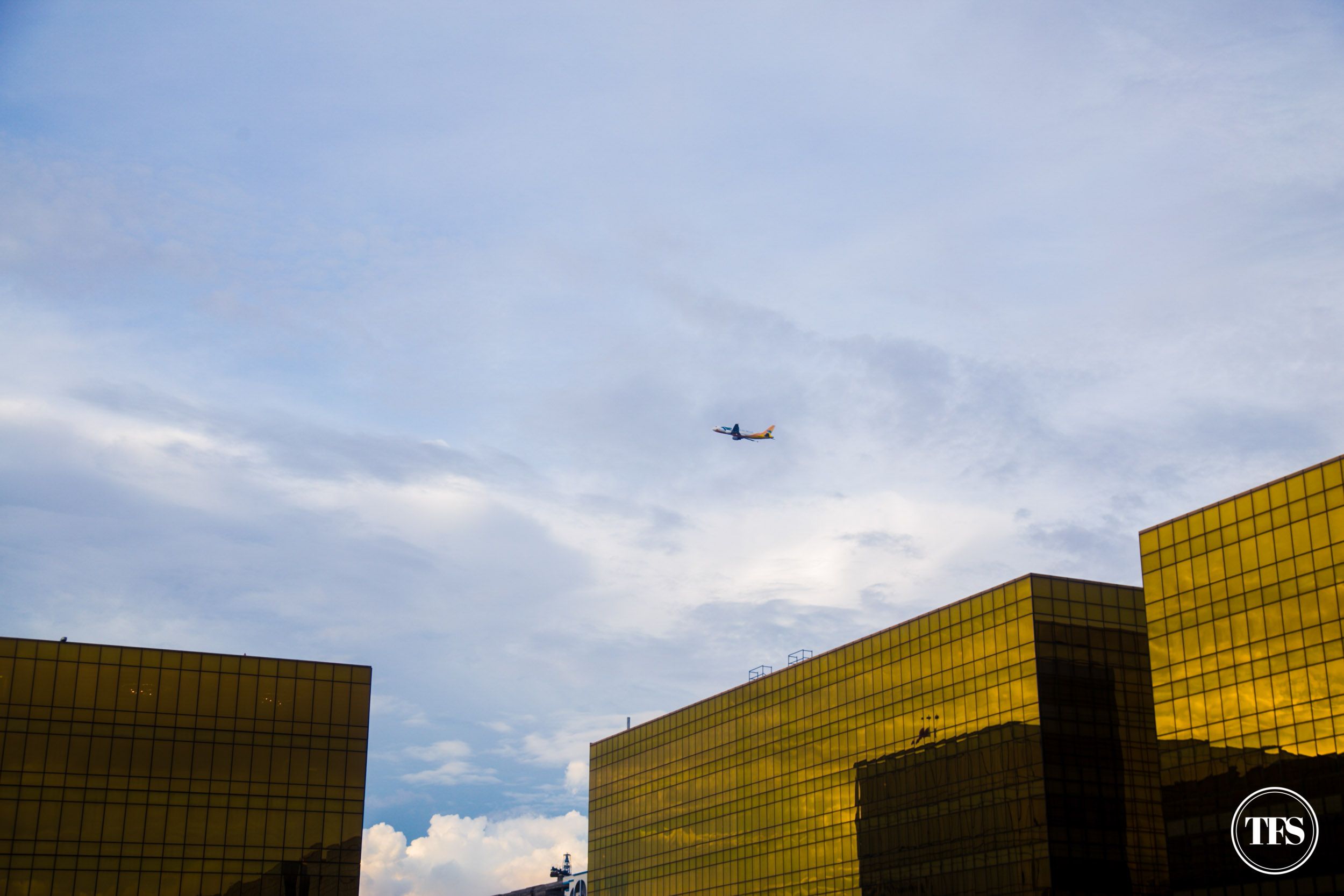 From my room and from the pool area, I frequently saw planes taking off from the airport. That only means, the airport is just a few minutes away from Hyatt City of Dreams. I say this is good news for those who are looking for hotels near the airport. From NAIA 1 to the Hyatt, it will only take you 12 minutes or more. Measuring its distance, that's only about 4km away via the new NAIA Road. How convenient for travellers!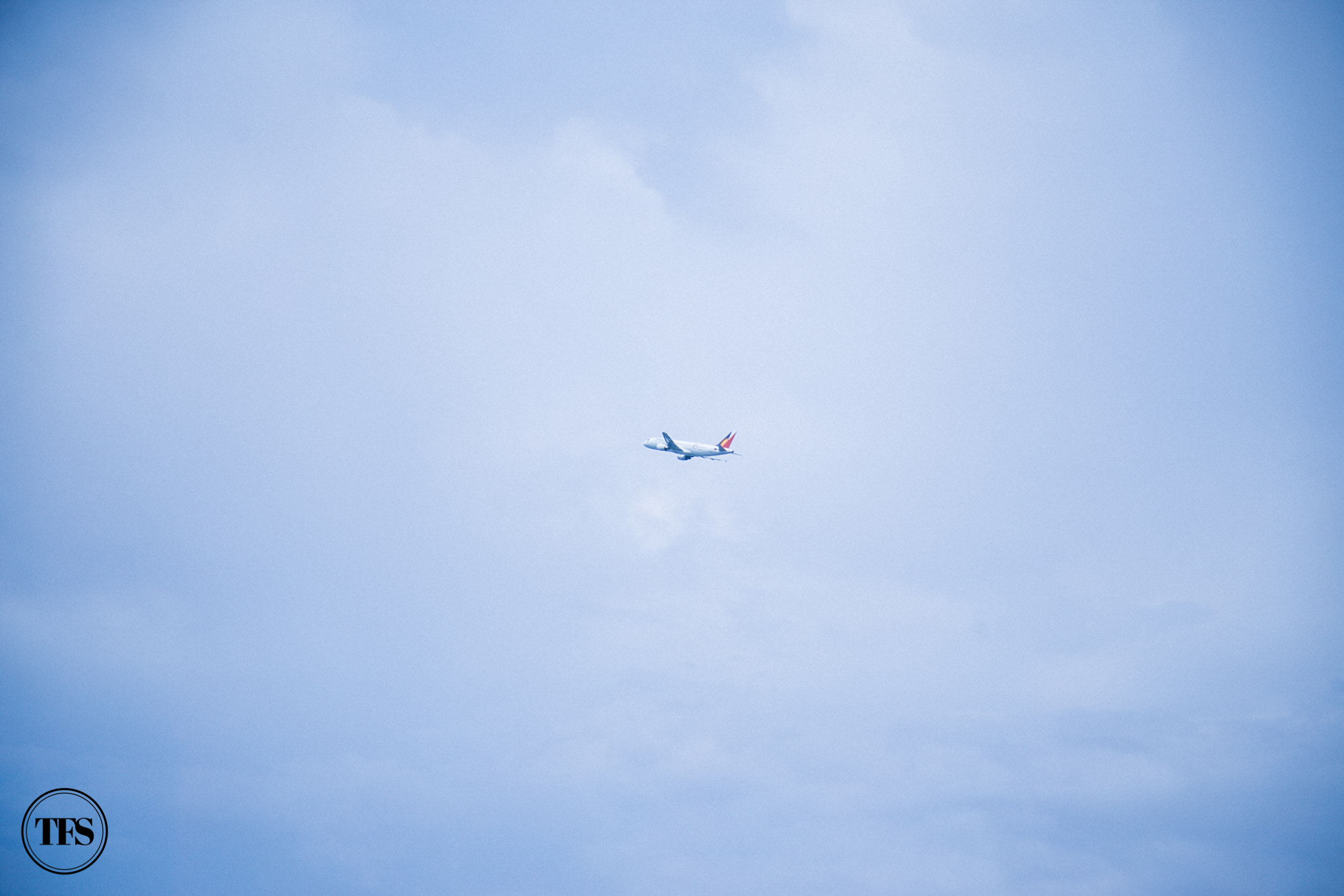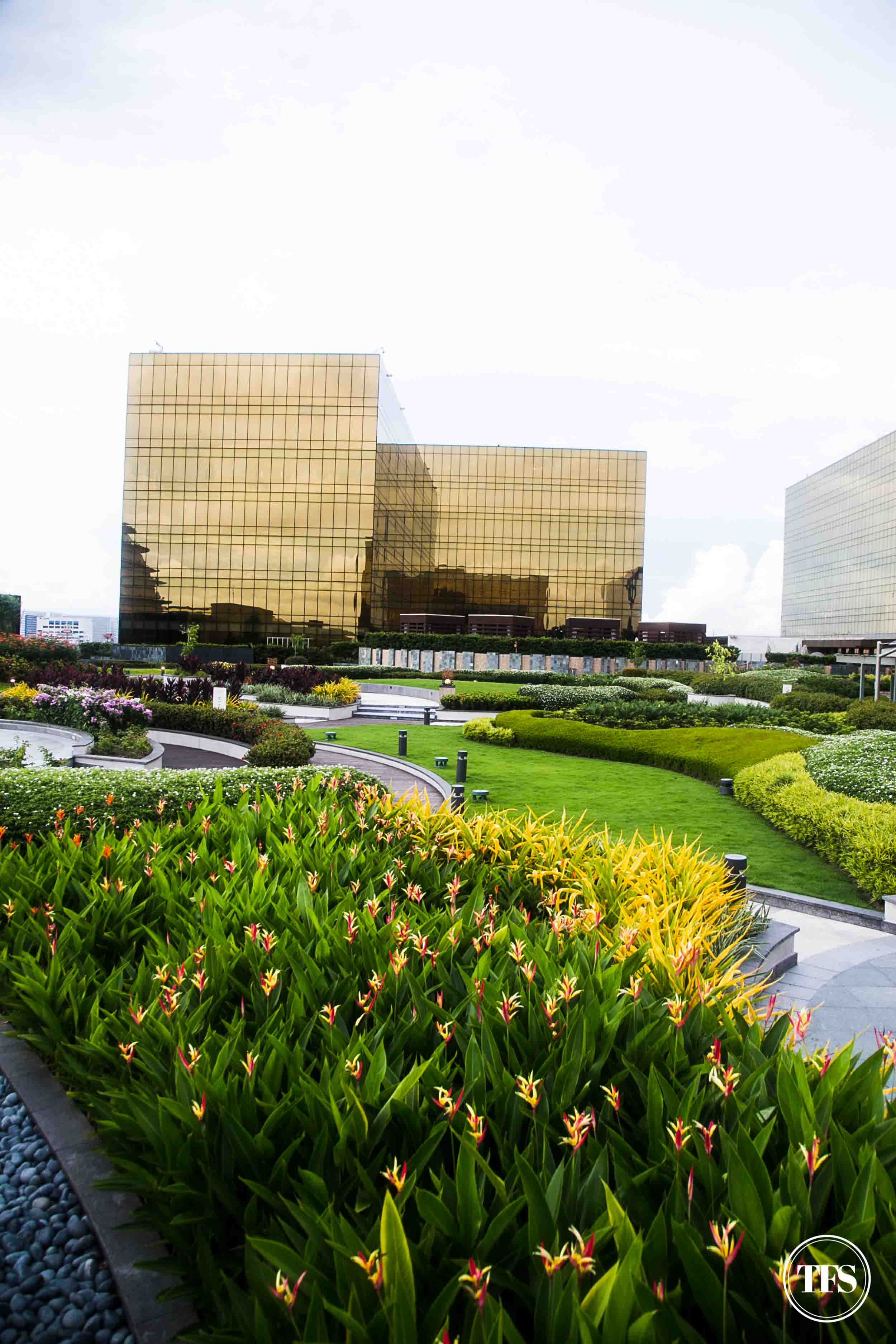 Entertainment is a Priority.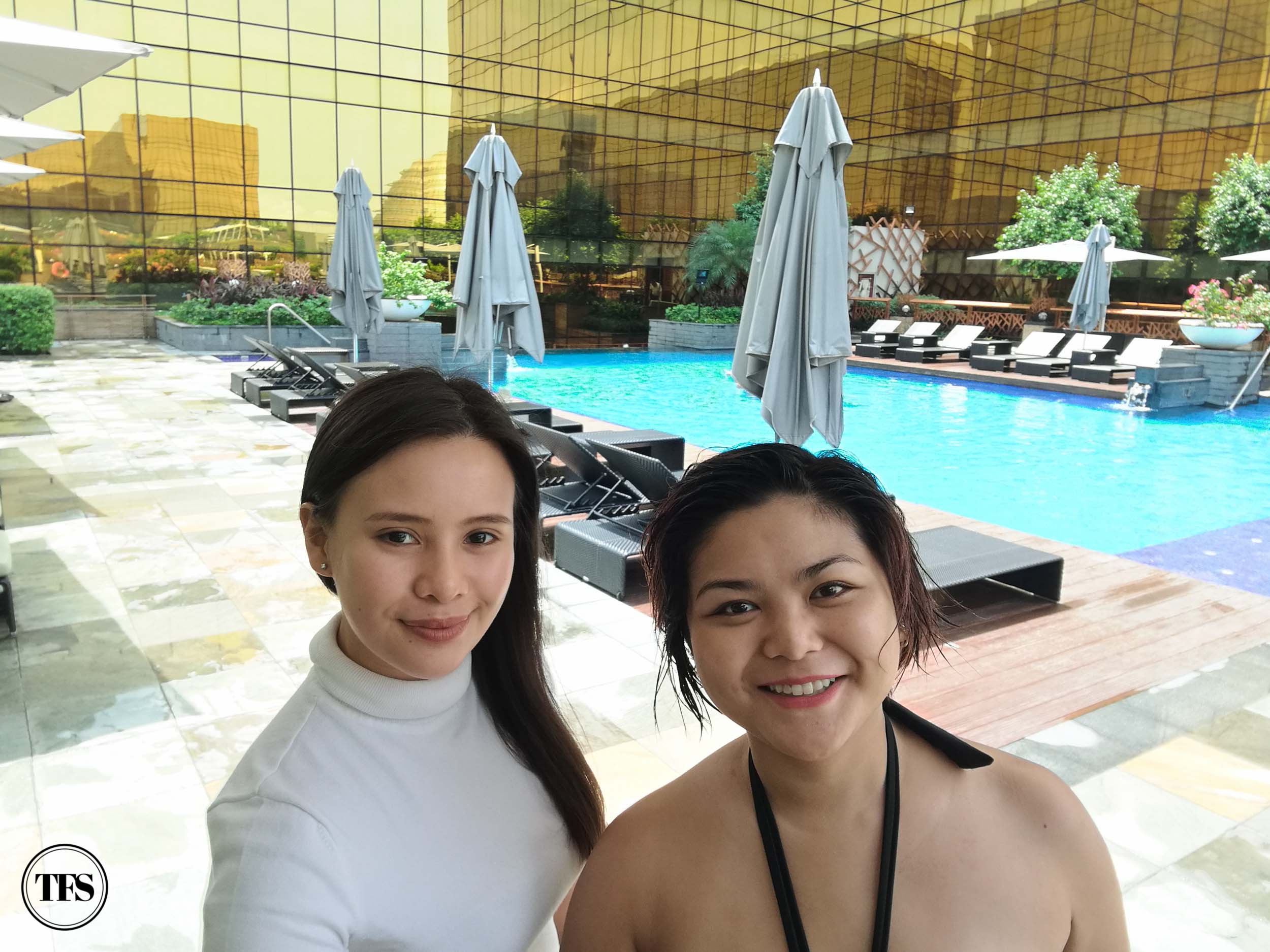 Hyatt gives priority to entertain guests. It could be in different ways, through the accessible casino within City of Dreams, through Dreamplay by Dreamworks for kids,  or through what we enjoy in our tropical country, swimming! Even if I'm not ready to swim, I still enjoy just sitting by the bench and looking at the pool as my view while I work, take photos or sometimes do nothing. This is an instant remedy to take off stress. Haha!
Sam wasn't at her best health, feeling a bit ill and cold, but she was still game to swim and dip into the Jacuzzi. According to her, the Jacuzzi made her feel better. Maybe because of the hot-warm temperature of the water that seemed to take off the chills she was feeling.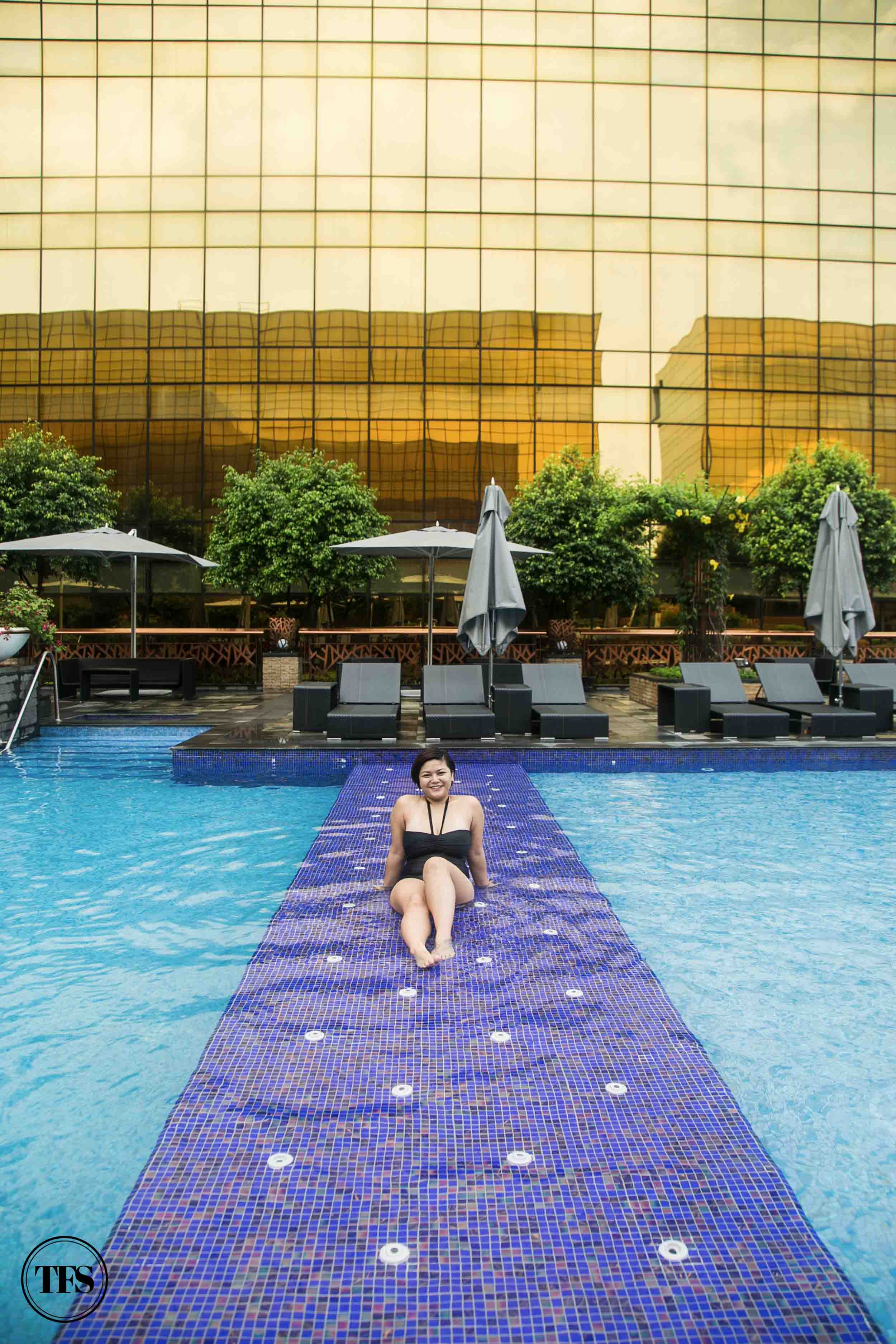 Yan ang may sakit! She gets to pose pa! Haha!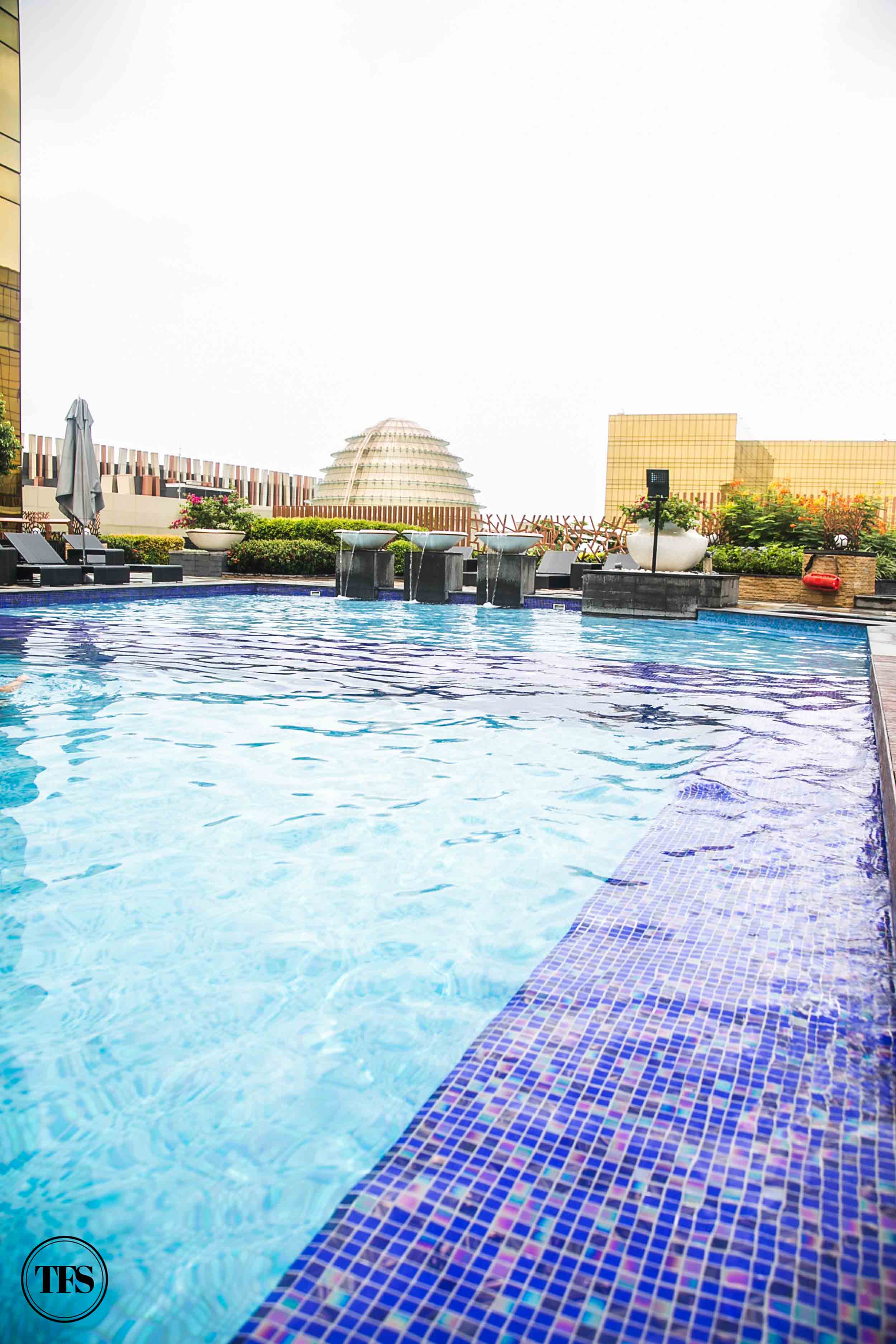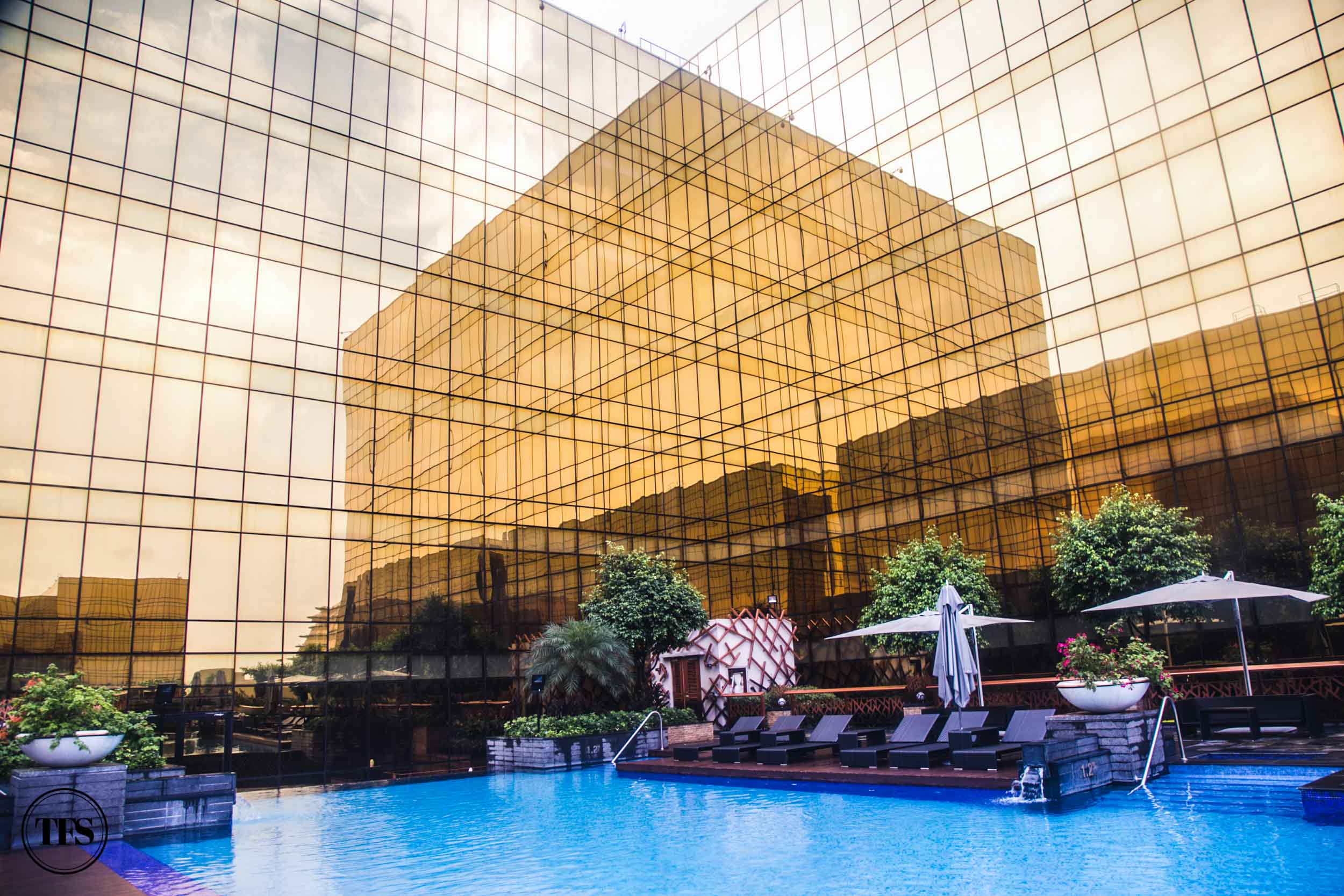 Shuttle from Hyatt COD to Malls
Let's talk about convenience once more. Luckily for guests, you're not limited to move around Hyatt City of Dreams alone. If shopping is entertainment for you, enjoy COD's complimentary shuttle rides to and from the resort via Dreams in Motion, which is the official transportation of City of Dreams Manila. Take note of these drop-off and pick-up points:
Binondo – Strata Gold Building, Ongpin Street
SM Mall of Asia
For updates, you may visit their website too.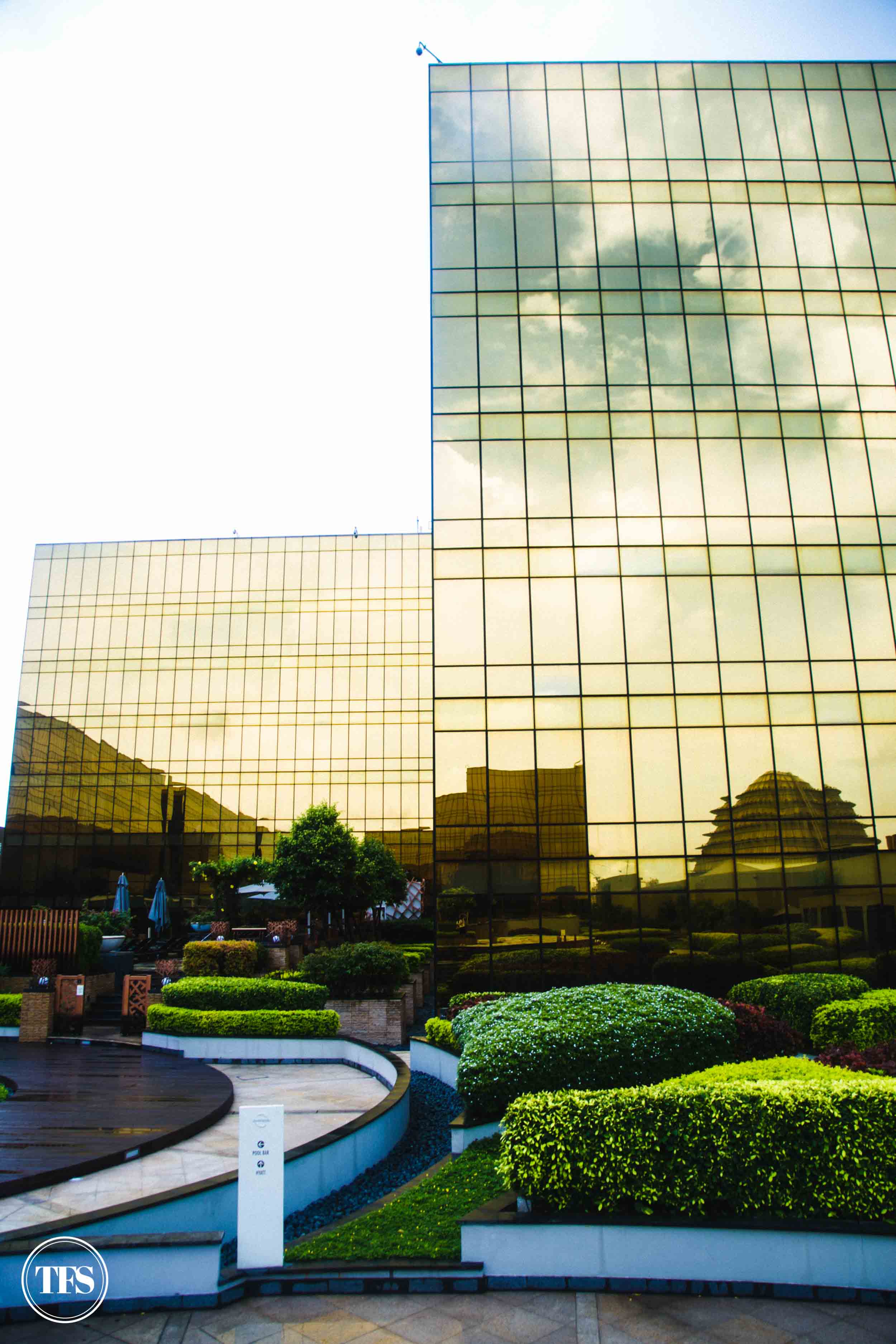 Food will not Disappoint.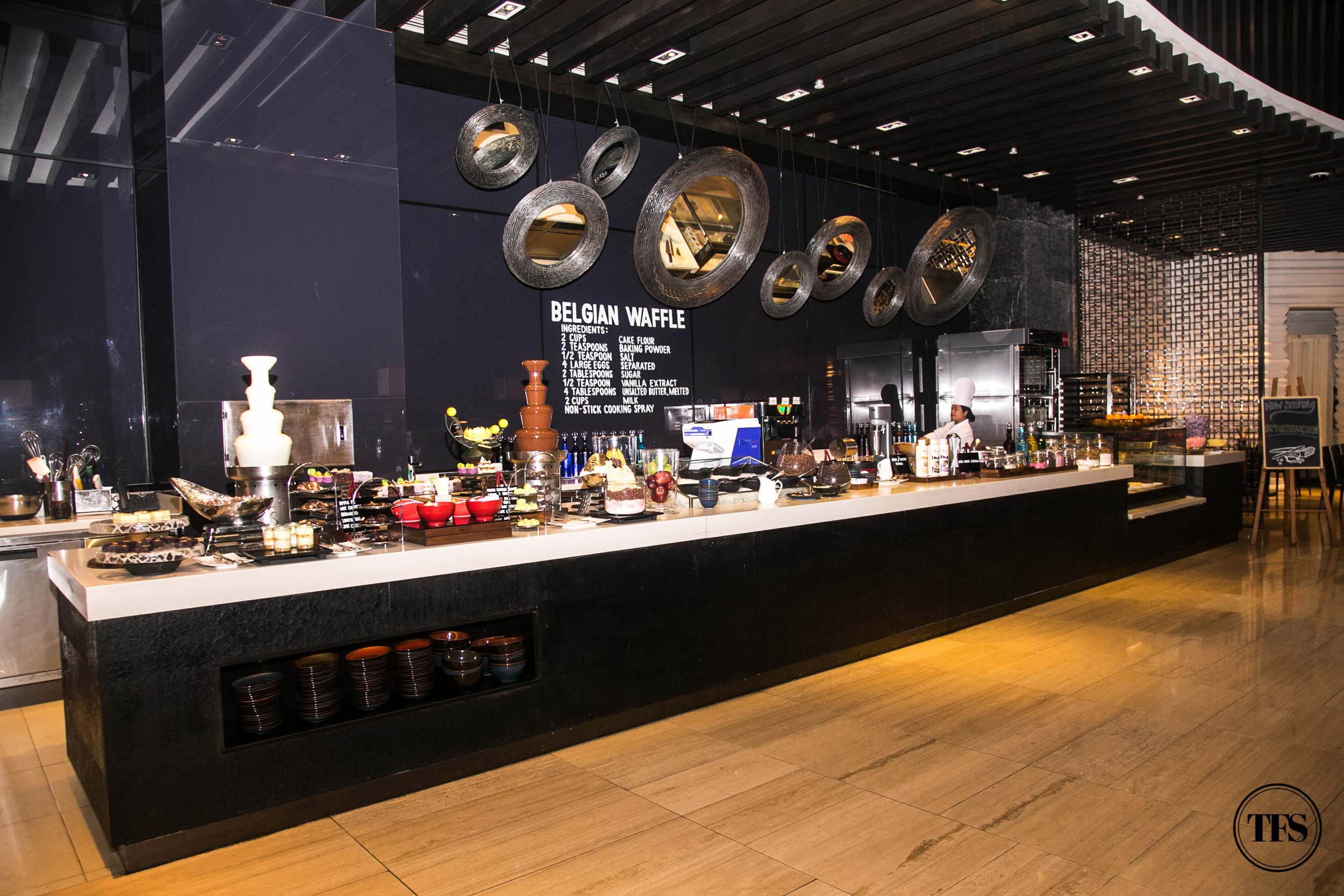 Already the second and third time, for dinner and breakfast the next day, to be at The Cafe by Hyatt City of Dreams and it still offers an amazing food selection.
Finding my starting point during dinner, I almost filled up my plate with the chocolates from the dessert table before my usual sashimi as 1st plate. Haha! The desserts were too seductive that I had to re-think my choices to save space for Hyatt's pastries and chocolates.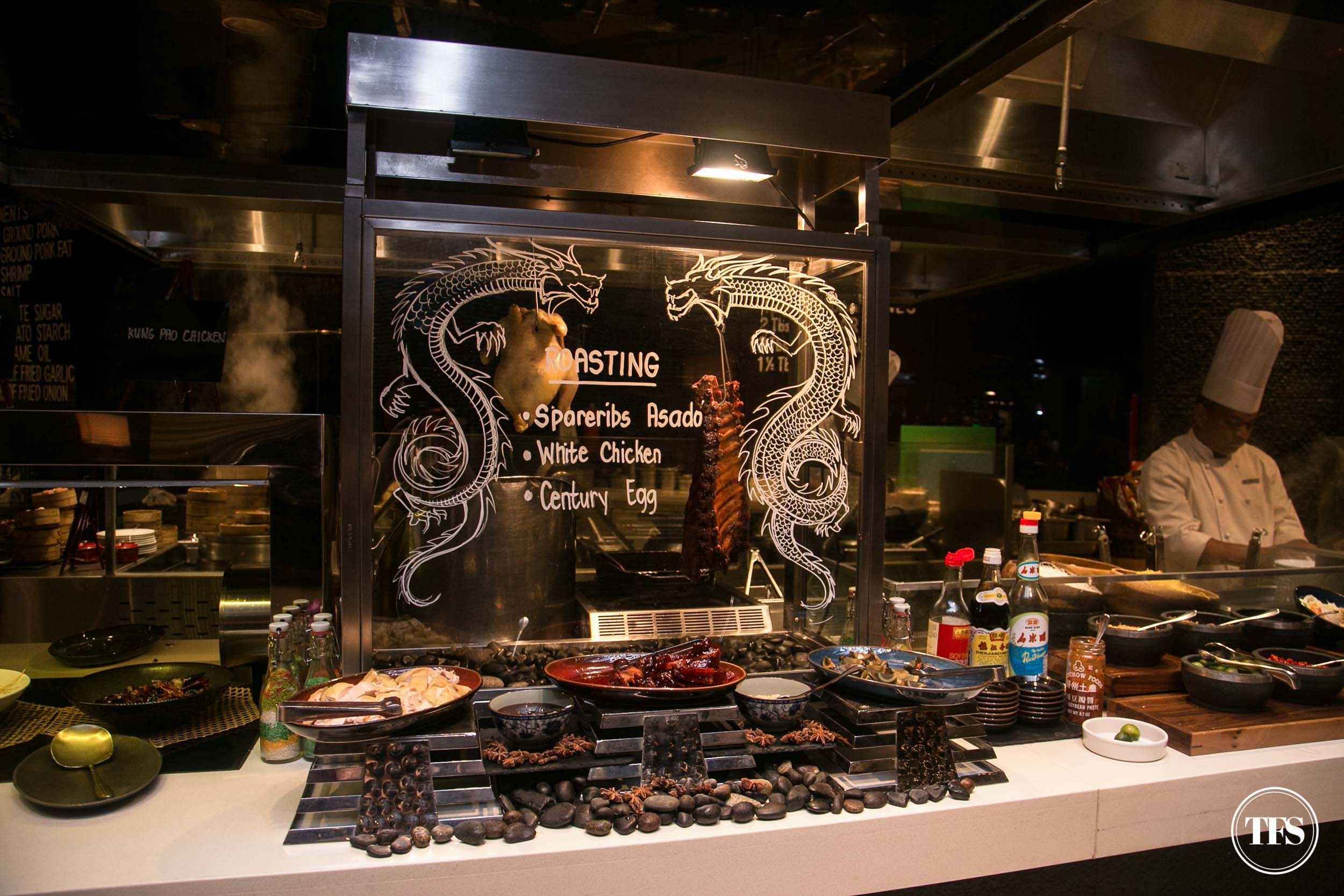 My first plate was mostly filled with sashimi, sushi, cold cuts and cheese, white chicken from Chinese Roasting Station. A small plate of steak is a requirement as my second plate as well.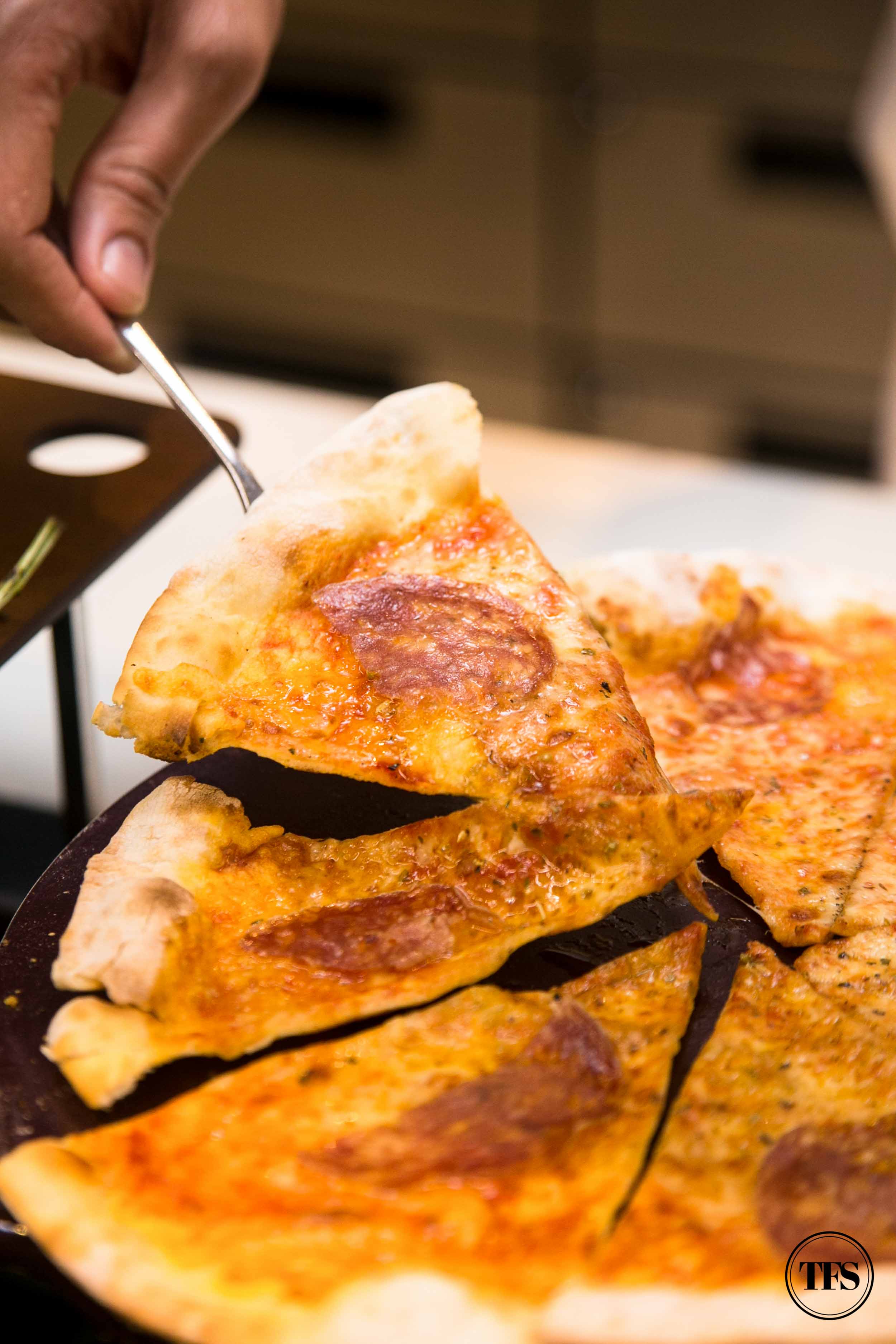 Then my third plate was filled with Prosciutto Di San Danielle and Duck Confit Ravioli with Mushroom Duck Jus.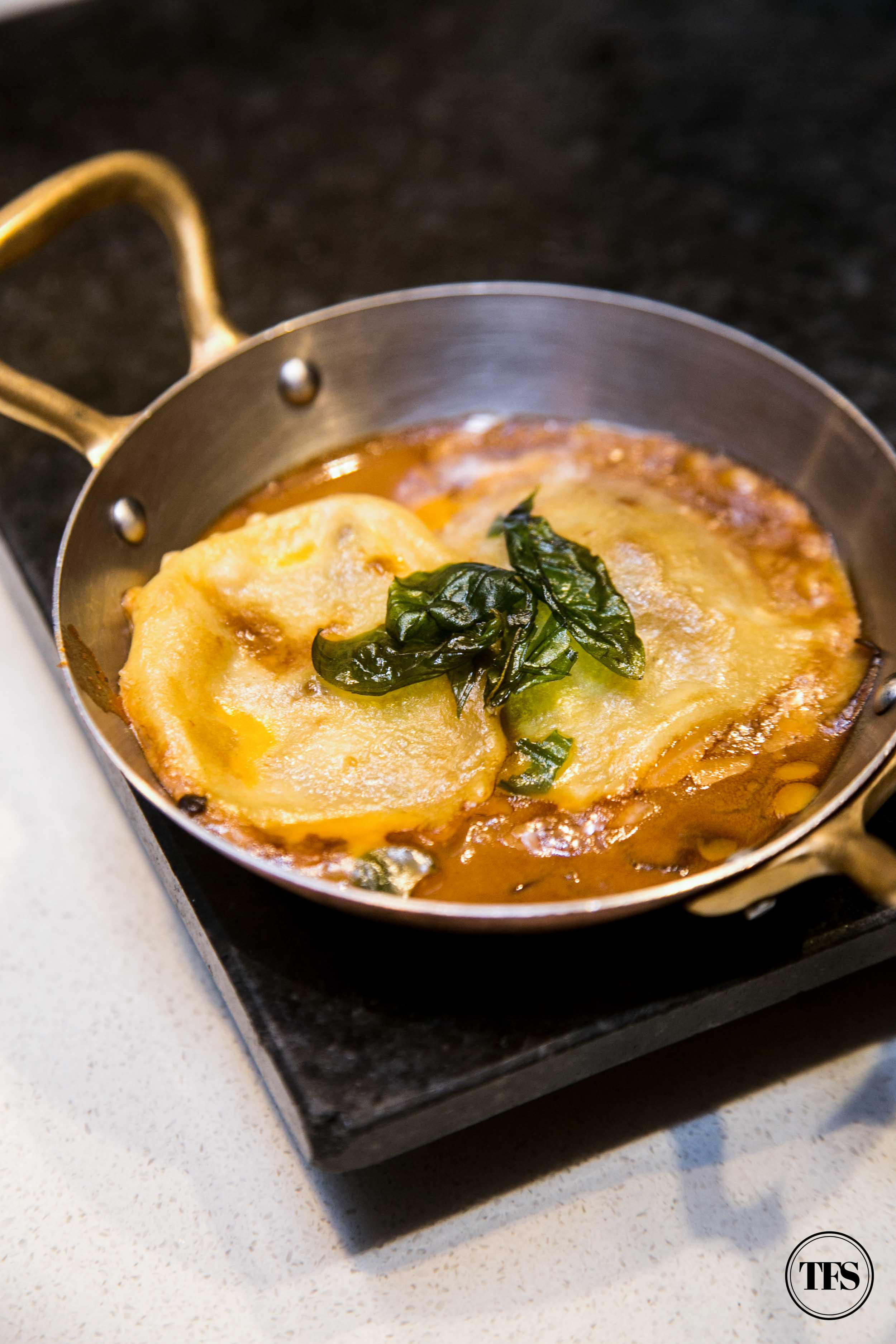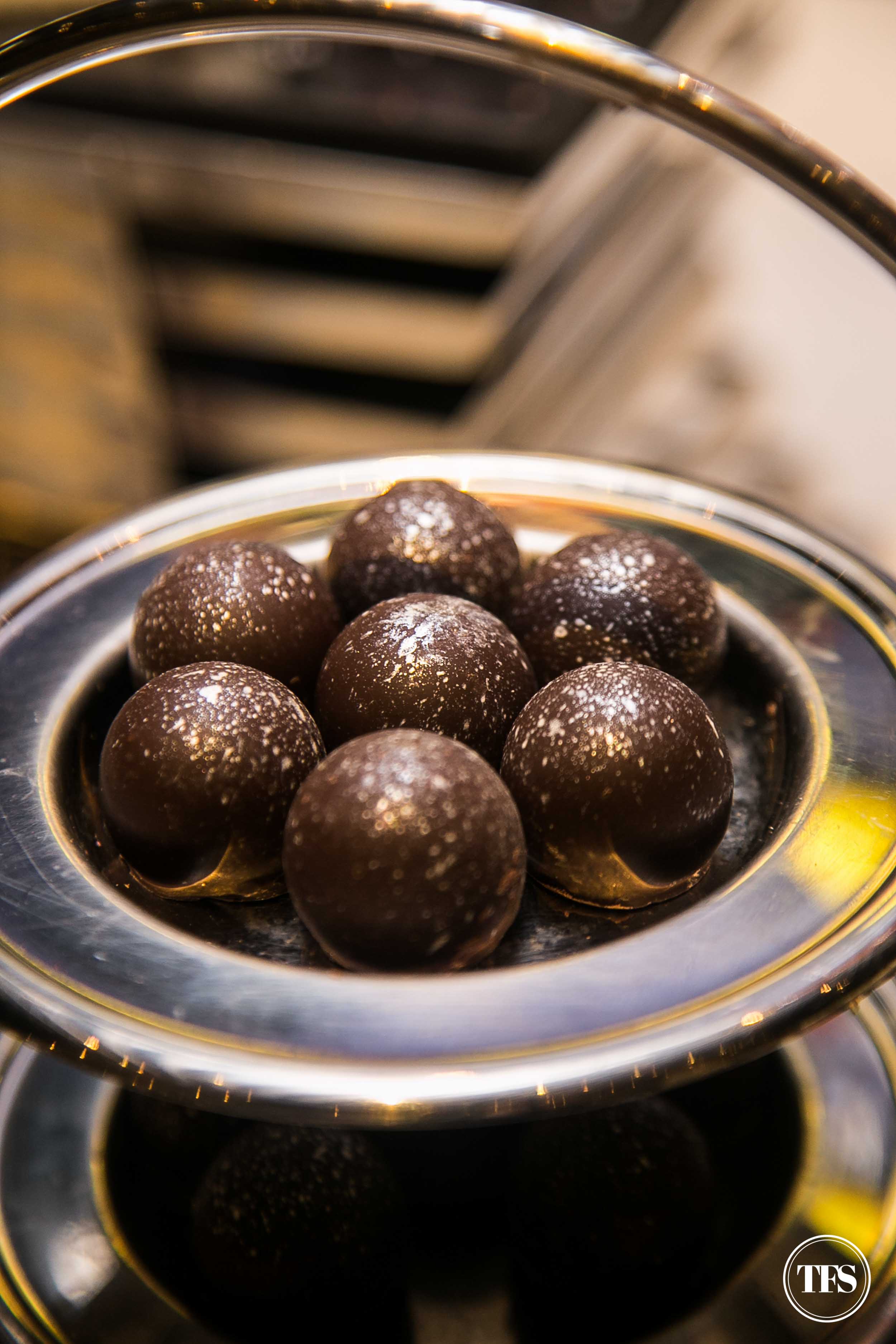 My fourth plate is a mash up of all kinds of sweet little things from the dessert section of the buffet.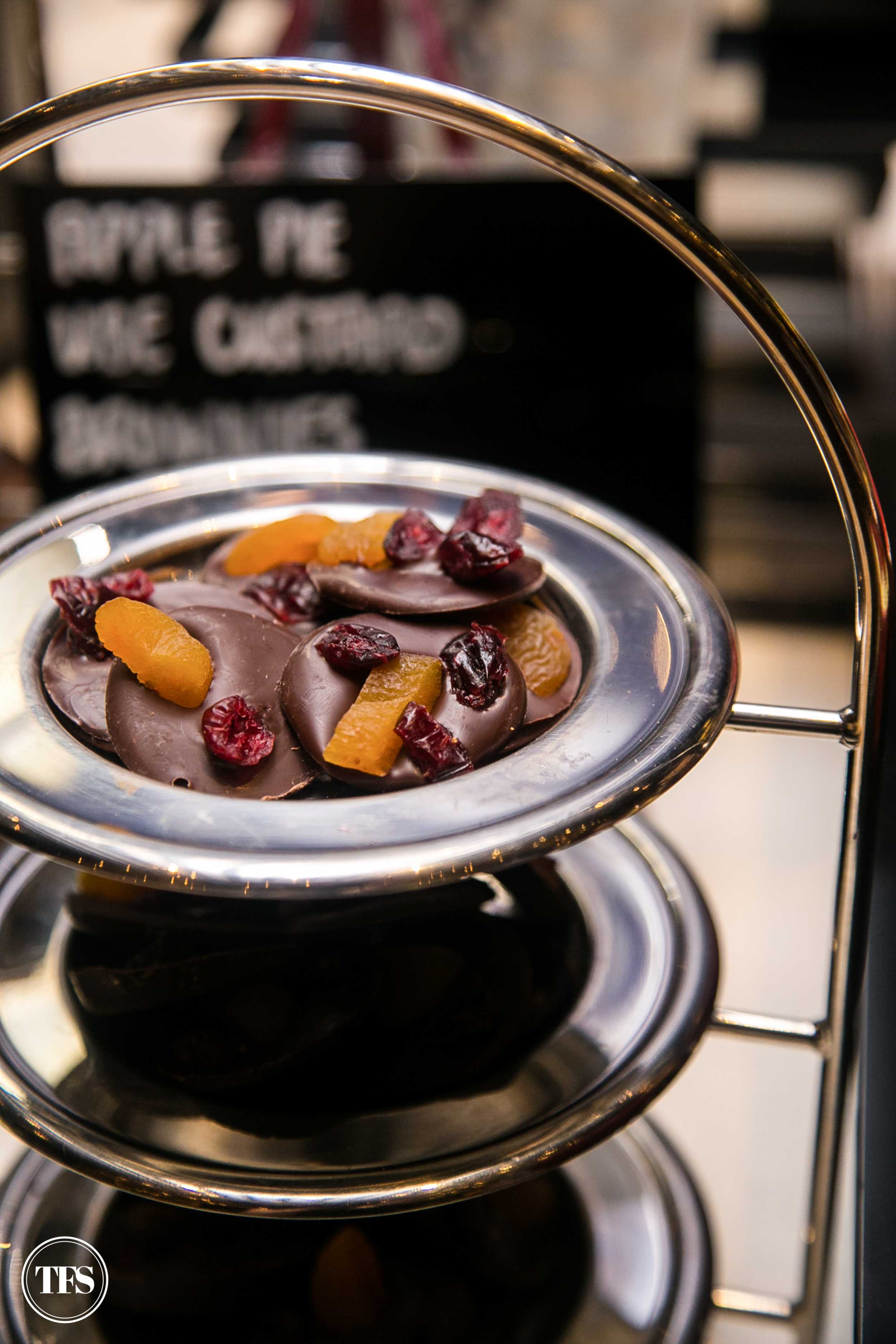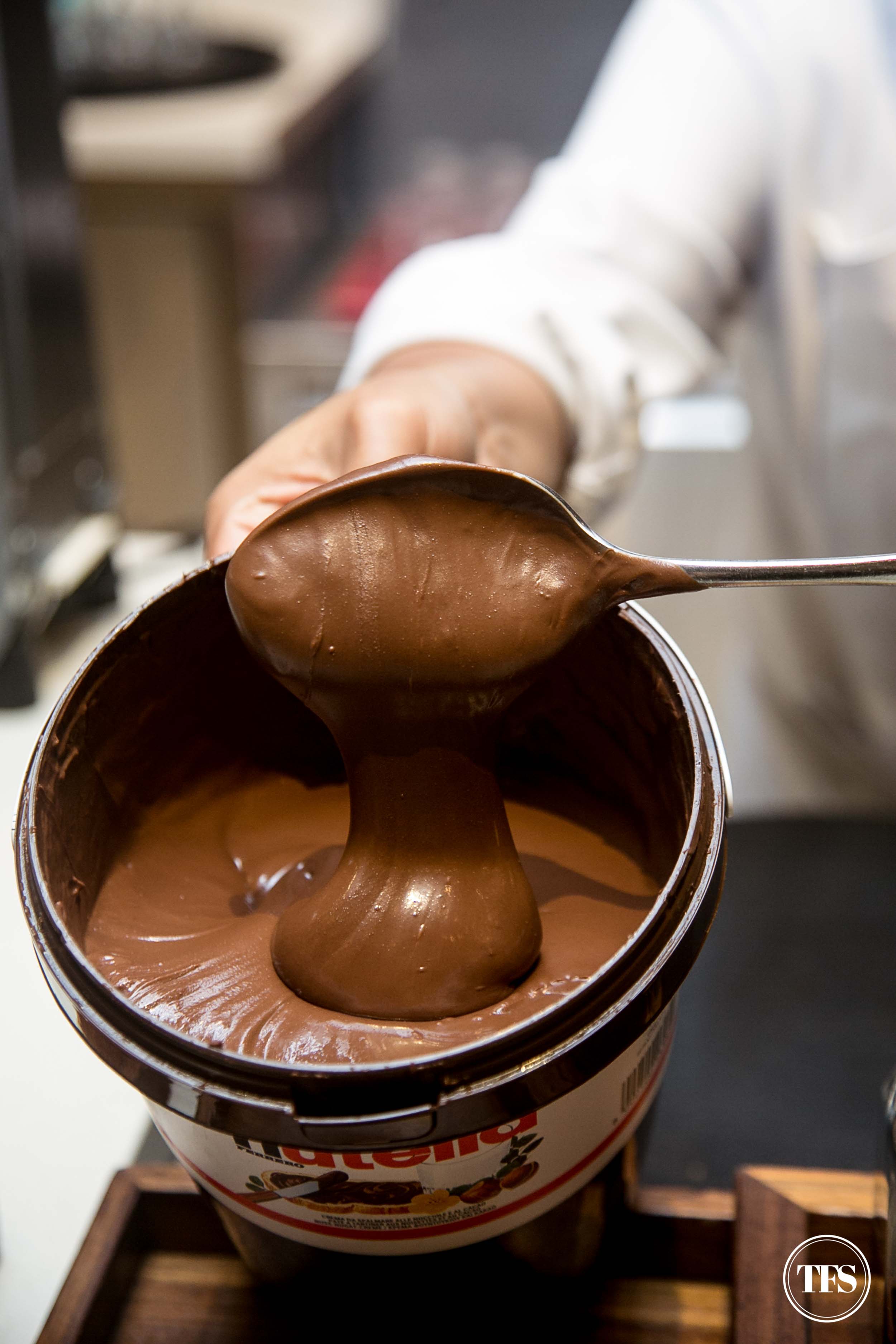 Say AAAAHHH, it's Nutellaaaaah!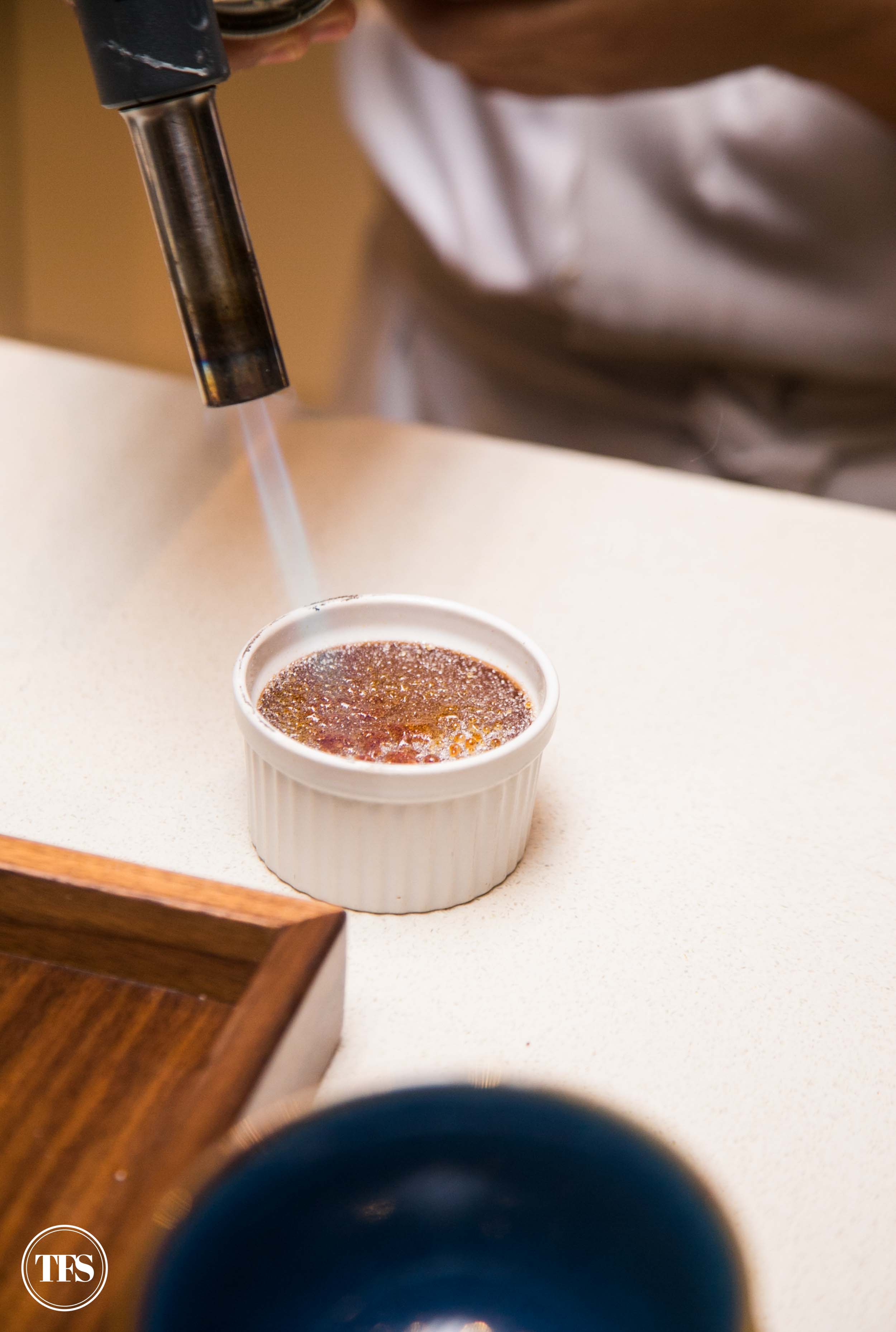 Sam and I plunged into this heavenly Chocolate Creme Brûlée!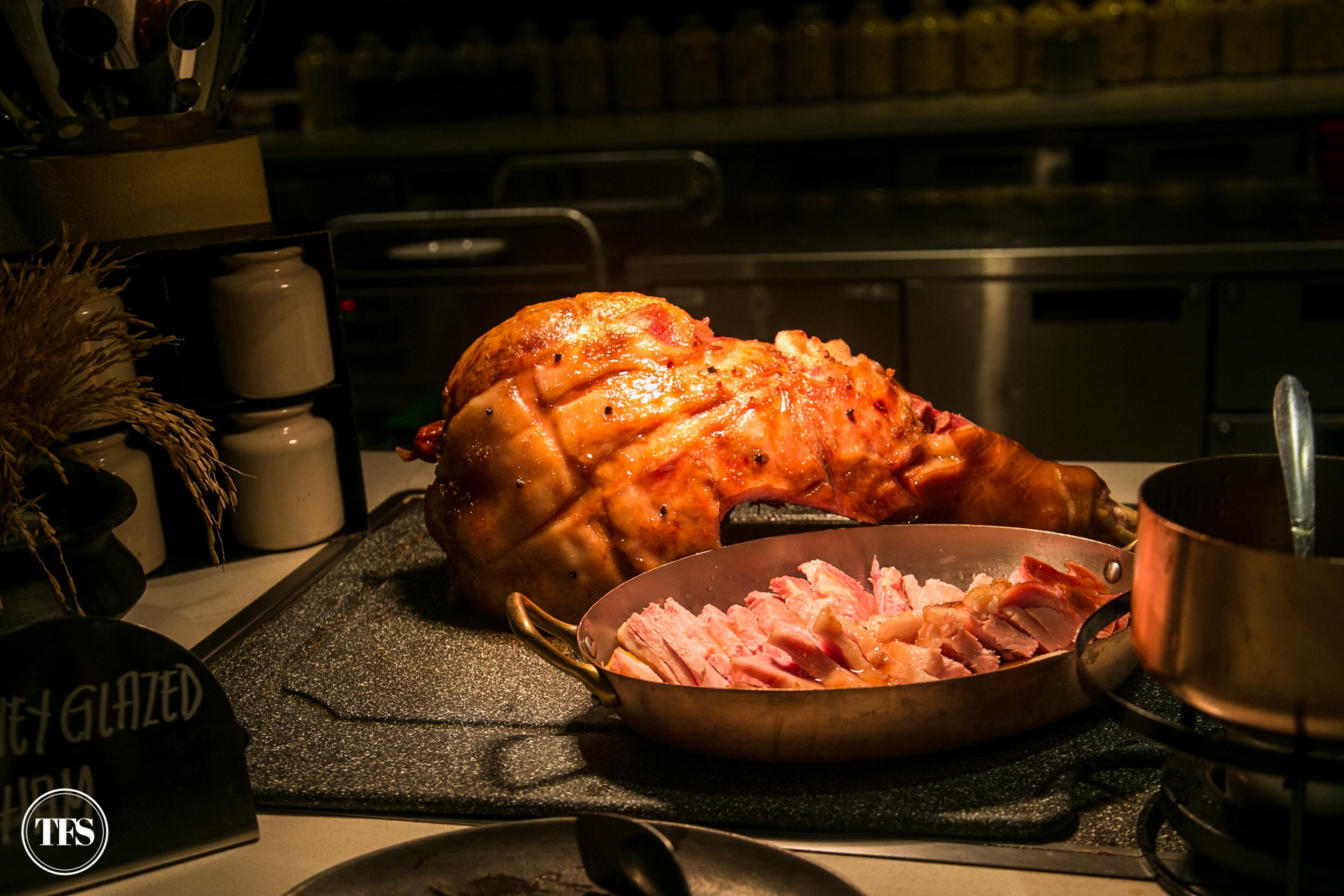 For breakfast, the selections were fitting for the hotel's international guests, mostly Korean, Japanese, Caucasian and some Filipino guests.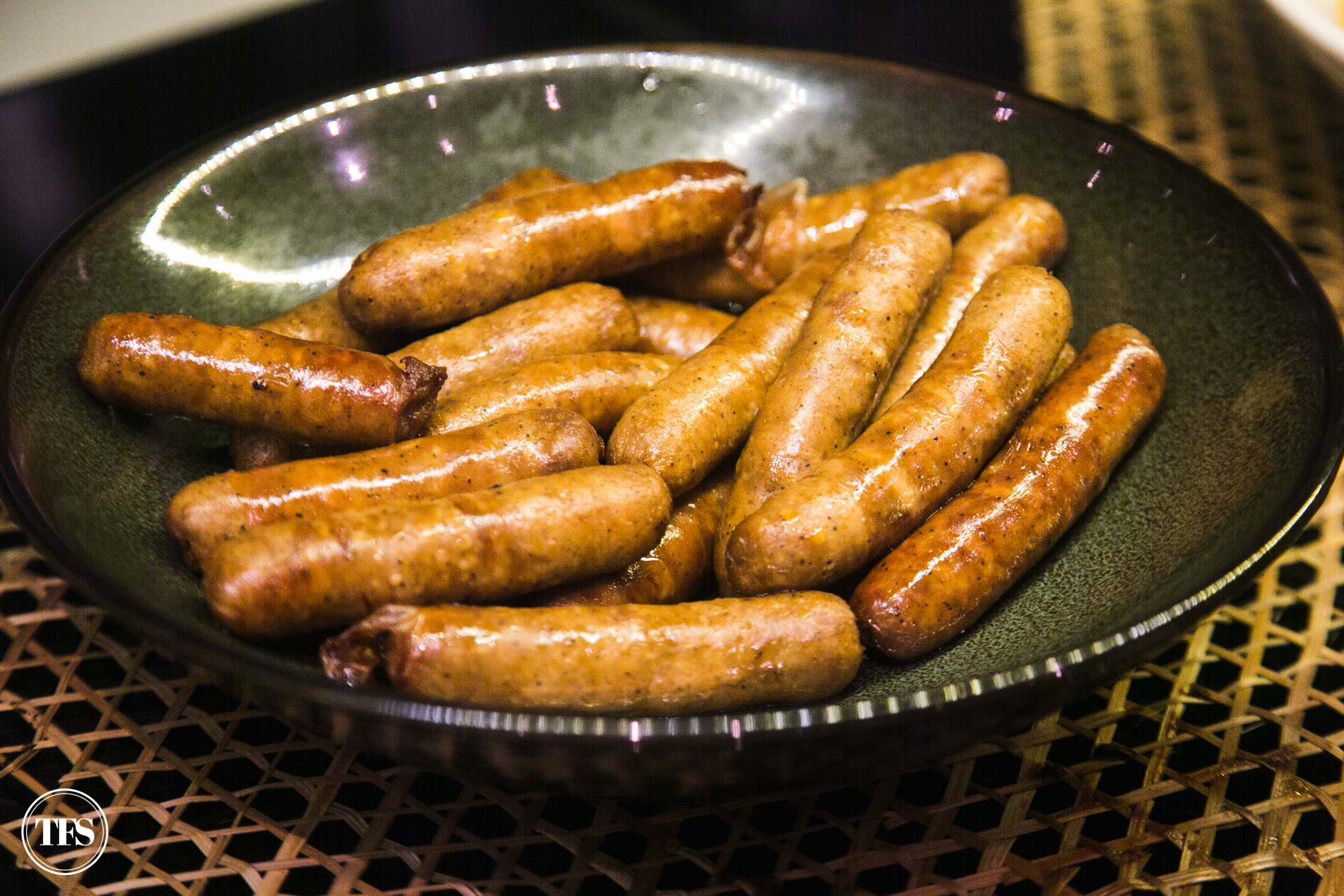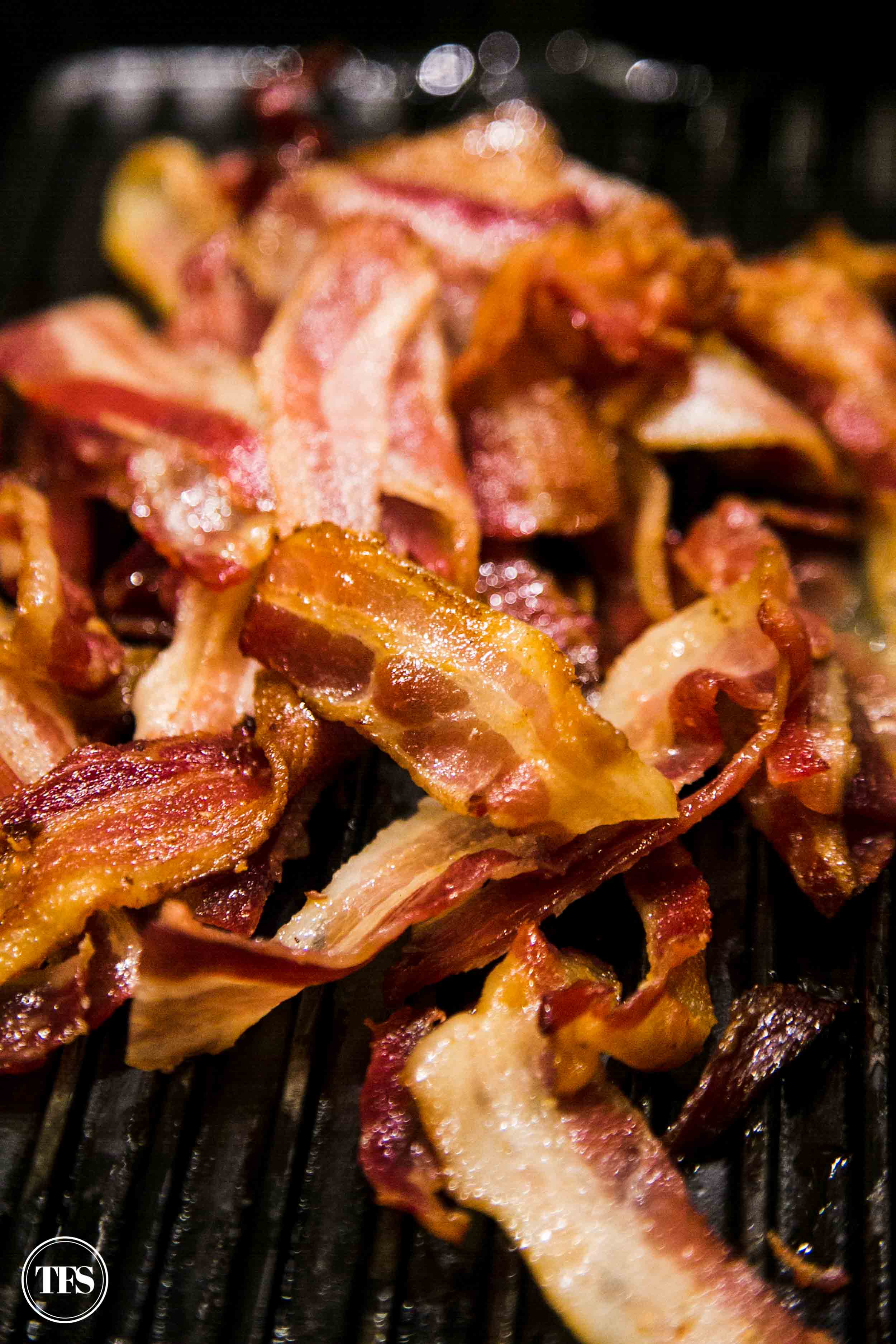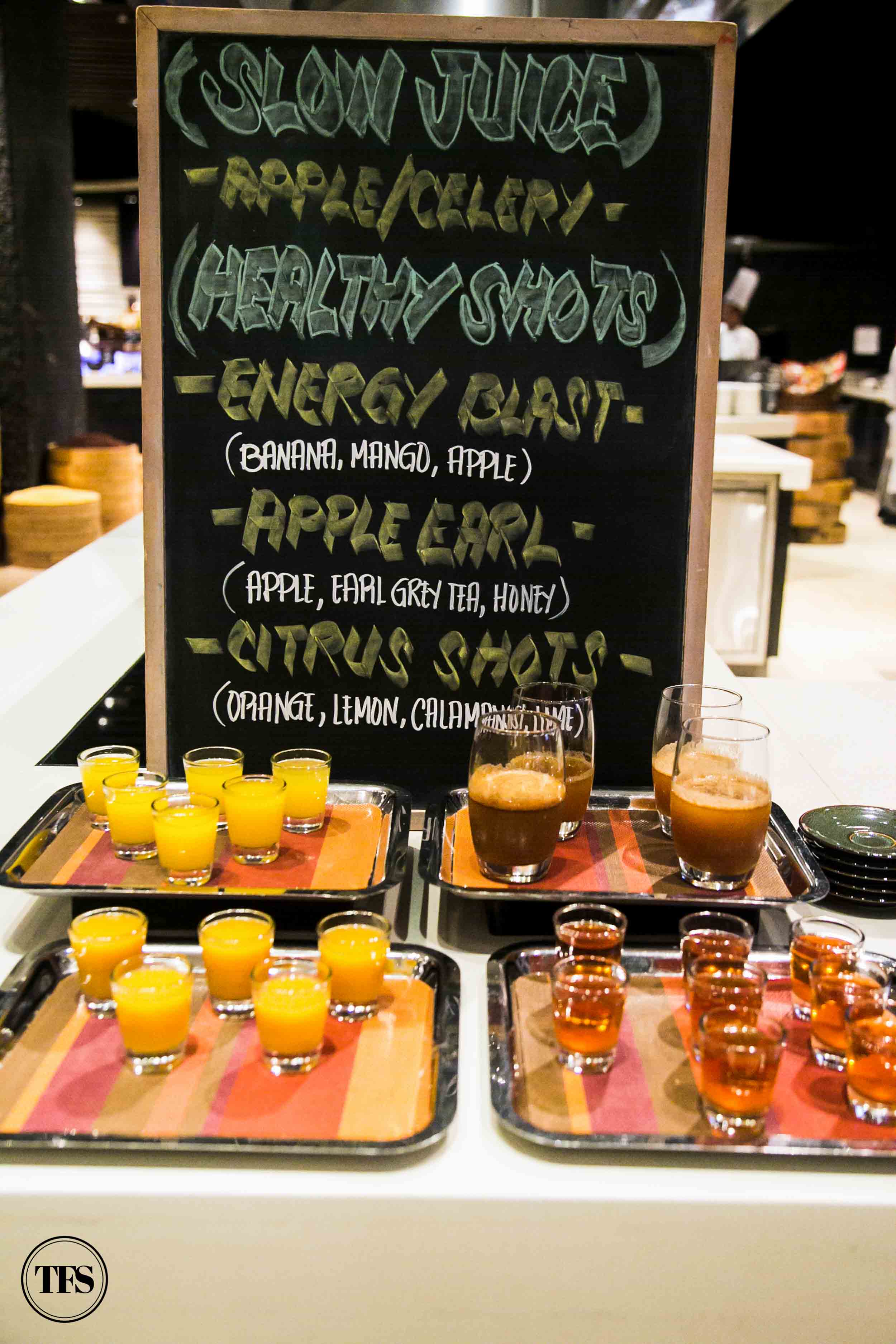 To take off the guilt of eating unhealthy food, I had to take shots of healthy fresh juice.
A drink not to miss out, Mango de Cafe. Ask your server for this drink!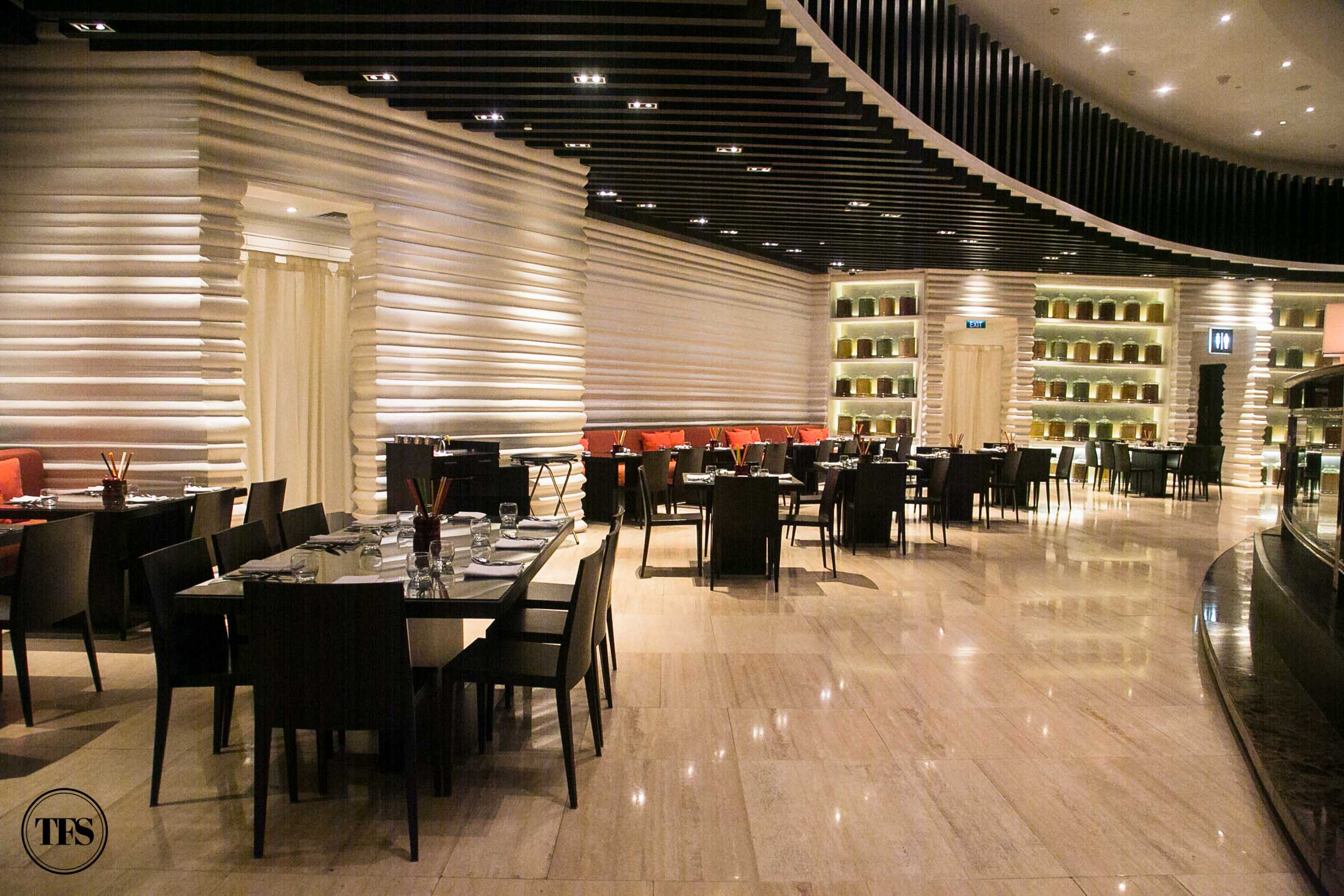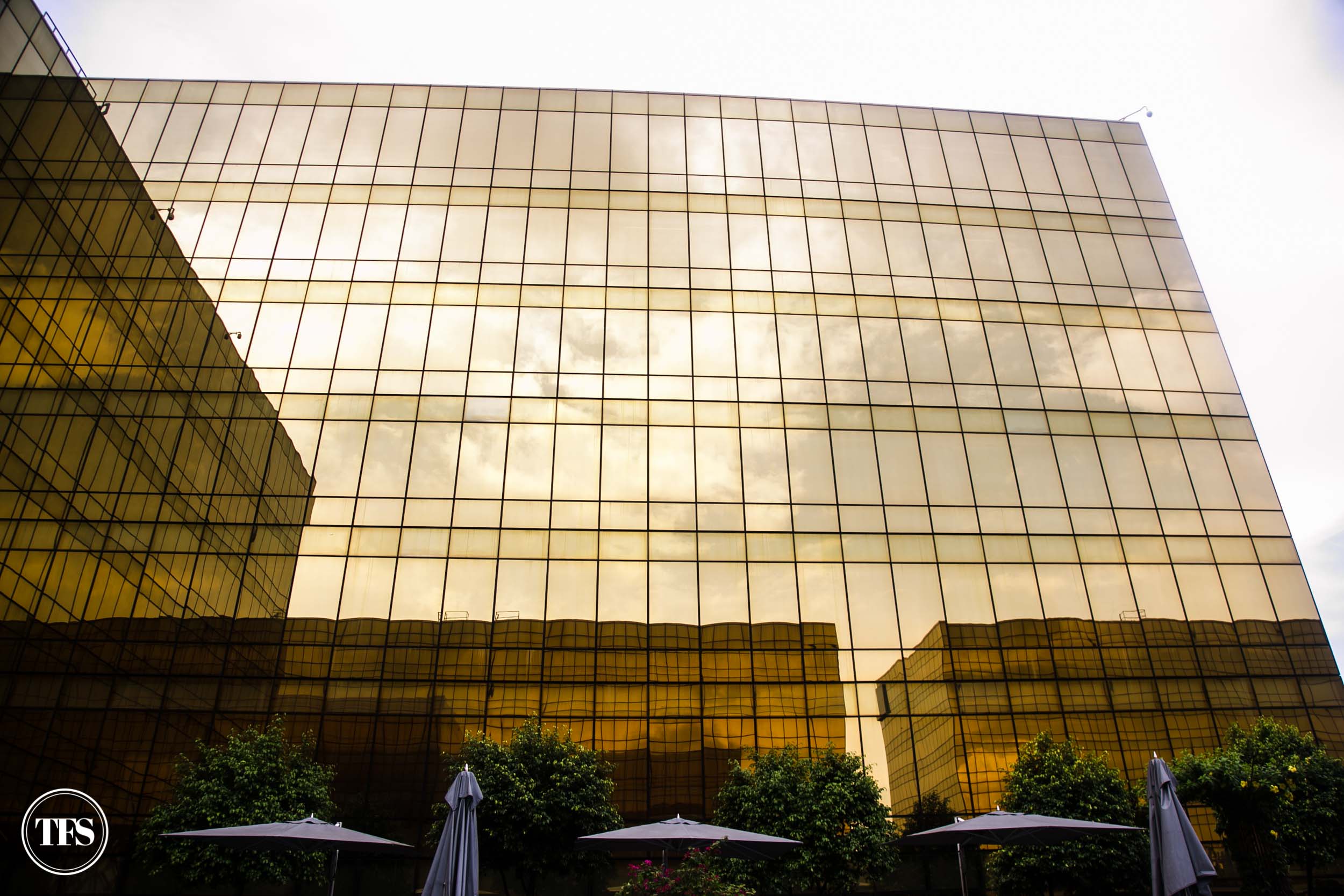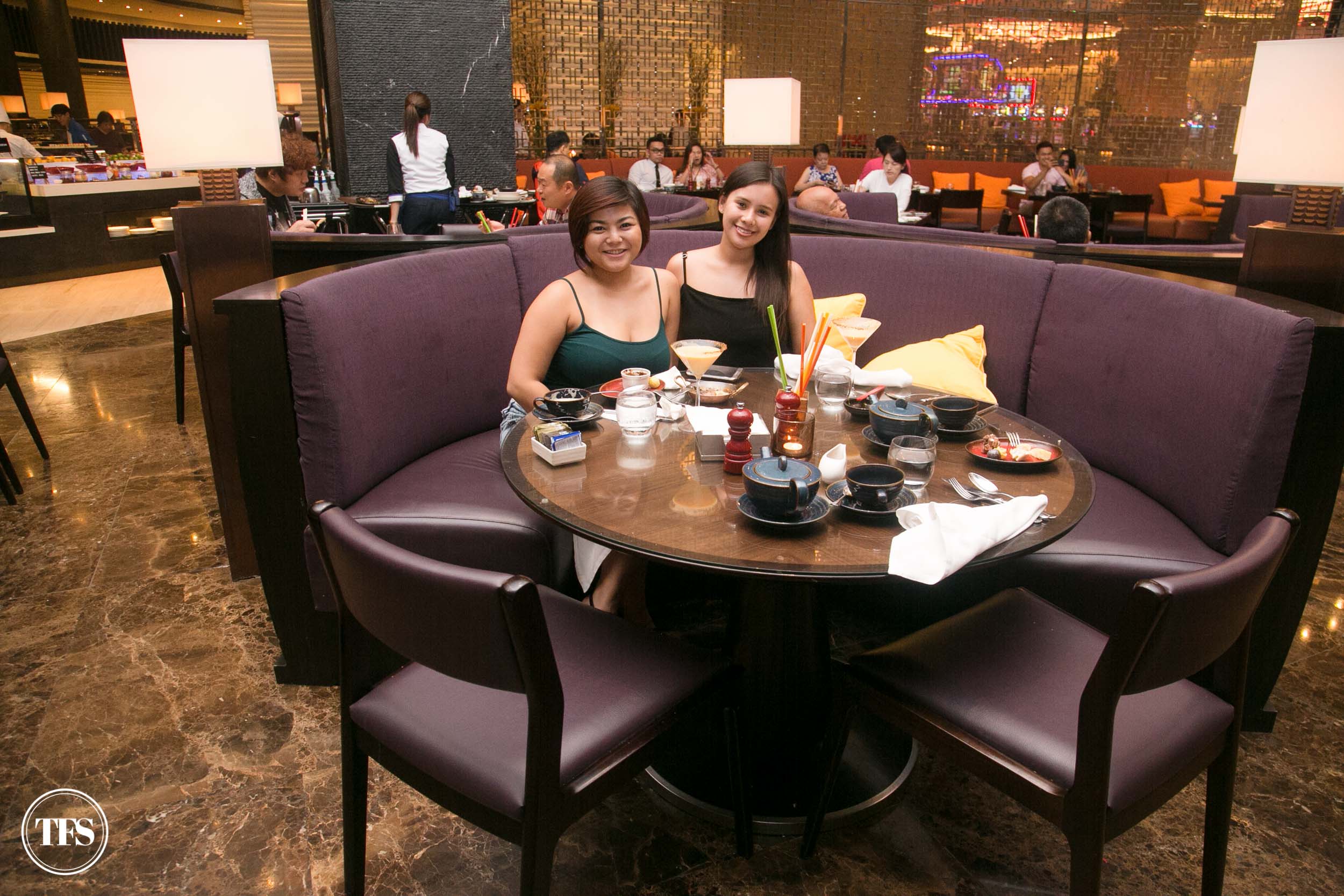 I told you earlier Sam had slight fever during our stay. While having dinner, Sam wanted to drink Biogesic but unfortunately, we didn't have any. With the help of Hyatt's staff, the medical team of City of Dreams came to our table and gave Sam the attention she needed. She was asked several questions about her health condition and was quickly given Biogesic. The next morning, she once again requested for medicine from the medical team. Generally, they gave us impressive service, especially to Sam. We appreciate the attentiveness of your staff, Hyatt City of Dreams!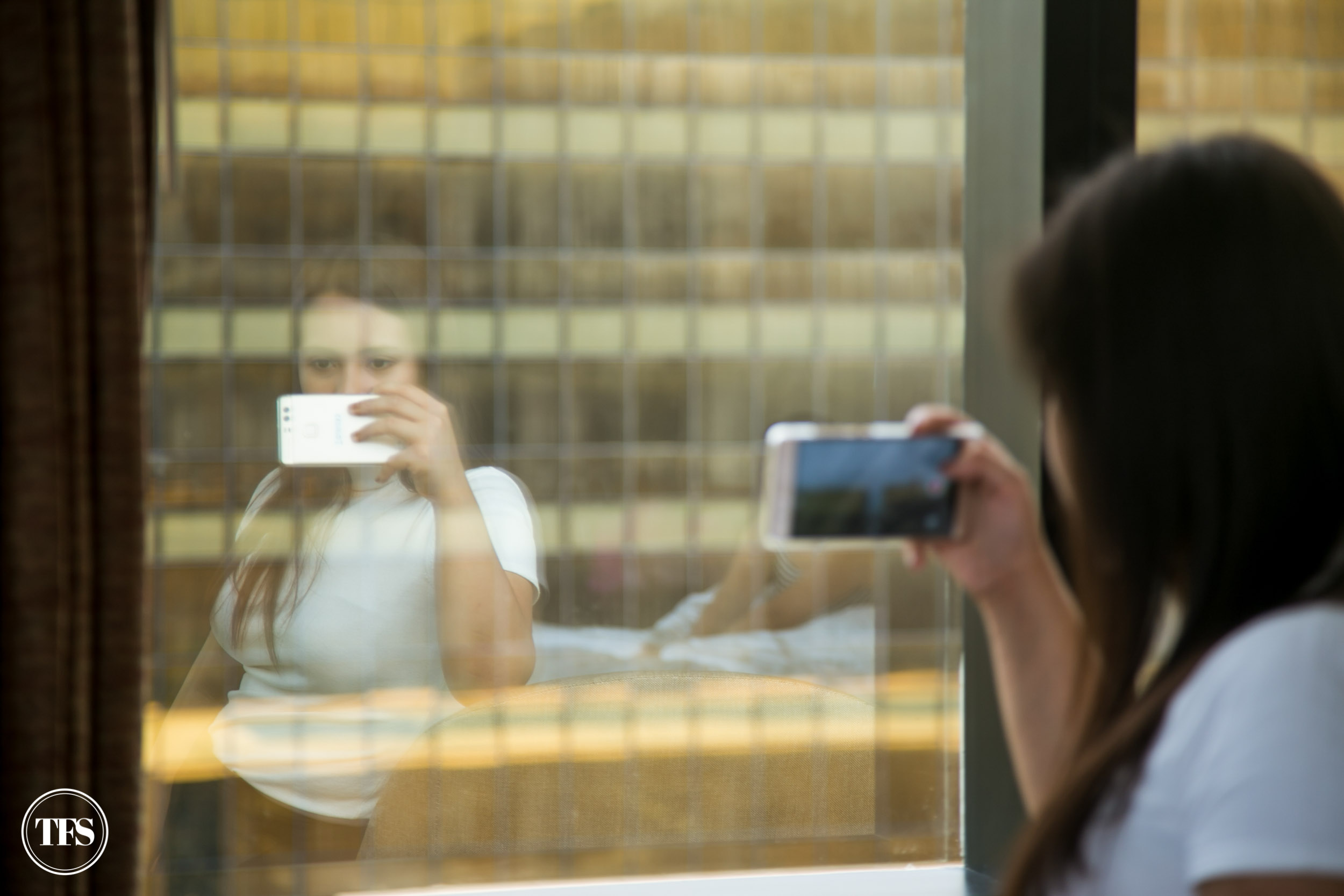 Sam and I had a good night sleep at Hyatt City of Dreams, wishing one night can be extended to two, or three or four. Haha! And I found 7 reasons why I'm in love with this hotel.
What do you think of Hyatt City of Dreams?
Share with me your thoughts!
Stay updated and Subscribe to The Food Scout for Free!
Pray, Eat and Love.
Cheers,
The Food Scout
---
Location: Asean Avenue cor Roxas Blvd., Entertainment City, Parañaque, Manila,  Philippines
Website: https://cityofdreamsmanila.hyatt.com/en/hotel/home.html
Facebook: https://www.facebook.com/HYATTCityOfDreamsManila