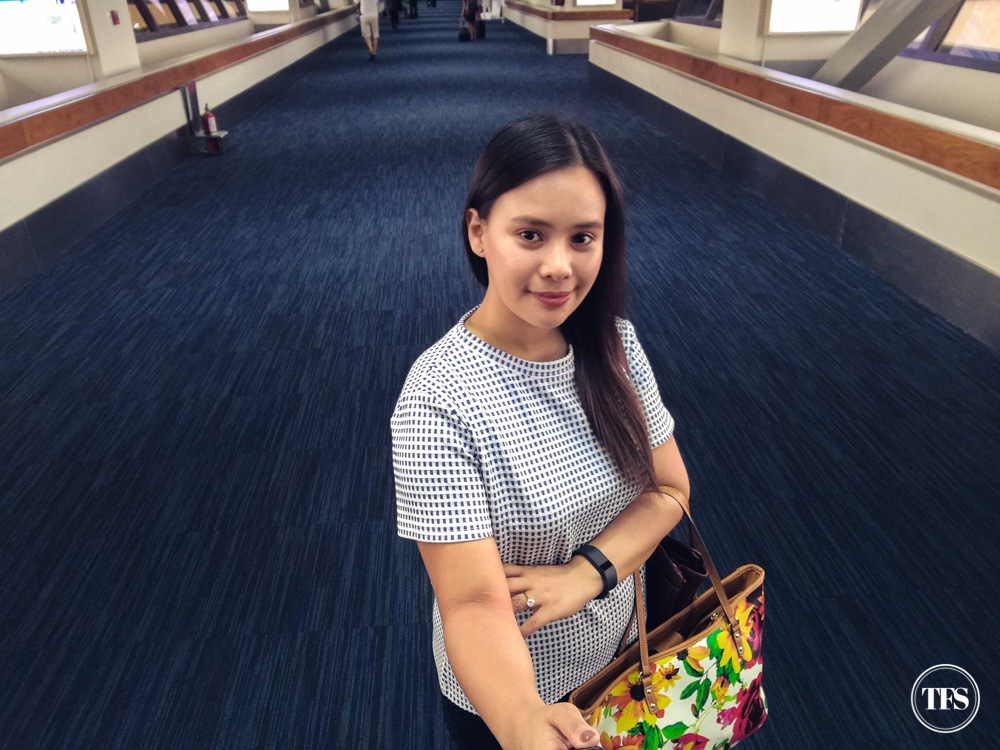 For the record, Julie's Biscuits and Julie's Bakery are two different entities.
Not everyone knows that Julie's Biscuits actually came from Malaysia. WHAT?! Is that a surprise for you? And that's basically the purpose of our recent trip to Melaka, Malaysia.
Before leaving Manila, taking a break from wedding preparations in my condition, I mentioned to my family about my trip to Malaysia. Them, being parents and curious, they kept inquiring what I was going to do in Malaysia. I told them simply that we were going to visit the factory of Julie's. In their shocked faces, they told me, "Wow! Ang galing naman ng Julie's, may factory na sa Malaysia" (Wow! Julie's has already a factory in Malaysia!) Well, we weren't on the same boat. What mom and dad were pertaining was Julie's Bakeshop, a famous bakeshop chain in the Philippines. I had to explain to them that Julie's Biscuits is different from the bakeshop. So I don't have to repeat myself over and over what the Malaysian Julie's really is, I'm writing about it. Now let me educate you and share with you our Julie's Biscuits experience in Melaka Malaysia!
Off to Melaka Malaysia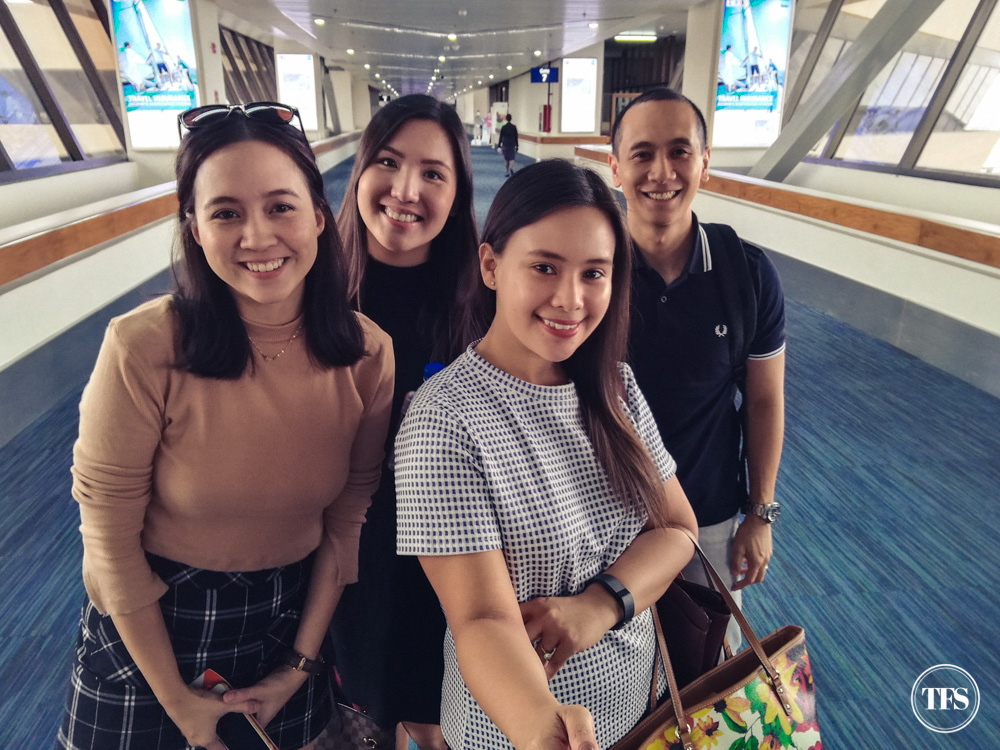 Here we go! One last out of the country trip (I think!) before getting hitched!
Even at the start of my journey to Melaka, I already felt the positive good vibes by just being with these amazing Filipino bloggers. What a blessing and privilege to be part of this team!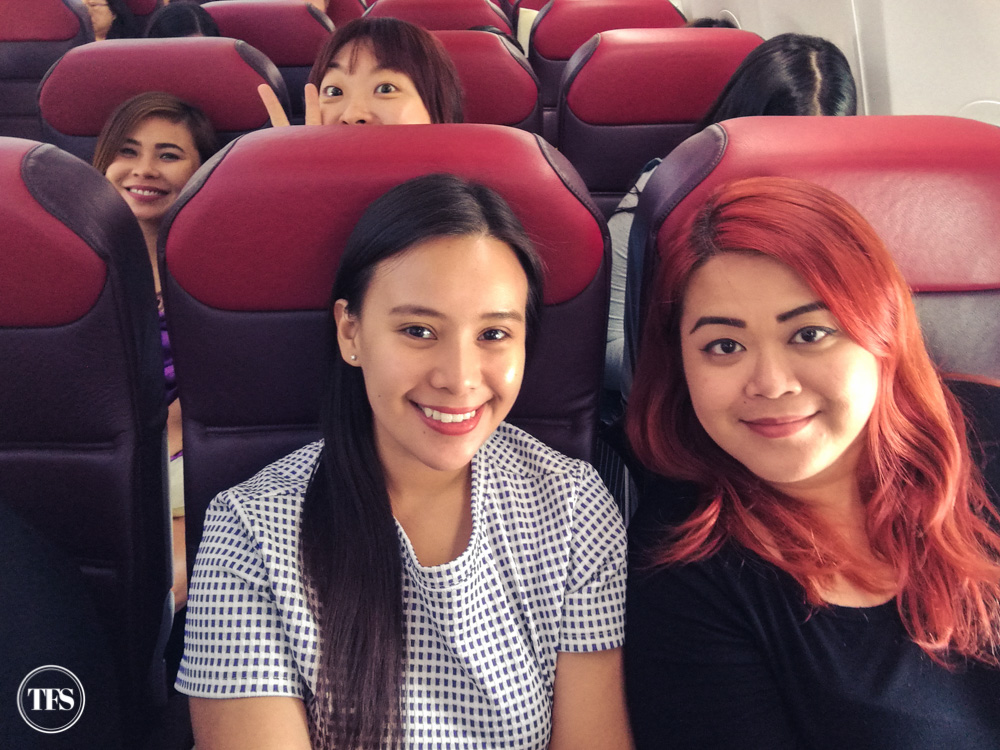 As much as I wanted to save energy and sleep in the plane, I couldn't. There's something about my adrenaline when I travel. Haha! Anyway. Let's skip to the part where we arrived Kuala Lumpur safely via Malaysia Airlines (Thank God!).
This, I didn't expect! It was already like a party in the airport when Julie's Biscuits Team joyfully welcomed Team Philippines to Malaysia as they carry the Julie's banner. Seeing those genuine smiles on their faces made the trip more exciting for me!
And from there at Kuala Lumpur International Airport, it was more than an hour drive to Melaka. We headed to Holiday Inn Melaka to get the much needed rest and prepare for the next day. I call it the most important part of the trip!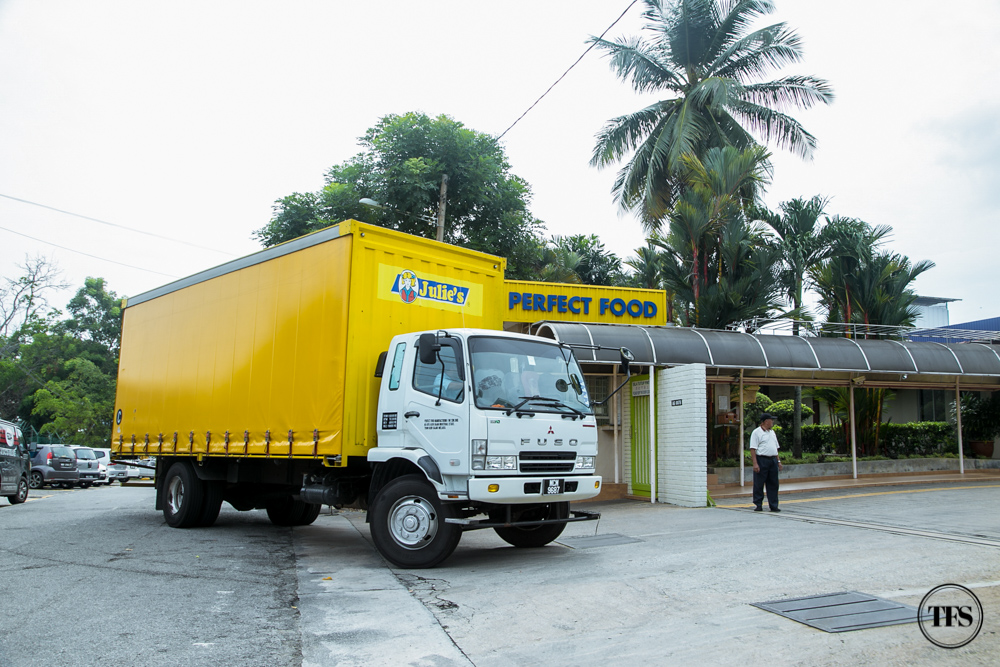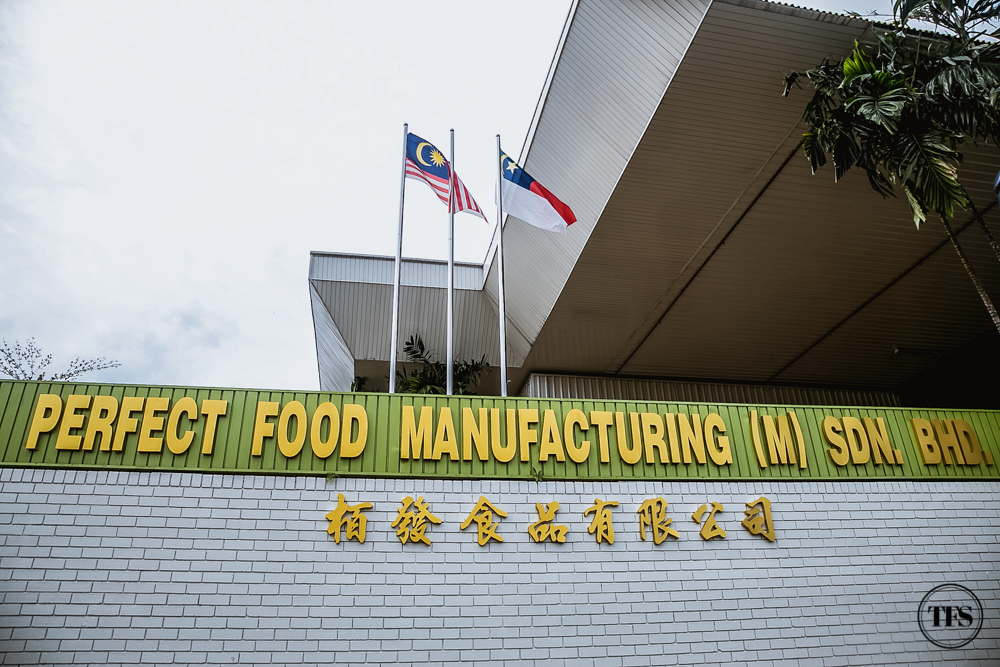 Julie's Biscuits Factory Visit
Batteries all charged up and all ready. This day is dedicated to visit Perfect Food Manufacturing in Melaka, the factory that makes Julie's Biscuits.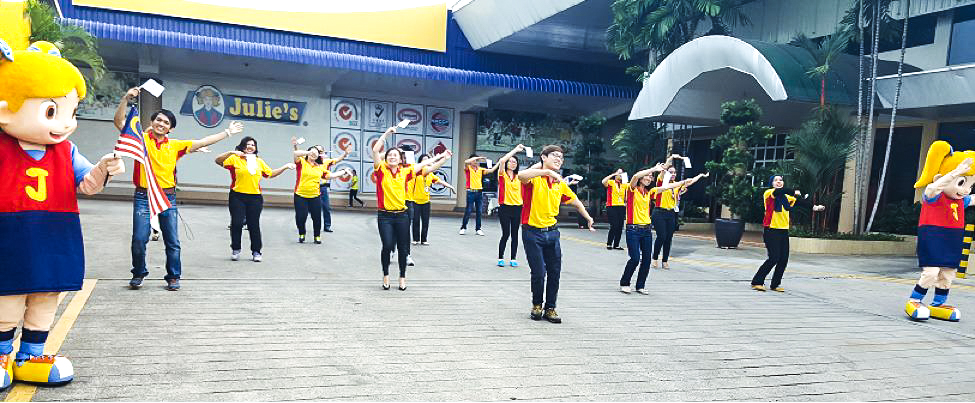 Oh wait! I didn't get the memo. There seemed to be some kind of festivity happening at Julie's Biscuits factory!! Will you look at that, a song and dance production number to welcome us! Julie's Biscuits team surely knows how to entertain their guests. The day only started and it was already a blast!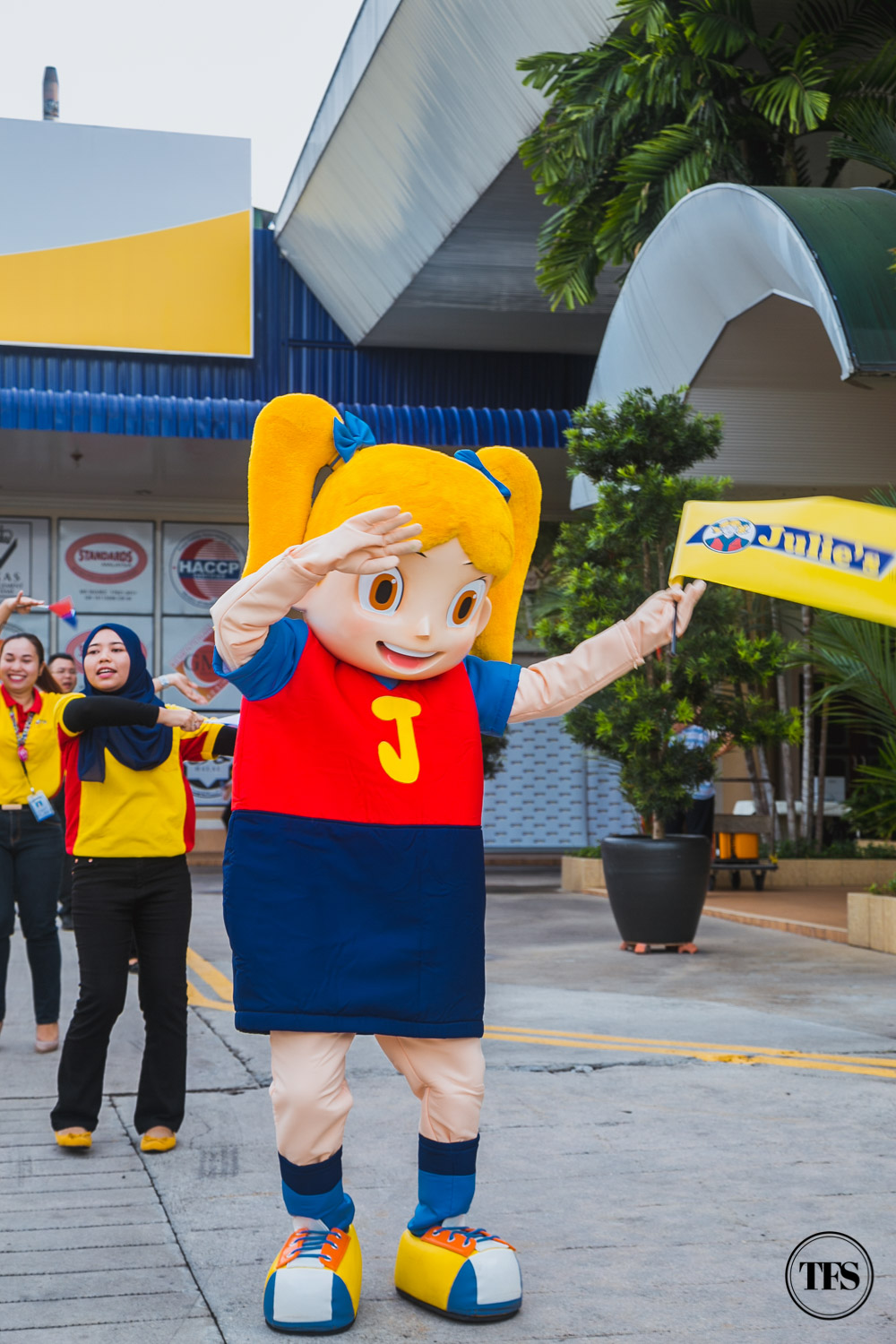 Even the mascot of Julie's danced to the beat to welcome us. Oh so cute!!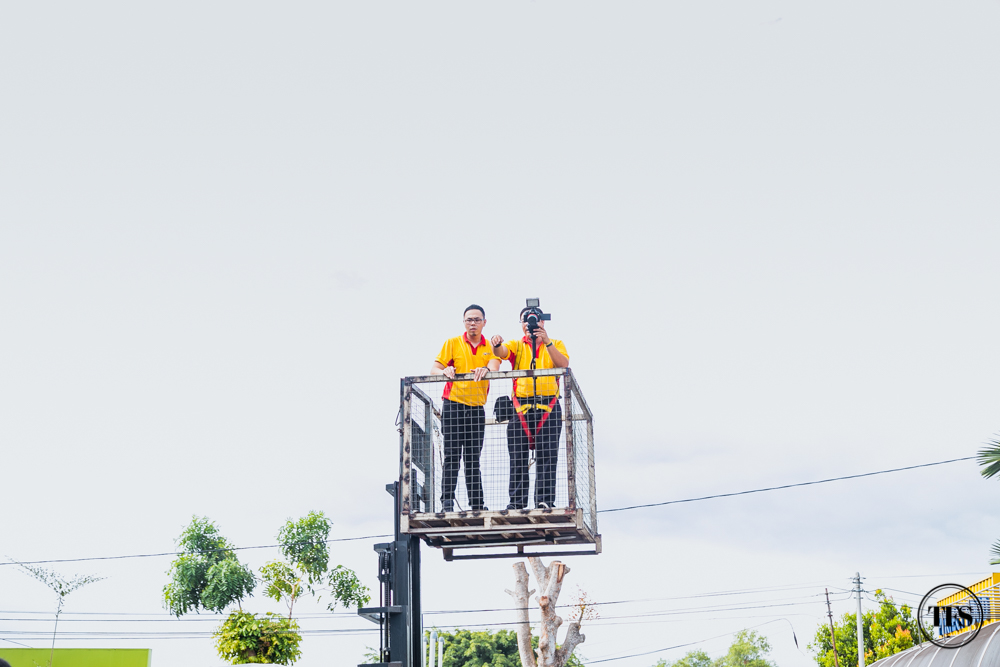 No drone, no problem. This was our "drone" to take our group aerial shot.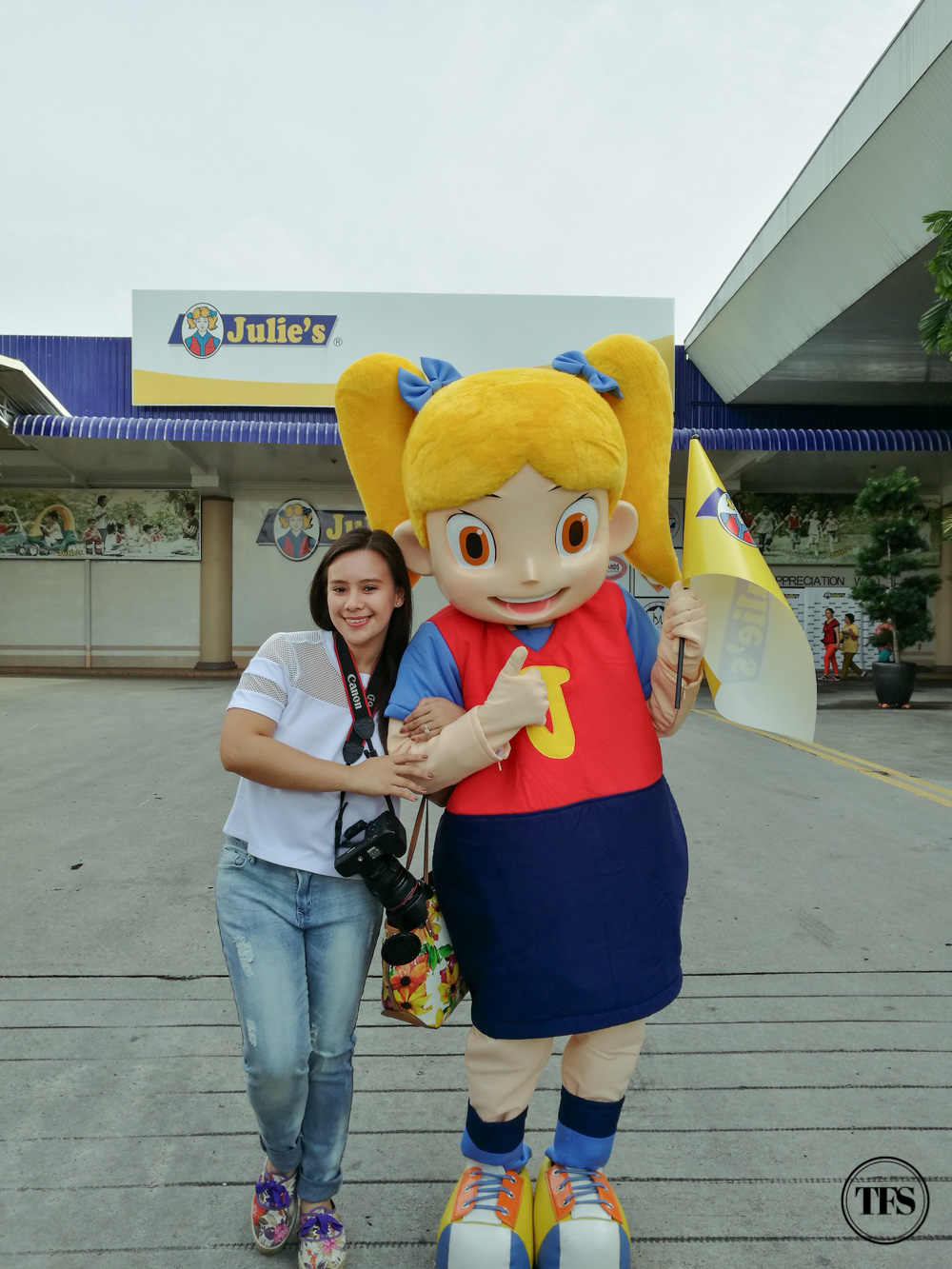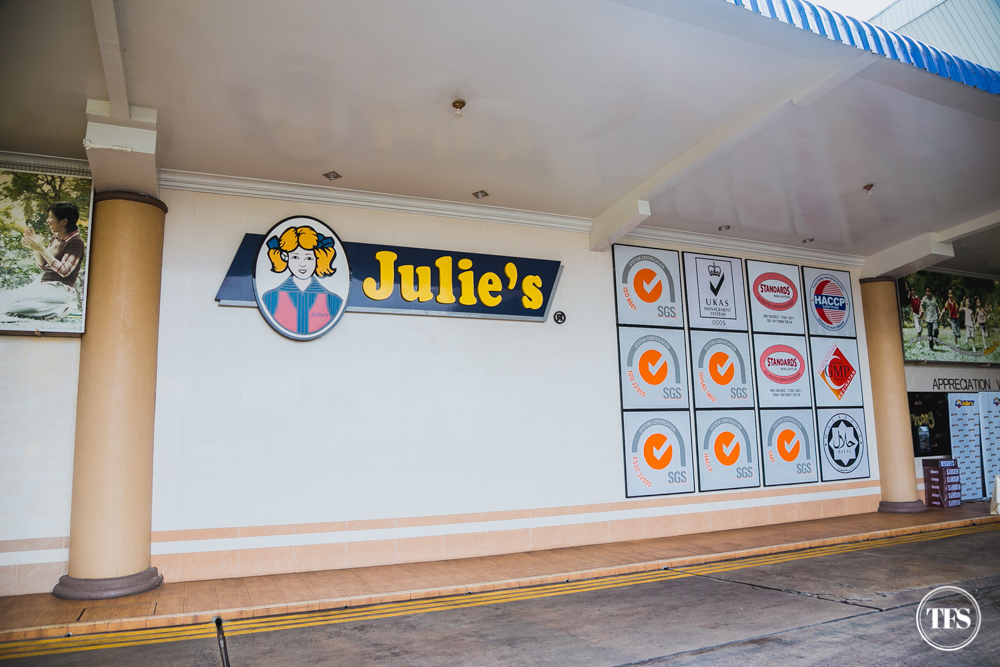 Now, it's time to get down to business and know more about Julie's Biscuits.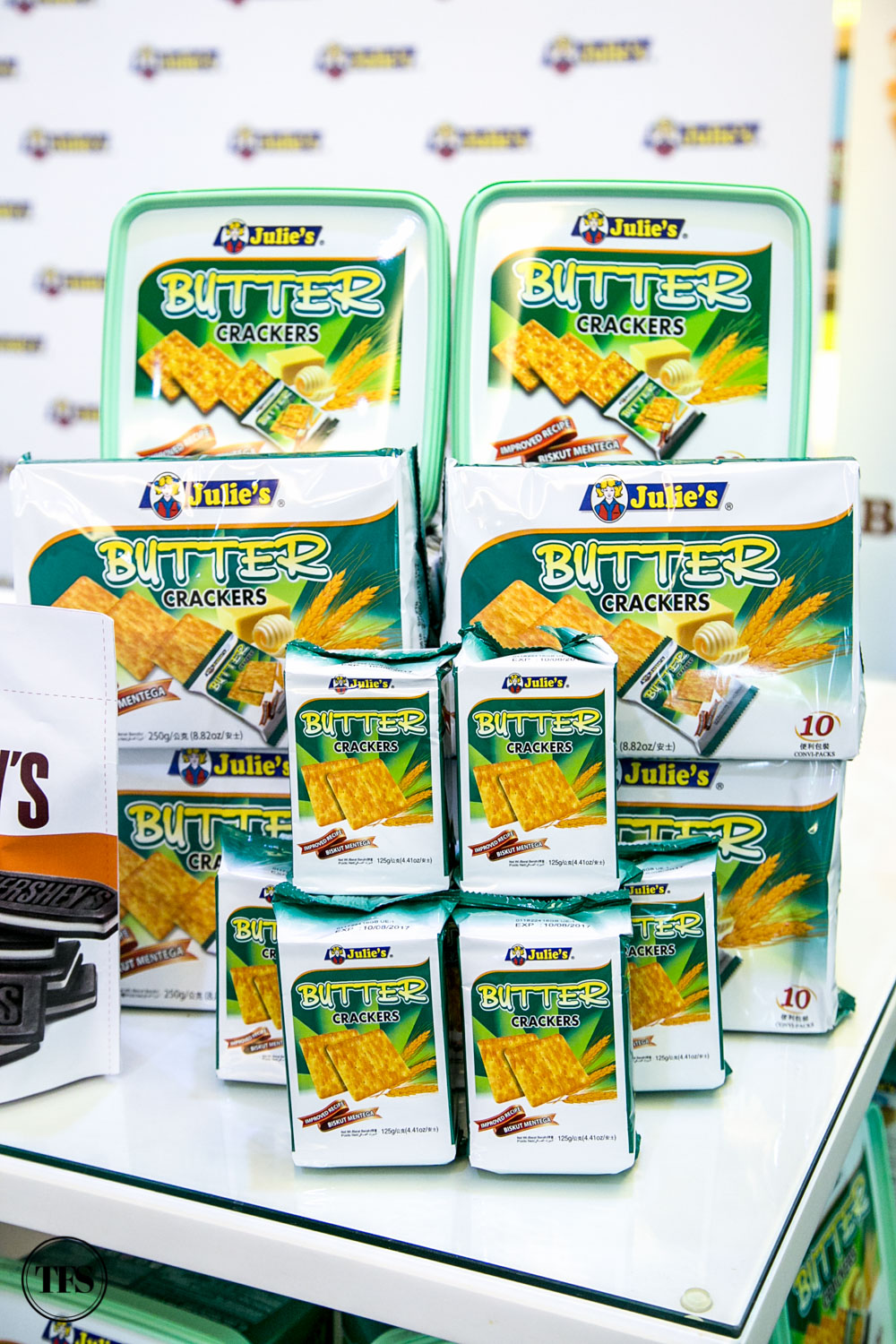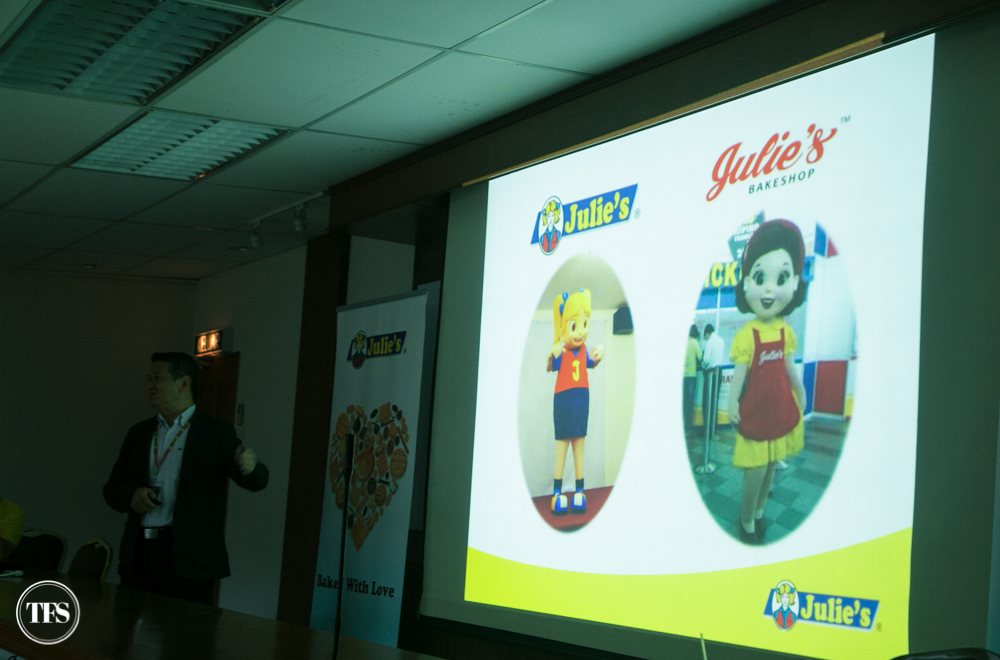 To satisfy our curiosity about the brand, Mr. Martin Ang, Director of Perfect Food Manufacturing, took charge to tell us everything we need to know about Julie's Biscuits. First and foremost, he needed to make this statement clear. Julie's Biscuits and Julie's Bakeshop are not one and the same business. Julie's Biscuits from Malaysia manufactures a variety of crackers, cream sandwiches, wafer rolls, waffles, wafer and cookies.
Surprising? It shocked most of my fellow Filipino bloggers. It wasn't that surprising to me though, since I discovered Julie's Biscuits from my 2012 Singapore trip. Looking for something to munch in the hotel, Reine and I stopped by a convenience store nearby.  We found the packaging of Julie's Le-Mond interesting. Plus, we knew mom loves anything with lemon and so we got it. From that day, we fell in love with this brand. We had to search everywhere to get ourselves Le-Mond Puff Lemon Sandwich. This is a true story my friends. We became real fans of Julie's Biscuits because of this discovery.
At this hour, the set-up could seem like a class lecture with Martin. But the truth is, it was an hour of inspirational talk from him. His way of introducing us to the brand sounded like a story of love and inspiration brought by Julie's Biscuits. The point of it all is this, Julie's Biscuits bakes with love. And it is love that makes this Malaysian company rise from whatever circumstance they may face.
Quick Julie's Biscuits Facts:
In 1981, Julie's Biscuits started its operation in Malaysia. Strange but it's the same year as Julie's Bakeshop in the Philippines.
Julie's has become a household name and the largest biscuit exporter in Malaysia.
Core values: Passion, Integrity, Conscience & Accountability.
Julie's is committed to Corporate Social Responsibility with its actions and projects. (Share with Love and Best of You movements)
"Baked with love" is the company's commitment to achieve customers' satisfaction.
"Whatever we do not eat, we do not let others eat". The company believes in this philosophy.
Julie's Biscuits exports to the Philippines! (Yes guys! These goodies are available in all major leading supermarkets.)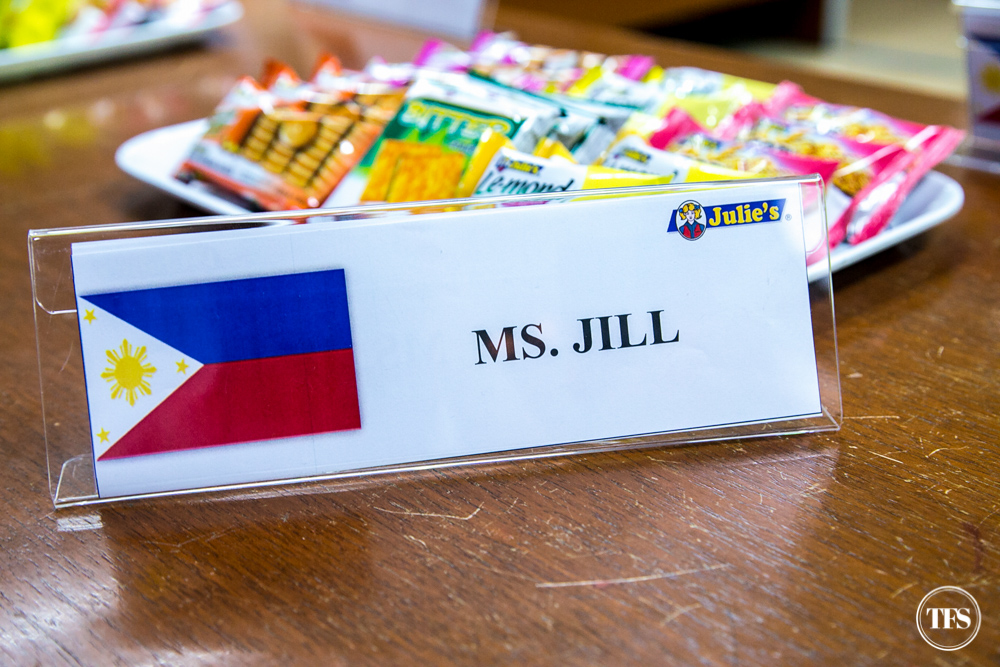 Now this is the most awaited part for me. After briefing us about Julie's Biscuits, we all geared up to enter the production area of the factory. Yeeeehaaaaa! I absolutely love visiting factories or watching how things are made! I find entertainment in hoarding those kinds of knowledge in my head. I mean, we are talking about food here and we could actually look close to how the biscuits are really baked. Plus, another thrilling part is the change of outfit we had to do. From comfortable casual wear to surgeon outfit.
Unfortunately, we couldn't bring our cameras in the production area of the factory. No photos allowed. Strictly confidential and for our eyes only. 🙂
But let me tell you this, as we toured around each part of the production area, they allowed us to try them biscuits before they place it inside the package! That's what you call freshly baked biscuits!!! And it's frigging awesome! I still feel bad I couldn't take snaps of that experience. 🙁
  From what I've seen, it is true that Julie's commits to "Baked with Love". They use better baking technology and selected premium ingredients free from harmful artificial additives and colouring. This is a revelation why the company have built long-term consumer confidence and trust in their products.
After we finished the tour, authentic Malaysian lunch was served, buffet style. Then, we moved on to the next interesting part of this trip. It was time to exercise our creativity skills and learn how to make Julie's Fruity Layer Cake.
When I saw the peg of the recipe assigned to us, intimidation struck me. I don't think I have the right skills to be a pastry chef. Not yet as of today. Haha! Thankfully, Cathy Hoo of Julie's Biscuits Team turned that intimidation around. She showed us how easy it is! In Martin Yan's words, "If Yan can cook, so can YOU!" Ok. Let's do this!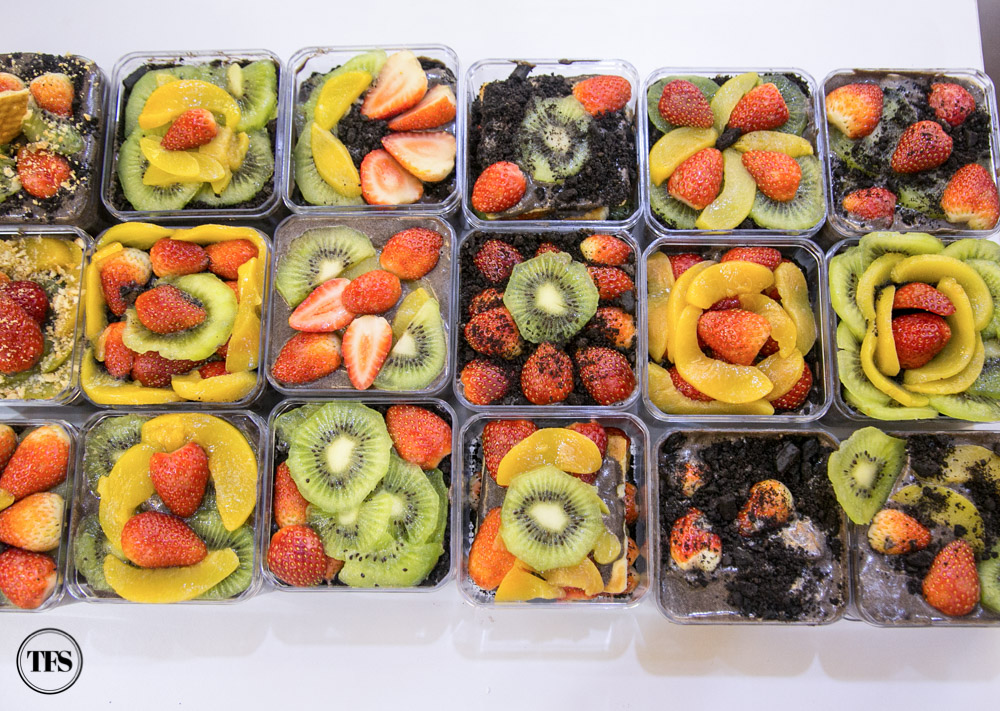 The results of our hardwork! Haha! I'm so proud of everyone! Look at our colorful and juicy-looking Julie's Fruity Layer Cake! Do you want the recipe? Just message me, I could easily send it to you. 🙂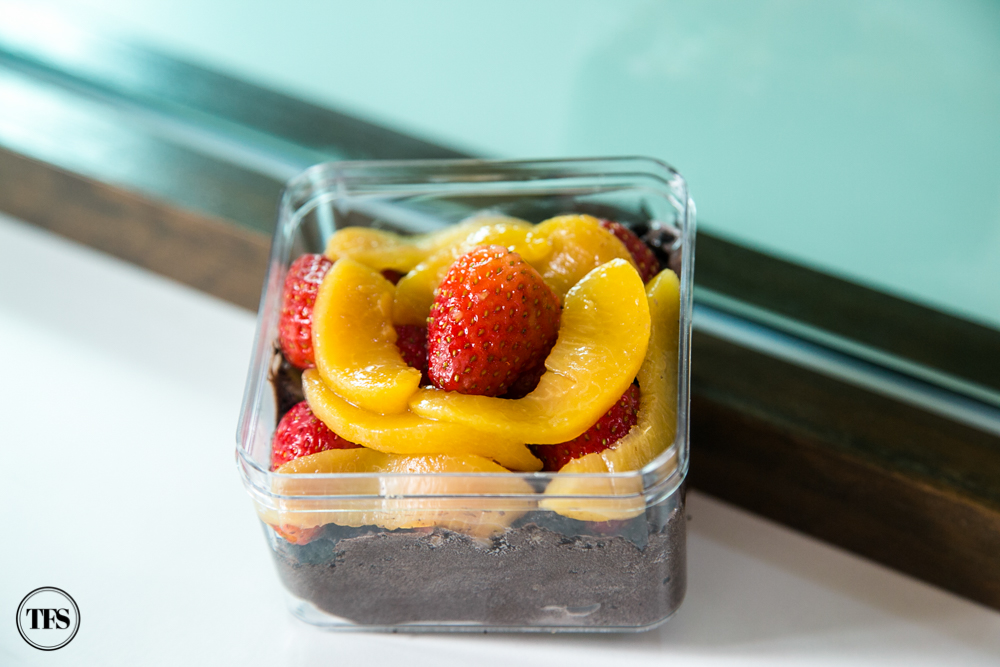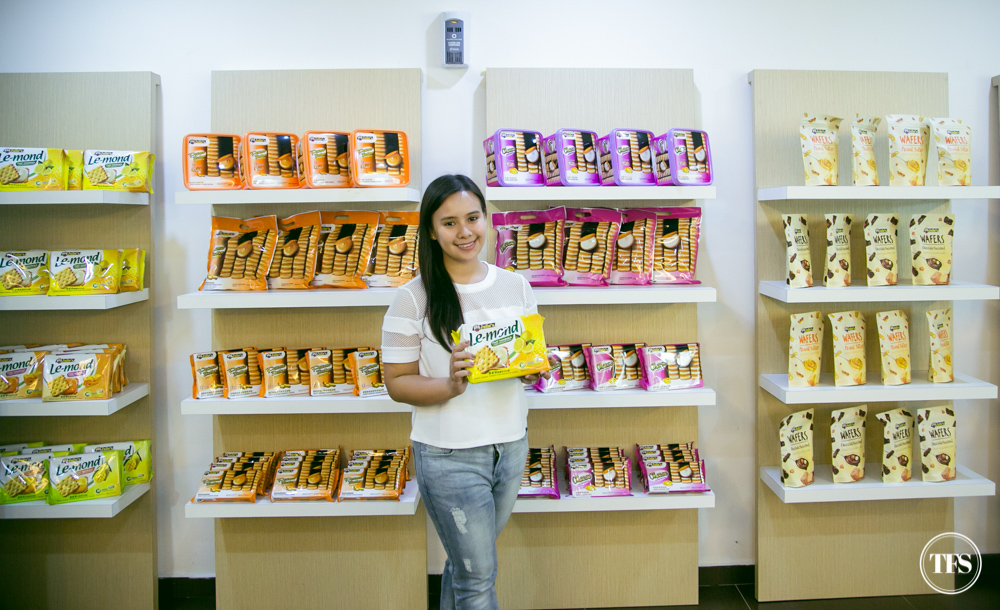 The Love I Discovered from Julie's Biscuits:
I only found out from my trip that there are so much more Julie's Biscuits products, other than Le-Mond Puff Lemon Sandwich. And they are available in the Philippines!
Julie's Peanut Butter Sandwich is addicting!!! One bite and you won't stop.
Chocolate lovers will adore Hershey's Chocolate Chip Hazelnut Cookies and Chocolate Fudge Cookies. 
I fully support a brand like Julie's Biscuits that actively cares for their consumers through their CSR movements and consistency in creating quality snacks.
Julie's Biscuits team are seriously one of the most hospitable people I've met. I now understand the success of the brand. Truly, it's the passionate people behind it headed by Mr. Martin Ang.
I'm humbled to be part of this group and meet a bunch of genuine and successful people in this trip.
Julie's Biscuits could already be satisfying on its own. It was only from that Melaka trip that I discovered the many recipes you can make with Julie's Biscuits! Here are some of the desserts I tasted using Julie's:
GIVEAWAY ALERT
Infected by the love Julie's Biscuits shared with me, I want you guys to feel the same way. This is my little way of thanking you guys for supporting The Food Scout.
I'm giving away 3 Julie's Biscuits Gift Packs to 3 winners!!
To join:
a Rafflecopter giveaway

It's that easy to join. I can't wait for you guys to try Julie's Biscuits!
*Julie's Biscuits can be found in all major supermarkets nationwide. 
What do you think of Julie's Biscuits?
Share with me your thoughts!
Stay updated and Subscribe to The Food Scout for Free!
Pray, Eat and Love.
Cheers,
The Food Scout 
---
Facebook: https://www.facebook.com/JuliesBiscuits