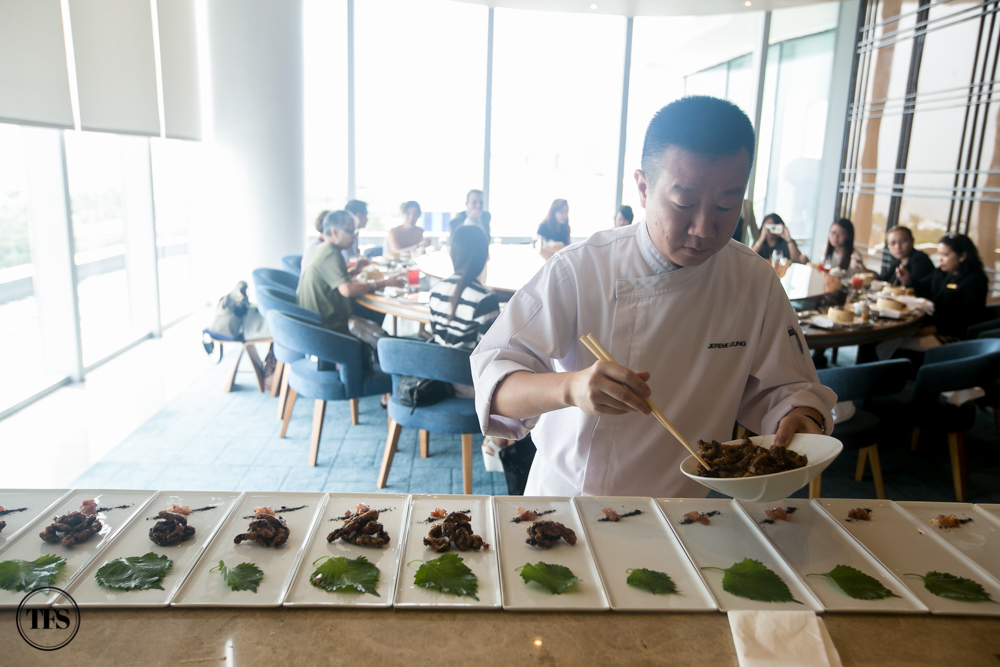 Since we booked our wedding at Conrad Manila late last year (oops! I spilled the beans!), without stepping our foot inside the new luxury hotel in the Philippines, I was only left with my curiosity what Conrad will be like. I tried to imagine the ballroom, the garden, the restaurant, etc. After months of waiting, I finally had the chance to set my foot into the hotel. Not for my wedding yet, this time, it was for tasting the food of China Blue by Jereme Leung, which happens to the same restaurant that will prepare our food at our reception.
Conrad Manila, a luxury hotel chain of Hilton Worldwide, partnered with Chinese celebrity master chef Jereme Leung to introduce a unique food concept of modern Chinese cuisine infused with a Filipino flair. As the hotel's premier Chinese restaurant, Chef Jereme Leung presents a modern interpretation of the traditional and provincial Chinese cuisine. It's a first for a Chinese restaurant in the Philippines to actually partner with a celebrity chef.
Who is Chef Jereme Leung?
An award-winning and renowned chef in the culinary industry, Jereme Leung is hailed as one of the most creative Asian pioneers of modern Chinese cuisine. Naturally a culinary genius, the Hong Kong-born chef blends modern and classical Chinese in taste and style. I had the chance to talk to him for a while and learned about his journey. As early as 13 years old, he started to hone his craft in the culinary industry, mastering all four cornerstones of Chinese cooking skills- dim sum making, siu mei making , wok cooking and knife work. Then, he gained more experience by working in the most prestigious hotels in Southeast Asia. Numerous recognition in his chosen field, he decided to put up Jereme Leung Concepts Limited, a food and beverage consultation company based in Shanghai, China. Since then, he has been instrumental in curating restaurant and menu concepts in various parts of Asia (China, Taiwan, Madives, etc.) and now, including the Philippines.
Enough of the hype. I'd like to show you what we've tried during our lunch with Chef Jereme Leung.
The Food:
One of the cutest looking buns in the world, I finally met the raved Steamed Truffle Mushroom Bun. True to what I heard, these buns will leave a good impression, remembering its odd shape, a large bun that resembles a mushroom. Inside, the better part than how it looks, it is filled with mushrooms, diced and sliced, seasoned with truffle essence.
Beside, I had a piece of Steamed shrimp dumplings with ivy mosses plant or  'Har Kau'.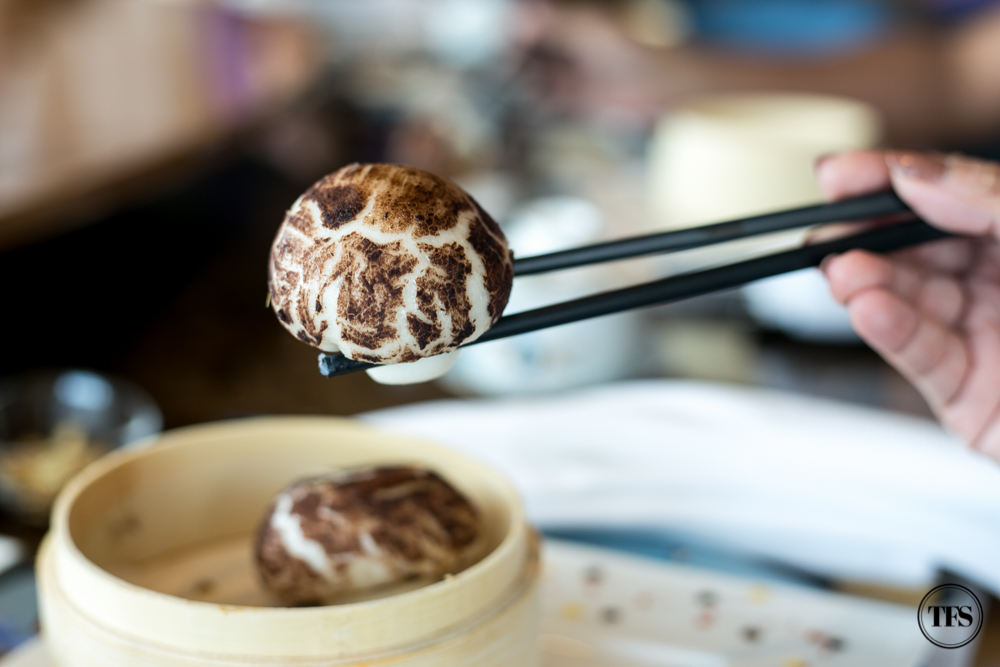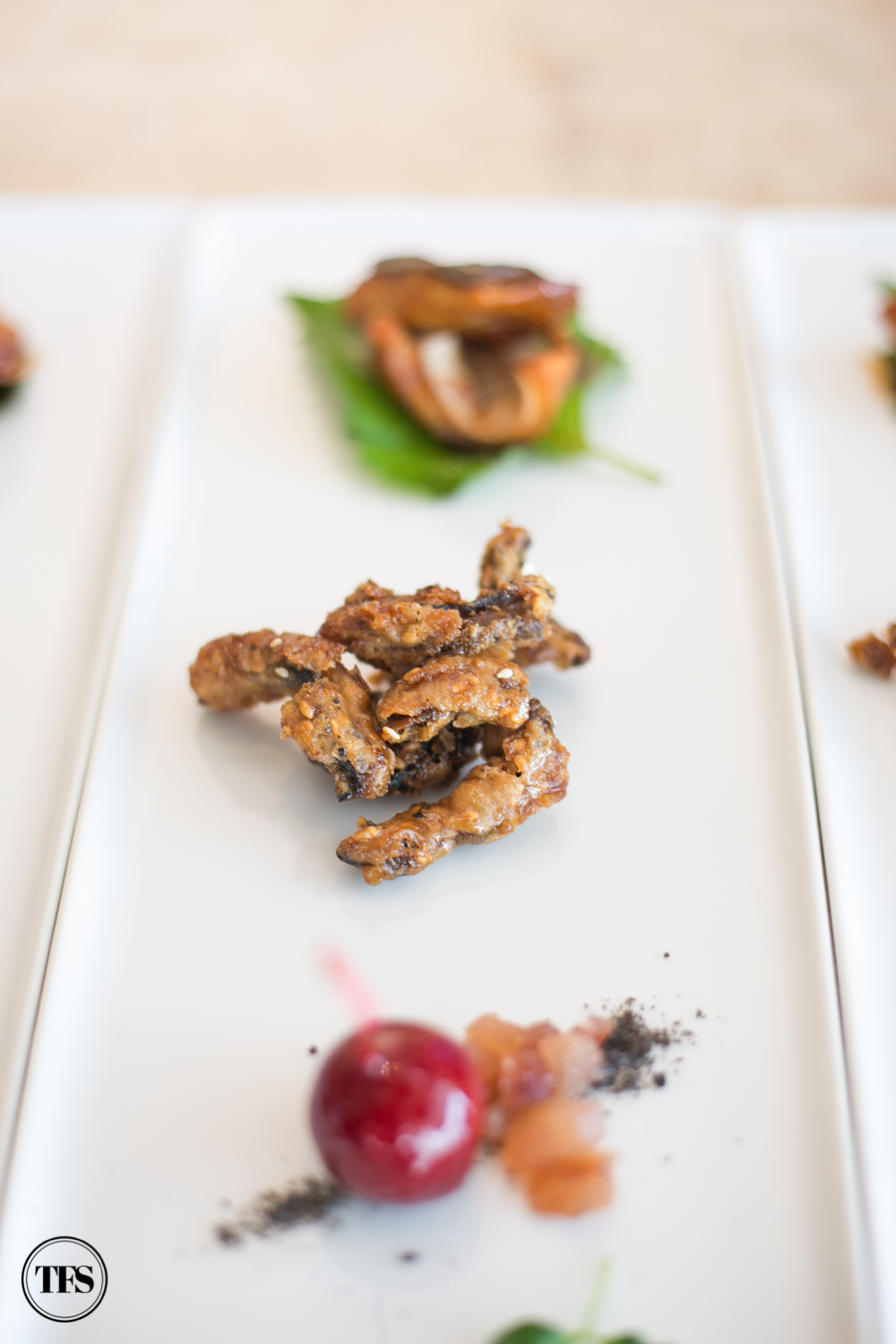 Moving on to the next plate where I caught Chef Jereme busy preparing, a trio of appetizers – Shanghai-Style Soya Braised Fish, Fried Shitake Mushrooms and Goose Liver Mousse. The fish appealed to me for its sweet outer layer, specially made to attract us Filipinos.
Initially, the piece of maraschino cherry was a mystery. Before I knew it, I was indulging and grinding my teeth into this rich Goose Liver Mousse balanced by its tangy fruit glaze.
Thinking about that lunch is one thing but thinking about my wedding in Conrad is another thing. Amazed from my first taste, I knew it's the type of soup I want to serve my guests. Double-boiled Crab Claw with Sea Treasure and Rock Grains in Morel Mushroom Consomme, universally appealing, both for our Filipino and Chinese guests. It has that mild broth with a taste of herbal spices making it compact with flavor.
As a breaker of all the flavors drenched in our mouths, Chef Jereme Leung served us this inventive Homemade Sweet & Sour Chinese Plum Wolfberry Sorbet. Imagine champoy-flavored sorbet, it's similar to what you get in this plum mixed with wolfberry, as your palate cleanser. Extraordinary!
You can figure out how this familiar taste of Crispy Fried Shrimp with Wasabi and Mango Salsa tastes like. I don't find it sensational for Chef Jereme's restaurant yet I'd say they perfected this recipe.
Slow-cooked Wagyu Beef Cheeks is the no-effort meat you can munch without using a knife or adding force to cut through it. Extremely soft yet tender, melt in your mouth literally, it became one of my favorites at China Blue. Where's the Chinese flavor in it? The herbal spices gets the job done.
The desserts presented marked a statement how innovative Chef Jereme is, despite his Oriental background. Proving that Chinese restaurants can still amaze even up to the desserts like the plate of Artisanal Tofu Gelato, Bacon Crisp and Warm Ginger Egg Custard with Peach Gum, you can leave your usual buchi, mango sago or almond jelly behind for now.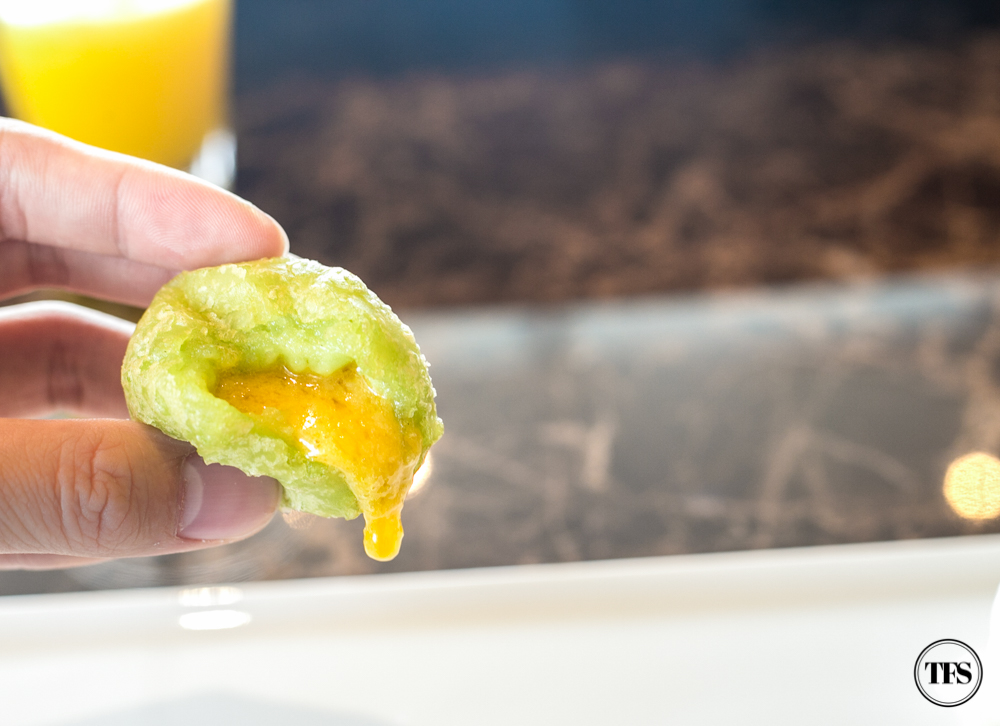 Although if it's this type of buchi, with salted egg custard inside, think twice because this is guaranteed a deal breaker!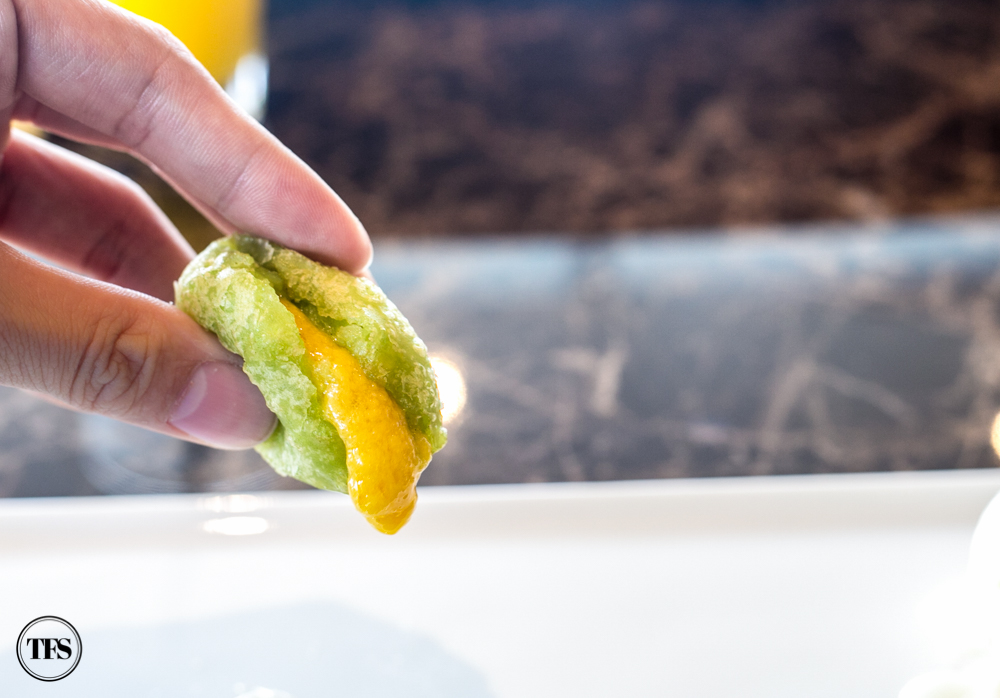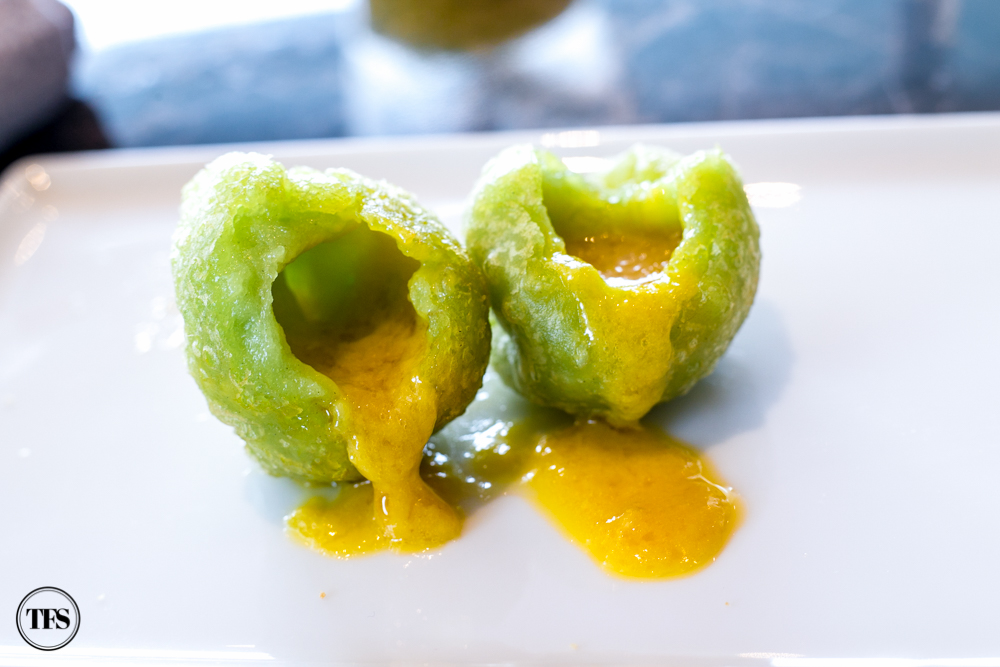 Please let my tongue catch those salted egg dripping like a lava. I'm salivating for more!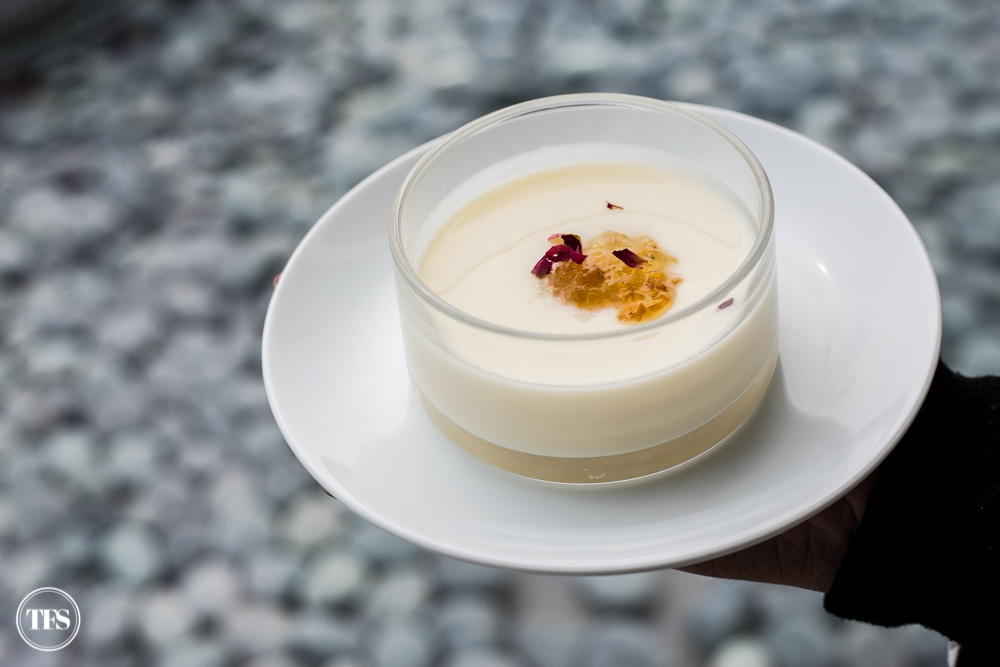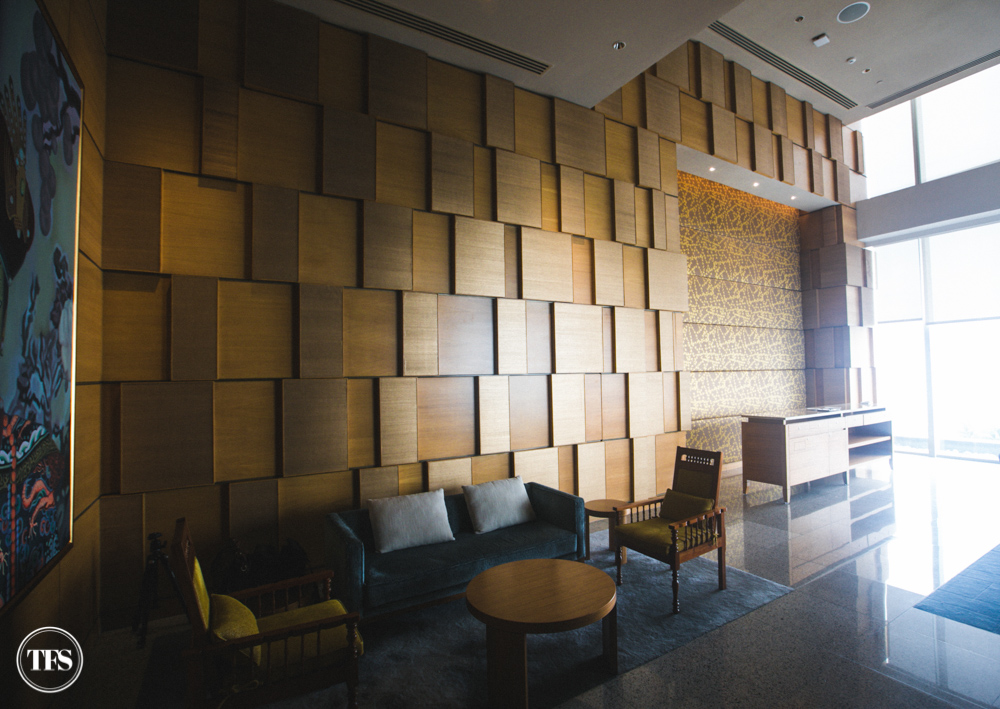 Parallel to Chef Jereme's modern Chinese cuisine, the interiors of China Blue gave us a cool breeze of its modern blue chandeliers, local artworks displayed on walls, hand-painted blue plates, and its wonderful view of the bay. Looking out from its floor-to-ceiling glass windows took my breath away. However, this is only idea when the sun is still out and shining.
Whether it's a family affair or a date with my fiancé, China Blue by Jereme Leung makes a beautiful choice without any regrets. I visited the place a couple of times, both for lunch and for dinner, I have to say I am stunned by everything, every detail.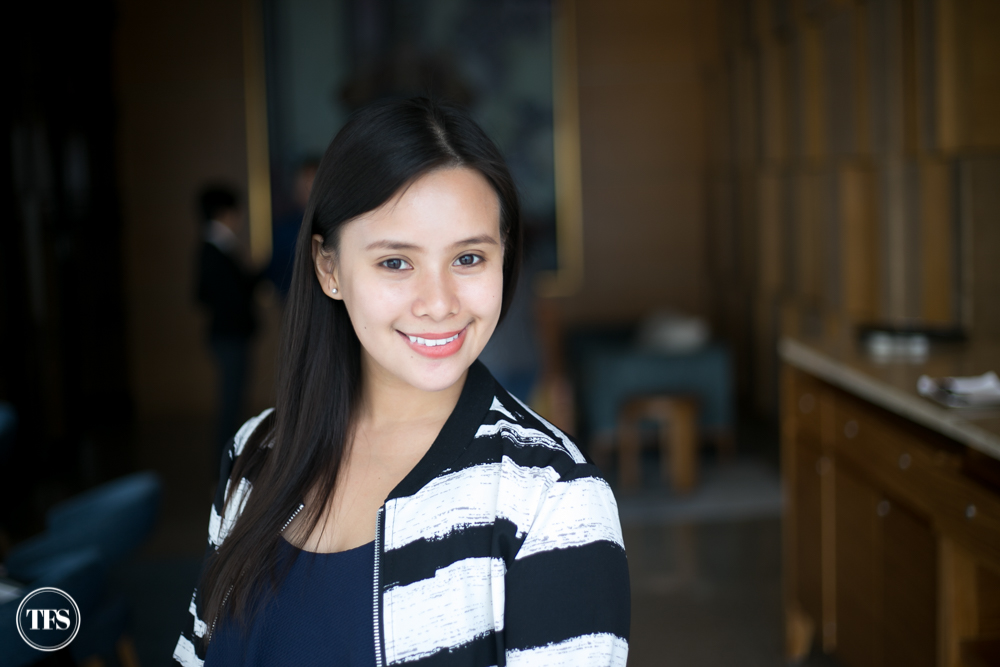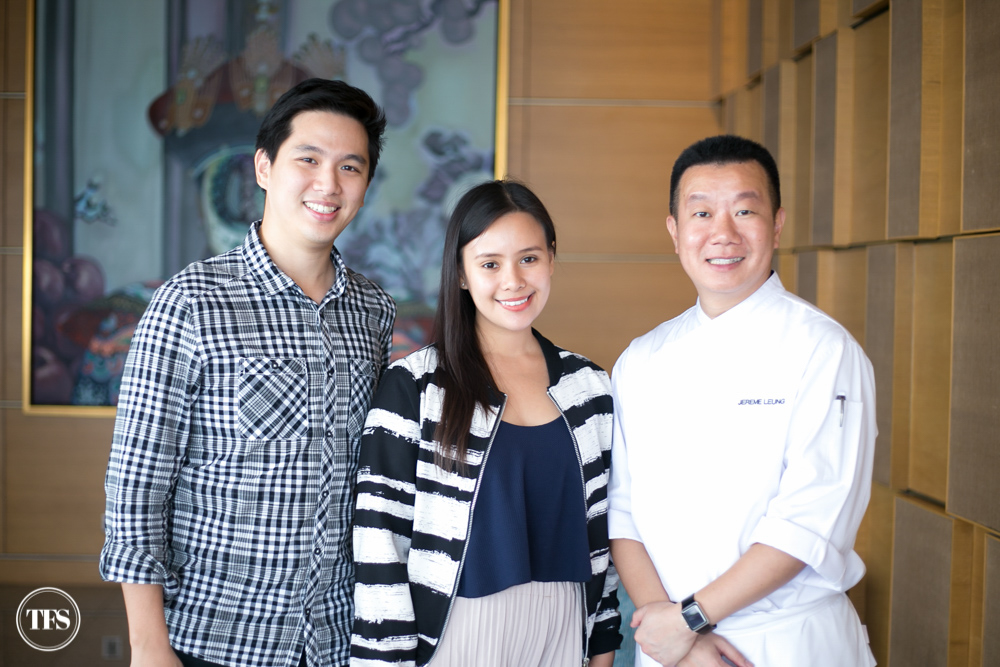 What do you  think of China Blue by Jereme Leung in Conrad Manila?
Share with me your thoughts!
Stay updated and Subscribe to The Food Scout for Free!
Pray, Eat and Love.
Cheers,
The Food Scout 
---
Location: 3/F Conrad Manila, Seaside Blvd cor Coral Way, MOA Complex, Pasay City, Metro Manila, Philippines
Facebook: https://www.facebook.com/ConradManilaPH
Budget: PHP1,000++
Rate
Food            9/10
Ambiance  8/10
Service        8/10
Cost             9/10
Overall       8.5/10