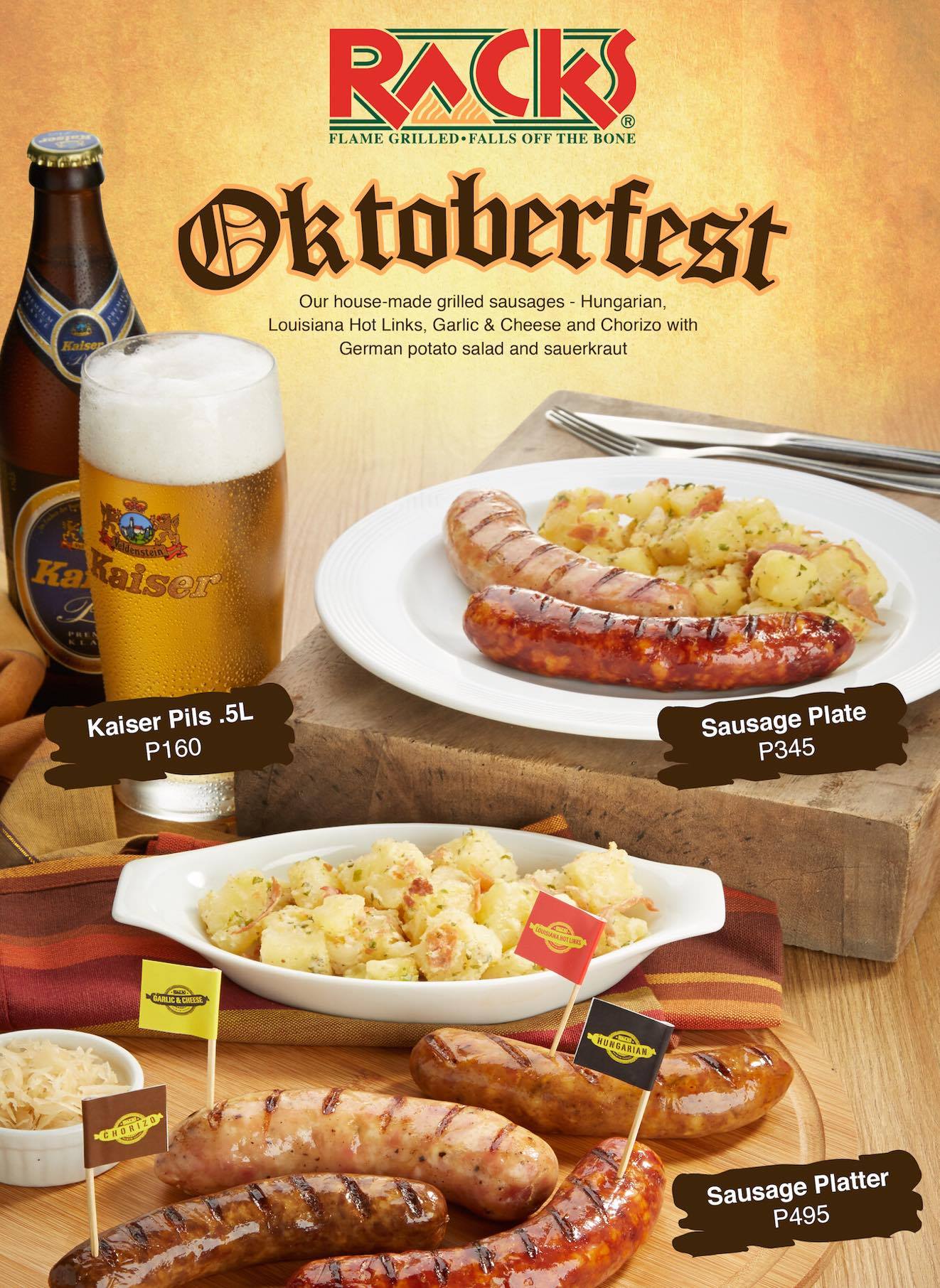 I took the word Oktoberfest literally. Back in high school, when 'beer' sounded so cool that I had to hold when I'm at a party (Hahaha!), I really thought Oktoberfest happens every October only. Little did I know, Oktoberfest is an annual folk festival in Munich Germany that runs from mid or late September to the first weekend in October. This means, Oktoberfest na!
No need to wait for October to start the feast at Racks. Starting last September 15, Racks rolled out their newest Oktoberfest promo for all beer and sausage lovers.
To celebrate Oktoberfest, savor Racks' mouthwatering, house-made Sausage Platter paired with bottles of German beer. Four flavors to choose from: Hungarian, Louisiana Hot Links, Garlic & Cheese and Chorizo. It goes well with German Potato Salad and sauerkraut (fermented cabbage) sidings too.
You also have an option to order the Sausage Plate instead, with 2 pieces of any flavor of your choice and German Potato Salad, all for Php 345.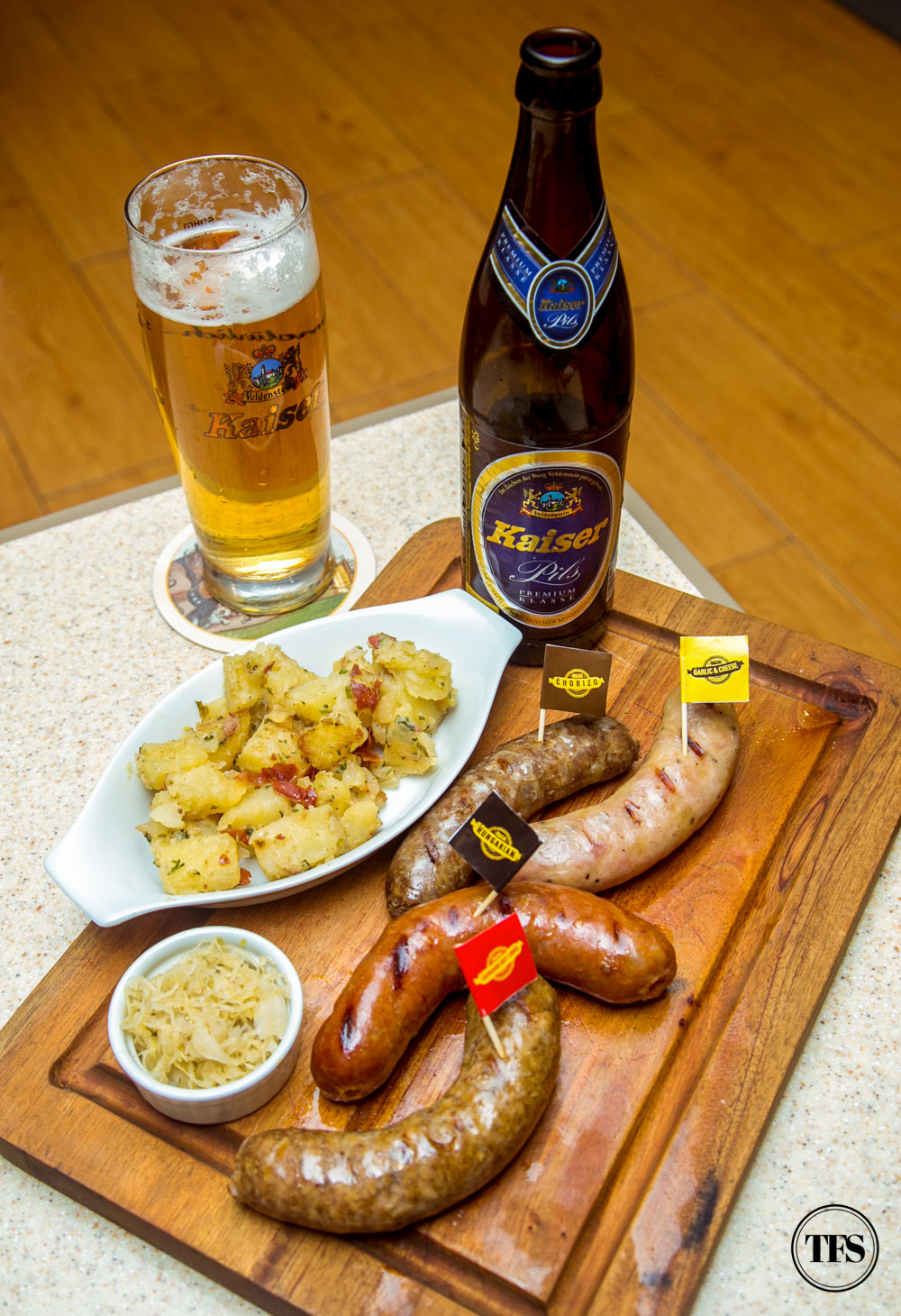 Racks made it to a point to adjust their house-made sausages according to how Filipinos would like it. Right kind of boldness and sharpness, with subtle kicks of flavors, and still appetizing for everyone else. Racks' Hungarian Sausage is not on top of my list but for most of the people I talked to, it's quite a hit. I expected more of that paprika and pepper taste in it. While others prefer the milder tone of Hungarian Sausage, which is exactly what Racks offer.
More spiced and tasty, Louisiana Hot Links made a good first impression to me.
A celebrity among its peers, Garlic & Cheese Sausage was a standout for its captivating cheesy filling with a hint of garlic. A strong combination easy to love by the masses. There's no excuse you wouldn't fall for it too!
I'm already a fan of anything chorizo! You can't get that out of my system. Haha! With that said, I easily adored Racks' Chorizo sausage for its distinct smokiness.
Stamping it with that real German feel, you should get yourselves a glass of German brew, Kaiser Pils. Now this completes your Oktoberfest experience at Racks!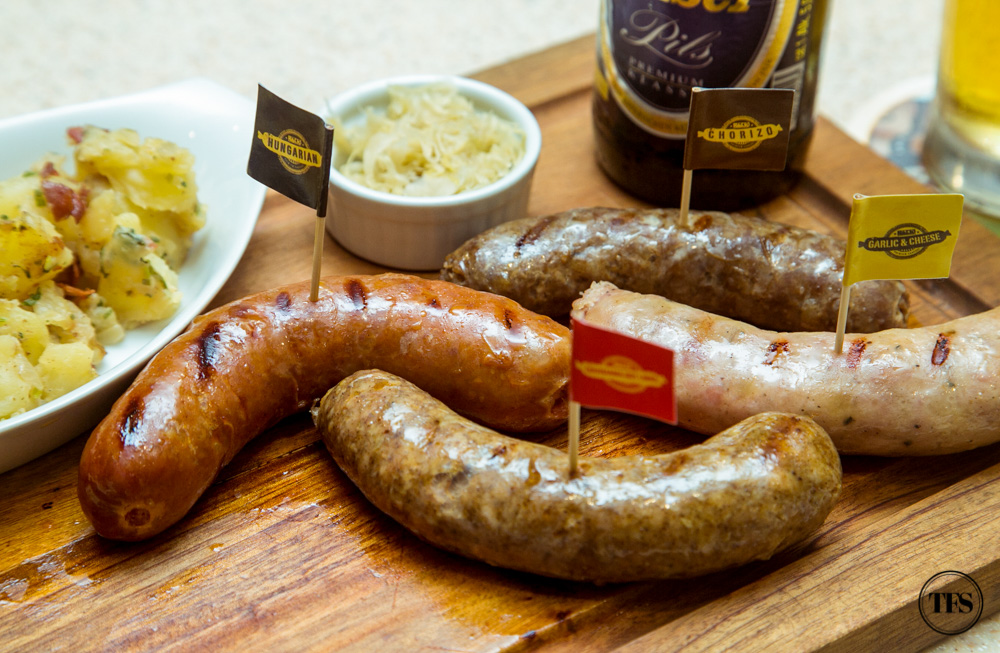 What do you think of Racks' Oktoberfest experience?
Share with me your thoughts!
Stay updated and Subscribe to The Food Scout for Free!
Pray, Eat and Love.
Cheers,
The Food Scout 
---
Facebook: https://www.facebook.com/RacksPHL