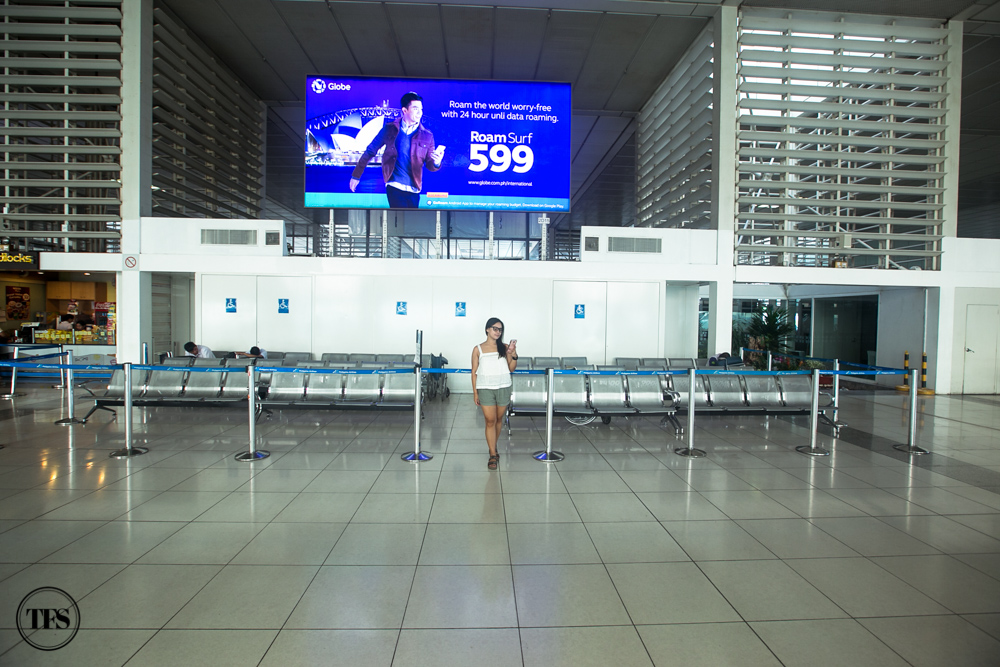 Down to less than 5 months to go before the wedding, I didn't have plans of leaving the Philippines for leisure. If it's for work, I have no choice. But if it's just for leisure, I could postpone it until after the wedding. Apparently, my mom had a different plan for us. On a random day, mom asked me if I wanted to go to Bangkok Thailand with her. I paused for a while, thought twice if I should. I've been to Bangkok as much as I've been to Hong Kong, or maybe less. So, it was a decision to make. Then after a few minutes, I gave in to that sweet temptation of travelling. OH MY WEAKNESS! Travelling is indeed my weakness. I just can't say no to it! Also in the same boat, O was supposed to refuse travelling with me and mom because of work. But I guess my travel buddy couldn't let me go without him. Haha!
That same month mom asked, we took the Philippine Airlines flight to Bangkok, as planned by mom. Since I was a kid, we always end up choosing PAL for so many reasons. The most important reason of mom is this – Mabuhay Miles and the points we earn and we've earned from previous trips.
For this trip, we don't really have an itinerary. Hmm.. Wait. There was never a clear itinerary when I travel with mom. It's always spontaneous!! Haha! So just like how we usually travel together, this trip has no strict schedule. Just plain adventure wherever the wind blows us!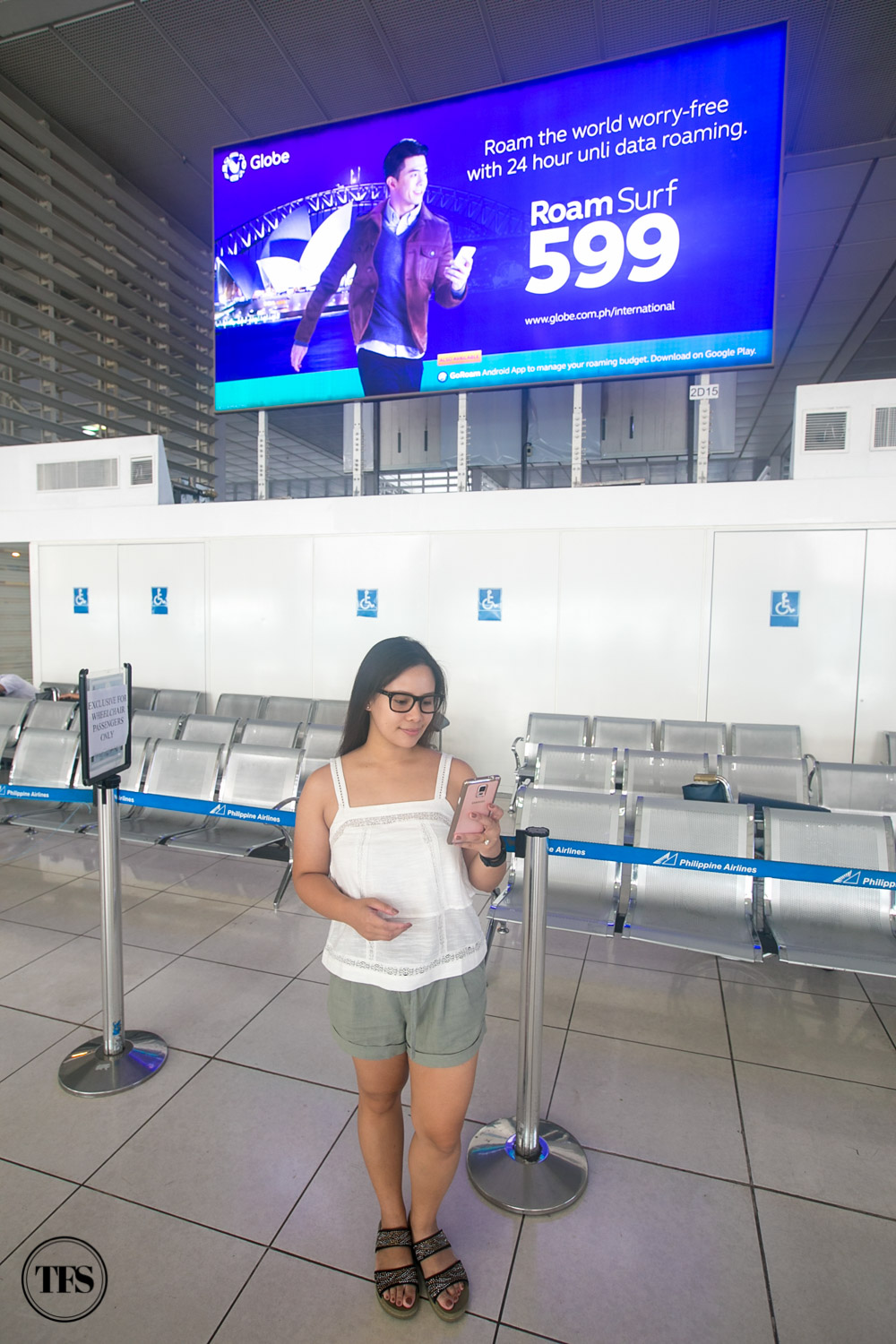 Before leaving Manila, I had to plan how to stay connected to the world. Haha! In other words, have 24/7 internet wherever I am. An unspoken necessity, just like for everyone else, I decided to try Globe's Roam Surf postpaid internet service.
It's my first time to  try P599 Flat Rate service that allows me to enjoy 24 hours of unlimited data roaming for Php599 only. I checked Globe website the countries included in the service. Right now, there are over 120 select countries around the world where we can use this service. As a bonus, there is Free Travel Insurance with TravelCare to protect postpaid subscribers from all travel inconveniences.
For heavy internet users like me, you'll appreciate its unlimited data roaming service. I noticed that Snapchat and other sites with video streaming consume my data. Without worrying I'll be over my data limit, this is a good choice. The best part, no more terrifying bill shock after the trip.
Pathumwan Princess Hotel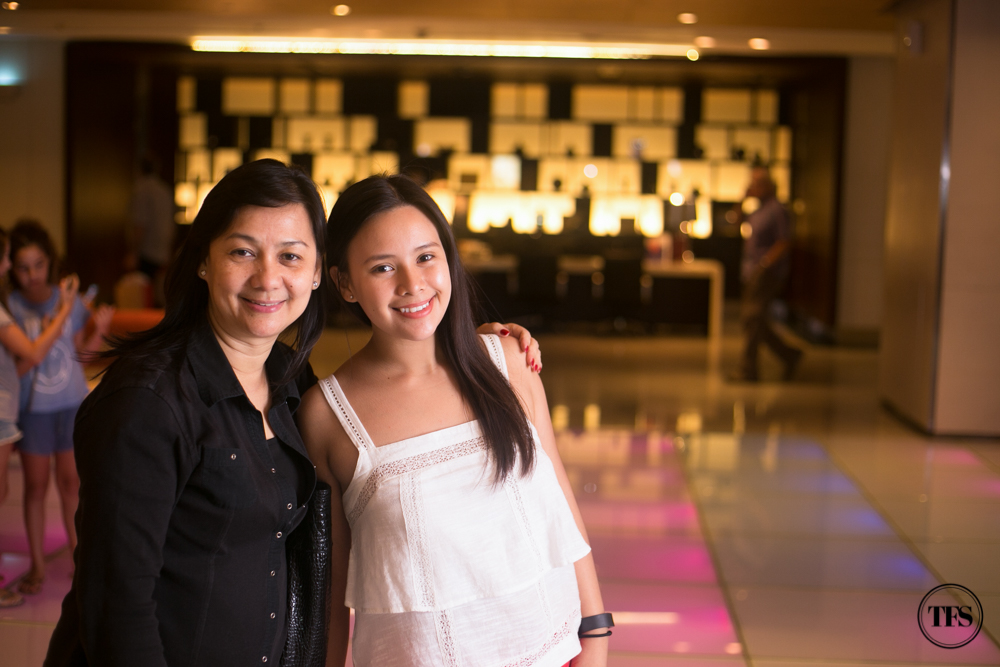 No delays, we arrived our hotel, Pathumwan Princess Hotel located in the heart of Bangkok. Mom chose this hotel for one main reason, it's near shopping malls like MBK, Siam Paragon, Central World, Siam Center and all other malls to visit in Bangkok. This city is known as a shopping district. It's beyond impossible to leave Bangkok without buying from their fashionable bargain stores and markets. But before we cross to the malls, we checked our rooms first.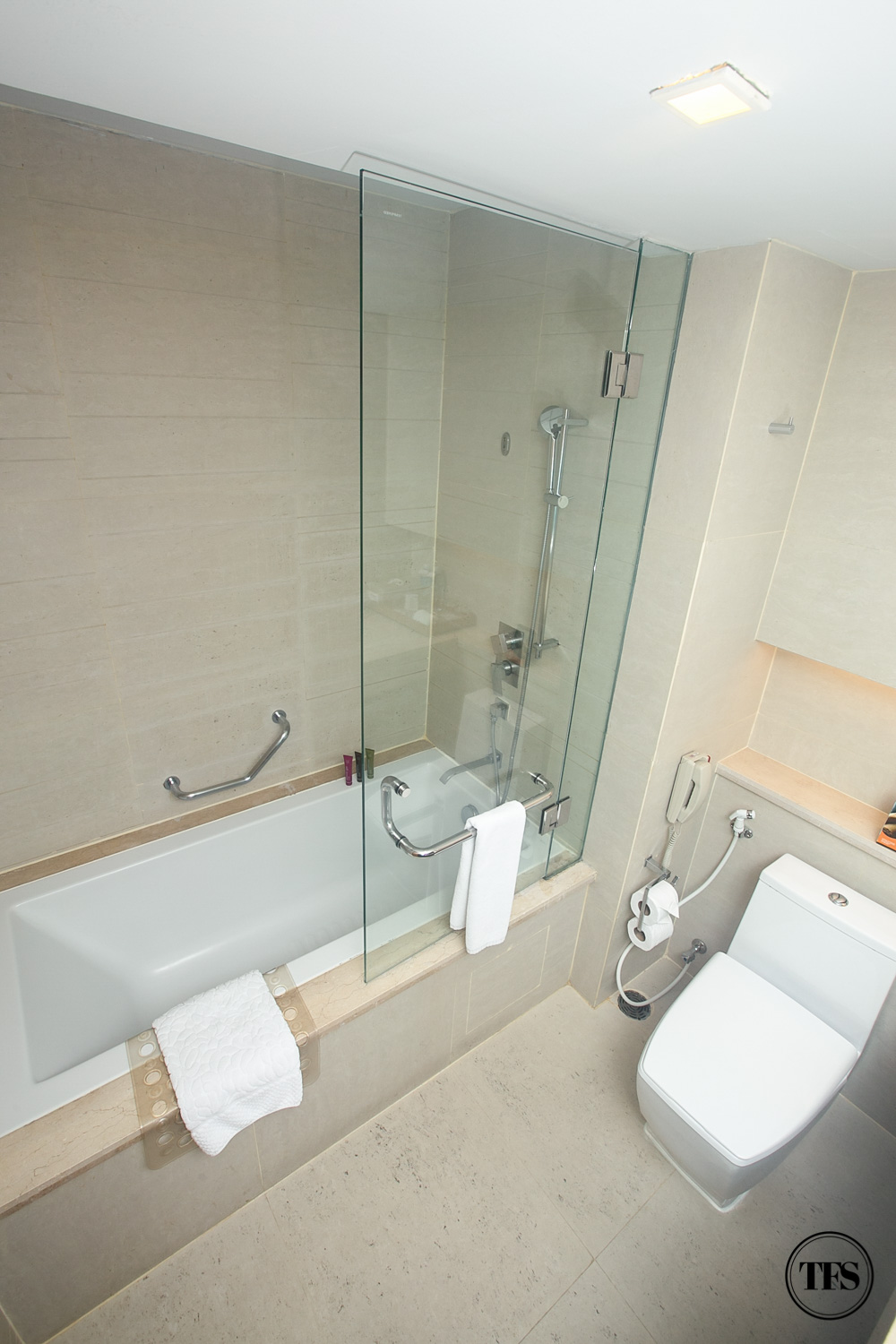 This is given, the first room a lady checks is always the bathroom! Haha!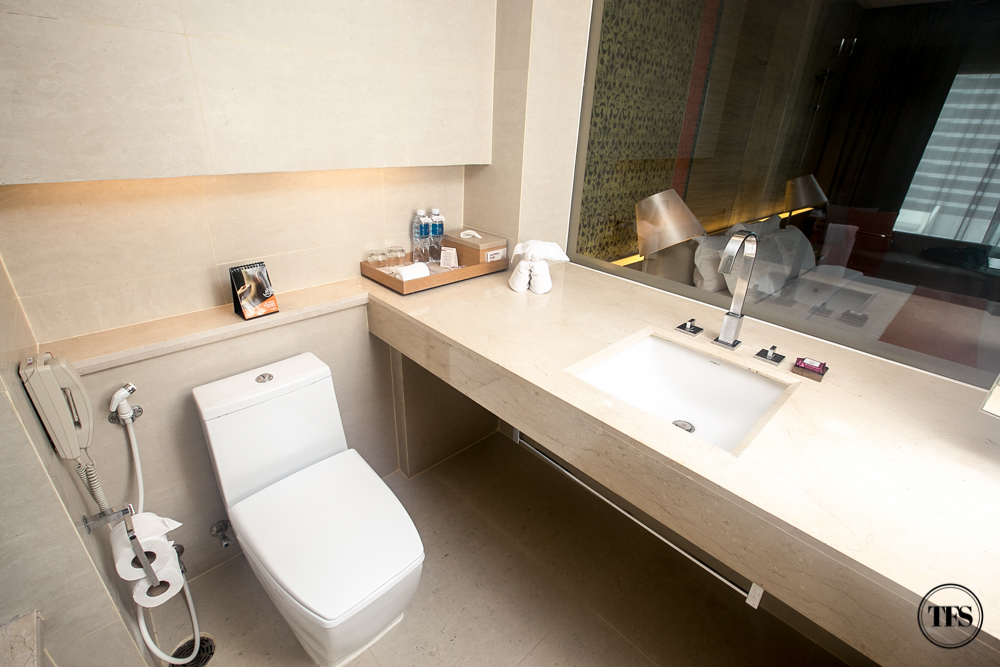 Notice the glass window in between the bedroom and the bathroom? That's quite common for new hotel bathrooms nowadays. It only means, while you sit down on your throne, you could actually watch the television. Hahaha! Don't worry, the roll up blinds will be helpful if you want to do your business privately. 🙂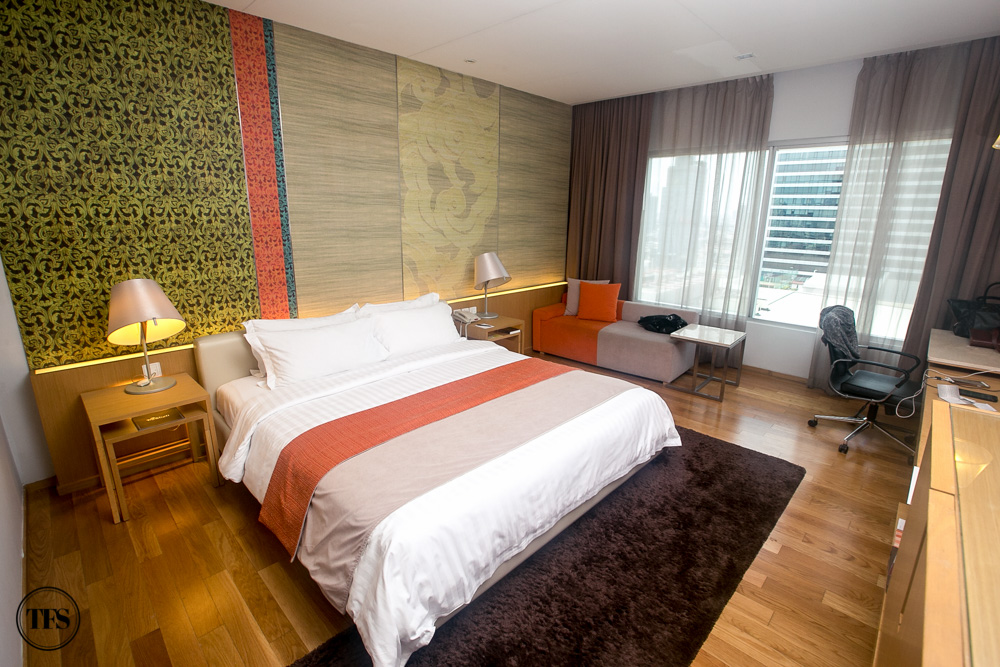 Mom and I stayed in this room while O stayed in the connecting room beside ours.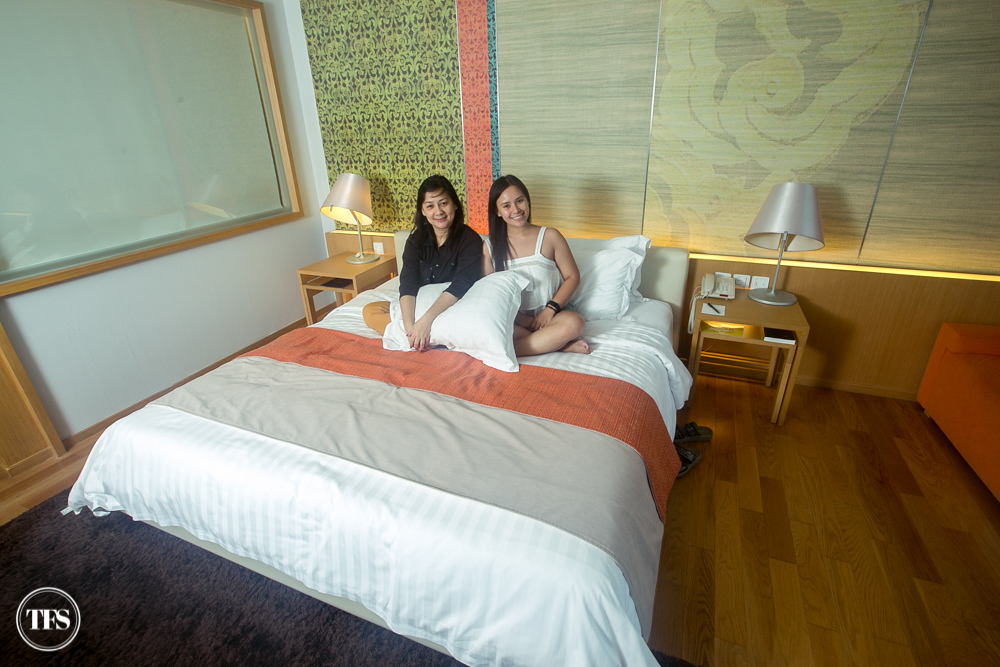 Since Pathumwan Princess Hotel is right beside MBK, we walked to the mall and ate our first few meals of our trip.
First, spicy and sour Tom Yum Soup with mixed seafood and giant freshwater shrimp. Mom also ordered a plate of Stir Fried Red Curry Paste with Chicken and rice. Our palate was challenged to adjust to the spices and spiciness right away. And when the food is spicy, that means we call the desserts! I didn't regret choosing Water Chestnuts in Coconut Cream and a classic Thai dessert or snack, Sticky Rice with Mango.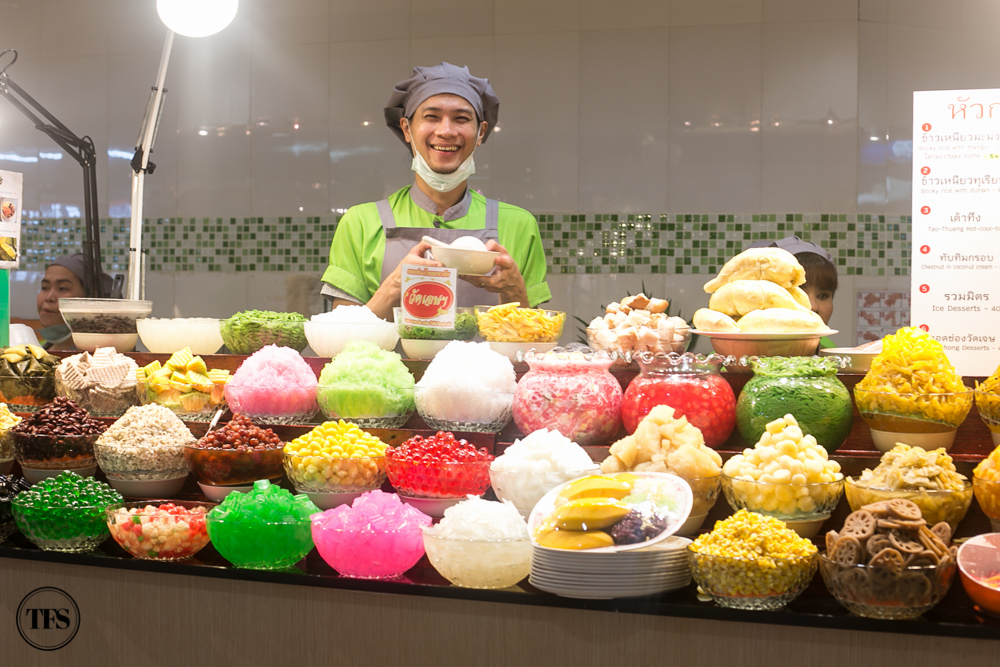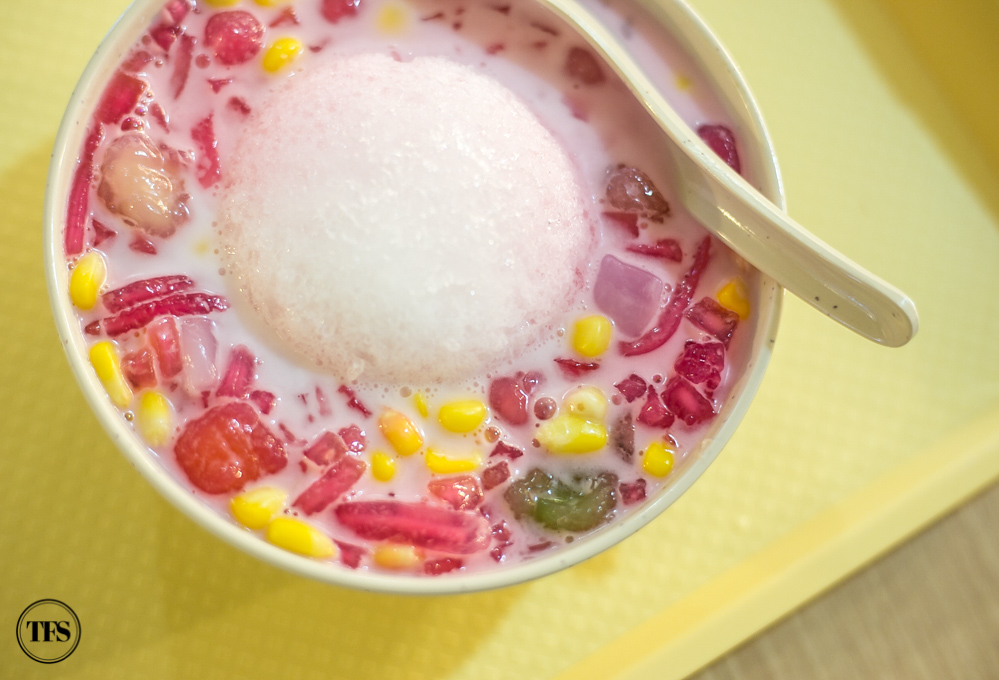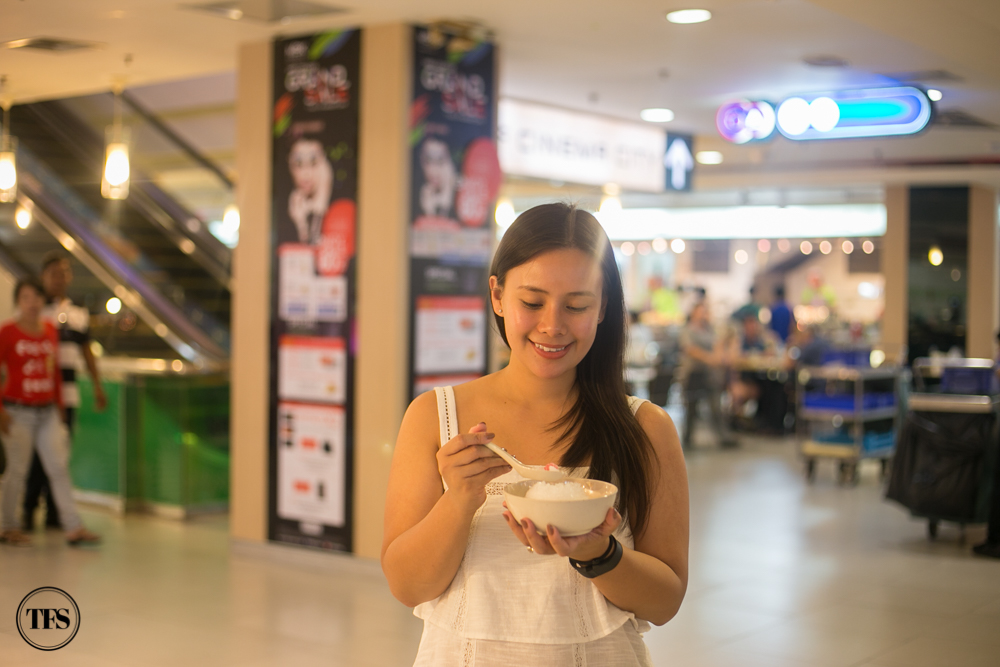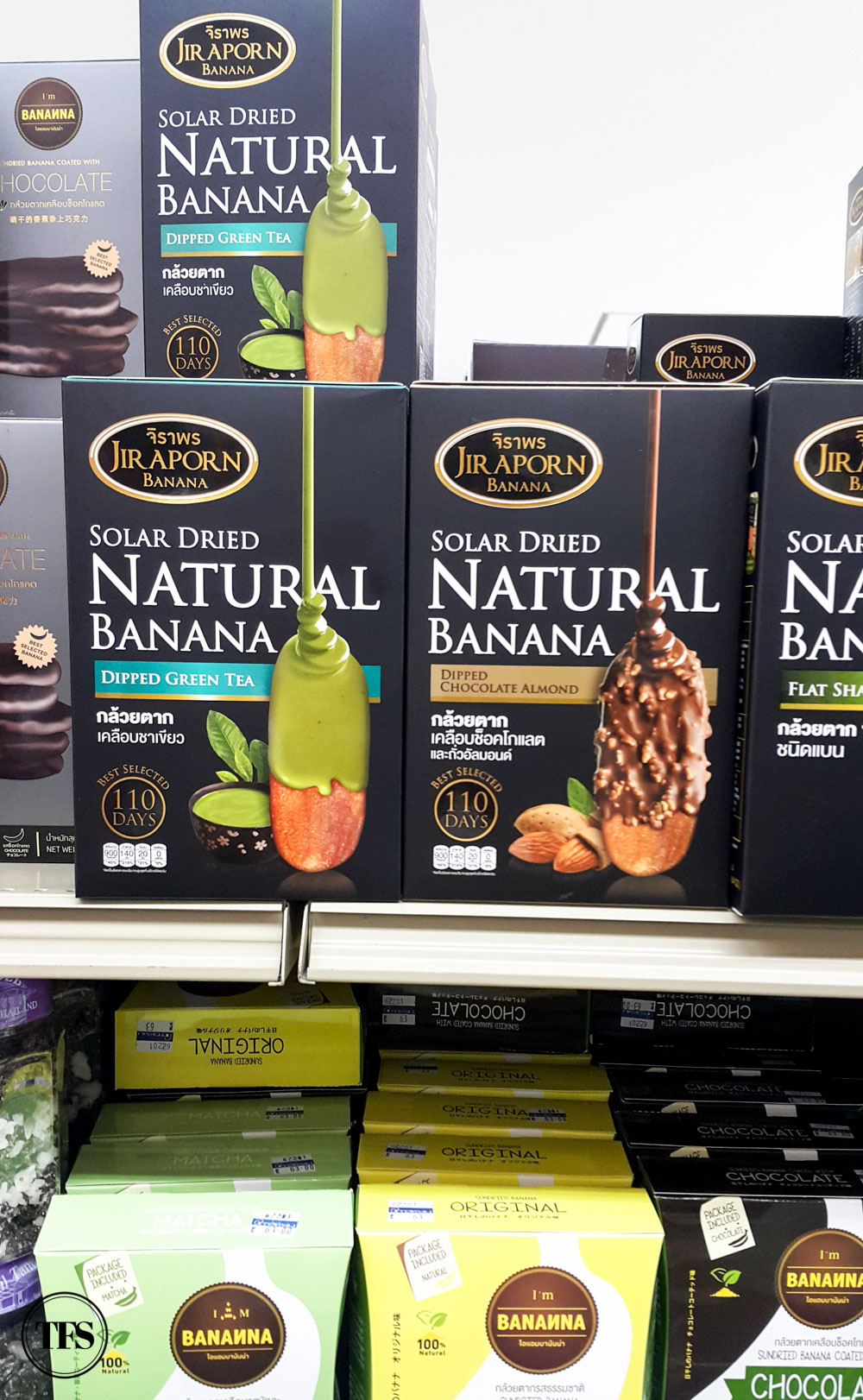 We had time to shop around MBK the whole day. While looking around the grocery store, I found this attractive packaging of Solar Dried Natural Banana dipped in Green Tea. Sophisticated packaging that enticed me to get one for myself. However, the taste didn't match the way it was packaged. Nothing like dried mangoes dipped in dark chocolate, which I love munching on. Booo to this one! 🙁 After one bite, I left the box alone.
Hong Bao Dim Sum House
We gave ourselves the entire day to shop around MBK. Too consumed in MBK, we didn't have time to go outside anymore. Instead, we had our dinner in one of the Chinese restaurants inside MBK, Hong Bao Dim Sum House.
First order of business, get that BBQ Bo Luo Bun and compare with Tim Ho Wan's. Sadly, the buns and its flaky exteriors were already a flop. Inside, the bbq filling were dull. We hoped the next dim sum won't disappoint.
A specialty of Hong Bao for salted egg fans like myself. I've tasted better salted egg buns than Hong Bao's Golden Salty Egg Creamy Bun yet its simplicity and availability at the dim sum house pleased our dinner at MBK.
Now this made me smile. A popular order at Hong Bao, Steamed Rice Rolls with Crispy Shrimps. There was something about the crispy shrimps that doubled its charm. Its sauce, it didn't have a strong taste yet its light soy blend was enough to boost the flavors of the rice rolls.
Special order by O, this Steamed Chicken Feet with Black Bean Sauce. If dad joined us, he would probably feast over Chicken Feet with O.
Shanghai Juice Pork Bun, also known as Xiao Long Bao to us. Close to how they serve in Shanghai and there's no way we'll ignore this dim sum.
Street Food at Patpong Night Market
From our dinner at MBK, our tired feet walked back to the hotel. Supposed to jump to the bed and sleep but I had the urge to still go out and explore Bangkok. O tolerated my urge and went out to Patpong Night Market with me. Sorry but don't expect clubbing photos here. We skipped the clubs of this well-known red light district. Haha! Street food was the main attraction for us. :p
We had Moo Ping, BBQ pork on stick, Pad Thai, their famous noodles and Mango Milkshake, which was one of the best milkshakes we've had in Bangkok! Yes, it was milky, giant and great! The best part, it costed us THB 40 only!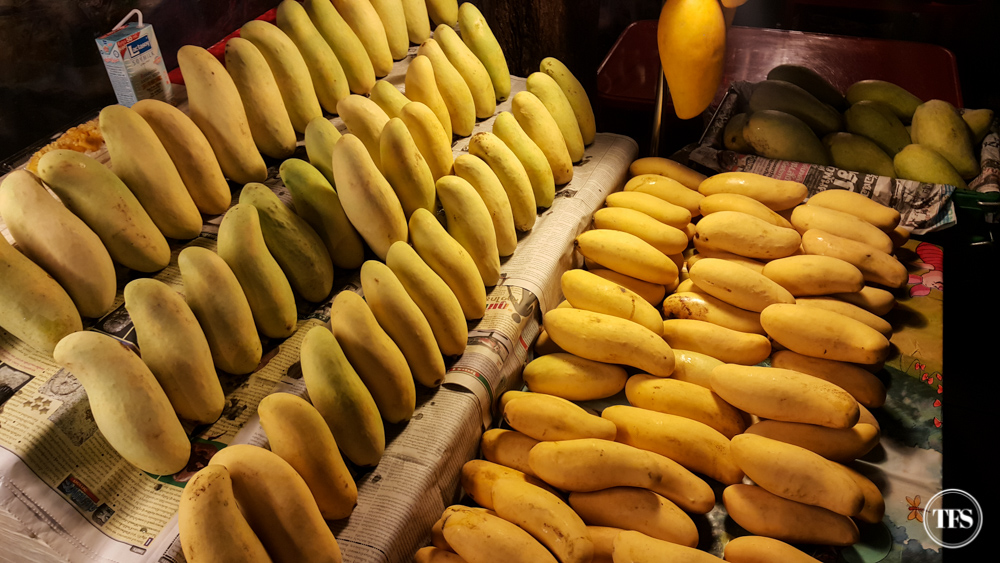 I drop my expectations in all my travels. During the 1st day of this Bangkok trip, I can only remember good times with mom and O, seeing another part of the world with so much joy. We intended to relax on the first day. No to tiring activities, which is therapeutic for everyone especially mom. Let's see how 2nd day goes for us! Stay tuned, foodies!
Stay updated and Subscribe to The Food Scout for Free!
Pray, Eat and Love.
Cheers,
The Food Scout