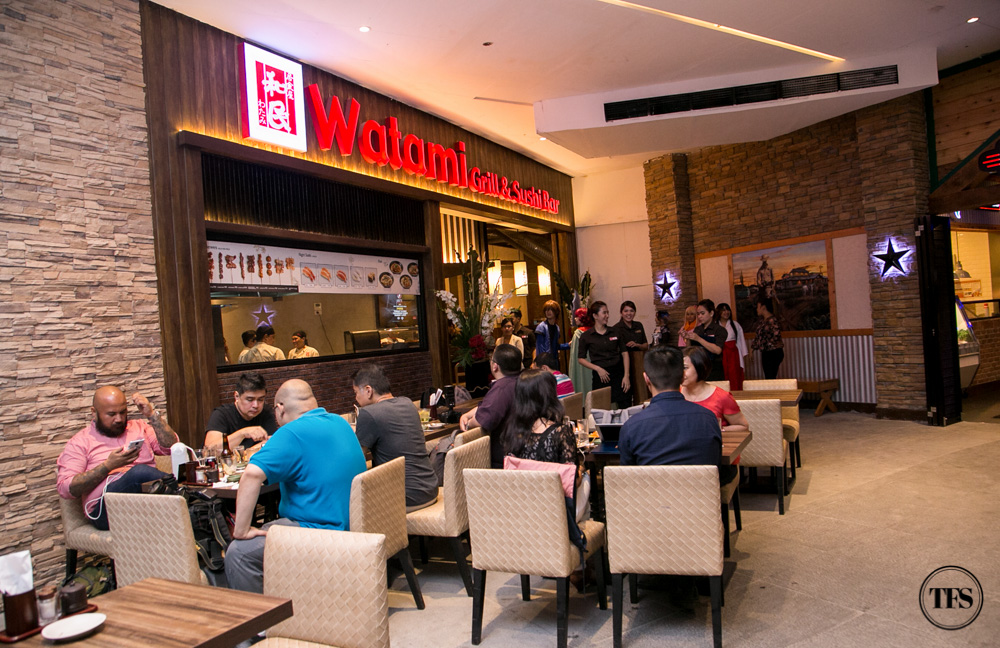 Lately, I've been receiving a number of emails from restaurants opening in BGC. Most of them came from the hottest spot of Megaworld, Uptown Place Mall in BGC. A familiar brand I recently visited, Watami Japanese Casual Restaurant has evolved into a grill and sushi bar in this branch. Now called Watami Grill & Sushi Bar, I saved my Friday night to see what's worth going back for.
Supposed to be joined by my sister Reine, but she chose to eat with my parents, who dined next door, at Texas Roadhouse Grill (same as Watami, under the same umbrella of Bistro Group). If you're dining in Watami and need to go to the restroom, you could use the one inside Texas Roadhouse Grill. Well, that's what I did. Haha!
Watami Grill & Sushi Bar has a small space inside. But if I were you, I'd rather choose to stay outside with a much better vibe. For big groups, you don't want to feel enclosed in between walls and hear noise right next to the other table. Thus, staying outside has that more casual and relaxing feel.
The Food:
Like in every Japanese restaurant I go to, I start looking for their sushi and sashimi menu. I had my eyes on Spicy Salmon Tempura, which is also their best-seller. Not a surprising fact by the way. Filipinos love tempura and salmon. Combined, it makes a pretty good deal for P195!
The best platter for me, my salmon favorites in one plate is in this Assorted Salmon Sushi & Salmon. Any time of the day, I'll have this.
Not into Fatty Salmon but if there isn't any other choice, I'll take this part of the fish.
I can't deny the freshness of Watami's Tuna Sashimi. Indeed, a good catch!
3 kinds of Assorted Sashimi, if you desire to take a piece of everything.
My arms stretched to the other side of the table, being magnetized by this Uni Sushi. Not everyone has a taste for uni, but I do. I love it!
Take off the rice and roll, Uni Sashimi is the way to go! I think I'm more of a sashimi person. I prefer it fresh without rolling it with rice. Although if you give me both, I'll eat both kinds! Haha!
Now you can count on Watami for their skewers or yakitori sticks! Uptown Mall branch has a bountiful selections. Bacon Quail Eggs for example attracts all bacon eaters in the house. Tell me, would you resist that?
Gentlemen on our table called dibs when they say Chicken Skin from afar. Marinated with sweet teriyaki sauce, it could be your next guilt pleasure!
Creative Assorted Skewers for those who can't make up their mind and want good value for their money. That's for me! Haha!
The small plates continued to come to our table one by one, as if the feast doesn't stop. Skewers, sushi and sashimi all over our table, my Japanese food dream. Thinking it was over, Grilled Salmon Head arrived with a face I can't resist. Oh salmon, all of you is for all of me!
A break from everything yakitori and grilled, Tempura with its thin batter graced our table. And all of us dig it!
My love for salmon continues especially when Salmon Flakes Rice came in. If I work in the area, it is this Salmon Flakes Rice I'll choose for my lunch break! With enough amount of spice and rice and salmon, my heart goes to this Japanese bowl!
Some are dazzled by Beef Rice Bowl instead of my choice of Salmon Flakes Rice. Either way, you're up for a treat. Filled with strips of beef and hot spring egg on top of steaming rice, it's a reasonably priced way to treat your appetite.
Another option for beef lovers, this Beef Pepper Rice is quite famous in Watami. If you want something safe and easy to love, you'll go for this meal.
I don't fancy any beer but my friends say, Asahi Super Dry, a Japanese beer, is a good idea to pair it with the meals we ordered.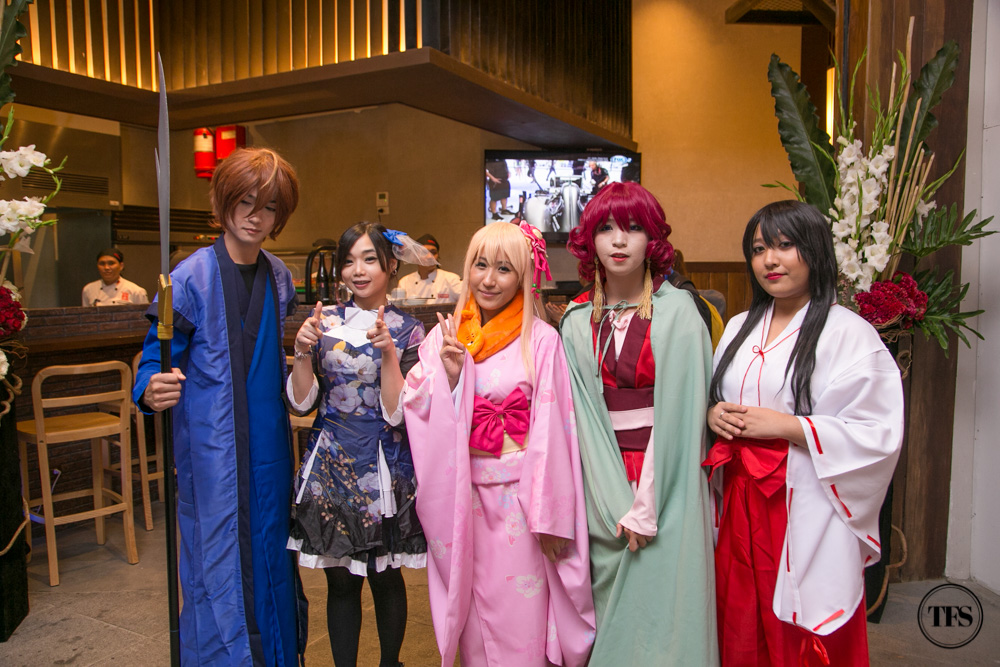 To add to the authenticity of the place, cosplayers (with our friend Sumi wearing pink) completed the whole experience.
So far, I'm loving the selections and reasonably priced dishes of Watami, most especially the skewers and rice bowls. Compared to other branches of Watami, this BGC branch is my favorite.
What do you think of Watami Grill & Sushi Bar in Uptown Mall BGC?
Share with me your thoughts!
Stay updated and Subscribe to The Food Scout for Free!
Pray, Eat and Love.
Cheers,
The Food Scout
---
Location: 4/F Uptown Place Mall, BGC, Taguig City, Metro Manila, Philippines
Operating Hours:
Contact: (+63 977) 7187634
Facebook: https://www.facebook.com/WatamiJapaneseCasualRestaurantPhilippines
Budget: PHP400++
Rate
Food            8/10
Ambiance  8/10
Service        9/10
Cost             8/10
Overall        8.25/10