All year round, my lifestyle revolves around eating and exercising. At times my body is lazy and miss exercising, it's sure my weight moves to the heavier side of the scale. I don't aim to be skinny as supermodels are, but I'm doing it for the sake of my health. This year, I promised myself to be healthier than I was before. Meaning, I'm exerting more effort to look fit. Surely a struggle yet I know hard work pays off all the time.
When Martha of The Beauty Junkee blog told me about Kilo Off, the newest weight loss supplement from France, I immediately told her I'm game to give it a try. Exactly what I need, a product that could partner with me to achieve my fitness goals.
The enthusiastic me eagerly researched about Kilo Off before the package arrives. It is a BFAD-approved weight loss supplement manufactured by Laboratories Vitarmonyl, one of the leading pharmaceutical companies in France. What makes it effective is the active ingredients in each type of Kilo Off product. Each product has its own effect. Now it's up to you which one suits you best.
Kilo Off Powder Drink 
A box of  Kilo Off Powder Drink includes 10 sachets.  In the morning before wearing my rubber shoes and working out, I drink Kilo Off Powder Drink. If you forget in the morning, you could also have it as an afternoon snack, to replace your merienda cravings. Dissolve one sachet in hot or cold water. I prefer mine cold btw. Mix and wait 10 seconds, then you could drink the soda-like flavored drink. If you're into drinking softdrinks, you might be attracted to its taste.
Effect: I noticed that my cravings for snacks lessened. Even if I have a snack beside me while I blog, I don't finish it anymore. Really, not kidding! Call it psychological but it's not.
Active Ingredients: 
– Green tea, guarana, mate and green coffee extracts to burn fat.
– Cherry stalk, meadowsweet, grape marc and orange peel extracts to drain water and toxins.
– Pineapple and papaya extracts to keep a flat stomach.
– Citrus and apple pectins and guar gum to reduce cravings.
Kilo Off 24 Capsule
For foodies and lazy bones, Kilo Off 24 Capsule is the best choice. My job requires me to eat everything and I have nothing against that. Sometimes, I couldn't avoid eating too much fatty food. 🙁 Taking 1-2 capsules per day before meals is the ideal schedule. It should be a minimum of 2 capsules and a maximum of 4 capsules per day. After 2 weeks straight of taking it, take a 15-day rest.
Effect: When I started taking 1-2 capsules of Kilo Off before meals, my digestion improved. My metabolism increased rapidly! The days I eat the most are the days I go to the bathroom frequently too. Crazy but I really felt the effect of Kilo Off. But of course, I try to still work out in the morning and not rely on the weight loss supplement alone.
Active Ingredients:
– Green tea and pepper extracts to burn fat and detoxify.
– Fennel to keep a flat stomach and detoxify.
– Coriander to improve digestion.
Kilo Off Liquid Drink
There are 2 types of Kilo Off Liquid Drink (400ml) available – Kilo Off Slimming Drink and Kilo Off Flat Stomach Drink. I only tried one, the orange-colored, which is Flat Stomach. This type is best for people with bloated and swollen stomach and those who experience indigestion or gas pains. After lunch or dinner, i drank one capful (50ml) diluted in water. An option is taking a shot, but its tamarind taste was too strong for me.
Effect: Take note, this is not a potion that will magically flatten your stomach. My stomach is still not flat after drinking it for 8 straight days. Haha! The real effect to me is better digestion. For a steak and meat lover that I am, proper digestion is needed.
Active Ingredients:
– Tamarind and balm to facilitate digestion and relieve a swollen stomach.
– Fiber, acacia and rhubarb for intestinal balance.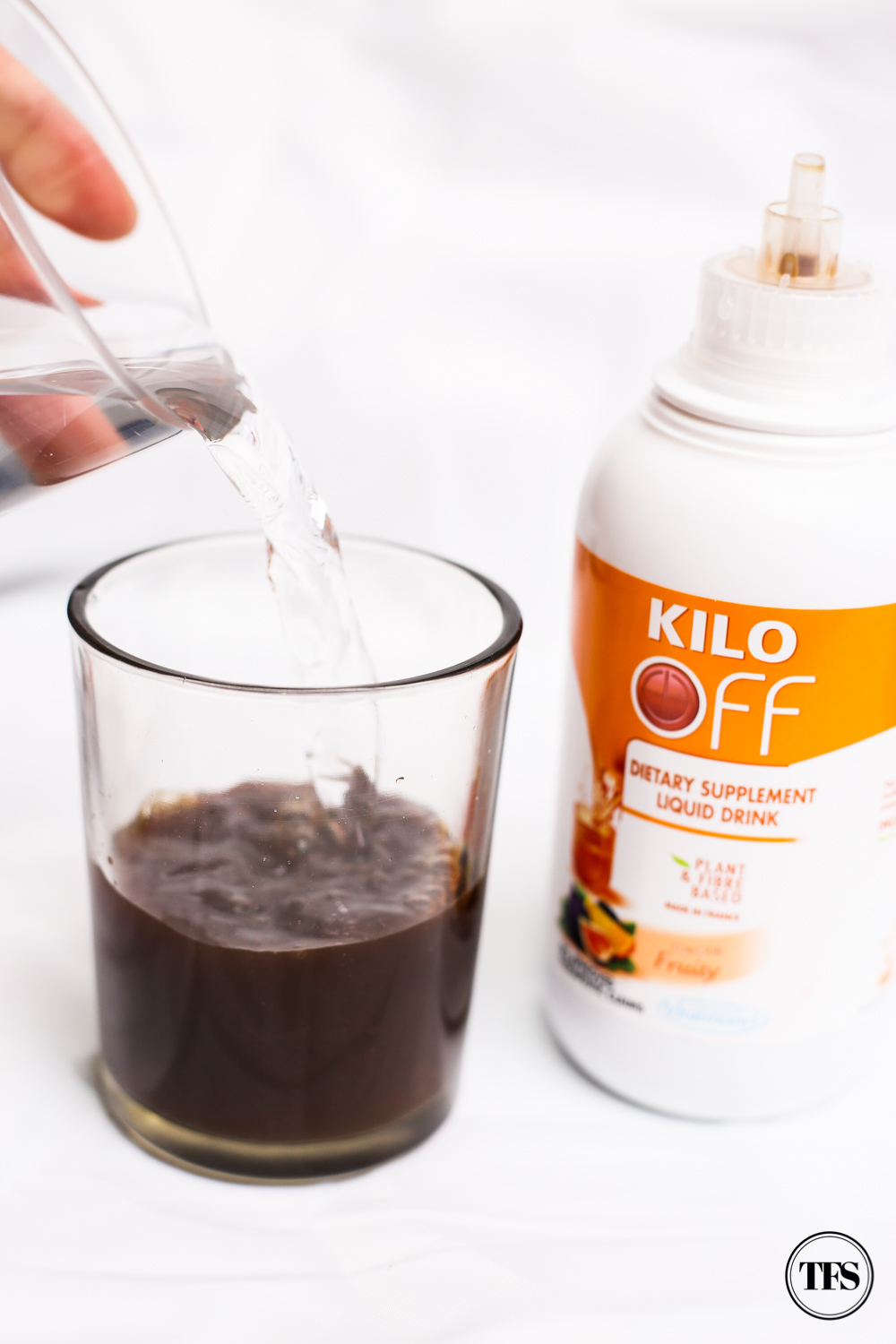 *Kilo Off products are exclusively available at selected Watsons stores.
What do you think of Kilo Off as a weight loss supplement?
Share with me your thoughts! 🙂
Stay updated and Subscribe to The Food Scout for Free!
Pray, Eat and Love. 
Cheers,
The Food Scout 
---
Facebook: https://www.facebook.com/KiloOff.Ph/