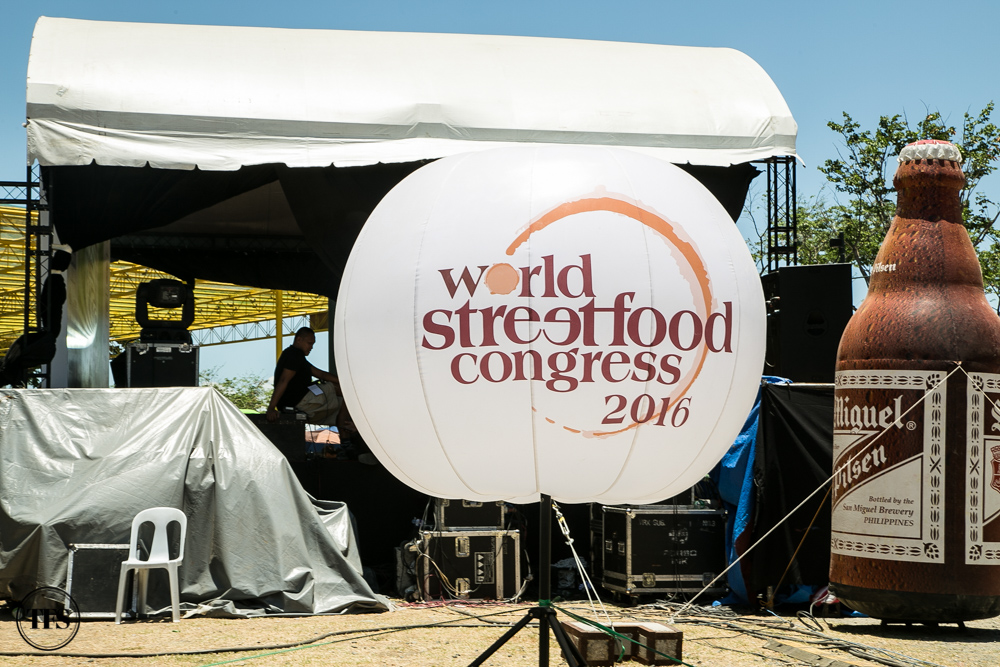 Pull up your sleeves and loosen your belt, it's World Street Food Congress everyone! This is one of the important events of 2016, aside from my wedding. Haha! Seriously, every Filipino foodie should be proud that we were able to host this year's World Street Food Congress.
The gastronomic affair last April 20-24, 2016 was divided into 3 parts, the Food Dialogue, the Food Jamboree and the Food Awards. I was only able to attend the Dialogue and the Jamboree. Here, I'll share with you my unforgettable experience at this mega street food event.
World Street Food Dialogue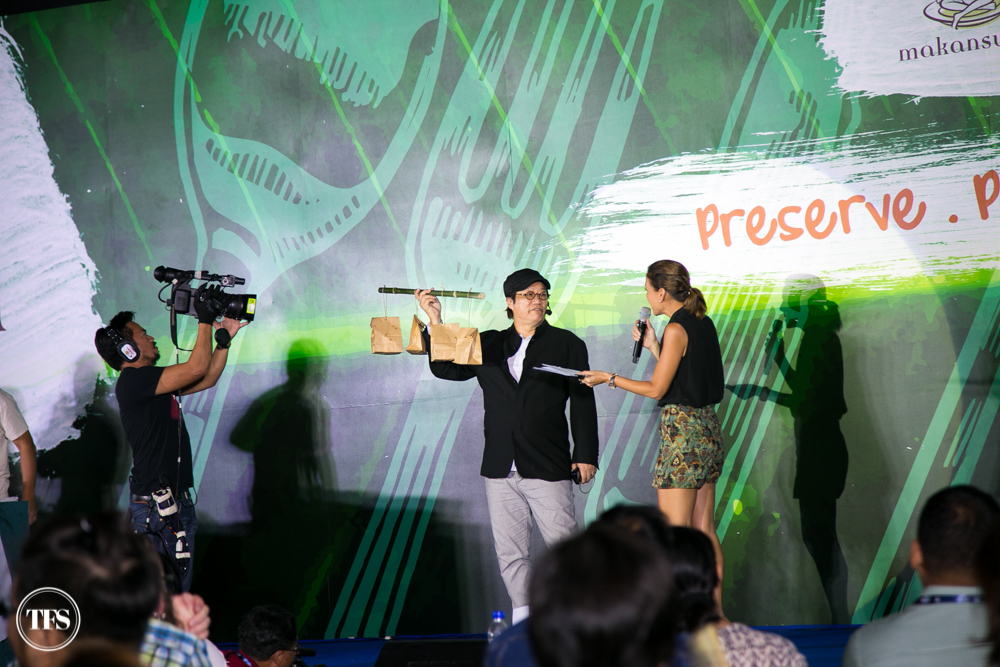 The World Street Food Dialogue occurred last April 20-21 at the Spaceman location, 7th Ave. and 25th St. BGC. It was hosted by the quirky KF Seetoh and Christine Jacob-Sandejas. KF Seetoh is the perfect guy to host this event since he is the founder of Makansutra and creator of WSFC, and he basically knows everyone who'll be on stage. I first met KF Seetoh when we had our 15-hr food frenzy tour around Metro Manila and Pampanga.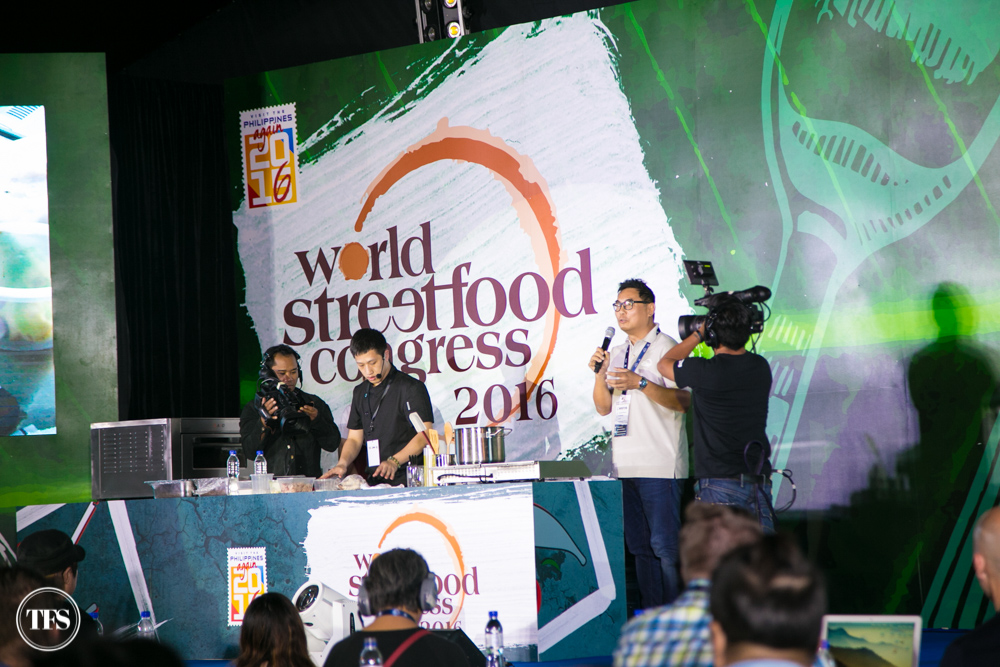 The 2-day conference was mostly attended by people who are already part of the food & beverage industry, local and international media, and interested individuals who want their street food to be known.
The speakers were composed of culinary icons and tourism experts from different countries. Each speaker said noteworthy messages that I can't help but write down notes on the given pad paper. Go for the old school way! Haha! Some brought their laptops though. But I prefer handwriting all my notes down.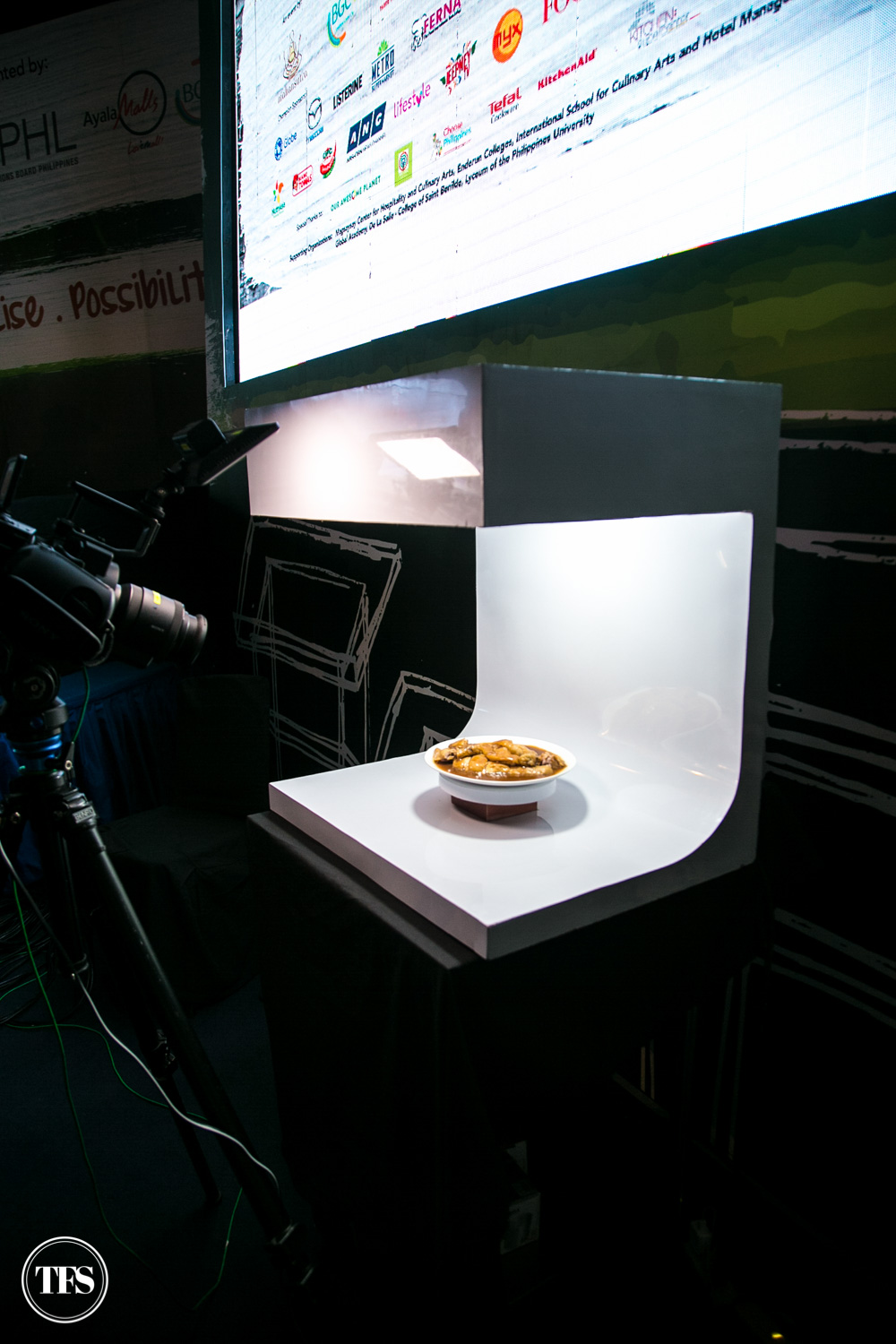 After every live cooking demo, we, the audience, were given the chance to taste what the master chef cooked. Also, WSFC thought about the photographers by creating a corner with lighted white box and rotating plate, where the food was displayed.  Brilliant!
According to JJ Yulo, the set-up of WSFC in Manila is exactly the same at last year's WSFC in Singapore.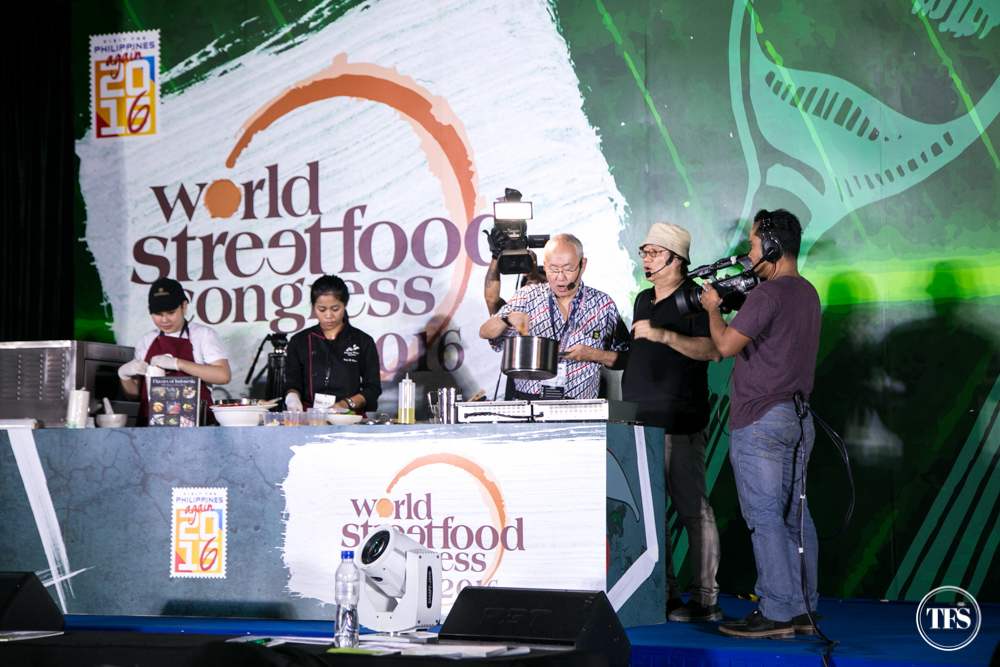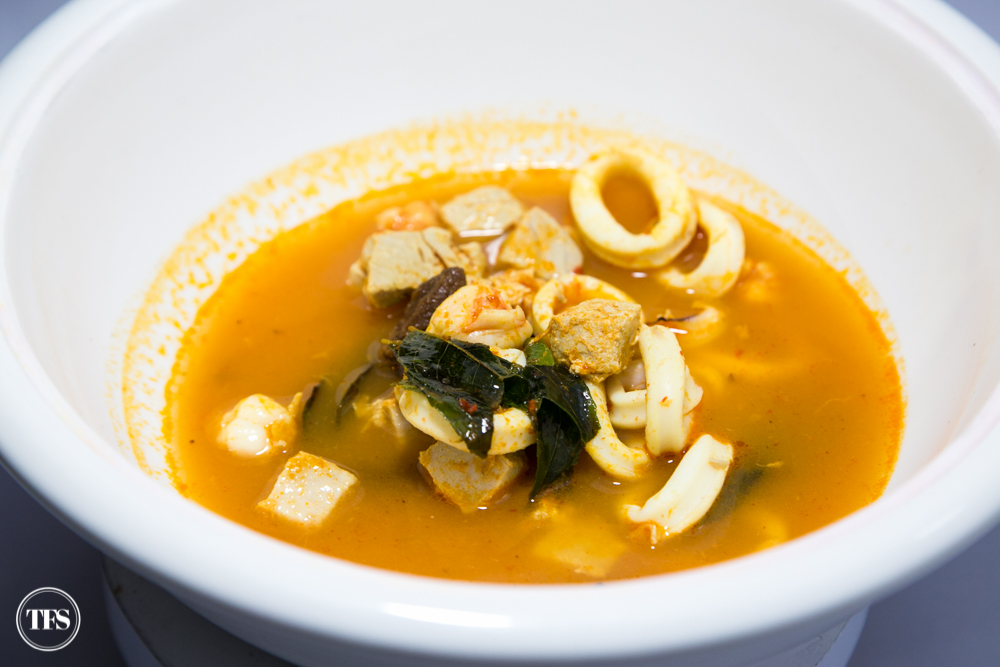 After the whole-day talk at the Dialogue, all delegates rushed to line up at the World Street Food Congress Jamboree!
World Street Food Jamboree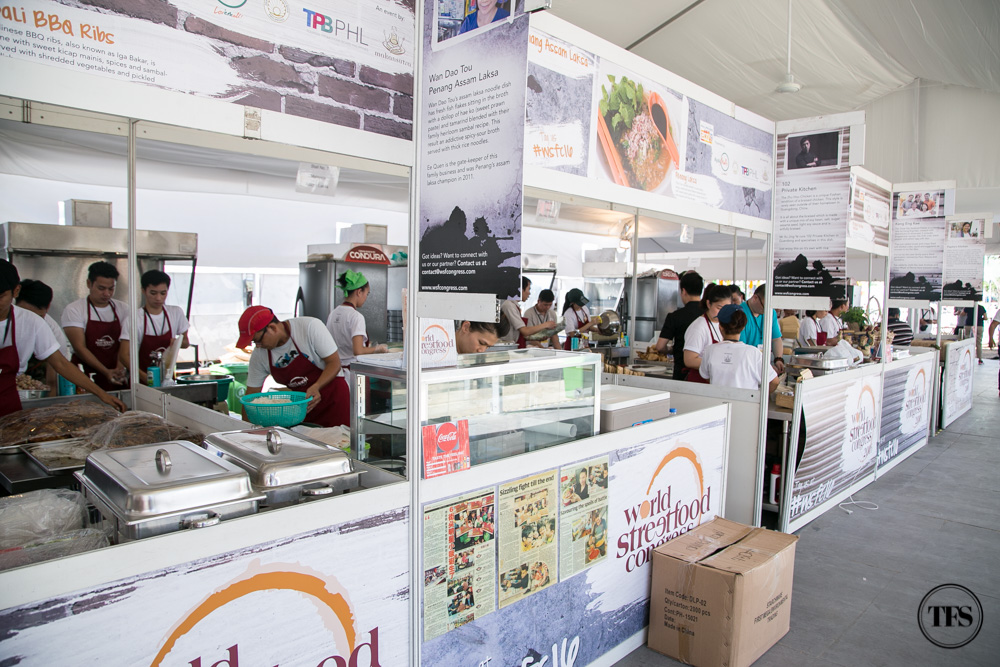 25 top street food chefs and vendors/hawkers from around the world flew to Manila for this year's World Street Food Jamboree!!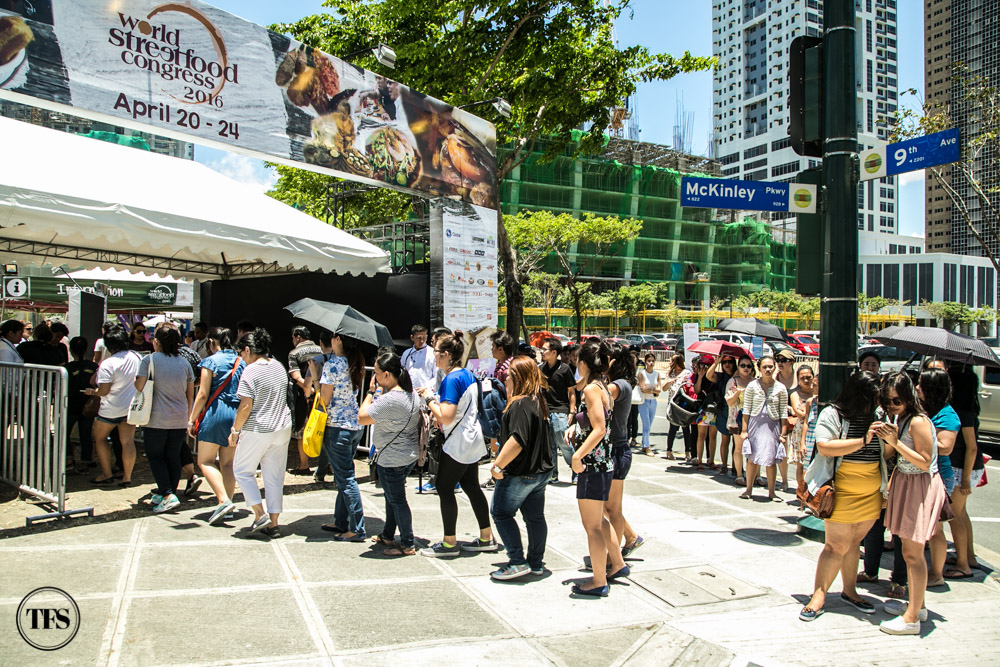 Filipinos don't mind lining up under the heat when you talk about FOOD! There were 2 lines, one for male and one for female. Based on this photo, you know the women are more empowered to eat! Haha! Fist bump ladies!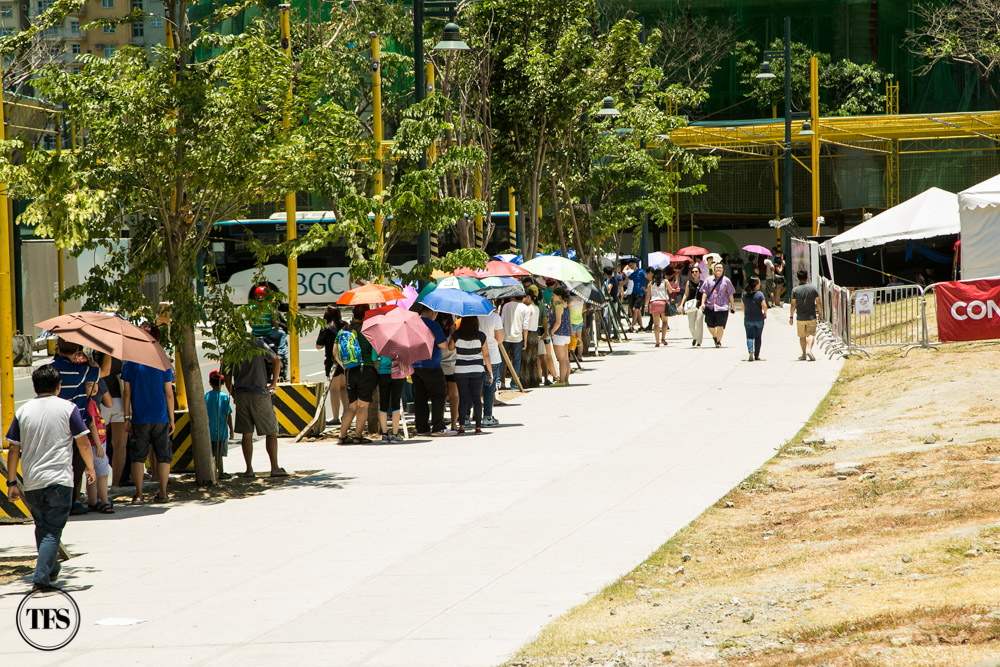 We had to wear our most comfortable outfit to the Jamboree. You'll experience dust, sweat and long queues. Patience was so important if you really want to taste good food!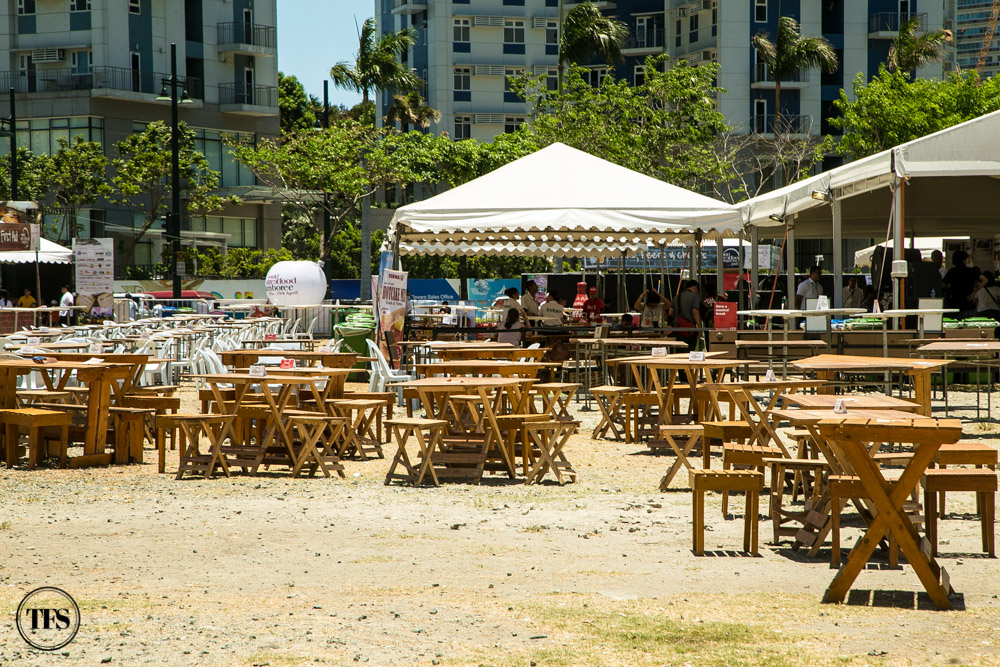 Under the heat or under the tent. This is where we all sat after lining up from the street food vendors and getting our food. It's like the Coachella of food. Haha!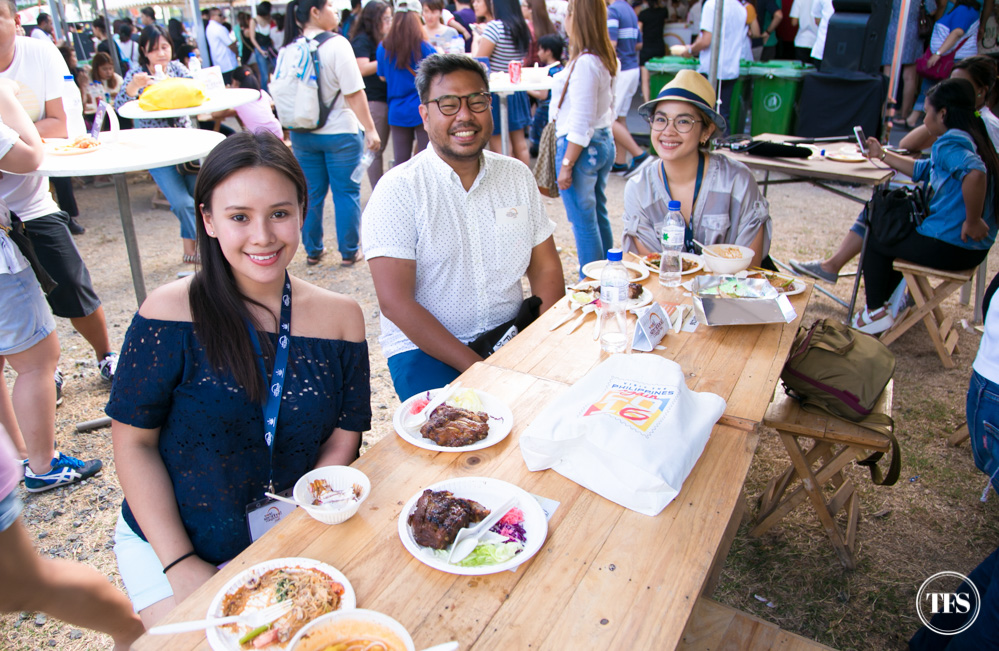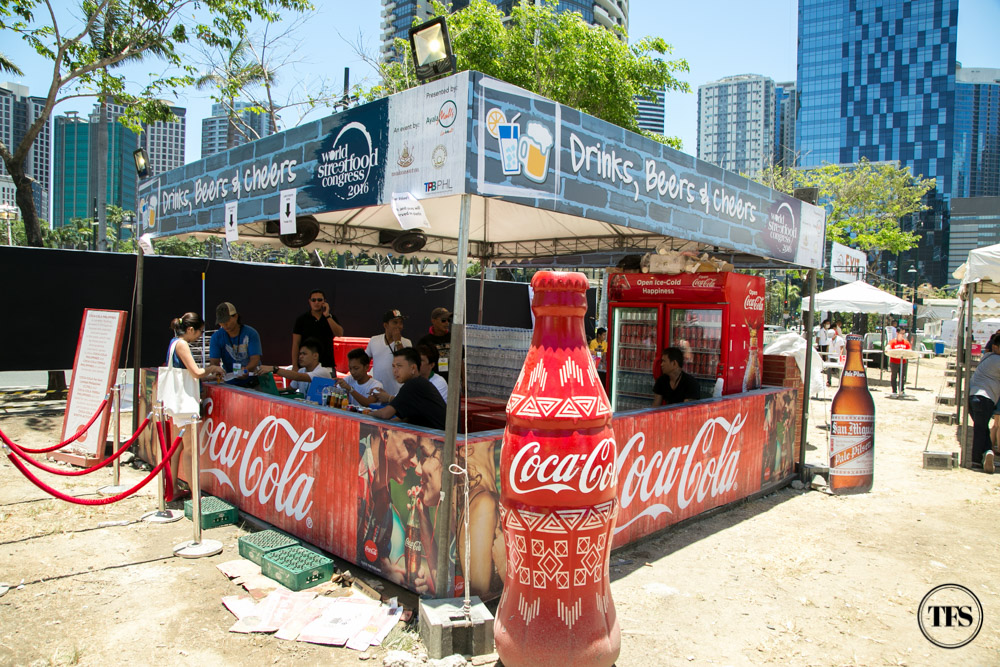 Drinks, beers & cheers. Like in hawker houses, all beverages were put together in one station.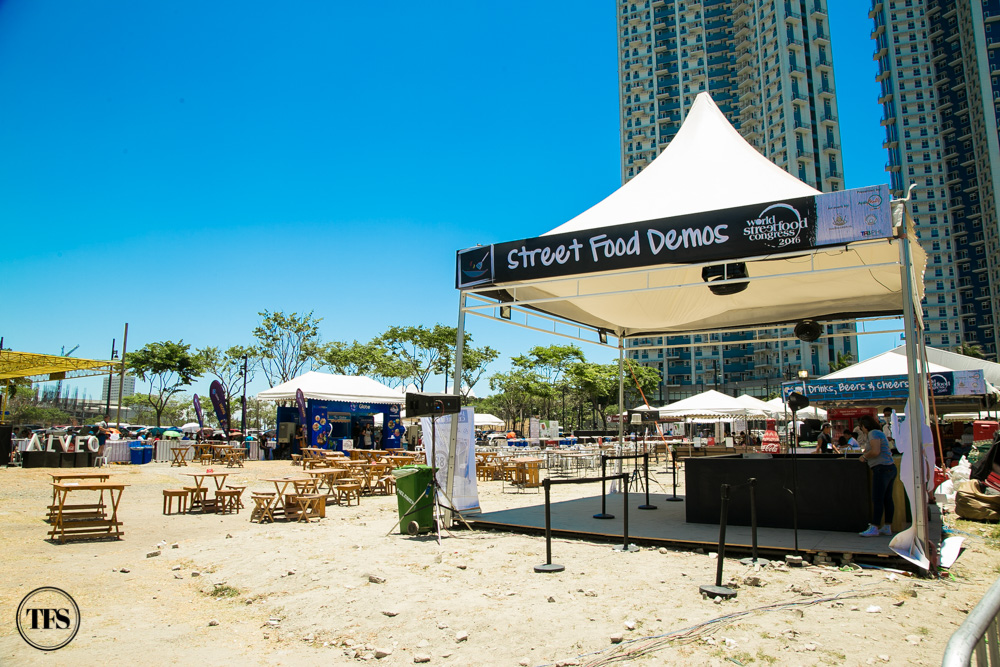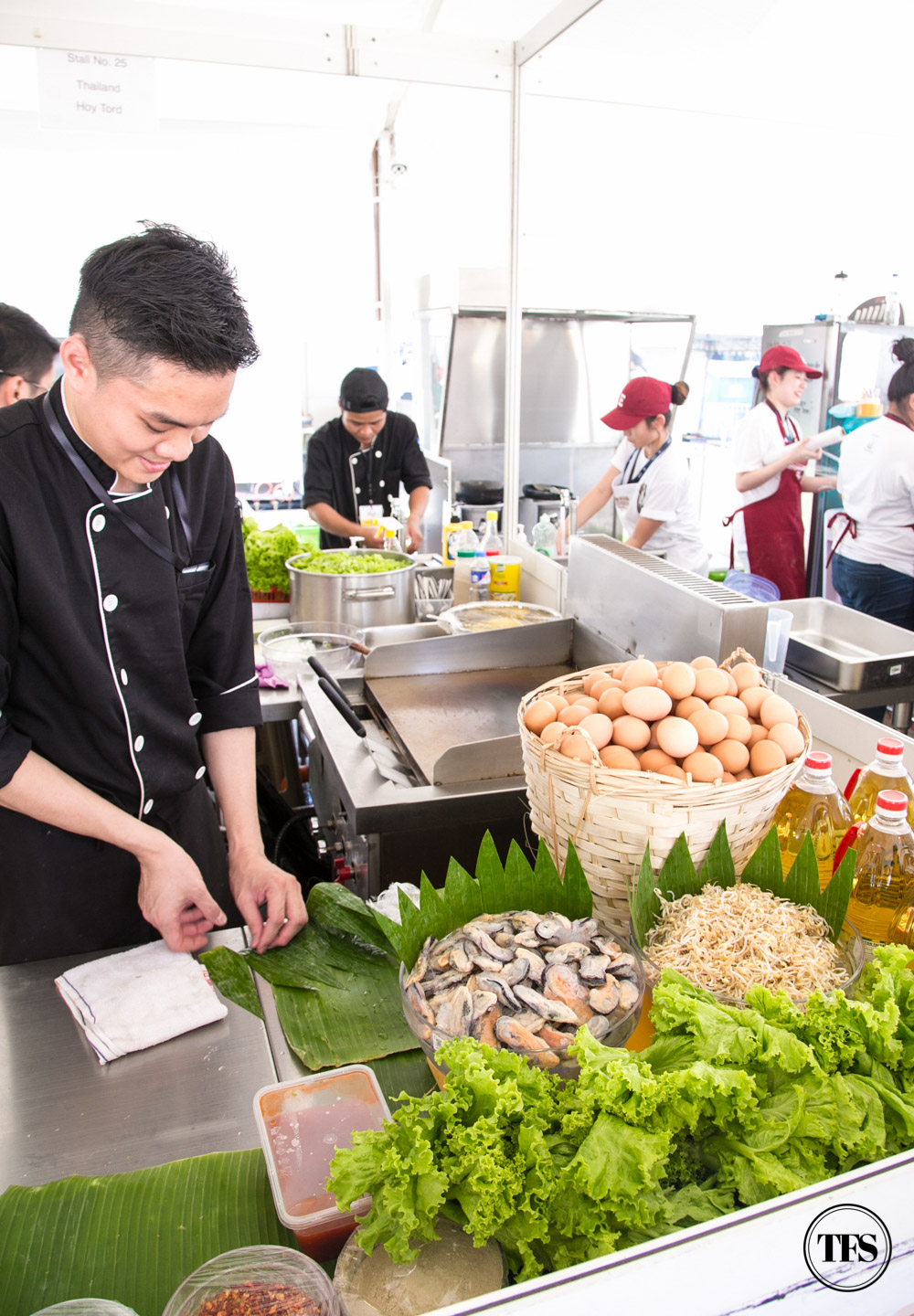 Before the Jamboree opened to the public, I had the opportunity to watch the hawker vendors prepare for the busy day until night. I think all of them were expecting more than 500 guests on the first day but it was easily sold out immediately, 1-2 hrs before closing. On the 2nd day onwards, all of them increased the quantity of food, twice or thrice than the 1st day. Oh, and the price was increased too. Lucky for those who went on the 1st day, you got them cheaper!
FYI, the crowd didn't seem to mind the price anymore. The goal was to try the world's best street food in our country!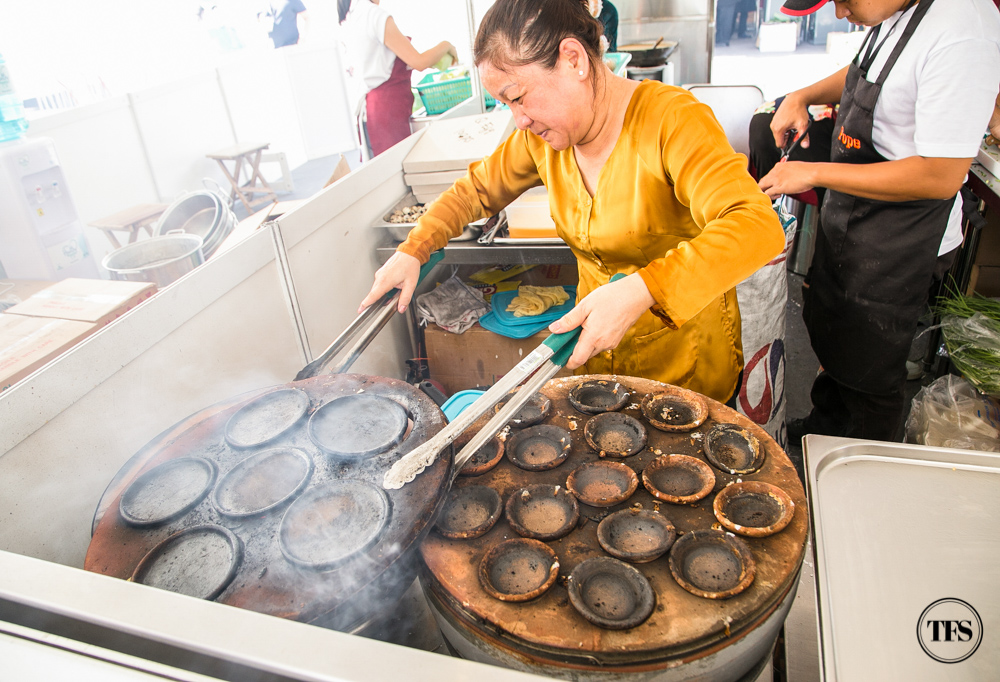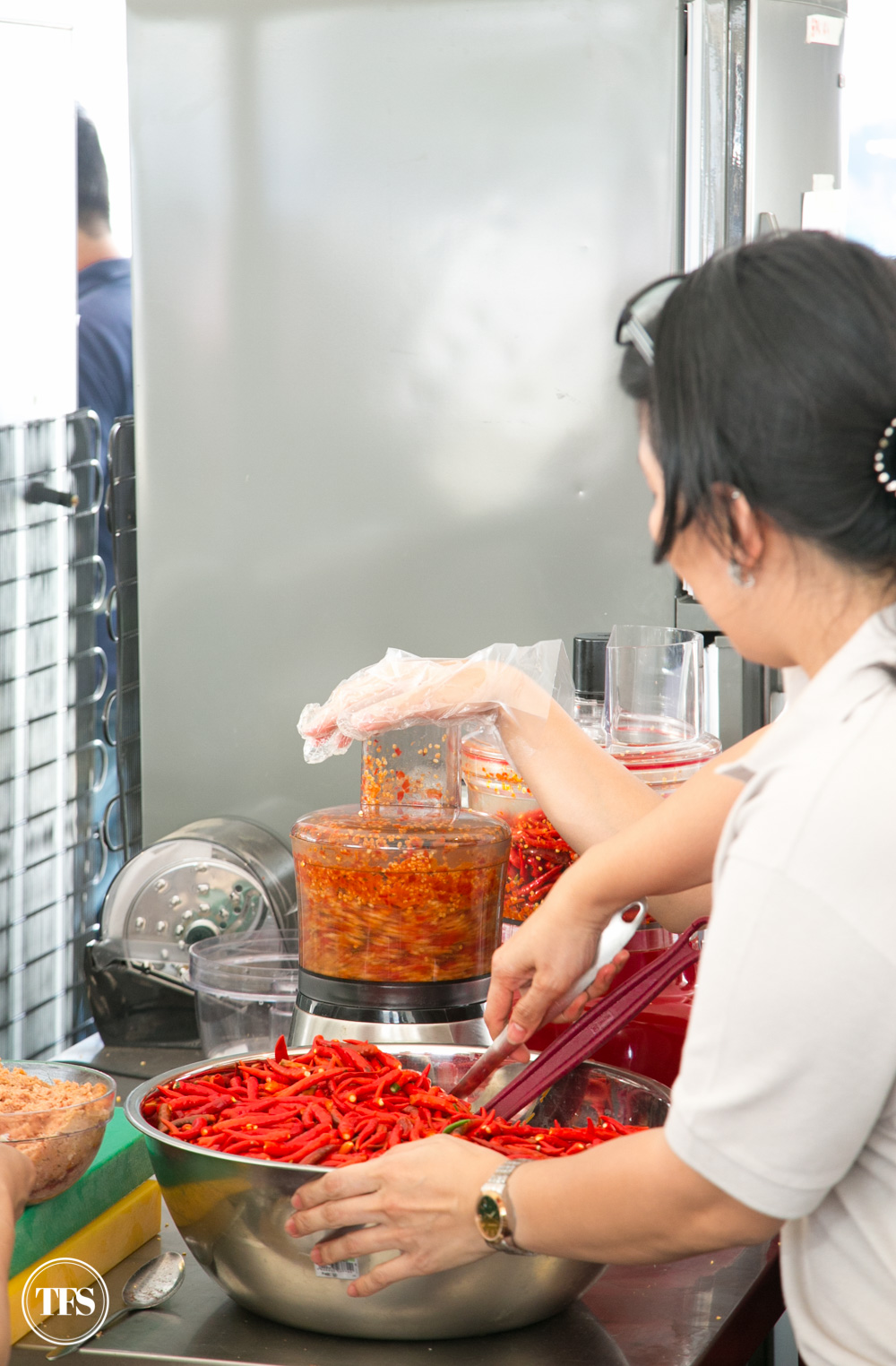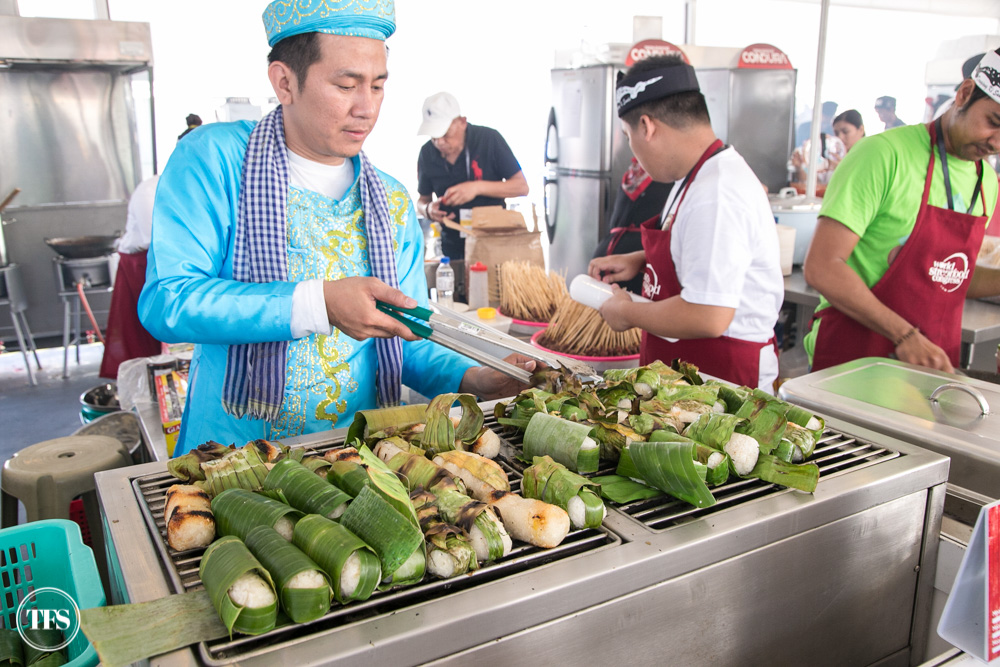 My Top Choices at the World Street Food Jamboree:
Once the gate opened, the people crawled to their choice of stalls like ants. The line for this Bali BBQ Ribs were instantly long! People loved the ribs of Chef Yudi, an Indonesian chef and master of Balinese traditional herbs and blends. It is a sweet and savory with extraordinary spices. They said, the marinade has an Asian attitude, which is a tad richer in flavor than the usual western BBQ ribs.
Indonesian Sate Maranggi or beef satay has become the national dish of Purwakarta. The stall Hajjah Yetty is known as the pioneer of Sate Maranggi and we are so lucky to try their popular grilled skewers here in Manila! Btw, it's their first time to join the WSFC! Woohooo!
Like our Filipino Pork BBQ, the diced beef is marinated before grilling over charcoal fire. If you ask me, I think I can finish 10 of those lined up sticks. I just love anything with satay!
Anton of Our Awesome Planet made me try this Smoked Chili Grilled Tofu, or the vegetarian bao by popular food truck in the US, The Cinnamon Snail. It's a fusion of kimchi, pickled basil and sambal oelek cream, joined with the smoked chili grilled tofu. Being vegetarian is not a boring thing when you try this bao!
Reunited with Singapore's Carrot Cake! Discovered this Carrot Cake when I visited Singapore and ate in their Hawker Houses. It's the famous radish cake cooked like a frittata, stir-fried with egg, preserved radish and different seasonings.
This Penang Laksa is so inviting that I want to head to Penang with O now! Its tangy spicy and savory broth with fresh sardine flakes changes the way I view laksa. If you fancy spicy and sour soup, this is for you!
One of the best, or maybe the best, at the recent WSFC, this Satay Beehon with 2 satay sticks. It's too good that I want them to stay here in Manila! During the last day of WSFC, I went back just for this dish!
Rice noodles with thick and rich sweet savory peanut sauce, with a spicy kick. They said, the secret lies on its satay marinade, which contains 12 different spices.
I missed the authenticity of India when I saw the booth serving Hyderabadi Biryani. Pochamma, the street vendor of this biryani, has been selling this out on the streets for the past 10 years with her husband and youngest son. Her biryani is cooked with basmati rice, chicken, yogurt, onion, masala spices, lemon, saffron, coriander leaves and fried onions for garnish. I wasn't too careful in carrying this dish. Unfortunately, its yogurt sauce spilled. 🙁 Still, I was able to taste the yogurt sauce since they poured out too much on my rice.
Donald & Lily were also top choices at the WSFC. People loved their Mee Siam, thin rice noodles with seafood, egg, fish cakes and sambal, chili paste added to make the dish unique. No holding back on flavors. It's a harmony of a tangy, sweet and spicy bowl of Mee Siam that's seriously addictive.
Philippines' Bicol booth surprised us with their creative Bicolano Welington, Puff pastry with bicol express inside, and Pasta Bicolandia, coconut cream-infused pasta.
I'm so proud of this booth, Philippines' one and only Pepita's Kitchen. They serve the best stuffed lechon in the world! Not exaggerating people. The world loves Pepita's Lechon! As expected, the line was out of control! What they served on the 2nd day was my favorite Truffle Stuffed Lechon. If you think the traditional lechon is already great, you'll find Pepita's version excellent!
I'm no stranger to Indonesia's Martabak Markobar anymore. A popular variation of sweet martbak or the Chinese mee chang kueh, they call it the death-by-chocolate open-faced crispy pancake. The edges are extra crispy while the core is soft covered with 8 versions of chocolate toppings – Toblerone, green tea, Tim Tams, Kit Kat, Nutella, cheese, etc. They rocked the WSFC making every chocolate lover fall in love with their sweet dessert.
One of the first booths that was sold out easily on the first day, Churro Sundae by Churros Locos. Scared to be the last, I was first in line on the 2nd day of WSFC. I had to make sure I have those hot churros with vanilla ice cream and sprinkles in my hands.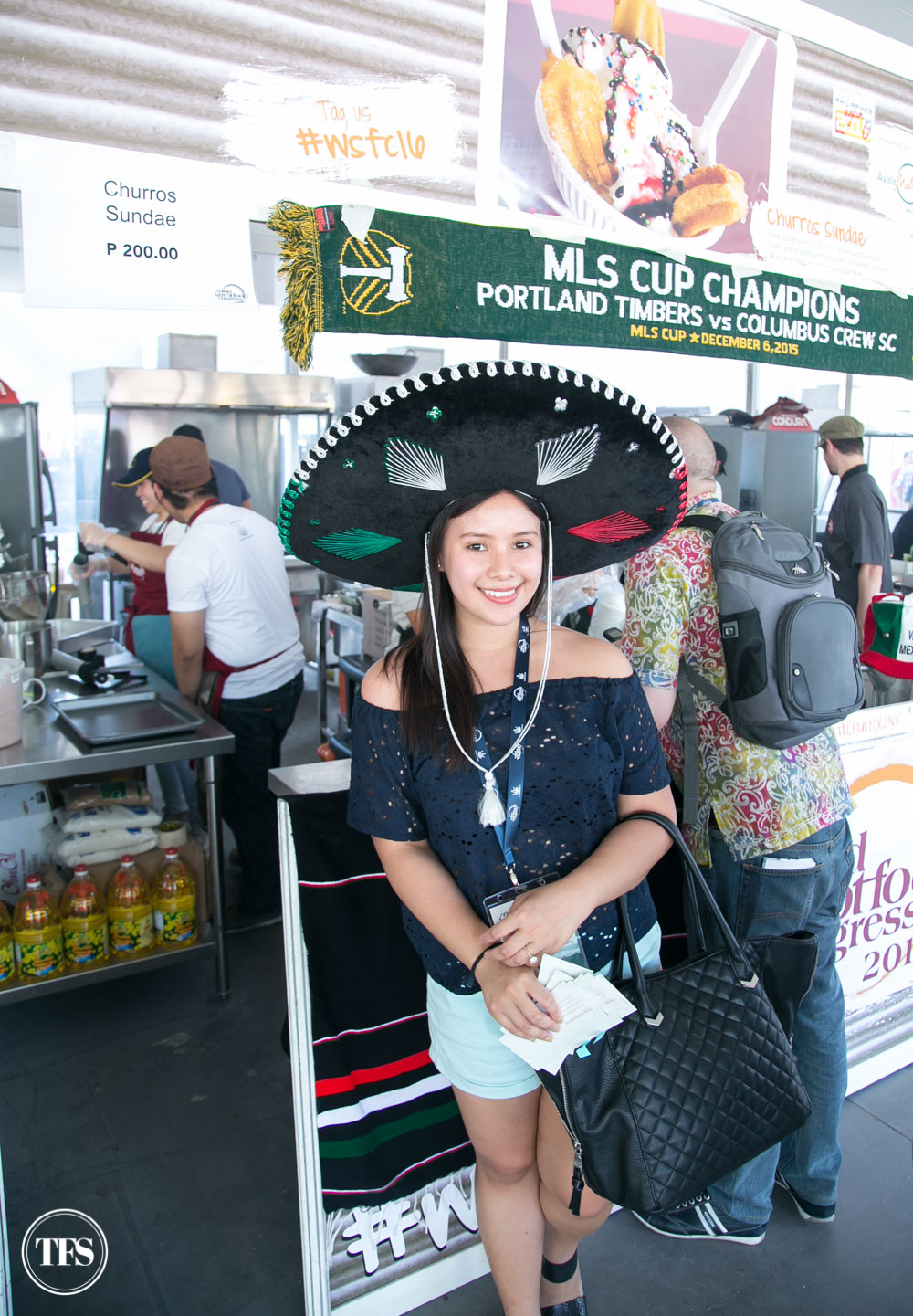 What are your favorites from the World Street Food Congress?
Share with me your thoughts!
Stay updated and Subscribe to The Food Scout for Free!
Pray, Eat and Love.
Cheers,
The Food Scout