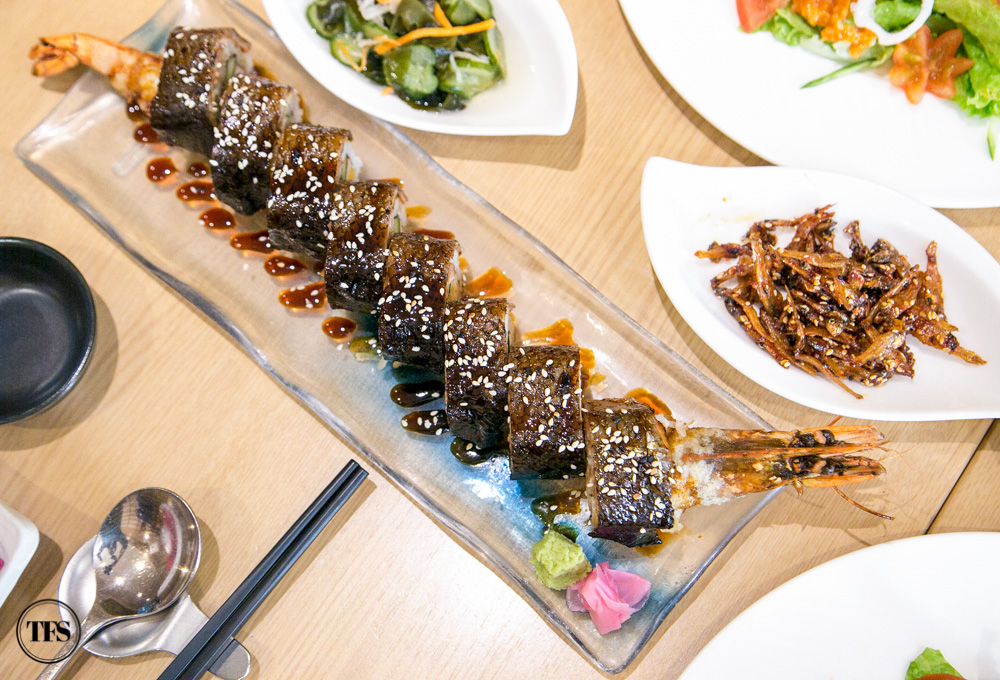 The fools are out every April 1. Just scroll through your Facebook feed, you'll find them. :p I bet some of your friends took advantage of this date and tried to fool you. Haha! While everyone's playing a joke or busy pranking, I was in my own zone busy celebrating the 1st of April. Thanks to Resorts World Manila!
Dubbed as "April's Full Day", I crawled through 5 restaurants at Resorts World Manila, to taste hand-picked items that highlight the diverse food choices available within the culinary haven.
1st Stop: Ginzadon
At 12nn, I started my food crawl at Ginzadon, a combination of Japanese cuisine and the fiery flavors of Korean food at the 2nd floor of Maxims Hotel.  To come prepared for the "full" day,  I didn't eat anything other than glasses of water.
The featured dish of Ginzadon is Spicy Tuna Salad. An explosion of flavors for a starter, the salad was served with a bed of crisp Lolo Rosso lettuce topped with a layer of big slices of spicy tuna and drizzled in special sauce.
I won't understand you if this Dragon Roll Maki didn't appeal to you. AJapanese maki for a giant, you have to open your mouth wide to fit in one roll of grilled salmon skin-covered sushi rice and nori with king prawn tempura, cucumber, kani and mango. The unagi sauce gets the credit for its sweet flavor.
I was really having a moment with the lovely spread. Then, I was reminded it was our first stop. (Puts down chopsticks and stops eating. Hahaha!) We had to move to the next one.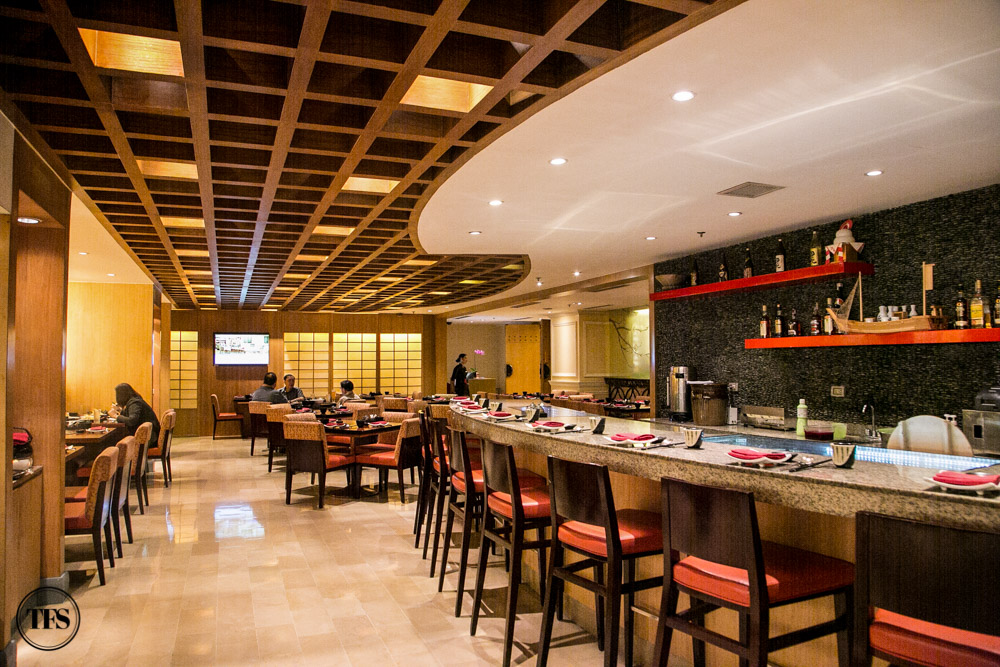 2nd Stop: Victoria Harbour Cafe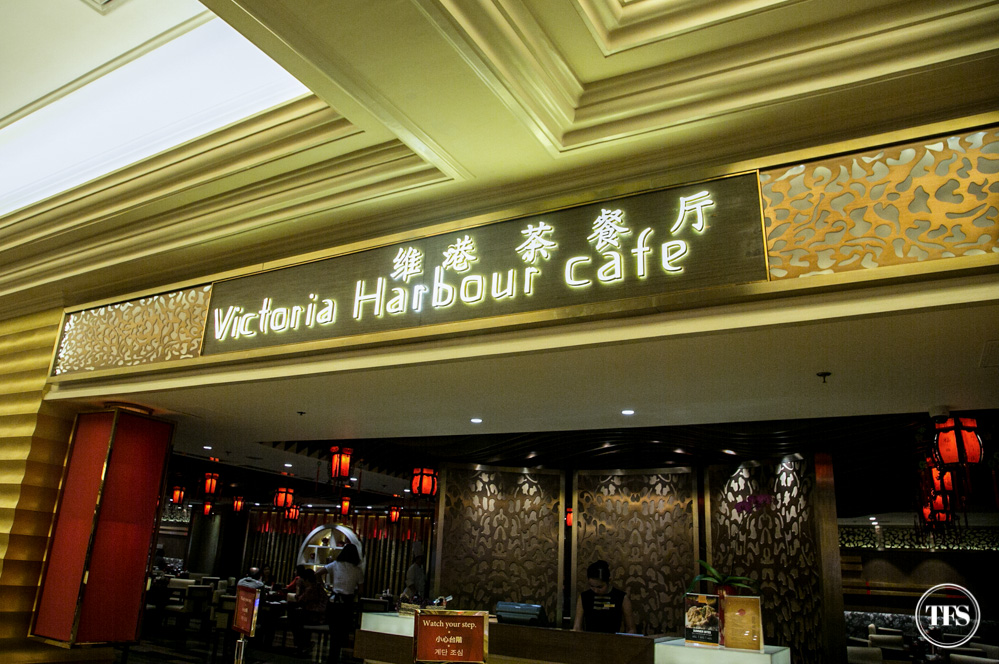 Other than Passion, there's another Chinese restaurant in Resorts World Manila I discovered that captures the fine flavors of Asian cuisine. Victoria Harbour Cafe offers a menu that features a taste of vibrant Hong Kong.
Here I am, moved to the next featured dish after another. Crispy Fried Noodles with Seafood wanted the flavors of prawns, snapper fish and mixed vegetables to stand out. Topped on deep fried egg noodles, it's typically what you'll expect in a Chinese restaurant. It didn't taste too seasoned with unnatural flavors, cooked just the way I like it.
A big surprise that tickled my tastebuds was the Salted Egg Custard Buns. I promise you, this is one of the best ones in the country. I love pillowy soft buns embracing the gooey salted egg yolk that explodes in your mouth when you take a bite. I missed O, my fellow salted egg lover who wasn't here with me. 🙁
Take note, their dimsum choices are also a hit!
3rd Stop: New York Pinoy Deli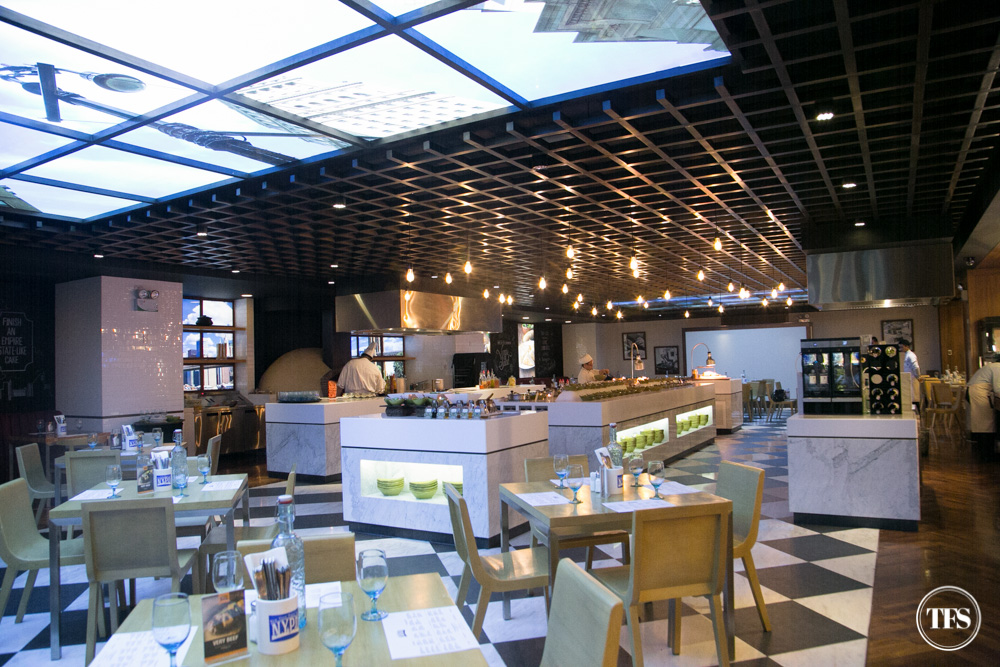 Resort World Manila's very own NY style dining with a touch of Filipino flair, New York Pinoy Deli rolled out an entree that is not for the faint hearted. The ceilings above gave an illusion of being in the middle of the city of New York, with sky high buildings and clear blue sky.
The Manhattan Burger is made of 100% U.S. beef patty on a bed of fresh lettuce, tomatoes and onions, completed with melted cheese and maple crispy bacon to satisfy all crazy bacon lovers. If you're salivating for bacon, then I'm talking to you!
Filipino spaghetti of smoked fish, ripe tomatoes, garlic, olive oil, and salted egg. How crazy? It somehow worked and I dig this Tinapa Spaghetti!
4th Stop: Johnny Kahuku
My well-trained belly was still ready for some seafood loving at Johnny Kahuku Hawaiian Shrimphouse.
I suddenly want the view of the calming beach when the bucket of Southern Cajun Shrimp kicked off its spice to my mouth. A mix of juicy white shrimps, smokey Andouille sausage, Cajun corn and baby potatoes, all cooked in original butter creole spice set the mood. Yes, it's summer!
When you think you've ended main course and you suddenly taste another amazing creation, you wish your stomach has a bigger capacity. I felt that when the Special Seafood Poke, seared blackened tuna, salmon sashimi, grilled squid & white shrimps drenched in miso shoyu dressing, convinced me that I couldn't leave Johnny Kahuku without tasting this amazing creation.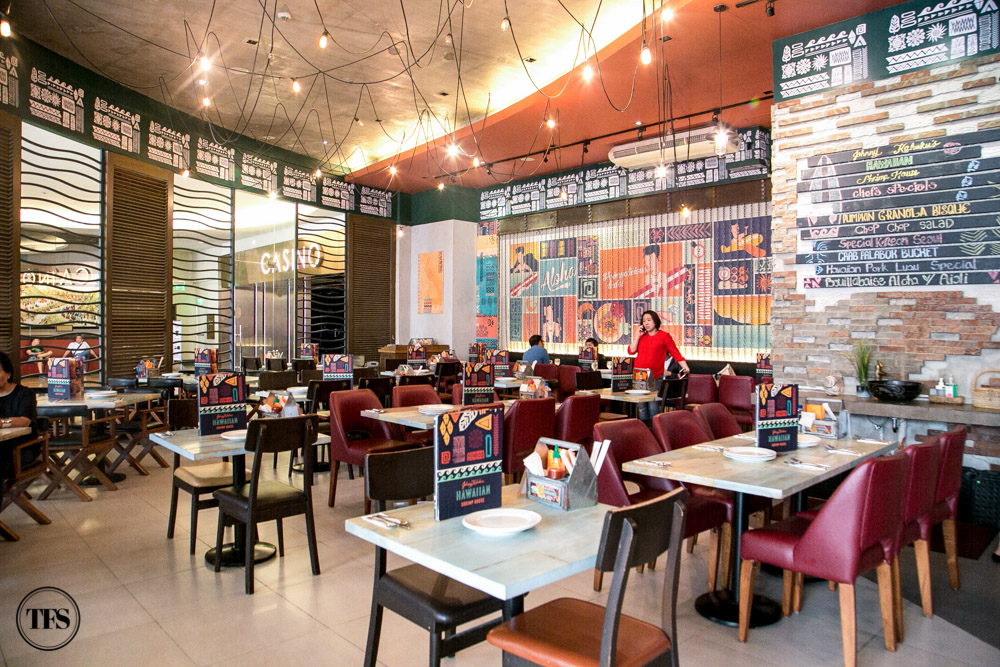 The relaxing colors have a beach-like vibe that's instagram-friendly.
5th Stop: Cafe Maxims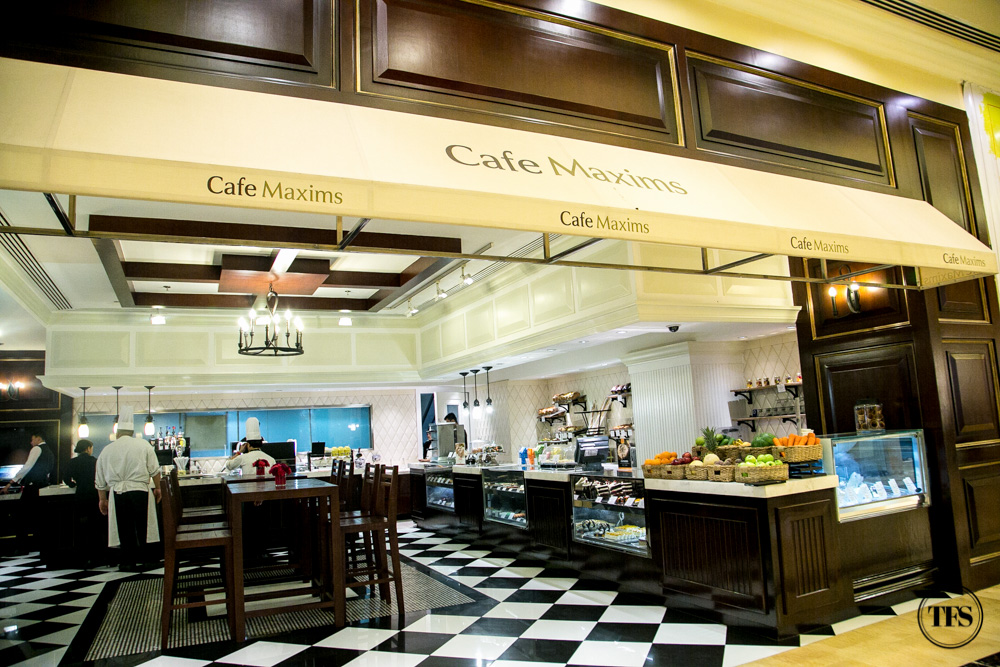 There was a phase in our relationship when we loved to spend our Saturdays watching movies in Resorts World Manila. Before catching a movie, we used to spend time at Cafe Maxims for our afternoon high tea. Even if I know didn't appreciate tea as much as I did, I think he did that to impress me and make me smile. Haha! Our movie dates lessened recently since we are now more wiser in spending our money. 🙂 Anyway. Cafe Maxims is known for offering western-inspired comfort food other than exquisite coffee and tea.
Afternoon Bites, a.k.a. our finale, featured French pastries, finger sandwiches and an assortment of high tea favorites where guests may choose nibblers that fit their culinary fancy.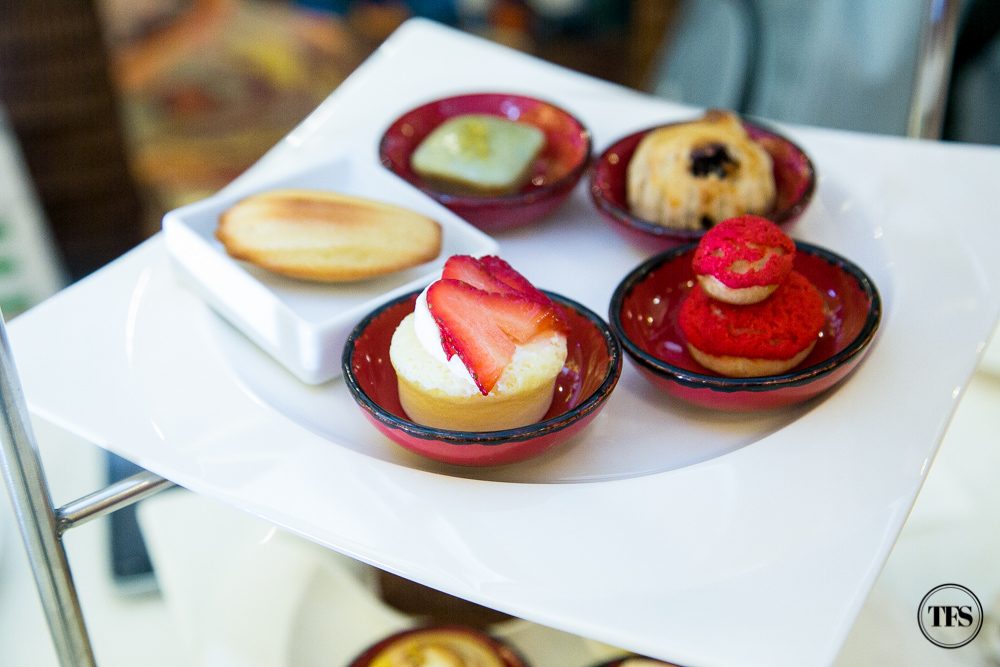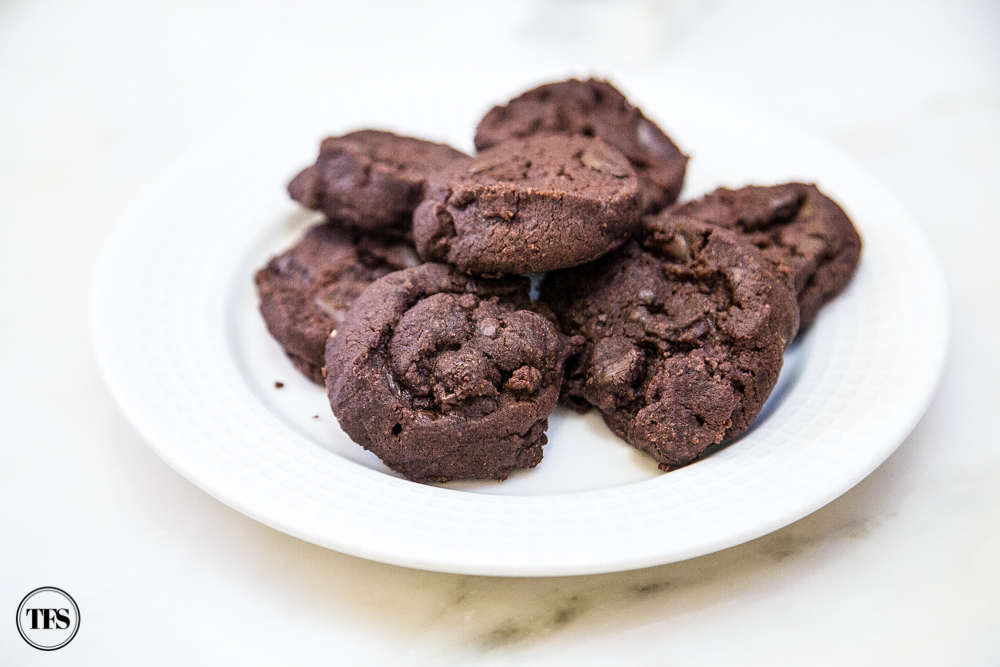 What do you think of Resorts World Manila's restaurants?
Share with me your thoughts!
Stay updated and Subscribe to The Food Scout for Free!
Pray, Eat and Love.
Cheers,
The Food Scout
Location: Newport Blvd. Pasay City, Metro Manila, Philippines
Website: http://www.rwmanila.com/
Facebook: https://www.facebook.com/rwmanila