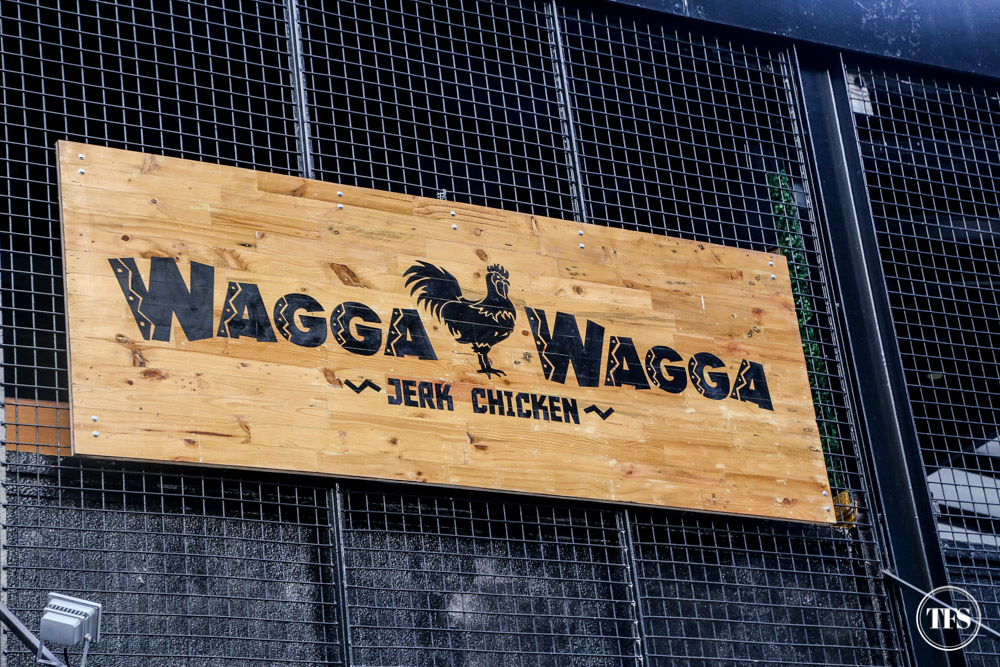 What makes you enter a new restaurant?
These days, we expect new restaurants to open in popular malls, food capitals like Maginhawa or Kapitolyo, or spaces in Makati and BGC where most professionals are. For this new restaurant Wagga Wagga Jerk Chicken, they eyed on a strange spot that doesn't draw too much attention of the crowd. If you aren't familiar with the Ortigas area, you might want to call your friend Google Maps. It is located at the corner of Meralco Ave. and Julia Vargas. Right after Ortigas Home depot, make a sharp right turn and enter the small compound at the corner.
Wagga Wagga Jerk Chicken alone catches my ear with its name alone. "What the heck is wagga wagga?" I asked O. Like me, he doesn't know. Haha! The more I'm curious, the more I'm excited to be surprised.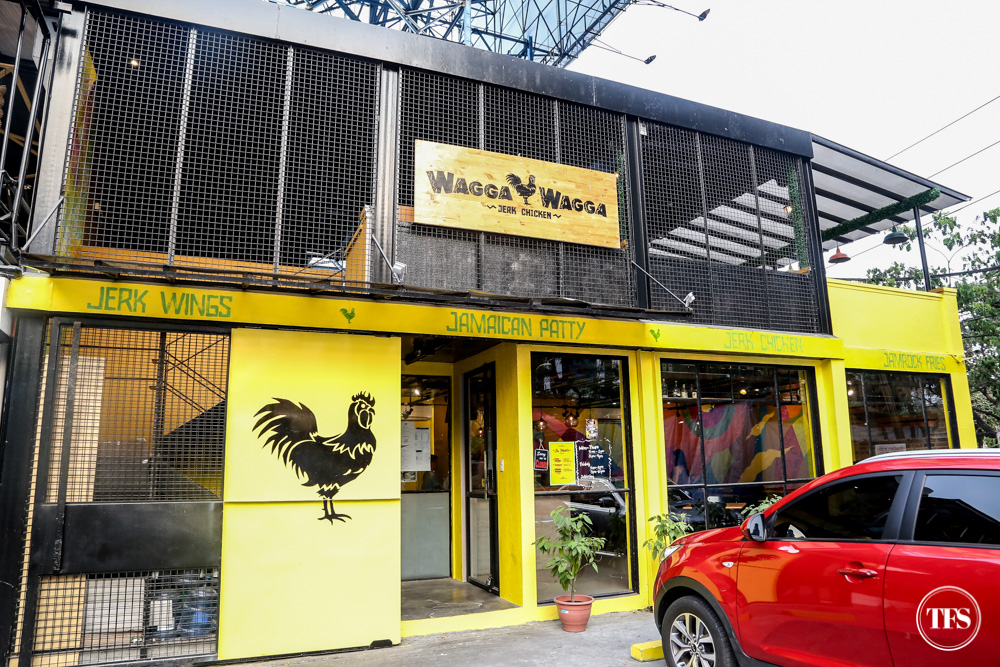 O and I almost missed the gate to the compound. But my GPS skills is too superb. Hahaha! I'm kidding. Really, you have to remember this photo of the bright yellow-painted structure. So the time you visit, you have a picture of how Wagga Wagga looks.
We were greeted by the Ramos family as we entered the happy space playing some reggae music like I was at a chilling by the beach. Just like bright colors of Wagga Wagga, the family graced us with big and warm smiles that lightened our mood. They giggled when they told me the meaning of Wagga Wagga, which is "fat man."
Chef Justin David, head chef of Wagga Wagga Chicken, is the master behind the Caribbean inspired menu. His background from Le Cordon Bleu Sydney boosted his creativity to serve something different and fun yet comforting to the Filipinos. When I asked him why this type of cuisine. His playful character evidently showed as he explained his style of cooking. He doesn't want to conform and copy what's trending. Not weird but different from what we expect restaurants to be. Oh this chef seems to hate boring food but still makes sure the flavors he create are well-adjusted to the Filipino palate.
The Food:
Emphasis on strong spices, Chef Justin didn't stay conservative in creating the Jamrock Fries. He poured out all the spices he thinks would work. And ta-dah, it worked!! It's addicting too!
Hush Puppies are fried cornbread drizzled with honey should be part of the appetizers but ended up as my dessert.
Held the bowl of Mac & Cheese closer to my eyes and tried to find any melted cheese in it. Not my ideal mac & cheese topped with gooey cheese, I still find Wagga Wagga's version worth trying for its 'different' bold and deadly flavors.
I hate jerks. I'm allergic to them. But I treat the Jerk Wings differently. It's suddenly my type of jerk. Large sizes of chicken wings hugged by Chef Justine's special piquant jerk sauce that requires you an average level of heat tolerance. Or else, you won't appreciate its tastiness.
Another jerk in the house, Jerk Chicken serves as the signature dish of Wagga Wagga. Also qualified as my type of jerk, I love the quality of chicken used generously spiced sided by mashed beans. Chef Justine experimented with Caribbean flavors to evidently show but in a more subtle way that Filipinos won't step back and be surprised. Apt for Filipino tastebuds, it isn't that extremely spiced. Just right. Choose either single fillet or double fillet .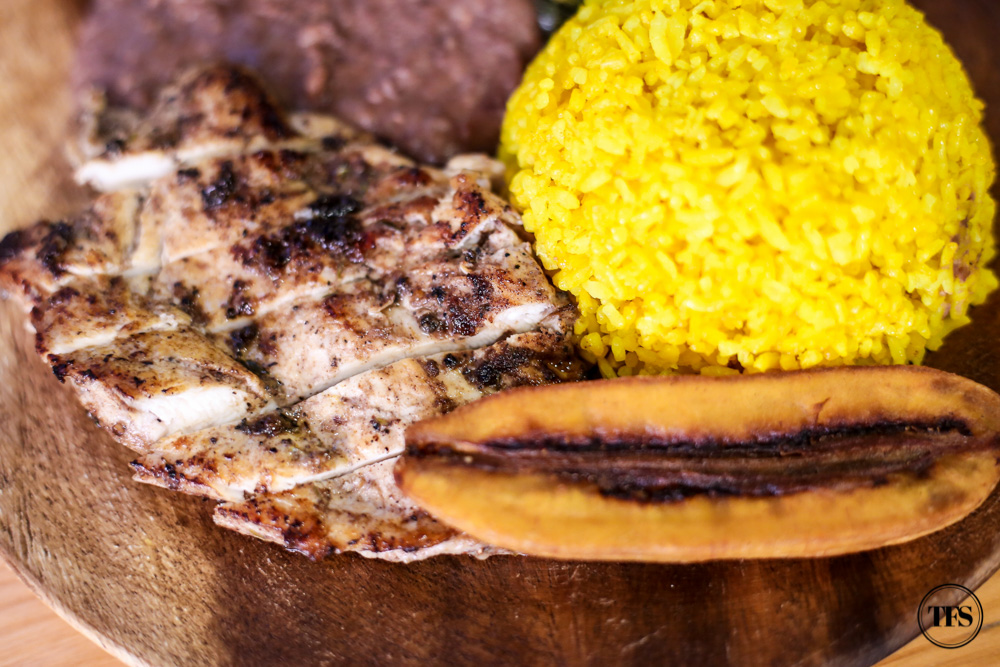 Shredded Oxtail Stew is one of those dishes you shouldn't judge by the way it looks. Not the most presentable dish yet one of the tastiest of Wagga Wagga. Creamy texture of coconut milk slides down easily to the throat. One wooden plate includes a serving of callaloo (laing-like vegetable), mashed beans, fried plantains and the shredded oxtail.
For now, the menu of Wagga Wagga Chicken is still limited. But Chef Justin assures me his kitchen is busy daily, experimenting on new items to add to the menu. Temporarily, there aren't desserts yet, which is also a work in progress. How exciting when more dishes are out for the public to try!
The Ambiance: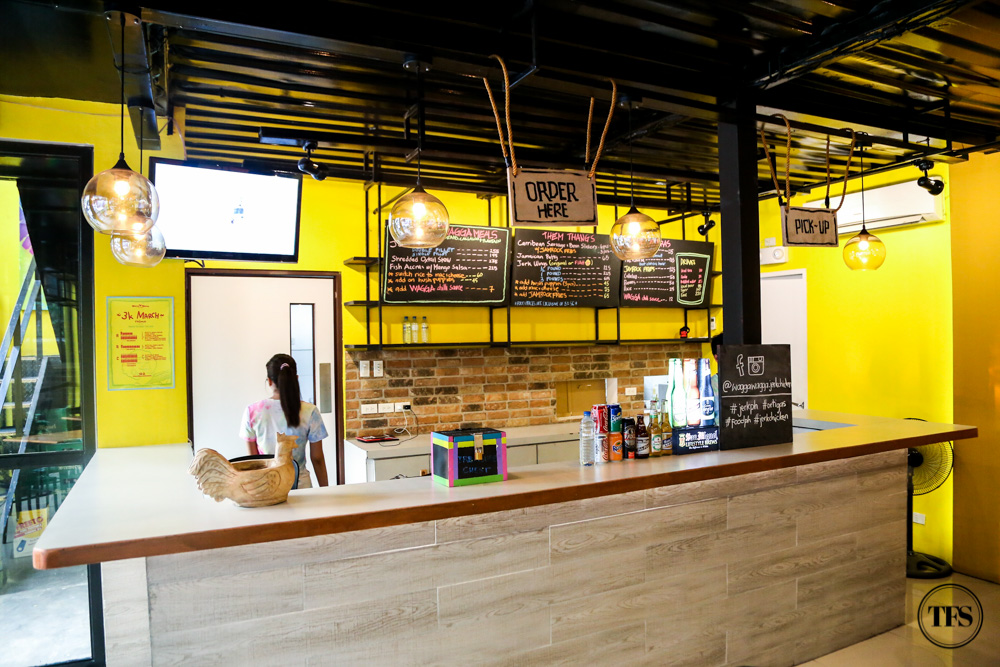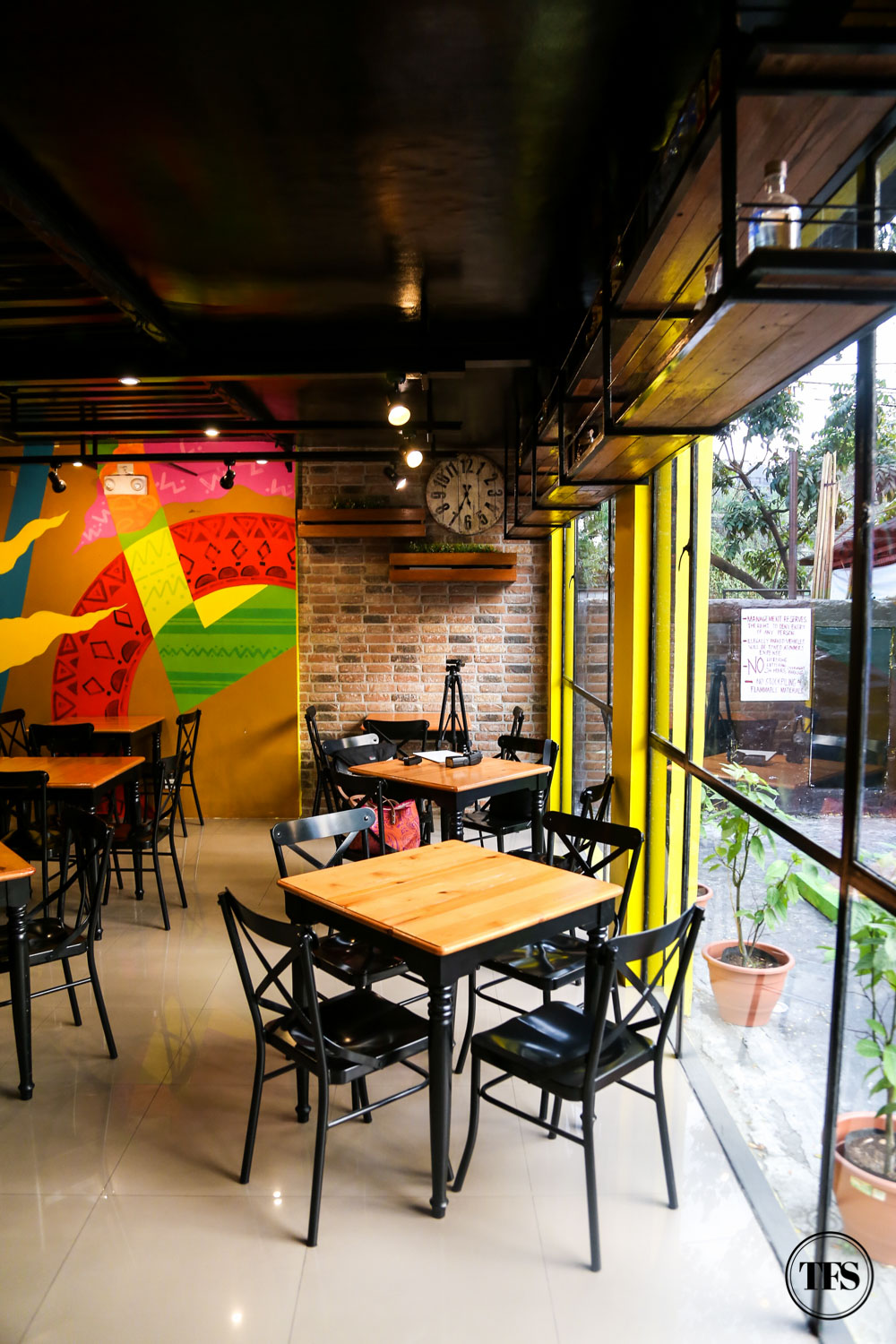 There is no room for sadness in the sunny and summery space of Wagga Wagga Chicken. Look around you, it's a smile on your face that will come out for sure.
When the sun hides, it's the best time to go up to the 2nd floor. On the 2nd floor, the al fresco provides a relaxing spot to chill as you drink and dine with your friends.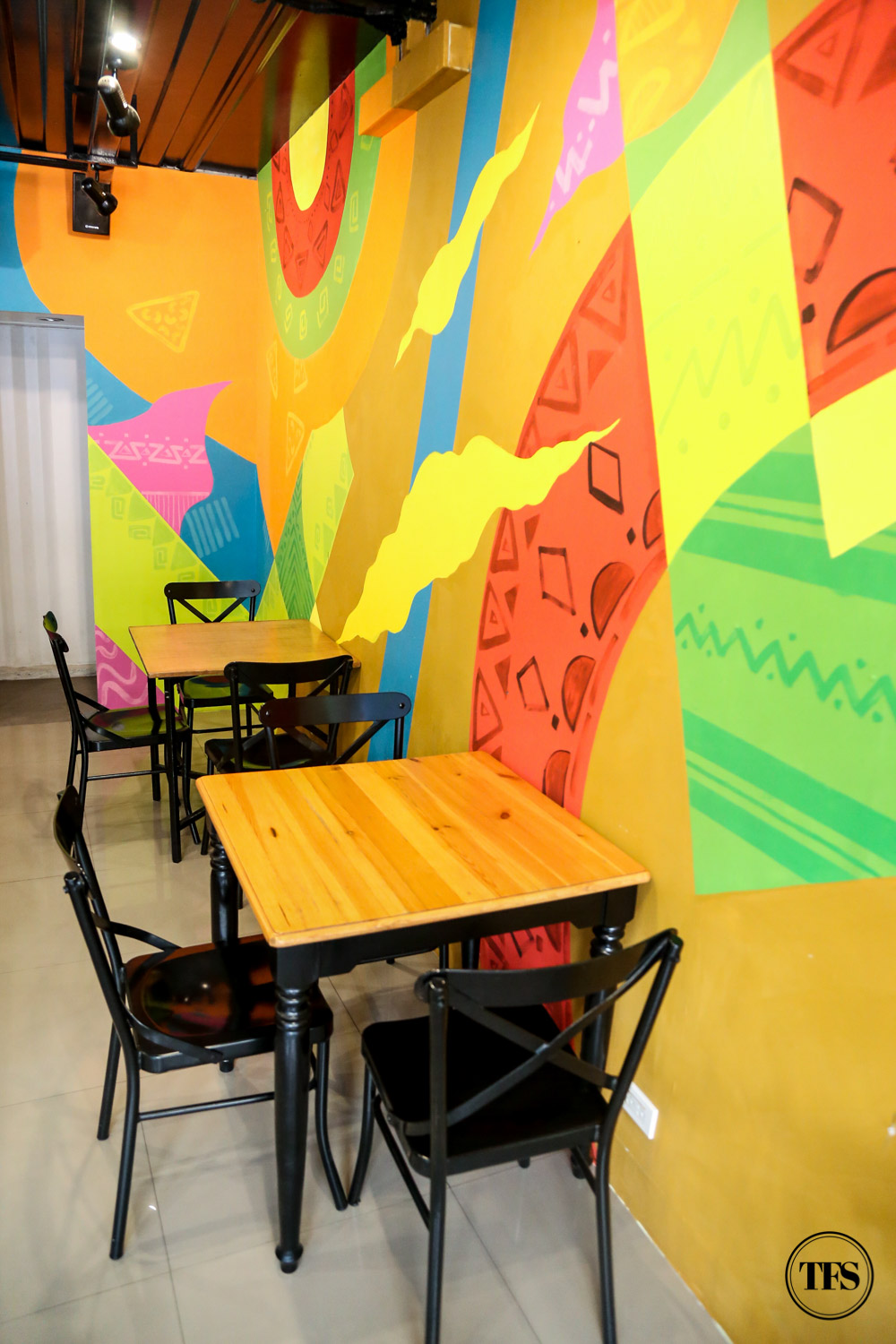 The very talented Kookoo Ramos is the young lady responsible for prettifying the place.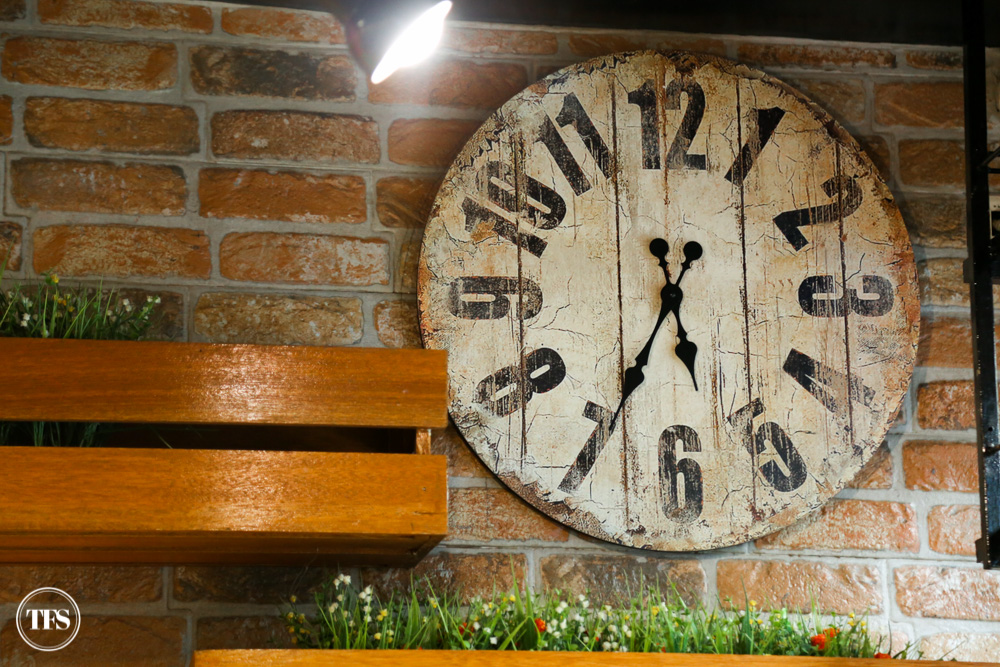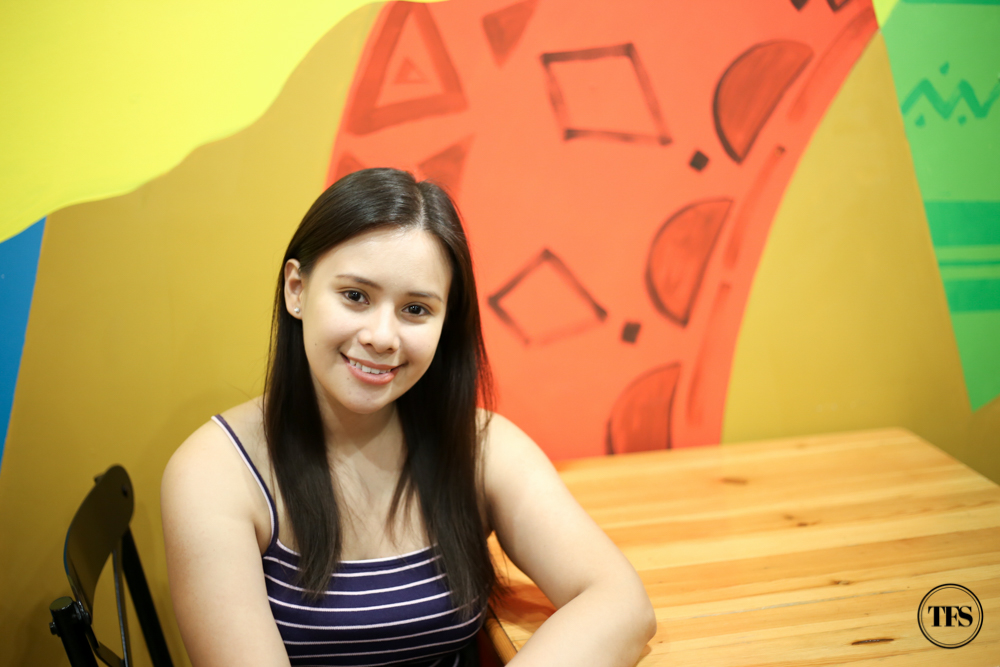 What do you think of Wagga Wagga Jerk Chicken?
Share with me your thoughts!
Stay updated and Subscribe to The Food Scout for Free!
Pray, Eat and Love.
Cheers,
The Food Scout
---
Location: 88 Meralco Ave. cor Julia Vargas, Ortigas, Pasig City, Metro Manila, Philippines
Contact: (+63 977) 130-0685
Facebook: https://www.facebook.com/WaggaWaggaJerkChicken
Budget: PHP300++
Rate
Food            7/10
Ambiance  8/10
Service        8/10
Cost              8/10
Overall        7.75/10